What Should You Pay for an Appliance Service Call?
October 20th, 2022 | 6 min. read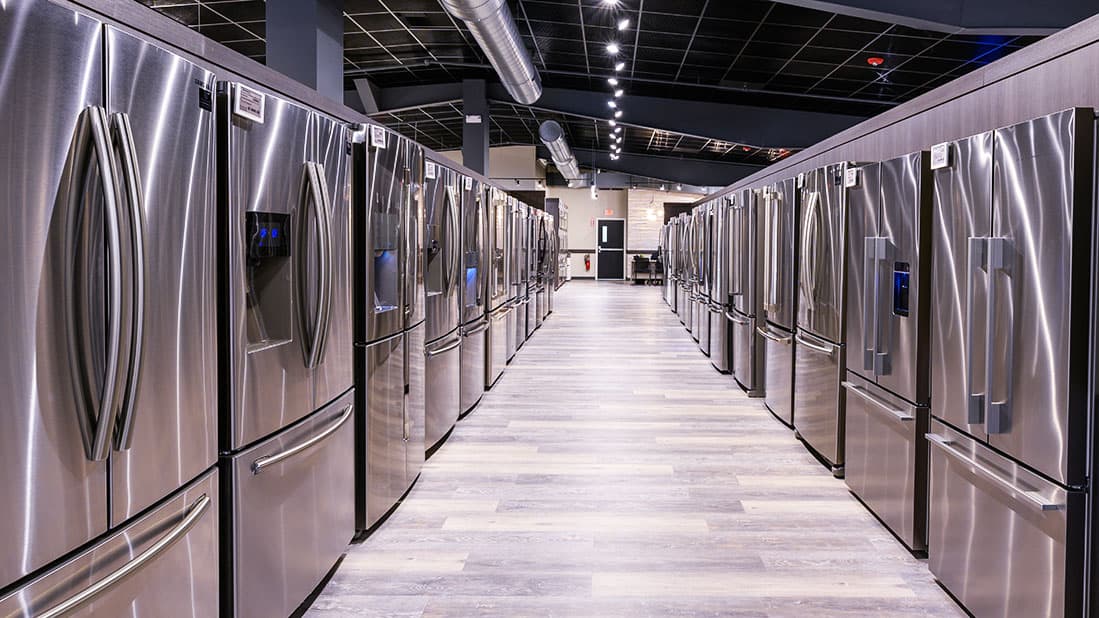 What should you pay for a service call, and better yet, what should you expect from a service call?
I have spent a sizable amount of time in our service department over my 37-year career at Yale trying to figure that out.
In this article, you will learn all about the average cost of repair, plus how to prevent future service calls.
I have also included the following five questions most asked about service:
Let's get started.
Why We or Anyone Else Can't Fix Other Stores' Appliances
I want to thank TF from SoMa, San Francisco, for the inspiration behind this article. He wrote this recent 1-star Yelp review of our service despite never actually having a service call from us.
"SLEAZIEST COMPANY OF THE YEAR AWARD. $100 to say hello? RONA-PROOF APPLIANCES? "We charge $99.95 to send an experienced technician to your home," "then give you the price for any parts and labor," "due to the ongoing pandemic, Yale can only service your appliances if they were purchased through us." F THEM"
Interesting guy, but he does ask a good question: Why can't we fix another store's problems?
Management gurus everywhere will say it's good for customer acquisition. And it could be, but there are several issues.
All the reputable (sorry, TF) dealers don't seem to be available unless you are already their customer. Their reasoning is simple.
Many of us lost technicians during the pandemic. They didn't want to walk into people's homes in 2020-2021 with the possibility of contracting COVID-19 and infecting their own families.
Then home-related products, like appliances, skyrocketed over the last two years.

Yale Appliance Delivery, Service, and Installation Stops on a Typical Week Day
Thus, the average appliance service company has fewer technicians and more problems due to increased sales. Also, more repairs seem to be needed this year compared to pre-pandemic.
We now have 37 technicians on staff - finally. That's up from 30 in 2020, but we need 40-45, and our goal is 50 by the end of 2023.
Read More: Why Your New Appliance Will Not Be Repaired
What You Should Expect from an Appliance Service Company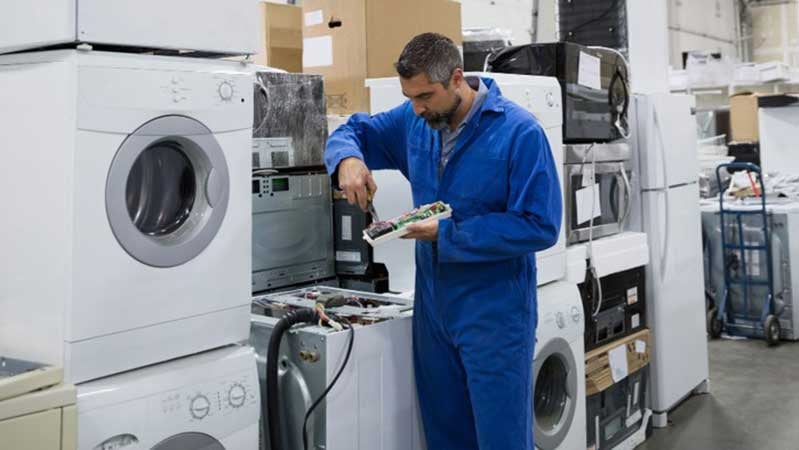 Appliance Service Company
Price is, of course, incredibly important. In this case, it's number two or number three on your list because many of us will spend an extra $50 to have your washer repaired a week earlier than waiting.
But because service people are entering your home and touching water, electric, and gas lines, you have other considerations.
First, you should verify any company's insurance in case of issues like damage to the product or your house.
Those big issues are especially with water like dishwashers, refrigerators, or washing machines. You want to be covered when these problems occur, and they do happen.
We have general liability insurance, workman's comp, and automotive to cover every scenario. Ask about their liability coverage, if possible.
Service Technicians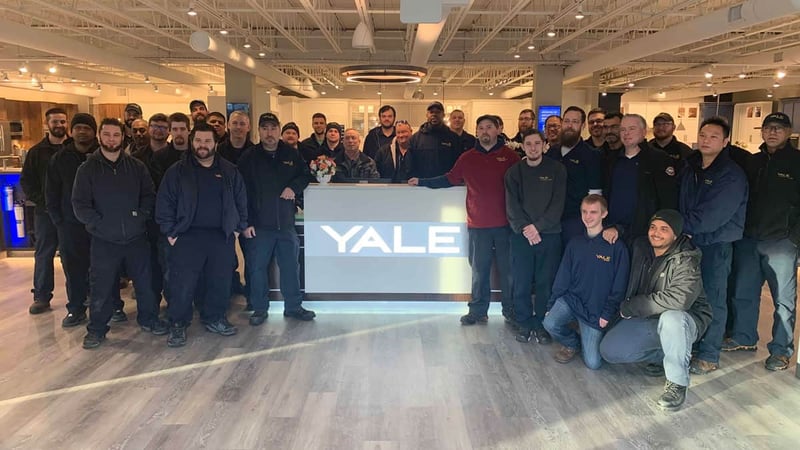 Yale Appliance Service Technicians
You also want someone experienced, especially with the more intricate appliances like refrigerators, wall ovens, and induction cooktops.
A more experienced technician can complete the repair in one visit, not two or three visits later, which is typical for appliance service.
One visit is key because you don't want to start the process again.
You don't want your washer out for a prolonged time with a growing pile of laundry or not having a working oven just before the holidays.
We have some of the highest completion rates in the industry at 73%, but we look hard at that 27%.
How You Can Help
Our call center screens every service call. Then it is pre-diagnosed by a service technician who orders the parts to fix the problem. However, specific information helps solve the problem the first time.
For example, let's say your refrigerator is not working. We will ask the following questions to help us diagnose the issue:
When is it not working?
Is it the refrigerator or freezer?
Is it warm, lukewarm, or not cold enough?
Knowing the answers to these questions, help us diagnose the issue more accurately and prevents multiple trips.
What Should You Pay for an Appliance Service Call?
First, let's go over how service rates are calculated.
How Appliance Service Rates Are Calculated
Appliance service rates depend on the company. We have tried them all. We tried time. That wasn't necessarily fair because everyone was watching the clock, and some technicians worked slower than others.
You shouldn't have to pay for that.
Then we tried parts and labor. Marking up parts is time-intensive because we have four sources of parts, all with different prices.
We always opt for speed rather than price to a certain extent to repair your appliances faster. You shouldn't have to pay for that, either. As the service department grew, price consistency amongst technicians also became key.
We finally settled on the Appliance Repair Blue Book. It calculates the average cost of repair throughout New England based on a completed service call. That's a critical distinction, so you don't pay for a return visit.
So instead of time, you are priced by the average cost of fixing that refrigerator, including parts. It's the fairest, most transparent way of performing service. Sorry TF.
It's hard to give an estimate because often, we don't know what the problem is. Many times, it's adjustments or simple repairs. You will see the costs reflected below.
Why Professional Appliance Service Companies Charge a Trip Fee
Most service people, plumbers, and electricians now charge to enter your home. This list should also include running a warehouse for parts and the call center for taking the call.
Here's why:
Cost of fuel and van
Cost of three types of insurance to just walk into your house
Cost of a skilled technician
Cost of diagnosing the parts
Let's say the estimate of that refrigerator is more than you want to spend or its finally dead. We will give you a $50 voucher to buy a new appliance, so the call is only $49.
If it sounds unreasonable, service is not a profitable part of any appliance store. You would think otherwise, but that's why less than 5% of appliance stores have service.
Service is a marketing cost of operating Yale. Many builders use us only because we are their only service option.
Also, it saves time by not talking to justifiably angry people who need legitimate help after the sale.
What Is the Average Repair Cost for an Appliance?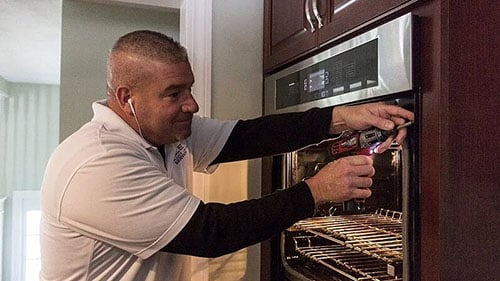 Yale Appliance Service Technician Repairing a Wall Oven
The average repair cost for your appliances depends. Below are the average repair costs for the different categories and the service calls for the last few months excluding the $99.95 trip fee.
Refrigeration: 2393 Jobs
Cooking: 1,186 Service Calls
Microwaves: 185 Service Calls
Dishwasher: 783 Service Calls
Laundry: 1098 Service Calls
Dryers: 469 Service Calls
Washers: 629 Service Calls
The average costs are a bit higher if you have a 48-inch professional range or a Sub-Zero refrigerator. The cost of a compressor or front load washer repair is higher.
What Is the Warranty on Repair?
Many companies don't have a warranty. Others have a 90-day warranty. A few others like us offer a five-year warranty on that part. Remember, that warranty is on the part and repair, not the whole appliance.
When Should You Buy a New Appliance?
The availability of parts has become much harder over seven years, especially after 2020. Many repairs are inexpensive, so you should look to repair within seven years.
Some people like to repair their old reliable appliances. Many old appliances like refrigerators and freezers use a ton of energy. You could save $10-$20 a month just on electricity by replacing that basement refrigerator.
As a general guideline, the total cost of a repair should not exceed 35% of what it would cost to buy a new appliance.
How to Prevent an Unnecessary Service Call
One of my friends called me complaining about his Sub-Zero wine cooler not working. It should last more than six years, he angrily stated.
I waited for him to calm down and then said: "When was the last time you cleaned underneath it?"
Then he proceeded to clean six years of dust from the bottom of a wine cooler.
Here are the most important appliance maintenance tips to prevent a service call:
Refrigerators
Clean your refrigerator twice a year.
For freestanding units, pull them out to clean. For built-ins, do the same to the top compressor.
Your refrigerator's ice maker needs to be cleaned twice a year. Unplug it first, then clean your ice maker thoroughly.
Built-In or Undercounter Ice Makers
Drain and clean your ice maker twice a year. I know this sounds like a pain in the rear, but ice makers often fail because they are not maintained.
If you live in Massachusetts and want us to clean your refrigerator and ice maker, then click here. We typically email a reminder once a year to professionally clean your refrigerators.
Front Load Washers
Only use a capful of detergent in the washing machine. Excess detergent creates an excess foam that stays in the machine.
Over time, it will create an expensive service call.
Once a month, run a clean tub cycle.
Dry the gasket and dispenser and leave the door open to prevent mold.
Dryers
Don't forget to remove the lint every time you dry a load.
Read More: Best Appliance Maintenance Tips
Key Takeaways
Service is such an opaque topic. To simplify, think of who and what.
Know who is walking into your house. Read reviews and take the time to explain the exact detail of the problem.
Remember, the standard is a repair at the first visit, not the second or third. The time savings of not waiting will often be worth more than the repair cost.
Then ask how they will calculate the cost of the repair. You want to know the completed repair cost, including any additional trips if necessary.
Additional Resources
Have questions on appliances? Read the Yale Appliance Buying Guide with the 10 most frequently asked questions, the best time to buy appliances as well as detailed profiles of all the brands. Well over 1 million people have read a Yale Guide.
Related Articles:
Why Should You Trust Us?
It seems that every appliance review has nothing but glowing comments about almost every product, yet you read customer reviews and they are almost universally bad.
We are here to fill in the disconnect. We'll give you the best features, and the drawbacks as well, including reliability based on over 37,000 calls performed by our service team just last year. Our goal is to give you ALL the information so you know what's right for you.
Please consider subscribing or adding to the conversation in the comments below. We appreciate you stopping by.
Steve Sheinkopf is the third-generation CEO of Yale Appliance and a lifelong Bostonian. He has over 38 years of experience in the appliance industry, and he is a trusted source of information for consumers on how to buy and repair appliances.

Steve has also been featured in numerous publications, including the New York Times, Consumer Reports, The Boston Globe, Bloomberg Radio, the New York Post, The Wall Street Journal, and Entrepreneur, for his knowledge of how to buy appliances and appliance repair.

Steve is passionate about helping consumers find the best appliances for their needs, and he is always happy to answer questions and provide advice. He is a valuable resource for consumers who are looking for information on appliance buying, repair, and maintenance.

Despite being the worst goalie in history, Steve is a fan of the Bruins and college hockey, loves to read, and is a Peloton biker. The love of his life is his daughter, Sophie.
A Note About Pricing
Pricing on this blog is for reference only and may include time sensitive rebates. We make every attempt to provide accurate pricing at time of publishing. Please call the stores for most accurate price.