The Kitchen Appliances in My New Apartment
I moved to Jamaica Plain to be closer to my daughter's new school. My appliances have changed from my once professional Sub-Zero and Wolf kitchen to a 2000's Kenmore Elite package.
I know, the irony. However, it's not as bad as I originally thought, going from professional kitchen appliances to more standard appliances. After using the appliances, I have different viewpoints.
In this article, you will learn a bit about:
Gas vs. electric cooking
Another reason why you need to vent properly
The reality of older dishwashers
Professional vs. freestanding counter-depth refrigerators
Top load vs. front load laundry machines
Let's get started.
Short on time? Get our free Appliance Buying Guide
The Kitchen Appliances in My New Apartment
Gas vs. Electric Cooking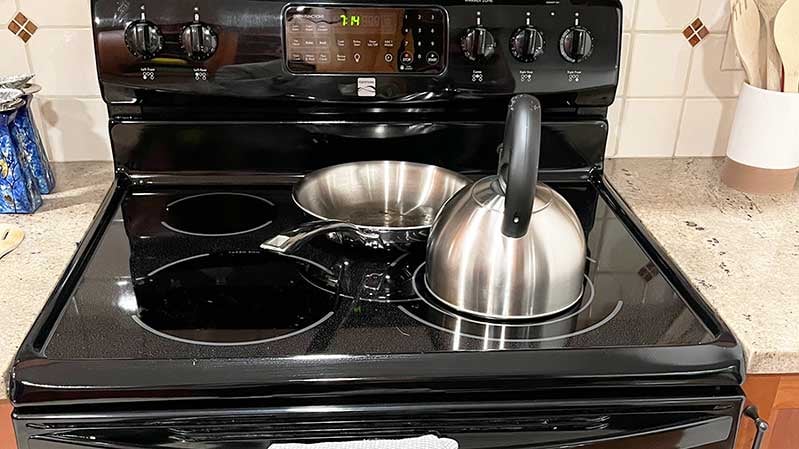 In my new apartment, I have an old Kenmore Elite electric freestanding range (shown above). Yes, an electric stovetop is slower than my old Wolf pro gas cooktop, but I compensated by waking up earlier.
The difference is 5-10 minutes to cook turkey bacon and eggs (both for my daughter, who never finishes her breakfast in the morning).
Cleanability
It's tougher to clean an electric stovetop because it's easy to burn spills onto the glass cooktop. With gas, the burner stays hot while the cooking surface is still relatively cool.
If I was lucky enough to have an induction cooktop, the whole top and burner would remain relatively cool.
Induction cooking uses magnetic heat. The heat bypasses the glass by exciting the metal molecules in your pan. The pan cooks the food, not the glass stovetop.
Burner Performance
You can't reach extremely low temperatures to properly simmer your food with an electric cooktop. This is due to the heating element heating the glass to heat the pot.
The slow process of cooling down reverses the slow process of heating up.
With an electric stovetop, you also can't see the flame like you would with a gas stovetop. Additionally, the burners are not as responsive.
I recently tried a new salmon recipe. I started by heating some avocado oil and butter. It was slow to heat, so I turned it to medium.
Unfortunately, that was too high, and it smoked out of the house and activated the smoke alarms. (Thank you, Joey, for pointing out I added the butter too soon).
While I met my new neighbors, I probably could have picked a better time.
With induction or gas burners, the burner response is nearly immediate.
Overall, the electric range is fine. I wish it was a slide-in range, though, instead of freestanding. A slide-in range is a good idea for someone like me because any spills can't seep down the sides like they would with a freestanding or front control range.
Another Reason Why You Need to Vent Properly
The over-the-range microwave I now have is not sufficient to ventilate much of anything (shown below). I cook on the front left burner, extending past the microwave.
The microwave is underpowered at 300 CFM (Cubic Feet Per Minute) and has no capture area for that burner.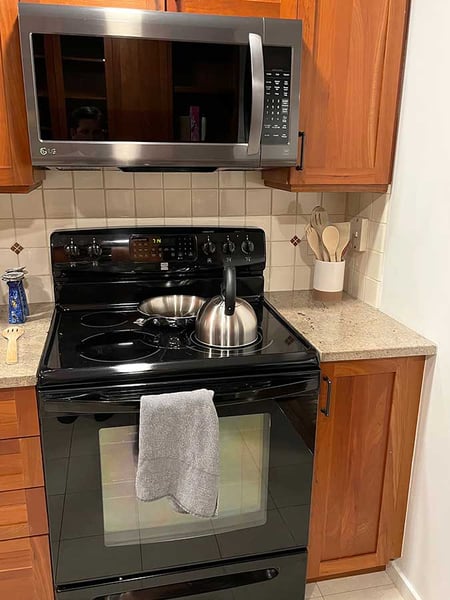 The good news is this place is old, so air naturally infiltrates the space. Plus, I always leave the back door open.
You won't be as lucky living in a fairly new house or rental unit. New homes are almost airtight. You will be living with whatever isn't ventilated longer.
The key takeaway is venting your kitchen range does matter.
On a less important note, the microwave has a Black Stainless Steel finish, so I have to be careful not to scratch it.
If you are not sure what that means, then watch this video by clicking here.
If you have questions about venting, download our Ventilation Buying Guide (it's free and awesome).
The Reality of Older Dishwashers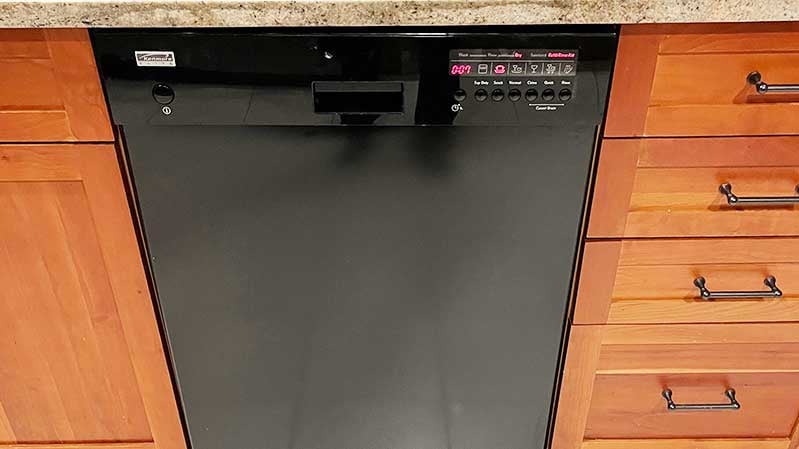 The dishwasher in my new apartment is an old Kenmore Elite (shown above). Sure, it's loud, but I turn it on and go to work, so no problem there.
I miss the third rack for silverware of my old Miele dishwasher. The silverware basket seems harder to load and takes up too much capacity.
I also noticed the dishwasher has trouble cleaning the bottom of larger glasses. In particular, I have started to add cinnamon and Matcha powder to my water in the morning. After the glasses are cleaned in the dishwasher, there are always remnants of matcha powder and cinnamon.
Maybe buying a dishwasher with dedicated bottle washes like Profile and Beko would clean them better.
It also doesn't dry plastics like my old Miele dishwasher. My old Miele dishwasher automatically opened the door to speed up the drying process.
Many dishwasher brands now have better-drying systems. Bosch has CrystalDry, Miele has CleanAir, GE has UltraDry, and LG has hybrid condensation and steam drying.
Lastly, the racks aren't adjustable, but I can live with it. Overall, the Kenmore dishwasher works fine. I will learn how to rack my dishes and silverware more efficiently.
Professional vs. Freestanding Refrigerators
The freestanding refrigerator (shown below) I have now doesn't keep food fresh as long as my old Sub-Zero did, but I would never expect that.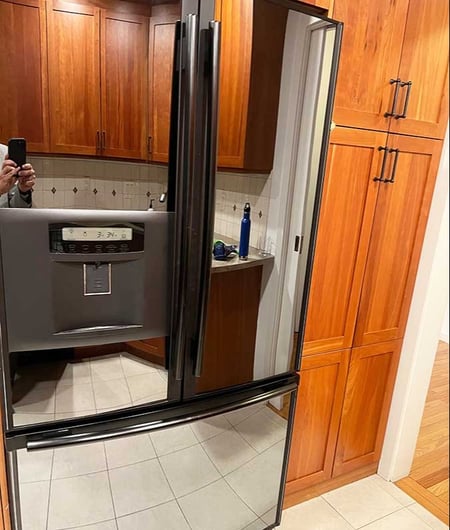 Sub-Zero has an air scrubber and a much better-sealed door. Food stays fresher longer, as we have documented in our Project Produce tests of over four weeks.
The shelving is a lot better in a Sub-Zero too. This unit's shelving seems flimsy, but it is an older refrigerator.
My old Sub-Zero shelves had nanotechnology to reduce the cleaning time by congealing spills.
Ultimately, this refrigerator is fine.
Front Load vs. Top Load Laundry Machines
I have always owned a front-load washer, so this is a new experience for me to have a top load laundry set (shown above).
Again, this is an older washer, but top load washers haven't changed much over the decades.
The capacity is much smaller than a front load when the agitator is in the middle of the machine.
Thus, it's much harder to stuff my comforter into the washer because of that agitator.
Sometimes the clothes are knotted at the end of the cycle. It explains GE's new knot cycle in their hybrid washers.
I also use a ton more detergent in my top load washer, at least half a cup, compared to the capful of detergent needed for my old front load washer.
Drying seems to be more of an issue.
I have to dry my daughter's Taekwondo uniform several times because the washer doesn't spin the water out as much as a front load washer. By the way, front load washers spin at 1300 RPM (Revolutions Per Minute) versus 800 for a top load.
Of all the appliances, the washer bothers me the most. Then again, I had zero expectations for the over-the-range microwave.
My Sink and Faucet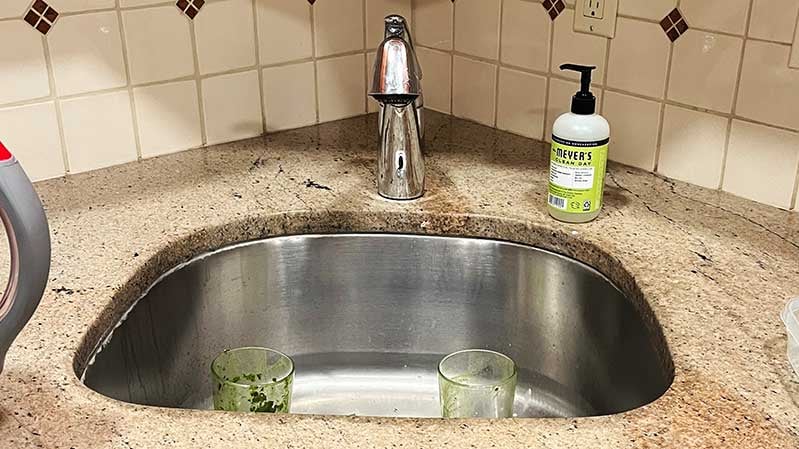 One minor observation if you're remodeling or building a new home: Don't place a small faucet in the back of your sink. You must reach around the sink and pull the faucet out at a weird angle.
Place it on the left or right of your sink for easier access.
Should You Buy Black as a Finish for Your Appliances?
My new landlord bought black appliances 15 years ago. I don't think it's bad with oak cabinets.
The updated Café Appliances with copper accents looks good. I wouldn't want white with darker cabinets, but it would brighten the kitchen.
But color is a matter of opinion. White and black are gaining popularity. You can also have customized colors in many different ranges as well.
Key Takeaways
Electric burners are not bad. Give yourself some time for your food to heat up. With an electric stovetop, your burners are less responsive than induction or gas.
Venting must be taken seriously if you cook unless you want a novel way to meet your neighbors with a fire alarm.
Basic dishwashers still work fine, but the newer ones have better features worth considering.
Check the shelving of your new refrigerator.
Lastly, buy a good front-load washer. It's way more convenient.
Overall, I love my new place. Never underestimate the physical value of living amongst trees; I also have great neighbors.
Additional Resources
Download the Yale Appliance Buying Guide covering all topics of appliances and lighting. Over 1 million people have read a Yale Guide.
Related Articles:
Why Should You Trust Us?
It seems that every appliance review has nothing but glowing comments about almost every product, yet you read customer reviews and they are almost universally bad.
We are here to fill in the disconnect. We'll give you the best features, and the drawbacks as well, including reliability based on over 37,000 calls performed by our service team just last year. Our goal is to give you ALL the information so you know what's right for you.
Please consider subscribing or adding to the conversation in the comments below. We appreciate you stopping by.
A Note About Pricing
Pricing on this blog is for reference only and may include time sensitive rebates. We make every attempt to provide accurate pricing at time of publishing. Please call the stores for most accurate price.