Fisher & Paykel 36-Inch Induction Range: A Review and Comparison
August 4th, 2023 | 5 min. read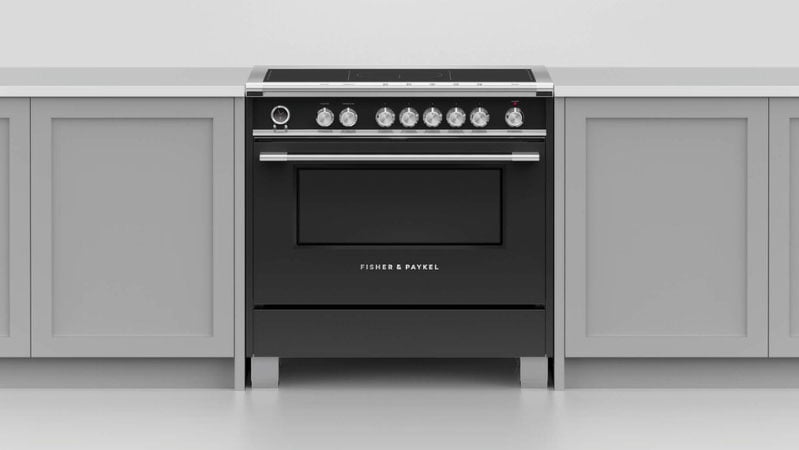 The Fisher & Paykel Classic, Contemporary, and Professional 36-inch induction ranges have some good features and a few problems you should know about before you buy one.
In this article, you will learn the features, benefits, and problems, including reliability, based on 33,000 real service calls logged by our service department last year.
Ultimately, you will see comparisons between Fisher & Paykel's top brands like Bosch, Wolf, and Thermador.
One Key Takeaway: You should also consider a 30-inch induction range, as you will soon discover.
4 Reasons to Buy a Fisher & Paykel 36-Inch Range
There are four compelling reasons to choose a Fisher & Paykel 36-inch induction range over other options available on the market.
While the benefits of induction cooking, such as faster cooking times, improved simmering capabilities, easy cleaning, and enhanced child safety, are already noteworthy, there are even more reasons to consider Fisher & Paykel.
We explore induction technology in other articles I will link to at the end of the article.
1. Output & Power
Fisher & Paykel's 36-inch induction ranges have excellent cooking surfaces, equipped with a powerful super burner located in the center and a total of five burners.
The super burner has 5500 watts of power, the highest for any 36-inch range. In addition, the 3700 watt burners on either side are amongst the highest for any brand.
Also, the burners on both sides can be bridged for larger or odd-shaped pots and pans.
Along with Wolf's induction range and their ability to combine four burners into one, Fisher & Paykel has amongst the best cooking surface for induction.
The new Thermador 36-inch induction range is the most flexible and best. The unit will remember and automatically adjust pan settings when you shift between burners.
You can also set different temperatures between the bridge elements.
2. Oven Modes
Fisher & Paykel has a mode for any way you want to cook. Their "Aero" mode uses top and bottom elements to cook faster and more evenly.
You have nine modes with Fisher & Paykel Classic and Contemporary style induction ranges and 15 on the Professional style.
The oven utilizes a twin convection system instead of single convection for better heat distribution.
Only Wolf is better for oven functionality in a 36-inch size.
With the Wolf Gourmet function, you enter the food, and how you want it cooked, the oven calculates time, temperature, and even rack position.
Wolf also uses blowers instead of fans to deliver even more heat.
3. Warming Drawer
The warming drawer is 36 inches wide.
Warming drawers can keep food warm for up to three hours without dehydrating like a microwave. They are convenient if you cook and serve at different times.
As an FYI, a separate built-in warming drawer will cost about $1,500 in a 36-inch size.
Fisher & Paykel's Classic and Contemporary induction ranges have a warming drawer, while the more expensive Professional style does not.
The Professional style will have a clock and timer with smart functionality you can control with your phone, along with the pro styling and added modes for $2,700 more.
4. Style
You don't have to default to stainless steel. Fisher & Paykel offers red, white, and black colors in their classic series.
But even in stainless, Fisher & Paykel is a bit edgier. You may either like it or don't. However, your kitchen will exude an unparalleled charm that sets it apart from the ordinary.
Limitations of the Fisher & Paykel 36-Inch Induction Ranges
Oven Capacity
The oven capacity is only 4.9 cubic feet, smaller than you might find in other 30-inch ranges.
An LG 30-inch is 6.3 cubic feet, while a Cafe double oven is 6.7 cubic feet.
However, the same is true for other brands like Bosch at 3.7, La Cornue is 3.81, Frigidaire is 4.4, and Electrolux is 4.6 cubic feet.
Thermador is identical at 4.9 cubic feet.
Wolf is the largest of all the major brands at 6.3 cubic, roughly the same size as the LG's 30-inch induction range.
Reliability
Fisher & Paykel falls within the average range when it comes to reliability, with a service rate of 10% in the first year, slightly lower than the overall average of 10.5%.
Induction ranges, in general, are one of the most serviced appliances for every brand, so make sure whatever you buy can be fixed.
Induction Range Reliability for 2023
The following service rates are based on a minimum of 40 induction ranges sold and a total sample of over 500 pieces.
| | |
| --- | --- |
| | Service Rate |
| Bosch | 5.4% |
| Café Appliances | 9.3% |
| LG | 9.9% |
| Fisher & Paykel | 10.0% |
| GE Profile | 12.6% |
| Beko | 25.5% |
| Grand Total | 10.5% |
Read More: The Most Reliable Induction Ranges
Fisher & Paykel Induction Ranges vs. The Competition
Starting at $8,799 up to over $11,000 for the Professional style, Fisher & Paykel is a bit higher than average.
However, they do have a $2,750 package rebate and other rebates around five holidays like Black Friday, Presidents' Day, Memorial Day, Labor Day, and July 4th
They have the best cooktop after Thermador, with the best output for any 36-inch range. Stylistically you can add color.
Bertazzoni, Ilve, and Verona look similar with color options at lower prices, but you must be very careful of those brands with support and service.
You should go to a store and look at these options, especially the fit and finish. Then check online reviews.
The La Cornue CornuFé is more stylish, but Fisher & Paykel offers a better, more flexible top and a warming drawer at the same price.
Wolf has a decent top, a larger oven with blower convection for accurate temperatures, Wi-Fi smart functionality, and an advanced timing system for $5,000 more than the Classic or Contemporary.
Thermador has the best cooktop, good Wi-Fi experience, and excellent TFT clock and timer but a single convection oven.
Key Takeaways
Fisher & Paykel 36-inch induction ranges offer a decent combination of high output, flexible cooktops, and twin convection systems.
It's pricey, yet interesting. However, you have plenty of other less pricey yet less interesting options.
Note: Be sure to look at the options available in both 30 and 36-inch sizes to find the perfect fit for your kitchen.
Additional Resources
Want to know the best induction brands and products and have a better understanding of how induction works? Download the Yale Induction Cooking Buying Guide with features, specs, and inside buying tips. Over 1 million people have read a Yale Guide.
Related Articles
Why Should You Trust Us?
It seems that every appliance review has nothing but glowing comments about almost every product, yet you read customer reviews and they are almost universally bad.
We are here to fill in the disconnect. We'll give you the best features, and the drawbacks as well, including reliability based on over 37,000 calls performed by our service team just last year. Our goal is to give you ALL the information so you know what's right for you.
Please consider subscribing or adding to the conversation in the comments below. We appreciate you stopping by.
Steve Sheinkopf is the third-generation CEO of Yale Appliance and a lifelong Bostonian. He has over 38 years of experience in the appliance industry, and he is a trusted source of information for consumers on how to buy and repair appliances.

Steve has also been featured in numerous publications, including the New York Times, Consumer Reports, The Boston Globe, Bloomberg Radio, the New York Post, The Wall Street Journal, and Entrepreneur, for his knowledge of how to buy appliances and appliance repair.

Steve is passionate about helping consumers find the best appliances for their needs, and he is always happy to answer questions and provide advice. He is a valuable resource for consumers who are looking for information on appliance buying, repair, and maintenance.

Despite being the worst goalie in history, Steve is a fan of the Bruins and college hockey, loves to read, and is a Peloton biker. The love of his life is his daughter, Sophie.
A Note About Pricing
Pricing on this blog is for reference only and may include time sensitive rebates. We make every attempt to provide accurate pricing at time of publishing. Please call the stores for most accurate price.