New Miele All Gas 36" Pro Range (Reviews / Ratings / Price)
Professional Ranges have only been around for 25 years. High heat and commercial styling gave it a popular appeal.
Of course back then, your choices were white, almond and black on basic underpowered ranges.
Over time, the niche has become dominated by brands like Wolf, Thermador, (the once proud) Viking and even Jenn-Air. They all fight hard for your patronage and have promotions like free dishwashers and hoods with purchases.
Last year, Miele introduced their professional range. How does it stack up with the leading brands?
We will look at the Miele and range to decide whether it should be in your home.
Short on time? Get our free Pro Cooking Buying Guide
Miele
Miele is the least repaired brand sold at Yale.
In an age of outsourcing and globalization, Miele still manufactures almost every component in their one German factory, such extensive control of quality, produces a better, yet more expensive product.
At the same time, Miele has never manufactured a range of any kind. Their typical cooking product is European, and mainly wall ovens and cooktops. This is a first generation and a radically new product for Miele.
Let's take a look.
Miele 36" All Gas Range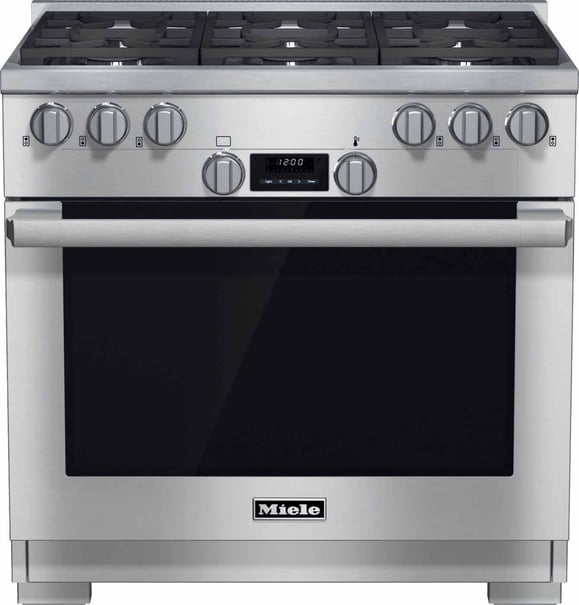 The 36" All Gas Range is available in three different top configurations.
All burner top with 6 burners - HR 1134

4 burners with griddle - HR 1136 GD

4 burners with grill - HR 1135 GR
Burners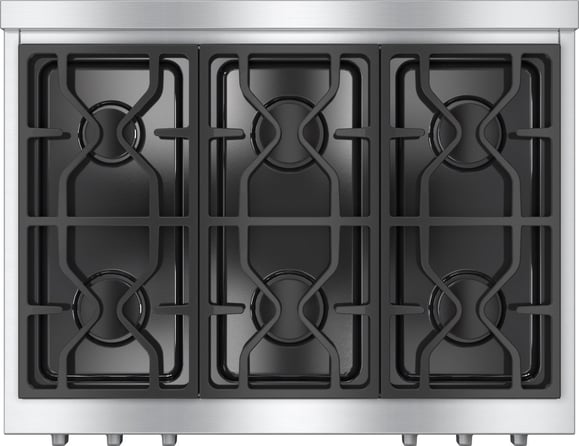 On their all burner top configuration the range will have 6 burners. All Miele burners feature a Dual Stacked Burner System.
Dual stacked burners run on two separate gas lines to each burner. The advantage of this is better targeted, precise temperature management. On low, there is a small inner flame sitting recessed under the cast iron burner cap.
This will ensure very low consistent temperature management, great for simmering the most delicate sauces. When turning the knob onto high, the inner valve shuts off. A separate valve activates and produces a much better, targeted high output flame.
On a 6 burner configuration, five of the burners reach a high of 19,500 BTU's and 1 is 12,500. For comparison, Wolf is 15,0000 BTU, Thermador is 18,000 and Jenn-Air is 20,000 and 15,000 BTU's.
All of the burner will also simmer. The top burners are completely sealed on a black porcelain top for easy clean up.
Griddle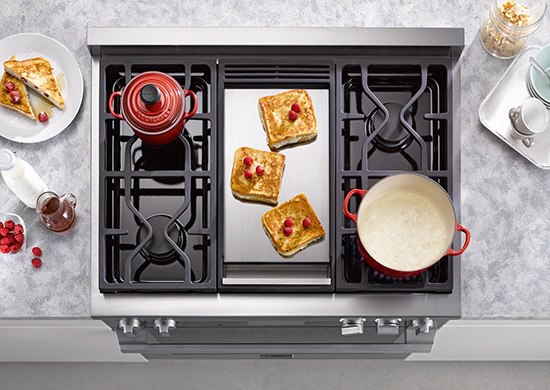 The griddle option will have the griddle and 4 burners. The griddle will offer a great cooking surface. You could cook anything directly on the surface like grilled cheese, burgers, and french toast and eggs. The griddle is powered by gas with a 14,300 BTU output. Heating is quick and evenly distributed through the steel surface with no cold spots.
I always like to remind you, a new griddle looks really nice. Realistically, if it's used often, like in a restaurant, the center will start to darken and will not look as "pretty" once time goes by.
Jenn-Air has an easier to clean chromium infused grill, so food slides right off. In terms of output, Miele is similar to Wolf at 15,000 BTU's. Both Jenn-Air and Thermador offers electric griddles.
Grill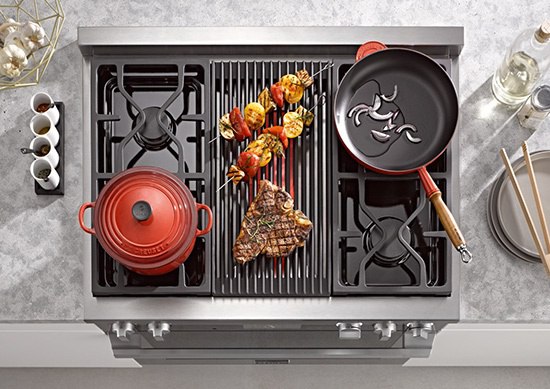 The third option is 4 burners and a grill. Grills are great, but you also want to keep in mind that you are placing the equivalent of a small outside grill into your home.
It will produce a lot of smoke, and can flair. It's best to cook your food, and then put the sugary sauces on after, to avoid burning. It is absolutely necessary to have proper ventilation.
The big advantage of Miele's grill top compared to some of the competition is variable temperature. Other brands only has on/off options and are difficult to manage temperature.
The Miele grill reaches a hot 15,500 BTU's. Wolf is 16,000 BTU's, Thermador is electric with Viking and Jenn-Air not offering a grill option in a 36" range.
Clean Touch Steel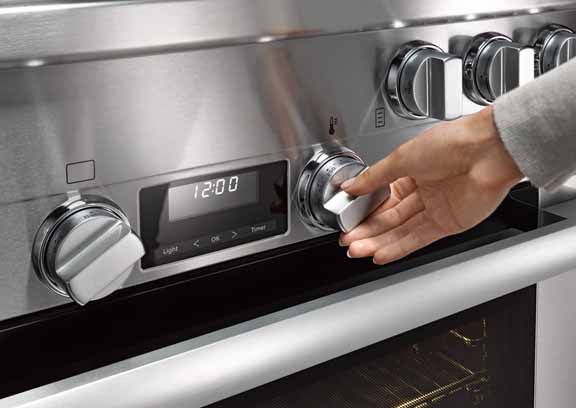 The stainless on the front of any Miele range, is "Clean Touch Steel". Because of this, the maintenance is very low, and there is no worry of fingerprints.
A great advantage to this range, is that it offers a digital display with a clock, timer, etc. Most professional style gas ranges, are bare bones; no clock, not self cleaning etc.
Oven
The Miele is self cleaning, and offers dual convection fans. In a gas range, the biggest frustration is even heating throughout the oven. Electric ovens, or duel fuel are usually better ovens, for baking, where as maybe gas is preferred for searing and cooking meats.
The dual convection fans, alternate ensuring very even heat distribution as well as faster preheat times, than the competitors. The two racks can be left in during self cleaning, and one has a full extension rack. All of Miele's ranges will install flush with cabinetry as well.
Final Thoughts
Overall I really think that Miele has built a great range. Especially an all gas range.
Most brands don't offer nearly as many advantages like self cleaning, clock, timer, dual convection fans and touchproof stainless.
They offer all of these features in all gas range, you do not have to spend more to buy a dual fuel range (although Miele has an amazing dual fuel range).
Like anything, all pieces have their pro's and con's. They do not list their simmer temperatures, so I suspect it to be less competitive. We have the product live, in our showroom, so we will have to test the simmer ourselves.
I am also naturally suspicious of first generation of anything, especially from a company with zero experience in professional ranges.
However, Miele is a different breed. Since they manufacture every component, they can react to issues in real time. We are alarmists by nature, because we service after the sale.
You should definitely consider Miele for a professional range purchase. This is a pretty remarkable product.
Related Articles
Additional Resources
Get The Yale Professional Cooking Guide with features, specs and inside tips to all the brands like Wolf, Miele, Viking, GE Monogram, Thermador, Capital and more. Well over 110,000 people have read a Yale Guide.
Neil Katz
Neil Katz has been in appliance sales at Yale for over 25 years. Neil spends time following the Sox and Patriots and watching the stock market.

Read more about Neil here
A Note About Pricing
Pricing on this blog is for reference only and may include time sensitive rebates. We make every attempt to provide accurate pricing at time of publishing. Please call the stores for most accurate price.