Packages are a great way to buy kitchen appliances.
You can take advantage of escalating manufacturer rebates. The style and look of your kitchen remains coordinated as well with handles and consistent grading of steel.
Affordable does not mean cheap or junk. Amana, Bosch, Maytag, Samsung and Frigidaire are all respected manufacturers. You can buy convection ranges, counter depth refrigerators (even 4 door refrigerators) and slide-in ranges under $5,000.
At 1,699, you can buy a very good package of self-cleaning range, over-the-range microwave, dishwasher and refrigerator.
Package pricing updated for June 2017
Samsung Stainless Kitchen Package
$1,999 Electric / $2,179 Gas after up to $540 in rebates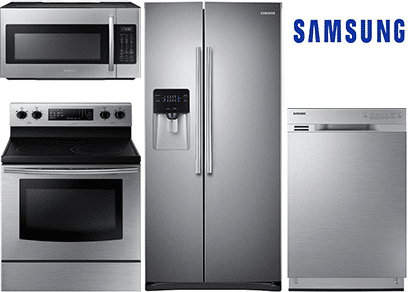 Their products are really stylish. This package features a 25 cubic foot side by side refrigerator, a convection (fan forced heat for more even cooking) range, an integrated dishwasher and over-the-range microwave.
Frigidaire Gallery Stainless Package
$2,799 Electric / $2,829 Gas after up to $370 in rebates
This package is an upgrade with a 5 burner convection range, 22 cubic foot counter depth refrigerator, digital dishwasher and more programmable microwave hood. The appliances have the matching stainless handles as well.
This package has a better range and microwave and is better looking. The previous package has the larger refrigerator.
KitchenAid Stainless French Door
$3,199 Electric / $3,299 Gas after $620 in rebates


KitchenAid has a bold new look. Their new cooking is sharp. Dishwasher is very good with a 25 cubic foot French door refrigerator. Also, for our home show, we will be offering a free KitchenAid stand mixer with all 4 piece packages.
Summary
Packages and rebates change monthly. Presidents Day along with 4th of July, Tax Weekend and Black Friday are typically the best times to consider an appliance package.
Additional Resources
Download a Yale Appliance Buying Guide covering all different aspects of home improvement. Yale Buying Guides cover features, specs and inside buying tips. Over 150,000 people have downloaded a Yale guide.