Bosch vs. Thermador Dishwashers (Reviews / Ratings / Prices)
This should be a simple article.
Bosch is the manufacturer of Thermador dishwashers. They are produced in the same factory in New Bern, North Carolina.
Yet, they are not identical.
Which one is better and what should you buy?
That's a much more difficult question to answer. In fact, it is more complicated than it should be.
In this article, you will learn when to buy a Bosch or Thermador dishwasher based on two dramatically different yet common scenarios.
We will review the two most common dishwashers from Bosch and Thermador (Thermador only has two models). Then we'll offer different suggestions determined from these models.
Let's get started.
Bosch vs. Thermador Dishwashers
Bosch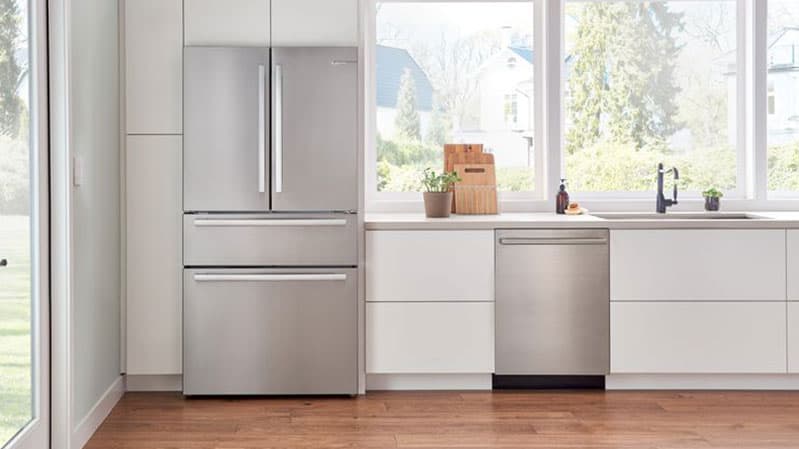 Bosch Benchmark Series Dishwasher and Counter-Depth Refrigerator
Bosch is part of the BSH company, a German multinational.
They first became popular in the early 1990s with a quiet, affordable dishwasher. Back then, silence ratings were not a sought-after feature.
They operate the largest dishwasher manufacturing facility in North Carolina and have significant manufacturing in the United States.
Bosch has been hit pretty hard by the pandemic of 2020 and now the component crisis of 2021.
They once manufactured 114 models. Now it's only 52, which is still about 45 more than most other brands.
Bosch has a few series: The 100 series, also called the Ascenta, the 300, 500, 800, 800 Plus, and Benchmark series dishwashers.
They vary in features and escalate in price. However, the step-up in the series does not always make sense, as you will see.
Read More: Best Bosch Dishwashers
Thermador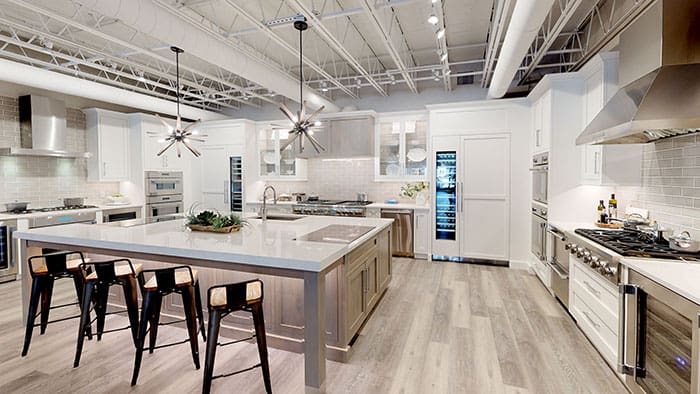 Thermador Kitchen at Yale Appliance in Hanover
Thermador was the original American premium manufacturer. Bosch bought them in the 1990s.
Bosch spent a fortune reestablishing Thermador's core lineup of cooking, namely professional ranges and wall ovens.
About 15 years ago, Thermador launched its landmark One-Two-Free program.
You can receive a free dishwasher if you buy qualifying cooking appliances from Thermador like a pro range or cooktop and wall oven.
That's pretty compelling.
Free is good - usually.
Bosch has curtailed Thermador's models from seven models to two, the Star Sapphire and the Emerald.
In this article, you will see a comparison between the Bosch 800 Series and Thermador Sapphire dishwashers, as well as the Bosch Benchmark and the Thermador Emerald dishwashers.
Let's dive in.
Short on time? Get our free Dishwasher Buying Guide
Bosch 800 Series Dishwasher vs. Thermador Emerald Dishwasher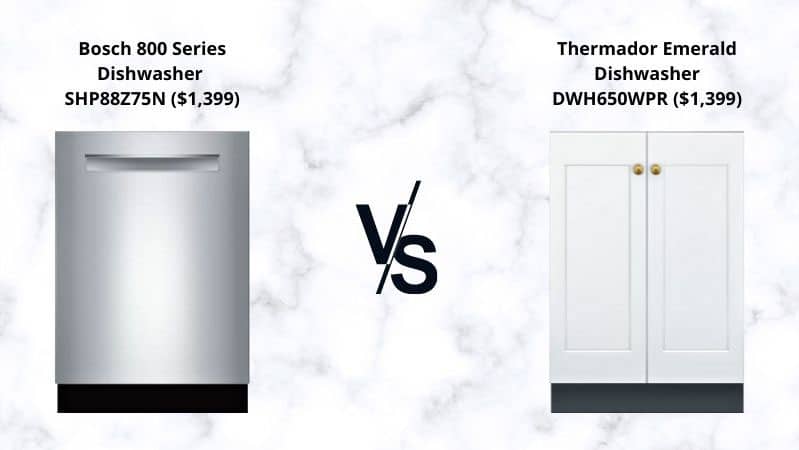 What They Have in Common
RackMatic Racks: I love the ambiguous trade name, but the racks have nine positions to move the top rack up, down, or to either side.
Same Washing System: Bosch and Thermador dishwashers both feature two arms and a sprinkler head on the top.
Stainless Tub: Bosch may have been the first with a stainless steel tub, but every premium manufacturer has one.
AquaStop: Bosch and Thermador dishwashers feature sensors to detect leaks and shut the dishwasher off. Miele and Bosch are the best if you live in a new condo on the 20th floor in Boston, for example.
How They Differ
Wi-Fi: Thermador has Wi-Fi allowing you to control the dishwasher from their HomeConnect app. It will even text you when the cycle is done.
Cycles: Bosch has way more wash cycles. Then again, Thermador has most of the ones you use, like Pots and Pans and Normal.
Third Rack: Both have a third rack, but the Bosch MyWay rack has more room to hold more.
Silence Ratings: Bosch is 42 dB (decibels), so it's noiseless. Thermador is 48 dB. You will be able to hear the Thermador. It's 4 dB higher than the 44-decibel standard.
Drying: Thermador uses a regular condensation drying system. The drying cycle uses the heat from the wash, JetDry, and a longer drying time.
Bosch has the best drying system with CrystalDry and AutoAir. It employs Zeolite, a volcanic element, to increase heat and absorb moisture to dry even less dense items like plastics.
AutoAir opens the door at the end of the cycle to release heat and moisture.
It works based on our tests, even on the recently discontinued Thermador Star Sapphire dishwasher with a 20-minute wash and dry cycle.
Which Dishwasher Should you Buy?
It seems like a slam dunk for the Bosch 800 Series Dishwasher SHP88Z75N with a better third rack, CrystalDry, and a quiet sound level at 42 dB.
However, when you buy a Thermador range, the rebate effectively reduces the Thermador to $0, which is a pretty good price.
A good option is to spend the $1,399 on another Thermador product and buy the Bosch dishwasher or even a lesser but more featured series dishwasher.
The next comparison is baffling. Let's take a look.
Bosch Benchmark Dishwasher vs. Thermador Sapphire Dishwasher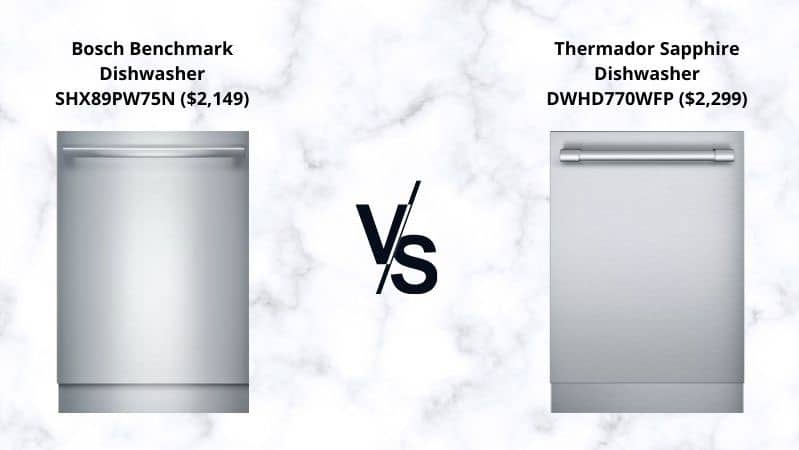 What They Have in Common
They have the same features as above and a few more such as:
Wi-Fi: They both operate on the Bosch HomeConnect system. It's pretty highly rated as well.
Cycles: Both have an endless amount of wash cycles.
Third Rack: Both dishwashers have the same expanded third rack.
Drying: Thermador's dishwasher has its StarDry system with Zeolite, similar to Bosch's CrystalDry system. All of Bosch's Benchmark dishwashers have CrystalDry as well.
How They Differ
TFT Display: Bosch Benchmark has a TFT display or an enhanced LCD screen with seven wash programs and seven wash options. The Miele G 7900 series, around $3,000, is the only dishwasher with more cycles.
Which Dishwasher Should You Buy?
Thermador is $900 cheaper due to their rebates than the Benchmark and $400 less than the 800 series.
In many ways, the Thermador dishwasher is similar to the Bosch. It has Wi-Fi as an added benefit.
However, you may want to spend that rebate on another Thermador product in a package and buy a less featured Bosch dishwasher between $899-$1,399 for a solid dishwasher.
But what if you are looking for just a dishwasher?
Thermador One-Two-Free and the Dilemma of a Free Dishwasher
Let's look at Thermador's most popular range, the Thermador 30-Inch Pro Range PRG304WH.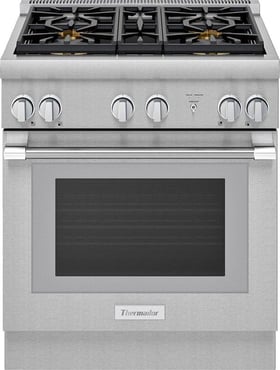 It's a worthy range to consider with two 18,000 BTU and two 15,000 BTU burners, convection, and an infrared broiler so you can bake and still sear a steak.
The $4,949 price is high for a range but low for professional ranges overall. It is the second-lowest after JennAir.
The range is competitive for replacing your existing range.
But if you have an existing kitchen and dishwasher, a new dishwasher does not help much.
So what do you do then?
You can always sell it on CraigsList or Facebook Marketplace, but then you have an additional hassle of moving and selling.
Perhaps you can receive store credit from your appliance dealer towards anything else.
But what's that $1,399 dishwasher worth for a store credit?
Many dealers will offer $700, citing the 48 dB rating even if Thermador is the better name and has Wi-Fi.
One thousand dollars is fair because they made a sale (the range) and another (the store credit).
They can handle selling your dishwasher for a $0 profit.
Key Takeaways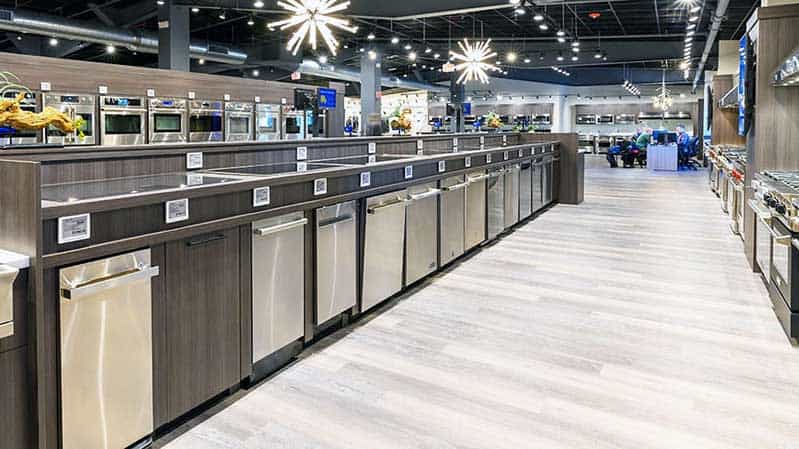 Dishwashers at Yale Appliance in Hanover
You are buying the same dishwasher - sort of.
Buying a Thermador dishwasher for free with qualifying purchases is appealing, especially if you are a builder, just flipping your house, or buying a package of appliances.
However, the better features are in the Bosch line, ironically except for their best, the Bosch Benchmark series dishwasher.
The Thermador rebate is the key in this comparison.
You may want to use the Thermador rebate on another product like a speed oven or microwave drawer and buy a similar Bosch dishwasher.
If you're not buying a package of appliances, Thermador is probably not your best option. Bosch has better features at lower prices.
Additional Resources
Get our free Dishwasher Buying Guide with tips, trends, and reviews of all the major brands. Over 1 Million people have already found answers in a Yale guide.
Related Articles:
Why Should You Trust Us?
It seems that every appliance review has nothing but glowing comments about almost every product, yet you read customer reviews and they are almost universally bad.
We are here to fill in the disconnect. We'll give you the best features, and the drawbacks as well, including reliability based on over 37,000 calls performed by our service team just last year. Our goal is to give you ALL the information so you know what's right for you.
Please consider subscribing or adding to the conversation in the comments below. We appreciate you stopping by.
A Note About Pricing
Pricing on this blog is for reference only and may include time sensitive rebates. We make every attempt to provide accurate pricing at time of publishing. Please call the stores for most accurate price.