Bosch vs. Thermador Dishwashers (Reviews/Ratings/Prices)
Have you ever looked at two brands and thought to yourself, "These things seem awfully familiar?"
Well, just like most manufacturers across the realm, appliance companies under the same umbrella, produce identical appliances under different names. Today, we will discuss 2 brands under the same corporation: Thermador and Bosch.
Before we start, let's look at the companies.
Bosch
Bosch Home Appliances is part of BSH, Bosch and Siemens Home Appliance Group, based in Munich, Germany. As part of the third largest appliance manufacturer in the world, Bosch has been selling high-performance German-engineered appliances in the United States since 1991. Their factory in North Carolina is the largest appliance factory in the world.
Bosch started the trend of quieter, yet more affordable dishwashers. You can buy a very decent Bosch at $650-700.
Bosch Dishwashers Series
Thanks for reporting a problem. We'll attach technical data about this session to help us figure out the issue. Which of these best describes the problem?
Any other details or context?
message
You can watch this two-minute Bosch video to understand a bit more.
Thermador
Thermador is part of BSH Home Appliances Corporation, a fully-owned subsidiary of BSH Bosch. Founded in 1916 in California by William E. Cranston, and began as a manufacturer of electric items, most notably portable, and built-in heaters.
Twenty-five years ago, Thermador manufactured their own dishwashers with a patented steam process under the Thermador and Waste King name.
In 1998, Thermador became part of the Bosch company, and their dishwashers are relabeled Bosch dishwashers.
However, most Thermador dishwashers are actually sold free with the purchase of a Thermador Pro oven and other qualifying pieces. Keep that in mind during this comparison.
We are going to compare 4 models, two from each brand, that have the most similarities.
Bosch vs. Thermador Dishwashers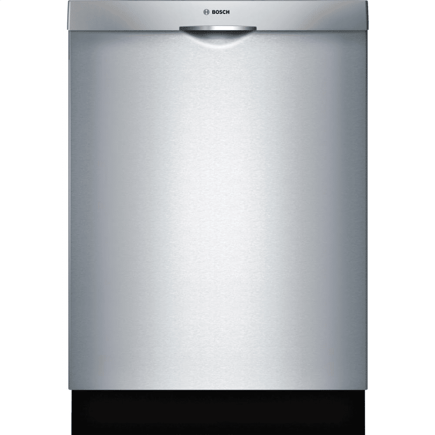 Features:
Made in North Carolina
6 Wash Cycles, 5 Options, Button Controls
44 dBA
Stainless Steel Tub
AquaStop Plus Leak Protection System
InfoLight – Tells you that the dishwasher is running
Silverware Basket
Adjustable Top Rack for Cutlery
16 Place Settings
The Bosch 300 Series SHS863VL5UC
Thanks for reporting a problem. We'll attach technical data about this session to help us figure out the issue. Which of these best describes the problem?
Any other details or context?
message
This dishwasher has solid features and reliability. It is all stainless steel with better adjustable racks than the plastic bottom Ascenta series of Bosch.
At 44 dBs, it is also 40% quieter. It's one of the best-selling dishwashers at Yale and nationally.
Features:
15 Place Setting
4 Wash cycles/4 Options
48 dBa
Stainless Tub
Info Light
2 Year Warranty
Exterior wise, their units look very different. This is a very sharp looking dishwasher. This gives you a solid stainless exterior, with a choice of handles.
Opening the door tells a different story. They are identical because they are just rebadged Bosch dishwashers. On all accounts, this is not as quiet as the Bosch model, and it is almost double the price. It does have a better warranty.
You do not want to buy this dishwasher. You do want it free with the other purchases.
Now let's look at the higher end models.
Features:
3rd Rack
Steel Touch Controls
Info Light
Interior Lighting
6 Cycle/5 Options
38 dBa
24 hour Delay Start
15 place setting
Water Softener
This is not your everyday Bosch model. Bosch Benchmark models are superior to the regular models by having unique features that are only available in those models. Some of those features are interior lighting, the info light that shines on the floor the remaining time left in the wash cycle. How awesome is that?
No dishwasher on the market with integrated controls has the ability to tell you the remaining time besides this dishwasher. With the added third rack, you also gain more capacity for utensils and cutlery, along with the ability to remove the bottom rack basket, gaining even for space for dishes.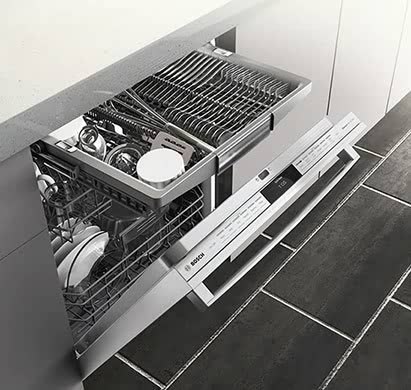 One of the least focused on features is the steel touch controls. The controls sit on a solid piece of stainless steel, that has the unique ability to be cleaned very easily. No longer will you have to pick crud out of the gaps on the sides of the buttons on the controls.
Do you have hard water? This model has a built-in water softener. This helps with cleaning and wear-and-tear by removing the minerals that can streak your dishes or cause etching. This is also one of the quietest dishwashers on the market at 38 dBas.
Features:
3rd Rack
Star Speed Cycle
InfoLight
Interior Lighting
6 Cycles/5 Options
44 dBa
Water Softener
2 Year Warranty
15 place settings
18 wine glass capacity (largest in the industry)
To be honest, you are going to get a lot of the same features on the Thermador that you have on the Bosch. However, there is one MAJOR difference between the high-end Bosch Dishwasher and this Thermador model. This dishwasher has the fastest full wash cycle in the industry. This full wash cycle is called the Star Speed. It will clean your small load of dishes in 20 minutes.
It is perfect if you love to host parties or have consistent and multiple dish loads to attend to. Lastly, Thermador gives you a better warranty.
Conclusion
First, the more expensive Thermador dishwashers are similar to much cheaper Bosch dishwashers. There are only two reasons to buy a Thermador
You have purchased other Thermador products and the dishwasher is free. (You cannot beat free.)
If the dishwashers are ever the same price, then look at Thermador's 2-year warranty vs the 1-year warranty offered by Bosch.
Other than that, Bosch is a way better choice for your money.
Additional Resources
Want more information on dishwashers? Read the Yale Dishwashers Buying Guide with specs, features, and detailed profiles of all the major brands. Over 230,000 people have read a Yale Guide.
Related Articles
Eric Trexler
Eric is an Appliance Sales Consultant at Yale Appliance and Lighting. Eric came to sales from the custom installation department and has expert insight on what happens behind the scenes. He is devoted to making sure every customer has the best experience that Yale has to offer. Eric grew up in Maine and loves the outdoors, from fishing to dirt biking.
A Note About Pricing
Pricing on this blog is for reference only and may include time sensitive rebates. We make every attempt to provide accurate pricing at time of publishing. Please call the stores for most accurate price.