Beko vs. Bosch Dishwashers (Reviews / Ratings / Prices)
August 23rd, 2021 | 7 min. read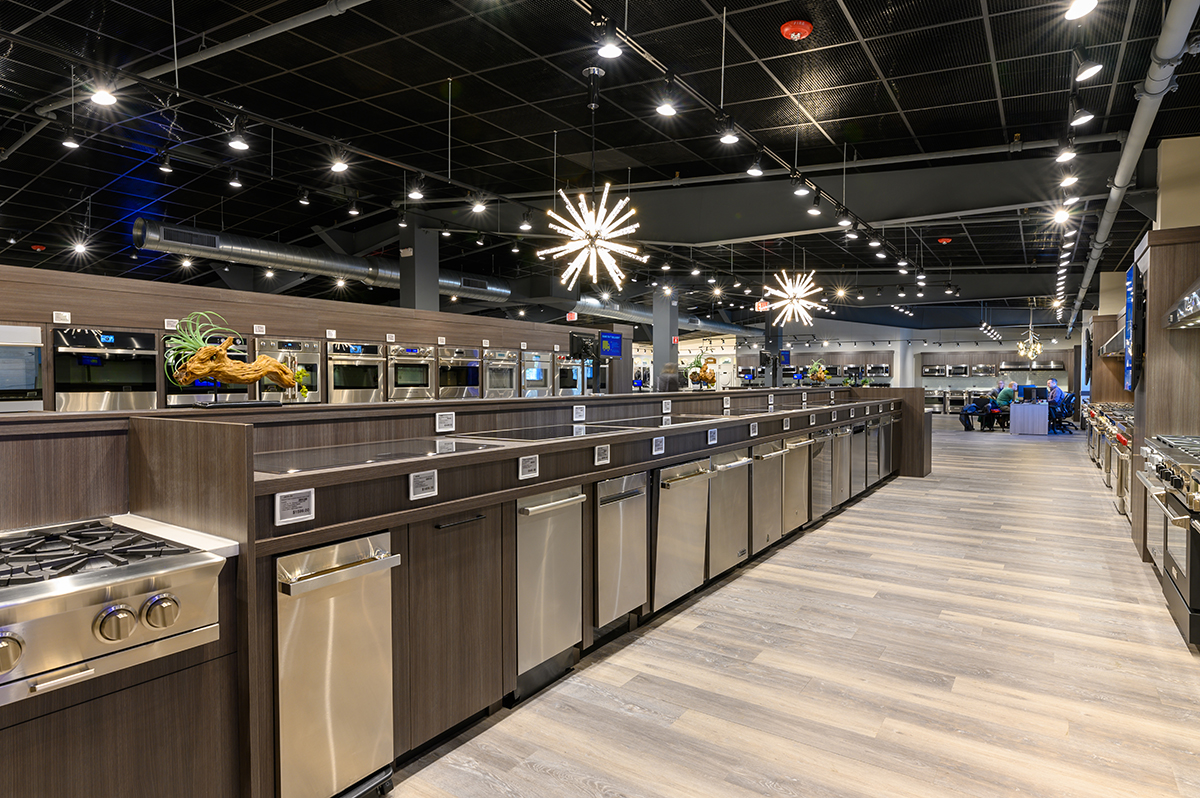 Beko vs. Bosch as a comparison for dishwashers didn't exist until 2020 for two reasons.
First, Beko was an unknown brand. They sold minimally through their Blomberg brand in the US but had zero name recognition.
Secondly, Bosch, like every other manufacturer, was caught during the pandemic with diminished manufacturing capacity against exploding demand.
That said, which dishwasher is truly better?
For that, you will see a comparison between both dishwashers for features including washing, drying, and overall reliability.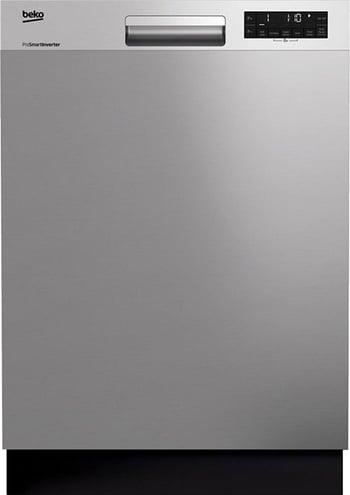 This dishwasher has some pretty extensive features for $549. It is all stainless steel, not plastic other dishwashers at this price.
You also have an adjustable rack and three levels of wash action like most premium brands.
Beko has various cycles, from the ones you'll use the most to more special cycles. You have Heavy, Normal, Quick, Express, along with Rinse and Hold.
You also have more premium cycles such as Half Load, Sanitize to heat the water for better scouring power, and Extra Rinse.
At 48 DBs, it's quieter than many comparable machines. Forty-four decibels is considered softly. You may hear it faintly.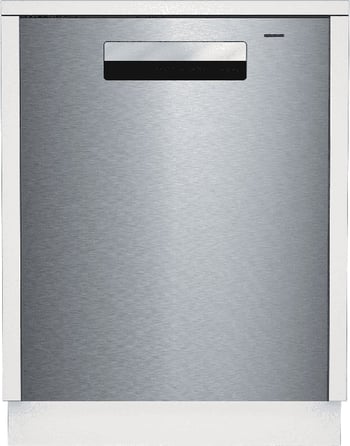 The Beko DDT39432 is the quietest in this price range at a noiseless 39 dB. IT also has Wi-Fi connectivity for your smartphone. This way, you can check when it's done and turn it on or off remotely.
This dishwasher has three wash action levels and a third silverware rack like most other dishwashers.
However, Beko has a separate set of sprays to scour baked-on casserole dishes at the bottom of the dishwasher, known as AquaIntense.
The Fast cycle cuts time in half by adding more water pressure and a higher temperature. At 167 degrees, Beko is amongst the hottest dishwashers.
IonGuard is another Beko exclusive. The dishwasher sends negatively charged Ions to neutralize the positive ions of odors to keep your dishwasher smelling fresh.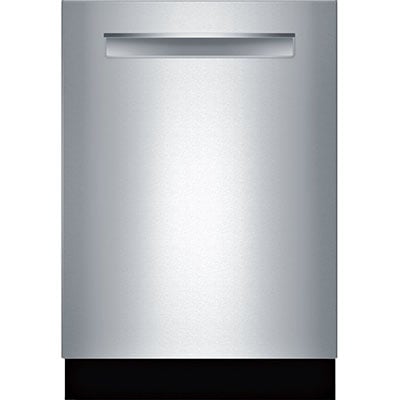 This dishwasher has many of Bosch's unique features. It has Crystal Dry for the best drying of any dishwasher.
You also have Wi-Fi connectivity, so you do not have to wait for the cycle to end. At 42 DB, you won't hear this dishwasher running.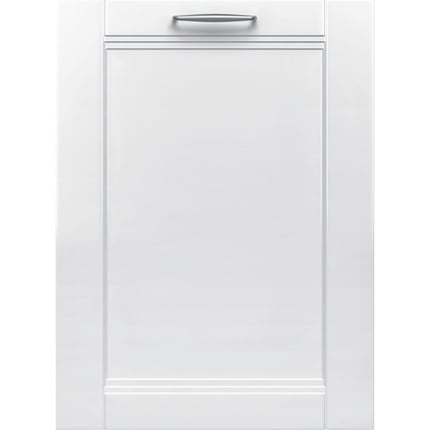 Bosch's 800 Plus Series dishwasher is very similar to the SHP878ZP5N. It's nearly the same dishwasher but available as panel-ready for a custom cabinet front.
It's also 2 dB quieter at 40 dB. Anything under 44 dB is noiseless.
Beko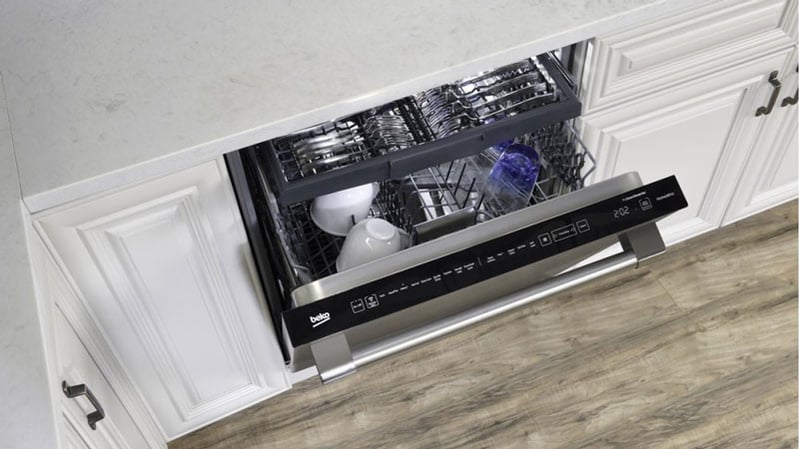 Beko is Turkish and popular in Europe. They have a unique Green philosophy. They also produce dishwashers in the US for Viking and are the parent company for Blomberg.
Beko is a "disruptive" company offering better features at lower prices.
As you will see, they excel in certain models and are especially good at washing your dishes.
Bosch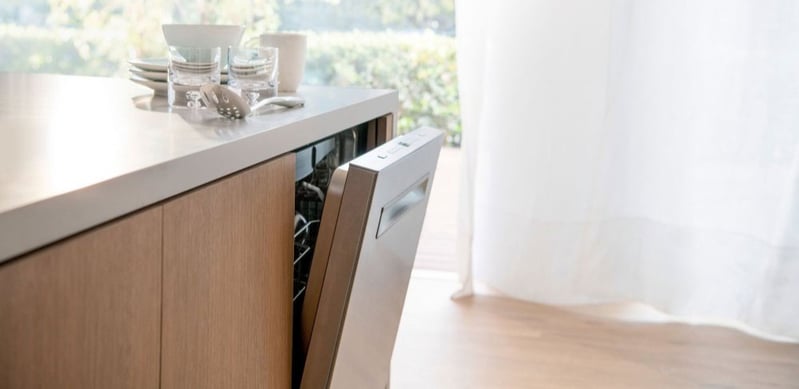 Bosch is a German company yet has the largest dishwasher manufacturing facility in North Carolina.
Bosch was the first company to introduce a quiet dishwasher with a stainless tub to the US in the 1990s
Last year, Bosch improved their drying on some models featuring AutoAir popping open the dishwasher after the complete cycle to release excess steam and moisture.
Bosch's better models have their CrystalDry using volcanic elements to increase heat and absorb moisture.
Beko vs. Bosch Dishwashers
Beko vs. Bosch Dishwashers Under $600

What They Have In Common
Both have similar cycles. Pots and Pans, Normal, and Delay Start are the main options. Bosch does have a delicate cycle, and Beko does not.
How They Differ
Water Heating: Bosch will heat the water to 161, whereas Beko uses inlet 120-degree water.
Wash Action: Beko has three full wash arms versus two for Bosch.
Quietness: Beko is 48 dB or about 20% quieter than Bosch at 50 dB.
Construction: The Bosch Ascenta tub is stainless with a plastic bottom. This differs from the regular Bosch dishwasher line.
The doors on the Ascenta models are also lighter than all the other series.
Beko doesn't change their tub or door. It is all stainless, so you do not have to clean the plastic bottom.
This next comparison is Bosch's most popular dishwasher against Beko's best-featured dishwasher.
Beko vs. Bosch Dishwashers Under $900

What They Have In Common
Third Racks: They have a similar 3rd rack along with an adjustable top rack as well.
Drying: Both use condensation drying as well. Condensation uses the steam from the wash plus JetDry to dry your dishes.
The problem with condensation drying is when you leave the dishes overnight. That steam can leave residual moisture on your glasses and plates the next day.
Pro Tip: Open the door on your dishwasher to remove the steam if yours does not open automatically.
How They Differ
Quietness: Both are quiet. The minimum standard for not hearing a dishwasher is 44 dB.
Bosch is 44 dB. Beko is the quietest at 39 dB. Only KitchenAid at $999 has as low a dB as Beko.
You would have to buy a Bosch Benchmark at $1,999+ for 39 dB.
Speed60: Bosch has a 60-minute wash and dry cycle for lightly soiled dishes.
AquaIntense: I have been saying dishwasher cycles are different wash, rinse, and temperature sequences.
AquaIntense is different. Its concentrated spray heads on the right side of this Beko dishwasher to scour heavily soiled dishes.
AquaFlex: Beko adds a cycle for more water pressure on the plates with a light spray on top. You can wash lasagna pans and wine glasses in the same wash by using AquaFlex.
IonGuard: Odors emit positive ions. This Beko dishwasher has a negative ion generator to emit negative ions to cancel odors at the source.
Wi-Fi: Beko has Wi-Fi, so you can control the dishwasher remotely through an app on your phone.
Best Drying Dishwasher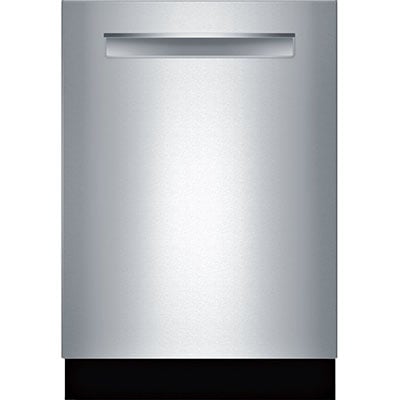 Years ago, Bosch condensation was dry only and still is on many of their 100,300 and 500 series dishwashers.
It's an OK system basically using residual heat to dry the dishwasher.
For Bosch, many of their rivals had better systems like Miele with their CleanAir system allowing air into the dishwasher through a port at the bottom.
KitchenAid has the same system along with a separate heating element.
Bosch introduced AutoAir and Crystal Dry to be the best drying dishwasher.
AutoAir pops the door open a bit at the end of the cycle to release the residual steam so it won't convert back to moisture.
CrystalDry employs Zeolite, a volcanic crystal, to dry.
Zeolite is an all purpose element used in supplements and other industrial applications.
For a dishwasher, Zeolite absorbs moisture and emits heat so even plastics are dried.
Beko is only condensation dry, and this dishwasher will be an improvement.
Best Dishwasher for Panels
What They Have in Common
Panel-Ready: First both should be a consideration because they are seamless to the cabinet.
They do not protrude, so they look like a cabinet, not a dishwasher with a cabinet stuck on it.
How They Differ
This comparison is interesting.
AquaIntense: Beko has excellent wash capabilities with the AquaFlex and AquaIntense functions versus the AutoAir and CrystalDry drying of the Bosch.
It really depends on what you value, what is available in your area, and what has the better after service experience.
Beko vs. Bosch Reliability
Reliability is more crucial now than ever.
Your service experience will be upsetting for almost any brand because of the surge in demand and an almost gut-wrenching shortage of parts and techs to fix the problem.
Let's look at reliability for both brands below. Each brand represented has a minimum of 50 units sold and a total sample of over 10,000 pieces.
Dishwasher Reliability From December 2019 to November 2020
| | |
| --- | --- |
| | Service Ratio |
| Blomberg | 0% |
| LG | 1.9% |
| Whirlpool | 2.1% |
| Thermador | 7.6% |
| Beko | 7.67% |
| Miele | 8.2% |
| GE Profile | 10.5% |
| Samsung | 10.6% |
| JennAir | 11.0% |
| KitchenAid | 11.0% |
| Asko | 11.6% |
| Bosch | 12.8% |
| Bosch Benchmark | 18.4% |
| Café Appliances | 18.8% |
| GE Appliances | 19.5% |
| Fisher & Paykel | 27.8% |
| Average | 11.2% |
Bosch is decent, and Beko is one of the most reliable. As part of reliability, Bosch is usually excellent with parts and support after the sale.
Beko is also good, but we service what we sell and are a bit more proactive. You should check in your area.
Beko vs. Bosch: Key Takeaways
Deciding between a Bosch and Beko dishwasher depends on how you will use your dishwasher and what price level you are comfortable with.
Beko could have the best washing system with AquaFlex. It's also inexpensive without being cheaply made.
Bosch does have speed cycles and great reliability. Its drying systems are the best you can buy.
Ultimately, you also have to consider what is available when it's time to shop.
Should You Buy An Unknown Appliance Brand?
I would automatically say, "No, you should not purchase an unknown appliance brand." That was before the last recession.
However, you probably saved money by buying generic or private label brands and still do.
For appliances, it's a bit different than toilet paper.
If a product needs repair, then you need a person to fix it.
Most lesser-known brands fail at support (then again, many major brands do as well).
Before buying any brand, inquire about the warranty, installation, and service after the sale.
Watch videos and look at warranty reports.
Take the additional step and call the service agency before buying it. Then you will know definitively.
Unknown Brand Story
Last year, my daughter's teacher needed a dishwasher. She wanted a Bosch for under $900. That's easy, I told her. They don't make one right now. She asked what else was available.
She didn't want a few other brands, so I mentioned the Beko DDT39432 and its features.
She looked at me skeptically (and she knows me).
I said, "Do you think I would sell you anything you don't like only to have you unhappy as you teach my daughter?"
She bought the Beko, mostly because there were no other attractive dishwashers available. Certainly not because I am a good salesman.
She loves the dishwasher, and it's the "quietest she ever owned." Thank heaven for my daughter.
Moral of the story: You have your due diligence, but with critical shortages, be flexible with brands. Just know what features you want and then pick the brand.
Additional Resources
Want to learn more about Bosch, Miele, KitchenAid, and other dishwashers? Download the Yale Dishwasher Buying Guide with features, specs, and inside buying tips to all the major brands. Over 620,000 people have downloaded a Yale Guide.
Related Articles:
Why Should You Trust Us?
It seems that every appliance review has nothing but glowing comments about almost every product, yet you read customer reviews and they are almost universally bad.
We are here to fill in the disconnect. We'll give you the best features, and the drawbacks as well, including reliability based on over 37,000 calls performed by our service team just last year. Our goal is to give you ALL the information so you know what's right for you.
Please consider subscribing or adding to the conversation in the comments below. We appreciate you stopping by.
Steve Sheinkopf is the third-generation CEO of Yale Appliance and a lifelong Bostonian. He has over 38 years of experience in the appliance industry, and he is a trusted source of information for consumers on how to buy and repair appliances.

Steve has also been featured in numerous publications, including the New York Times, Consumer Reports, The Boston Globe, Bloomberg Radio, the New York Post, The Wall Street Journal, and Entrepreneur, for his knowledge of how to buy appliances and appliance repair.

Steve is passionate about helping consumers find the best appliances for their needs, and he is always happy to answer questions and provide advice. He is a valuable resource for consumers who are looking for information on appliance buying, repair, and maintenance.

Despite being the worst goalie in history, Steve is a fan of the Bruins and college hockey, loves to read, and is a Peloton biker. The love of his life is his daughter, Sophie.
A Note About Pricing
Pricing on this blog is for reference only and may include time sensitive rebates. We make every attempt to provide accurate pricing at time of publishing. Please call the stores for most accurate price.