Beko Vs. Bosch Dishwashers (Reviews / Ratings / Prices)
Last week, we wrote an article on the 5 Best Bosch Dishwashers.
The crux of the article was here are the best five and good luck finding three. Bosch has been hit hard with COVID-19 throughout the supply chain, like most manufacturers.
With social distancing guidelines, efficiency drops because they have to produce products in a new, less efficient way.
Then add exploding demand. None of us are planning that European vacation anymore, so home improvement becomes more critical.
Maybe you were also sick of your appliances after being quarantined for six months.
So exploding demand and limited supply are a problem.
A big problem, as you will discover.
So you have to be aware of alternatives to out of stock products.
First, you will learn about Beko and whether you should buy unknown brands, and then we will compare a couple of Bosch and Beko dishwashers.
Beko is very different, so it will be an interesting article to read.
Let's get started.
Who Is Beko?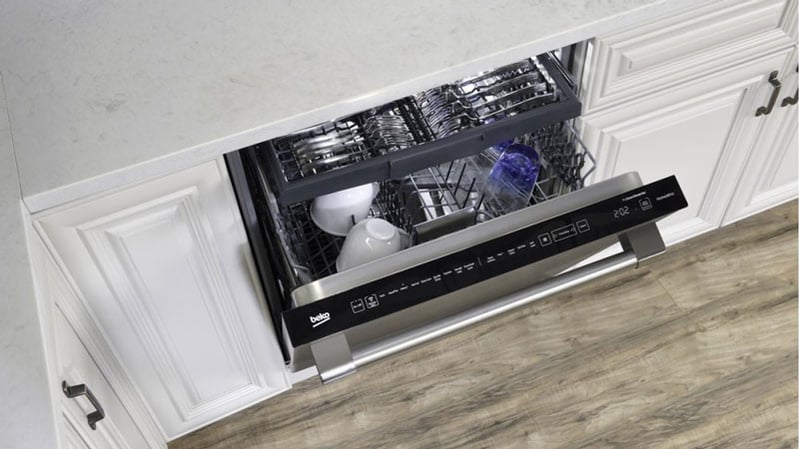 Beko Top Control Dishwasher
Beko is Turkish and popular in Europe. They have a unique Green philosophy. They also produce dishwashers in the US for Viking and are the parent company for Blomberg.
Beko is known for its compact laundry. In Europe, everyone has close laundry. Currently, they are the most reliable after Bosch.
They also won our "Project Produce" for the best freestanding refrigerator keeping food fresher for a more extended period. They were runner up to Sub-Zero overall.
Read More: Project Produce
Here is a look at Beko's best dishwashers for 2020.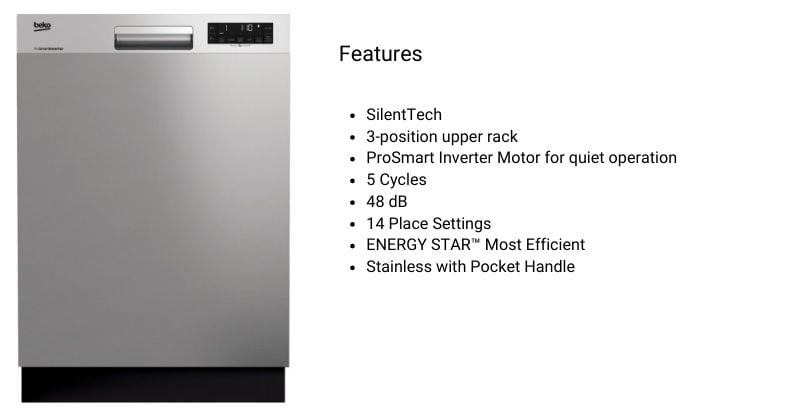 Beko DUT25401 Dishwasher Review [VIDEO]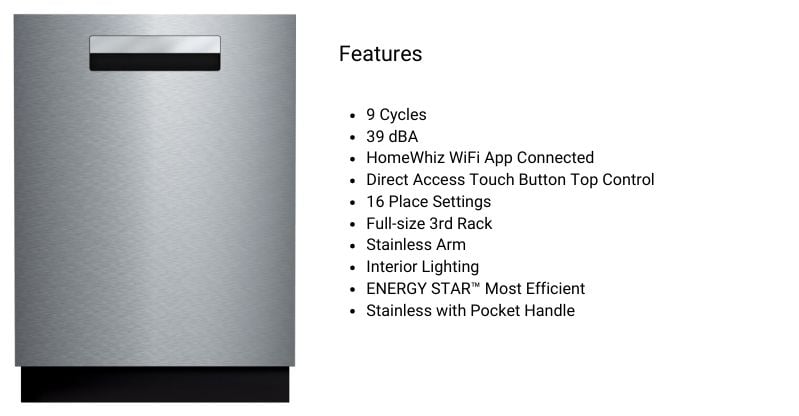 Beko DDT39432XIH Dishwasher Review [VIDEO]
Should You Buy An Unknown Appliance Brand?
I would automatically say no before the last recession.
However, like most people, I saved money by buying generic or private label brands and still do.
For appliances, it's a bit different than toilet paper.
Short on time? Get our free Dishwasher Buying Guide
If a product needs repair, then you need a person to fix it.
Most lesser known brands fail at support (then again, many of the major brands do as well). Before buying any brand, inquire about the warranty, installation, and service after the sale.
Take the additional step and call the service agency before buying it. Then you will know definitively.
Bosch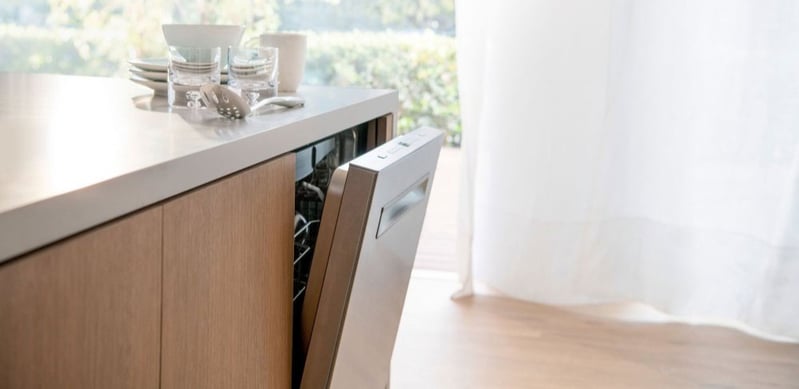 Bosch Dishwasher Featuring AutoDry
Bosch dishwashers are made in North Carolina, even though they're based in Germany.
Their weakness was always drying. Most European stainless tank dishwashers use the condensation from the wash and JetDry to dry dishes.
Last year, Bosch improved their drying on some models featuring AutoAir popping open the dishwasher after the cycle is complete. This will release the moisture and speed drying.
Bosch's better models have their CrystalDry using volcanic elements to increase heat and absorb moisture.
Read More: Best Bosch Dishwashers
Here is a look at Bosch's best dishwasher in comparison to Beko for 2020, the SHE3AR75UC.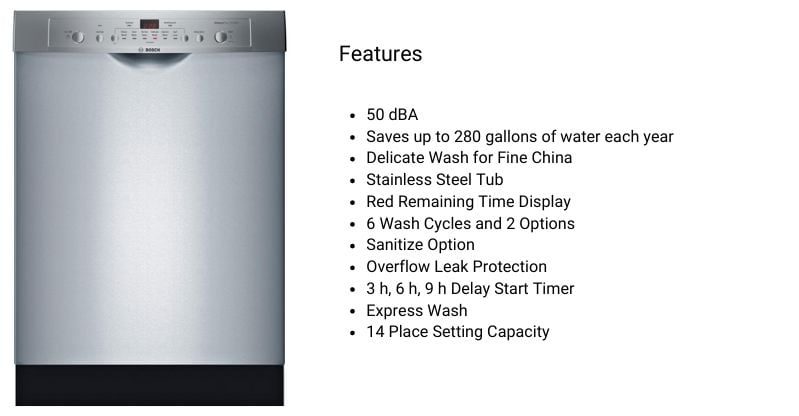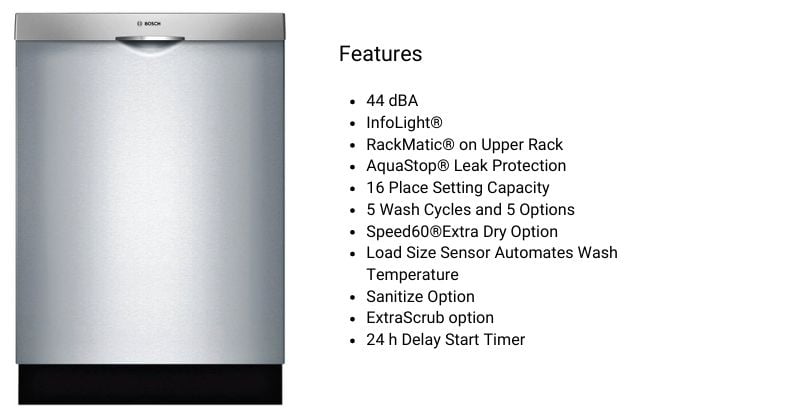 Bosch 300 Series Dishwasher Review [VIDEO]
Beko Vs. Bosch Dishwashers
Where They Do Not Compete
Bosch sells the bulk of their dishwashers from $849-1300 with a popular dishwasher series at $499-599. Beko sells the majority of its dishwashers from $499-1100.
Over the last few years, Bosch has targeted Miele and has competed on mostly higher prices of $1,100 and more.
At that price, they have their CrystalDry of volcanic elements to emit heat and absorb moisture. Their AutoAir will also open the door to remove steam for better drying.
Bosch and Beko compete heavily for two models. At $499 and $849.
The pricing in appliances changes every holiday, so these are average prices.
Read More: Best Dishwasher Deals
Let's take a look.
Beko Vs. Bosch Dishwashers Under $600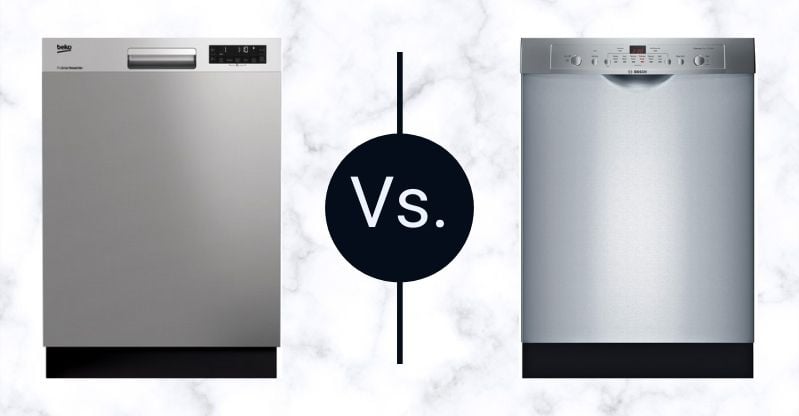 Beko DUT25401 Dishwasher | Bosch Ascenta Dishwasher SHE3AR75UC
What They Have In Common
Both have similar cycles. Pots and Pans, Normal, and Delay Start are the main options. Bosch does have a delicate cycle, and Beko does not.
How They Differ
Water heating
Bosch will heat the water to 161, whereas Beko uses inlet 120-degree water.
Wash Action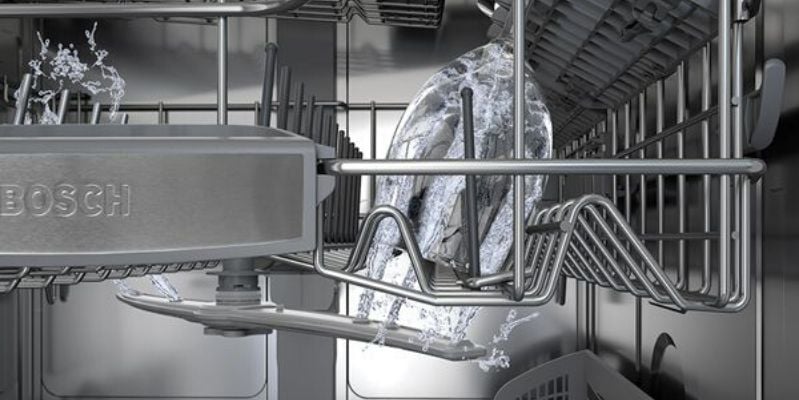 Bosch Upper Wash Arm In Dishwasher
Beko has three full wash arms versus two for Bosch.
Quietness
Beko is 48 dB or about 20% quieter than Bosch at 50 dB
Construction
The Bosch Ascenta tub is stainless with a plastic bottom. This differs from the regular Bosch dishwasher line.
The doors on the Ascenta models are also lighter than all the other series.
Beko doesn't change their tub or door. It is all stainless, so you do not have to clean the plastic bottom.
This next comparison is Bosch's most popular dishwasher against Beko's best-featured dishwasher.
Beko Vs. Bosch Dishwashers Under $900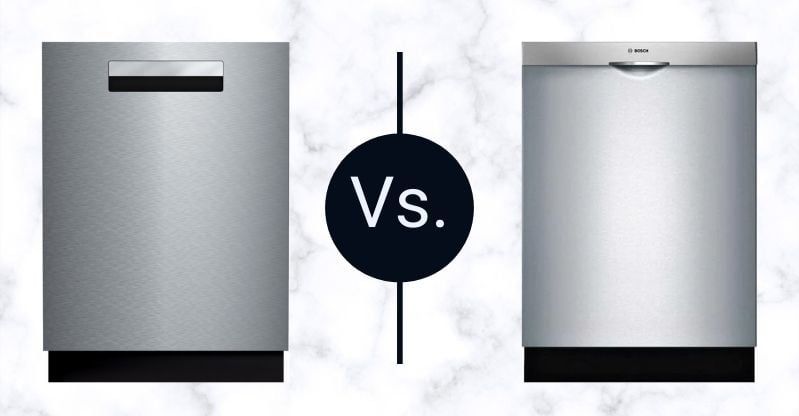 Beko DDT39432XIH Dishwasher | Bosch 300 Series Dishwasher SHS863WD5N
What They Have In Common
Third Racks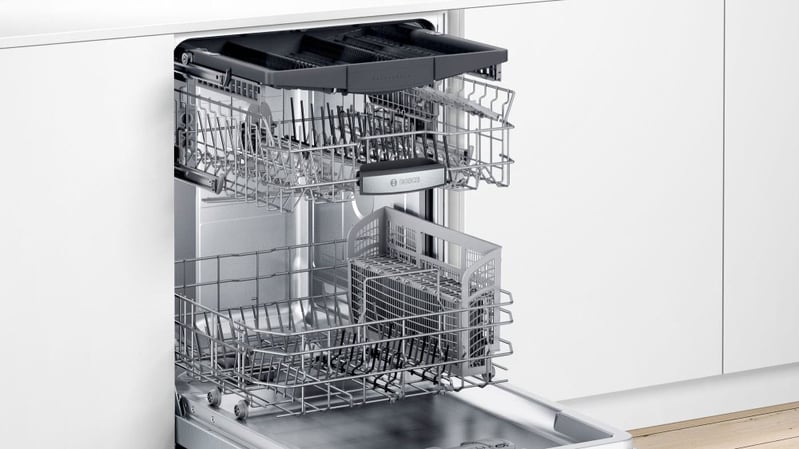 Bosch Dishwasher Racks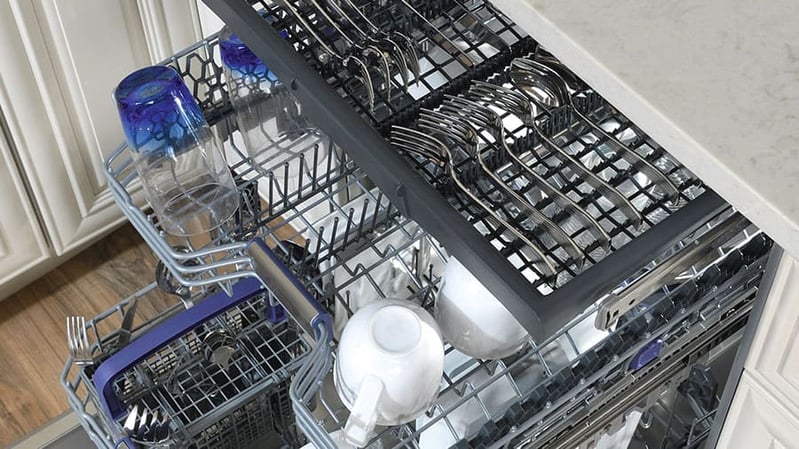 Beko Dishwasher Racks
They have a similar 3rd rack along with an adjustable top rack as well.
Drying
Both use condensation drying as well.
How They Differ
Quietness
Both are quiet. The minimum standard for not hearing a dishwasher is 44 dB.
Bosch is 44dB. Beko is the quietest at 39 dB. Lower-priced KitchenAid dishwashers are also 39 dB.
Speed60
Bosch has a 60-minute wash and dry cycle for lightly soiled dishes.
AquaIntense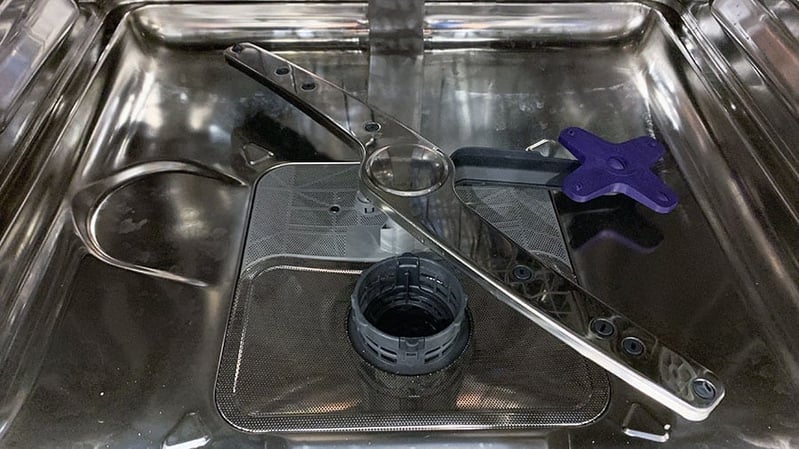 Beko Dishwasher With AquaIntense
I have been saying dishwasher cycles are a merely different wash, rinse, and temperatures for years.
AquaIntense is different. Its concentrated spray heads on the right side of this Beko dishwasher to scour heavily soiled dishes.
AquaFlex
Beko Top Control Dishwasher With AquaIntense and AquaFlex Cycles
Beko adds a cycle for more water pressure on the plates with a light spray on top. You can wash lasagna pans and wine glasses in the same wash by using AquaFlex.
IonGuard
Odors emit positive ions. This Beko dishwasher has a negative ion generator to emit negative ions to cancel odors at the source.
Wi-Fi
Beko has Wi-Fi so you can control the dishwasher remotely through an app on your phone.
Are Beko Dishwashers More Reliable
Than Bosch Dishwashers?
Dishwasher Reliability From January 2020 to September 2020
| | | | |
| --- | --- | --- | --- |
| | Service Qty | Shipped Qty | Service Ratio |
| Signature Kitchen Suite | 1 | 2 | 50.00 % |
| JennAir | 117 | 269 | 43.49 % |
| Fisher & Paykel | 48 | 142 | 33.80 % |
| GE Appliances | 9 | 46 | 19.57 % |
| Thermador | 102 | 592 | 17.23 % |
| Cove | 9 | 57 | 15.79 % |
| Miele | 93 | 593 | 15.68 % |
| Café Appliances | 9 | 63 | 14.28% |
| Bosch - Benchmark | 10 | 82 | 12.20 % |
| Bosch Appliances | 314 | 2670 | 11.76 % |
| GE Profile | 7 | 63 | 11.11 % |
| Samsung | 94 | 904 | 10.40 % |
| KitchenAid | 79 | 851 | 9.28 % |
| LG Electronics | 1 | 16 | 6.25 % |
| Beko Appliance | 13 | 372 | 3.49 % |
| Whirlpool | 14 | 533 | 2.63 % |
| Blomberg | 0 | 224 | 0.00 % |
| Grand Total | 920 | 7479 | 12.30% |
You are looking at our the amount of dishwashers we serviced and shipped from January 2020 to September 2020.
We divide sales into service calls for a service percentage.
Bosch has been amongst the most reliable dishwashers sold. With Beko, it's unknown because the brand is new in the US.
Read More: Most Reliable Dishwashers
Beko Vs. Bosch Dishwashers: Key Takeaways
First, over $1,100, Bosch is your only choice. With their newest dry cycles, it is the strength of the brand.
For this comparison, Beko is worth considering. Although they are new in the US, they do have a proven track record in a tough and crowded European market.
Bosch does have speed cycles and reliability, but Beko has more features to clean your dishes.
Ultimately, you almost have to buy what is available when its time to shop.
If Beko has similar reliability as their other products, it may be an excellent 4th premium brand along with Bosch, KitchenAid, and Miele.
Additional Resources
Want to learn more about Bosch, Miele, KitchenAid, and other dishwashers? Download the Yale Dishwasher Buying Guide with features, specs, and inside buying tips to all the major brands. Over 620,000 people have downloaded a Yale Guide.
Related Articles:
Why Should You Trust Us?
It seems that every appliance review has nothing but glowing comments about almost every product, yet you read customer reviews and they are almost universally bad.
We are here to fill in the disconnect. We'll give you the best features, and the drawbacks as well, including reliability based on over 37,000 calls performed by our service team just last year. Our goal is to give you ALL the information so you know what's right for you.
Please consider subscribing or adding to the conversation in the comments below. We appreciate you stopping by.
Steve Sheinkopf
My goal has always been simple: I want Yale to be the best retail experience anywhere. I have tried to create a compelling environment for customers and employees alike.
A Note About Pricing
Pricing on this blog is for reference only and may include time sensitive rebates. We make every attempt to provide accurate pricing at time of publishing. Please call the stores for most accurate price.