Miele vs. Dyson Vacuums (Reviews / Ratings / Prices)
Miele versus Dyson is probably your toughest decision if you want a very good vacuum. There is no easy answer to what is better for you. It all depends on what is important to you. To answer the question, we will be comparing two very different vacuums.
Miele sells mostly cannister style vacuums whereas Dyson is mostly an upright vacuum manufacturer. Miele is a bagged vacuum, but Dyson is bagless.
We will compare upright versus cannister and bagged versus bagless vacuums, but first let's look at these very different companies.
Dyson
James Dyson was obsessed with creating a better vacuum when his was constantly breaking down. He opened his old vacuum and started to analyze the failures of it. The bag was the cause of the lack of suction as it was filled, in his opinion.
After 5 years, and 5,127 prototypes, Dyson bagless vacuums were born in 1984. Dyson designed their vacuum in a cyclone action to pull particles and extract. Dyson was made popular after releasing their 1st model "G-FORCE" in Japan.
It quickly became a status symbol selling for $2,000. After winning the International Design Fair prize in Japan, Dyson became a global household vacuum name. In 1993, Dyson released the 100% suction, 100% of the time DC01 vacuum model. This model captured the smallest micron of dusts.
Today there are Dyson vacuums in over 65 countries but their core manufacturing is in Malaysia.
Miele
"Forever Better" is the Miele standard of excellence. From vacuums to refrigerators, all Miele products last longer than other brands. The company was founded over 110 years ago in 1899 by Carl Miele and Reinhard Zinkann and has always been a family-owned, family-run company. Miele is based in Germany and designs vacuums to last for 15-20 years.
In fact, Miele vacuums must withstand 1,200 miles of vacuuming over different surfaces, the hoses are wound and unwound 10,000 times as well as passing crash tests simulating 20 years of life.
Miele's six speed 1,200W vortex motor is the quietest vacuum you can buy. The vacuum vents from the top rather than the sides, so it doesn't blow dirt around. Miele's standard vacuums use bags.
The bags captures 99.5% of particles down to .1% micron. The European standard is 3x greater than the .3 allowed in the U.S. This is important for allergy sufferers and people who want cleaner air.
Bag vs. Bagless Vacuums
Dyson bagless vacuum cleaners are more cost efficient. There are no bags to worry about purchasing. By not having bags you will get 100% suction at all times. There is no loss of speed, and power as the cleaners fills up.
The big disadvantage of bagless vacuum cleaners is that it sends dust back into the room when emptying. Dust could cause problems for allergy and asthma sufferers. Filters will also need to be cleaned once a month (Dyson Cinetic Series not included), and left to dry before using again.
Miele's big advantage is the self-sealing bag system. The bag holds up to 8 lbs of dirt in a 1.18 gallon bag, so you do not have to replace them as frequently. The bag traps about 99.5% of dirt.
This protects dirt from getting to the motor, working parts, inside of the vacuum and the environment. Miele vacuums have the HEPA filters to ensure allergies are under control. As we said previously, the Miele HEPA is 3 times more efficient than other competitive vacuums.
The disadvantage is that an average box of replacement bags (3 count) cost $19.99 along with the price of the Miele vacuum.
Upright vs. Canister Style Vacuums
The type of house would influence the style of vacuum you want. It is not fun dragging an upright vacuum upstairs, as they are heavier than a canister vacuum. An average upright vacuum is 20 lbs versus the canister vacuum at 13 lbs!
Upright vacuums move around easier from room to room. They normally have wider cleaning heads that covers in one sweep. The Dyson " ball" is designed to be more ergonomic as it can roll around very smoothly. The upright position can be stored in a closet easily.
Miele canister vacuums are designed to get down under sofas. The brush head along with their 35 ft. of cord can get down and under easier. Most of them have controls on the handle to turn off and on, and to adjust speed. Canisters can be easily carried upstairs or roll downstairs.
Dyson Cinetic Series - $599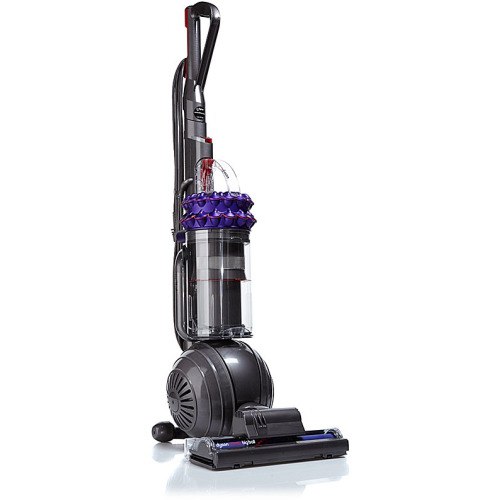 Features:
Cinetic Big Ball Animal Upright Vacuum Cleaner
180 AW suction power
Whole machine HEPA filtration
No filters to wash or replace
Ball designed to be lower to gravity for better suction contact
All parts are attached to vacuum.
Dyson Cinetic tips oscillate at up to 5,000 hz, separating the microscopic dust that clogs all other vacuums.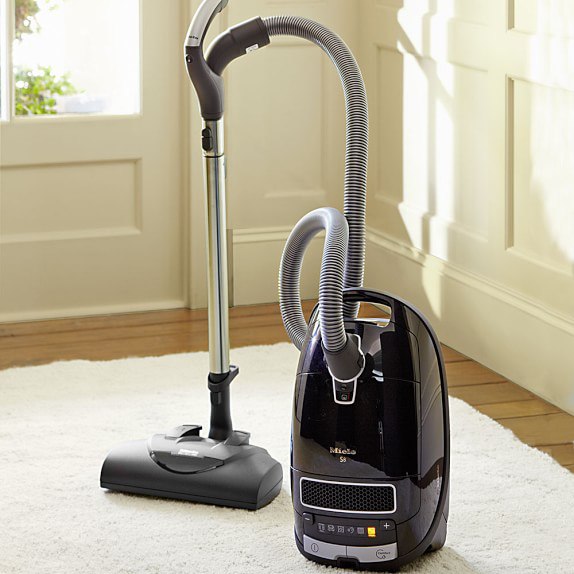 Features:
Silence motor with 6 speed settings controlled via +/- footswitch controls
36" operating radius
Active AirClean filter
SEB 228 Electroplus Electro brush
SBB 300-3 parquet twister
Recommended for all flooring types
Watch the Miele Kona in action here:
Thanks for reporting a problem. We'll attach technical data about this session to help us figure out the issue. Which of these best describes the problem?
Any other details or context?
message
Comparison
This is an interesting comparison with bagged versus bagless vacuums as well as cannister against upright. The Kona is also one of Miele's best vacuums.
From first-hand experience, I have owned a Miele vacuum for over 10 years. This unit continues to perform and is as quiet just like the first day. I use it at least 3 times a week. The bag puffs up as it gets more dust. It grows about 20x the size.
The bag is easy to slip off and on. There is no dust, so the motor is virtually clean at all times. There is a filter to protect the motor for the .5% of dust that may escape. I love that it is lightweight enough to carry up and down the stairs.
Growing up with an upright vacuum, I can still remember the heaviness of it. Dyson reminds me of this. It is very hard to get under the beds and sofa with the Dyson.
In terms of suction, they both are excellent, but I give Dyson a small edge for their low profile contact to the floor suction. Miele is about 1.5" off the floor.
Miele's Turbo brush tangles the hair so you have to manually take it out, while Dyson does a better of pushing it through.
Final Thoughts
Overall the main difference that seperates these two brands is the sound. Miele is really quiet. That is one of the most important factors.
With Miele's Kona, you have lots of very specialized attachments including a crevice nozzle, upholstery tool, dusting brush, parquet twister for hardwood floors as well as a power head. You can clean your floors, furniture, and your car.
Dyson has style without question, but in terms of durability, functionality, and versatility, Miele is the best vacuum on the market.
Additional Resources
Downlaod the Yale Vacuum Buying Guide with features, specs and buying tips for vacuums. Well over 210,000 people have read a Yale Guide.
Related Articles
Why Should You Trust Us?
It seems that every appliance review has nothing but glowing comments about almost every product, yet you read customer reviews and they are almost universally bad.
We are here to fill in the disconnect. We'll give you the best features, and the drawbacks as well, including reliability based on over 37,000 calls performed by our service team just last year. Our goal is to give you ALL the information so you know what's right for you.
Please consider subscribing or adding to the conversation in the comments below. We appreciate you stopping by.
Danny Nguyen
Danny Nguyen has over 18 years of experience at Yale Appliance. He takes pride in helping customers complete their dream kitchens. Danny enjoys eating, running, and competing in Spartan races. If he's not competing in a race, he is often traveling with his family.
A Note About Pricing
Pricing on this blog is for reference only and may include time sensitive rebates. We make every attempt to provide accurate pricing at time of publishing. Please call the stores for most accurate price.