Miele vs. Shark Canister Vacuum Cleaners (Reviews / Ratings)
When considering a new vacuum you should consider a few factors. For example, allergies, pets, type of carpets, or hardwood floors should determine the style of vacuum you need.
The market for vacuum cleaners is extensive and there are many different options available at different prices. This article will talk about the differences between Miele and Shark canister vacuums.
We will look at both companies, both vacuums and then compare at the end.
Shark
Shark vacuums are developed by Shark Ninja Operating LLC, a manufacturer of small household appliances. This brand has European roots; however today the corporate headquarters is down the street from Yale in Newton, MA.
Shark Ninja to this day is also a family owned company. The product itself is manufacturered by an OEM in China. Shark makes one canister vacuum model.
Miele
Miele is a German company that has earned a reputation as one of the most quality conscious manufacturers of household appliances.
All of their appliances and vacuums are manufactured in Germany. Their products have the most stringent quality control in the industry.
A Miele vacuum is tested over 1,200 miles of various surfaces and the hose is wound and unwound over 10,000 times to assure a 20 year life.
Miele is a family owned company and is one of the least serviced brands at Yale. They manufacture many canister vacuum cleaners in a wide price range.
Let's look at Miele and Shark vacuums.
Shark NR96 - $299 (online) plus $329 in accessories
Shark makes one canister model.
Features:
Canister with a motorized power nozzle that can go under and around furniture
2 motor system is designed for advanced carpet cleaning
Powerful suction to clean bare floors
Anti-Allergen Complete Seal Technology with HEPA washable filters is designed to filter the air while you vacuum
LED headlights on power head allows you to see cleaning areas
You can release the wand from the power head by using a foot pedal
Fingertip controls allow you to switch from carpet to floor by using controls on the handle
Two accessories store in the canister and power nozzle can adhere onto the canister for easier storage
Dusting brush is great for shelves, walls, baseboards, and ceilings. This tool can adhere to the wand or the nozzle for easy cleaning.
Crevice tool allows you to clean tight space.
Pet power brush is intended for fast removal of pet hair and dirt from carpeted stairs and upholstery
Dust cup collects dirt and dust. This should be cleaned after every time you use your vacuum.
You must also clean filters on this vacuum every 3 months, the Shark website instructs you to remove the filters and knock out all the dirt and dust outside
This brand has a plastic casing with plastic wheels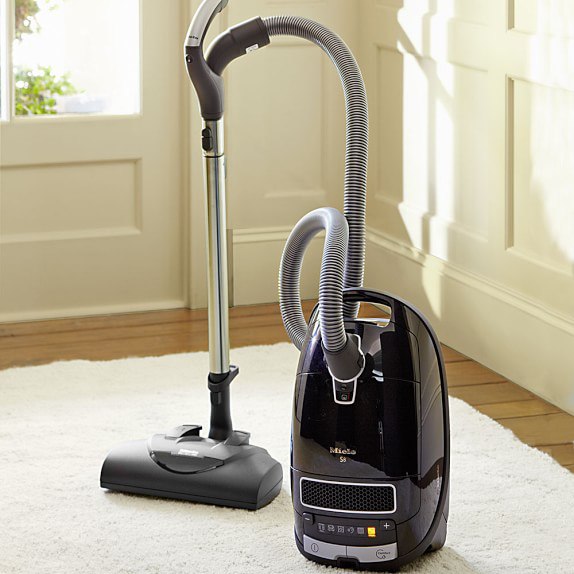 Miele makes many canister models. Given the features the Shark offers, Kona is the closest match with HEPA filter built in.
Features:
Low noise 1,200 watt motor
Air clean sealed system so nothing escapes vacuum canister
Power head electro brush allows you to clean both carpets and hardwood floors with ease
36' cleaning radius
6 speed settings can be accessed from push button handle
HEPA air filter is included with this vacuum to filter to .1 microns
Tools store under the lid of the sealed vacuum for easy storage.
Also includes natural fiber dusting brush, upholstery tool, and crevice tool
All Miele vacuum cleaners have bags that seal themselves as soon as you remove them to avoid its contents spilling
This vacuum also comes with electro plus motorized brush which is great for carpets
This vacuum also comes with parquet twister floor tool for hardwood floors
Miele vacuums have rubber wheels and a solid, sealed construction
Which is Better?
So, the Miele vacuum with similar features costs almost double the Shark. Is the Miele that much better?
The short answer is yes, but it should be for the added cost. Although these two vacuums might appear to be similar on paper they are not.
HEPA Filter
A HEPA filter is the best type of filtration a vacuum can have. It is designed to improve your air quality by removing dust, pet hair, and dust from the air while you vacuum. HEPA stands for "High Efficiency Particulate Air".
HEPA filters claim to remove over 99% of particles 0.3 microns or larger. Miele vacuums have better HEPA filters because they have a rubber gasket seal. They also filter to the European standard of .1 of a micron versus .3 for the U.S standard.
It is important for allergy sufferers and people who clean air.
Also if you think about it, even though a Shark vacuum has a HEPA filter, it is pointless because dust particles will leak when you go to empty the dust cup.
Maintenance
On the Shark vacuum you need to clean the dust cup every time you use your vacuum. Miele bags have a 1.18 gallon capacity, so it will be weeks or months before it is filled.
Miele bags seal themselves so you will not have any dust leak from the bag. The Shark website suggests for allergy sufferers to empty the dust bin outside and clean the components outside to prevent dust in your home.
In the Shark vacuum you need to regularly clean the filters otherwise you will experience a loss in suction. If you have any sensitivity to dust, pollen, or pet dander it is in your best interest to consider a bagged vacuum.
Durability
Shark vacuums have a plastic casing with plastic wheels. Miele vacuums have rubber wheels. A Miele vacuum is far less likely to scratch your floors than a Shark vacuum.
The Miele vacuum has a better casing and will be more reliable. Miele Lightweight construction (ABS plastic) has an internal skeleton (compartmentalized) construction.
Conclusion
The Shark vacuum looks like a great value at $299. You do have to add $329 in accessories for different hoses and tools. Miele will be complete with 5 tools out of the box.
Miele makes vacuums ranging from $329-$1,499. You can add a HEPA filter to any Miele vacuum however most of the time it is an added accessory. So in theory, you can buy a Miele vacuum with HEPA at $449.
There is no question in this comparison. Shark is the better price. Miele is the better vacuum for HEPA, filtering, noise and overall durability without question.
Watch the Miele Kona in action here:

Related Articles
Paul Gillis
Paul Gillis has over 15 years of experience in the appliance industry. Paul likes to spend time golfing, working in the garden and fixing up his 100 year old home.

Schedule a showroom visit with me
A Note About Pricing
Pricing on this blog is for reference only and may include time sensitive rebates. We make every attempt to provide accurate pricing at time of publishing. Please call the stores for most accurate price.