Affordable Luxury vs. Basic Appliances
December 22nd, 2022 | 8 min. read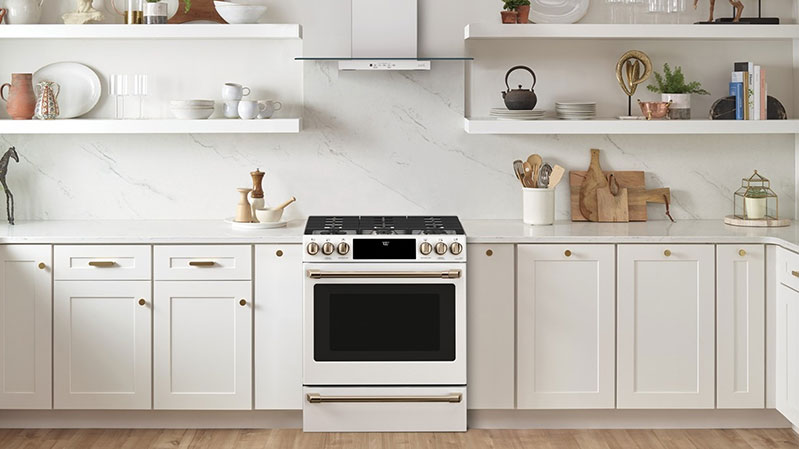 What is the cost difference between regular appliances and "affordable luxury" appliances?
This article will teach you the features and cost differences between affordable luxury and basic appliances.
You will be able to assess each feature difference between the refrigerator, stove, dishwasher, and, lastly, the hood.
Stay until the end. Throughout this article, I will tell you how to make that luxury kitchen even more affordable with design tips and hacks.
Remember, you are different from anyone else reading this article. You can determine if the upgrades are worth the extra money.
Let's get started.
Affordable Luxury vs. Basic Appliances
Refrigerators and stoves are the most important but let us start with refrigerators because they have the most variations.
Refrigeration
Affordable Luxury Refrigerators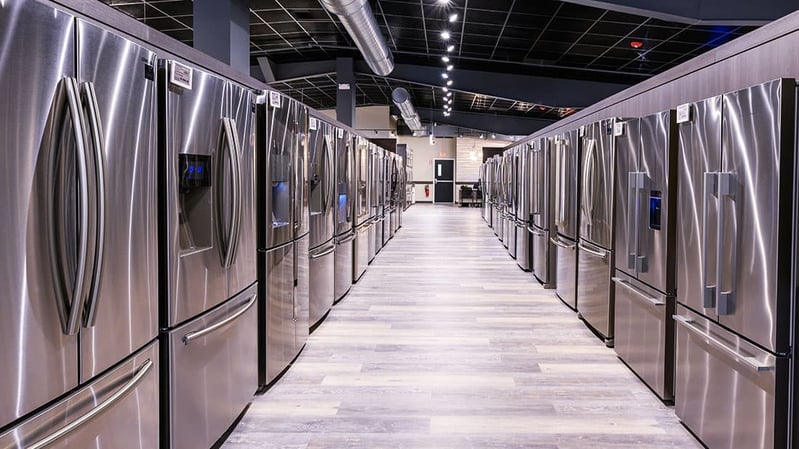 French Door Counter-Depth Refrigerators at Yale Appliance in Hanover
For affordable luxury, the refrigerator of choice is a French door counter-depth.
A counter-depth refrigerator is shallower and designed to sit more flush with the surrounding cabinets, creating a more seamless look in the kitchen. Only the doors protrude past your cabinets.
In addition, the cabinets cover the black textured sides of the refrigerator. That's important if your refrigerator is near the center of your kitchen or if you have an island.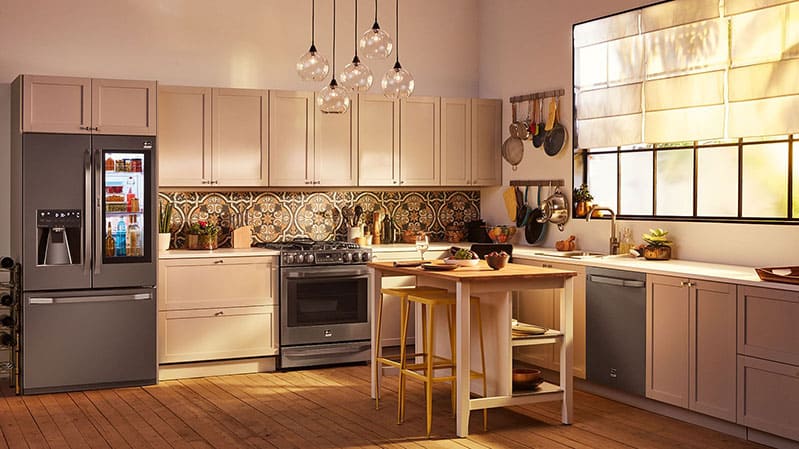 Counter-Depth Refrigerator
Design Tip: You lose storage space with a counter-depth refrigerator compared to a standard refrigerator. If you don't want to lose capacity, place your refrigerator at the end of your kitchen for a larger, standard-depth refrigerator. The sides won't be as noticeable - bonus points for building cabinets around it.
As for the style, there are so many adaptations of the French door refrigerator, including the traditional three-door, a French door with double drawers, a four-door, a door with glass panels like the LG InstaView, or a French door with a smart tablet like the Samsung FamilyHub.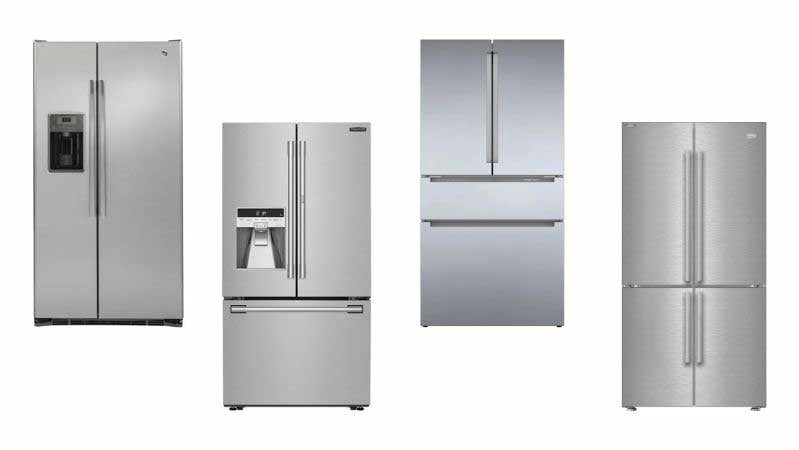 Different Styles of Counter-Depth Refrigerators
The base price is about $2,000 (you will learn how to buy it cheaper later) and can increase to almost $5,000 depending on the features.
Standard Refrigerators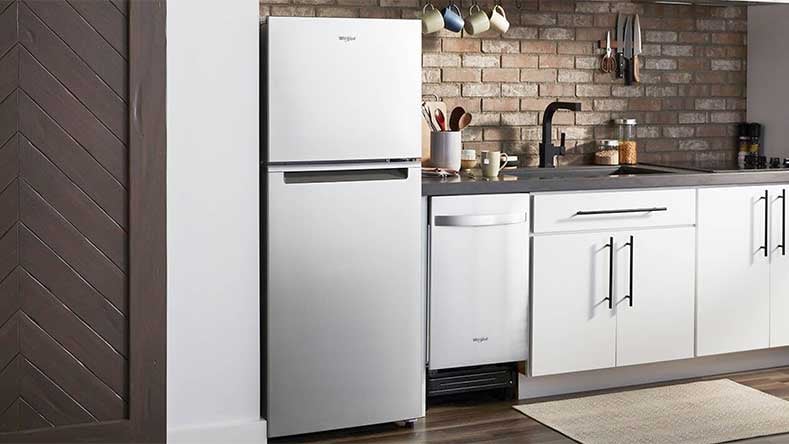 Top Mount Refrigerator
Standard refrigerators can be top mount, bottom mount, side by side, and even French door. It depends on your budget and size.
For counter depth, the size is almost always 36 inches wide. For a standard refrigerator, you can buy a 30-inch, 33-inch, or 36-inch size. Prices fluctuate between $799-$1,500 for a top mount to a basic French door.
The main differences between a standard refrigerator and an affordable luxury counter-depth refrigerator include the following:
Price: Affordable luxury counter-depth refrigerators tend to be more expensive, with a base price of $2,000, but it depends on the size and features you are looking for. For standard depth, prices start at $799.
Size and Capacity: Counter-depth refrigerators are typically 36 inches wide. They have less capacity than standard refrigerators, which are shallower in depth.
Aesthetics: Affordable luxury counter-depth refrigerators sit more seamlessly in your kitchen but have textured sides. Standard refrigerators may have a more traditional look and may not blend in as seamlessly. Keep in mind that counter-depth refrigerators have a better aesthetic, but it becomes less significant the farther away it is in your kitchen.
Features: Counter-depth refrigerators may have better features, such as smart home integration, twin evaporators, double drawers, and custom door panels.
Overall, both will cool or freeze your food and beverages. After that, your decision becomes about size, placement, and features.
Read More: How to Buy a Counter-Depth Refrigerator
Ranges
Affordable Luxury Ranges
For affordable luxury, the front control or slide-in range is the cooking product of choice. Front control and slide-in ranges do not have a back panel. Instead, they have controls on the front.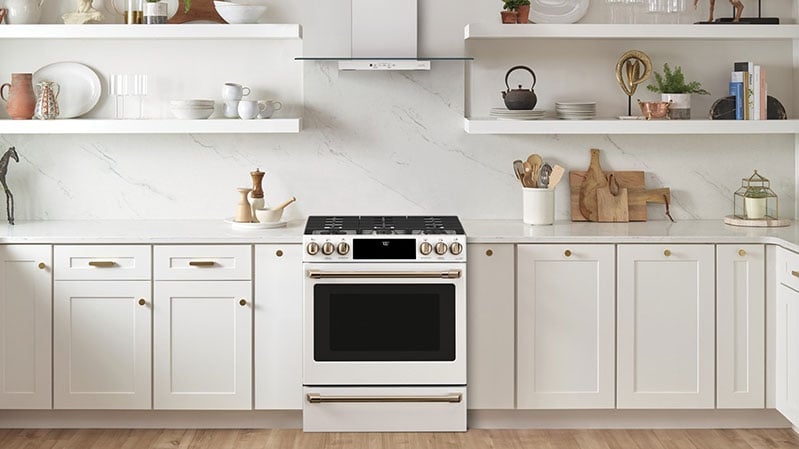 Slide-In Range
With the controls on the front, you can see your backsplash without the backguard of a freestanding range ruining your visual.
Keep in mind that slide-in ranges may have unfinished sides. They are designed to fit between two cabinets and look partially "slid in" to the surrounding countertop.
Slide-in and front-control ranges are more expensive than freestanding ranges.
Slide-in ranges have more features, like a fifth griddle burner or even a sixth burner if you choose a gas range like a Café Appliances range.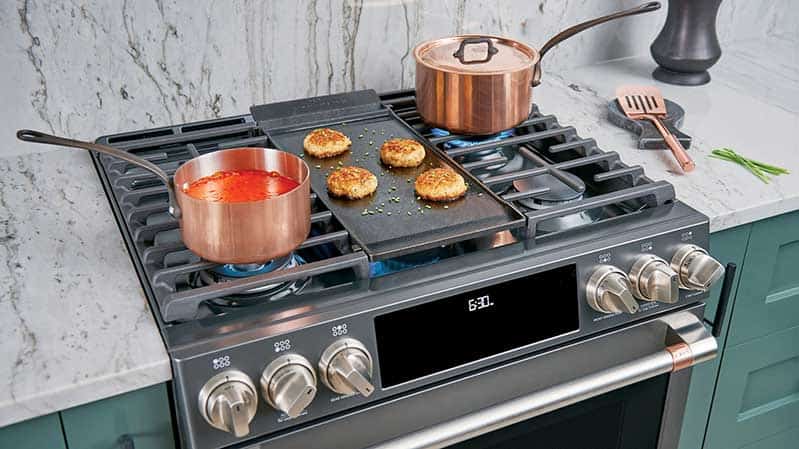 Slide-In Range with Griddle
If you are considering an electric range, induction is more expensive but heats the fastest. In gas, the front burners tend to be hotter than a more basic range.
Slide-in ranges all have convection, a fan-forced heat to keep a more even temperature in your oven for better baking.
However, slide-in ranges have warming drawers instead of storage drawers. Warming drawers keep food warm for up to three hours without dehydrating your food as a microwave would.
You can also buy double oven ranges from Café Appliances, Samsung, and KitchenAid. This way, you can cook two different items in two different oven temperatures.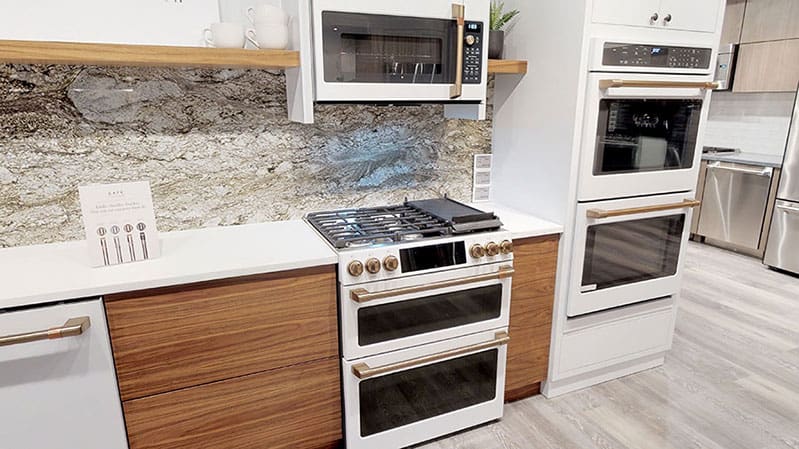 Café Appliances Double Oven Range
Good slide-in ranges will cost $1,500 to $4,000, depending on the features. Again, I will show you how to get a better price later in the article (I promise).
Basic Ranges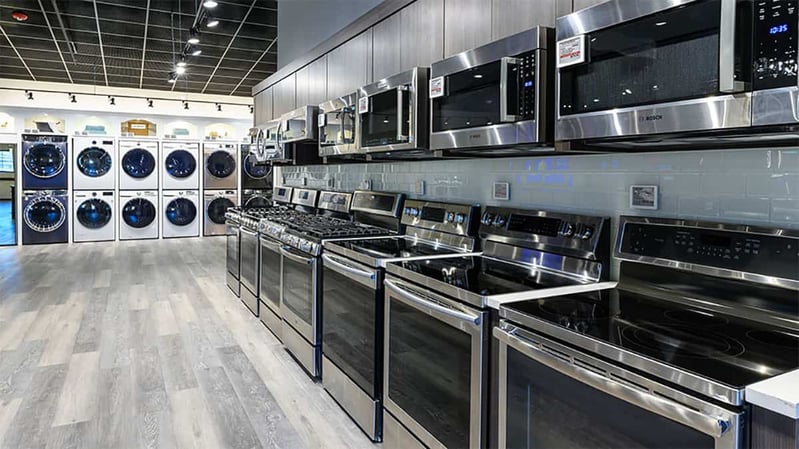 Freestanding Ranges at Yale Appliance in Hanover
That said, a basic range consists of a freestanding range. Freestanding ranges will cook your food as standard-depth refrigerators will cool.
Freestanding ranges have improved considerably since I started in 1986. In 1986, Whirlpool started producing a gas range with three 9,000 BTU (British Thermal Unit) burners and a 7,000 BTU burner.
Today, you can buy a freestanding gas range with two power burners rated at 15,000 BTU and up.
A freestanding range can also have a convection system for less than $1,000.
A freestanding range has a backguard and fewer features, but you save a minimum of $500. Take a look at the picture below: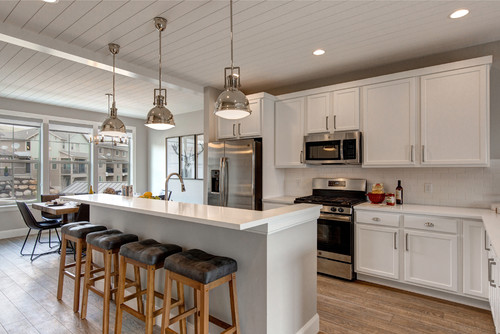 Whether you buy affordable luxury depends on how much you like or don't like the picture above. The kitchen is still lovely but would look better with a front control range.
Overall, the difference between affordable luxury and basic ranges are:
Aesthetics: Slide-in ranges have a more modern, sleek look with a front control panel, while freestanding ranges have controls on the back panel. Slide-in ranges also have more color options.
Burner Output: Affordable luxury ranges have more burners with higher output. However, you can buy a freestanding range with two power burners with more than 15,000 BTU heat.
Stovetop and Oven Configurations: Slide-in and front control ranges have more options, including fifth or sixth burners, warming drawers, and second oven options. They all offer convection systems as well.
Price: Slide-in and front-control ranges are more expensive. For the best features, most start at $1,500.
Read More: How to Buy a Gas Range
Dishwashers
Basic Dishwashers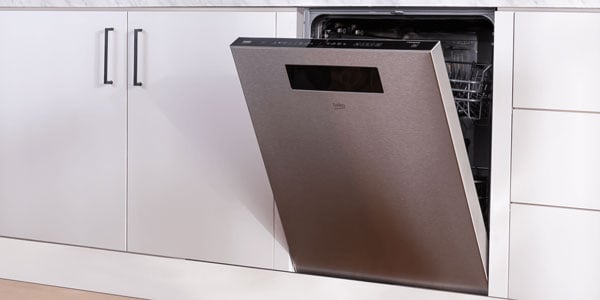 Beko Dishwasher
A decent yet affordable dishwasher like this Beko dishwasher (shown above) has a stainless-steel interior, all the good primary cycles most often used, and a decent sound level at 48 decibels, costing about $599.
Most of the less expensive dishwashers use what's called "condensation drying." A condensation drying system uses the heat and steam from the wash plus JetDry. It does an OK job on plates but could be better on less dense items like plastic.
You can buy a dishwasher for even less money than the $599 Beko, for example, but it will be much louder with a plastic tub.
Plastic dishwasher tubs tend to retain odors, unlike stainless tubs.
Affordable Luxury Dishwashers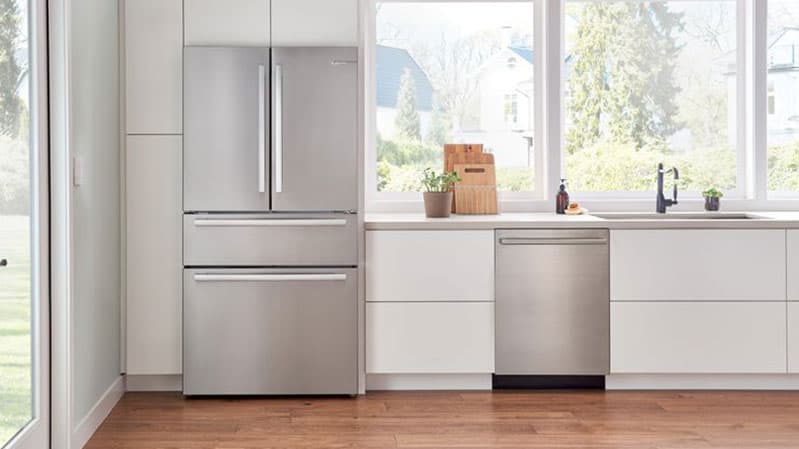 Bosch Dishwasher
Affordable luxury dishwashers are quieter and have better cycles, racks, and drying systems.
You want to look for a 44 dB silence rating. This is especially important if you have an open floor plan, or your dishwasher is located near a common living area. At 44 dB, you will not hear it. The quietest dishwashers will start at $899.
Miele and premium KitchenAid dishwashers will have better wash systems with larger wash arms and more levels of wash action.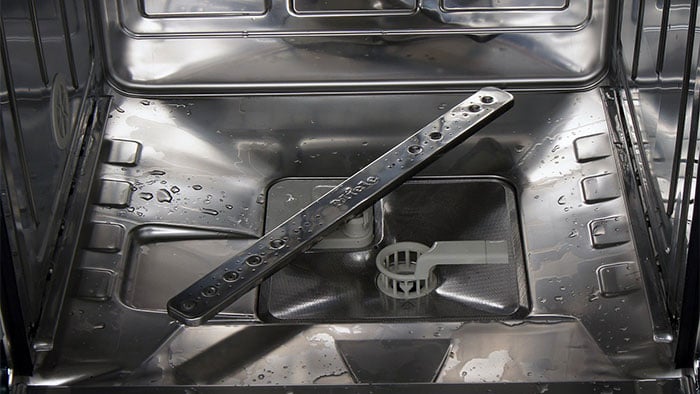 Miele Dishwasher Wash Arm and Stainless Steel Interior
Bekos' new dishwashers with "CornerIntense" washes dishes in a square pattern to clean even the outer edges of the dishwasher.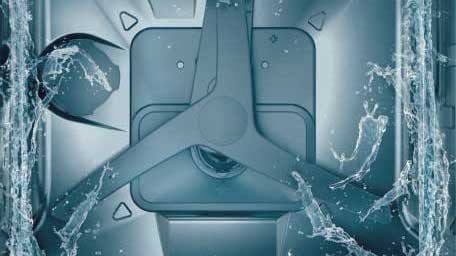 Beko Dishwasher CornerIntense Wash Arm
In luxury models, the dishwasher racks are more adjustable. The top rack adjusts so you can accommodate more dishes below. You also have a third rack for silverware eliminating the basket to fit more plates.
Other features you should consider are better drying systems.
LG adds steam to their dishwashers to prevent spotting. It also loosens up baked-on foods, so you do not have to rewash your dishes.
Bosch's door will pop open to eliminate excess heat and steam. They typically will cost under $1,000. The better GE Profile, Bosch, and Miele dishwashers have the best drying systems.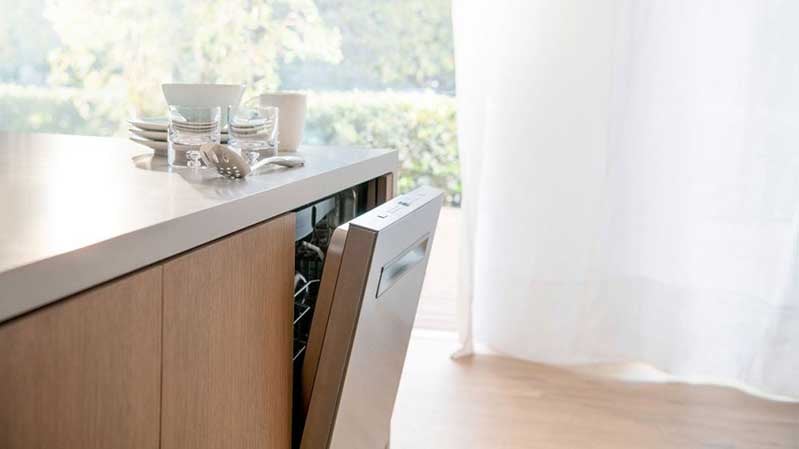 Bosch Dishwasher with AutoAir Drying
Miele's CleanDrying system introduces outside air into the dishwasher, while GE Profile's UltraDry system removes air.
Bosch's CrystalDry system uses volcanic elements to emit heat and absorb moisture, but these dishwashers cost $1,100-$1,400.
In summary, the key differences between a basic dishwasher and an affordable luxury dishwasher are:
Features: Affordable luxury dishwashers tend to have better features than basic models. These may include multiple wash cycles, stainless interiors, adjustable racks, third racks for silverware, and specialized wash zones.
Washing and Drying Systems: Luxury dishwashers typically have more levels of wash action for more coverage and better drying systems that will dry even plastics.
Noise level: Affordable luxury dishwashers tend to be quieter than basic models. Remember to look for a 44 dB silence rating or less – the standard for a quiet dishwasher.
Price: Affordable luxury dishwashers may be slightly more expensive than basic models, although the price difference can vary depending on the specific features and brands you're looking at.
Overall, the main difference between luxury and basic dishwashers is the level of features and cleaning performance.
The best dishwashers offer more advanced features and capabilities but may also come with a higher price tag. Basic models may be more affordable, but they may not have as many features or perform as well as higher-end models.
Read More: How to Buy a Dishwasher
Ventilation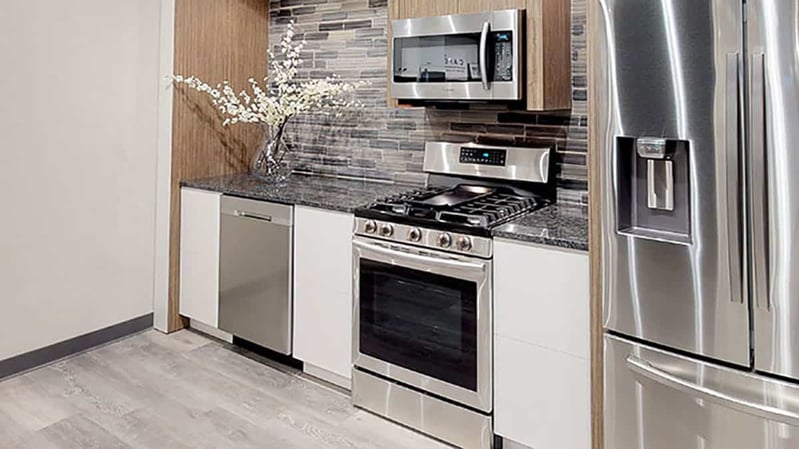 Freestanding Range and Over-the-Range Microwave
In this case, the packages are, unfortunately, equal. Both feature over-the-range microwave vent combinations.
Although convenient and inexpensive, the over-the-range microwave doesn't cover or vent the more powerful front burners.
Whatever you cook, the odors and fumes will stay in your house longer. I should know. I have one in my new apartment.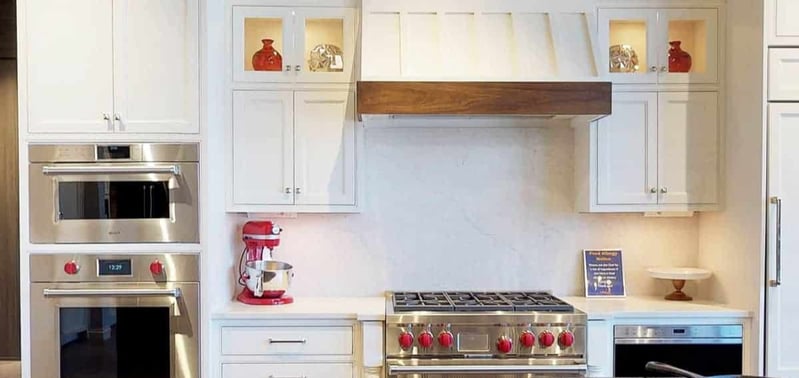 Wooden Custom Range Hood Above a Professional Gas Range
For either option, you should buy a hood with at least 23 inches of depth to cover the burners with a CFM (Cubic Feet Per Minute) of 400-600.
Read More: How to Vent Your Kitchen Range
Smart Features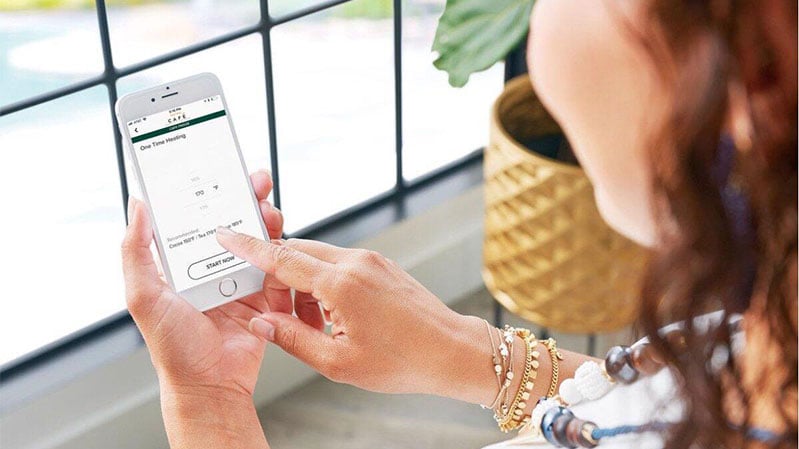 Smart Home Integration and Remote Access Through App
Better appliances have smart home integration, while the more basic ones do not.
I was highly skeptical of the first smart appliances. They had limited functionality and, to a certain point, always will for a refrigerator or dishwasher.
Yet, I have changed my mind about smart appliances.
Most people will not change the temperature on the refrigerator from an app on their phone.
However, a reminder you left the door open is convenient. So is a filter replacement alert.
For dishwashers, the end cycle alert may be helpful on the quieter dishwashers, so you don't open them while they are still running.
Smart integration for cooking appliances is intriguing.
LG and GE now have cameras in the oven so that you can see your food cook on your phone's screen. You also have some cooking app tie-ins to help you follow recipes easily.
Service or self-diagnosis may be the best part of smart home integration.
LG and GE are working on sending notifications and parts when issues arise.
Learn More: Smart Appliance Buying Guide
When Is the Best Time to Buy Appliances?
Now let's save some money. From 2020 to the middle of 2022, people bought what was available almost at any price.
However, appliances pre-pandemic was discounted as much as 10-35% around holidays.
Moving forward, I think you will see more significant discounts around Presidents' Day, Memorial Day, Labor Day, July 4th, and Black Friday. We saw some limited but significant price reductions on Black Friday 2022.
It is worth timing your purchases around those holidays.
Read More: When Is the Best Time to Buy Appliances?
Kitchen Appliance Packages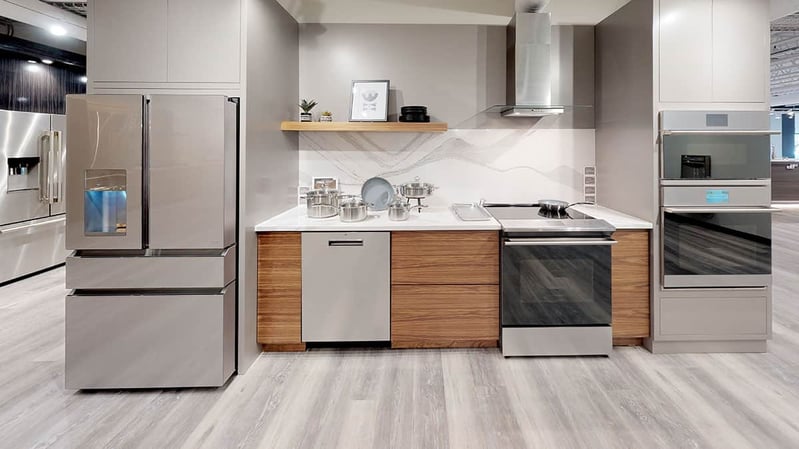 Appliance Kitchen Package at Yale Appliance in Hanover
One last note, you will see more aggressive package pricing as well. Stay within the same manufacturer to save the most money on a kitchen appliance package.
Between buying around holidays and taking advantage of package rebates, the savings will be worth the wait.
Read More: Best Stainless Steel Kitchen Packages
Key Takeaways
Basic doesn't mean bad. I hope you don't have that impression.
First appliances, in terms of functionality, have all improved. Ranges all have higher output. Dishwashers are quieter, and refrigerators are way more efficient than when I started.
Depending on your chosen options, you will spend at least $1,500 and up to $5,000. Wait for a holiday and buy from the same manufacturer for the best prices and rebates.
You can combine different elements and have both in your kitchen, whether you want a quieter dishwasher, a faster induction range, or a counter-depth refrigerator.
It is your kitchen. Buy what you will use and enjoy.
What do you think?
Additional Resources
Have questions on premium appliances? Get the Yale Appliance Buying Guide with features, specs, and detailed profiles on Sub-Zero, Wolf, Miele, Viking, La Cornue, Thermador, and more. Over 1 million people have read a Yale buying guide.
Related Articles:
Why Should You Trust Us?
It seems that every appliance review has nothing but glowing comments about almost every product, yet you read customer reviews and they are almost universally bad.
We are here to fill in the disconnect. We'll give you the best features, and the drawbacks as well, including reliability based on over 37,000 calls performed by our service team just last year. Our goal is to give you ALL the information so you know what's right for you.
Please consider subscribing or adding to the conversation in the comments below. We appreciate you stopping by.
Steve Sheinkopf is the third-generation CEO of Yale Appliance and a lifelong Bostonian. He has over 38 years of experience in the appliance industry, and he is a trusted source of information for consumers on how to buy and repair appliances.

Steve has also been featured in numerous publications, including the New York Times, Consumer Reports, The Boston Globe, Bloomberg Radio, the New York Post, The Wall Street Journal, and Entrepreneur, for his knowledge of how to buy appliances and appliance repair.

Steve is passionate about helping consumers find the best appliances for their needs, and he is always happy to answer questions and provide advice. He is a valuable resource for consumers who are looking for information on appliance buying, repair, and maintenance.

Despite being the worst goalie in history, Steve is a fan of the Bruins and college hockey, loves to read, and is a Peloton biker. The love of his life is his daughter, Sophie.
A Note About Pricing
Pricing on this blog is for reference only and may include time sensitive rebates. We make every attempt to provide accurate pricing at time of publishing. Please call the stores for most accurate price.