How Bad Is the Appliance Supply Chain?
Many high-end appliance brands are now quoting one year for many assorted products.
You may be asking why. We were asked to make a presentation at Harvard University about the problems with the appliance supply chain.
It would help if you also understood the issues so you could have your appliance delivered in a reasonable amount of time. Reasonable means six to eight months, depending on the brand.
In this article, you will learn all about the various problems within the supply chain. We'll also go over the average cost increases of the most popular appliances.
There are many issues underlining all the problems of the supply chain. The current crisis will not be solved quickly. You will know why after reading this article.
Let's dive in.
Short on time? Get our free Appliance Buying Guide
The Beginning of 2020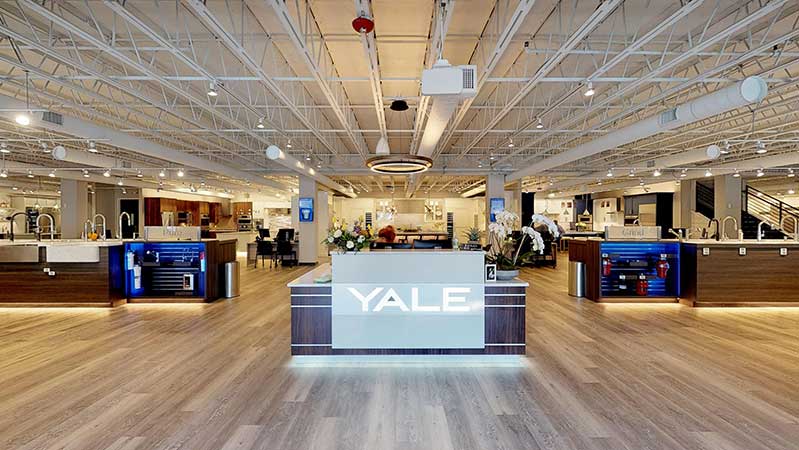 Yale Appliance Hanover Showroom Front Entry Way
It's ironic. We opened our Hanover showroom on January 4, 2020, our largest and most costly store to open. It was closed less than eight weeks (about two months) later. We are an essential business, so it was technically open, but only eight people showed up in April.
Across the U.S., stores closed, and factories shut down. In most industries, it remained that way for up to a year.
However, around late May, people started to order appliances in record amounts for home improvement. First, it started with freezers then moved to every product category.
Why? We couldn't travel or spend money on any social activities. At the same time, factories had to reopen despite COVID-19 shutting them down. With COVID-19, factories operated less efficiently with social distancing.
So, you had this tremendous demand against a faltering and sometimes nonexistent supply chain.
Plus, there was no available inventory or places even to warehouse products coming in. We will talk about warehousing and inventory later in greater detail.
The Problems Now
Look at this graphic. I showed it at our annual meeting last January.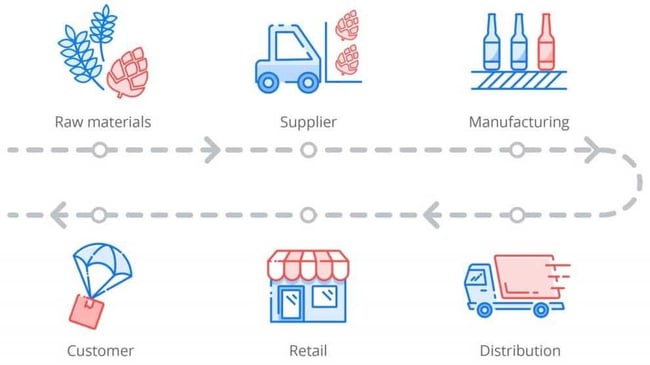 Most people are aware of the component issues. Computer chips powering refrigerators and vehicles like your Ford F-150 are in short supply.
But say you run an appliance company and you somehow found the components. Then you have to deal with the shipping container shortage.
You managed to find some containers, but now you will have problems finding ships. Then you have to deal with the port problems, especially in Los Angeles, where the ships are backed up to Hawaii (that's a joke).
Maybe you leased a submarine to offload your products. Now you will have to contend with the trucking issue. Somehow, we have lost 350,000 truckers over the past three years.
After all this, you were able to rent a fleet of U-Hauls. Yet, you have failed to contend with the biggest problem of all.
Warehousing and the Amazon Effect
With Amazon and online retailers taking significant amounts of warehousing in the last ten years, warehousing has become a premium in the U.S.
Warehouse availability has been increasingly hard to find, especially in larger cities. Amazon has significant square footage in Fall River and across the 495 belts. They even bought the old movie theater in Revere. But they aren't the only ones.
Venture capital (VC), banks, REITs (real estate investment trusts), and conglomerates have found warehousing an attractive investment as last-mile e-commerce exploded during COVID-19.
You may be wondering, how much is it to lease or buy warehouse space? We bought 65,000 feet in 2011 for about 3 million. We purchased another 25,000 for 1.8 million in 2016.
We are looking for 220,000 square feet (about twice the area of a Manhattan city block). It will cost roughly 50 million or five times what it was ten years ago.
But what has that done to the cost of you buying appliances or any other products that needed to be warehoused? Everything.
Appliances and Inflation
From 1986 when I started at Yale, to 2016, the price of commodity appliances like refrigerators, stoves, dishwashers, and laundry was about the same. A popular Whirlpool top load washer in 1986 was $399. In 2016, it was about $449.
However, price increases have become the norm in the past two years without notice.
Let's look at two popular appliances as an example.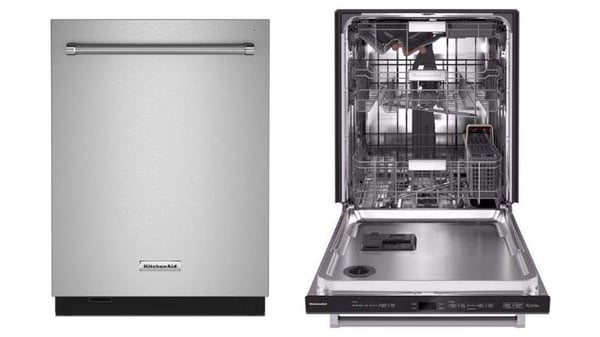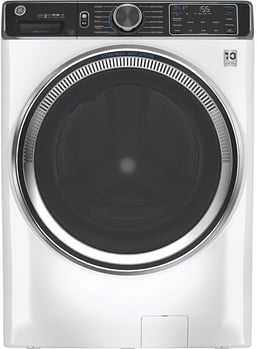 In about 18 months (about one and a half years), these appliances have increased from $999 to $1,124 and $1,349. That is over a 30% increase.
Appliance Promotions
We have always said to buy appliances around promotional holidays like Memorial Day, Labor Day, and Black Friday.
Samsung and LG were first with promotions of up to 35% off on popular items. These promotions became industry norms until last year.
Now, you don't see these promotions. Prices are increasing, and you are losing the discounts you may have relied on years ago.
What Are Manufacturers Producing?
Manufacturers are producing only certain appliances now. I was puzzled by some of this before. Now it seems clear.
You have a tough time finding a top mount refrigerator because manufacturers do not make as much money as they do with French door refrigerators.
Have 1,000 computer chips? You will probably place them in more profitable refrigerators.
You haven't been able to buy a Bosch dishwasher under $900 for almost two years except in isolated instances. But what about the recently discontinued Thermador Star Speed dishwasher for $3,000? Why was the most expensive dishwasher discontinued?
They probably didn't have enough orders to run a whole production line, so they are producing $1,000-$1,500 dishwashers with better rates of fulfillment.
You are starting to see many premium appliances suddenly discontinued without ETAs (estimated time of arrival).
It would be best if you were careful about what appliances you do buy, either economy or premium. Even if the dealer has an ETA, that doesn't mean it won't suddenly be extended.
So, you may consider buying only popular models only.
The Real Supply Chain Issues
Just-in-Time Inventory
Just-in-Time (JIT) inventory means companies have little or no inventory. Toyota popularized Just-in-Time inventory in the 1980s. They owned the line while suppliers were responsible for ensuring the parts for the car.
Just-in-Time inventory works in a sense. You don't have to pay for warehouse space, warehouse staff, trucks, gas, and insurance by holding no inventory. You also don't have to worry about marking down unused merchandise.
Of course, it may cost more revenue from sales. Without an available inventory, you cannot deliver if demand spikes, as proven by recent events.
Many brands have been caught flat-footed in a pandemic with no available inventory and exploding sales. Add a few key suppliers going out of business or unable to ship and the supply chain, and you have a disaster.
It also becomes a key reason you wait up to a year or longer for some appliances. Businesses can't ramp up in a system designed to do the opposite.
Absence of Skilled Workers and Technicians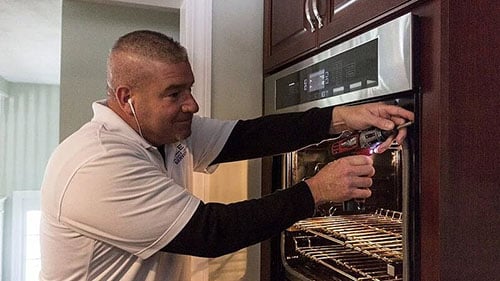 Yale Appliance Service Technician
Are you having problems finding an electrician, plumber, or appliance service technician? Somehow, starting in the 1980s, good Blue-Collar jobs were not valued in this country.
For appliances, especially service, the problems are worse, much worse.
Many manufacturers do not pay the actual cost of fixing their appliances.
Consequently, over the last 30 years, most independent service companies have closed shops without any succession or replacement. After all these years of neglecting trades, you cannot find suitable tradespeople.
Key Takeaways
First, the pandemic was the spark of many underlying issues.
The key is to buy popular models far in advance, so you have them in time for your renovation. If you are in the market and need a piece now, make sure it is physically in the dealer's warehouse.
I am not an economist and will be the least qualified person on Harvard's panel. However, the only way to untangle is to invest in people, components, and infrastructure to support our supply chain issues.
Of course, with prices escalating, demand could dry up dramatically, which will be an equally bad problem.
Additional Resources
Download the Yale Appliance Buying Guide covering all topics of appliances and lighting. Over 820,000 people have read a Yale Guide.
Related Articles:
Why Should You Trust Us?
It seems that every appliance review has nothing but glowing comments about almost every product, yet you read customer reviews and they are almost universally bad.
We are here to fill in the disconnect. We'll give you the best features, and the drawbacks as well, including reliability based on over 37,000 calls performed by our service team just last year. Our goal is to give you ALL the information so you know what's right for you.
Please consider subscribing or adding to the conversation in the comments below. We appreciate you stopping by.
A Note About Pricing
Pricing on this blog is for reference only and may include time sensitive rebates. We make every attempt to provide accurate pricing at time of publishing. Please call the stores for most accurate price.