4 Kitchen Hoods You Should Not Buy
Your indoor air quality will decrease if you ventilate your kitchen with a downdraft, glass hood, over-the-range microwave, or certain wood range hoods.
Always be mindful of CFM (Cubic Feet per Minute), Capture, and venting when planning ventilation.
It's time we took venting your stove seriously. A simple Google search of "Is your gas stove harmful?" will produce some shocking answers like "Your gas stove may be killing you."
Now, you may have read the popular groundswell against gas ranges. California started a couple of years ago. New York will be banning gas in multi-family homes starting in 2027. Boston, Massachusetts has proposed similar legislation.
Banning gas ranges doesn't completely solve the problem. Electric and induction range emit less Carbon Monoxide and Nitrogen Oxide. Still, it doesn't completely end the problem either.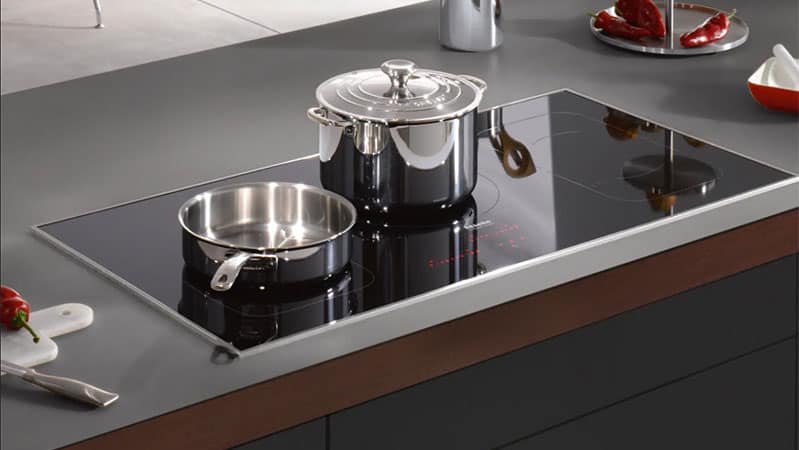 Venting, however, does solve the problem when selected and planned correctly. In this article, you will learn the risks of not venting properly. Then, you will learn all about the basics of how to ventilate your kitchen.
In the end, I will show you vents you should not buy.
Let's begin.
Short on time? Get our free Ventilation Buying Guide
The Risks of Not Venting Your Stovetop Correctly
About three years ago, the California Electric Group (KEG) contacted Yale. They wanted to include our Ventilation Buying Guide in their presentations for consumers. Their goal was to eliminate gas stoves in the State of California. I always thought ventilation was important, but after some research, one fact was evident.
The air inside your home is drastically worse than outdoors.
How bad, you ask?
Cooking emits the following gases:
Nitrogen Oxide
Nitrogen Dioxide
Carbon Monoxide
Formaldehyde
Symptoms range from asthma in children and cardiovascular problems to cancer. It's unknown when you combine all these gases.
In some of our webinars, you may have learned terms such as IAP (Internal Air Pollution), IAQ (Indoor Air Quality), and SBS (Sick Building Syndrome). All refer to poorly vented spaces. Changing from gas to electric partially solves the problem.
Venting or removing the air from your home is far more effective.
Dryers and furnaces need to be vented by law. Yet a gas stove consuming the same amount of heat does not.
How to Ventilate Your Kitchen, Especially if You Like to Cook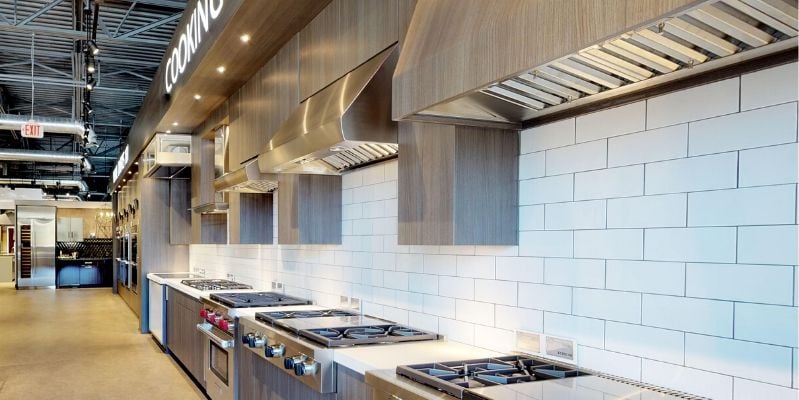 Professional Range Hoods Over Gas Cooking Appliances at Yale Appliance in Framingham
Proper ventilation can be divided into four parts.
1. CFM (Cubic Feet Per Minute)
CFM refers to the number of tiny cubes of air exhausted every minute. A 600 CFM exhaust is 600 cubes per minute.
A 1200 CFM motor can exhaust a small room of air every minute, so you need a "make-up" or return the air.
In Massachusetts, Make-Up Air is the law. You can vent a return through your HVAC or 10 feet away on the opposite side of the stove to allow a fresh air return.
Without a return of fresh air, you will be breathing in air from your furnace, garage, and attic. Always take the time to plan out your ventilation.
2. Capture
Capture is the size of the vent and the one variable all the bad ventilation hoods featured below lack.
Smoke is not immediately evacuated from your home when you fry, grill, or even burn food on your cooktop. It is captured by the hood and then the motor either pulls or pushes the air outside your home.
Capture has become more important since the most powerful burners are at the front of your stovetop. A shallow hood (or worse as you will see) will have smoke billow past it even with a high CFM blower.
3. Duct Run
Short vent runs are the most effective, either straight up or back. Longer duct runs are less effective, especially with transitions. Transitions or elbows slow the static flow of the air.
It's another reason your cooking should be against the wall, not on an island. Venting is much easier. You can run your duct straight back to the outside.
4. Duct Size
I remember a developer once asking me why the vents wouldn't work in his projects.
The reason: His contractor used a 4-inch dryer duct. The specs called for 8-inch steel, not 4-inch vinyl. In new construction, an 8-to-10-inch round duct is the preferred size.
Learn More: Ventilation Buying Guide
4 Kitchen Hoods You Should Not Buy
Now you have the basics of why you need to vent along with how you vent. Let's look at how NOT to vent your kitchen. Below are four vents you need to cross off your list.
1. Downdrafts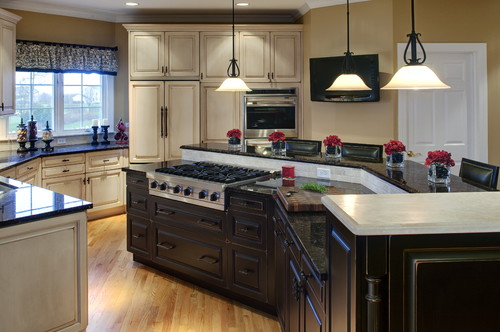 If you place a downdraft on your island, it will look stylish and allow you to entertain your guests while cooking. But it won't work.
Downdrafts have no capture area and reverse the airflow. They are vented longer with at least one transition. They are also placed in the back when the hotter burners are at the front
You look at Houzz and see pictures like this: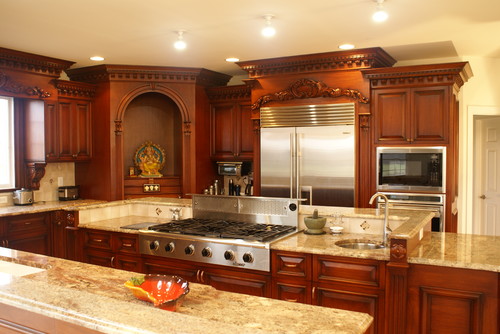 It appears people are sacrificing performance for better design. Yet, in my research for this article, a Houzz article talked about poor ventilation and showed a downdraft with a normal cooktop as an example.
Sinks are better in islands anyway. You can place your cooking against a wall where it will be vented easier. If you need to place your stove on an island, then buy an overhead hood.
2. Slide Out Hoods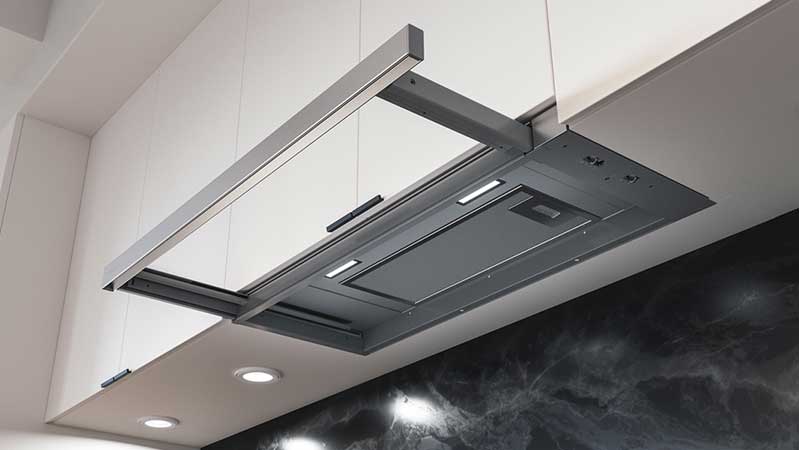 Glass Slide-Out Range Hood
Why are these being marketed as "high end"? They should have been discontinued in the 1980s. A slide-out hood is a piece of glass sliding out from your top cabinet. That piece of glass does not cover the burners or provide any capture if you cook.
3. Over-the-Range Microwave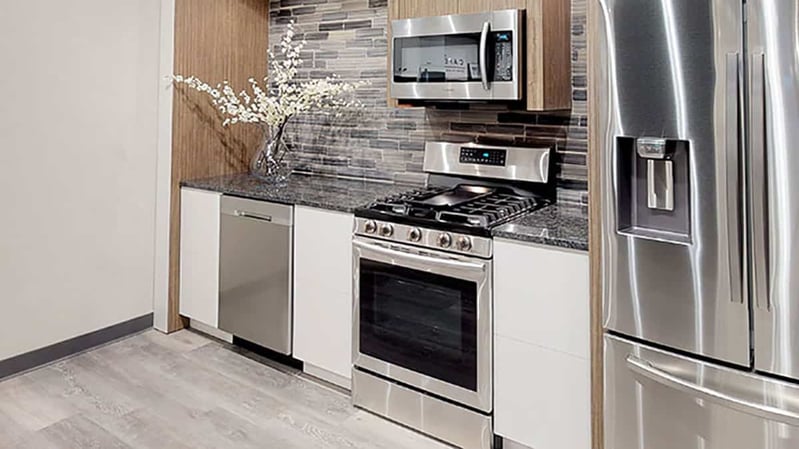 Over-the-Range Microwave Above a Freestanding Gas Range
The over-the-range (OTR) microwave was my favorite appliance in the early 1990s. You can centralize your cooking with the range underneath. When appliances were promotional, the over-the-range microwave was often free with other purchases.
However, stoves have changed from 12,000 BTU (British Thermal Unit) max output to 21,000 BTU. The average range has increased markedly while the over the range is the same design as 30 years ago.
It will not vent for two factors, capture and CFM. The CFM is still only 300-360. It's not enough to vent if you cook. I haven't answered the question of how much CFM do you need yet.
If you cook, more is better. Forget the old equations of 10 CFM per BTU output. If you cook, then max out the blower. It doesn't cost that much to buy. It's also the same cost to vent.
Even a $1,000 Viking ventilation hood has a capture area of 16.5 h, and 15.5 deep while your front burners extend to 24. It's not deep enough.
If you like to cook a lot, place a hood over the range. Locate your microwave elsewhere like under a cabinet, built-in as a drawer, or set it on the counter.
4. Wood Range Hoods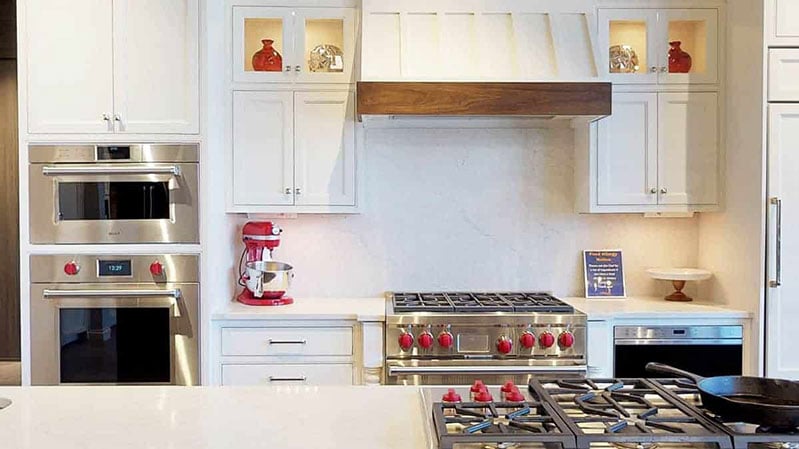 High CFM Wood Range Hood in Wolf Kitchen at Yale Appliance in Framingham
You should consider a wood range hood for a different design detail than stainless steel. However, many people sacrifice function for form by blending it with the cabinets at 21 inches.
Capture becomes a problem at 21 inches. Also, many of these wood hood motors are underpowered at 300-500 CFM.
Make sure you buy a higher CFM motor and extend the hood to 24 inches like the range hood featured above.
Bonus: Ceiling Blowers
Thirty-three years ago, I lived in an apartment in Cambridge. The property owner placed an oversized bathroom vent on the ceiling over the stove. This way, they could have the windows without a hood obstructing the view. Again, form over function.
The bath vent was 400 CFM which was powerful at the time. Yet, the grime on the ceiling was almost palpable. Flash forward, 33 years later, and now these blowers are big at 43 inches wide and powerful at 1200 CFM.
However, I am unsure about the capture area. Most manufacturers recommend hoods to be 30-36 inches above the cooking surface. At 30-36 inches, your range hood will effectively capture smoke and heat.
If you place a ceiling hood high enough on the ceiling, will the smoke dissipate and remain in your home? We have to test it in the showroom. A regular hood may be a better idea.
Tips if You Cannot Vent Properly
You may be in an existing situation with a downdraft and don't want to remodel. In Boston, we have a historical commission with certain protocols. Let's just say you cannot vent effectively or are stuck with one of the vents mentioned:
Use the back burners.

These burners are not as powerful, but even shallow hoods and OTR microwaves cover them.

Convert to induction or electric

. Again, conversion is easier said than done. You will need 40-50 amps versus 12 for gas. Yet, electric or induction curtails the number of gases in the air from gas. They also emit less heat.
Key Takeaways
First, you should know that internal air quality is a problem in many homes due to poor ventilation. Plan your ventilation with the right CFM and capture area. Then vent properly.
Do not buy a downdraft, slide-out hood, or over-the-range microwave. Wood hoods need to be planned. Once you know, venting is not hard to execute.
Additional Resources
Get The Yale Ventilation Buying Guide with features, specs, and inside tips for every brand and hood type. Well over 1 million people have read a Yale Guide.
Related Articles:
Why Should You Trust Us?
It seems that every appliance review has nothing but glowing comments about almost every product, yet you read customer reviews and they are almost universally bad.
We are here to fill in the disconnect. We'll give you the best features, and the drawbacks as well, including reliability based on over 37,000 calls performed by our service team just last year. Our goal is to give you ALL the information so you know what's right for you.
Please consider subscribing or adding to the conversation in the comments below. We appreciate you stopping by.
A Note About Pricing
Pricing on this blog is for reference only and may include time sensitive rebates. We make every attempt to provide accurate pricing at time of publishing. Please call the stores for most accurate price.