Are Smart Home Appliances Worth It?
December 15th, 2021 | 8 min. read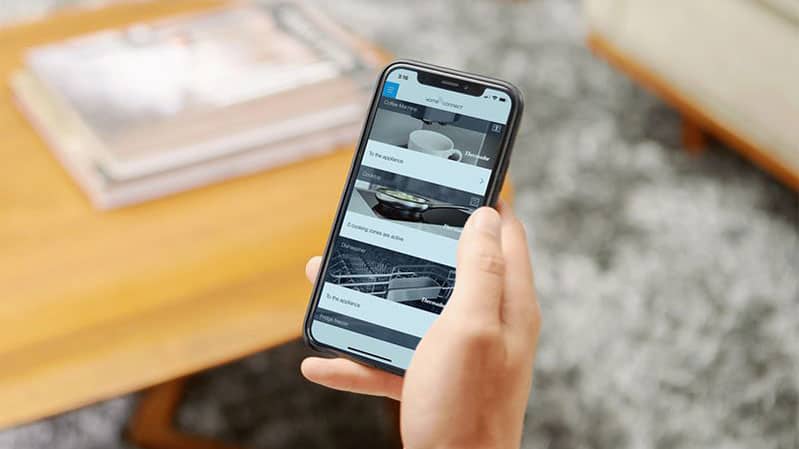 Imagine touching a button and having your oven cook your turkey perfectly to your liking, ready to be served as you are sitting down for dinner.
Smart functionality has that promise just not today.
You may have been led to believe smart appliances can do it all, from scanning the food in your refrigerator and ordering missing staples to suggest recipes based on your stock.
The truth is smart appliances can do some basic functions. It is not the must-have feature touted by many reviewers.
In this article, you will learn what smart appliances can do and cannot do.
In the end, you'll know whether smart appliances are worth considering and the most popular smart appliances you can buy right now.
Whether Smart Appliances are worth it depends on how you will use them.
Introduction to Smart Appliances
Below is our recent webinar on Smart Appliances with questions and answers of what Smart technology can and cannot do.
First, let's have a humorous look at some of the first smart appliances.
LG Smart Refrigerator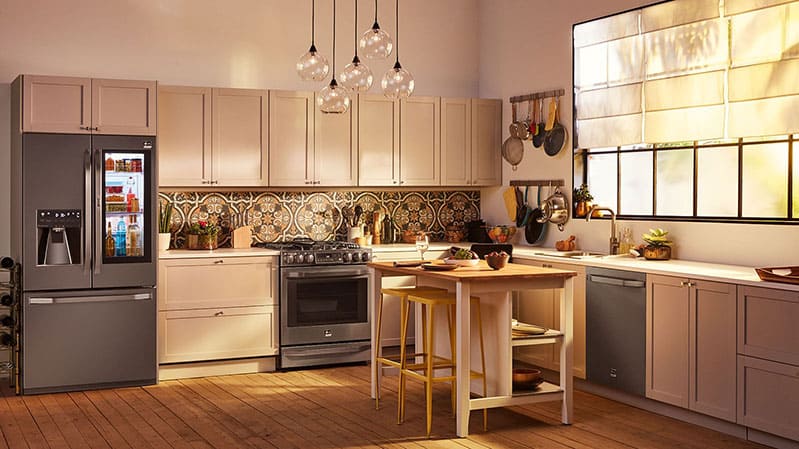 LG Smart Appliances with InstaView Refrigerator Door
I know about the downsides of Wi-Fi-enabled appliances more than most. My history with smart appliances started before they were called "smart" in 2004.
I was at a Trade Show and saw an LG refrigerator. It had everything - a camera, TV, plus a connection to access the internet on the fridge. I had to have one for the store display.
I ignored its $7,999 price tag, standard depth, and titanium, not stainless steel finish.
We sold one to ourselves. It eventually became a warehouse refrigerator decorated with Bruin's stickers, band stickers, and whatever practical joke was being played on a staff member at that time.
Lynx SmartGrill with MyChef Technology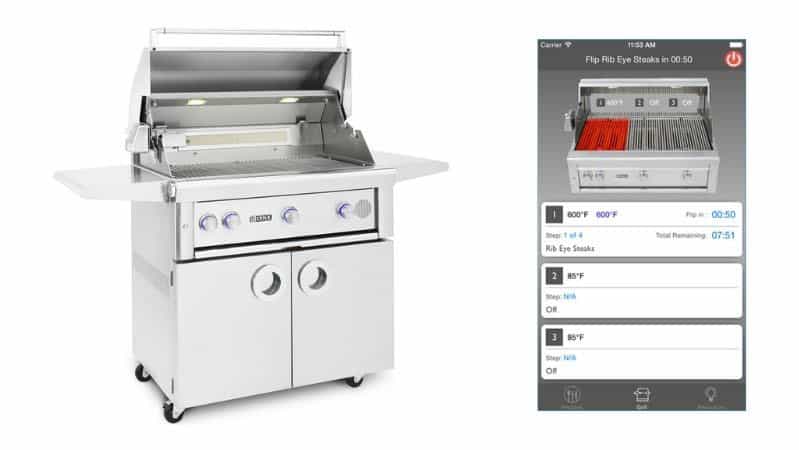 I saw a Lynx MyChef grill at a trade show. This grill had it all. It responded to voice commands and 300 sensors to cook properly.
It could cook a steak perfectly at your command.
You can even track grilling progress with an app on your phone and receive alerts when your food is done.
I had to have one.
At that time, we were opening a store in Framingham, and it would be perfect in our newly designed pagoda.
I asked if anyone used it recently at our Framingham showroom.
Our resident chef tried to, but I guess the grill would not respond (I have a 5-year-old, I get it). So, we never really put it to use.
Lynx quietly stopped producing its SmartGrill with its MyChef operating system due to issues with components last year. I wish these stories were the only ones.
JennAir Smart Appliances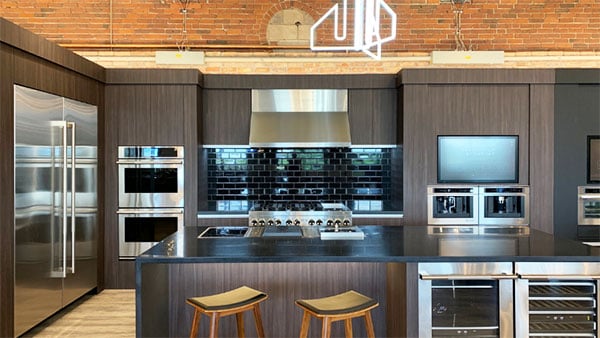 JennAir Appliances at Yale Appliance in Boston
JennAir in 2018 had a stated goal for you to tell your stove you want lasagna.
The stove would scan for ingredients in your refrigerator, automatically send for the missing ingredients, then cook lasagna the way you want it cooked.
As a bonus, it would set the proper cycle in your dishwasher ahead of time.
Let's be kind to JennAir and say we are not close with that type of functionality.
In fairness to JennAir and the other manufacturers, it's hard enough to build any appliance with component and shipping issues these days.
What Smart Appliances Can Do Now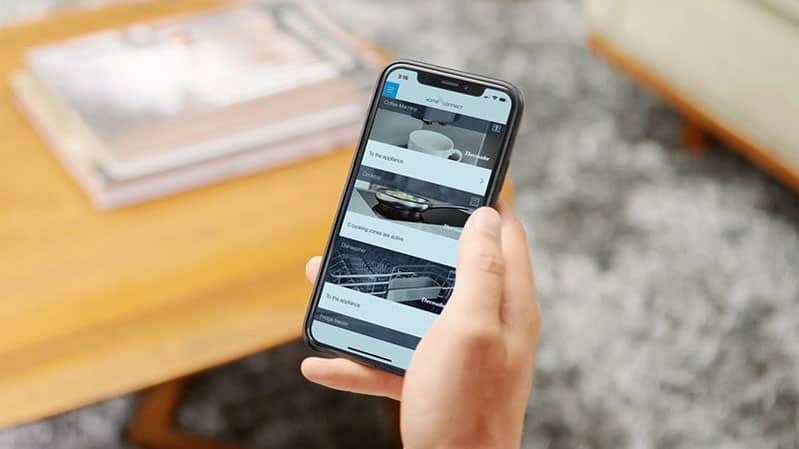 Thermador Home Connect App
Smart appliances allow you to control basic appliance functions remotely.
Remotely Turn On and Off Your Appliance:
You can turn your appliances on, off, or change cycles from an app on your phone. Now you can place your turkey in the oven, start it at three, and have your turkey dinner ready by the time you're home.
Remotely View Refrigerator Interior:
n refrigerators and stoves, a few brands have cameras so you can see inside the oven to see if the food is cooked or your refrigerator.
I was at the market the other day and ordered yet another container of hummus even though there were two in the refrigerator already.
If I had a smart refrigerator, I could have seen inside and prevented said hummus overpopulation.
GE is placing cameras in their stoves. If the pot is boiling over, you can shut the oven off remotely.
Text Alerts:
Automatic texts are another feature of smart appliances. Your washer will text you when the cycle is complete. Your oven will text you when it's done preheating or the timer is done.
Many refrigerators will text you when you leave the door open. Sub-Zero has a built-in alarm when the temperature is too high.
Status Updates:
Your app can send you a status report reminding you to refill your soap dispenser in your laundry or change the filter in your refrigerator.
Software and Product Upgrades:
Before this year's Thanksgiving, GE updated 270,000 GE smart ranges to include a Turkey button, a free mode.
The Turkey button asks for pounds and doneness, then automatically cooks your turkey to your specifications.
Many brands will update their ranges at no cost rather than selling the improvements as a subscription.
Voice Activation:
Many smart appliances have voice commands and are compatible with Amazon's Alexa or Google Home. For example, you can tell your range to start or lower temperature. You can also activate your range from another room.
Service Diagnosis:
Service diagnosis is smart's biggest opportunity. Imagine your product self-diagnosing its own problem and ordering the correct part.
We are currently beta testing this with GE and soon with LG.
Hopefully, this will eliminate wrong parts being ordered. Eventually, it will lead to a longer life for your appliances, especially if they tie it in with maintenance tips and bulletins.
What Smart Appliances Cannot Do (Yet)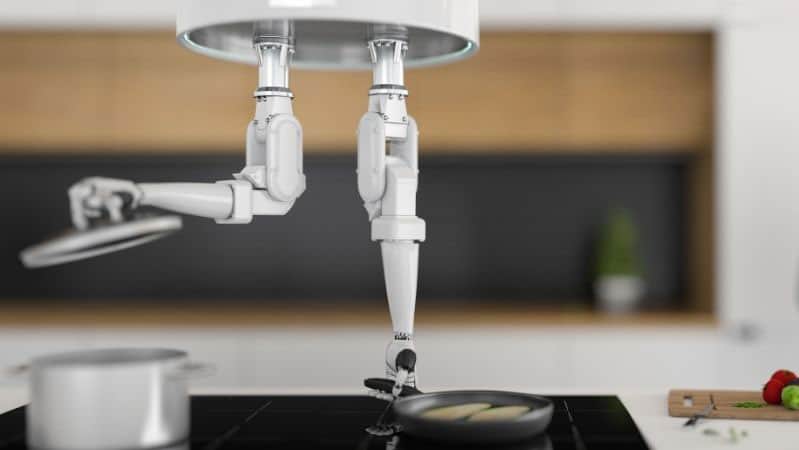 Robotic Arm Cooking Meal
I always think of the Jetsons or Star Tek with smart appliances. Why not? That's the endgame, I hope. Your range responds to your voice, you tell it what you want cooked, and it adjusts the oven's settings accordingly.
Well, we have the voice command part. Many of the appliances do respond to Amazon's Alexa. It's just the cooking part that's lacking.
At this point, smart appliances cannot perform any advanced or next-level programming other than basic commands and texts.
You can download a recipe into the range, but the range hasn't cooked that recipe yet. Even JennAir's app doesn't integrate their Culinary Centre program well. One day it will happen, just not soon.
Connectivity and Usability
Many apps are rated poorly. Some of it stems from poor Wi-Fi signaling. However, part of it is usability. Many of these apps are new and need to be improved.
Why Smart Features Have Not Advanced in Appliances
Innovation has slowed in most industries as companies have focused on manufacturing existing products.
The various supply chain issues between lack of components, shipping issues, port issues, and container issues, among others, have slowed the development of any new products from any industry.
To better understand what we can expect in the future for smart appliances, I interviewed Hal Strong, the Lead Developer for Bosch's HomeConnect App.
One of my first questions for Hal was what he expects to see in the next round of improvements to smart appliances.
Hal said he expects to see more integrated services such as shopping integrations, energy and efficiency management, as well as updates for new features for your appliances.
"The main benefit of a connected appliance is its ability to work in concert with other digital partners and services (IFTTT, EVE Connect for Tesla, Crestron). HomeConnect connected appliances can and will benefit from current smart technologies, as well as future smart technologies," said Hal.
Bosch, Gaggenau, and Thermador appliances currently offer voice interaction with Google Assistant or Amazon's Alexa. They also offer connectivity to our smartwatches, phones, or tablets through the HomeConnect app so you can "control and monitor a full suite of appliances."
Hal provided a few examples of what voice commands look like for smart appliances.
"Alexa, tell my oven to start Convection Bake at 375 degrees for 15 minutes."
"Alexa, when is dinner ready?" Alexa would answer back, "The oven is currently in convection bake mode and will be done in 4 minutes."
"Hey Google, make a large cafe latte."
"Hey Google, increase/ lower the fan speed on my hood."
Lastly, I asked him about smart appliance features for troubleshooting any issues. According to Hal, you can use the app to connect to a representative who can diagnose any appliance issues remotely.
"With this information, the representative can speed up the service process and send a technician with the correct parts," he said.
On a side note, we are testing the service with GE SmartHQ currently and with GE next year. BUT, the machine sends the diagnosis through text.
GE is ahead of the others in smart technology. They have so many commercial applications with property owners. They can monitor their appliances and shut off whole floors.
As a proof of concept last year, GE introduced a Smart Hub with a sensor at the bottom. The sensor correctly sensed the right food and then recommended recipes for the first time.
Top 5 Smart Appliances
Weber Smart Grills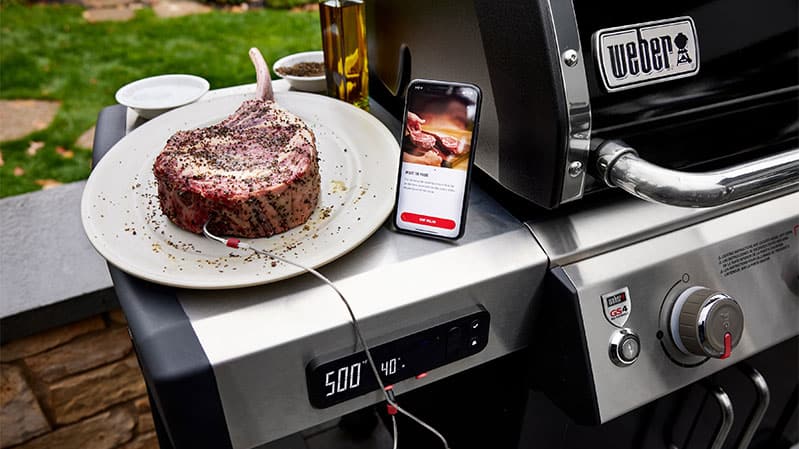 Weber Genesis Smart Grill
Unlike most smart appliances, Weber designed its Smart Grill for simplicity and ease of use. They used BlueTooth temperature probes to connect to an app on your phone.
The app tells you when to turn your phone and texts you when it's done. You also have access to the recipes online.
You can use the Weber iGrill temperature probes with any grill or buy them incorporated in their Smart Grill lineup.
Read More: Are Weber Smart Grills Worth the Money
Miele Compact Laundry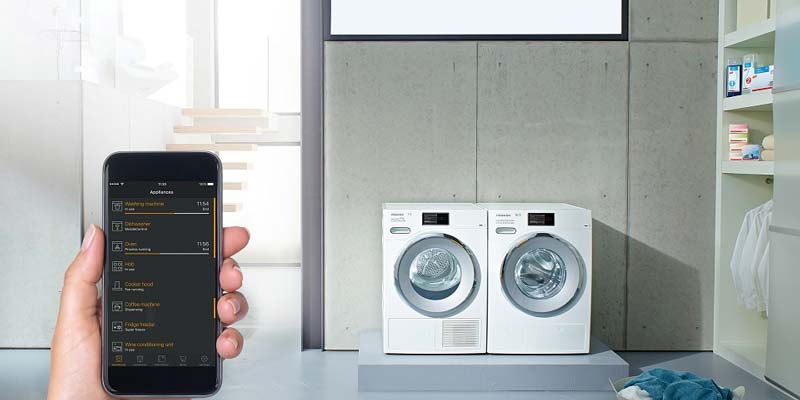 Miele Smart Home Laundry
Smart functionality works for laundry. It's available in Miele, GE, Samsung, LG, Bosch, Whirlpool, and Maytag.
You can see how much time is remaining on your washer and dryer rather than trudging down to your basement and staring at a timer with 3:58 seconds left. It will even send you a text when the cycle is complete.
Miele is particularly good because it allows you to pick the cycle and see how much detergent is in their automatic dispenser.
In certain brands like GE, the washer will set the cycle for the dryer.
LG WashTower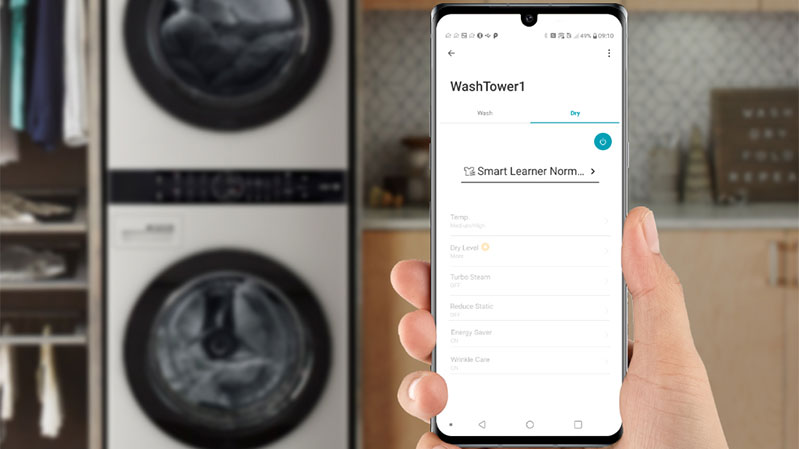 LG WasherTower With Smart Functionality
The WashTower has a smart design and a few smart capabilities. Unlike most front-load stack combos, the controls are in the middle rather than the top.
Like most smart washers, you can automatically start, stop, and change cycles.
The washer does set the drying cycle. It washes your clothes automatically through 300 sensors dubbed AI DD. It's an impressive new product.
Read More: Should You Buy the LG WashTower WKEX200HWA?
Smart Coffee Makers from Café Appliances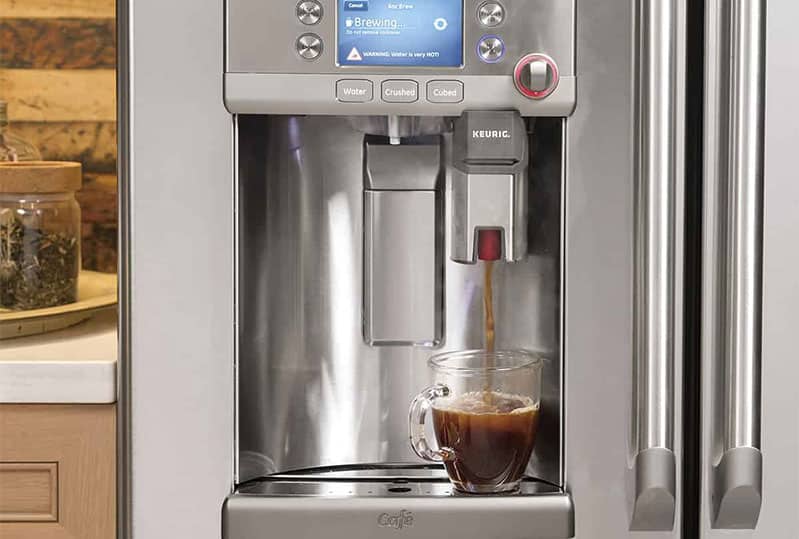 Café Appliances Refrigerator with Smart Keurig Feature
Café Appliances' new Keurig feature is tied with the new Keurig smart coffeemaker. Brewing coffee at the right time automatically just resonates with some people.
In Café refrigerators, you have a Keurig built into the refrigerator and can brew to your schedule.
GE Kitchen Hub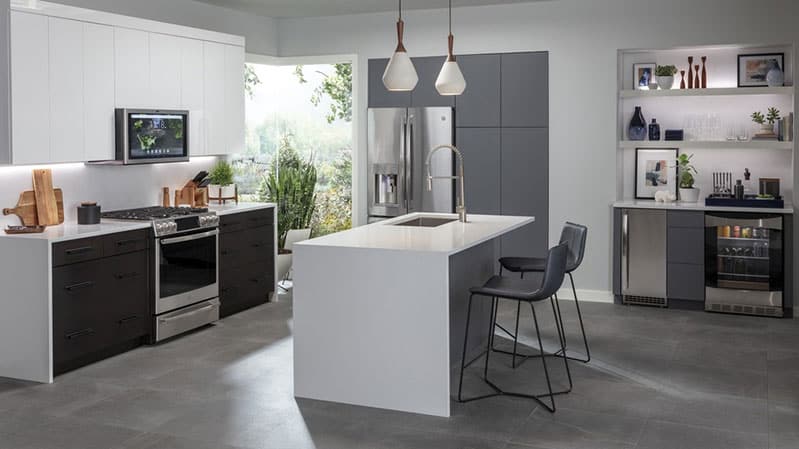 GE Kitchen Appliances with Smart Kitchen Hub
This product has grown on me. It's a hub in the literal sense. You can stream Netflix, watch TV, and Facetime your friends and family.
The recipe part is worth considering. It does not give you one-touch functionality. However, you can choose from over 5000 recipes from their recipe apps. It will then prompt you one step at a time.
Smart Technology vs. Functionality
I hope this article didn't discourage you. Smart appliances have some good conveniences. However, many decent automatic features are available on appliances, just not with smart functionality.
KitchenAid, Bosch, and GE have offered a convection conversion feature turning your regular recipes into convection automatically.
The Miele MasterChef and Wolf Gourmet guided cooking systems in their wall ovens and ranges are the most sophisticated. You input the food type and how you want it cooked, the oven calculates time, temperature, and even rack position for the Wolf.
In Miele, you have steam, 100 automatic recipes, with another 17 just for bread. Wolf Gourmet has 50 preset recipes. It is not a smart appliance in Miele's case, while Wolf Gourmet does integrate into its new app.
For now, you have to pick between the functionality of these modes and the convenience of Wi-Fi-enabled appliances. In 5-10 years, you will have both.
Should You Buy a Smart Appliance?
I think it is a basic convenience. The best smart product is Weber's Smart Grill by far with its simple yet effective Bluetooth thermometer.
I would like the laundry app to know when my laundry is done. Other useful functions of service reminders like your door being open on a refrigerator are nice to have but not crucial.
It would have been nice not to buy hummus again (or at least buy extra chips), but smart connectivity is not a must-have feature. If you don't have smart appliances, you are not missing anything crucial.
In terms of how you should buy appliances now, look for availability, then functionality. Smart features are a distant third. However, within the next five years or the next time, you buy appliances, smart could be the best feature.
Additional Resources
Looking for more help on appliances? Get the free Yale Smart Appliance Buying Guide with the best smart appliances to consider for every major brand, their best smart features, and, lastly, the best buying strategies for Wi-Fi-enabled appliances. Well over 1 million people have read a Yale Guide.
Related Articles
Why Should You Trust Us?
It seems that every appliance review has nothing but glowing comments about almost every product, yet you read customer reviews and they are almost universally bad.
We are here to fill in the disconnect. We'll give you the best features, and the drawbacks as well, including reliability based on over 37,000 calls performed by our service team just last year. Our goal is to give you ALL the information so you know what's right for you.
Please consider subscribing or adding to the conversation in the comments below. We appreciate you stopping by.
Steve Sheinkopf is the third-generation CEO of Yale Appliance and a lifelong Bostonian. He has over 38 years of experience in the appliance industry, and he is a trusted source of information for consumers on how to buy and repair appliances.

Steve has also been featured in numerous publications, including the New York Times, Consumer Reports, The Boston Globe, Bloomberg Radio, the New York Post, The Wall Street Journal, and Entrepreneur, for his knowledge of how to buy appliances and appliance repair.

Steve is passionate about helping consumers find the best appliances for their needs, and he is always happy to answer questions and provide advice. He is a valuable resource for consumers who are looking for information on appliance buying, repair, and maintenance.

Despite being the worst goalie in history, Steve is a fan of the Bruins and college hockey, loves to read, and is a Peloton biker. The love of his life is his daughter, Sophie.
A Note About Pricing
Pricing on this blog is for reference only and may include time sensitive rebates. We make every attempt to provide accurate pricing at time of publishing. Please call the stores for most accurate price.