5 Ways to Make Your Kitchen Unique With Appliances
March 16th, 2021 | 9 min. read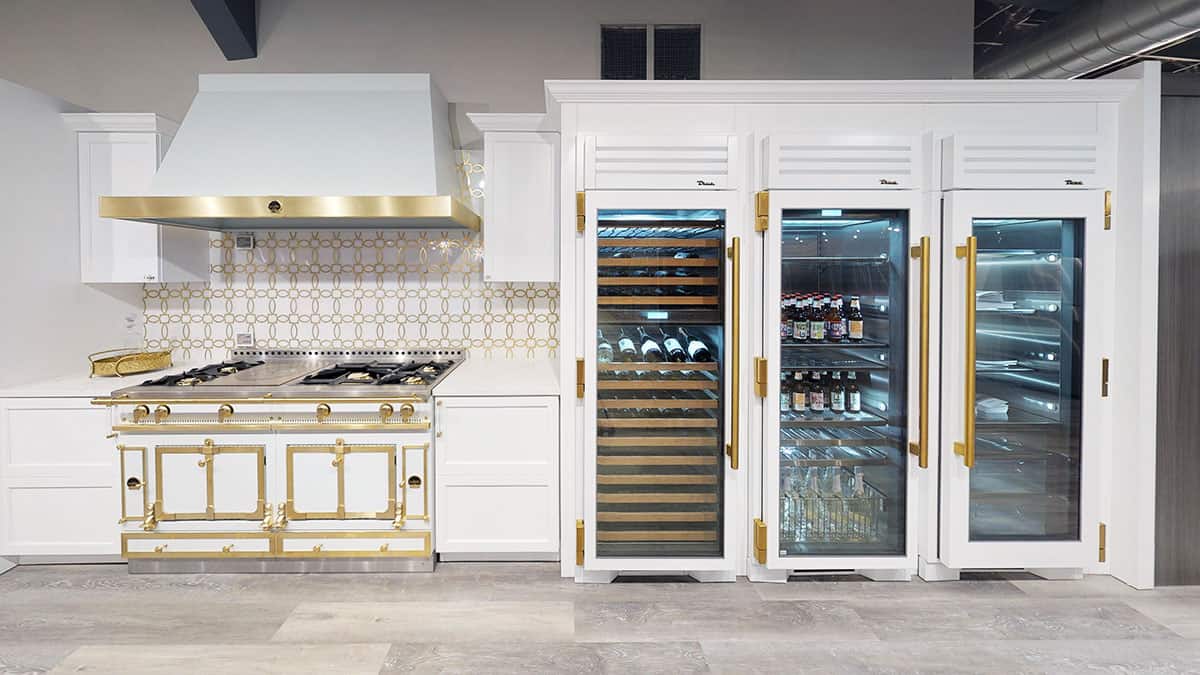 Let me guess what your kitchen looks like. It has white cabinets, gray countertops, white subway tile, and of course stainless-steel appliances.
Do not feel bad if I guessed right.
It is stressful renovating or building a new home. White, gray, and stainless will never go out of style. They are safe choices.
With all the other decisions, safety can be comforting.
But what if you want something completely different so your kitchen will not look like everyone else's?
You do not have to go extreme to be unique like this: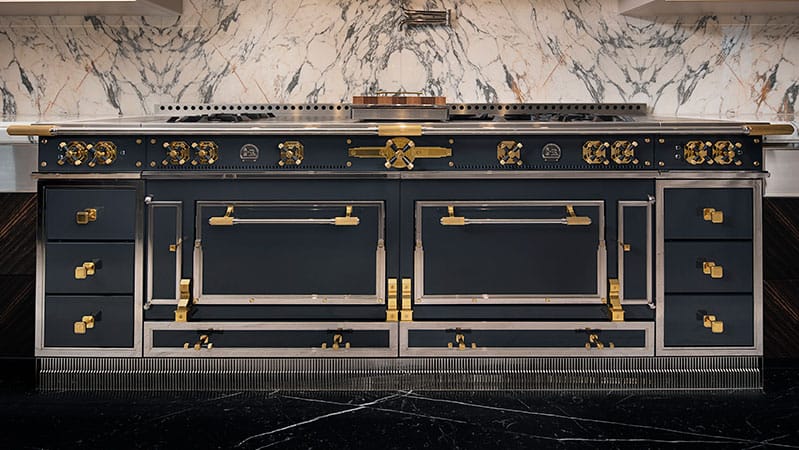 La Cornue Château Supreme Pro Range
That La Cornue Château Supreme costs $116,000.
You can, of course, spend a lot less.
If you want to make it personal, then why not have personal pictures as the finish on your range or refrigerator?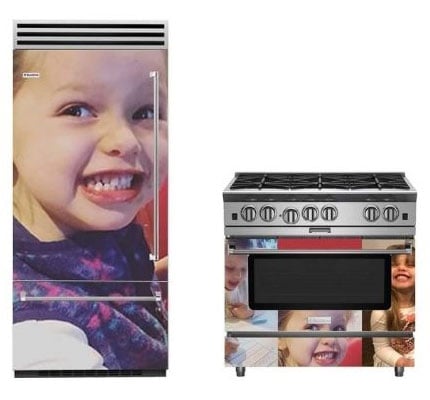 In this article, you will learn how to place your favorite pictures as appliance fronts, place TVs in hoods, and why you should never place a custom cabinet panel on an American dishwasher.
I will also show you how to personalize your kitchen in 5 unique ways.
You will learn the way to properly apply colors, custom cabinet panels, glass, and accents in all different price ranges.
Then I will devote a small section to lighting. Yes, I know I am not in the lighting business anymore, but it is important for the environment.
Many people light their kitchens wrong.
You will also learn:
You will see the best brands for each category.
Then you will look at some exciting individual products.
Like this, Boston sports fan's range and refrigerator: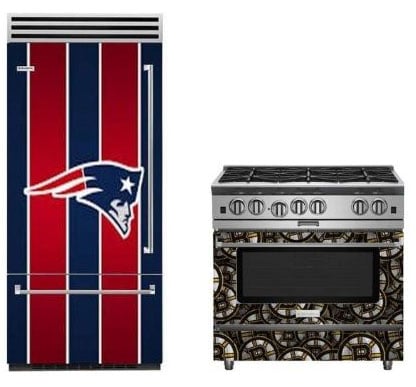 Equally as important, you will learn what not to do with style, especially with time-tested ways that just do not look good.
This will be a fun article to read.
Now, let's get started.
How to Use Color in a Kitchen
I once had a client who wanted an orange kitchen. She was a UT alum, and orange is their color.
Using color in your kitchen is a double-edged sword. A pop of color is exciting. Too much becomes trendy.
Trends fade and die. Five years later, you will be wondering what you were thinking.
We had a blue and brass as well as a Ferrari red kitchen at Yale years ago, so I know.
Boy, do I know, we had to sell them for a huge loss.
Let us look at the two orange kitchens shown below as an example.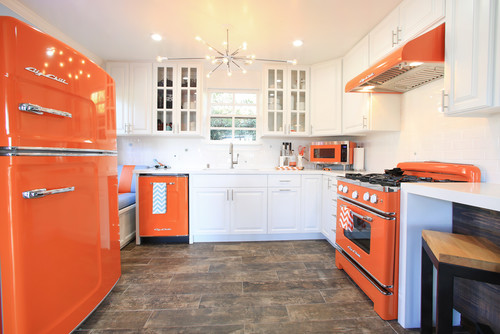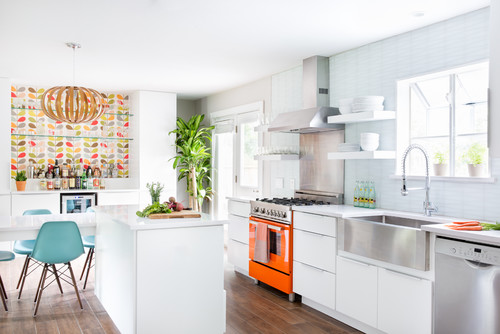 Where did your eyes naturally go? The pop of orange in the second photo becomes a focal point.
I like the first kitchen, but it is too much.
Manufacturers are also finicky about colors. If they do not sell in numbers, they can be discontinued, leaving a non-matching hole in your kitchen.
However, with the right application, you can match your style with your kitchen.
Let us look at the best appliance brands for adding custom colors to your kitchen.
La Cornue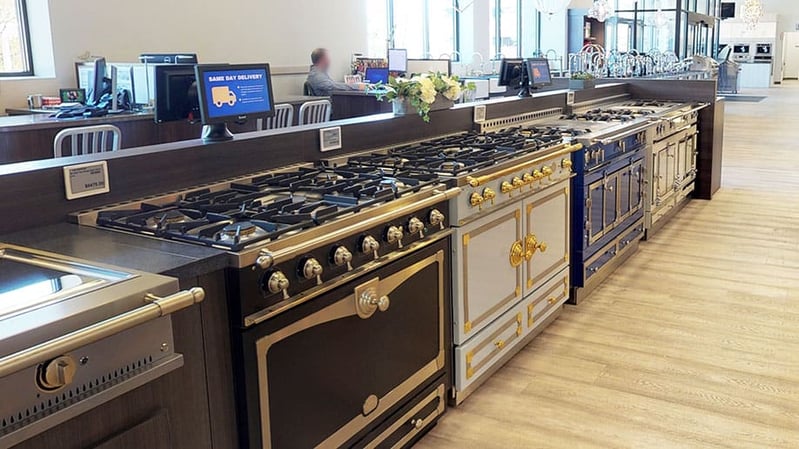 La Cornue Château and CornuFé Ranges at Yale Appliance in Framingham
Nobody executes color like the French La Cornue. La Cornue creates the best-looking ranges in the world.
Do not like their 8,000 different configurations and options? You can customize your own.
Do not feel like spending $27,000-$60,000 on one appliance?
Their CornuFé ranges are much less around $10,000.
BlueStar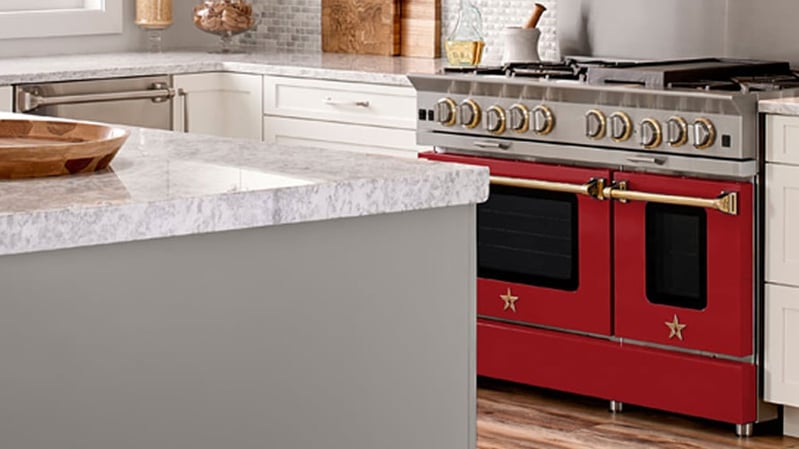 BlueStar Professional Range in Red
BlueStar has 1,000 colors and 10 different trims. Their ranges are all about power with a 25,000 BTU (British Thermal Unit) max burner.
You can even customize the finish. You will see a bold new product from BlueStar later in this article.
Viking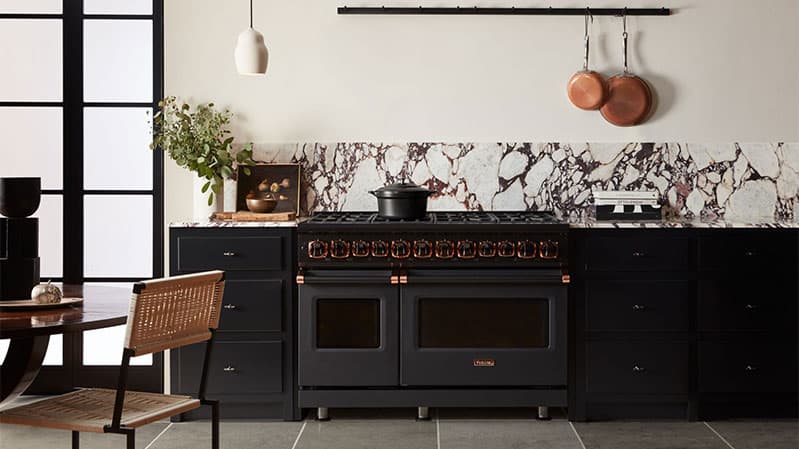 Black and Rose Gold Professional Range, Photo Courtesy of Viking
Viking started the color trend years ago. They have 17 colors to choose from. How about this Black and Rose Gold finish shown above?
It is pretty nice.
Café Appliances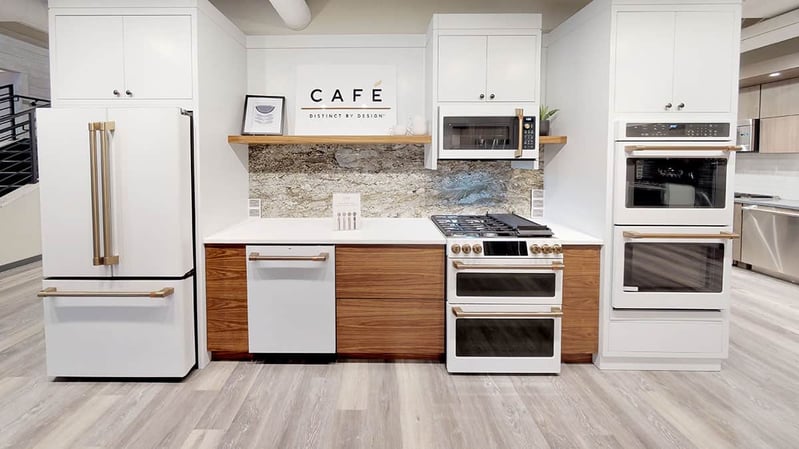 Café Appliances in White and Brass at Yale Appliance in Hanover
Sometimes nine options may be enough. The Café has a few base colors and offers three accent packages in stainless, brass, and copper. We will talk about accents later as well.
Fisher & Paykel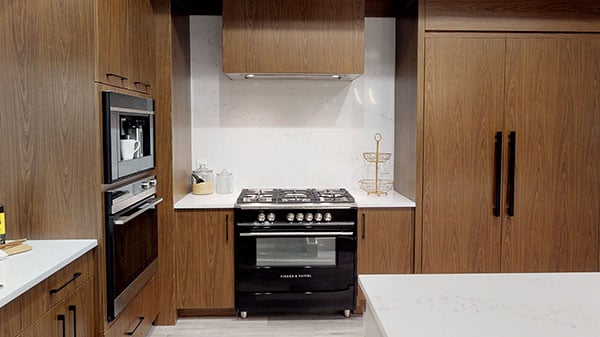 Fisher & Paykel Appliances in Black at Yale Appliance in Hanover
Like the Café, you have four assorted colors, red, black, stainless, and white. You are also spending much less with a Café and Fisher & Paykel kitchen.
What About the Italian Ranges?
Italy imports some beautiful custom ranges, like Bertazzoni.
Just be careful, they lack the output and functionality of the American brands.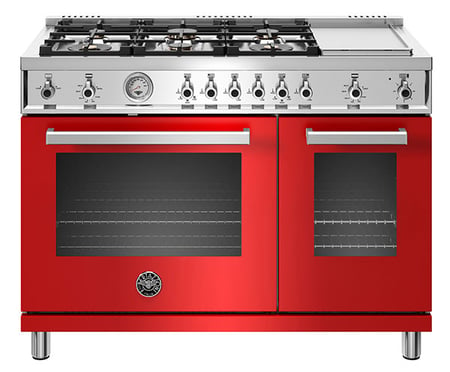 This Bertazzoni range shown above is good-looking, but it only has two 19,000 BTU burners. After that, the output drops to 10,600 BTUs (British Thermal Unit) for a third burner, and then two burners at just 5600 BTUs.
After that, there is even a lower output simmer burner. Overall, you only have two high-heat burners on a 48-inch range.
Colors You Should Never Buy in an Appliance
Brown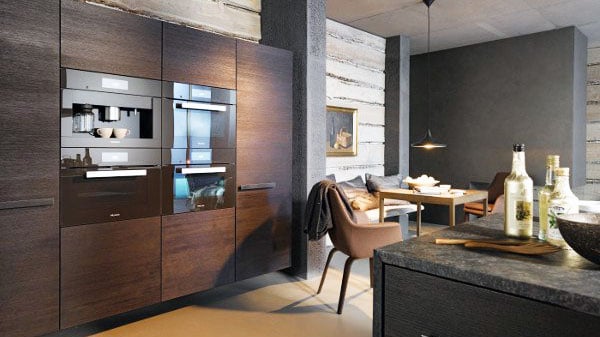 Miele Truffle Brown Appliances
My Grandfather sold coffee, my dad sold Coppertone, somehow, I fell into the same trap.
Miele had Truffle Brown at the time (I should have known, the best-tasting truffles are white).
All three of us had combined sales of three. The displays we bought.
Brown is a tough color to sell, especially in light kitchens.
Even with brown cabinets, the glass brown of the oven never matches the brown wood.
Black Stainless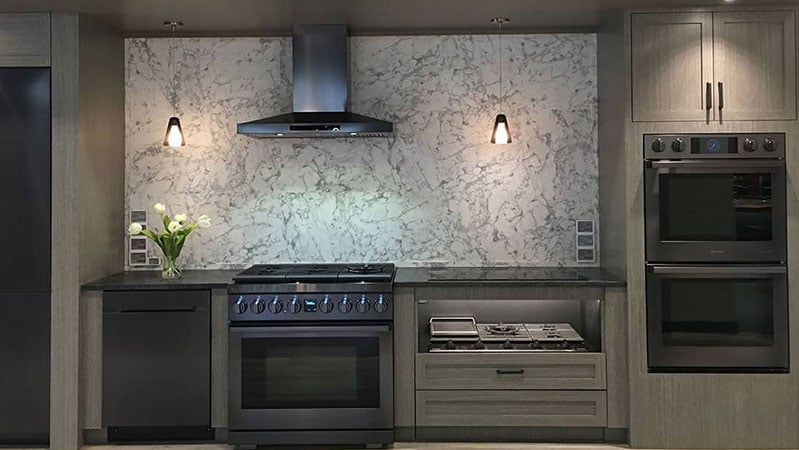 Black is a viable alternative to stainless steel. You will see it in the next section. Black stainless is another matter entirely.
It is an oxidized coating over stainless steel, so Black Stainless is easy to scratch and impossible to repair.
You will have a constellation of bright scratch marks on these units over time.
To prove this point, I scratched all the major brands' French door refrigerators shared in the video below.
Yes, I know, I depreciated $25,000 of French door refrigerators to make that point.
Not my finest hour.
Fun Fact About Color: Each color evokes emotion. My friend's orange color evokes excitement. Blue evokes trust. That is why police and other first responder's colors are typically blue.
There are books about the psychology of color. You will never look at a brand's logo the same way after reading about color.
How to Hide or Panel Your Kitchen Appliances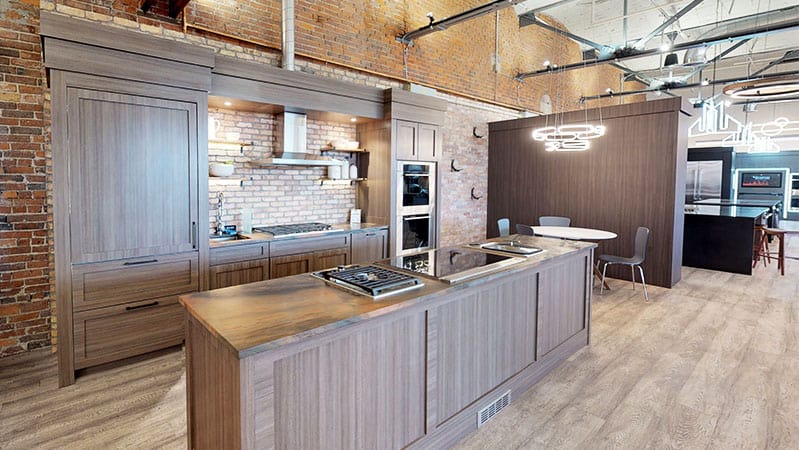 Wolf Kitchen at Yale Appliance in Boston
Placing a custom panel on your kitchen appliances or hiding your appliances is another option to replace stainless steel.
Have a look at the kitchens in Boston shown above and below. Almost every appliance has a custom panel.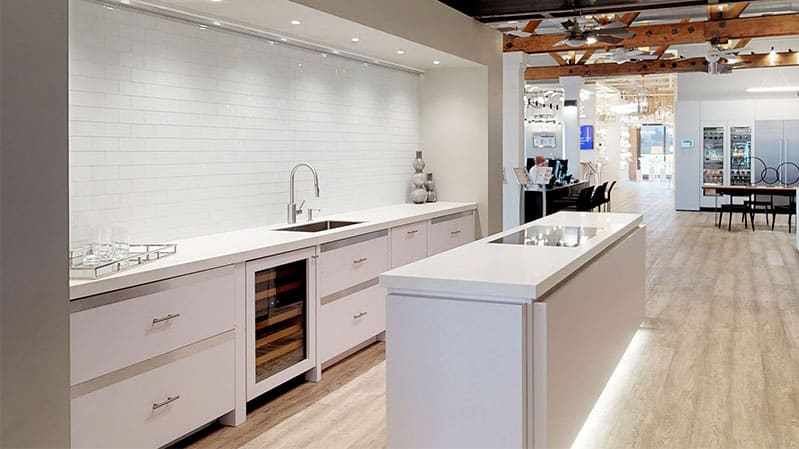 Wolf Kitchen at Yale Appliance in Boston
You can panel your refrigerator, dishwasher, wine cooler, and beverage center, especially with better cabinets.
The Wolf black glass is a nice diversion from stainless steel. It also has little graphics.
Pro Tip to "Hide" Cooking Products: You cannot buy a cooking product like a stove, wall oven, or microwave panel ready. However, you can and should install your cooking appliance flush mount. It will sit seamlessly with your cabinets or counter, and the trim is not exposed.
For a cooktop, flush mounting is easier to clean without the edges.
Less Expensive Refrigerator Panel Options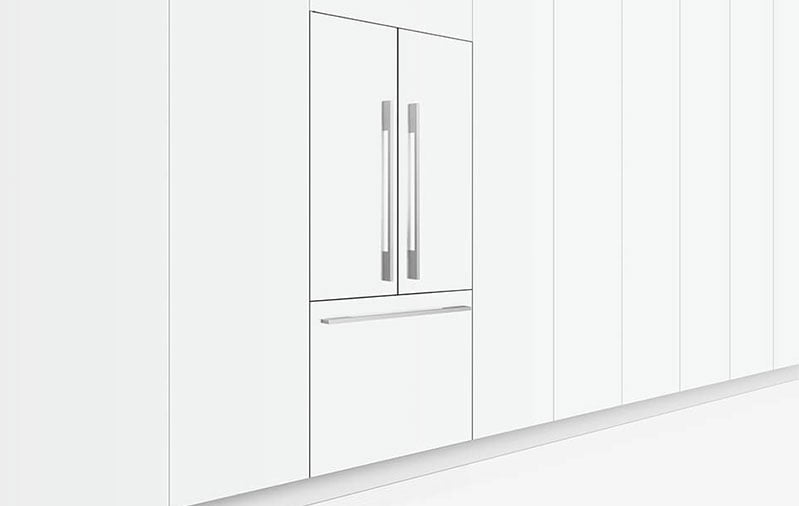 Fisher & Paykel Kitchen with Paneled Refrigerator
Most refrigerators are north of $10,000 with a panel-ready option. Fisher & Paykel (shown above) has an integrated option for less than $5,000.
Custom Panel Mistakes
I have no idea why American dishwasher brands protrude past the cabinet.
They look like you stuck a panel on a dishwasher rather than a seamless cabinet.
Bosch is produced in North Carolina, so American companies can and should make a seamless product.
How to Expose Your Appliances
Exposing your appliances with glass panels requires a bit of planning.
You already know about wine coolers and beverage centers. You can see through the glass fronts in both.
However, refrigerators now have similar capabilities. Let us look at the best brands.
Best Brands for Glass Panels
True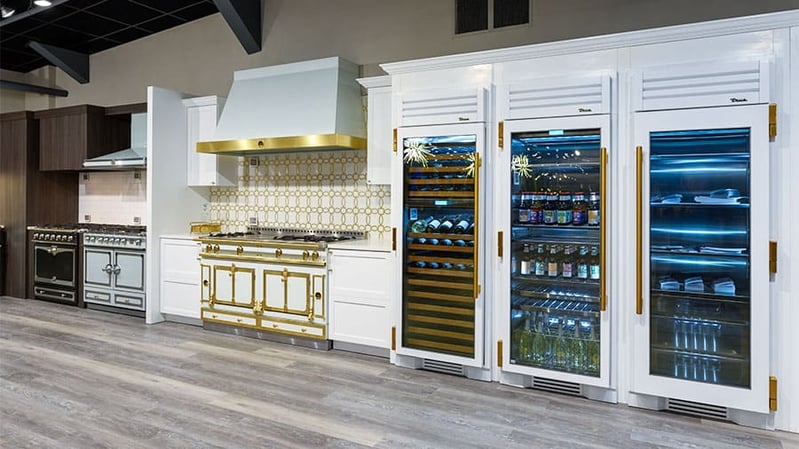 True Refrigeration at Yale Appliance in Hanover
Look in your supermarket. All the freezers have glass so you can see the food.
The number one commercial refrigerator company is True.
They established a residential division years ago and have that same look with a design twist.
Plus, their website is a ton of fun to build a custom refrigerator.
They have colors and accents, so you can play around with a Juniper color and a copper finish, for instance.
True has glass fronts almost exclusively.
Sub-Zero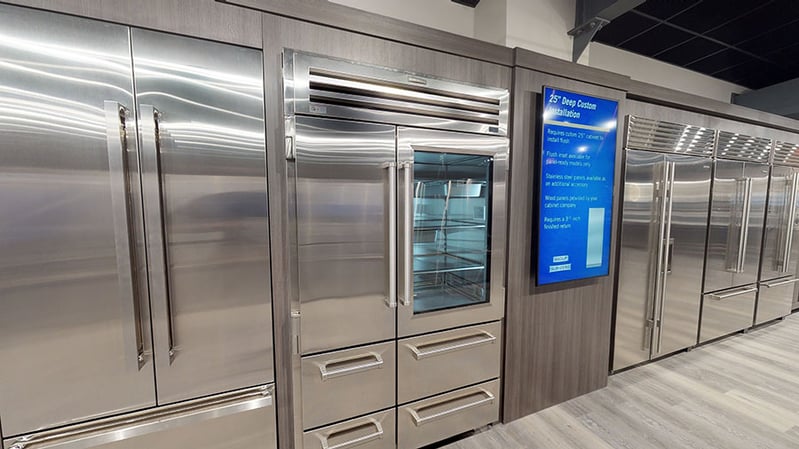 Sub-Zero Refrigerator With Glass Window at Yale Appliance in Hanover
Sub-Zero was the first with a window in their professional 48-inch units. It is a restaurant or commercial-looking product.
Chefs want to see their food before they open it versus the way we do it – by opening the refrigerator, standing there for a few minutes, and then finding what we want.
LG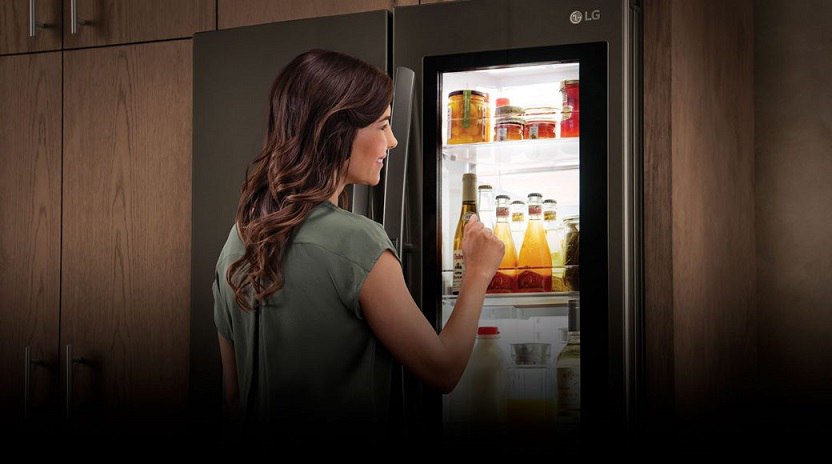 LG InstaView Smart Refrigerator
LG has a unique twist with their InstaView refrigerator door. You touch it to see through and touch it again to darken.
Why You Should Not Expose Your Appliances
You will have to keep your refrigerator organized because now you and your guests can see through it.
How to Accent Your Kitchen
Years ago, I made a huge mistake (as opposed to a more recent mistake).
I changed our plumbing hardware such as our faucets and sinks from all stainless and chrome to a mix of colors on display.
Nobody bought the colors.
I mentioned a pop of color in the color section. For accents, you almost have to carry the accent straight through.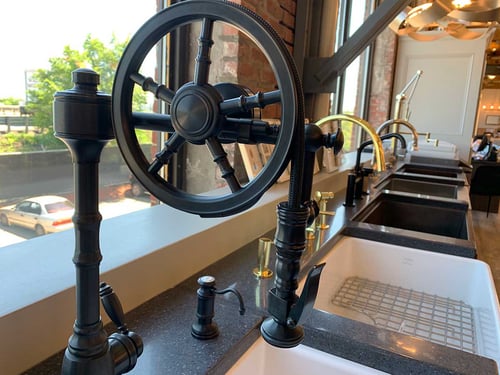 Take this $3,400 oil-rubbed bronze Waterstone Wheel Pull-Down Faucet shown above. You should consider matching drawer pulls as well as even lighting.
Best Brands to Accent Your Kitchen
Most of the ranges mentioned in the first section have different accents. BlueStar and La Cornue are especially good on the cooking side.
True is your only accent choice for refrigeration (pictured below with brass hardware).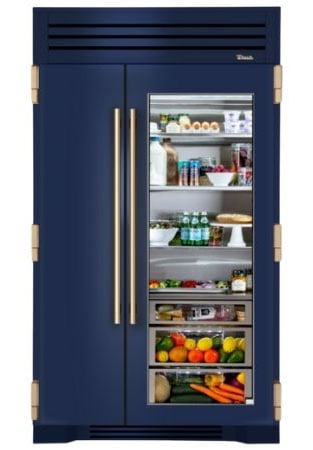 You have a good opportunity to accent your kitchen with your plumbing and hardware.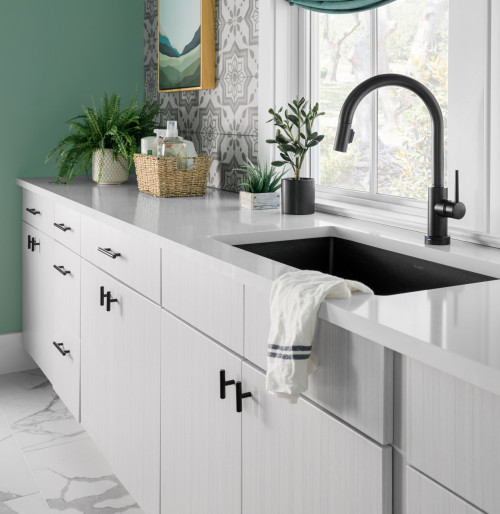 Waterstone has 32 finishes. They are also thousands of cabinet pulls.
Why I Could Be Wrong
Mixing metals like copper and steel is a highlight of transitional spaces if done tastefully.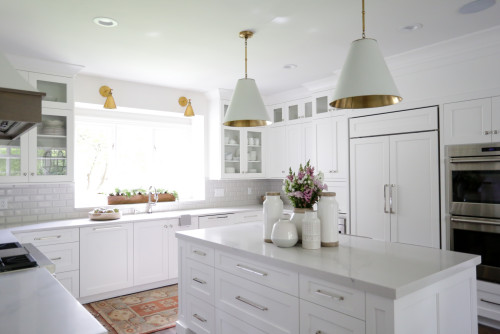 Most living areas are not designed to be strictly modern or traditional styles. They are a combination of the two. Steel and copper or other metals make sense.
Just know you have good accent options.
How to Light Your Kitchen
Everyone always asks the same question: How many pendants do I need over an island?
The answer is it does not matter but usually three to four in most cases.
Except in this case where it is two: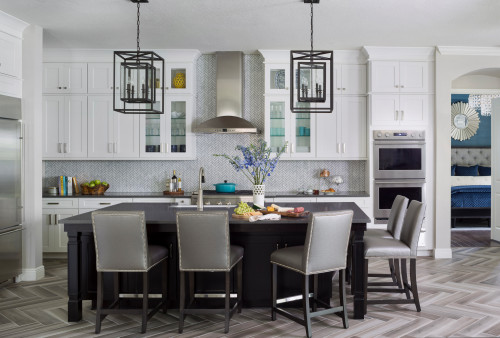 With smaller pendants, three to four is ideal. Chandeliers are bigger and require less.
It should not matter because your task lighting should light your space if done properly.
Task lighting is either recessed or track.
The 4 Lighting Elements of Lighting Design
Task:

Provides even lighting throughout the kitchen. Recessed is the primary while every kitchen should have under cabinet lighting. Bonus: if you place undercabinet under your toe kicks or even counters in your island.

Accent:

A Light specifically placed to highlight an object like glass, statues, flowers, etc.

Ambient:

The source most overlooked. It lights your ceiling. Under counter placed on the top of your cabinets, up light pendants can provide ambient light.

Decorative:

Visual Jewelry. It should not be the main source of light. However, lighting has 1000s of styles, so kit distinguish your kitchen from your neighbors.
How to Get Started for Lighting Your Kitchen
Start at your sink with your recess lighting. Why the sink? It is the most used area in your kitchen.
Spread three to four feet and make sure the primary areas like your refrigerator, stove, and other task areas are covered.
Then add your under-cabinet lighting, and then accent, decorative and ambient.
A Strangely Good Lighting Tip: Never place lights behind you. It creates shadows.
Unique Appliances for Your Kitchen
Now that you have learned about unique ways to change the look of your kitchen, let us look at some exciting products.
Most articles hide number one, not us. Number one and two are exciting, then it is a matter of personal preference.
1. BlueStar by Design
Up until now, you may have seen interesting colors and accents. How about placing a picture like your wallpaper or flooring on your range and refrigerator?
BlueStar allows you to place any high-quality picture as your new range or refrigerator front.
Ah, the possibilities you have with this customization feature.
I love my kid. You love yours. How about making them the front of your range?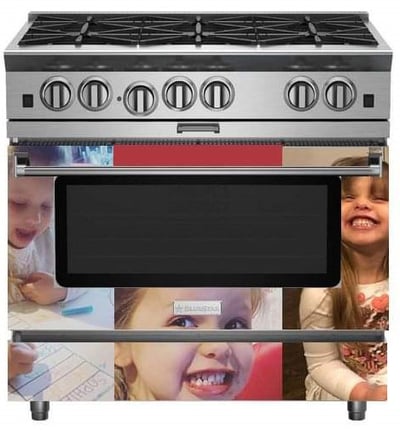 Have a sports fan you want in or out of your kitchen?
How about a logo of your favorite team or their archrival assuming you do not want them in your kitchen?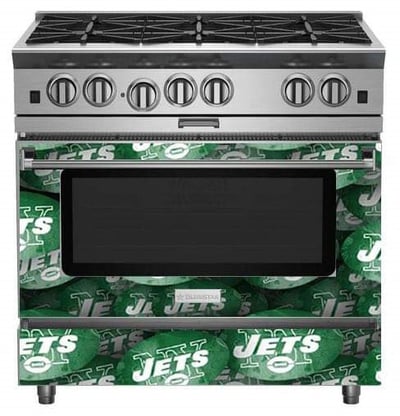 BlueStar will need permission from these teams and pay a licensing fee, but the possibilities are endless.
You also have to buy a BlueStar pro range or refrigerator for these customizations.
2. La Cornue Château Supreme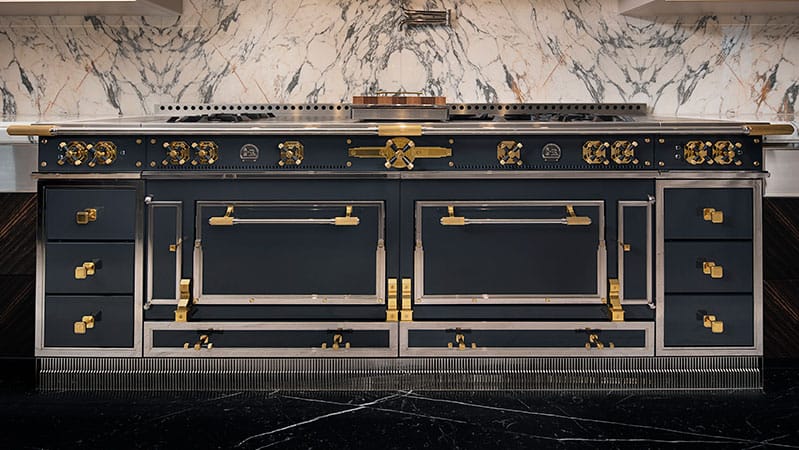 La Cornue Château Supreme
Why do I keep returning to this range? The Canadian songwriter and rapper, Drake, bought it. I do not love his music, but he is hysterical on SNL.
However, this range is beautifully styled with the deco grill and retro knobs. The top is fully customizable for gas, French top, griddle, induction, and wok burner.
3. Yale Hood Liner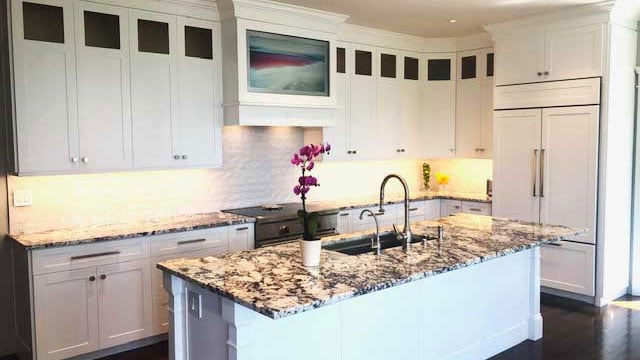 Kitchen Renovation with TV in Hood (2020)
Yes, you can place a flat-screen TV in your hood. My sister did not want a TV obstructing her view.
You need a shallow hood liner for your wood shell, so the TV is easily installed.
Ok back to reality.
4. Galley Sinks aka Galley Workstations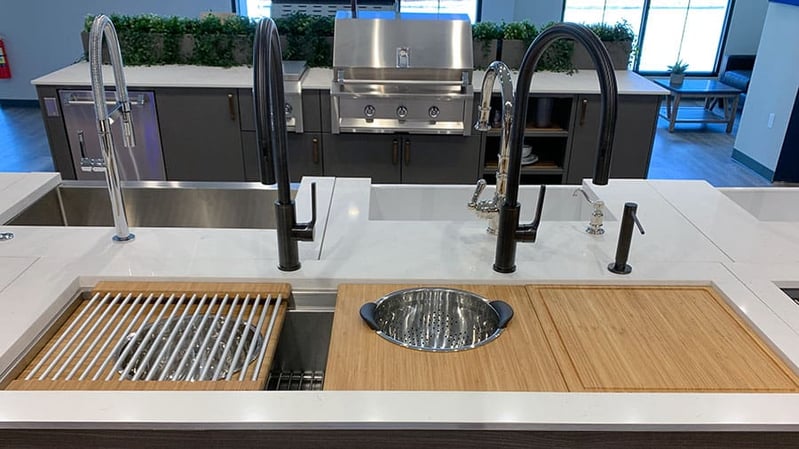 Galley Workstation at Yale Appliance in Hanover
I am not supposed to even call this a sink. However, the options for this sink are limitless. You can do anything. It is like a Swiss army knife for your kitchen.
It is also durable enough to be placed outside.
5. True Beverage Columns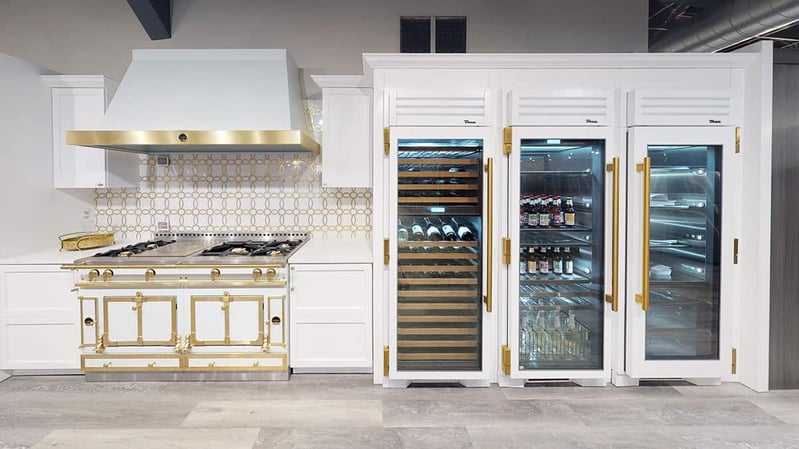 True Column Refrigeration at Yale Appliance in Hanover
A beverage column is designed for wine bottles, gallons, cans, and all types of beverages plus it looks great in all those colors and trims.
It's great for kitchen or bar area.
6. Yale Half and Half Undercounter Refrigerator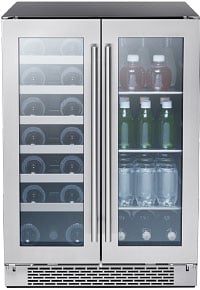 You can fit refrigerated items and beverages in this unit at the standard 24-inch width.
7. Gaggenau (Anything)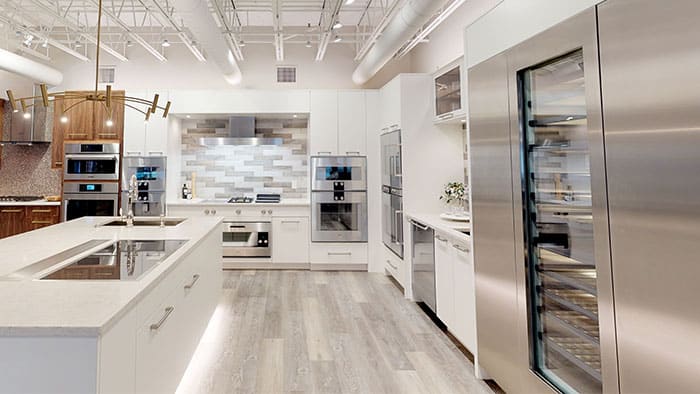 Gaggenau Kitchen at Yale Appliance in Hanover
In a sea of stainless-steel wall ovens, Gaggenau is unique. It is designed by Bang & Olufsen to be truly modern.
8. Waterstone Water Wheel and Gantry Faucets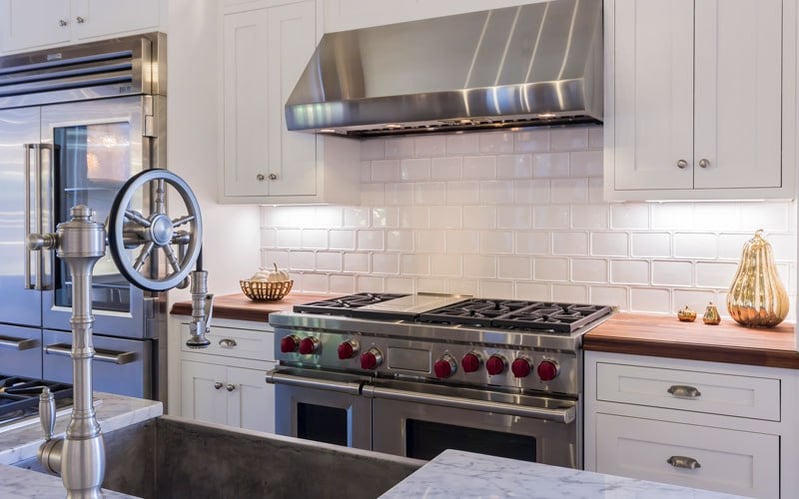 Wolf Kitchen With Waterstone Faucet at Yale Appliance in Boston
Plumbing is an effective way to separate your kitchen.
Waterstone has two interesting designs. The Wheel Pull-Down Faucet is an adaptation of an actual water wheel (makes sense).
The Gantry is their spin on a commercial faucet.
9. True Reach in Beverage Cooler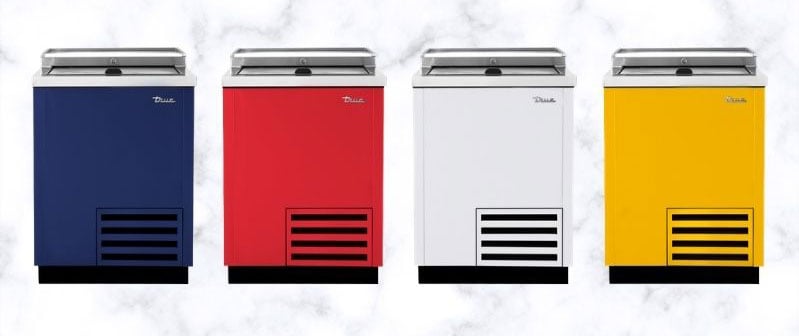 True Refrigeration for an Outdoor Kitchen
This unit is brand new and available in assorted colors. It belongs in your outside kitchen. It is UL to do so, but different and available in colors.
10. Fisher & Paykel Double Drawer Dishwasher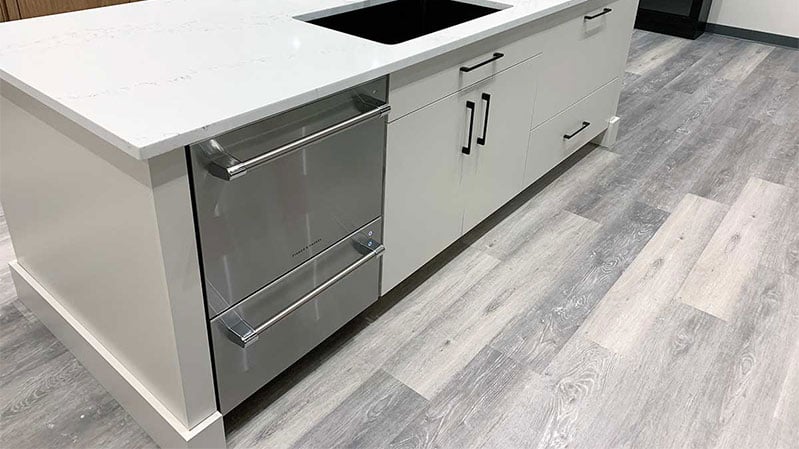 Fisher & Paykel Double-Drawer Dishwasher at Yale Appliance in Hanover
We bought the first Fisher & Paykel's and the design is still unique.
How to Make Your Kitchen Unique Using Appliances: Key Takeaways
Now you have some unique kitchen ideas. Do not be afraid to try a few like an unusual color or accent.
You do not have to be extreme. Have your designer do a rendering first.
There are options and pictures abound on the internet. Spend some time doing the research.
Ask your appliance store for color samples so you know the difference between Province Blue and Royal Blue.
Take your time and have some fun.
Bonus: Recorded Webinar - 5 Ways to Make Your Kitchen Unique with Appliances
I will show you more in-depth and you will have plenty of time to ask questions on any appliance-related topic.
Remember projects are fun if you have a template. Here are two helpful articles with our most recent video webinars:
Additional Resources
Have questions about appliance? Get the Yale Appliance Buying Guide with features, specs, and detailed profiles of all the major brands. Well over 820,000 people have read a Yale Guide.
Related Articles:
Why Should You Trust Us?
It seems that every appliance review has nothing but glowing comments about almost every product, yet you read customer reviews and they are almost universally bad.
We are here to fill in the disconnect. We'll give you the best features, and the drawbacks as well, including reliability based on over 37,000 calls performed by our service team just last year. Our goal is to give you ALL the information so you know what's right for you.
Please consider subscribing or adding to the conversation in the comments below. We appreciate you stopping by.
Steve Sheinkopf is the third-generation CEO of Yale Appliance and a lifelong Bostonian. He has over 38 years of experience in the appliance industry, and he is a trusted source of information for consumers on how to buy and repair appliances.

Steve has also been featured in numerous publications, including the New York Times, Consumer Reports, The Boston Globe, Bloomberg Radio, the New York Post, The Wall Street Journal, and Entrepreneur, for his knowledge of how to buy appliances and appliance repair.

Steve is passionate about helping consumers find the best appliances for their needs, and he is always happy to answer questions and provide advice. He is a valuable resource for consumers who are looking for information on appliance buying, repair, and maintenance.

Despite being the worst goalie in history, Steve is a fan of the Bruins and college hockey, loves to read, and is a Peloton biker. The love of his life is his daughter, Sophie.
A Note About Pricing
Pricing on this blog is for reference only and may include time sensitive rebates. We make every attempt to provide accurate pricing at time of publishing. Please call the stores for most accurate price.