Where to Start When Remodeling Your Kitchen
You're building a new house or perhaps renovating your new kitchen. You probably visit a few cabinet and tile shops. Throughout this process, finding your style can be exciting.
Until you hit a roadblock.
Your cabinet shop cannot design your kitchen without the appliances because appliances significantly affect the design.
So, where do you start?
Starting is the hardest part of probably anything and particularly kitchen design.
After successfully and unsuccessfully redecorating my apartment and then moving across the street to a burned-out brownstone, I have particular insights on where to start.
Before you start your kitchen project, you want to vet every professional associated with planning, designing, supplying, and providing warranties for your project.
This includes:
Architects
General Contractor
Cabinet/closet/bathroom Suppliers
Appliance stores
Tradespeople, Electricians, Plumbers, Roofers, etc
Warranty Servicers
Landscapers
It's easy to do. Ask your neighbors and friends. Check reviews on Google and Yelp.
The time you spend on research for your project will pay dividends later.
Let's get started.
Short on time? Get our free Appliance Buying Guide
Where to Start When Remodeling Your Kitchen
Those of you who have followed the blog will probably guess you start with your cooking appliances.
Stoves, cooktops, and wall ovens change your kitchen layout the most, especially how you're planning to vent those appliances.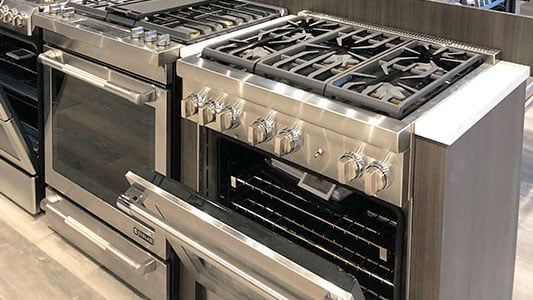 Slide-In Gas Ranges at Yale Appliance in Hanover
But I wouldn't start there.
Your second guess would probably be starting with refrigeration.
Your family is in the refrigerator quite a bit. Many people also are already thinking about adding additional refrigeration, such as a secondary refrigerator or beverage center.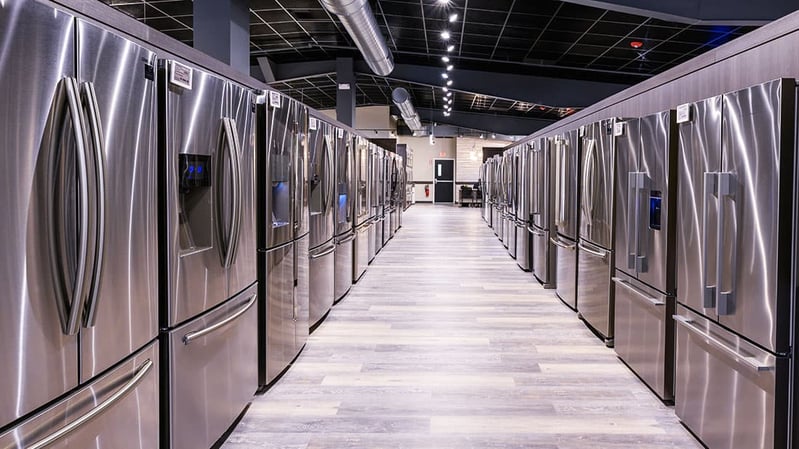 Counter-Depth Refrigerators at Yale Appliance in Hanover
I would not start at refrigeration either. Stoves and refrigerators are essential decisions.
However, there is an appliance you use the most often and is the center of every task - your sink.
Think about it. You use your sink the most out of any appliance. I shouldn't be calling it an appliance, but the sink is central to what we do in a kitchen.
By centrally locating your sink, you will never be a step or two away from either appliance - that's a good design.
1. Start With Your Sink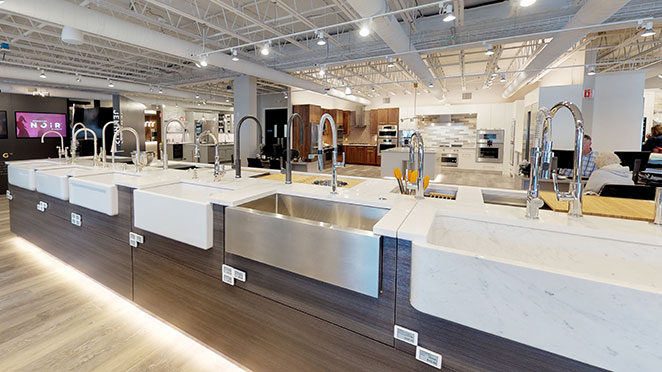 Sink and Faucets at Yale Appliance in Hanover
Consider placing your sink overlooking your windows or directly to another highlight or feature of the space or house.
My sister placed her sink in a spot where she could look at the ocean outside her house.
Islands
Sinks are great for islands. Many people like the idea of stoves and cooktops for an island, because you can face your guests while cooking.
However, you have additional venting issues with cooking.
Sinks do not have any venting complications. You can genuinely entertain with a sink like this Galley Workstation as well.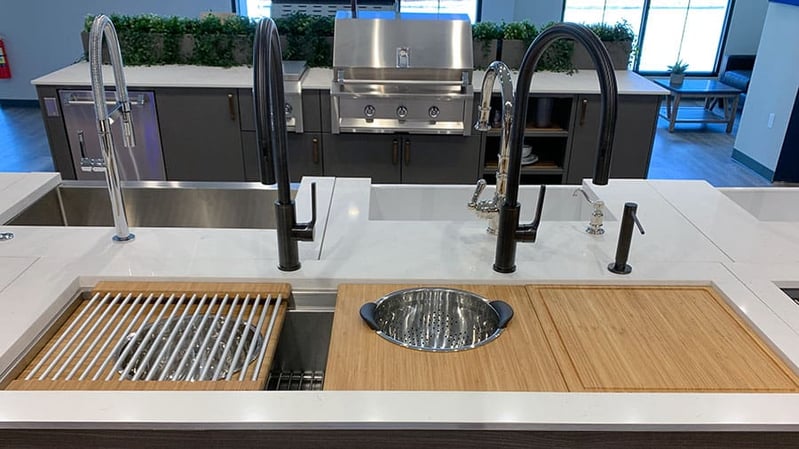 The Galley Workstation at Yale Appliance in Hanover
Sink Choices
Back when I started, undermount sinks were a trend. It still is. Now you have more choices like:
Apron front sinks aka the Farm Sink
Larger undermount sinks
Galley and Entertaining sinks - these sinks can do almost anything.
Read More: Should You Buy a Galley Workstation?
2. Cooking Appliances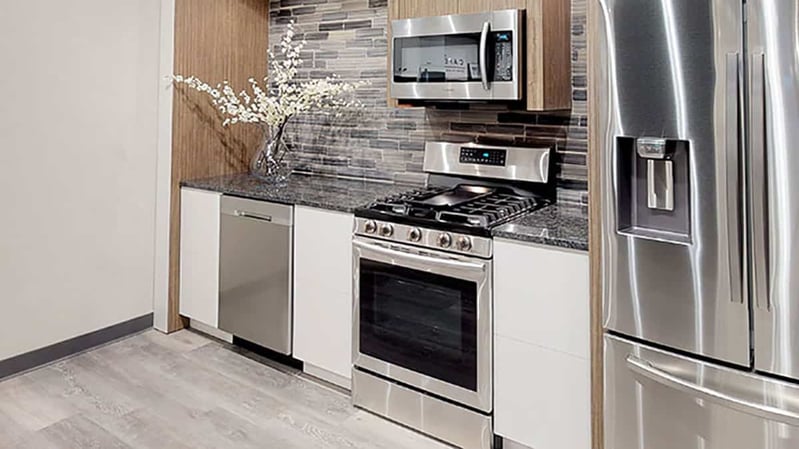 Café Appliances Kitchen with Gas Range and Wall Ovens at Yale Appliance in Hanover
Now that you have located the sink, cooking should be your next consideration. It affects the rest of your kitchen layout.
You have to choose between cooktop, range, and a wall oven.
Cooking Considerations
Space: Smaller spaces are better for ovens because you only need 30-inch spaces. You need 30 inches for the cooktop and a separate cabinet for a wall oven.
Centralized: Stoves are centralized, so you have one place for your cooktop and oven
Choice: Wall ovens have more choices with steam, speed, and warming drawers
Ergometrics: With wall ovens, you do not have to bend down for the Thanksgiving turkey or Christmas goose (think Scrooge feeding the Cratchit family).
Flexibility: You can place a wall oven anywhere. You are not checking on your oven like you are stirring the cooktop.
Secondary Cooking Appliances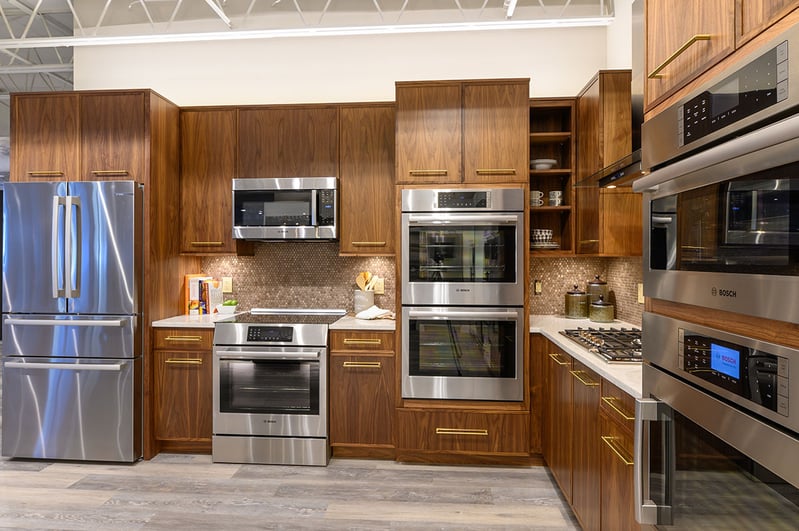 Bosch Kitchen With Wall Ovens, Steam Ovens, and Speed Ovens at Yale Appliance in Hanover
You can centralize or place steam ovens, microwave drawers, and speed ovens remotely, depending on your layout.
There are so many choices in cooking. You can do whatever you want. The hard part is implementing a plan that works for your family.
Learn More: Gas Cooking Buying Guide
3. Ventilation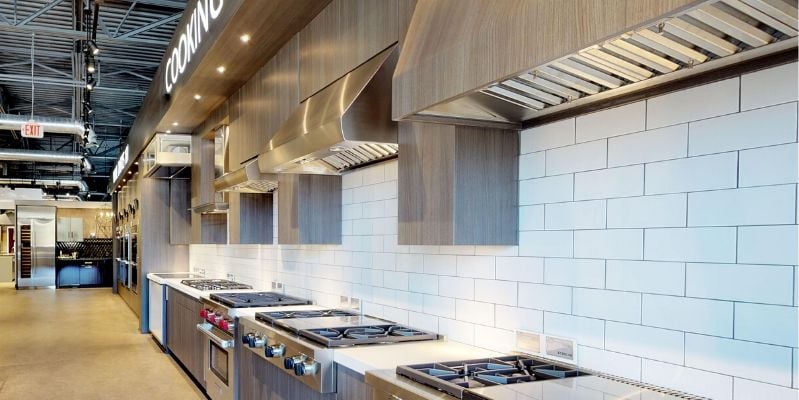 Ventilation Hoods at Yale Appliance in Framingham
Venting is essential, especially if you cook. You don't want your house to have that lingering odor from last night's dinner.
Venting is easier set up against the wall, not over your island.
Follow these basic guidelines:
CFM (Cubic Feet per Minute): How many cubes of air can be extracted from your house every minute. So a 600 CFM fan will extract 600 cubes of air per minute.
Capture Area: Deeper hoods of 24 inches are best because smoke is a channel extracted by your blower. Large amounts of smoke will billow past shallower hoods.
Ventilation: Larger vents will be able to exhaust more smoke out of your home. You want to use a rigid, not flexible duct so the grease will not be embedded.
Duct Run: Straight up or straight back is best. Do not use elbows unless necessary. They decrease the static flow of the exhaust.
Massachusetts Residents: Any vent of 400 CFM or greater needs a return back to your house. Even if you do not live in Mass, makeup air will lead to better air inside your house.
Read More: Ventilation Buying Guide
How to Vent an Island Cooktop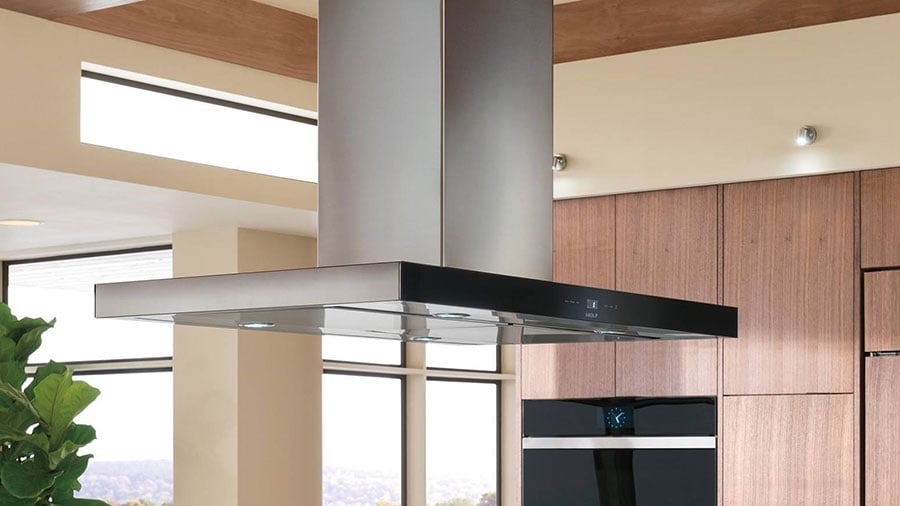 Island Ventilation Hood
If you're planning on placing your cooking appliances on your island, use an island hood.
It has the right CFM, capture, and ducting specs when planned and sized correctly.
The Case Against Downdrafts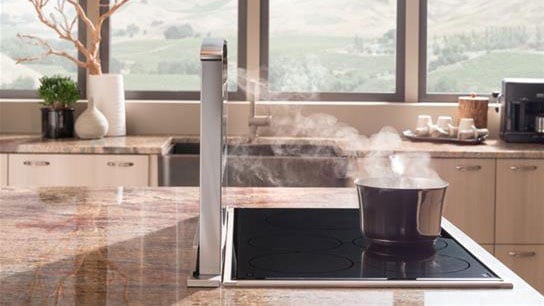 Downdraft Ventilation With an Induction Cooktop
We cover this more fully in other articles. Downdrafts do not have any capture and have the wrong ducting if you truly like to cook.
They should be used as a last resort.
Read More: 10 Kitchen Appliance Remodeling Mistakes You Should Never Make
4. Refrigeration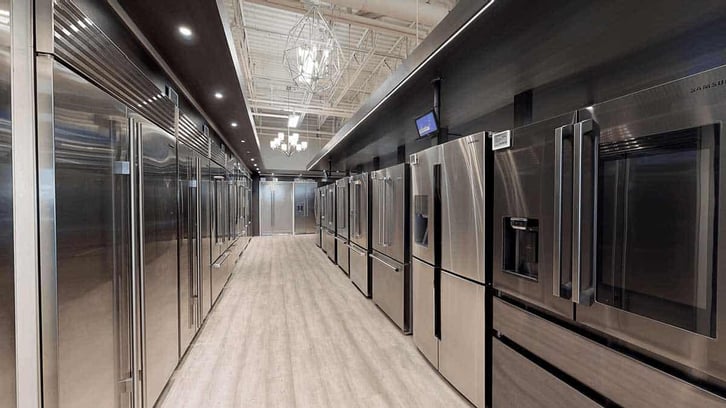 Counter-Depth French Door Refrigerators at Yale Appliance in Framingham
Now you should relax. The big decisions have been made.
The only tough refrigeration question is which type and configuration.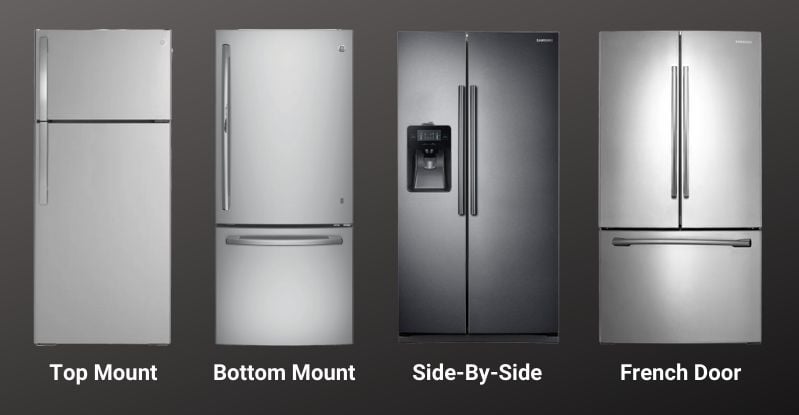 Size
The most common family size is 36 inches. However, refrigerators are available in 18, 24, 28, 30, 33, 42, and 48 inches wide.
Counter-Depth or Standard Depth Refrigeration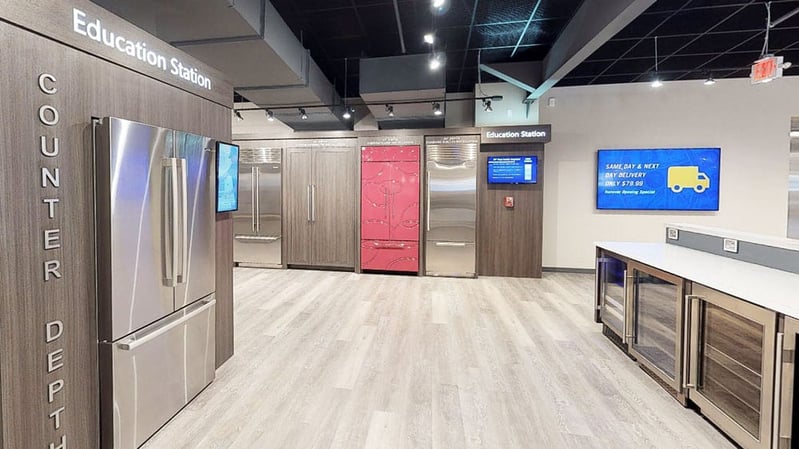 Counter Depth Refrigeration at Yale Appliance in Hanover
Counter-depth is more expensive but doesn't protrude into your room. It's a nicer look. However, you do have more cubic footage in a standard depth refrigerator.
Counter-Depth or Integrated Refrigeration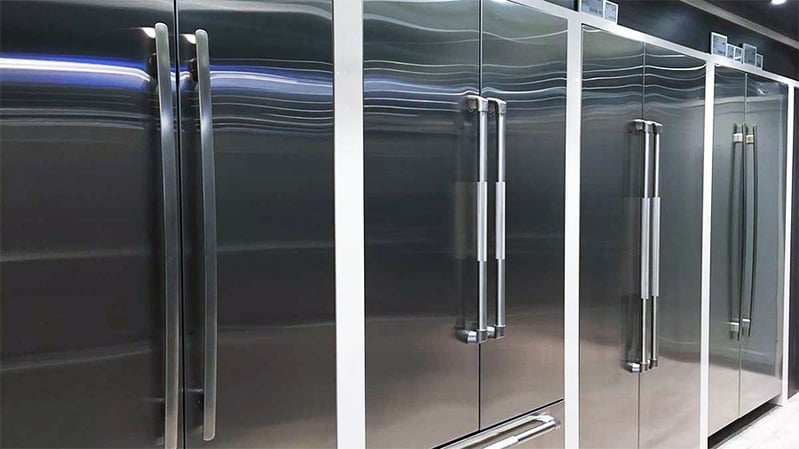 Integrated Refrigeration at Yale Appliance in Hanover
Integrated fits seamlessly with your cabinet, so it looks great paneled. You also have more choices and can place a refrigerator and freezer anywhere.
Integrated will cost the most per cubic foot.
Secondary Refrigerators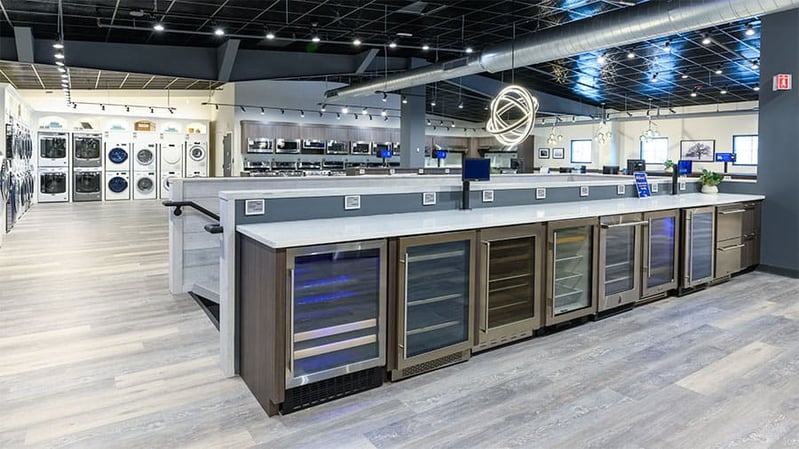 Undercounter Refrigeration at Yale Appliance in Hanover
Like cooking, you have a vast array of drawers, wine coolers, beverage centers, and icemakers to consider.
Learn More: Refrigerator Buying Guide
Key Takeaways
Before you start your kitchen project, do your research.
The best kitchen plans can be undermined with unqualified help. I, unfortunately, can tell you that personally.
For appliances, don't start at an appliance.
Begin the process with your sink. You use it the most, so why not centralize it?
Cooking is the other pillar of your design and dictates venting and the flow of your kitchen.
Refrigeration should fall in line once the sinks and cooking have been chosen.
Now the hard part is to choose.
Additional Resources
With in-depth profiles of brands, answers to the ten most asked appliance questions, and a section on how to buy appliances at the right price, the Yale Appliance Buying Guide will help you in every stage the buying process.
Related Articles
Why Should You Trust Us?
It seems that every appliance review has nothing but glowing comments about almost every product, yet you read customer reviews and they are almost universally bad.
We are here to fill in the disconnect. We'll give you the best features, and the drawbacks as well, including reliability based on over 37,000 calls performed by our service team just last year. Our goal is to give you ALL the information so you know what's right for you.
Please consider subscribing or adding to the conversation in the comments below. We appreciate you stopping by.
A Note About Pricing
Pricing on this blog is for reference only and may include time sensitive rebates. We make every attempt to provide accurate pricing at time of publishing. Please call the stores for most accurate price.