10 Questions to Ask Your Appliance Salesperson
July 9th, 2021 | 6 min. read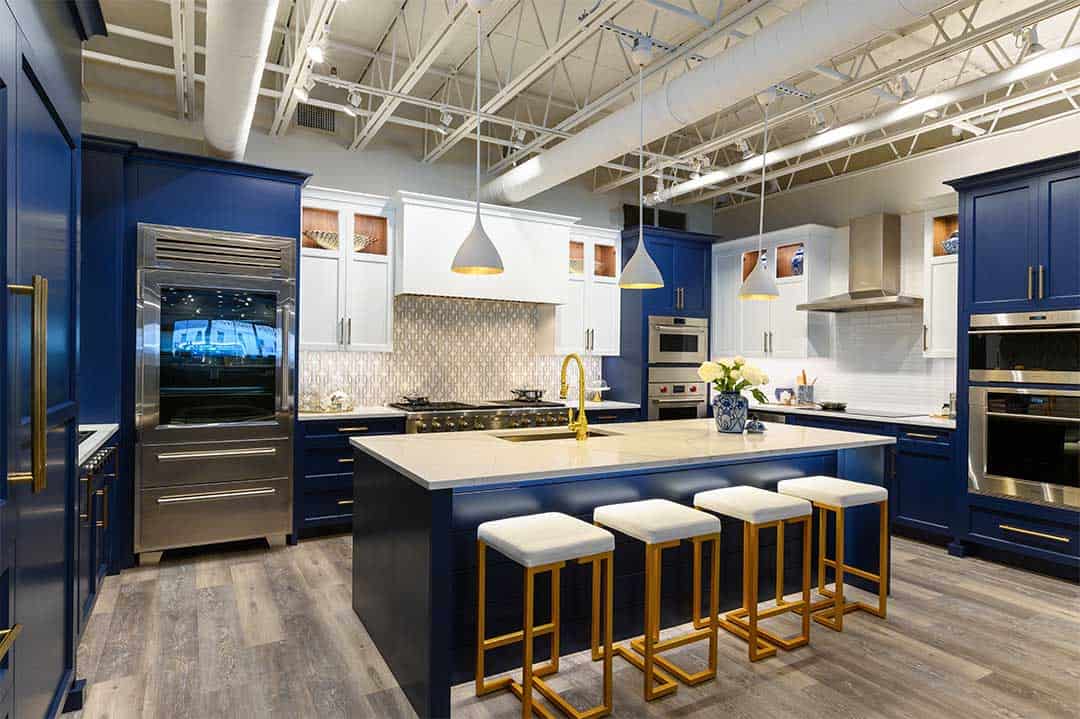 Many of the articles in this blog have focused on problems and misconceptions when buying appliances.
You can read reliability rates based on over 37,000 actual service calls, not speculation.
Then you have read about the many problems after the sale like delivery, installation, and finding service.
With chronic labor shortages, those problems have become even worse.
However, the assumption was always that you are buying the right appliances for your project in the first place.
That is a bad assumption.
You probably know more than the "expert" salesperson at the local or box store. Then again, a few know what they are talking about.
Some will even care about you and your project.
In this article, you will learn ten important appliance questions to ask your salesperson.
Then we will look at reviews and specifics to see how they will treat you after the sale.
As a bonus, you will also learn whether your salesperson is being "spiffed" or heavily compensated for selling an appliance by a manufacturer.
It's a problem you need to know about before you go to the appliance shop.
Let's get started (these are good questions to ask yourself before you begin a project).
10 Questions to Ask Your Appliance Salesperson
Question 1: Should I Buy a Gas or Dual Fuel Range?
This is a trick question.
It depends on the size, the brand, and other factors. Asking this question will demonstrate how much deep knowledge your salesperson has.
The proper response is, how do you like to cook?
That should be the response to many questions. For roasting, gas is better because it holds more moisture.
Broiling is also far better with gas, especially with an infrared broiler's intense, directed heat.
Electric is more consistent, drier, and better for baking.
If the answer is you want the "speed of gas with the dry heat of electric," then you should buy induction.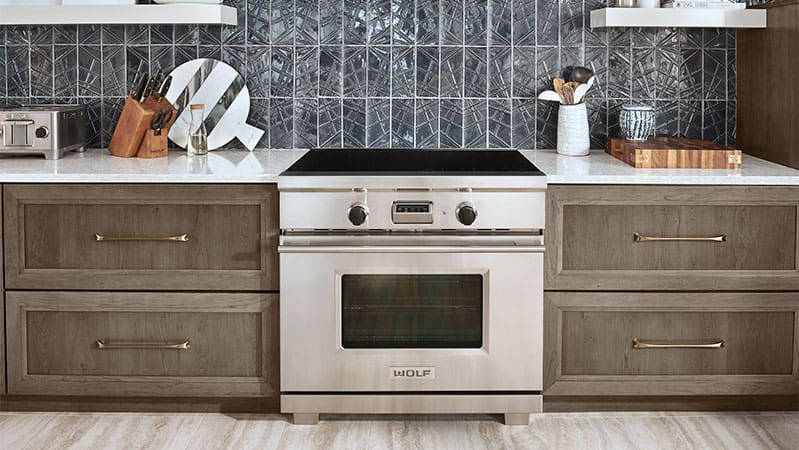 It's faster than even the hottest professional range, and you have an electric oven.
So for a regular 30-inch range, induction should be your choice unless you broil and roast more.
In the larger sizes of 36, 48, and 60 inches, consider a pro range.
Wolf, Miele, Hestan, Thermador, SKS, and many other manufacturers will add features like better clocks, steam functionality, more cooking modes, and burners on their dual ranges only.
However, the basics of roasting and broiling of electric versus the evenness of electric baking stay the same.
Read More: What's the Difference Between All Gas and Dual Fuel Professional Ranges?
Question 2: Should I Buy Induction or Professional Gas, and If I Buy Induction, What Are the Pitfalls?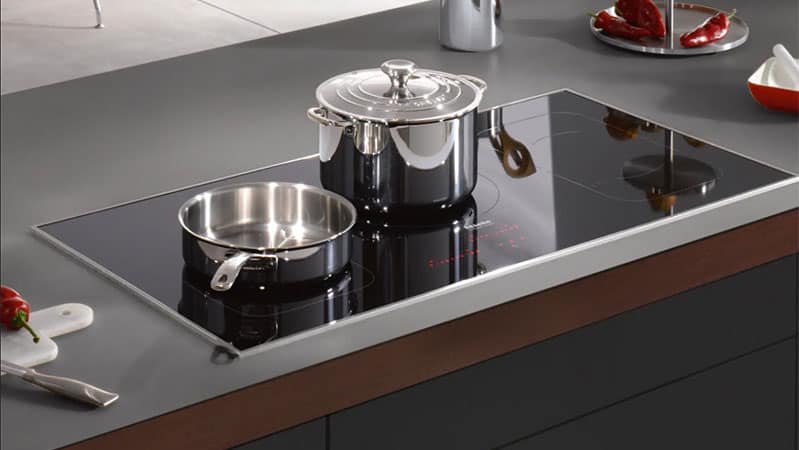 Not exactly a trick question, but another requiring deep explanation.
Induction is magnetic heat. The magnets excite the molecules of the pan while the pan cooks the food.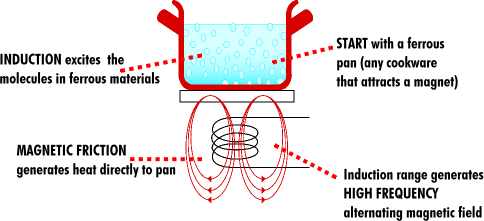 It is faster than a pro range burner with an infinite simmer.
Other benefits include:
Safety:

Induction cannot be activated without a metal pan on the top. (significant benefit with kids)

Venting:

Induction requires less venting because it does not emit heat like gas.

Cleanability:

The top does not heat like electricity or gas, so food doesn't bake into the surface.
Induction is a better way to cook, but gas is a better choice in larger sizes if you want a grill or griddle.
Gas is also more reliable because induction is vulnerable to voltage spikes.
Learn More: Induction Buying Guide
Question 3: Should I Buy a Downdraft for My New Kitchen?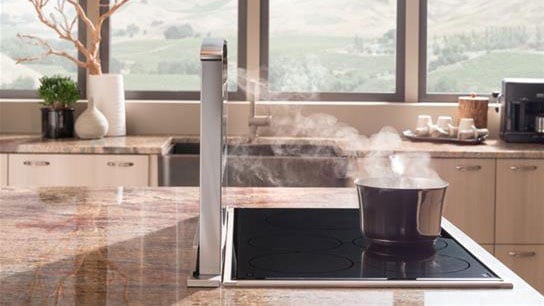 The answer to this is absolutely not.
A downdraft cannot vent properly.
Yes, it's better than nothing and should only be used to replace other downdrafts if you cannot vent anywhere else, but never in new construction.
Venting is about capture area or how much height, width, and depth your hood is. Downdrafts have no capture area.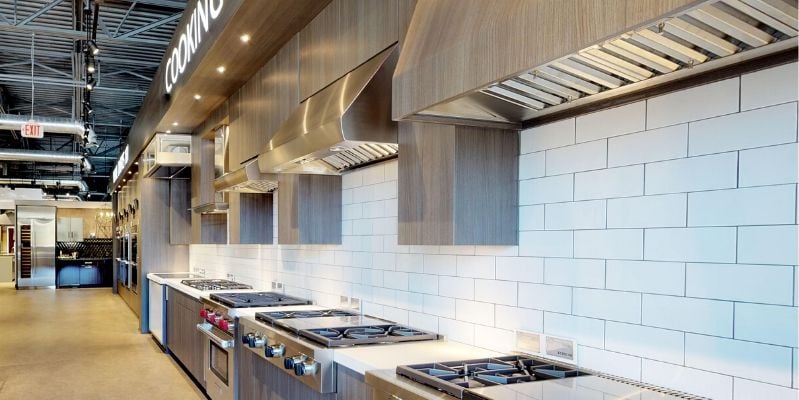 They also reverse the direction of the Air and have longer venting runs.
As a result, you may want to ask about other venting suggestions.
This question may seem unfair because it requires a design background. That said, you can consider an overhead island hood to vent properly or place a sink in the middle and move the cooking to a wall.
Question 4: What Is Make-Up Air and Why Is It important?
Make-Up Air is the law in Massachusetts. Any hood over 400 CFM requires an equal return.
You would either return air through your HVAC system or 10 feet away from your stove on an opposite wall.
It's important because you will be breathing unhealthy Air from your garage, attic, or furnace without a fresh return of air.
Even if you live in an older home or a state without the law, you should consider a fresh air return in your house.
Question 5: What CFM Do I Need for My Kitchen?
This question has many responses. The best response should be "How to do You, Cook."
If you grill, griddle, or wok, higher CFM is needed because more heat, smoke, and grease will be emitted. One thousand CFM for a 36-inch range is adequate.
You should also have a recommendation for a larger hood with greater depth for better capture.
For 30-inch ranges, 600 CFM for high output cooking is a good recommendation.
Once again, your answer should tailor to how you use your stove.
Learn More: Ventilation Buying Guide
Question 6: What Do You Think About Black Stainless Appliances?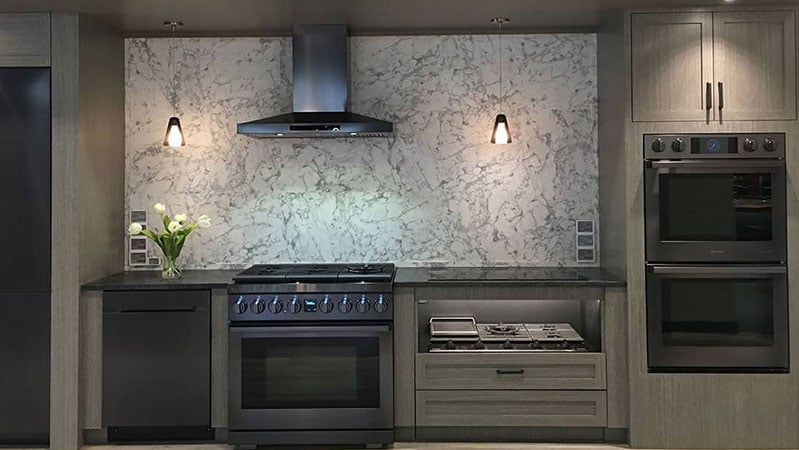 The sneaky question, but you will know knowledge and honesty with the response.
Nobody should buy black stainless steel finishes.
It's just an oxide coating and is easily scratchable, leaving the shiny undercoating. It cannot be repaired and is not warrantied as it is considered cosmetic by the manufacturer.
So the right answer is don't buy it. Consider stainless, white, or other designer finishes if you want just a unique pop of color.
Read More: Appliances You Should Never Buy
Question 7: How Quiet Should My Dishwasher Be?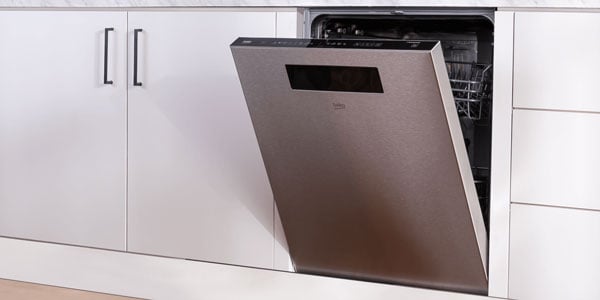 You only need 44 decibels. Anything below that, you cannot hear.
Run if the tactic is to step you up based on quietness and not other features.
Of course, you can now buy 39 dB dishwashers from KitchenAid and Beko for under $1000.
Question 8: What Are the Differences Between Front Load, Top Load, and Hybrid Top Load Washers?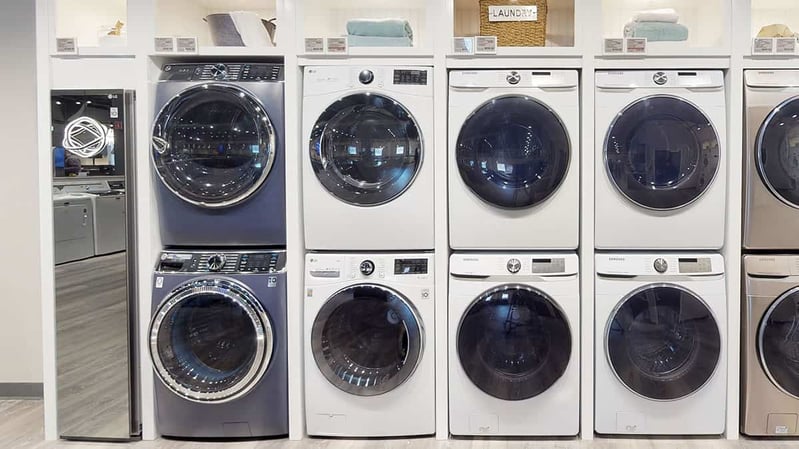 The bad answer is reliability, as it is almost identical between the top and front loads.
Here are the actual numbers:
Front-load:

Size, efficiency, and features like steam and auto dispensers. Reliable yet harder to fix. Mold issues can occur if you don't dry residual waster and keep the door open.

Top Load:

Less expensive and more straightforward to fix, but lacking in capacity and features.

Hybrid:

Combination with the size and efficiency of a front-load and the convenience of a top-load just without the agitator. Interesting design, but washability has been questioned in past hybrids.
Bonus Question: What's the Difference Between Speed Queen Washers?
The TC series has the agitator tied to the motor, while the TR series uses water flow to move the agitator. The TC is more aggressive in removing stains, while the TR is gentler on the clothes.
Question 9: What Are the Benefits of Twin Evaporator Refrigerators?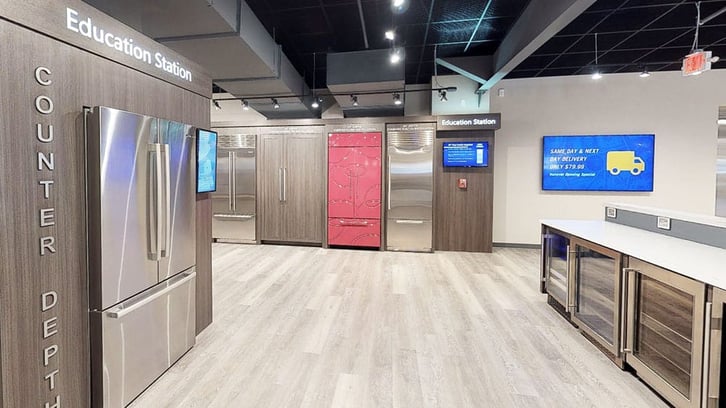 Twin evaporators keep the freezer and refrigerator air from commingling, so tastes and odors don't transfer. So the fresh fish or stinky cheese aromas in your refrigerator won't end up in your ice cream.
It's a good question to ask because half the brands use twin evaporators while the others use a single evaporator.
Bonus Question: What's the Difference Between Integrated and Counter Depth Refrigerators?
The short answer is the door protrudes on a counter depth, while the integrated fits within the 24-inch depth.
An integrated is seamless to your cabinets but the most expensive per cubic foot. You will see the door protrude in regular or professional counter-depth refrigerators.
Question 10: Where Can I Find Service for My Appliances?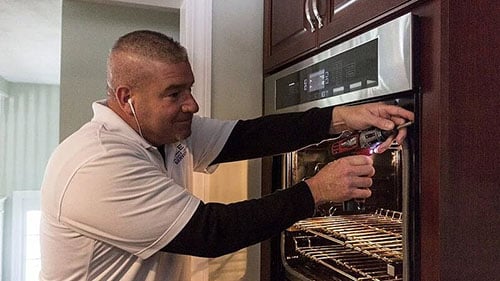 This question will be tough to answer. Most of the industry knows there is a service problem, yet 95% of the stores do not have a service department.
If the answer is, the manufacturer will handle service, then look at this.
We handle service or have an arrangement with a competent local service provider is an acceptable answer.
Find out who that competent service provider is.
Read More: Why Doesn't Every Appliance Brand and Store Offer Service?
How Will Your Salesperson Treat You After the Sale?
So your salesperson knows their product.
That's good.
However, what happens after you order your appliances?
How is the follow-up? How are they handling problems?
For that, you need to do some research. Look at Google reviews and type in their name, and see what is written.
You have to be mindful that there are two sides to every story. However, you are looking for patterns.
If they show a pattern of not returning phone calls or ghosting after collecting your money, consider other options.
Sales "Spiffs"
One of the biggest problems in our industry is spiffs or payments directly from the manufacturer to the salesperson, even bypassing store ownership.
We don't allow manufacturers to spiff salespeople at yale.
Some of these payments can be huge.
So if your appliance salesperson is pushing on an unknown or unfamiliar brand for no apparent reason, then they are probably being spiffed.
Some unknown brands like SKS, Hestan, and Beko have great features you should consider.
But others do not.
So be conscious of not being "pushed" into any unknown brands without features you want or need.
Key Takeaways
Your kitchen is an important part of your house and life. It's where you cook and assemble as a family.
Asking questions is the only way to determine whether your salesperson knows what they are talking about.
Be mindful of how you will be treated after the sale by the salesperson and store.
Lastly, be careful of what and why you are buying and make sure it corresponds to your need.
You don't want to be persuaded into buying an appliance due to a heavier commission.
Additional Resources
With in-depth profiles of brands, answers to the ten most asked appliance questions, and a section on how to buy appliances at the right price, the Yale Appliance Buying Guide will help you in every stage of the buying process.
Related Articles:
Why Should You Trust Us?
It seems that every appliance review has nothing but glowing comments about almost every product, yet you read customer reviews and they are almost universally bad.
We are here to fill in the disconnect. We'll give you the best features, and the drawbacks as well, including reliability based on over 37,000 calls performed by our service team just last year. Our goal is to give you ALL the information so you know what's right for you.
Please consider subscribing or adding to the conversation in the comments below. We appreciate you stopping by.
Steve Sheinkopf is the third-generation CEO of Yale Appliance and a lifelong Bostonian. He has over 38 years of experience in the appliance industry, and he is a trusted source of information for consumers on how to buy and repair appliances.

Steve has also been featured in numerous publications, including the New York Times, Consumer Reports, The Boston Globe, Bloomberg Radio, the New York Post, The Wall Street Journal, and Entrepreneur, for his knowledge of how to buy appliances and appliance repair.

Steve is passionate about helping consumers find the best appliances for their needs, and he is always happy to answer questions and provide advice. He is a valuable resource for consumers who are looking for information on appliance buying, repair, and maintenance.

Despite being the worst goalie in history, Steve is a fan of the Bruins and college hockey, loves to read, and is a Peloton biker. The love of his life is his daughter, Sophie.
A Note About Pricing
Pricing on this blog is for reference only and may include time sensitive rebates. We make every attempt to provide accurate pricing at time of publishing. Please call the stores for most accurate price.