6 Odd Yet Effective Tips to Choose an Appliance Store
It's time to choose your appliances and endure the most unpleasant experience of choosing your appliance store.
But how do you choose?
You have 60 appliance dealers within a 25-mile radius of Boston, not including online dealers.
However, like everything else, your choice should be determined by answers to certain questions.
This article will teach you what to look for and avoid when choosing your next relationship with an appliance store.
Some of these ways may surprise you, but you want your project to run smoothly without problems and delays.
Here is what to do:
6 Odd Yet Effective Tips to Choose an Appliance Store
1. Your Salesperson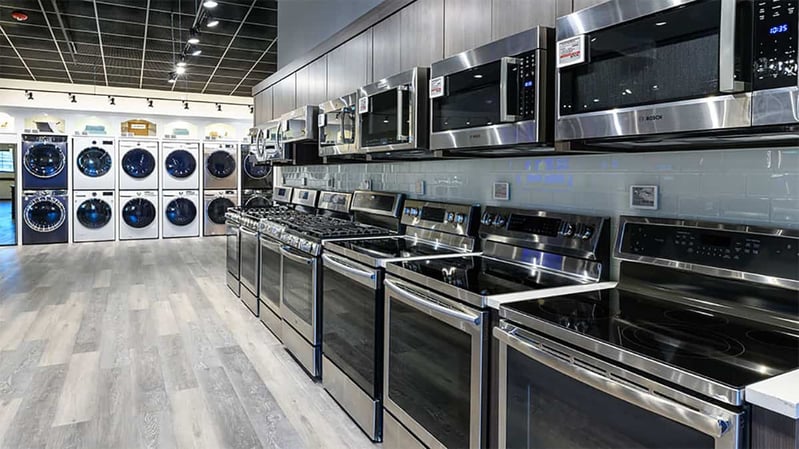 Yale Appliance Hanover Showroom Appliances
You may think this is obvious, but it's not for the reasons you think.
You want your salesperson to ask the right questions so you buy the right appliances for how you cook and live.
Yes, you want them to know what they are talking about. A few do.
However, most don't.
You probably will know more than your salesperson from reading articles, blogs, and videos. Information is more widely accessible now than when I started 37 years ago.
Please take advantage of it as long as you read and watch multiple objective sources.
What's more important is communication before, during, and after the sale.
The beginning will probably be good because they are trying to "close" the sale.
In the middle and after the sale is more critical. Your designer and contractor will need specifications, answers to some questions, and delivery information.
How they follow up is more important than what they know.
Product Questions to Ask an Appliance Salesperson
Although it's more important for you to know, ask these five questions:1.
What's better for me, dual fuel or all gas?

The quick answer is dual fuel is better for baking. Gas is better for roasting and broiling. Still, you do have some better controls on dual fuel pro ranges.

What's better, induction or gas?

Induction is faster with better simmer and controls. It's easier to clean and ventilate. It's also safer. Gas is less expensive, uses less power, and is available with better stovetop options like a grill, griddle, and French top.

What's the minimum silence rating for a dishwasher?

Forty-four decibels (dB) is the minimum silence rating for a dishwasher. You don't need anything quieter. Be careful when someone sells you a more expensive dishwasher with fewer decibels. This is a good trap question.

What's the difference between counter depth, professional, and integrated refrigerators?

Regular or freestanding counter-depth refrigerators are less deep refrigerators. Professional refrigerators are restaurant-style refrigerators with compressors on the top. Integrated fits inside a cabinet, so you cannot tell the differences between the cabinet and the refrigerator.

What is the best brand?

It depends on what you are looking for. There are only matching brands based on how you use them. A good salesperson will ask how you use your appliances before giving you the answer.
Read More: 10 Questions to Ask Your Appliance Salesperson
2. Warehousing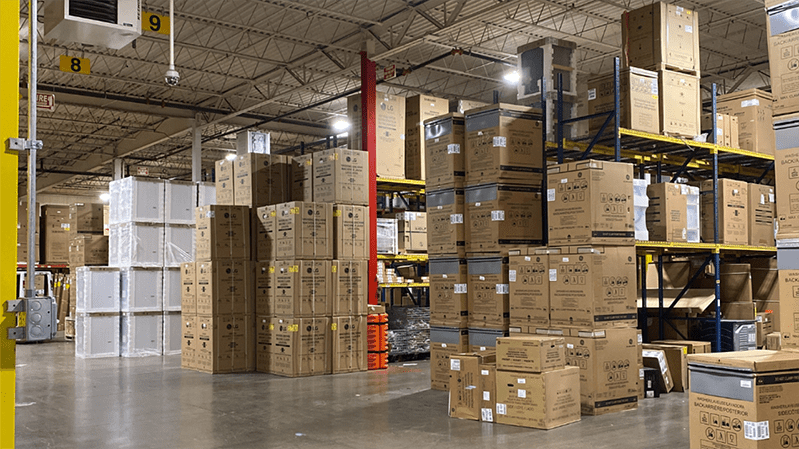 Yale Appliance Warehouse
Warehousing is one of the weakest spots in the supply chain.
For years, the appliance industry was "just-in-time" inventory like the car industry.
You could buy a kitchen of premium appliances and have it delivered within 30 days.
Now many brands are expecting lead times of six months to one year. In some cases, it's more.
With appliances now arriving at various times, where does your dealer store them?
They may show you a picture like this, but that's a buying group warehouse. Dealers can't store appliances in these warehouses.
Storage is a huge concern.
For example, we were operating out of 100,000 square feet in Stoughton.
We had to lease 50,000 more square feet in Stoughton and Canton plus trailers to hold all the freight.
Question to Ask Your Salesperson: Where will you be storing my appliances?
Read More: Appliance Prices, Shortages, and Final Mile Issues
3. Delivery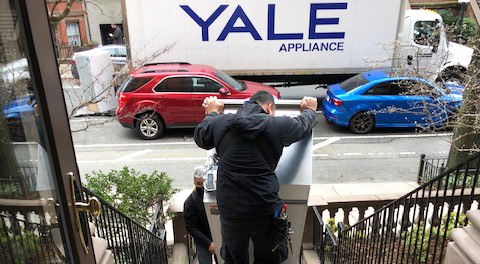 Yale Appliance Delivery
We wrote an article several weeks ago about delivery nightmares such as wasted time, damage, and excessive fees at the time of delivery.
You can download this delivery checklist to compare all the stores. But it would help if you thought of deliveries another way.
What is your time worth?
Let's say you are paid $50 per hour.
Many appliance deliveries have 4-hour lead times, even more from an internet dealer.
Your appliance will be traveling a greater distance with more variables from a more remote internet dealer.
At four hours, the real cost is $200.
Many dealers now allow you to track your delivery through their website within a 30-minute time frame.
At 30 minutes, the real cost is $25.
Equal competence between every delivery person is assumed. That is a pretty big assumption.
You will learn a bit more about how to track competency later in the article.
Question to Ask Your Salesperson: How is my delivery scheduled, and how long do I have to wait?
Read More: 4 Major Appliance Delivery Problems Nobody Ever Tells You About
4. Installation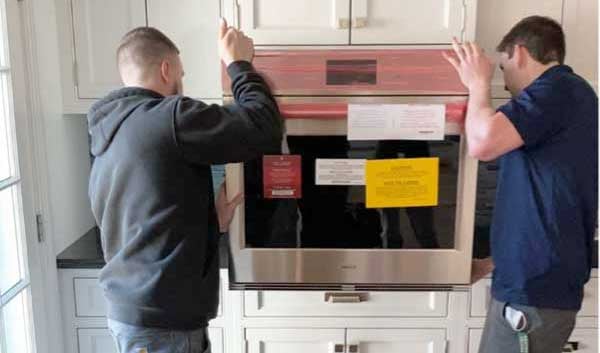 Yale Appliance Installation
The lack of industry experts is another issue.
You see hiring signs everywhere and construction in Boston is at an all-time high.
Finding good people in our industry is tough because, as an industry, people are paid less, with some exceptions.
In an environment where J.P. Licks ice cream is paying scoopers $22 an hour, I would be surprised to see anyone competent left in most appliance stores (I love J.P. Licks, by the way. Try their dairy-free vanilla or creamy turmeric ice cream).
That leads us to the next question. What is your dealer's policy on installation?
Do they have people on staff, arrange it with a third party, or is it on you to arrange?
Don't assume anything.
Your contractor is pushing back on installation because they have a challenging time finding people.
In our industry, even a mundane task like installing panels on a refrigerator will take a first timer four hours to complete.
Remember if you are arranging, that's more time.
Your time is worth something, especially since you could be and should be doing other things.
Question to Ask Your Salesperson: Who is installing my appliances, and how much does it cost?
Read More: 5 Major Problems Hurting the Appliance Industry (And What You Must Know as a Buyer)
5. Service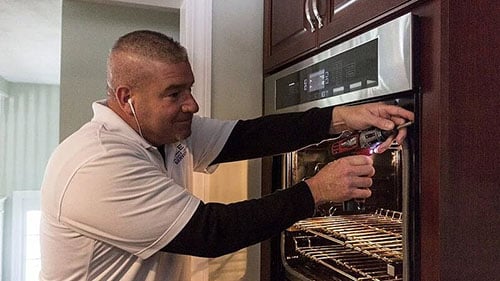 Yale Appliance Service
I have saved the worst for last. Well almost. We still have a way to go.
Service is THE biggest problem in this industry.
Very few dealers have service departments, and fewer have good service departments.
Not to slander myself, but we are now 11 days out for service on non-urgent calls.
In some zones, it's worse, but we are starting to recover from a tough stretch.
However, service is my personal obsession.
Why?
Because I am one of the people who have to respond to you when there are problems.
I hate that (not the responding part, but the problem part).
We plan to return to same-day and next-day service 2019 by the first quarter of 2023.
What is the appliance store's position on service?
Do they have service (doubt it)?
If they do not, find out who they recommend and have a conversation about their lead times before buying.
Learning before is always more advantageous than being disappointed after the fact.
Question to Ask Your Salesperson: Who will be fixing my appliances, and what are their phone numbers?
Read More: Why Your New Appliance Will Not Be Repaired
6. The Importance of Reviews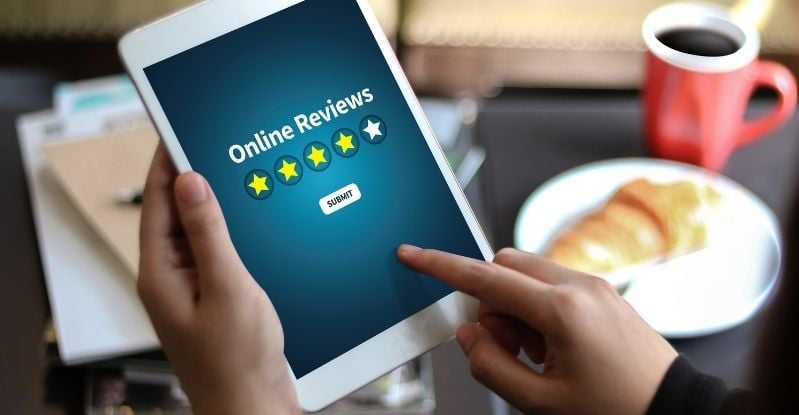 Read Online Reviews
Reviews are the single best tool for comparing stores.
What former clients say about a store is way more important than any advertising, blogs, influencers, or industry people like me.
Be careful. Many of these review sites are third-party platforms for the seller.
You should only trust two sites: Google and Yelp.
Google
Google is the best for sheer volume. They range from 1-5 with fractions.
A score over 4.6 is decent.
You may think that is too high, but at 4.6, 8% of the people are unhappy.
Google reviewers tend to be more complimentary.
Yelp
Yelp is 1-5 stars, but they only have half stars, not fractions.
The best appliance store scores are four stars. Even 3.5 is almost acceptable because Yelpers are a bit more uncompromising.
Yelp also filters a ton of reviews. You can read those reviews as well.
It's in the not recommended link at the bottom.
They aren't as objective because Yelp shows them the poorest 1-star reviews first, rather than by chronology.
Often, they are immediately filtered, so dealers do not have a chance to respond.
Which is the most important part?
How To Use Reviews
Call me a masochist, but you should look at the bad reviews.
Every store will have them, including Yale.
Nobody is perfect.
That said, you want to read what happens after the mistake.
How did the store respond?
Did they make a legitimate attempt at mitigating the issue, or was it a canned response that went nowhere?
Looking for the bad and what happens next will give you greater insight into what could happen to you.
Key Takeaways
First, forget about your salesperson choosing your appliances for you.
Yes, you want some ideas, but only a few can do that.
It's more important for them to be responsive.
If everyone is talking about a broken supply chain, then you will have to discover how much warehousing your dealer has.
Your appliances have to be stored somewhere until you need them.
With the lack of experienced technicians, finding good delivery, installation, and service may be more important than choosing appliances.
Lastly, verify everything by checking reviews.
Check the percentages of good to bad reviews, and then read the responses.
It will give you the best insight.
Do you have another way to check an appliance store? Please leave it in the comments below.
Additional Resources
Download the Yale Appliance Buying Guide covering all topics of appliances and lighting. Over 1 million people have read a Yale Guide.
Related Articles:
Why Should You Trust Us?
It seems that every appliance review has nothing but glowing comments about almost every product, yet you read customer reviews and they are almost universally bad.
We are here to fill in the disconnect. We'll give you the best features, and the drawbacks as well, including reliability based on over 37,000 calls performed by our service team just last year. Our goal is to give you ALL the information so you know what's right for you.
Please consider subscribing or adding to the conversation in the comments below. We appreciate you stopping by.
A Note About Pricing
Pricing on this blog is for reference only and may include time sensitive rebates. We make every attempt to provide accurate pricing at time of publishing. Please call the stores for most accurate price.