Should You Buy the Miele HR1956DFGD 48-Inch Professional Range? (Reviews/Ratings/Prices)
I remember when this range was launched in 2014. They flew us into Miele's headquarters in Princeton, New Jersey, and wouldn't tell us why. It was super secret.
When we arrived in their showroom, there were fresh loaves of bread everywhere. Then they unveiled their line of professional ranges designed exclusively for the American market.
Those fresh loaves were all baked in Miele's ranges.
At that time, the Miele pro ranges were state of the art. They had the infrared grill and griddle copied from Wolf. They added dishwasher-safe racks so you can leave them in the oven during self-cleaning.
The HR1956DFGD also introduced several new features like steam assist in making bread, a speed oven for microwave and convection modes, plus a warming drawer to keep foods warm up to three hours.
Best of all, you could control this range with their intuitive MasterChef digital controls.
This range had it all. But does it still?
To answer that question, this article will be split into two. In the first section, you will learn all about Miele's features and how they compare to ranges from Wolf, Signature Kitchen Suite, Hestan, and JennAir.
In the second section, you will see the results from food cooked in this Miele range.
Let's get started.
Short on time? Get our free Pro Cooking Buying Guide
Review of the Miele 48-Inch Dual Fuel Range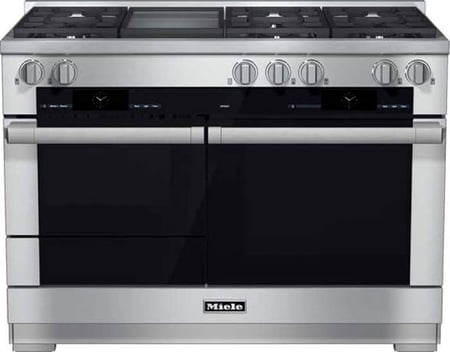 Burners
Miele has three high output burners at 19,500 BTU, with two at 10,000 BTU and one at 13,600 BTU.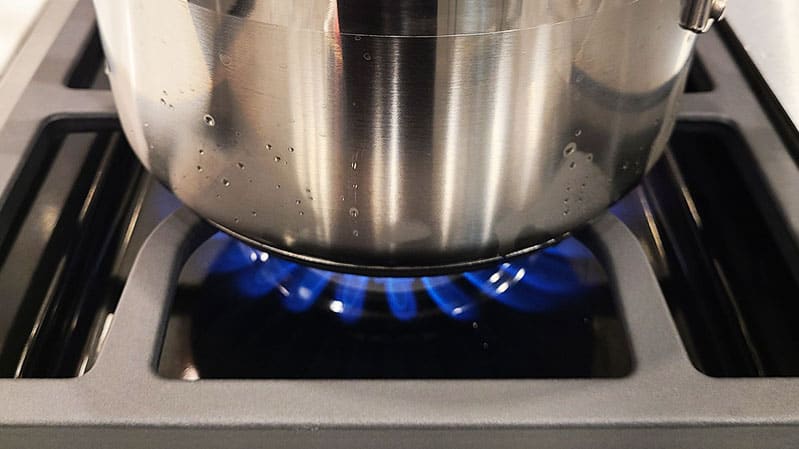 In terms of the competition, Hestan's pro ranges now have the most powerful burners at 30,000 BTU along with 23,000 BTU and 15,000 BTU.
BlueStar's pro ranges will top off at 25,000 BTU along with 22,000 BTU, 18,000 BTU, and 15,000 BTU.
Signature Kitchen Suite (SKS) is 23,000 and 15,000 BTU.
Wolf and JennAir have 20,000 and 18,000 BTU and 15,000 BTU burners, while Thermador has 22,000 BTU, 18,000, and 15,000 BTU in their Pro Grand series.
Given all of these other burner outputs, Miele is a bit light in power.
Simmering Capability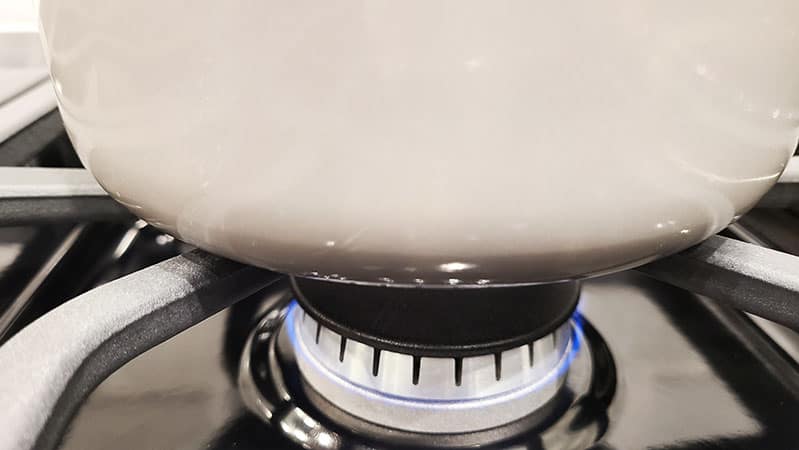 Miele doesn't publish a low simmer burner output like Thermador an SKS with a couple of burners lowering to 100 BTU. Wolf's burners can lower to 300 BTU.
Yet our chef tested Miele's simmering capabilities, which showed good results, as you will see later.
Grill
Back in 2014, Miele chose the best-infrared technology for their grill. Infrared is an intense direct heat for searing.
Cleaning is also easier because the infrared burs any drippings or residue off. Seven years later, it's still the best grill for professional ranges.
Griddle
Miele employs the infrared for the griddle. The BTU is a bit less than Wolf, but it's still a good grill. However, other griddles will be easier to clean, like JennAir and SKS with their chromium-infused griddles.
Food glides off chromium effortlessly.
Ovens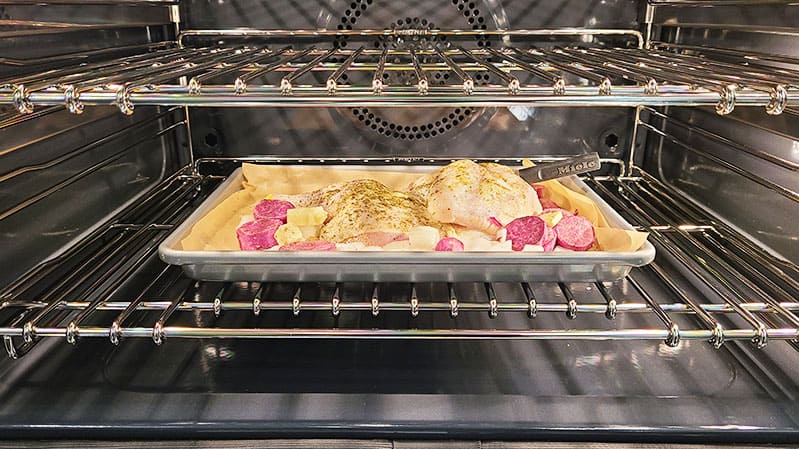 Miele's pro range has a twin convection system in its oven. It's better than most brands except one.
The new Wolf has a "VertiCross" blower convection system. Blowers are faster than fans, and you will have more space in the oven.
Steam Assist
The steam assist feature operates differently than a steam oven. It allows you to add moisture in the cooking process to bake bread or harden the tops of food like lasagna.
You are not cooking a meal in steam, however. Of all the brands, only SKS offers steam assist other than Miele.
Speed Oven
Speed ovens use convection and microwaves. You can also combine both to save time without that rubbery microwave texture.
Almost every competitor has another side oven. SKS and Miele will offer steam ovens to cook differently.
Warming Drawer
If you cook at one time, and your family eats at another, then a warming drawer will be able to keep food warm for up to 3 hours. Thermador has this option as well.
Controls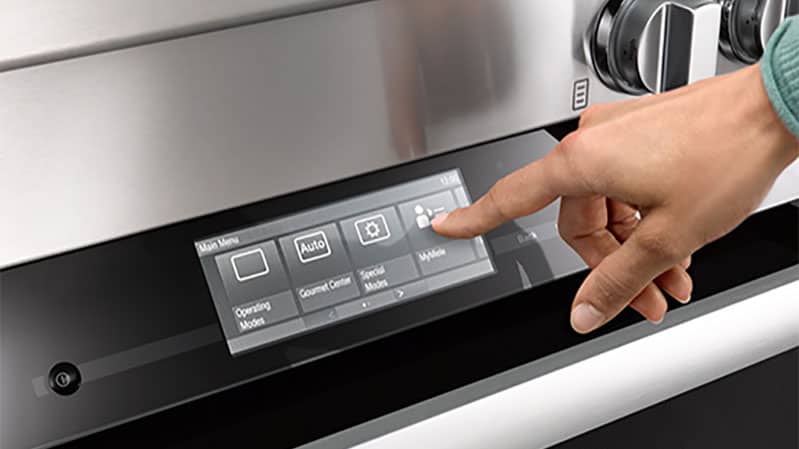 The Miele MasterChef controls (shown above) are still arguably the best. You input the type of food your cooking, how you want it done, and Miele's pro range will calculate temperature and timing for you.
You have 100 automatic cooking recipes and another 15 just for baking bread.
The best part of their control is their simplicity. You can use Miele without reading a book or taking a class. It's that simple.
Cleanability
Miele is a cleanable range with dishwasher-safe grates and self-cleaning racks. The burners aren't raised, but only the Thermador Star Burner is raised for easy cleaning.
Miele 48-Inch Pro Range Problems
These aren't problems. They are more like missing features.
Dual Fuel Oven Only
Dual fuel is better for baking. All gas, however, is a moister heat and better for roasting and broiling.
Limited Cooktop Options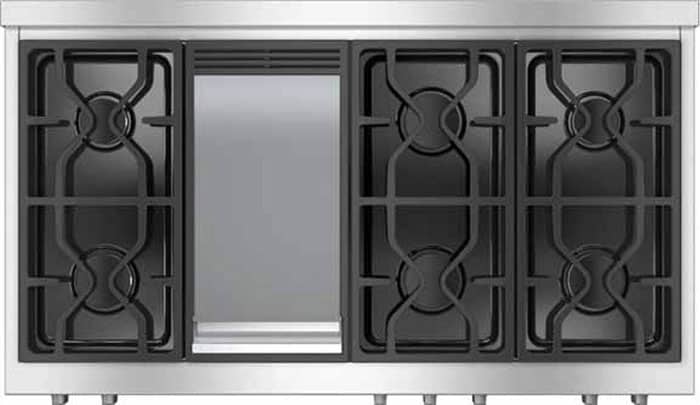 You have three options with a Miele pro range: Eight burners, six burners, and a grill, or six burners and a griddle.
Many other brands will offer double grills or griddles.
Wolf and BlueStar offer a French top with a concentrated heat source and lower heat around the edges to cook multiple items at different temperatures.
Think of a French top as a griddle in reverse. Instead of one temperature, you have many to boil and simmer at the same time.
Induction
Induction is faster with a better simmer. SKS and Thermador offer an induction set of burners, while Fisher & Paykel is half induction and half all gas burners.
Sous Vide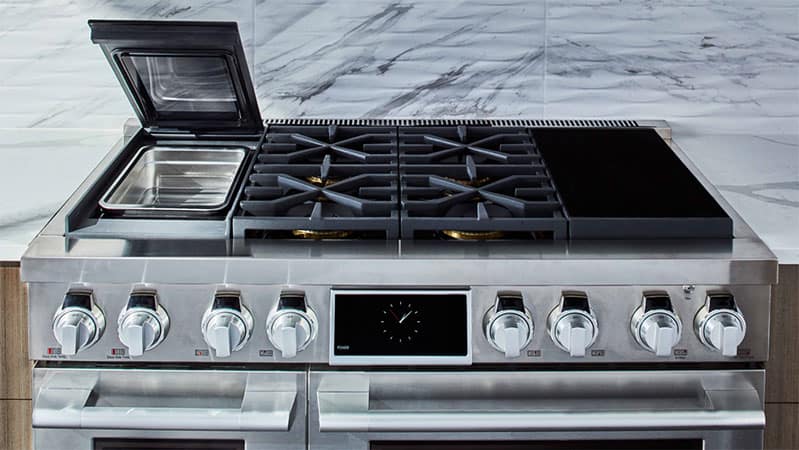 SKS Pro Range with Sous Vide Water Bath Feature
I am getting technical here, but SKS offers a sous vide water bath option on their stovetop. Sous vide cooking uses precision boiling in a bag to cook your food.
Double Ovens
Miele's speed oven may have more functionality, but it's smaller than the side compartment oven in a 48-inch range.
No Smart Functionality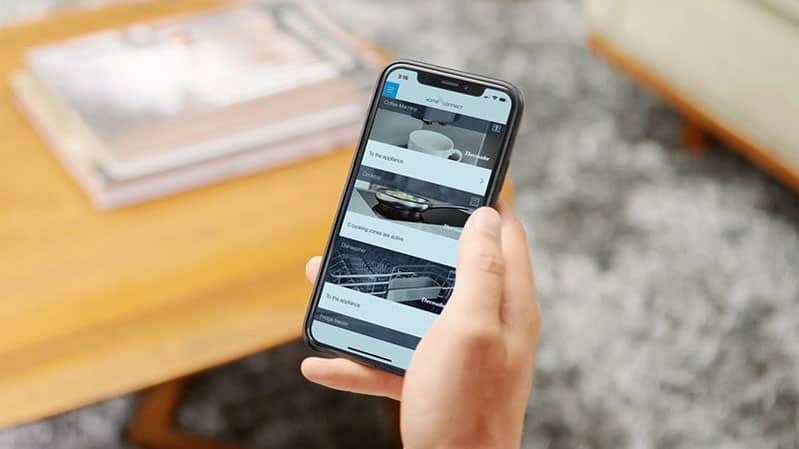 Thermador Home Connect
Smart home connectivity may not be there yet for features and remote access, but it is the future. Wolf, Thermador, and JennAir have recipe tie-ins to enhance your cooking experience.
Miele has no smart functionality in their cooking products.
Now that we've covered Miele's best features and disadvantages let's look at how this range performs when put to the test by Chef Saba.
Testing the Miele HR1956DFGD 48-Inch Professional Range
Chef Saba tested out both ovens using the Auto Roast mode, which includes a searing phase before roasting.
The speed oven's Auto Rost mode used microwaves at power level three. Both ovens were set to convection 400 F.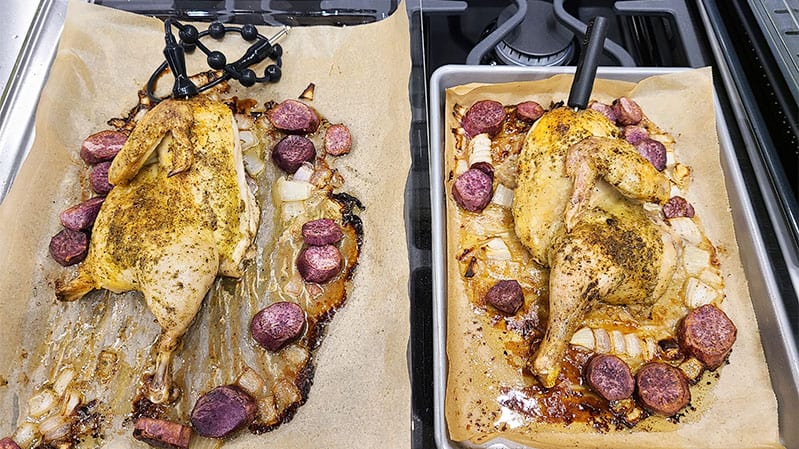 The larger oven has a wireless probe, while the smaller oven had a more traditional plug-in probe. The half roast chicken in the speed oven cooked 10 minutes faster than the regular oven.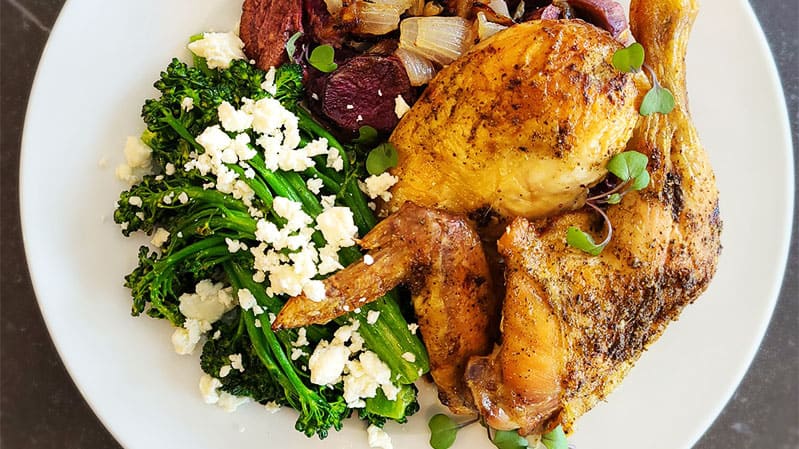 According to Chef Saba, both tasted good, but the one from the regular oven was juicier and had a more natural flavor in general.
She also used the extra-low simmer feature set to the lowest temperature to melt chocolate. This was fairly quick and easy, with minimal stirring required, she said.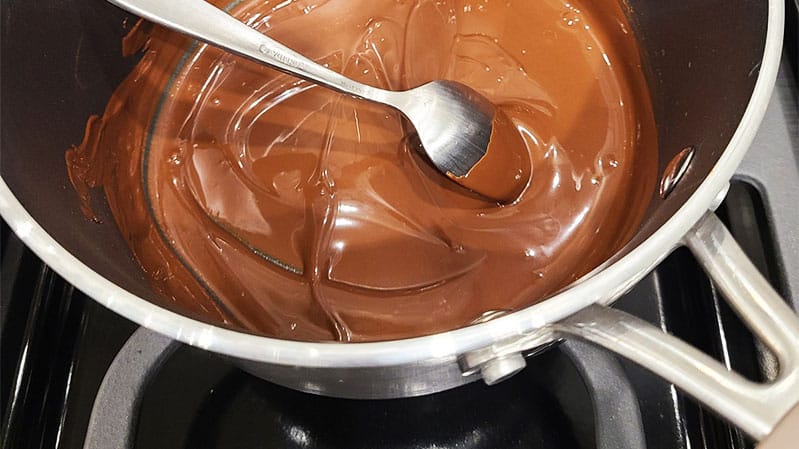 The chocolate was smooth and silky with no scorching or breaking. Chef Saba was able to dip the fresh strawberries in the chocolate for the "perfect tempered chocolate shell."
Chef Saba sauteed a quick shallot on the medium-powered burner, asparagus sauce which she paired with some fettuccine without drying it out.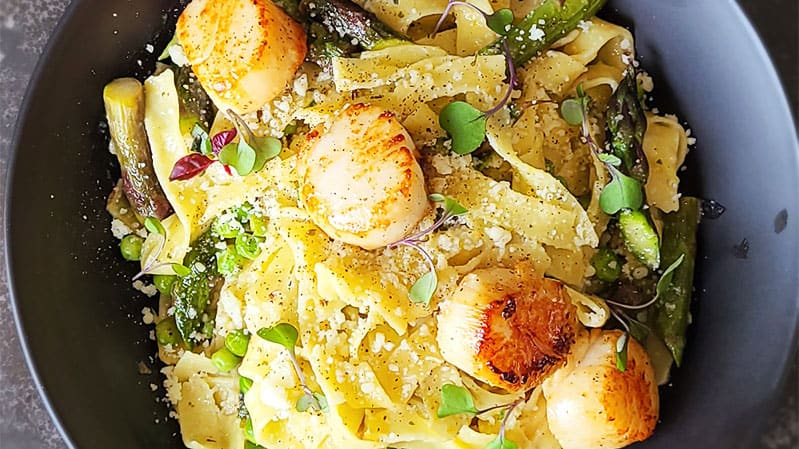 When she tested the high-powered burner at 19,500 BTU to sear some scallops, they cooked quickly and achieved a beautiful crust in a matter of minutes.
Should You Buy the Miele HR1956DFGD 48-Inch Professional Range?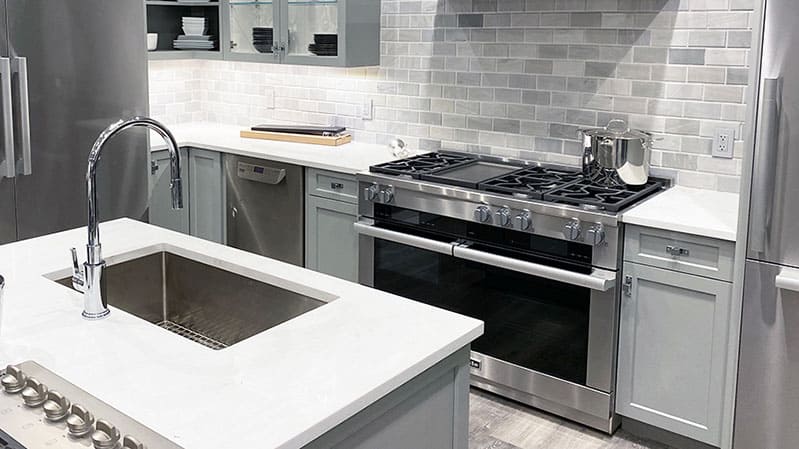 Miele 48-Inch Dual Fuel Range at Yale Appliance in Hanover
You should certainly consider this range.
However, it's no longer the cutting-edge pro range it once was in 2014. You can buy brands with better output and different features than Miele. It's also not available in all gas, so you should look at better options if you like to broil and roast.
A speed oven is a good option, but it's limited in terms of capacity. That said, what you will like about Miele is its simplicity.
The MasterChef controls are easy to use. It will tell you the correct time and temperature for cooked foods. Do you want to bake sourdough bread? Then press the button that says sourdough bread.
Overall, yes, you should consider a Miele pro range. It's a good option in the field of other good brands and options.
Additional Resources
Get our free Pro Cooking Buying Guide with tips, trends, and reviews of all the best brands. Over 900,000 people have already found answers in a Yale guide.
Related Articles:
Why Should You Trust Us?
It seems that every appliance review has nothing but glowing comments about almost every product, yet you read customer reviews and they are almost universally bad.
We are here to fill in the disconnect. We'll give you the best features, and the drawbacks as well, including reliability based on over 37,000 calls performed by our service team just last year. Our goal is to give you ALL the information so you know what's right for you.
Please consider subscribing or adding to the conversation in the comments below. We appreciate you stopping by.
A Note About Pricing
Pricing on this blog is for reference only and may include time sensitive rebates. We make every attempt to provide accurate pricing at time of publishing. Please call the stores for most accurate price.