Miele vs. Hoover Vacuums (Reviews/Ratings/Pricings)
Vacuums are one of the more commonly used appliances in the household, but they're often overlooked and taken for granted. They're kicked and banged around, dropped-down the stairs, youngsters use them as a riding toy.
Because of all this, we have a tendency to think that a vacuum is a vacuum. They all pretty much do the same thing by keeping the house tidy and clean, right?
In fact there are tons of vacuums to consider. Although the purchase is not as exciting as a car or TV, vacuums can be important especially in cases of allergies or asthma.
We will look at the different styles of vacuums, then compare Miele and Hoover.
Canister vs. Upright Vacuums
The benefit to a canister is that they're very compact, easy to store and easy to maneuver in multi-level homes. Traditionally, canisters were known to perform better on hard-wood floors.
The upright was originally known to be better on carpets and rugs (that philosophy of thinking has since evolved).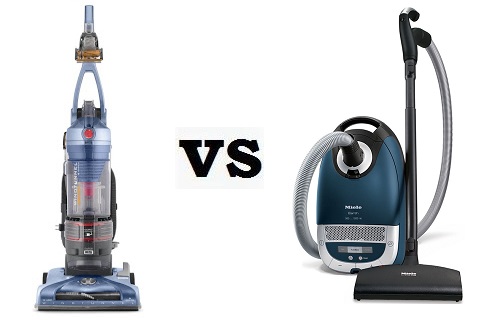 They both work very well regardless of the surface, but, do keep in mind in some brands, canisters offer different, more specific heads for different floor types.
The canisters are more compact and require less storage space. Uprights are taller, heavier, and typically require more storage space.
Bag vs. Bagless Vacuums
Vacuums not requiring bags seem to be the better option, because you obviously don't have to spend money on bags.
However, units requiring bags typically do a better job for allergen sufferers. It's also often overlooked that when it's time to empty the bagless units, debris has a much greater means of escaping back into the air/room.
I personally know and understand what this is all about. I own a Dyson (Bagless) but we have to go outside to empty the contents.
Now, it doesn't seem this is that big of a deal, until you actually have to do it in the winter months, the pain is that much greater!
Bags also protect the vacuum components from lint and dust, so the bagged vacuums tend to last longer.
Let's look at Miele and Hoover.
Miele
Miele is a family-owned, family-run German company, founded in 1899. They're recognized as the largest family owned appliance company in the world. Their first vacuum rolled off the assembly line in 1931.
Every vacuum is designed, engineered and manufactured in Germany down to the component level. This level of detail allows Miele greater longevity and reliability than any other appliance or vacuum brand.
Features:
Canister Vacuum Cleaner
1,200 watt Vortex Motor offers outstanding cleaning performance
6 Variable Suction Settings allows for easy adjusting specific to cleaning needs
AirClean Sealed System with HEPA AirClean Filter. Captures over 99.95% of damaging air-particles
AirClean Filter Bag with Change Indicator
ElectroComfort Brush
29.5 foot. Operating Radius
Other Accessories Included: SBB Parquet-3 Floor Brush,SES 116 Electric Hose, SET 220 Electric Telescopic Wand
VarioClip Accessories - Includes dusting brush, standard upholstery tool and standard crevice tool
Hoover
The Hoover Company, started off in Ohio as a Floor Care Company. They also established themselves in the United Kingdom, and for the most part they dominated the electric vacuum industry in the early to mid 1900's.
Hoover Company, was part of Maytag, not Whirlpool, but sold in 2006 to Techtronic Industries. Currently, Techtronic industries is currently owned by Bain Capital.
Hoover 'WindTunnel' Vacuum - $299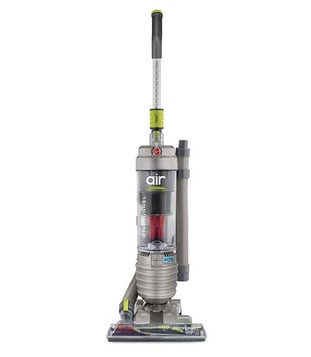 Features:
Exclusive WindTunnel 3 Technology
Steerable Technology
Multi-Cyclonic Air
Electronic Brushroll
Hard Floor Brush
HEPA Media Filter
Bottom-Release Cup
Reusable Easy Rinse Filter
17' Auto Cord Rewind
Who Has the Better Vacuum?
This is a comparison between two good brands.
Miele is recognized as the vacuum system specialists of the world. Hoover, is notably a very reputable brand, offering unique qualities as well.
Yes, the Miele is more expensive. The quality in their build and the reputation of their brand is considered the best in class.
Their uniques include the AirClean sealed system with bags to maximize capture, dust control and minimize release of allergens. The air is expelled through the top rather than the sides, so more dust is captured in a Miele vacuum.
For allergy sufferers, the HEPA filter in the Miele vacuum is to the European standard and is three times more efficient in trapping dust and fine particles than the best American product.
The Hoover vacuum, is a very decent vacuum for the price. It is bagless versus the Miele bagged unit. It does have the available tools and a HEPA filter.
In terms of performance, HEPA filter and durability, Miele is a better vacuum.
So it is price versus quality...what do you think?
Watch the Miele C3 Cat & Dog in action:
Thanks for reporting a problem. We'll attach technical data about this session to help us figure out the issue. Which of these best describes the problem?
Any other details or context?
message
Additional Resources
Downlaod the Yale Vacuum Buying Guide with features, specs and buying tips for vacuums. Well over 210,000 people have read a Yale Guide.

Related Articles
Eddie Jacob
Eddie Jacob has 15+ years of sales & consulting experience and is in the appliance sales department at Yale Appliance + Lighting. He takes pride in total customer satisfaction and enjoys coaching youth soccer.

Schedule a showroom visit with me
A Note About Pricing
Pricing on this blog is for reference only and may include time sensitive rebates. We make every attempt to provide accurate pricing at time of publishing. Please call the stores for most accurate price.