New Thermador Vs. Wolf Wall Ovens (Reviews / Ratings / Prices)
The most popular comparison for luxury wall ovens is Thermador vs. Wolf.
When we last reviewed Thermador and Wolf, Thermador was less expensive with Wolf having better features.
Now that Thermador has extensively redesigned their products, is Wolf still better?
In this article, you will learn about the differences between Thermador and Wolf double wall ovens, their best features, their main differences, and lastly, their reliability based on 34,687 service calls reported by our service department.
In the end, you will have a concrete idea of what to consider for you and your family.
Thermador Wall Ovens
Thermador is part of the multinational BSH company and is one of the most popular luxury appliance brands currently on the market.
Their new wall oven has some unique features such as Wi-Fi connectivity, rotisserie, and an advanced meat probe.
Thermador Wall Oven Models
Masterpiece Style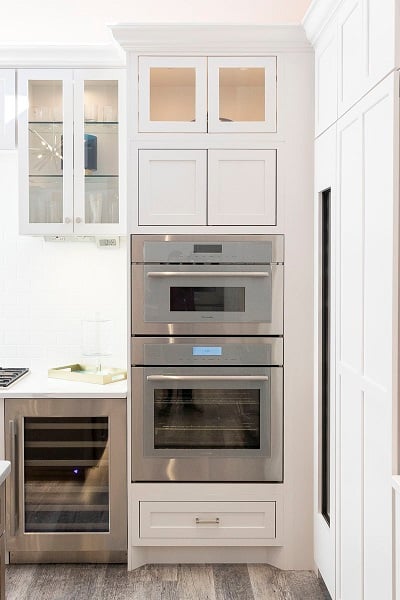 Yale Appliance Boston Showroom - Thermador Masterpiece Wall Oven Display
Professional Style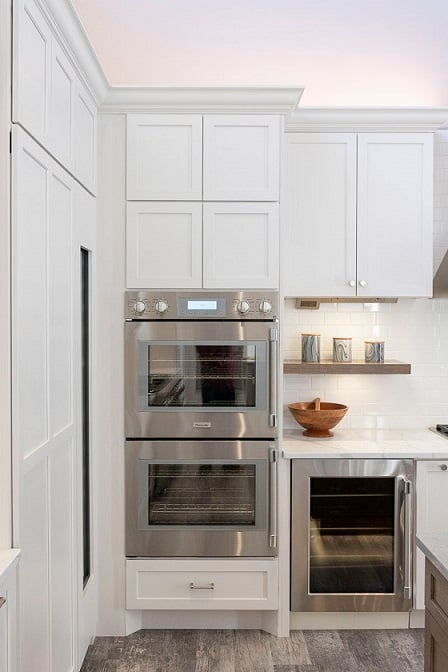 Yale Appliance Boston Showroom - Thermador Professional Wall Oven Display
Standard Wall Ovens:
Features:
Proud or Flush Installation - Flexibility with the style of installation
True Convection - Precise airflow to ensure even cooking
Fast Self-Cleaning - Self-Cleaning that only takes 2 hours
SoftClose Hinges - Door will never slam shut
Fast Preheat - Oven will preheat in about 7 minutes +/-
Temperature Probe - Oven shuts off at a specific internal temperature
Deluxe Wall Ovens
Features:
Max Broil - 4800 Watt Broiling Element
Multi-Point Probe - Ensures a perfect internal temperature
Rotisserie - 12-pound capacity rotisserie (dishwasher safe)
4 Telescopic Racks - Standard version comes with only 2
3 Extra Cooking Modes (16 Total) - Adds Max Broil, Max Convection Broil, and Rotisserie
In their line, they offer a MasterPiece Series, with a touch panel and a Professional Series with knobs.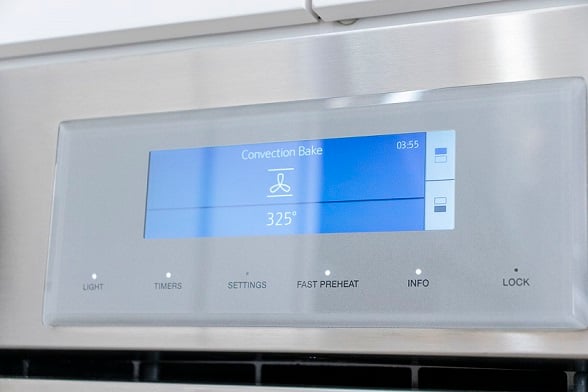 Thermador MasterPiece Touch Control Panel
Both series offer convection, a temperature probe, and ball bearing racks, similar to Wolf. However, Thermador's Deluxe version wall ovens allow more features.
The Deluxe wall ovens added features like "Max Broil," a commercial-style rotisserie, multi-point temperature probe, and four easy glide racks (2 in the non-deluxe version).
The added features are no longer limited to the Professional Series wall ovens. You can now choose the Masterpiece or Professional look in either standard or deluxe versions.
The first is the option called "Max Broil." If you love a good steak, this may be the oven for you. The Max Broil feature will turn Thermador's normal 3,000 watts, 12 pass broil element up to 5,000 watts for better searing.
The second option is the built-in Commercial Style Rotisserie. This rotisserie can cook up to a 12-pound roast or poultry evenly on all sides while sealing in all the meat's juices.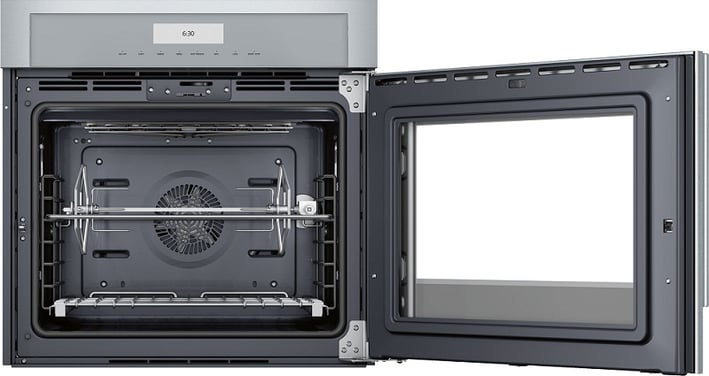 Rotisserie
An additional unique feature for a high-end brand is their seven-minute fast preheat.
The third option is the multi-point temperature probe. Both the standard and deluxe ovens feature temperature probes.
However, the multi-point probe has three areas at which it reads the temperature. The standard only reads the temperature at the tip of the probe.
The multi-point probe doesn't require you to have the tip of the temperature probe perfectly centered in your roast to ensure you achieve the appropriate internal temperature.
It is also Wi-Fi enabled so you download recipes and control the oven remotely.
You can also buy in a side swing model, so you don't have to lift your turkey over a door. They also have combination wall ovens with steam and microwave as well.
What Thermador Did Not Improve
The look is new, and the Wi-Fi is cool along with the added features.
However, they did not change the internal mechanisms. You are still using basic, single convection with no menu-driven functionality.
Wolf
Wolf is the second largest family-owned appliance company in the world, after Miele.
For years Wolf has set the standard, offering two of the best convection systems available, with their duel convection and "verticross" blower convection system.
Wolf Wall Oven Models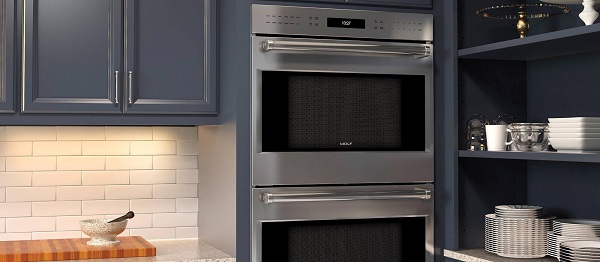 E-Series Dual Convection
Features:
Proud or Flush Installation - Achieve whatever installation look you desire
Dual Convection - Ensure a precise temperature and even cooking
Temperature Probe - Oven shuts off at a specific internal temperature
Ball Bearing Rack - Makes heavy dishes easy to insert and remove
Feature - definition or use
M-Series
Features:
Tubular Blower - Tubular blowers vertically mounted to promote extremely even heating
Wolf Gourmet - Guided Cooking walks you through recipes step by step
Deeper Cavity - 3.3 Cubic Feet of usable space vs. 2.3 on E series
More Style Options - Offers the transitional look in stainless steel style has knobs
Wolf elevated cooking with their newer convection system. As pictured, the new dual verticross convection system features two corner column fans, allowing for the best heat saturation and distribution when cooking.
Their ovens have a 7-inch full-color LCD touch panel display, as well as a 14% larger interior oven cavity.
The ovens will have a redesigned heating element, that will not only preheat faster but cook faster.
In addition, they have added "Wolf Gourmet". This feature will offer a menu of presets automatically controlling the cooking of commonly prepared meals.
It even determines the best rack position to take any guesswork out of cooking.
Their E series is less expensive but still offers twin convection. Their system is better than other convection types because the fans work independently based on temperature eliminating any cold spots.
The M-Series of Wolf Wall ovens have three different styles you can choose from.
Transitional: Sleek with a traditional tubular handle.
Professional: Offers physical knobs to match with a pro handle to match their pro ranges.
Contemporary: Offer a sleek look and handle free design can be installed flush.
Wolf vs. Thermador Wall Ovens
| | | | | |
| --- | --- | --- | --- | --- |
| | Wolf E Series Wall Ovens | Wolf M-Series Ovens | Thermador Standard Wall Ovens | Thermador Deluxe Wall Ovens |
| Capacity | 4.5 cu.ft | 5.1 cu.ft | 4.5 cu.ft | 4.5 cu.ft |
| Styles | 3 styles | 4 styles | 2 styles | 2 styles |
| Guided Cooking | No | Yes | No | No |
| Wi-Fi | No | No | Yes | Yes |
Differences between Wolf and Thermador
Whether the E-Series or their newer M-Series, Wolf has the better convection system with either the twin or blower style. Thermador has a better broiler and a rotisserie.
Wolf's M-Series offers guided cooking along with the rack placement while Thermador's recipes are accessible with a Wi-Fi connection.
Wall Oven Reliability
| | | | |
| --- | --- | --- | --- |
| | Service Qty | Shipped Qty | Service Ratio |
| Jenn-Air | 103 | 363 | 28.37 % |
| Wolf | 77 | 451 | 17.07 % |
| Thermador | 61 | 270 | 22.59 % |
| Bosch Appliances | 53 | 341 | 15.54 % |
| Miele | 33 | 303 | 10.89 % |
| Bosch - Benchmark | 28 | 134 | 20.90 % |
| Kitchenaid | 23 | 138 | 16.67 % |
| Whirlpool | 6 | 71 | 8.45 % |
| Samsung | 4 | 22 | 18.18 % |
| Gaggenau | 3 | 38 | 7.89 % |
| Frigidaire Professional | 3 | 2 | 150.00 % |
| BlueStar | 2 | 8 | 25.00 % |
| Frigidaire | 2 | 1 | 200.00 % |
| Dacor | 1 | 0 | |
| Bertazzoni | 1 | 15 | 6.67 % |
| Blomberg | 1 | 6 | 16.67 % |
| Frigidaire Gallery | 1 | 3 | 33.33 % |
| Fisher & Paykel | 0 | 9 | 0.00 % |
| Samsung Chef Collection | 0 | 2 | 0.00 % |
| Electrolux | 0 | 2 | 0.00 % |
| LG Electronics | 0 | 1 | 0.00 % |
| Amana | 0 | 4 | 0.00 % |
| Maytag | 0 | 1 | 0.00 % |
| Grand Total | 402 | 2185 | 18.40 % |
Wolf is about 5.5% more reliable than the Thermador wall ovens based on sales vs service data for 2018. Most of the more reliable wall ovens have basic functions.
Which Wall Oven Should You Buy?
Comparing both Wolf and Thermador's wall ovens, they are both excellent. It's a tough choice.
Thermador has the better rotisserie, broiler, and is a lower price than the Wolf. You also have better promotions with free dishwashers and hoods with qualified purchases.
The Wi-Fi will enable you to look up recipes and activate the oven remotely.
Wolf still has a much better cooking system, twin convection in the E series, and the newer blower convection in the M-Series.
You will also have guided cooking with the Wolf.
Even after all the changes, Thermador may be a bit closer, but Wolf is still a better cooking appliance. Thermador is the less expensive alternative by $1,000 to 2,000 plus promotions.
Additional Resources
Get the Yale Wall Oven Buying Guide with features, specs, and inside tips to every major wall oven currently on the market. Over 560,000 people have read a Yale Guide.
Related Articles:
Why Should You Trust Us?
It seems that every appliance review has nothing but glowing comments about almost every product, yet you read customer reviews and they are almost universally bad.
We are here to fill in the disconnect. We'll give you the best features, and the drawbacks as well, including reliability based on over 37,000 calls performed by our service team just last year. Our goal is to give you ALL the information so you know what's right for you.
Please consider subscribing or adding to the conversation in the comments below. We appreciate you stopping by.
Nic Dednah
Nic has been working for Yale since January 2nd of 2018. Before his employment at Yale, he worked in the automotive industry for over 9 years. He's a foodie and surfs year round in the frigid waters of the Atlantic. He currently lives in on the south shore with his wife Lauren, daughter Emilia, and dog Mabel.
A Note About Pricing
Pricing on this blog is for reference only and may include time sensitive rebates. We make every attempt to provide accurate pricing at time of publishing. Please call the stores for most accurate price.