Are the New Thermador Pro and Masterpiece Wall Ovens Any Good? (Ratings/Reviews/Prices)
If you are looking for luxury appliances, Thermador is probably on your list. You will also be comparing it to Wolf wondering about feature and price differences. Maybe you will also compare against Miele and Jenn-Air as well.
In this article, you will learn the new features of the Thermador wall ovens in both series and then we will briefly compare against Wolf, Jenn-Air, and Miele.
In the end, you will know whether this new wall oven is worth considering and how it stacks up against the competition.
Masterpiece and Professional Wall Ovens
Both wall oven series had an aesthetic facelift with new gray accents and a brand new TFT liquid display. It's a good refresh and needed after 7 years plus from the last redesign
Both also are WIFI enabled and can be controlled from your phone. HomeConnect actually works, unlike so many other smart appliances.
You now have two feature packs: The Deluxe and The Select in both series versus just in the Masterpiece last year.
Thermador Masterpiece Collection Wall Oven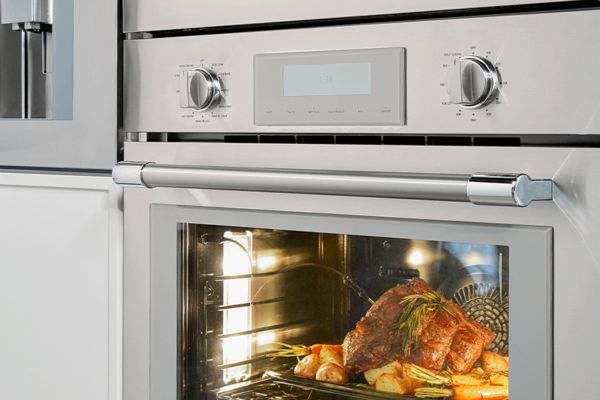 Thermador Professional Collection Wall Oven
The differences are the racks, rotisserie, and max broil. We will cover the differences more extensively along with the controls.
New Thermador Wall Ovens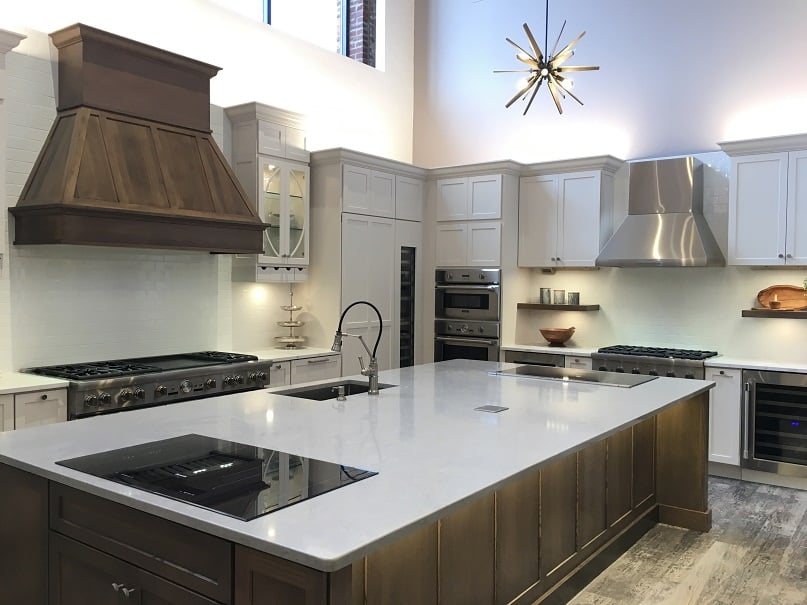 Thermador has many new wall ovens. Some are good. They now have the largest steam oven as well as side swing doors available.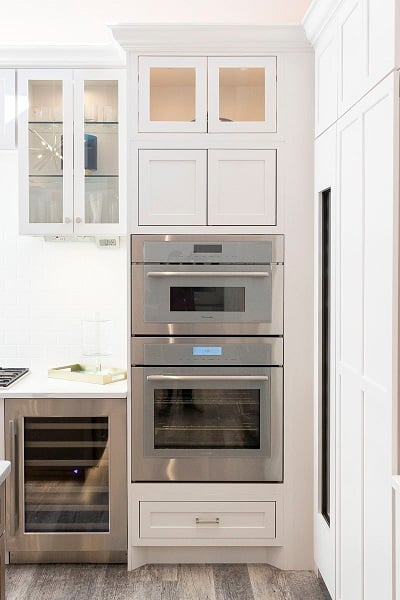 Thermador Steam Oven
Side swing ovens are worth considering because you won't have to lift that heavy turkey over the drop-down oven.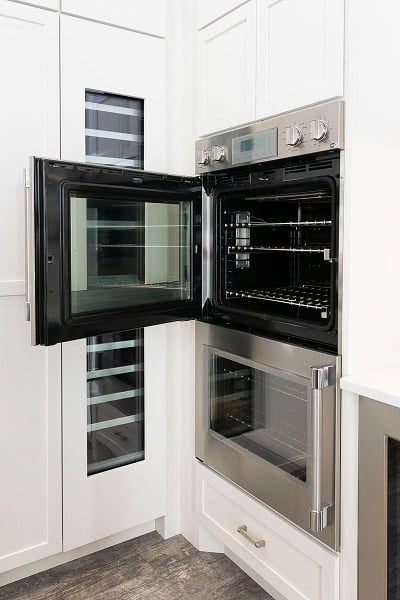 Thermador Professional Side Swing Wall Oven
They also combine many different cooking types together like steam, microwave, and speed ovens over a single oven. So, you have a more customized wall oven based on how you cook (or will cook).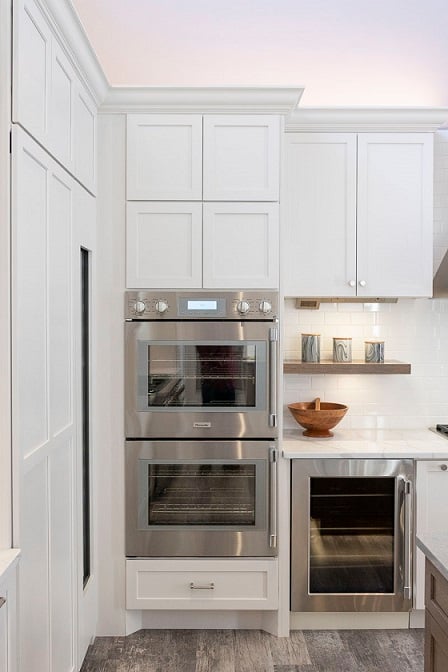 Thermador Professional Wall Ovens
In theory, you can combine these pieces as single units. However, it is easier for your installer to work with one piece and one cabinet cutout.
Installation is a problem in the appliance business as you will find out. Less installation with one cutout is smart rather than two cutouts and bracing the top oven.
Let's look at the feature differences some are on the older ovens. Then you will see the major control differences.
Feature Differences Between Thermador Wall Ovens
Racks
In the Deluxe, you have 3 telescoping racks versus 1 in the Select. Look below to see the difference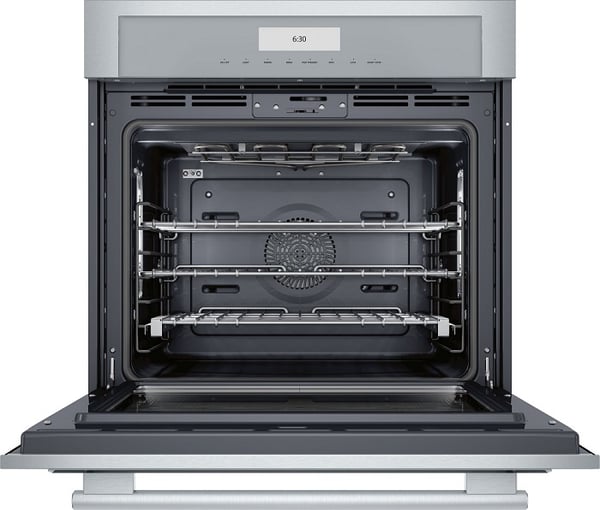 Three Telescoping Racks
Max Broil
Typically, gas is a better broiler for hotter and more even heat. In the Max Broil, you have more passes or loops for a more even broil. Have a look at the difference.
Rotisserie
Deluxe has a rotisserie has this feature and the Select wasn't "selected" for this feature.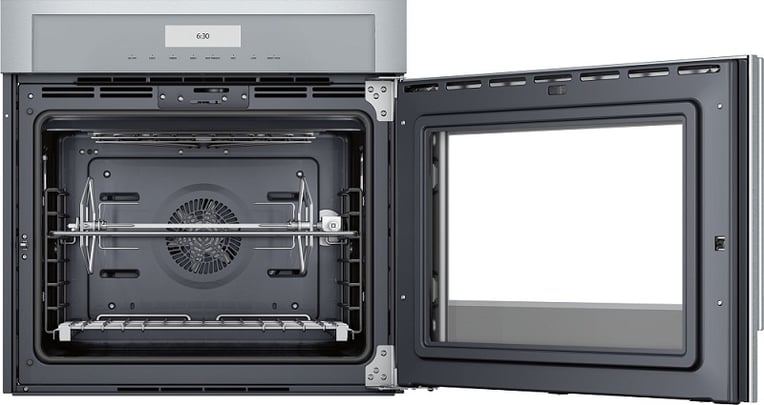 Rotisserie
Controls
Controls are a big improvement for these ovens. Like so many other online activities, you swipe left or right for the functions versus hitting buttons in the old series.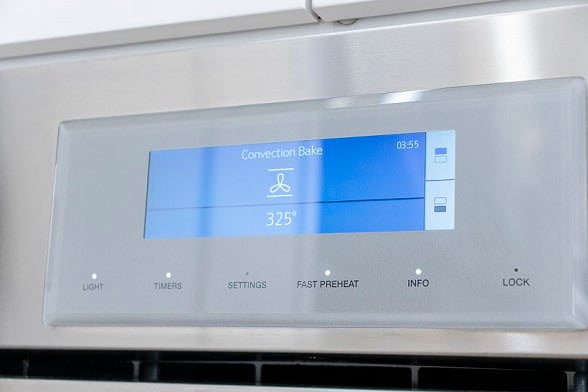 Thermador Professional Touch Control Panel
Home Connect/Wi-Fi
Smart appliances have not been a huge feature in this industry. There are some questions of security and reliability of the platform.
Thermador's' HomeConnect app works better than most. You can control the basic functions of the oven including turning on/off as well as changing temperature. You also have access to recipes as well.
The Benefits of The New Thermador Wall Ovens
WiFi and upgrade in controls are long overdue. I have been here for 33 years and can't remember the last wall oven design change (must have been 10 years ago).
You now can steam your whole Thanksgiving meal including your turkey in that large steam oven. You cannot in any other oven due to a much smaller size. Our chef likes the new technology as well after her initial testing.
You should also consider a side swing door as well. The new all in one configuration is convenient for installation.
So, there are plenty of improvements. There could have been more.
What Thermador Should Have Done in Their Wall Ovens
The controls are good. The steam is great.
However, they did not change the cooking system.
It's the same single convection system as last years
Their main competitors have twin convection at least. Wolf has the newest VertiCross blower convection instead of just fans.
The actual difference in cooking may not be huge but twin convection is the standard.
Controls
They improved the controls, but everyone else's is still better as you will see. The oven cannot work with connected devices like Alexa and Google Home….not a big deal for now.
So, they changed the controls, though not enough, while not improving the cooking system at all.
Wall Oven Reliability
| | | | |
| --- | --- | --- | --- |
| | Service Qty | Shipped Qty | Service Ratio |
| Bertazzoni | 1 | 15 | 6.67 % |
| Gaggenau | 3 | 38 | 7.89 % |
| Whirlpool | 6 | 71 | 8.45 % |
| Miele | 33 | 303 | 10.89 % |
| Bosch Appliances | 53 | 341 | 15.54 % |
| Kitchenaid | 23 | 138 | 16.67 % |
| Blomberg | 1 | 6 | 16.67 % |
| Wolf | 77 | 451 | 17.07 % |
| Samsung | 4 | 22 | 18.18 % |
| Bosch - Benchmark | 28 | 134 | 20.90 % |
| Thermador | 61 | 270 | 22.59 % |
| BlueStar | 2 | 8 | 25.00 % |
| Jenn-Air | 103 | 363 | 28.37 % |
| Grand Total | 402 | 2185 | 18.40 % |
Thermador is 4% worse than the average of 18.4%. Digital controls will help improve that number. They are the best at supporting their products with parts and technical help.
They also react quickly to any problems before they become issues. After the sale, they would be the best brand to consider.
Of course, you will look very hard for a qualified technician to fix their appliances. Same could be said for almost every brand.
Thermador Deluxe vs. Wolf M Series Wall Ovens
Wolf M-Series Wall Ovens
Wolf changed their system to VertiCross blower convection for faster more consistent heat as well as more interior space.
Their controls calculate time, temperature and even rack position when you input the food type.
Thermador has the larger steam oven, WIFI and swing doors. In each case, you have functionality, but you have to go online. Wolf, Miele, and Jenn-Air have that capability built into the controls.
After all the changes, Wolf will be more fully featured, Thermador will be less expensive with better promotions.
Thermador Deluxe vs. Miele M Series Wall Ovens
Miele M-Touch Wall Oven [VIDEO]
Miele is the least repaired in the category. Their MasterChef is simple to use like Wolf, just without the rack position information. They have a steam assist, so you can make bread simply in a twin convection configuration.
Like Wolf, Thermador has the larger steam oven, WiFi and swing doors. After all the changes, Wolf will be more fully featured, Thermador will be less expensive with better promotions.
Thermador Select vs. Jenn-Air Cuisine Center Wall Ovens
Jenn-Air may have the best controls. It is WiFi enabled with Alexa capability, this oven will show you the doneness of the food before you cook it.
Jenn-Air is on par with Thermador for the price. Their reliability is not as good (for now), and they do not have the steam capability or swing doors.
Should You Buy the Thermador Wall Oven?
You should consider this oven, because the features may be good enough. The pricing will be less than most other premium brands.
Price will matter more going forward. Prices of appliances have probably increased 15-20% in 2 years after being flat for many years.
Thermador will be a good consideration just for price versus the other premium brands. Their other appliances are excellent like cooktops/rangetops as well as their new refrigerators, so a Thermador package can make sense.
Their company excels when faced with issues. That does matter as well.
So, the wall oven is improved, but the features still fall short of the other premium manufacturers for cooking technology.
The company, however, does not.
Additional Resources
Confused about Wall Ovens? Get the Yale Wall Oven's Buying Guide with updated features, specs, and detailed profiles of the best brands like Miele, Wolf, Viking, Bosch, Thermador, and more. Over 500,000 people have read a Yale Guide.
Related Articles
Why Should You Trust Us?
It seems that every appliance review has nothing but glowing comments about almost every product, yet you read customer reviews and they are almost universally bad.
We are here to fill in the disconnect. We'll give you the best features, and the drawbacks as well, including reliability based on over 37,000 calls performed by our service team just last year. Our goal is to give you ALL the information so you know what's right for you.
Please consider subscribing or adding to the conversation in the comments below. We appreciate you stopping by.
A Note About Pricing
Pricing on this blog is for reference only and may include time sensitive rebates. We make every attempt to provide accurate pricing at time of publishing. Please call the stores for most accurate price.