BlueStar RNB Series Vs. Wolf 36-Inch All Gas Pro Ranges (Reviews / Ratings / Prices)
BlueStar and Wolf are two family-owned American appliance companies. That's about all they have in common.
Their products and marketing approach to you are almost completely different.
In this article, you will learn about both companies and their professional (pro) ranges. Then we'll compare them based on features like output, simmering, grilling, broiling, and cooktop accessories.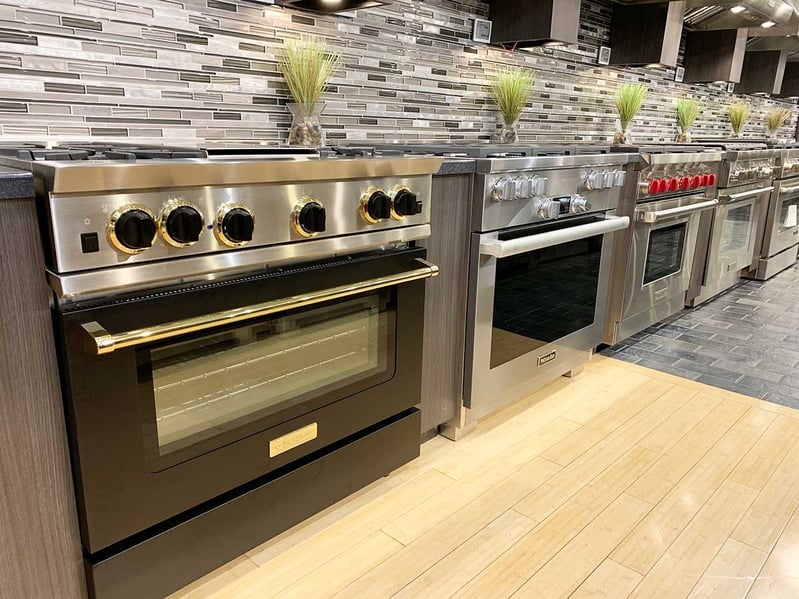 Custom Color BlueStar Pro Range and Wolf Pro Range with Red Knobs at Yale Appliance in Boston
Then you will look at both brands' overall reliability based on real service numbers. Our service team logged 35,256 service calls just last year and over 100,000 in less than three years.
Even if you are interested in other brands, this article will help answer a lot of questions.
Short on time? Get our free Pro Cooking Buying Guide
Wolf Professional Cooking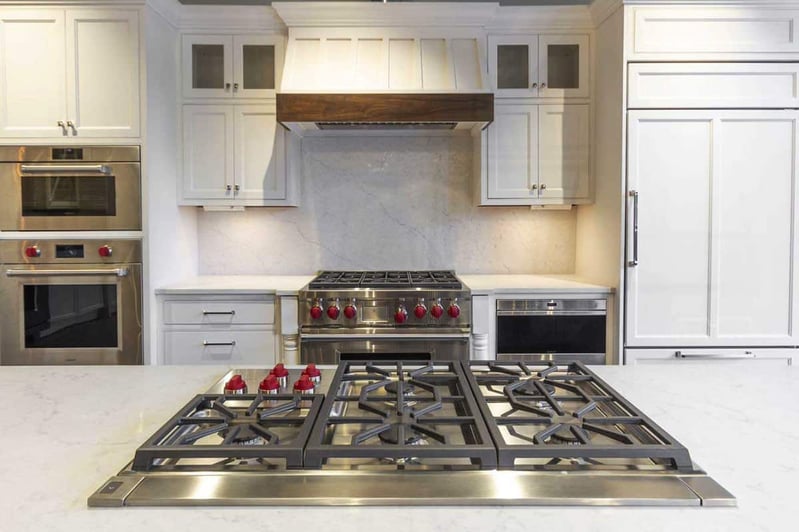 Wolf Kitchen featuring a 36-Inch Pro Range, Rangetop, Steam Oven, and Wall Oven at Yale Appliance in Framingham
Wolf's history goes way back to the 1930s in Los Angeles, CA. The Wolf range was originally developed for the restaurant industry by two brothers, Hyman Wolf and Al Wolf.
Sub-Zero purchased the Wolf Gourmet line from Wolf in 2000.
We will be comparing all gas ranges because BlueStar does not sell anything but gas ranges.
Most of Wolf's pro ranges are dual fuel - a gas cooktop over an electric convection oven. We cover gas vs. electric ovens extensively in other posts, but electric is a dry, precise heat and better for baking.
Gas is a moist heat and better for roasting. The broiling is far better in gas, especially with an infrared broiler.
Both BlueStar and Wolf have the best-infrared broilers.
The Wolf Dual Fuel has better features than an all-gas range as well.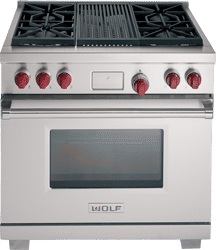 Wolf 36-Inch Dual Fuel Range
It's self-cleaning.
The burners have two 20,000 BTU burners versus 15,000 in all gas
The oven is twin convection. Both fans are thermostatically controlled for even heat.
There are a clock and a timer.
Knobs light up to show the temperature.
BlueStar Professional Cooking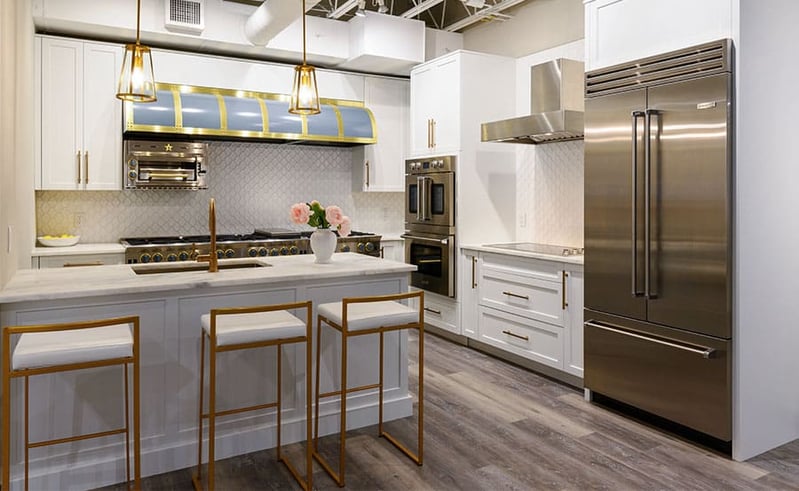 BlueStar Kitchen Featuring a 60-Inch Professional Range at Yale Appliance in Hanover
BlueStar ranges originated in Reading, PA in 1880 from Prizer-Painter Stove Works. They manufacture residential and commercial ranges, hot water heaters, furnaces, and heating stoves.
Prizer-Painter Stove Works continued to manufacture high-end cooking products for over a century.
In 2002, Prizer introduced the BlueStar line, restaurant-quality ranges designed for the residential market.
The hallmark to a BlueStar range is extremely high output at a max of 25,000 BTU, an 1850 degree broiler, and custom color options - lots of color options.
How many? It's now 1000, and you can customize their ten knobs and trim packages.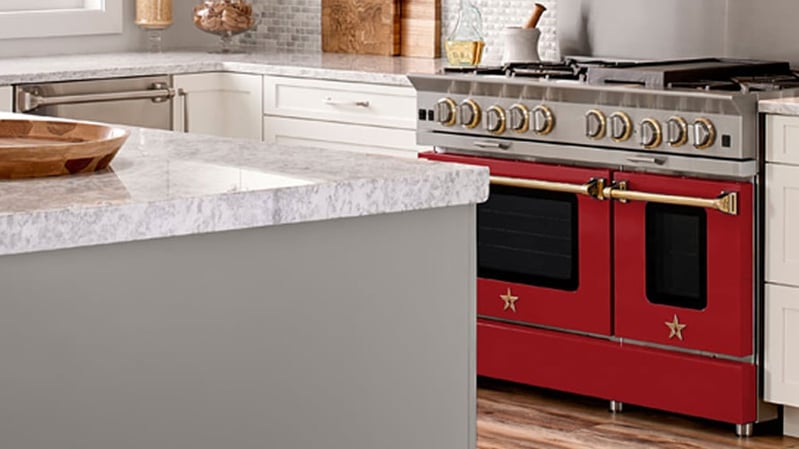 Red BlueStar Professional Range
BlueStar is a bit different because their burners are open on their most popular ranges.
They have five series of ranges:
The Platinum is their best range with a max of 25,000 BTU output and a pure gas convection oven, but it's an all burner range. It is less powerful than the Platinum at 22,000 BTU max. It does not have the POWR pure convection oven. It has regular convection.
The RNB or "Nova" will be in our comparison because it's the only BlueStar range with the integrated grill and griddle like Wolf. It's less powerful than the Platinum at 22,000 BTU max. It does not have the POWR oven and is regular convection.
Precious Metals: This series is only available in 30 and 36 inches. It has the commercial type French doors instead of a pull-down door.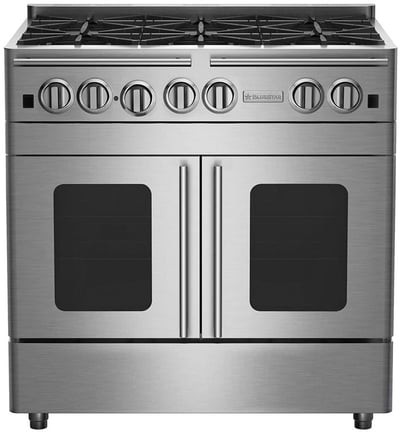 BlueStar Precious Metals Range
Culinary Sealed: This series features sealed burners with a max output of 21,000 BTU.
Culinary Open: BlueStar's most affordable range with sealed burners and a 15,000 BTU output
The BlueStar Platinum and the dual fuel Wolf are the most popular ranges, but are so dissimilar based on how you cook whether baking or broiling.
Plus Wolf has a grill and griddle while the BlueStar Platinum does not.
Now that we've learned about both brands, let's dive into their ranges and compare them.
Short on time? Get our free Pro Cooking Buying Guide
BlueStar RNB Series Vs. Wolf All-Gas 36-Inch Professional Ranges
Let's look at their specifications first.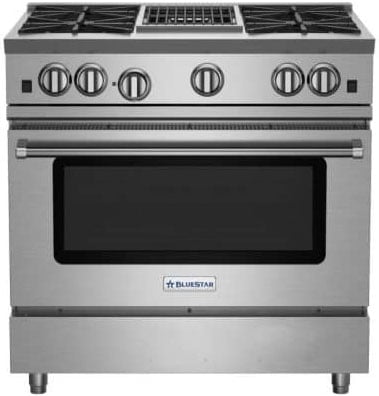 Features:
2 Restaurant-style 22,000 BTU UltraNova Burners
(1) 15,000 BTU Nova open burners
(1)15,000 BTU Grill (Grill Model Only)
(1) 15,000 BTU Griddle (Griddle Model Only)

1 Precise 130° simmer burner
Available with all burners or add integrated griddle, charbroiler or French Top
Extra-large convection oven with 1850° infrared broiler that accommodates a full size
18" x 26" commercial baking sheet
Available with swing doors
Integrated wok cooking without a wok ring
New streamlined design
Available in 1000+ colors & finishes plus additional customization options
Available in Natural or LP gas
Handcrafted in Pennsylvania since 1880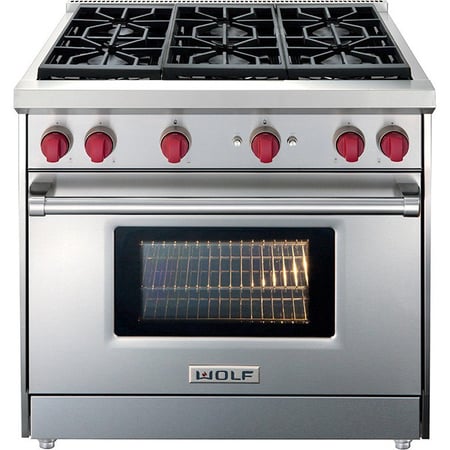 Features:
Six surface sealed dual-stack burners for even pan coverage
Convection oven
16,000 BTU Infrared Grill (Grill Model)
15,000 BTU Infrared Griddle (Griddle Model)
18 K BTU Infrared Broiler
5.5 cubic ft. capacity oven
Traditional oven racks
Factory tested for 20 years of heavy use
Wolf also makes ranges that have a pre-built in gas grill or griddle (added cost)
Star K Certified
Red, black, or stainless knob color options
Ordered specific for natural gas or liquid propane
The Comparison
| | | |
| --- | --- | --- |
| | BlueStar Pro Ranges | Wolf Pro Ranges |
| Power Burner | 22K BTU | 15K BTU |
| Simmer Burner | 130 degrees | 9K BTU |
| Oven Capacity | 18'' x 26'' baking sheet | 4.4 cubic ft. |
| Self-Cleaning | No | No. Only in Dual Fuel |
| Grill / Griddle | Regular | Infrared |
| Broiler | Infrared gas | Infrared gas |
| Open or Sealed Burners | Open | Sealed |
| Promotions | Up to $1,000 for BlueStar appliance package | Up to $1,000 after mail-in with select Sub-Zero product(s) |
Cooktop & Burners
Wolf only offers sealed burners, which are easier to clean and more popular. However, their Dual-Stack Burner System offers great flexibility.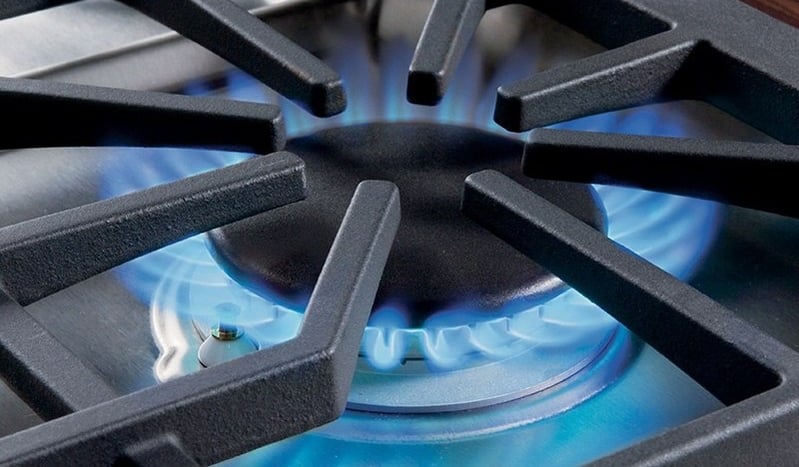 Wolf Sealed Gas Burner on a Pro Range
The upper-tier burner deliver maximum heat for rapid boils and sears, while the lower tier can go down to a low flame for delicate simmering or melting.
The Wolf has five 15,000 BTU burners and one 9,200 burner. Their max burner is still only 15,000 BTU, which is a bit underpowered compared to other pro ranges.
Thermador has the lowest simmer on two of their burners, but in order to maintain a lower temperature, the burners turns on and off constantly. Wolf has a consistent simmer on all their burners of 500 BTU. Their simmer is considered the best in the industry.
BlueStar has an open burner. In one sense, it's harder to clean major spills. You have to clean underneath. However, every part lifts off and can be cleaned at the sink rather than at the stove.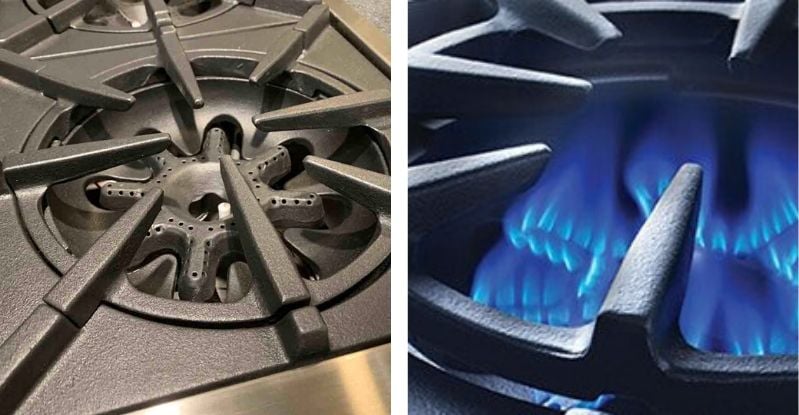 BlueStar Open Burner on a Pro Range
BlueStar is about power. An advantage to an open burner is typically higher BTUs. The BlueStar RNB Series has two UltraNova burners with 22,000 BTU max output, one Nova burner with 15,000 BTU max output, and one with 9,000 BTU max output.
They publish their simmer in degrees. It's 130 degrees, which is 443 BTU.
For output, BlueStar is the obvious choice, but Wolf is easier to clean.
Grill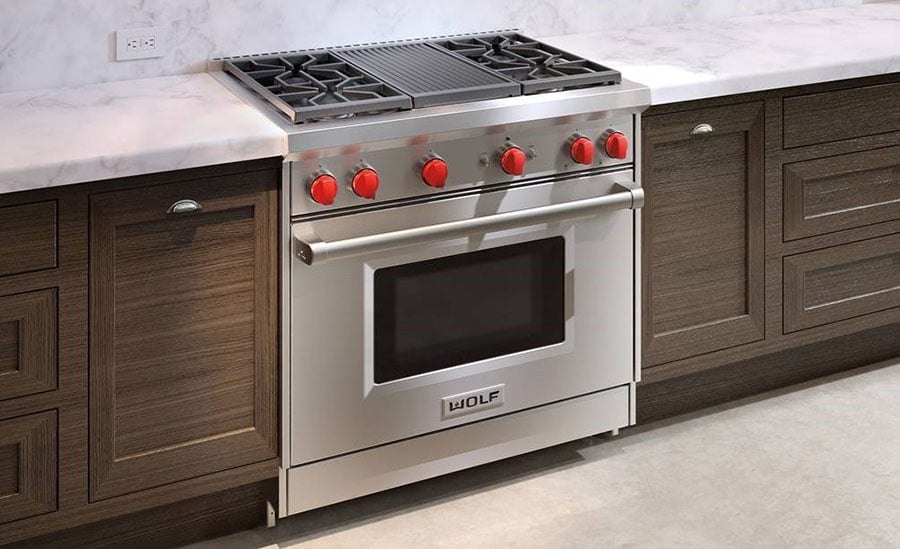 Wolf 36-Inch Professional Range featuring a Griddle
Wolf has a 16,000 BTU infrared grill versus a 15,000 BTU gas grill on the BlueStar. Sounds similar?
Infrared is a more direct, intense heat, so its faster than BlueStar. Gas burners diffuse heat and aren't as effective for grilling. You also clean less because infrared burns off the drippings.
If having an indoor grill is important, then Wolf is a better choice.
Griddle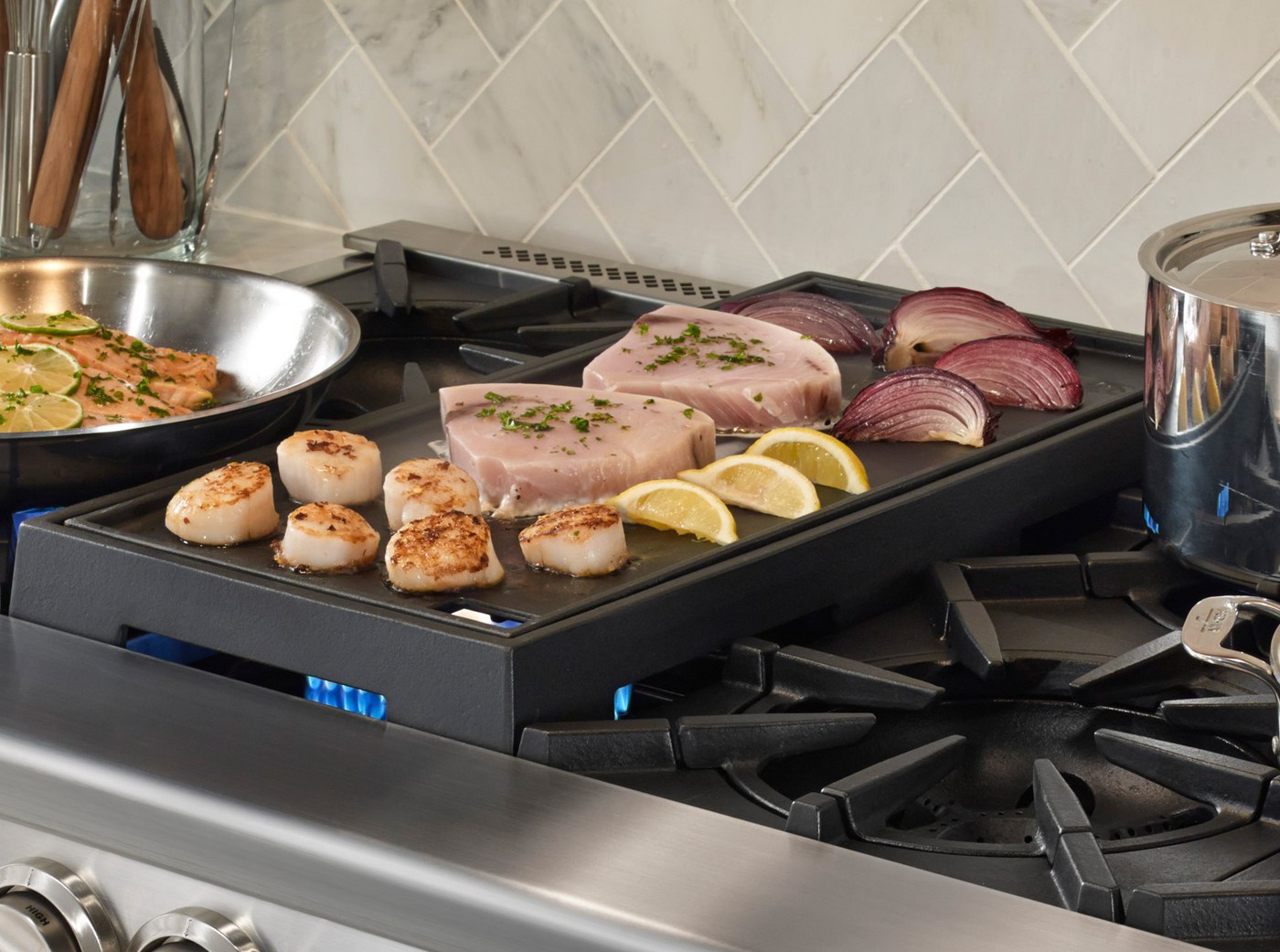 BlueStar Griddle on a Pro Range
It's the same outcome for infrared vs. regular gas. Infrared will be faster, but they both have controls to set temperature.
For griddles, Wolf infrared will be better.
Ovens & Broilers
Both are similar in a good way.
They both employ the infrared broiler. Wolf is the best at 18,000 versus 15,000 BTU for the BlueStar.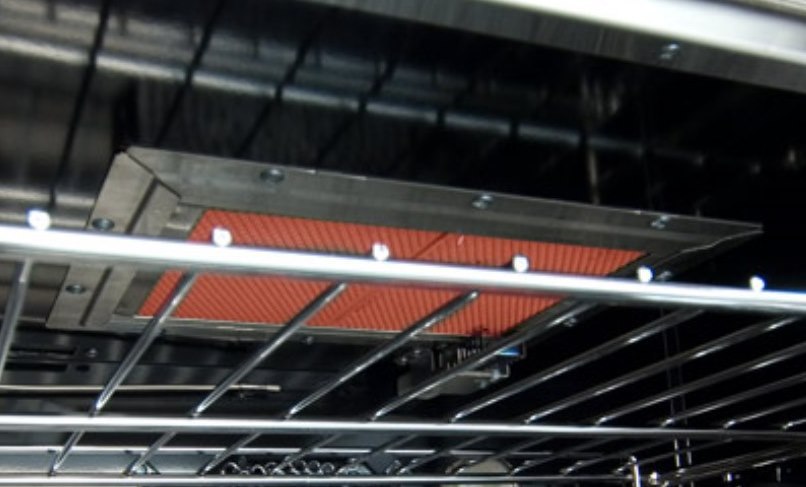 BlueStar Infrared Broiler at Yale Appliance in Framingham
Both also are convection. The fan blows the heat distributed from the bottom.
BlueStar's Platinum adds the third element behind the fan, whereas the Wolf is dual or two fan convection in their dual fuel.
For this comparison, Wolf is better.
Color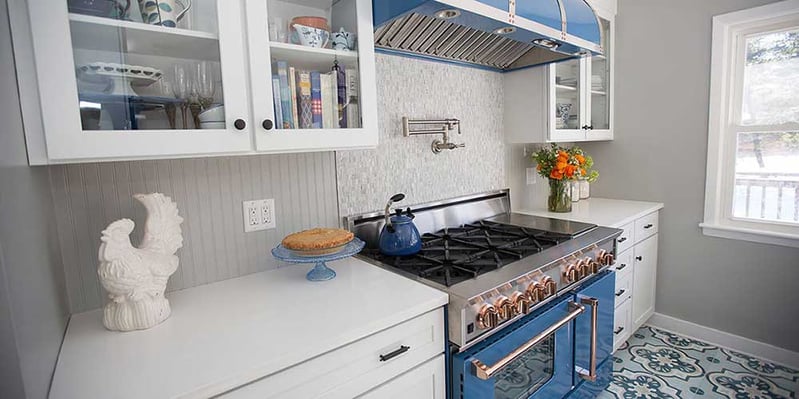 Custom Color BlueStar Pro Range
Wolf is known for their red knobs - that is their signature. They also offer knob colors of stainless steel and black.
BlueStar offers now offers over 1000 color options plus ten different knob and trim packages.
For colors, BlueStar is the best.
Reliability
Most Reliable Professional Ranges for 2020
| | | | |
| --- | --- | --- | --- |
| | Service Qty | Shipped Qty | Service Ratio |
| Miele | 15 | 21 | 71.4% |
| BlueStar | 30 | 42 | 71.4% |
| Wolf | 50 | 307 | 16.3% |
| Jenn-Air | 15 | 103 | 14.6% |
| Thermador | 53 | 430 | 12.3% |
| Grand Total | 163 | 903 | 18.1% |
Wolf is one of the most reliable, whereas BlueStar does not seem to be. Most of BlueStar's issues are minor burner issues, not major oven issues.
The problems are easily fixable, but Wolf is the more reliable range.
Key Takeaways
These are two different ranges.
BlueStar will allow you to cook faster. Its output is unmatched for residential pro gas ranges. You can also customize with BlueStar.
If you are sick of stainless, there are 1000 different color options. Your range can be unique.
Wolf is a bit underpowered versus BlueStar, with a max output of just 15,000. However, the griddle and grill are better than BlueStar's, as is the broiler.
For reliability, Wolf is one of your best choices for luxury appliances.
Ultimately, your choice comes down to burner output and customization versus cleanability with a better grill, griddle, and broiler.
Additional Resources
Get our free Pro Cooking Buying Guide with tips, trends, and reviews of all the best brands. Over 800,000 people have already found answers in a Yale guide.
Related Articles:
Why Should You Trust Us?
It seems that every appliance review has nothing but glowing comments about almost every product, yet you read customer reviews and they are almost universally bad.
We are here to fill in the disconnect. We'll give you the best features, and the drawbacks as well, including reliability based on over 37,000 calls performed by our service team just last year. Our goal is to give you ALL the information so you know what's right for you.
Please consider subscribing or adding to the conversation in the comments below. We appreciate you stopping by.
Stan Pendrak
Stan Pendrak is an Appliance Sales Consultant at Yale Appliance in Hanover. Stan has over 25 years of sales experience within the hospitality and appliance industry. Stan's passion is to provide exceptional appliance sales and service solutions to everyone. In his spare time, Stan enjoys golfing and yoga.

Schedule a showroom visit with me
A Note About Pricing
Pricing on this blog is for reference only and may include time sensitive rebates. We make every attempt to provide accurate pricing at time of publishing. Please call the stores for most accurate price.