Bertazzoni vs. Miele Induction Ranges (Reviews / Ratings / Prices)
Induction continues to pave the way as the preferred source of energy, for those that are limited to electric. It is also increasing in popularity, when given the choice between gas and electric.
Efficiency – Induction is the most efficient cooking application, with the least amount of wasted heat. It also requires the least amount of ventilation. Induction is also recognized to reach the quickest boil – Quicker than gas and regular electric
Responsive – Much like gas, induction will quickly adjust / react to changes, from a high- heat to a low simmer, in a matter of seconds. It is faster than a pro gas unit
Safety – Induction is known to be the safest means of cooking. The unit will only turn on once it recognizes magnetic cookware (with ferrous materials) that is compatible to work with induction. Unlike its electric counterpart, induction will begin to quickly cool, once the cookware is removed or the unit is turned off.
Cleaning – Within the cooking element, the heat is directly transferred to the cookware and the surrounding area doesn't get hot. It makes cleaning up very easy on the ceran glass cooking surface.
Let's now compare two very different European companies, Miele and Bertazzoni. We will look at the companies, the products, and then compare.
Miele
"Forever Better" was inscribed on the first products that the Miele founders produced. Over a hundred years later, Miele has stayed true to that promise, as they continue to manufacture some of the most elite residential and commercial appliances in the world.
Miele is a family-owned, family-run German company, founded in 1899. In 1993, Miele cooking moved into the fast lane with induction hobs generating heat in the pan base and ensuring a faster, gas-like response.
They continuously evolved their induction products, and less than 2 years ago, they released one of the premier induction ranges in the industry.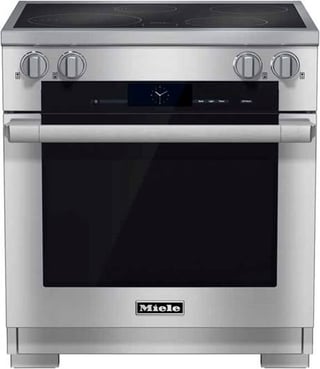 This all in-one range, provides the best of both worlds; the best residential induction technology in the industry, paired with one of the best ovens in the industry.
Below are some key features of the, HR 1622i:
Price: $6,999.00
M-Touch Controls and backlit knobs
4 Variable Cooking Zones
TwinPower Convection Fans
Easy Clean Ceran Surface
Booster Function
21 Operating Modes, including self-clean
Moisture plus
MasterChef and MasterChef Plus Automatic Programs
Soft Close and Soft Open Door
Wireless Roast Probe
Clean Touch Stainless Steel Front
Bertazzoni
Bertazzoni is an Italian company based in Northern Italy, in a small town of 12,000 called Guastalla. Francesco Bertazzoni started the company in 1882, producing wood-burning stoves.
Bertazzoni is known for their unique design and style. They're also recognized for adding some character into your kitchen, as they're also known for their "custom color" finishes on their ranges.
Although they have a long history of producing other cooking products, Bertazzoni Induction ranges are fairly new to the marketplace since only 2015.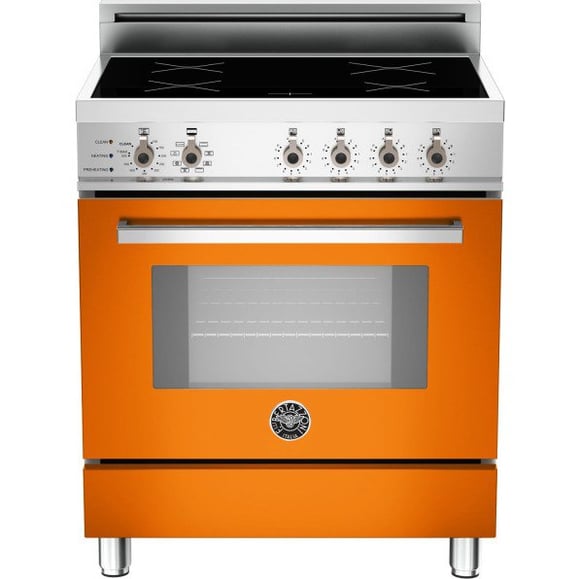 Below are some key features of, PRO304INSAR:
Price: $5,499.00
Designer colors available (6 total). The triple coat paint process is same one used on Italy's famous sports cars. Plus, Stainless Steel
Each induction zone has variable low to high control and a pan detection system
Residual heat indicators warn if a zone is still hot, even when switched off, guaranteeing maximum safety
Oven features 9 cooking modes including convection modes which use a fan surrounded by a heating element for even heat distribution
Self Clean models also feature a cleaning cycle which operates at 850°F
Large-capacity European convection oven is big enough for a 30-pound turkey
Soft-motion door hinges prevent slams, dropping and bounce back
Special multi layer glass door ensures minimal heat loss and safe outer surface temps
Low temperature settings include thermostat controlled dehydration and fan only defrosting
25 1/8" depth allows range to sit flush with cabinetry, unlike other professional brands
4" stainless steel backguard included
Convenient storage space below the oven for pots and pans
Who has the better induction range?
Bertazzoni offers a decent induction range, with color options, for less money than the Miele. Their range is less deep (smaller oven capacity), and may be ideal for tight spaces.
However, if you really want to cook better, Miele offers some unique features that clearly differentiate them in this comparison. Their induction range offers Master Chef and Master Chef Plus Automatic Programs, allowing for easy "one-touch cooking".
There are also 21 Operating Modes. For avid bakers, their range offers Moisture Plus which releases bursts of steam. This feature will increase the humidity in the oven, which optimizes cooking of a variety of foods, ideal for baking bread (there are 16 automatic modes just for bread), desserts, and perfect for roasting meats as well.
Miele's, approach to production is unique for today's global standards. They do not outsource components to third party companies. Most all of the components in a Miele product are specifically built / made in a Miele owned facility. This helps ensure very high quality-control and ultimately, a better-built product.
If you are looking for a splash of color and a slightly less expensive product, buy the Bertazzoni. However, the better, more reliable stove for cooking is definitely Miele.
Additional Resources
Get our free Induction Cooking Buying Guide for reviews, specs and more on the most popular induction ranges. Over 150,000 people have already found answers in a Yale guide.
Recommended Reads
Eddie Jacob
Eddie Jacob has 15+ years of sales & consulting experience and is in the appliance sales department at Yale Appliance + Lighting. He takes pride in total customer satisfaction and enjoys coaching youth soccer.

Read more about Eddie here.
A Note About Pricing
Pricing on this blog is for reference only and may include time sensitive rebates. We make every attempt to provide accurate pricing at time of publishing. Please call the stores for most accurate price.