Our Best Front Load Washers article is an article that we update frequently as rebates change from month to month. Recommendations can change with prices.
Washing machines have become as much about energy and water savings as they are about washing clothes.
In addition to the traditional top loader, there are more economical front loading washers as well as the somewhat temperamental hybrid washer (or cross between the two of a top load with no agitator).
Short on time?
Get our free Washer Buying Guide »
Washers
Pricing updated for November 2015

Whirlpool
Although I am not a fan of top loading washing machines, the Whirlpool is a good price at $349, especially for a high efficiency machine. Whirpool also is the best overall value for a front load washer at $349.
Frigidaire
The Frigidaire is a good base model with all the basic features, like 7 wash cycles, and user friendly controls at a decent price of $599.
Maytag
Maytag has a few interesting features such as Pre-soak, Steam and Adaptive Cold Wash Technology, combined with HE Detergent, Maytag cleans the best in cold water. It is large at 4.3 cu. ft. capacity and has a 12-hour tumble cycle.
Samsung
Samsung is the largest at 4.5 cubic feet. Steam is great for loosening tough stains as well as wrinkles. Steam by itself can also refresh clothes without a washing cycle. We also wrote a post about steam washers, and Samsung has good technology and controls.
Electrolux
Electrolux is our best selling washer. It has a 15 minute wash cycle to wash your favorite items quickly and two pumps for the only washer to rinse with fresh water. Electrolux is also the only machine with a second floor guarantee for quietness and less vibration.
Top Front Load Washer & Dryer Laundry Pairs
Most people concentrate on the washer as part of a laundry purchase, yet the dryer is very important.
Most of the front load dryers now have sensor dry, which automatically shut down the heat by sensing moisture in clothes. This will save you money and prevent shrinkage of clothes.

Samsung Front Load Laundry
$1,399 Electric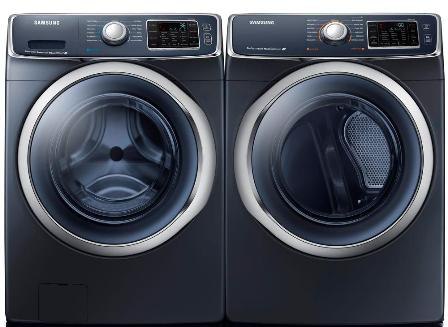 Confused? Don't be. All the machines have an abundant number of cycles and features. You will be happy with any, especially if you are replacing an older unit.
Samsung is the largest and fastest. Maytag is the best in cold water. I like the Electrolux for second floor installations, the fresh water rinse leaves less detergent in the clothes as well.
Additional Resources
Download our Yale Laundry Buying Guides with all the features, terms and brands of laundry. Over 100,000 people have already found answers in a Yale guide.