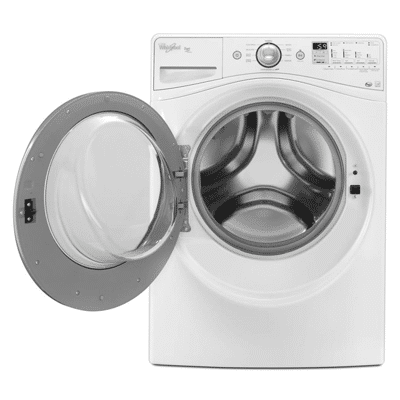 Our Best Front Load Washers article is an article that we update frequently as rebates change from month to month. Recommendations can change with prices.
Washing machines have become as much about energy and water savings as they are about washing clothes. In addition to the traditional top loader, there are more economical front loading washers as well as the somewhat temperamental hybrid washer (or cross between the two of a top load with no agitator).
Front Load vs. Conventional Top Load
This seems like a no brainer. Front load machines have a larger capacity (3.8 cubic foot versus 2.5), use much less water (40 gallons to an average 10-18 in a front load) and half the electricity as well. There is also no agitator to "agitate" and eventually wear out your clothes (think about it).
The average spin speed on a front load is 3 times faster than a top load so the clothes do not need as much time in the dryer. You will save money by washing more with far less resources. Savings should be $100-$150 per year. Energystar rates are based on a comparison of 7-8 loads per week, but in reality, you will have far less loads in the larger front loading machine.
Front Load vs. Hybrid Top Load
A hybrid is basically a top load without an agitator. The drum capacity is larger without the agitator and uses less water. Many people like the idea of the hybrid, but I just do not see the design currently cleaning efficiently. The agitator rotated the clothes in this design and now there is none.
Front load machines have had issues, mostly with water pooling on the gasket creating mold and odor. I always wipe the gasket and keep the door open, which eliminates the issue. We've written on how to clean your front load washer before.
How the Best Front Load Washers Were Chosen
I chose the core models only. All the companies have much higher machines with tons of features, which appeal to some. First are the most popular and then are the next level machines.
The Seven Best Washing Machines to Buy in 2014
Although I am not a fan of top loading washing machines, the Frigidaire is a great price at $399 which is ironically the same price and features as when I started in 1986. It even has a stainless tub. Frigidaire is the best overall value for a front load washer at $599 and offers inexpensive steam capability at $799.
Steam is great for loosening tough stains as well as wrinkles. Steam can also refresh clothes as well without a washing cycle. We also wrote a post about steam washers.
The other piece to consider is the Electrolux, because it is a big washer with great controls. Electrolux is the only vendor that offers a Second Floor Guarantee, meaning they'll take it back within 90 days if you have any vibration issues. We don't sell a quieter machine than this.
Another machine to consider right now is the Maytag, which is $999 after $210 in rebates. Maytag has a few interesting features such as Presoak and Adaptive Cold Wash Technology. Combined with HE Detergent, Maytag cleans the best in cold water. It is large at 4.3 cu. ft. capacity and has a 12-hour tumble cycle.
Top Laundry Pairs
Most clients concentrate on the washer as part of a laundry purchase, yet the dryer is very important.
Most of the front load dryers have sensor dry, which automatically shut down the heat by sensing moisture in clothes. This will save money and prevent shrinkage of clothes.
Frigidaire Top Load Laundry
Gas $899 | Electric $799

Maytag Front Load Laundry
Gas $1,899 | Electric $1,799
(shown in gray)
Related Articles
Additional Resources
Download our Yale Laundry Buying Guides with all the features, terms and brands of laundry. Over 45,000 people have already found answers in a Yale guide.