Wolf vs. Thermador 30'' Professional Style Wall Ovens (Reviews/Ratings/Prices)
If you're in the market for a high-end wall oven, chances are you have considered both Wolf and Thermador brands. Both brands offer great products and certainly have a heavy presence in upscale kitchens.
However, since Wolf changed their wall ovens. The two units have very little in common other than the ability to cook your food.
We'll look at both companies, both wall ovens and then compare at the end.
Wolf
Wolf has a long history of manufacturing commercial appliances in California. In 2000, Wolf's residential division was purchased by Sub-Zero. Today, Wolf is a top selling brand for high-end professional style ranges, wall ovens, cooktops, and ventilation. Wolf appliances are made in the U.S.
In 2013, Sub-Zero celebrated their 70th anniversary by releasing 70 new products into their line known as the "New Generation Lineup". In doing this, you can purchase Wolf ovens and cooktops that not only match your cooking style, but also appeal to your aesthetic preferences.
The M-Series wall oven was the most unique product released in the "New Generation". This wall oven has three different styles you can choose from. For the purposes of this comparison, I will focus on the Professional style M Series wall oven.
Thermador
The Thermador brand has been around for a century. Their appliances were introduced to the market in 1947. Both Julia Child and Alice from "The Brady Bunch" were seen on television cooking on Thermador products. Thermador has many claims to fame such as the first pro range in 1948, the first warming drawer in 1953, and the first self-cleaning oven in 1963.
In 1998, the Thermador brand was acquired by the BSH Corporation. BSH is a German company that also owns Bosch and Gaggneau brands. Thermador's niche within these brands is professional-style ranges, wall ovens, and rangetops.
Thermador appliances are manufactured in the USA. They currently produce two levels of wall ovens, the Masterpiece Series that has electronic controls, and the Professional series with knobs.
For the sake of this comparison I will focus on the Professional series oven.
Wolf vs. Thermador Pro Style Wall Ovens
Features:
Single European Convection fan system – convection fan with coil behind the fan to heat air to the desired temperature
Fourteen cooking modes: bake, roast, true convection, convection roast, no preheat speed convection, warm, dehydrate, rotisserie, max broil, max convection broil, cook control probe, self clean, Sabbath, fast preheat
Rotisserie with 12 lb capacity with dishwasher safe components
4.7 cubic ft oven capacity
Soft close doors with dampened hinges
Temperature probe
Cannot be installed flush, must be proud of the cabinet
Comes in 30'' wide only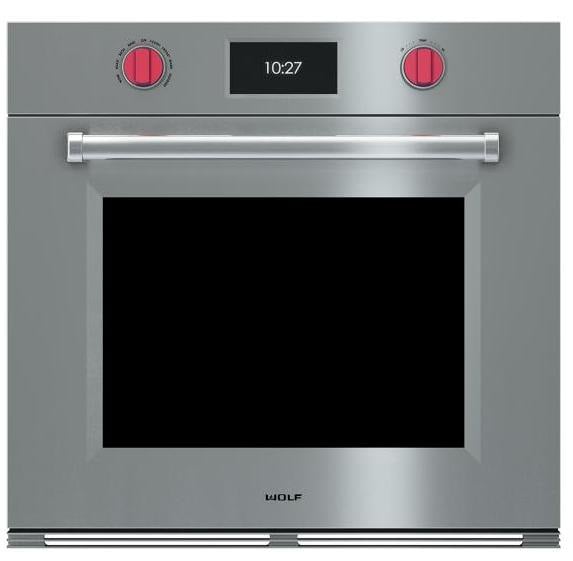 Features:
Dual Verticross Convection System – instead of a traditional convection fan or fans, Wolf decided to change the game and introduce a unique convection system that uses blowers instead of fans, this was designed for faster preheat and more even temperature when cooking with multiple oven racks
Ten cooking modes: convection, roast, bake, broil, convection roast, stone, gourmet, warm, proof and dehydrate
Wolf gourmet is a menu driven system that takes the guesswork out of cooking popular meals by controlling the oven temperature and duration for perfect results
5.1 cubic ft interior capacity
Soft close doors with dampened hinges
Temperature probe
Can be installed flush in the cabinetry
Choose from red, black, or stainless knobs
Comes 30'' wide only
Watch features of Wolf Wall Ovens here:
Comparison
The Menu Driven System
In the high-end oven market, many manufacturers are moving toward having a menu driven system that is designed to appeal to the adventurous eater (but potentially not the most adventurous chef).
It takes the guesswork out of cooking many different types of foods. Miele, Dacor, Jenn-Air and Wolf are a few high-end brands that have adopted an advanced menu driven system and I think this is the way the industry is heading. Thermador does not incorporate any technology in their ovens.
The Convection Systems
Wolf has a dual blower verticross convection system. Thermador has a true European convection system with a single convection fan. Every manufacturer has a different theory behind which is better.
It would make sense to think that two fans are better than one for more even heating and browning. The Wolf blower system was designed for extremely even heating however it has been reported to be louder than their traditional dual convection fan system. Then again, blowers are more powerful than fans.
Read: Differences Between Single, Twin, European and VertiCross Convection Ovens
Installation Types
Many high-end wall ovens can be flush-inset, so you do not see the sides of the oven. It is a more elegant look. Wolf installs flush. Thermador does not.
Accessories
Thermador has a rotisserie that comes with the wall oven; Wolf does not offer a rotisserie accessory for purchase. If you think you will use a rotisserie, the Thermador professional series oven is a clear winner.
Ease of Use
I think that both ovens are fairly easy to operate. If you have an aversion to touch screens then you will be happier using the Thermador oven. For an oven that incorporates both knobs and an electronic interface, the Wolf oven is really easy to get used to and has been a top seller (even for those of you who are accustomed to traditional cooking methods).
Which Should You Buy?
Although they are both considered premium brands, we are comparing two different products. Wolf has a superior look and technology. Thermador is less expensive. They also have a better rebate program with a free $1,299 dishwasher when you buy a Thermador cooktop.
Additional Resources
Confused about wall ovens and want to learn more? Get the Yale Wall Oven Buying Guide with features, specs and detailed profiles of every major brand. Over 165,000 people have read a Yale Guide.

Related Articles
Steve Sheinkopf
My goal has always been simple: I want Yale to be the best retail experience anywhere. I have tried to create a compelling environment for customers and employees alike.
A Note About Pricing
Pricing on this blog is for reference only and may include time sensitive rebates. We make every attempt to provide accurate pricing at time of publishing. Please call the stores for most accurate price.