Thermador vs. Wolf Gas Cooktops (Reviews / Ratings)
Built-in appliances are hard to buy. Most appliance stores are focused on washers, dishwashers, refrigerators, and basic stoves, so it is hard to see one.
Many of the well-known commodity brands like Whirlpool, GE, Maytag, LG, and Samsung are not popular for built-in appliances either.
So you can't rely on what's in your kitchen and laundry to dictate how you should buy a built-in cooktop (or wall oven).
Most salespeople can't impart real information either. You will probably not buy a cooktop on your first trip to a store. You will also need specs, qualified installers, and plumbers as this is a more detailed purchase than a standard dishwasher.
Most commissioned store associates do not perceive it as worth their time.
Short on time? Get our free Pro Cooking Buying Guide
Let me make your cooktop purchase easier for you. Think of your cooktop purchase as comparing half a stove.
Sure there are other considerations, but that's all a cooktop is. Now 36 inches is a slightly bigger size, but it's the same principle.
That said, in this article, you will see a comparison of two of the industry's best, Thermador and Wolf.
We will look at the layout, BTU output, and simmer as well as reliability based on 34,687 service calls logged by our service department last year.
Before we start, you should understand the differences between rangetops and cooktops because they have different features and are installed much differently.
The terms are used interchangeably and should not be. You do not want to discover the difference upon delivery.
Cooktop Vs. Rangetops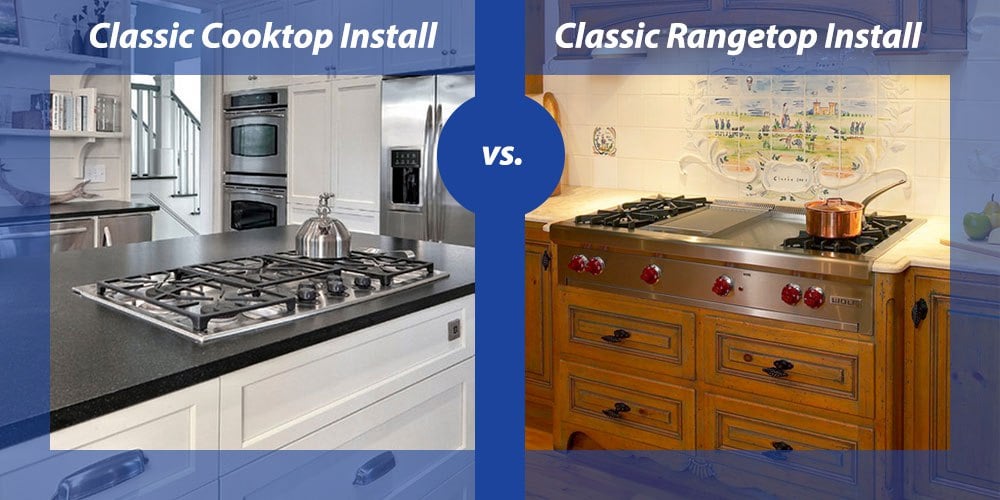 As we said before, cooktops are the tops of stoves, so rangetops are the tops of professional ranges. They vary in size, features, price, and installation.
Size
A cooktop is available in 30 and 36-inch sizes. There are some smaller 24-inch sizes, as well. Rangetops are available 24 and 30, but 36, 48, and even 60 inches are the more popular sizes.
Features
A cooktop like a stove is all burners. The rangetop is available with a grill, griddle, Frenchtop, or all burners, so it is more versatile.
A cooktop will have 1 or 2 high output burners of 15,000 BTU or more in a 36-inch size. The rangetop will 3 to 6 depending on the configuration.
Price
As an average, the rangetop is $500 to $1,200 more than a cooktop.
Installation
A cooktop is cut into the countertop. However, a rangetop is slid on the cabinet itself. This is a huge difference, so you want to be careful.
Cooktops Vs. Rangetops [VIDEO]
To learn more about the difference between rangetops, cooktops, and their installations, click here for our Free Pro Cooking Buying Guide.
Now, let's look at Thermador's and Wolf's gas cooktops.
Wolf has one model, but two different styles as Thermador has 3 models, one style.
For this comparison, we will cover their two most popular gas cooktops.
Let's look at the companies first.
Overview of Thermador Appliances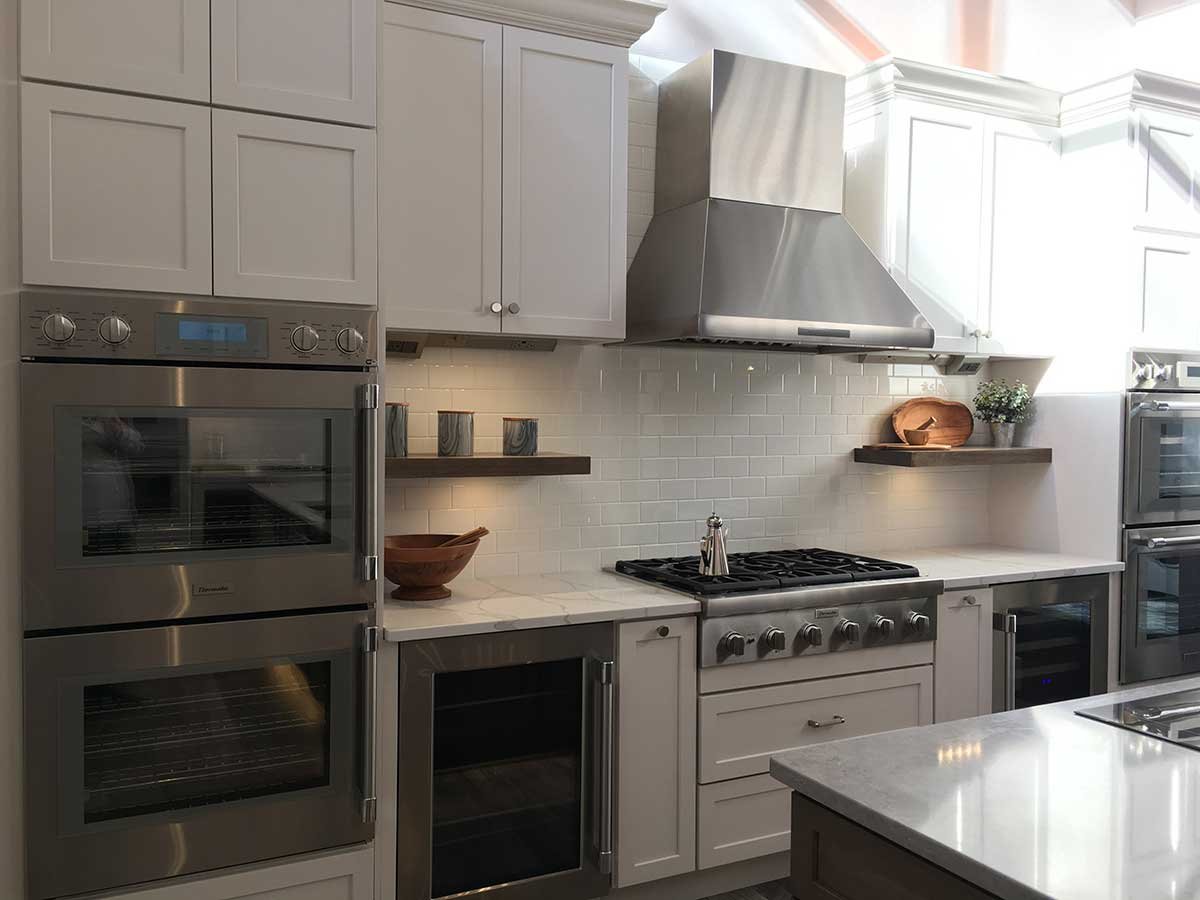 Thermador is part of BSH Home Appliances Corporation, a fully owned subsidiary of BSH Bosch. Did you know they are the 3rd largest appliance manufacturer in the world?
Founded in 1916 in California by William E. Cranston, and began as a manufacturer of electric items, most notably portable and built-in heaters.
In 1932, Thermador established its appliance manufacturing as Cranston merged with business owner H.H. Fogwell to form the Thermador Electric Manufacturing Company.
Along with Jenn-Air, Thermador was the first American premium appliance company.
Notable personalities such as Julia Child used Thermador ovens in her critically acclaimed PBS TV series, and Alice from the Brady Bunch cooked with Thermador appliances.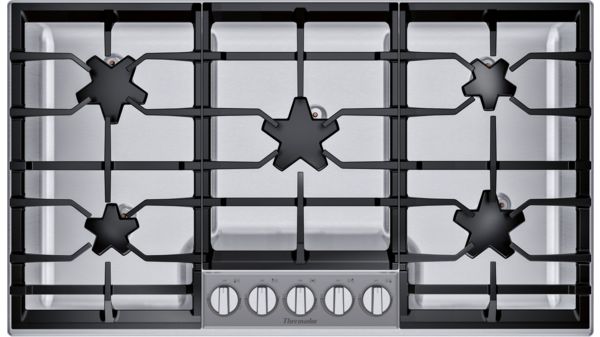 Features:
36-Inch 5-Burner Gas Cooktop
Patented Star® Burner's unique five-point design offers more ports and more flame distribution than a round burner -
QuickClean Base® with a teardrop emboss reduces food buildup near the base and contains liquid spills for quick cleaning -
Raised pedestal burner allows a hand or sponge to fit easily under each burner to wipe the surface clean -
ExtraLow® Select burner with 5 precise settings is perfect for simmering or holding foods and melting chocolate without scorching or burning -
Progressive illuminated light ring around each knob indicates burners in use
Notice how there is a small and large burner in the front, perfect for paying close attention to a simmer or boil. The largest center burner is 15K BTUs.
Exclusive 200 BTU ExtraLow® burners for perfect simmering. The medium burners in the bottom right and upper left are 9,100 BTUs. And the smallest is 6K BTUs each.
You can see the display of cooktops in the Framingham and Dorchester showrooms by clicking the links below for our virtual tours.
Why You Might Like About This Cooktop:
The surface grates offer an extremely large usable area since they are larger in areas where other cooktops aren't.
Burner configuration allows 3 large pans to be on the same surface without any interference from each other.
Burners sit on their own pedestal bases, making it less likely that you'll burn food onto the surface top from any spills that may occur.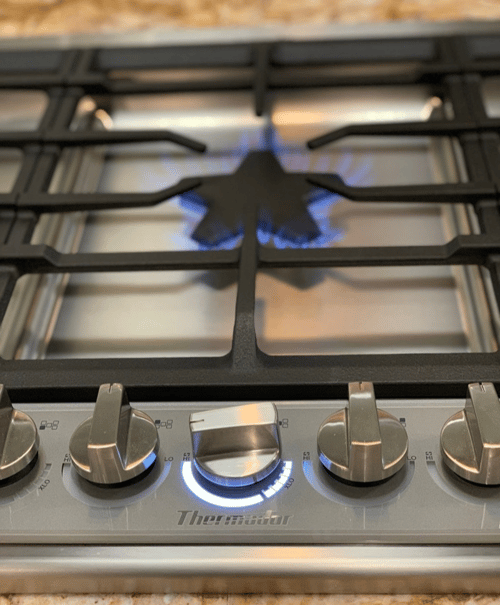 The illuminated surface for the knobs give this cooktop a premium feel and clearly displays which burner is in use.
Why You Might Not Like About This Cooktop:
The Extra-low burners claim a 200 BTU output. However, they cycle on and off (going off and reigniting), and are only available on two of the 5 burners.
For some, the inconsistent heat from cycling may not be ideal for certain dishes.
Overview of Wolf Appliances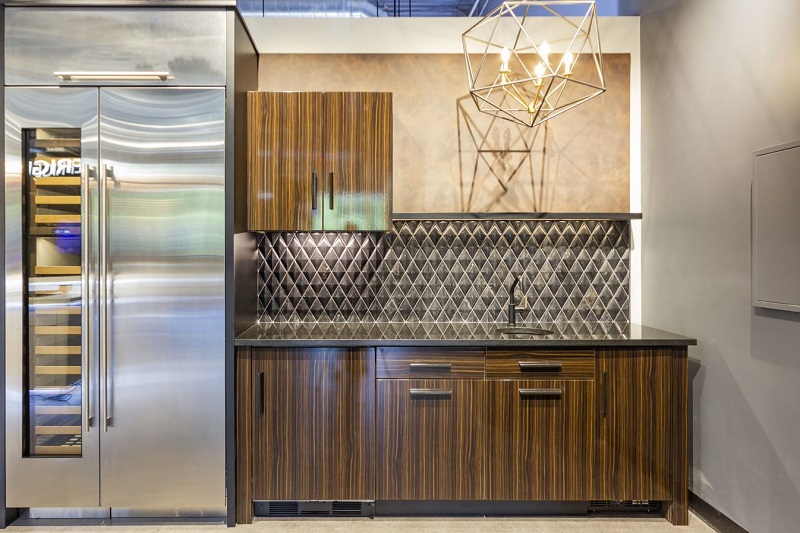 The Sub-Zero Freezer Company was founded in 1945 by Westye F. Bakke in Madison, Wisconsin.
For more than 70 years, Wolf has been synonymous with professional cooking equipment for restaurants and hotels.
In March of 2000, the company became part of Sub-Zero and was adapted for the serious in-home cook.
Sub-Zero/Wolf is now the second-largest family-owned appliance company after Miele.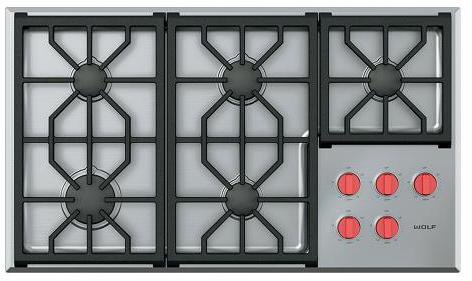 Features:
Patented Dual-Stacked Sealed Burners
Wolf's dual-stacked burner design, with two tiers of flame ports, brings the flame closer to (or further away from) the cooking vessel delivering precise heat for the task at hand.
18,000 BTU Burner
The most powerful burner on a Wolf gas cooktop ever.
Boil even large stock pots of water 25% faster than with earlier models.
Simmer and Melt
The lower tier of the Wolf dual-stacked burner provides a range of precision control down to the merest breath of flame.
Capable of maintaining the ultra-low BTUs, you need to melt chocolate or cheese.
Confidently keep homemade sauces and soups at the ideal simmer for hours.
Why You Might Like About This Cooktop:
Whether you are cooking for the first time or the thousandth time, the range of high and low output on these burners offer the greatest amount of forgiveness and flexibility for high and low heat.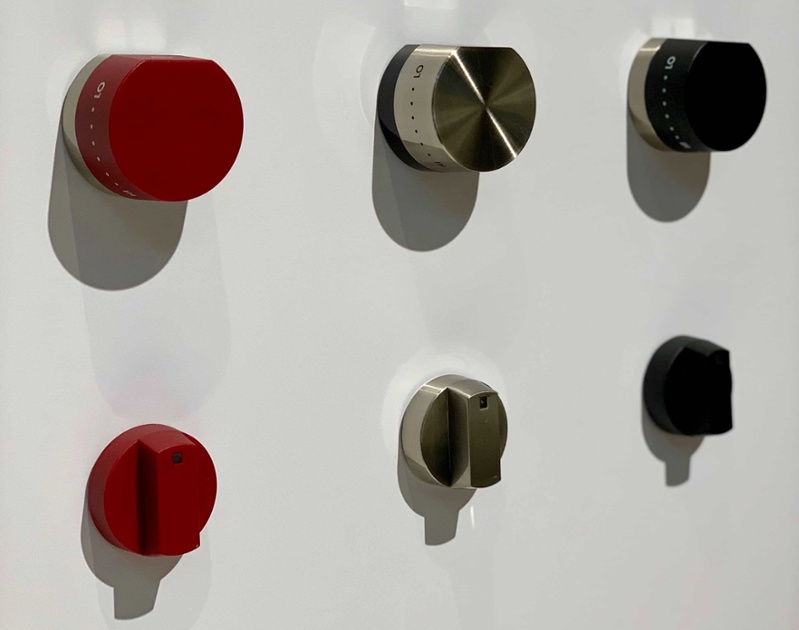 You can choose colored knobs from red, black, and stainless steel to better match your taste and decor.
Why You Might Not Like This Cooktop:
Compared to the Thermador, you have one large burner ( although 3,000 BTU hotter), one medium burner, and three small burners.
Whereas the Wolf has one large, two small, and two medium burners. Having three large pans with high heat isn't feasible with the burner layout.
Thermador Vs. Wolf 36-Inch Gas Cooktops
With such a small difference in price, there isn't a bad choice.
Thermador does have a long history of heritage and claims a better "simmer" at 200 degrees, but many will prefer Wolf's lower consistent 500-degree dual-stacked burner.
Style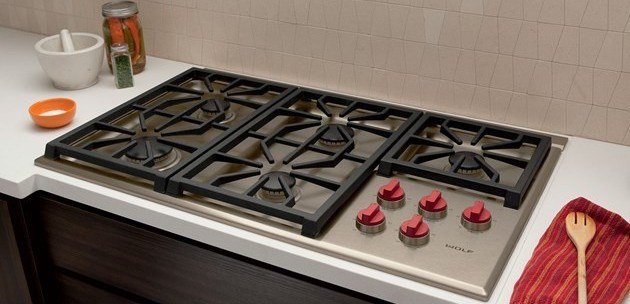 Wolf's knobs being set to the right make it less likely to be bumped by a big pot or pan being put on or away from the cooking surface.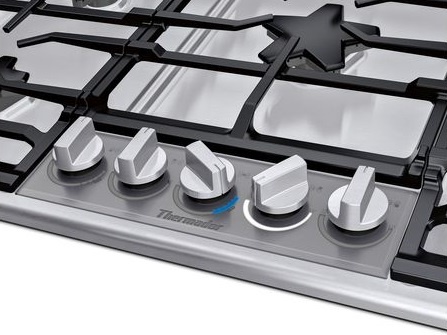 The Thermador's knobs are in the front, which may or may not pose an issue to some cooks.
BTU Output
The Thermador's range of BTU's allows the lowest simmer and highest power of the two.
Wolf has now updated its highest output of 15,000 BTUs to 18,000. The Wolf's grates are heavier and of better quality.
Reliability
Wolf is over 2% better based on logged service calls last year. Most of the issues in gas range igniter and ignition systems.
Most Reliable Gas Cooktops For 2019
| | | | |
| --- | --- | --- | --- |
| | Service Qty | Shipped Qty | Service Ratio |
| Kitchenaid | 1 | 41 | 2.44 % |
| Samsung | 1 | 9 | 11.11 % |
| Bosch Appliances | 14 | 123 | 11.38 % |
| Fisher & Paykel | 1 | 8 | 12.50 % |
| Wolf | 23 | 168 | 13.69 % |
| Jenn-Air | 22 | 137 | 16.06 % |
| Thermador | 22 | 130 | 16.92 % |
| Bosch - Benchmark | 5 | 26 | 19.23 % |
| Miele | 6 | 27 | 22.22 % |
| Gaggenau | 8 | 18 | 44.44 % |
| Bertazzoni | 1 | 1 | 100.00 % |
| Grand Total | 104 | 724 | 14.36 % |
You will need at least 1-2 replacements over the lifetime of the unit, so make sure your local repair knows how to fix an ignitor.
Value/Rebates
Doing the whole kitchen? Depending on what else may be going into your new or existing kitchen, you could possibly save more. This may also help determine which cooktop is right for you.
Thermador's current promotion of One-Two-Free can save you thousands on a full Thermador
kitchen.
Pairing up a double wall oven with your new cooktop? Get a free Thermador dishwasher. Add a refrigerator and get a free hood
Wolf has a similar promotion, where you save $1,000.
Which 36-Inch Gas Cooktop Should You Buy?
It depends on what you value.
In terms of looks and feel, you may prefer the Thermador. The newer BTU updates to the Wolf make it more competitive and technically more reliable.
Wolf's burners are the most flexible to anyone that is cooking for the first time or the hundredth time due to their ability to have a constant high and low temp.
Additional Resources
Get our free Pro Cooking Buying Guide with tips, trends, and recommendations on all the best brands. Over 620,000 people have already found answers in a Yale guide.
Related Articles:
Why Should You Trust Us?
It seems that every appliance review has nothing but glowing comments about almost every product, yet you read customer reviews and they are almost universally bad.
We are here to fill in the disconnect. We'll give you the best features, and the drawbacks as well, including reliability based on over 37,000 calls performed by our service team just last year. Our goal is to give you ALL the information so you know what's right for you.
Please consider subscribing or adding to the conversation in the comments below. We appreciate you stopping by.
A Note About Pricing
Pricing on this blog is for reference only and may include time sensitive rebates. We make every attempt to provide accurate pricing at time of publishing. Please call the stores for most accurate price.