Thermador vs. Wolf Gas Cooktops (Reviews / Ratings)
Cooktops typically measure 36 inches wide with five or six burners, and 30-inch versions with four to five burners. In some cases larger.
If you're replacing an older cooktop with a new one into an existing cutout, (as no two homes are alike) it can be difficult to find what works with what you have.
For this article, measurements are not an issue (though I stress the measure twice, cut once rule).
Updated for October 2014
If you so happen to be looking for a new 36" gas cooktop at this moment, I've decided to narrow it down between two of the industries best. Both of these brands have strong histories.
Short on time? Get our free Pro Cooking Buying Guide
I will cover some pros and cons of these two cooktops. But what's the best choice? The criteria will be burner layout (performance), cleanup, and service (reliability).
An overall breakdown to what to look for in a new cooktop
Cleanup: Look for removable knobs and an upswept lip or rim to contain spills. Look for sealed burners and grates that are dishwasher-safe.
Burner Layout: Many cooktops come with burners specifically designed for low-heat tasks (like simmering) or high-heat tasks (boiling). There should be enough space between burners to use several pots at once without juggling them. Smaller burners should be in front so that you attend to tasks that require close attention, like simmering.
Controls: Make sure they're easy to access and are legible. Touchpad (electric only) controls are easier to use than knobs or dials. Knobs on the front of the cook top (rather than the side) offer more cooking space and are further away from the burners. Making your hands less venerable to burns. They can also be easier for children to reach; some models have a push-in and turn feature for safety.
Thermador and Wolf gas cooktops are among the best in the industry.
Thermador 36" Gas Cooktop
Thermador is part of BSH Home Appliances Corporation, a fully owned subsidiary of BSH Bosch. Did you know they are the 3rd largest appliance manufacturer in the world? Founded in 1916 in California by William E. Cranston, and began as a manufacturer of electric items, most notably portable and built-in heaters.
In 1932, Thermador established its appliance manufacturing as Cranston merged with business owner H.H. Fogwell to form the Thermador Electric Manufacturing Company. Thermador is now owned by the Bosch Company.
Notable personalities such as Julia Child used Thermador ovens in her critically acclaimed PBS TV series, and Alice from The Brady Bunch cooked with Thermador appliances.
Thermador SGSX365FS:$1899.99
36 inch 5-burner gas cooktop. Notice how there is a small and large burner in the front, perfect for paying close attention to a simmer or boil. The largest center burner is 18K BTUs.
Exclusive 200 BTU ExtraLow® burners for perfect simmering. The medium burners in the bottom right and upper left are 12K BTUs. And the smallest are are 9,100 BTUs each.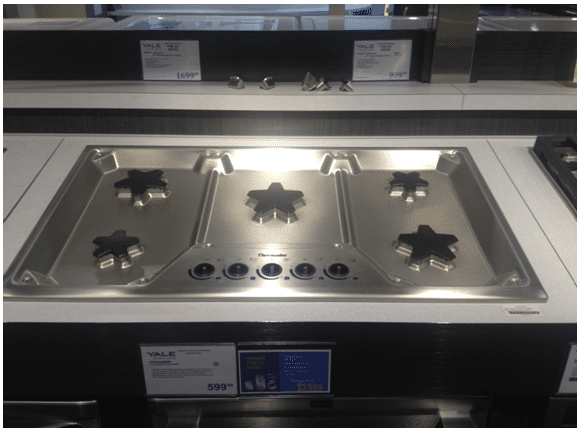 Grates and knobs are easily removed for quick cleanup.( SGS365FS pictured)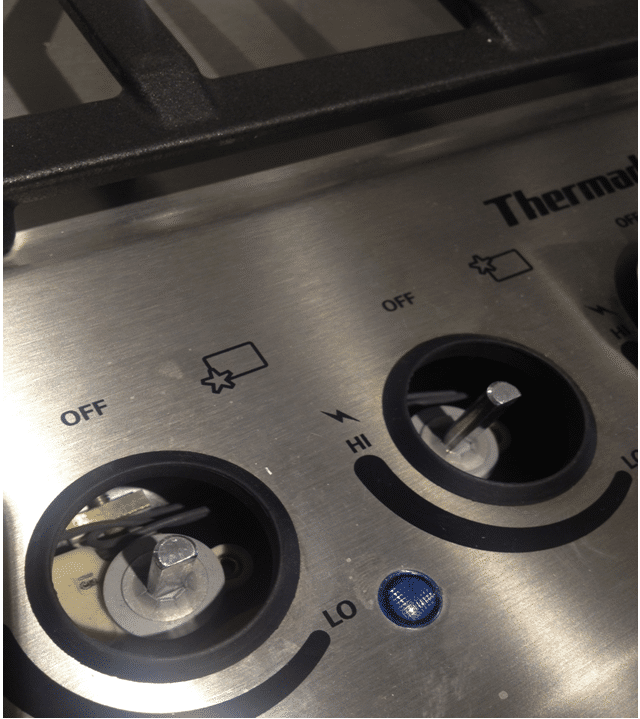 A closer look reveals that the control knob modules on most models can easily be exposed to the elements (SGS365FS pictured)
However, the SGSX365FS is sealed (see below). Thermador brand is among one of our least serviced appliance brands.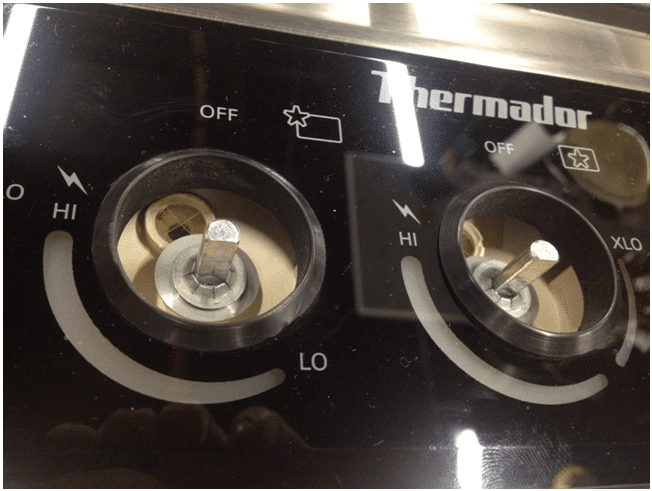 Notice the seal below the burner knobs. An illuminated control panel, and an 18K BTU burner are a worthy upgrade for anyone who cooks alot.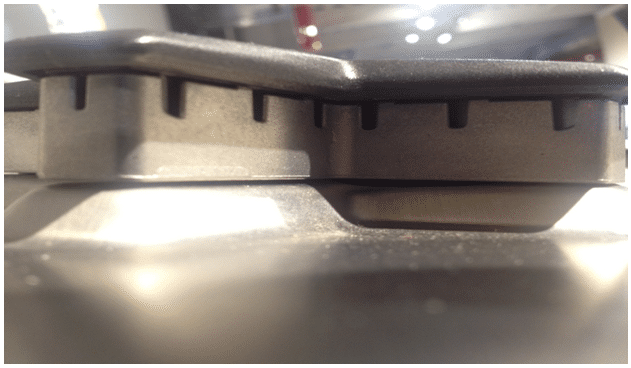 Burners are raised for maximum performance and cleanup.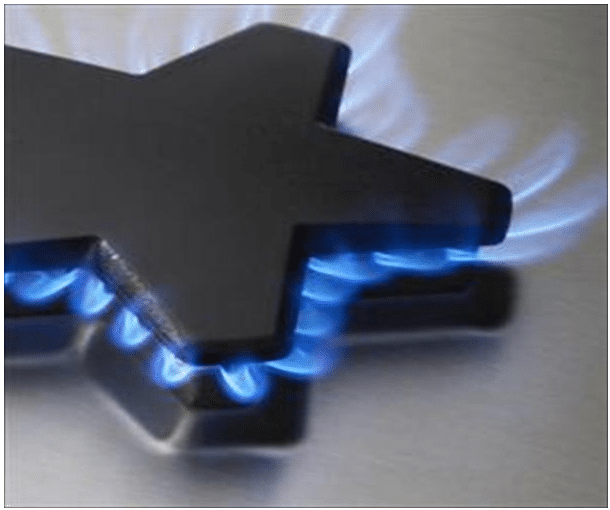 Thermador's fourth generation Star® Burner puts more heat on the pan for faster cooking, and our exclusive ExtraLow® burners give the lowest temperature simmer available.
Wolf 36" Gas Cooktop
The Sub-Zero Freezer Company was founded in 1945, by Westye F. Bakke in Madison, Wisconsin. For more than 70 years, Wolf has been synonymous with professional cooking equipment for restaurants and hotels. In March of 2000, the company became part of Sub-Zero and was adapted for the serious in-home cook. Adapting to an ever growing kitchen design segment.
(Get our free Pro Cooking Buying Guide for much more on Wolf products)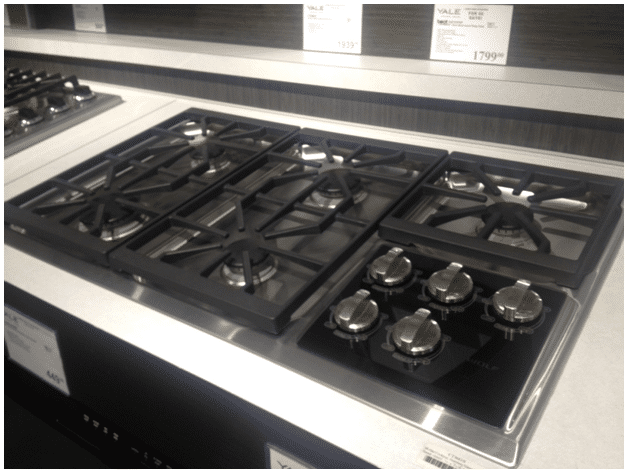 Wolf 36" Gas Cooktop (CT36G/S) $1939.99
Wolf's true simmer and power boil shown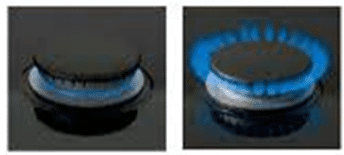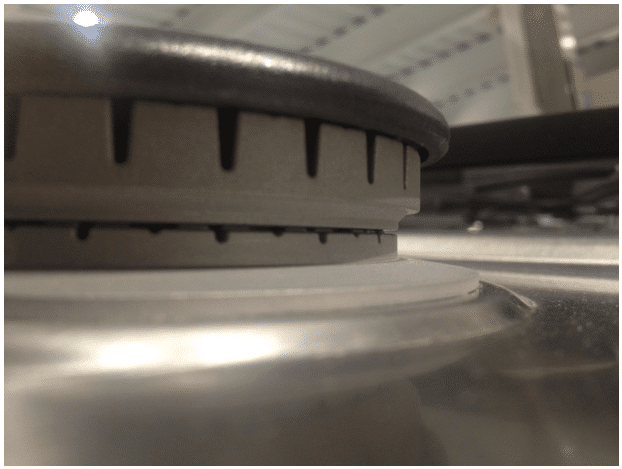 Wolf's burners all offer a simmer and power option. At higher settings, the dual stacked burner design uses its 15,000 BTU upper-level burner for maximum heat transfer. Merely turn down the illuminated knob and the lower-tier burners deliver fine-tuning control and True Simmer. This patented feature allows you to have the slightest of flame and enjoy a simmer with no boiling or scorching. This unit has three 9,200 BTU high/300 BTU low burners. A 12,000/800 BTU burner as well.
Slightly raised and sealed burners provide easy cleanup.
Wolf's grates and knobs are just as easy to clean and remove.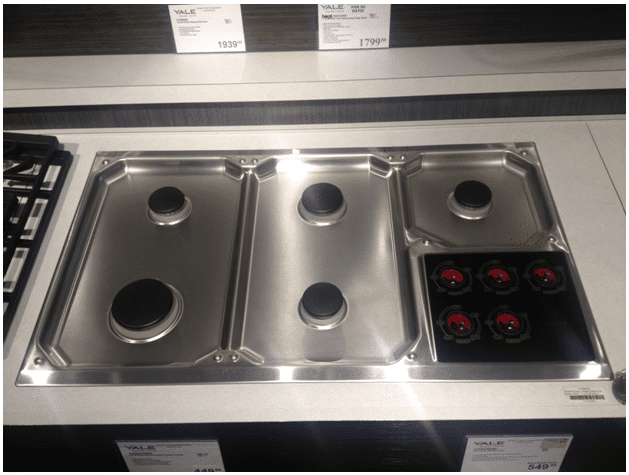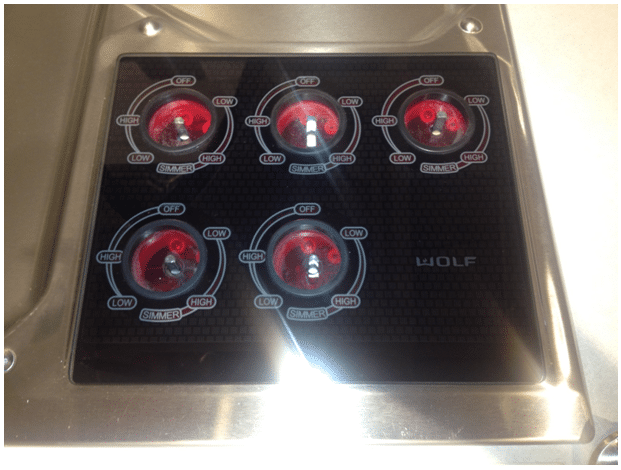 However, a closer look shows that Wolf took into consideration any spilling below the knobs.
Thermador vs. Wolf Gas Cooktops
With such a small difference in price, there isn't a bad choice. Thermador does have a longer history with a better simmer at 200 degrees.
Wolf's knobs on the right make it less likely to bumped by a big pot or pan being put on or away from the cooking surface. The Thermador's knobs are in the front, which may or may not pose an issue to some cooks.
The Thermador's range of BTU's allow the lowest simmer and highest power of the two. Wolf has now updated their hightest output of 15k BTUs to 18k .The Wolf's grates I feel are heavier and of better quality.
Doing the whole kitchen? Depending on what else may be going into your new or existing kitchen, you could possibly save more. This may also help determine which cooktop is right for you.
Thermador's current promotion of ONE-TWO-FREE can save you up to $6,097 on a full Thermador kitchen. Pairing up a double wall oven with your new cooktop? Get a free Thermador dishwasher.
Wolf has a similar promotion, where you save $1,000 instantly. Up to $2,500 total when you purchase more appliances.
In terms of looks, prestige and feel, I prefer the Wolf. The new updates to the Wolf make it an much more even match than before, but I still give the nod of reliability and performance to Thermador.
Additional Resources
Get our free Pro Cooking Buying Guide with tips, trends and recommendations on all the best brands. Over 100,000 people have already found answers in a Yale guide.
Recommended Articles
Rick Medeiros
Rick Medeiros has over 10 years of appliances sales experience and is in the appliance sales department at Yale Appliance + Lighting. He enjoys travelling, live music and learning to play the guitar.

Read more about Rick here.
A Note About Pricing
Pricing on this blog is for reference only and may include time sensitive rebates. We make every attempt to provide accurate pricing at time of publishing. Please call the stores for most accurate price.