Viking Vs. Jenn-Air 48-Inch Professional Ranges (Reviews / Prices)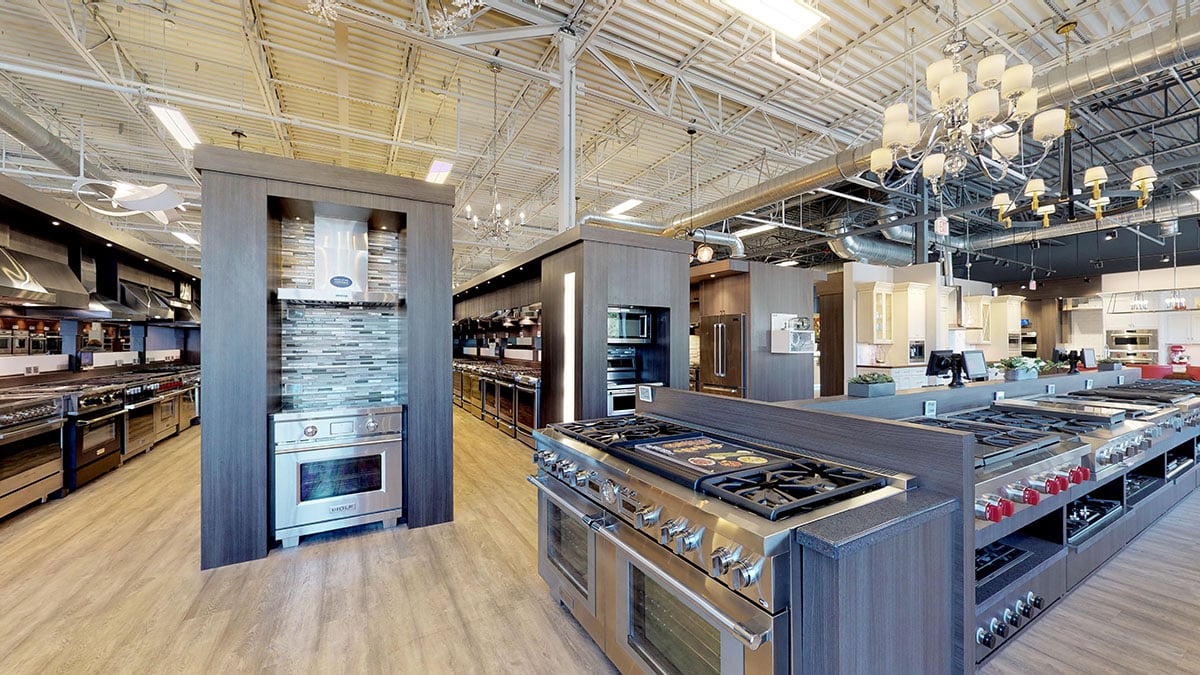 Professional (pro) ranges have changed over the years to include higher BTU output - staying true to their restaurant roots.
Others have domesticated the product adding more cleanability, more automatic cooking, and Wi-Fi connectivity.
BlueStar, Capital, and Viking are examples of high output cooking appliances. Jenn-Air, Thermador, Wolf, and Miele have gone the other direction.
In this article, you will learn about two polar opposite products - the new app-driven Jenn-Air Rise pro range against the newer, powerful Viking series 7 range.
First, we'll cover both companies' roots, their 48-inch pro ranges, prices, and their reliability. In the end, we will compare and highlight the critical differences.
Unlike most of our comparisons, you will probably like one range over the other.
Who Makes Viking Appliances?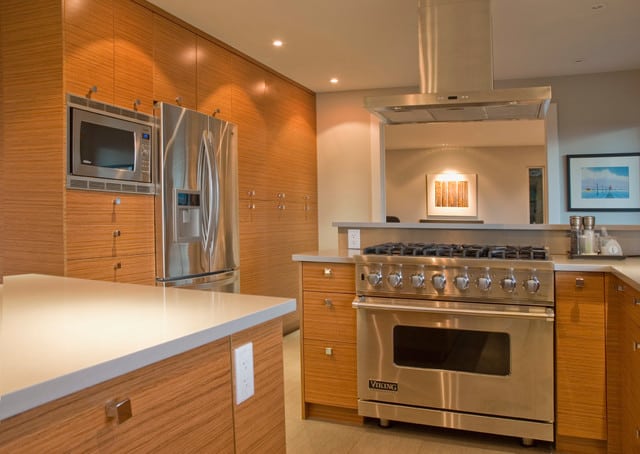 Viking appliances are made by the Middleby Corporation. If you were looking for a new range in the 1990s and 2000s, chances are you considered a Viking Range. Viking was the first company with a professional range in the U.S. Their marketing had been one of the best in the industry.
Viking had problems in the last 15 years, specifically in their product's quality. They sold out to Middleby, a commercial manufacturer, about 5 years ago.
Middleby has marketed new products and attempted to breathe life into Viking. The series 7 is one of their newest ranges.
To be transparent, we have not carried Viking since 2013. However, we still find their ranges intriguing.
Viking 7 Series 48-Inch Professional Range VDR74826GSS - $17,219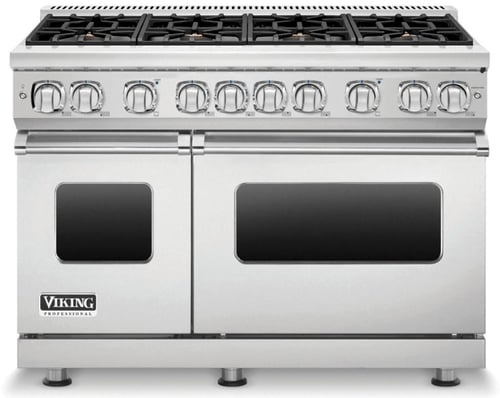 Features:
Elevation Burners
VariSimmer Setting
SureSpark Ignition System
CoolLit LED Lights
Gourmet-Glo Infrared Burner
Rapid Ready Preheat System
Who Makes Jenn-Air Appliances?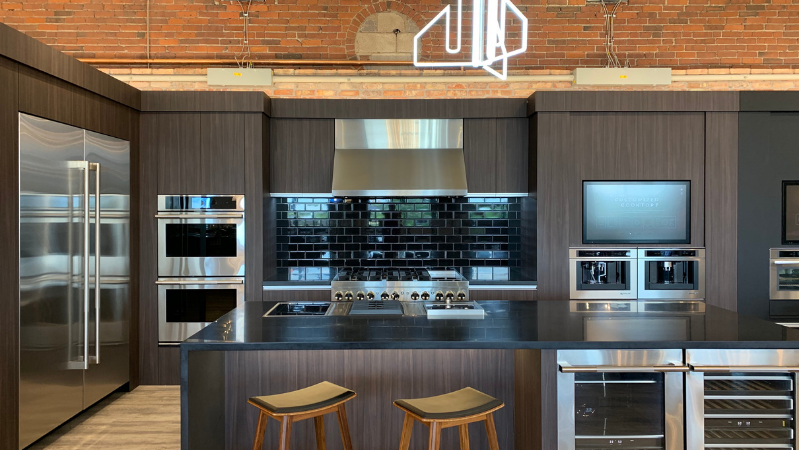 Live Jenn-Air Kitchen At Yale Appliance in Boston
Jenn-Air appliances are made by the Whirlpool corporation, the world's largest home appliance manufacturer. Jenn-Air was founded in 1947 but had struggled with mergers and acquisitions in the 1980s. In 2003, Whirlpool purchased Jenn-Air and invested a huge amount of money into the line of appliances.
In 2018, Jenn-Air won Best of Show at the Architectural Digest Design Show with their new series of connected pro ranges touted as reinventing the segment.
It was exciting, but the availability has been tough almost 20 months later.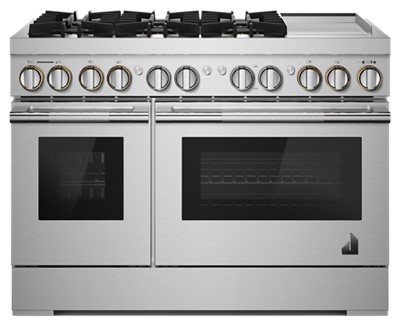 Features:
34 Range Configurations
Flat Tine Racks
Remote Access
JennAir® Culinary Center
Cast Iron Grates
Chrome-Infused Griddle
Dual-Fan True Convection
Culinary Intelligence
Connected Temperature Probe
Sabbath Mode
My Creations
CustomClean with Automatic Lock
20,000 BTU Dual-Stacked PowerBurner
18,000 BTU Dual-Stacked PowerBurner
9,000 BTU Dual-Stacked PowerBurner
Viking Vs. Jenn-Air Range Lineup
Viking offers four different lines of ranges, the 3 Series, 5 Series, 7 Series, and Tuscany. The 3, 5, and 7 Series look similar but differ in power and features.
The Tuscany series looked more European and was created to emulate a French-style range. Both the 7 Series and the Tuscany come in a variety of colors. For the sake of this blog, we are focusing on the 7 Series.
Jenn-Air has introduced two new series, the Rise and Noir. Physically, they will have identical capabilities, but the Rise lines focus on a bolder, professional aesthetics, while the Noir focuses on a sleeker, contemporary, and "edgy" aesthetics.
Viking Vs. Jenn-Air 48-Inch Professional Ranges

Price
Jenn-Air is $11,399 with $1,200 credit towards other Jenn-Air purchases. Viking is $17,000-$18,000 with 5% back to other Viking products.
Cooktop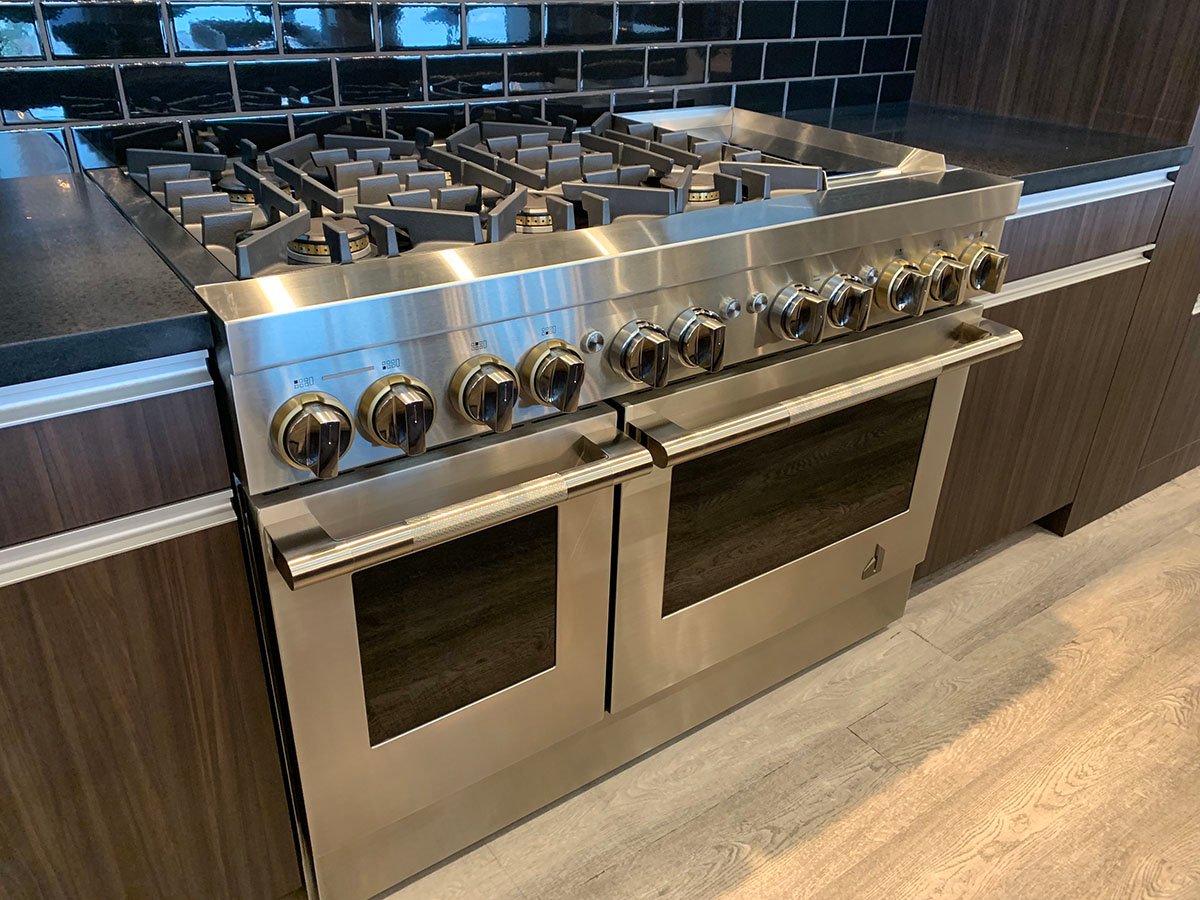 Jenn-Air Rise 48-Inch Professional Range With Large Cooktop, Griddle, And Two Ovens At Yale Appliance In Boston
Jenn-Air just released one of the most powerful ranges with three 20,000 BTU burners, two 18,000 BTU burners, and one 9,200 BTU burners.
The Viking 7 Series which provides four 23,000 BTU burners, three 15,000 BTU burners, and one 9,200 BTU burner.
Both the Viking 7 Series and the Jenn-Air offer grills or griddles in their 48-inch models.
The Jenn-Air range has the easiest griddle to clean because it's infused with chromium.
Jenn-Air also offers a grill. Viking does on their other series. However, Jenn-Air is infrared, whereas Viking is regular gas.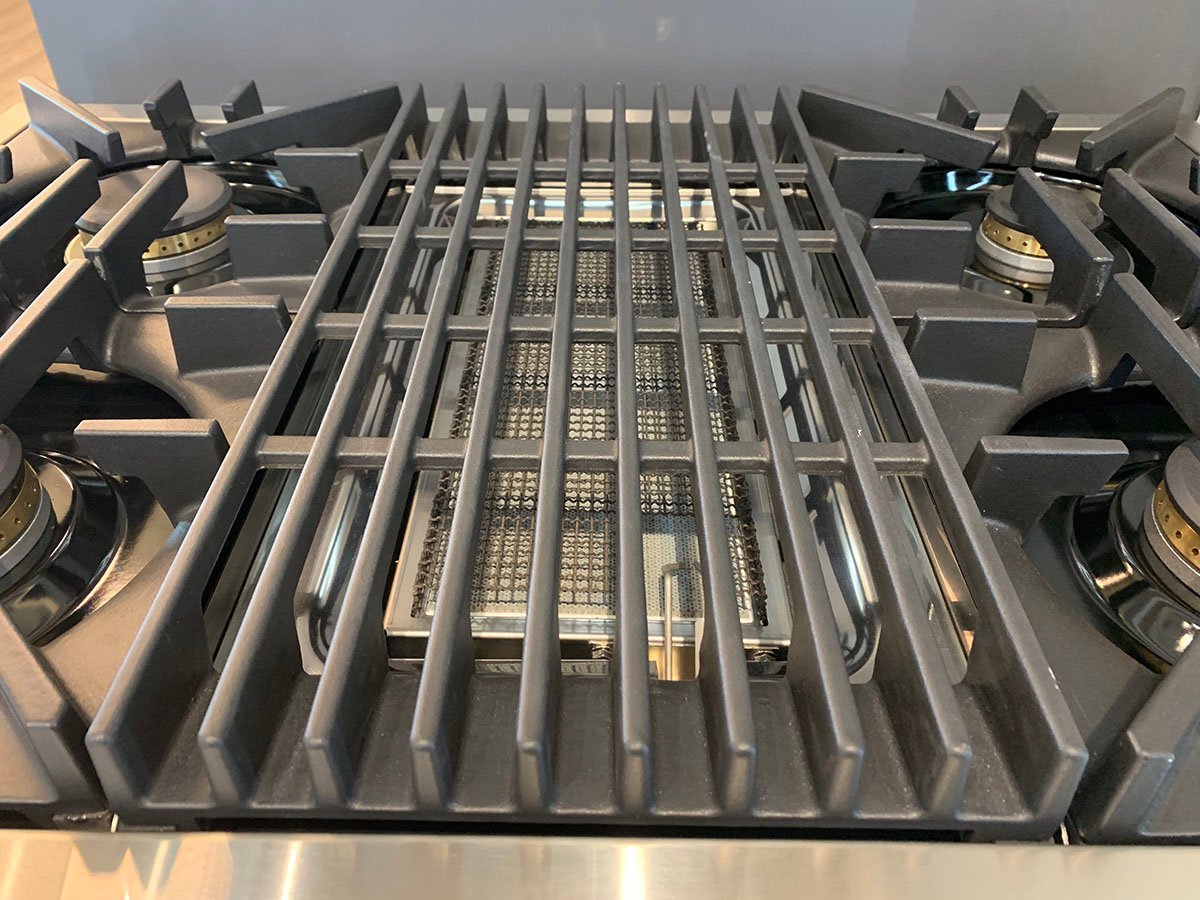 Jenn-Air Rise 48-Inch Pro Range Griddle
Infrared burners provide direct and intense heat. It will sear faster and be easier to clean because it heats the food directly and not around the food like a regular gas burner.
Viking does not have infrared and employs just the regular gas grill on the other series.
You also have more choices with the Jenn-Air as well unless you want 8 burners, which is only available in Viking.
Simmer
Viking has the Vari-Simmer on all of its burners, which will bring the temperature from a high boil to low simmer throughout any burner.
Similarly, Jenn-Air has dual-stack burners which allow the flame coverage to be recessed away from the cookware.
Like the Viking, the Jenn-Air ranges allow you to go from extremely high output to extremely low output on any burner.
Narrow down Pro Range options with our free tool
Controls
The Viking controls look pretty similar to what you would imagine on any professional range. They're stainless knobs and will indicate the flame output or the oven setting and temperature. There is also a screen showing the current temperature and time remaining.
Jenn-Air gave their old controls a drastic update in their new line up. They opted for the simplicity of knobs over their previous touch screen but beefed them up in a major way.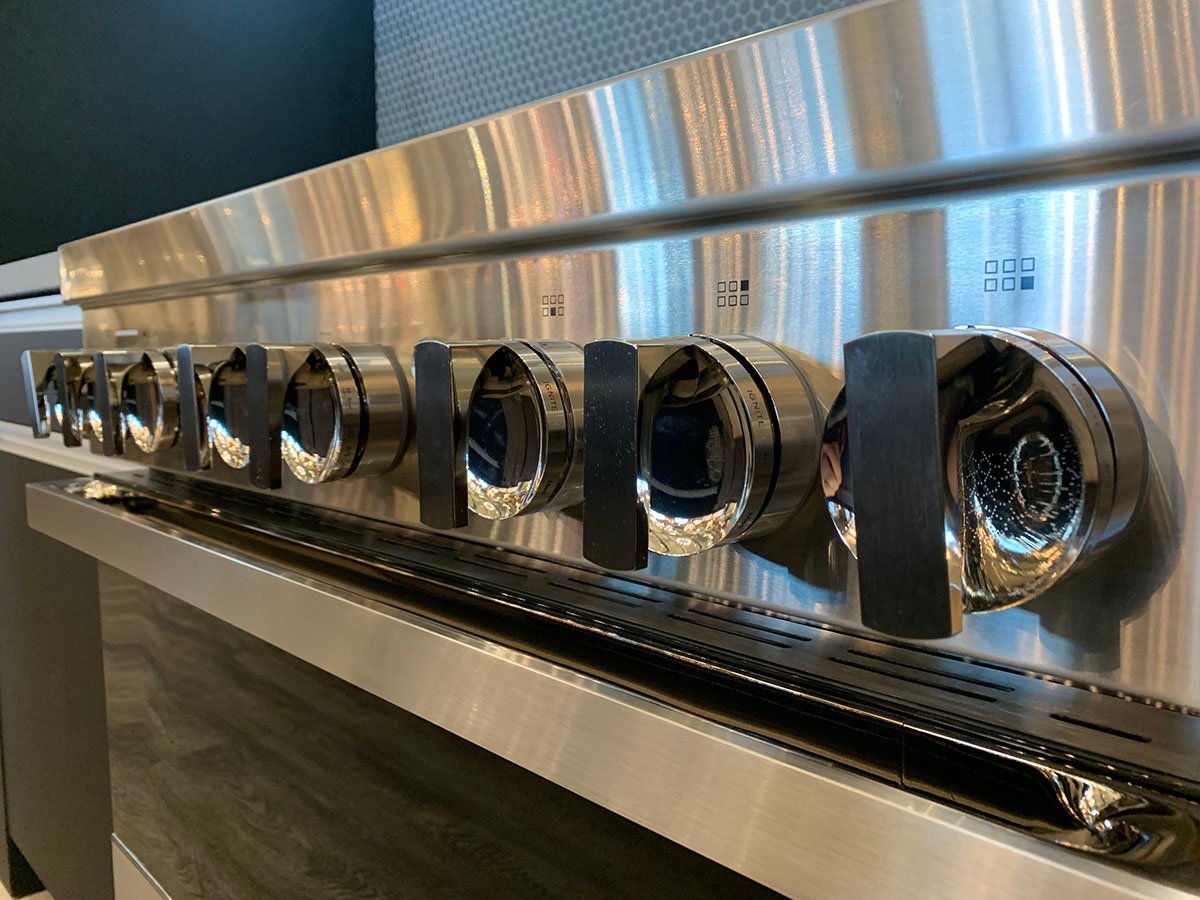 Jenn-Air Rise 48-Inch Pro Range Controls At Yale Appliance In Boston
The Rise range has big brass bezels behind all of the burner controls and stainless bezels behind the oven controls.
Both the Rise and Noir have backlighting on their knobs, offering elegance and reminding you when the burners are still on.
Beyond controlling the oven with the knobs, Jenn-Air also introduced remote capabilities. You can connect the oven to the Jenn-Air app, which allows you to preheat and control the oven remotely.
This feature is great for entertaining. Now you don't have to walk back into the kitchen to check on the oven.
Interactive Cooking
You also have their Culinary Center functionality on your phone with the Jenn-Air range.
The app features options like "Yummly," which will produce personalized recipes based on how you like to cook, what you like to eat, and what ingredients you may want to use.
Finally, the app also has a "Command to Cook" feature in which you can scan the barcode of whatever your cooking (say Toll House cookies) and the oven will set to the proper temperature and time on its own.
Click here to learn more about our top professional ranges their best features, and how to use their cooking modes.
Ovens
The Viking range has convection in the larger oven and no convection in the smaller oven, specifically designed for baking.
Both main ovens have infrared broilers in gas. Viking will also offer one glide-out rack in the main oven.
The new Jenn-Air ovens offer convection in both ovens, as well as two convection fans in the larger oven for more even coverage.
Jenn-Air uses regular broilers, not infrared so that the Viking will be better for broiling.
All of the racks in the Jenn-Air ovens are made to glide out for easier control.
Accents
The Viking range comes in seven different colors. If seven isn't enough, other brands like La Cornue offer over 30 different colors and BlueStar has an infinite selection, including over 750 standard colors.
The Jenn-Air range comes in two styles but is stainless only. Rise is heftier and very professional looking with brass embellishments. Noir is sleeker with clean lines and a contemporary feel.
Reliability
When it comes to your kitchen appliances, pretty colors and expensive features may be all well and good, but when investing $10,000+, you'll want a reliable range that will last.
We haven't carried Viking since 2013. At one time they were the most repaired appliance sold at Yale. The repair rate was over 40% in the first year.
Perhaps they have improved, but you should inquire about service and who will fix your Viking range before you buy one.
Last year, Jenn-Air came in as our second least serviced dual fuel range beating Miele and Wolf.
Most Reliable Professional All Gas Ranges 2019
| | | | |
| --- | --- | --- | --- |
| | Service Qty | Shipped Qty | Service Ratio |
| Samsung Chef Collection | 0 | 1 | 0.00 % |
| Fisher & Paykel | 2 | 10 | 20.00 % |
| Bertazzoni | 3 | 14 | 21.43 % |
| Thermador | 85 | 346 | 24.57 % |
| Jenn-Air | 36 | 138 | 26.09 % |
| Wolf | 75 | 278 | 26.98 % |
| Miele | 10 | 20 | 50.00 % |
| La Cornue | 1 | 2 | 50.00 % |
| BlueStar | 20 | 36 | 55.56 % |
| Grand Total | 232 | 845 | 27.46 % |
Within 5 years, you will most likely need a service call on either brand. Gas range igniter problems are the second most popular service call at Yale.
Should You Buy A Viking Or Jenn-Air Professional Range?
This comparison partly depends on how Viking has changed since 2013. You should always check reviews on any product, especially from current owners.
From a specification standpoint, the 7 Series has some merit with a hot sealed burner at 23,000 BTU. It has the better-infrared broilers inside the oven as well.
Jenn-Air has decent output with a grill and dual convection capability. You also have convection in the smaller Jenn-Air oven as well. Viking has single convection but has an infrared in their oven.
Jenn-Air has a remote cooking experience and a wide variety of apps to help you cook better. Jenn-Air's Culinary Center is excellent, but will you use it?
Ultimately, your decision comes down to either having high BTU output with Viking or better reliability, baking, and technology with Jenn-Air.
Frequently Asked Questions
1. What's The Difference Between Dual Fuel And Professional All Gas Ranges?
There are a few major differences between dual fuel and all gas ranges. Dual fuel is not necessarily better for everyone.
Gas is a moist heat and better for roasting. It's also better for broiling, especially with an infrared broiler. Electric is drier and more precise for better baking and proofing.
To learn more about the differences between dual fuel and all gas professional ranges, click here.
2. What Is The Best Gas Range Under $1000?
There is no one best brand at any price. Samsung and GE are the best for gas ranges under $1,000.
3. Which Brand Makes The Best Gas Range?
To determine the best gas range, it depends on their features. For basic features, look at Samsung and GE. For more of an affordable luxury range, check out GE Café, Samsung, Jenn-Air, and KitchenAid. For the best professional ranges, look at Wolf, BlueStar, Thermador, and Jenn-Air.
Additional Resources
Still can't decide? Try our Pro Range Configurator. Select your own preferences and it will share the best range options available based on your lifestyle and choices.
Additionally, you can get our free Pro Cooking Buying Guide with tips, trends, and reviews of all the best brands. Over 580,000 people have already found answers in a Yale guide.
Related Articles
Why Should You Trust Us?
It seems that every appliance review has nothing but glowing comments about almost every product, yet you read customer reviews and they are almost universally bad.
We are here to fill in the disconnect. We'll give you the best features, and the drawbacks as well, including reliability based on over 37,000 calls performed by our service team just last year. Our goal is to give you ALL the information so you know what's right for you.
Please consider subscribing or adding to the conversation in the comments below. We appreciate you stopping by.
Paul Gillis
Paul Gillis has over 15 years of experience in the appliance industry. Paul likes to spend time golfing, working in the garden and fixing up his 100 year old home.

Schedule a showroom visit with me
A Note About Pricing
Pricing on this blog is for reference only and may include time sensitive rebates. We make every attempt to provide accurate pricing at time of publishing. Please call the stores for most accurate price.