New Jenn-Air Professional Ranges (Reviews / Prices)
Last year, Jenn-Air won Best of Show at the prestigious Architectural Digest Show in New York. They had a massive party with rappers and Cirque-like performers. "Bound by Nothing" is their slogan.
But the question remains: Is the new product competitive with luxury brands like Wolf, Thermador, and Miele?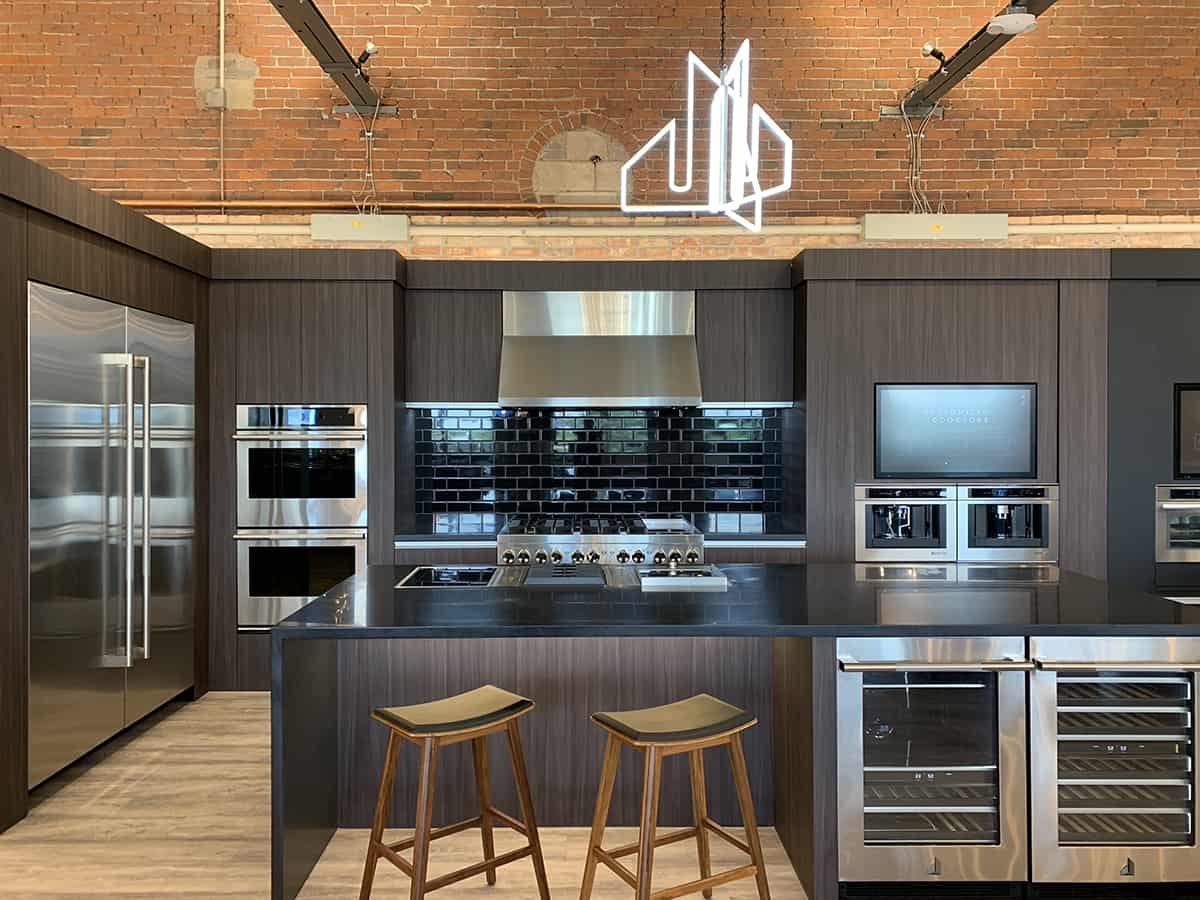 Jenn-Air Kitchen at Yale Appliance in Boston
In this article, we will be learning about Whirlpool's premium brand, Jenn-Air, their newest generation of professional ranges, and the introduction of their two new series named "Rise" and "Noir."
Jenn-Air has made some huge changes ranging from performance, looks, and a brand new digital platform.
New Jenn-Air Rise Collection
36-Inch Rise with Chrome-Infused Griddle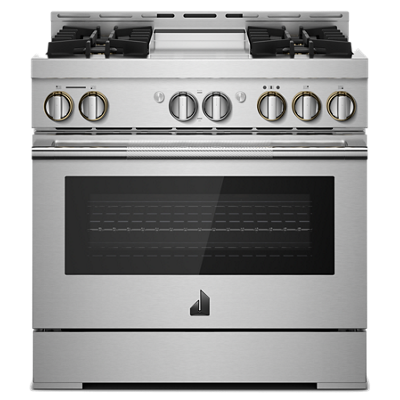 The Rise collection somewhat resembles the previous generation with the traditional pro-style look with a few changes. They have kept the traditional pro-style handle but have extended it the full width of the range.
The top grates are sturdier, and the knobs are now a beautiful LED-backlit halo surrounded by a brass bezel. The front has a larger black glass window for a modern look.
Jenn-Air JGRP536HM - $6,699
36-inch Noir with Chrome-Infused Griddle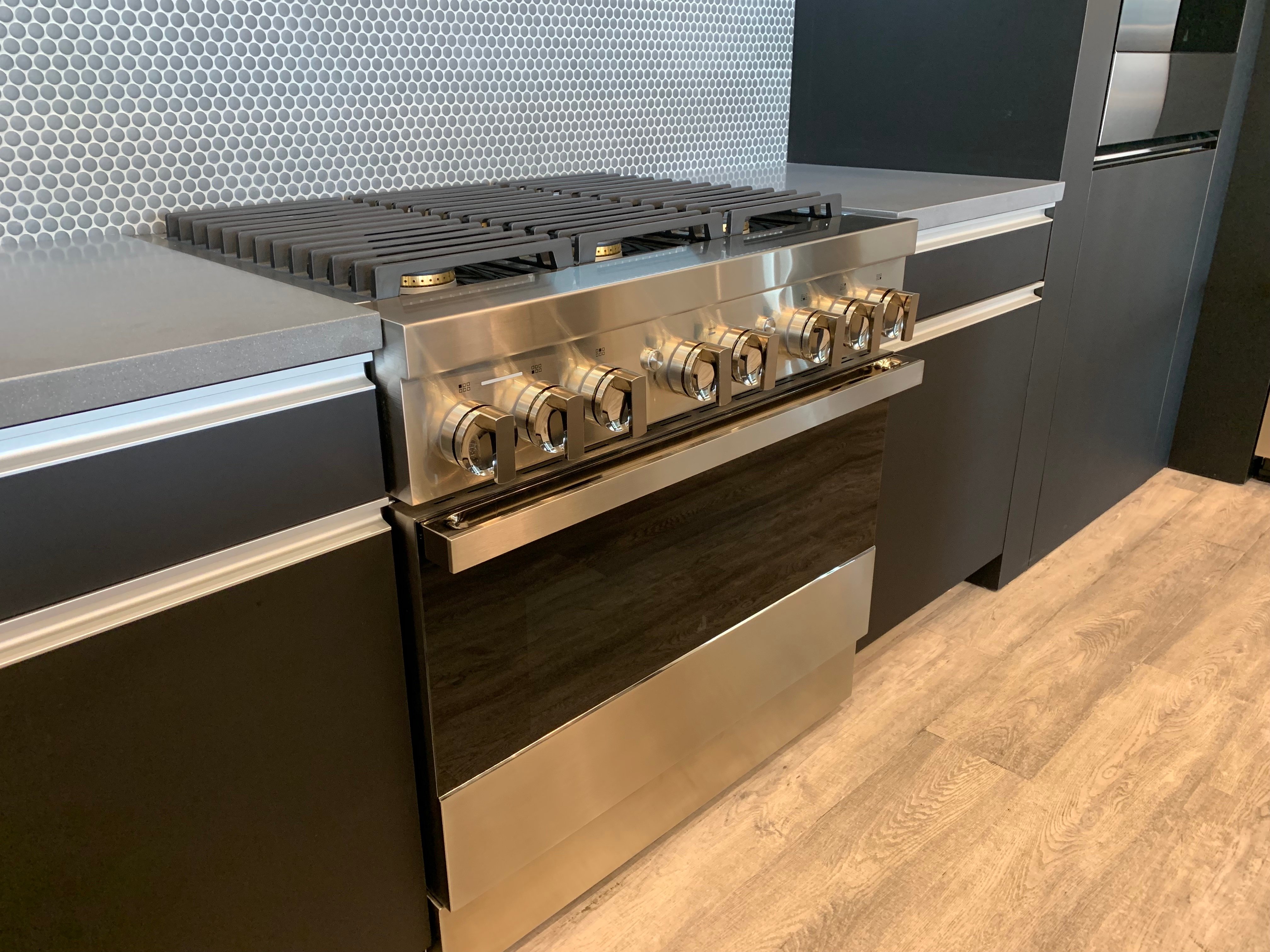 Jenn-Air Noir Range at Yale Appliance in Boston
The Noir collection is the minimalist suite.
The handle is flat and runs the width of the range, but it has a smooth mirror-like finish on the back side that ties in nicely to the front of the knobs.
The grates are slightly lower profile compared to the Rise with clean horizontal lines across the top. The most noticeable change compared to the older model is the sleek modern look.
It looks a bit like the Miele.
New Jenn-Air Professional Ranges
Size

30 inches

36 inches

48 inches

# of Burners

4

6

6 plus a grill or griddle option or both

Oven Capacity

4.1 cubic feet

5.1 cubic feet

6.3 cubic feet in total.

2.2 left and 4.1 right

Temperature Probe

Yes
Yes

Yes, in both ovens

Grates

Cast-Iron

Cast-Iron

Cast-Iron

Oven Racks

Flat Tine Racks

Flat Tine Racks

Flat Tine Racks

Self Cleaning

Yes, in gas and dual fuel models only

Yes, in gas and dual fuel models only

Yes, in gas and dual fuel models only

Sabbath Mode

Yes

Yes

Yes

Warranty

2-years

2-years

2-years

Price

$4,599

$6,199

$9,399
Top Features of the New Jenn-Air Professional Ranges
These Jenn-Air ranges are identical for features yet aesthetically different.
Power: You now have (3) 20,000 BTU dual-stacked power burners with turning down the option of 1,650 BTUs across the front where the previous generation only gave you (2).
In the rear, you get (2) 18,000 BTU dual-stacked power burners with turn down the option of 1,650 BTUs and (1) 9,000 BTU dual-stacked power burner in the center rear with a turndown option of 1,000 BTU's
Grill: They now have an infrared grill. Infrared is direct, intense heat. You can cook faster, and it will burn off most of the drippings for easier cleaning
Durability: The cooktop is now black porcelain coated steel, which is more durable, stain resistant, heat resistant, and easier to clean compared to stainless steel.
Jenn-Air Glide Racks at Yale Appliance in Boston
Glide Racks: You now have 3 telescoping glide racks where you only had 1 in the older model. The tines are also flat, which gives your cookware increased contact for better heat transfer.
Technology: Jenn-Air has gone away from the 7-inch touch screen LCD display that is used for temperature control, cooking time, probe settings, etc. and adopted an app-based system. The Jenn Air connect app can control every function.
A few abilities to note are:
Remote Access & Notifications: Real-time notifications allow owners to control appliances from anywhere: connect to Wi-Fi to preheat ovens, check the cooking status and configure oven features for recipes
Culinary Intelligence: You input the food and how you want it cooked. The range calculates time, temperature, and rack position.
Connected Probe: Get alerts on your phone when dinner is done by setting the desired internal temperature of your food. The probe is also available in the smaller ovens if you jump up to the 48" models.
Smart Integration: Can connect to Amazon's Alexa or a Google Assistant enabled device for the ability to use simple voice commands to do everything from adjusting the oven temperature to turning it off.
Custom Clean: Self-cleaning allows you to tailor cleaning levels to the amount of build-up to revive your oven's interior.
Short on time? Get our free Pro Cooking Buying Guide
Scan To Cook: You can scan the barcode of the food on your phone, and the oven will automatically program the cooking for time and temperature.
Whirlpool owns Yummley. You can connect to 1000s of recipes with their app.
Benefits of Buying a New Jenn-Air Pro Range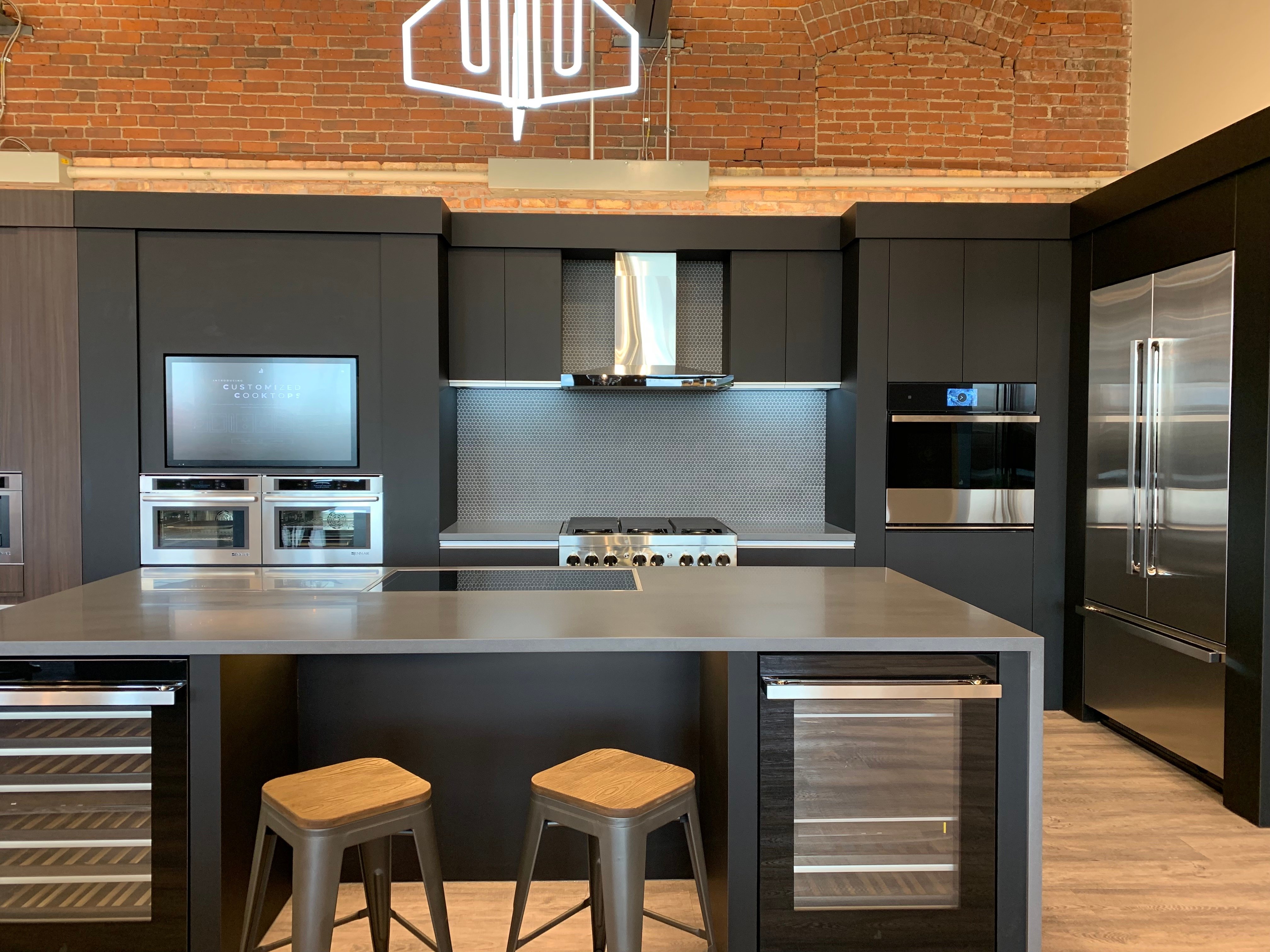 Jenn-Air Kitchen at Yale Appliance in Boston
Jenn-Air Connect: App used for precise cooking recipes, diagnostics, remote access to preheat the oven, or check the cooking status with temperature probes.
Output: three burners at 20,000 BTU, two burners at 18,000 BTU, and one burner at 9,000 BTU
Connectivity: Start/Stop remotely along with culinary intelligence
Custom Clean: You don't have to self-clean for three hours
Chromium Griddle: Easiest griddle to clean
Infrared Grill
Self-cleaning in gas and dual fuel models
2-year warranty from Jenn-Air
Jenn-Air is currently running a promotion where if you buy a professional range, you get $1,000 towards another qualifying Jenn-Air product.
One Small Issue
The burners, oven selection, and temperature can be set manually. The timing functions and advanced cooking settings are all done through your app on your phone.
This is the future of appliances. You probably are already setting your temperature through Nest or monitoring your house/business remotely with cameras.
However, Jenn-Air is the first major manufacturer to a place that controls exclusively through an app without any controls on the range itself.
How Does Jenn-Air's New Ranges Compare to Other Luxury Appliance Brands?
Jenn-Air vs. Pro Miele Ranges
All Gas
BTU Output: Jenn-Air's output is better at 20,000 BTU versus 19,000 for the Miele. The back burners are also more powerful in Jenn-Air.
Griddle: Jenn-Air's griddle is easier to clean and use while Miele's infrared griddle is faster.
Grill: Both have an infrared grill.
Oven: Both have twin convection ovens.
Electric Dual Fuel Ranges
Miele offers steam and microwave options as well as a warming drawer in their 48-inch model.
Jenn-Air has Wi-Fi connectivity.
Jenn-Air vs. Wolf Pro Ranges
All Gas Ranges
Jenn-Air is significantly more powerful at 20 vs. 15,000 BTU. It is self-cleaning with Wi-Fi connectivity along with better controls.
Griddle: Wolf is infrared, Jenn-Air will be easier to clean.
Grill : Both are infrared
Oven: Jenn-Air is self-cleaning with Wi-Fi, Wolf is not.
Dual Fuel Ranges
Wolf is similar with 2 20,000 BTU, Jenn-Air has more powerful burners with 3 and 2 18,000.
Oven/Clock: Jenn-Air is Wi-Fi enabled and has fully featured controls. Wolf has more basic clock and timer.
Oven: Both are dual convection, but Wolf is technically better because their fans operate separately to ensure even temperature. Every other twin convection works jointly no matter the temperature.
Jenn-Air vs. Thermador Pro Ranges
All Gas
Burners: Thermador has a 22,000 BTU with their Grande series. Their more popular Harmony series has 18,000 and 15,000 BTU burners. Jenn-Air technically is more powerful, but it is even.
Griddle: Jenn-Air will be easier to clean
Grill: Thermador has an electric grill. Jenn-Air is a better gas infrared.
Jenn-air is self-cleaning with a more fully featured clock and twin convection Versus single convection nonself cleaning in Thermador for Harmony. The Grande is self-cleaning. They both have Wi-Fi.
Electric
The stovetops are the same.
Thermador is self-cleaning and has steam and warming drawer options in the larger sizes.
Jenn-Air still has a better convection oven.
Reliability
Most Reliable Pro Gas Ranges 2019
| | | | |
| --- | --- | --- | --- |
| | Service Qty | Shipped Qty | Service Ratio |
| Samsung Chef Collection | 0 | 1 | 0.00 % |
| Fisher & Paykel | 2 | 10 | 20.00 % |
| Bertazzoni | 3 | 14 | 21.43 % |
| Thermador | 85 | 346 | 24.57 % |
| Jenn-Air | 36 | 138 | 26.09 % |
| Wolf | 75 | 278 | 26.98 % |
| Miele | 10 | 20 | 50.00 % |
| La Cornue | 1 | 2 | 50.00 % |
| BlueStar | 20 | 36 | 55.56 % |
| Grand Total | 232 | 845 | 27.46 % |
Most Reliable Dual Fuel Pro Ranges 2019
| | | | |
| --- | --- | --- | --- |
| | Service Qty | Shipped Qty | Service Ratio |
| Jenn-Air | 17 | 57 | 29.82 % |
| Wolf | 70 | 215 | 32.56 % |
| Miele | 11 | 31 | 35.48 % |
| Fisher & Paykel | 3 | 8 | 37.50 % |
| La Cornue | 12 | 24 | 50.00 % |
| Thermador | 54 | 108 | 50.00 % |
| Grand Total | 194 | 573 | 33.86 % |
Jenn-Air at least in the older series was slightly better than average for a professional range.
Thermador, Jenn-Air, and Wolf are the most reliable brands to consider for professional ranges. Twenty-six percent doesn't seem like a reliable product. However, an ignitor problem (the most common reason we're called about professional ranges) can be fixed by a tech in under an hour.
Should You Buy a New Jenn-Air Range?
In some ways, no, you should not.
On the larger units, there is no steam, microwave, or warming drawer functionality.
However, these ranges are beautiful. They have beefed up the output, added an infrared griddle, and the controls are impressive. They also added some neat integrations like scan to cook and Yummly.
You should certainly consider Jenn-Air for a new pro range - if they work.
Additional Resources
>Get our freePro Range Buying Guide packed with tips, specs, and recommendations on all the best brands. Over 560,000 people have already found answers in a Yale guide.
Related Articles:
Why Should You Trust Us?
It seems that every appliance review has nothing but glowing comments about almost every product, yet you read customer reviews and they are almost universally bad.
We are here to fill in the disconnect. We'll give you the best features, and the drawbacks as well, including reliability based on over 37,000 calls performed by our service team just last year. Our goal is to give you ALL the information so you know what's right for you.
Please consider subscribing or adding to the conversation in the comments below. We appreciate you stopping by.
A Note About Pricing
Pricing on this blog is for reference only and may include time sensitive rebates. We make every attempt to provide accurate pricing at time of publishing. Please call the stores for most accurate price.