Top 10 Best Appliances and Kitchen Faucets from the 2018 Architectural Digest Design Show (Reviews / Ratings)
The best place to see new products and trends is the Architectural Digest show in NYC. It has replaced the Kitchen and Bath Industry Show (KBIS) as the best show for the home.
It is open to the public for a few days after one day for the trade. You will certainly see the best our industry has to offer.
You can outfit your home or at least have some pretty good ideas by attending the Architectural Digest and The Dallas Trade Mart for accessories, bedding, and other furniture ideas.
The Architectural Digest Design Show
In this article, you will see the 10 best products and ideas, but the first following are a few trends we noticed during the show:
Sous Vide Cooking:
Do you remember those Stouffers instant meals in college? You would boil a bag of Chicken Oriental, and you would have a near perfect Chicken Oriental dish.
Well, you can do that as well. You can bag your food to preserve it and when you are ready, you can boil it, steam it, and sear it, especially if it's a protein like steak. It's an easier way to cook.
The question is who will actually have the best product for Sous Vide, Miele, Wolf or SKS?
Smart Home
Once there is more functionality, the smart home will be a reality. Miele has a new 110-volt washer dryer controlled by an app that shows promise. Samsung has had the Family Hub for years.
If you are planning, keep Smart Appliances in your general sense of thought. They will eventually be worth your time.
More Columns
I did not see a professional compressor top refrigerator at this show. However, column refrigeration was in every booth.
There are now Wi-Fi enabled with an incredible amount of controls.
Kitchen Faucets other than a stainless finish
Think about this: Most decent kitchens are either stainless or paneled. Your kitchen is differentiated by counters, tiles (Countertops are going gray with white tiles…it's like a gravitational pull towards this style, isn't it?), faucets, and lighting to change the environment.
You can read our article about the latest Kitchen Faucet Trends by clicking the link.
Small is Good
If you are buying a condo in Boston, you may notice the kitchens are smaller and the living space is larger. Now there are smaller appliances worth buying from Wolf, Blomberg, and Fagor.
Best Products from the 2018 Architectural Digest Design Show
Short on time? Get our free Appliance Buying Guide
Bertazzoni Ranges
Until now, if you wanted a 36-inch induction range Wolf was your only option. Now, this Bertazzoni is half the price (not quite the same range, however).
Zephyr Hoods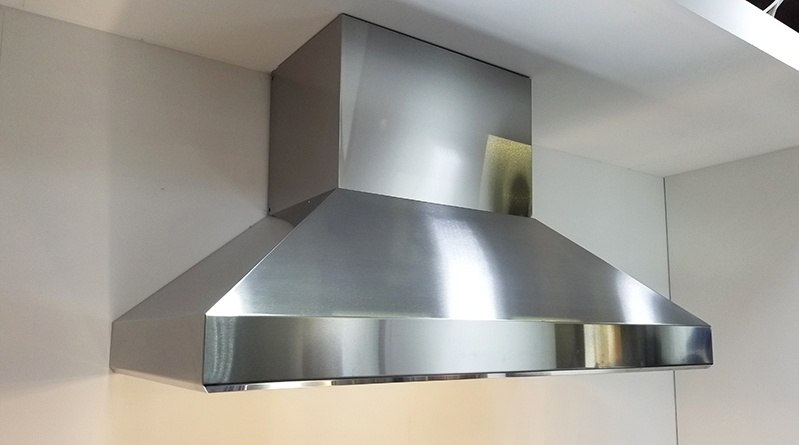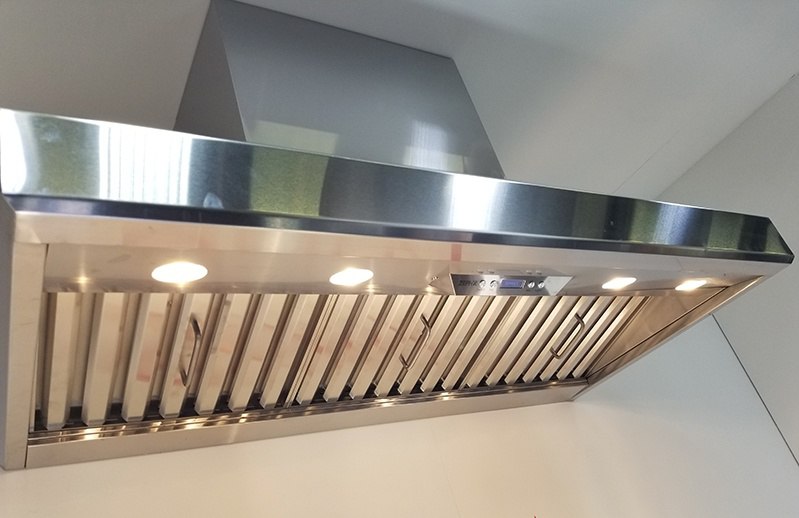 You never have to replace this LED bulb. It is angled, so the light is usable. This hood can also be used over a professional range.
Hestan Professional Ranges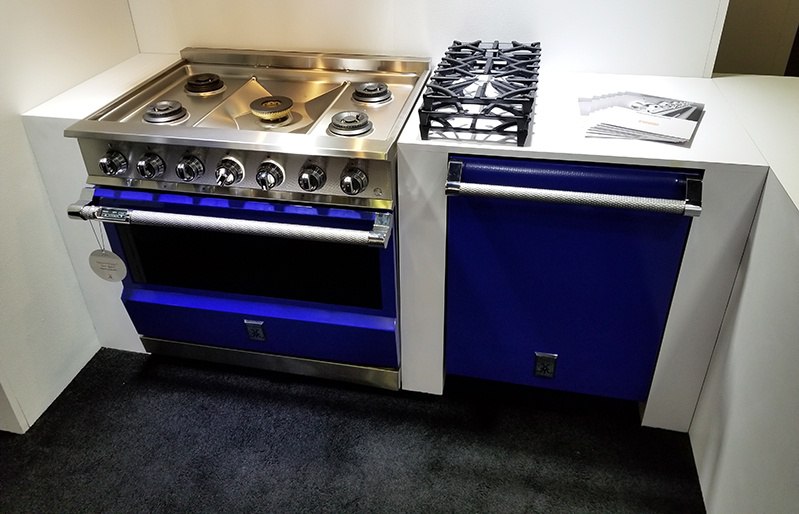 You will have another option for a pro range. Hestan is a major commercial supplier and delivers high output. Even their clock is pretty cool.
Sous Vide Cooking Products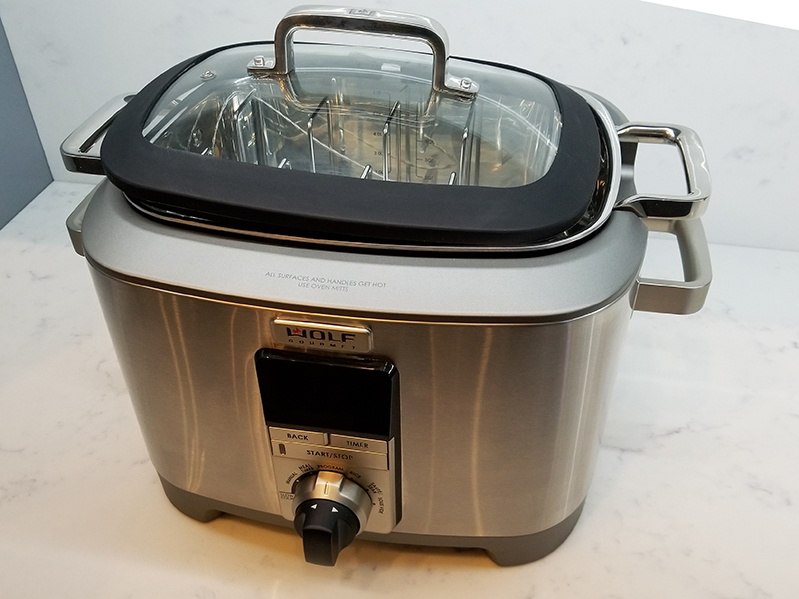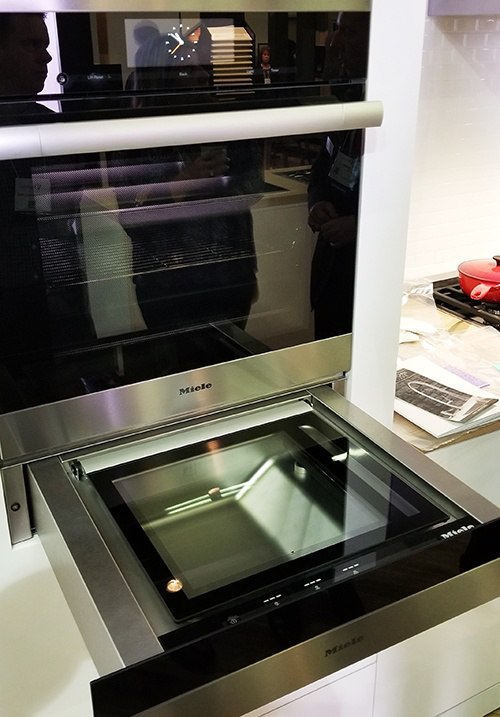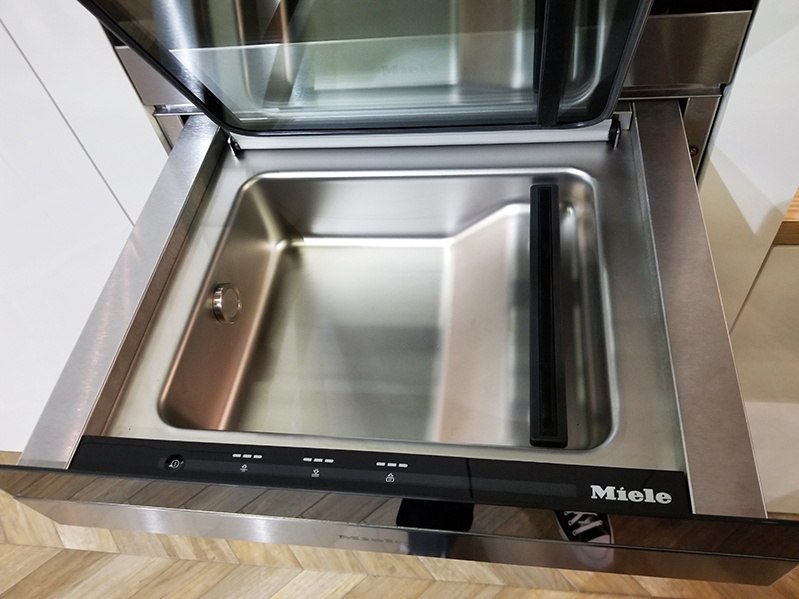 Whether on a countertop or in a wall application, you will have plenty of choices in the future.
Rohl Kitchen Faucets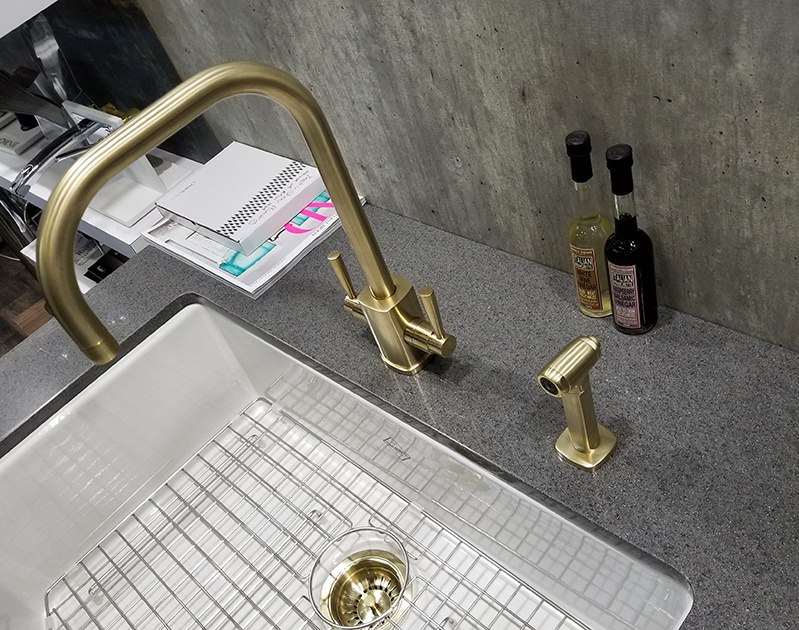 How about a $2,200 unfinished gold faucet? The number 1 trend in faucets is black and then black and gold. We will have 29 new faucets with 8 different finishes very soon at Yale.
Thermador Steam Double Oven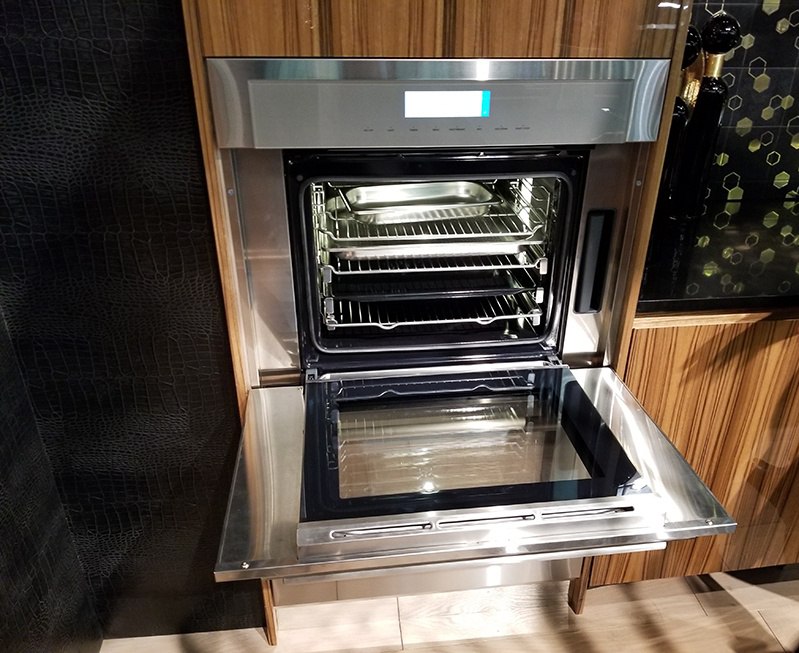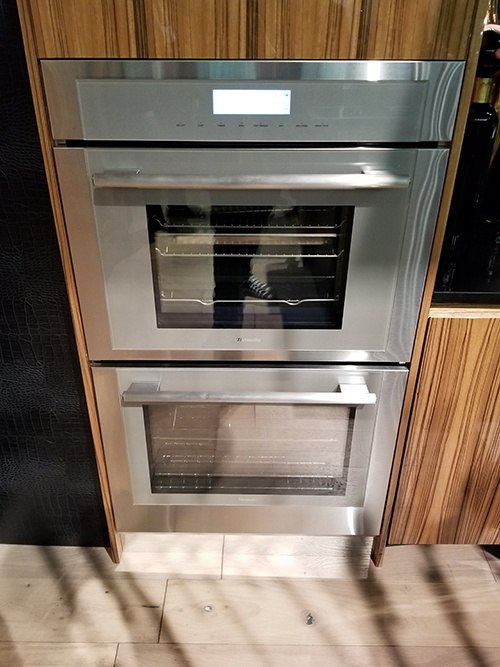 You can buy any number of steam ovens and place them over any single wall oven to have a steam and double wall oven combination. Thermador is the first to place the two together. The mirror finish is very different.
Miele 110-Volt Heat Pump Dryer and Smart Washer
For years, I have been telling you 110-volt dryers don't dry…because they don't. Miele will be different because it is a heat pump or a compressor instead of elements for a better dry.
The washer has a whopping 1600 RPM spin or 4 times a top load washer and 25-40% greater than the average front load. The clothes could spin dry before they reach the dryer.
The app allows you to turn the machine on as well as control the detergent. If only it could flip the clothes in the dryer.
Liebherr Column Refrigeration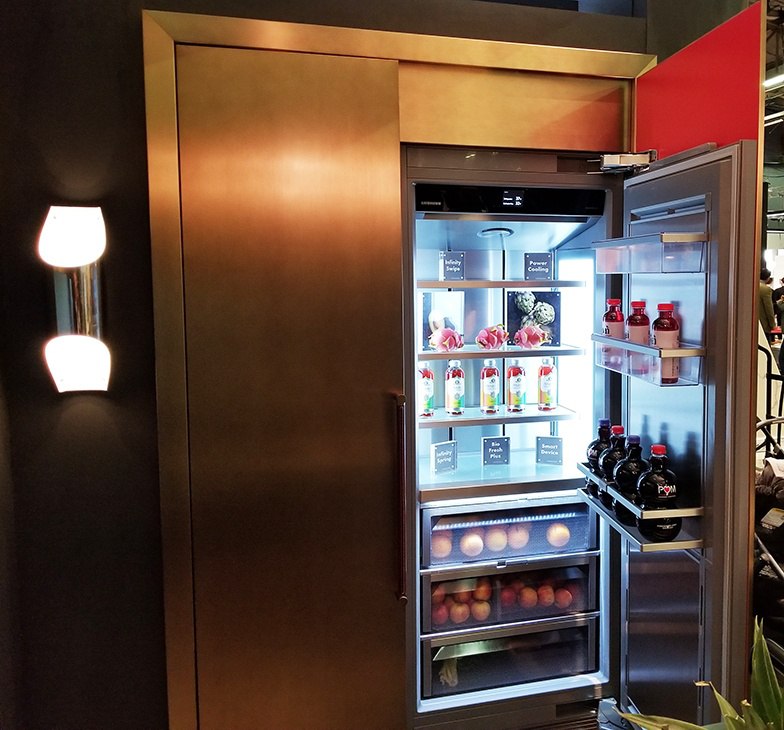 Liebherr is completely redesigned and is 35% cheaper than other brands with Wi-Fi capability. Look at these pictures below. The designer was able to panel the smaller freezer and larger refrigerator with the same panel….neat trick.
Cove Dishwashers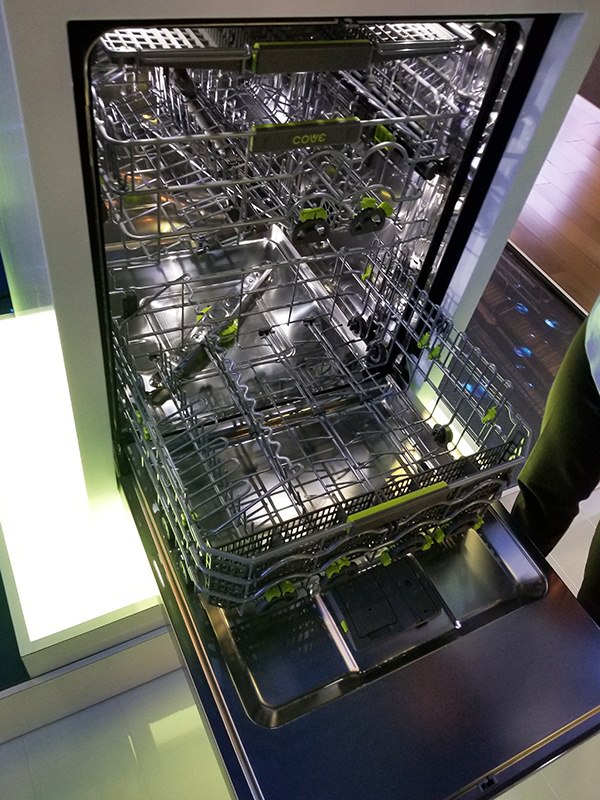 And then there were three…The Cove is Sub-Zero's new dishwasher. It looks like how a premium dishwasher should. Now you will have another choice besides Miele and Bosch.
Jenn-Air Refrigerator Columns and Pro Ranges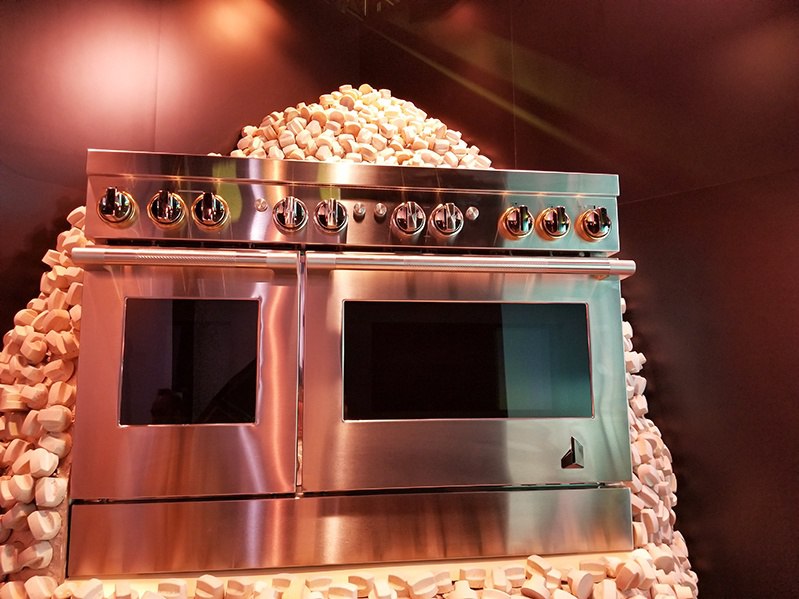 There are many appliance dealers who read this blog. They will howl about how I am biased, and they are right.
I am biased based on the fact that I look for brands who take care of their customers either with low repair or better return policies, products made in the U.S. (yes, we sell Samsung and LG, regardless), and products with a value proposition.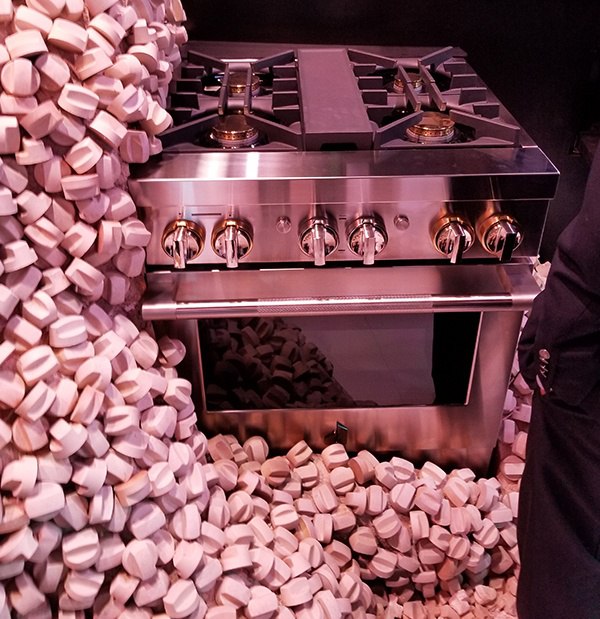 Jenn-Air has always had the first two. Over the last few years, some of their products became KitchenAid except their professional range and wall oven.
Their new columns with customized settings and Wi-Fi are the best I have seen. Their new pro ranges have better output and a new infrared grill.
Their booth was very interesting as well…here is a partial tour.
Final Thoughts
Before you plan these products, most will be due out in the 3rd quarter of 2018, so realistically the end of this year.
However, you will have some great choices with a ton of new products and manufacturers. Hopefully, that will drive prices down and increase further innovation.
Additional Resources
Buying a kitchen of appliances and need some help? Get The Yale Appliance Buying Guide with features, specs and detailed profiles of the major brands. We also answer the 10 most asked questions and tell you the best time to buy appliances to save money. Well over 295,000 people have read a Yale Guide.

Related Articles:
Steve Sheinkopf
My goal has always been simple: I want Yale to be the best retail experience anywhere. I have tried to create a compelling environment for customers and employees alike.
A Note About Pricing
Pricing on this blog is for reference only and may include time sensitive rebates. We make every attempt to provide accurate pricing at time of publishing. Please call the stores for most accurate price.