The KitchenAid KDTE334GPS Dishwasher Review (Prices / Ratings)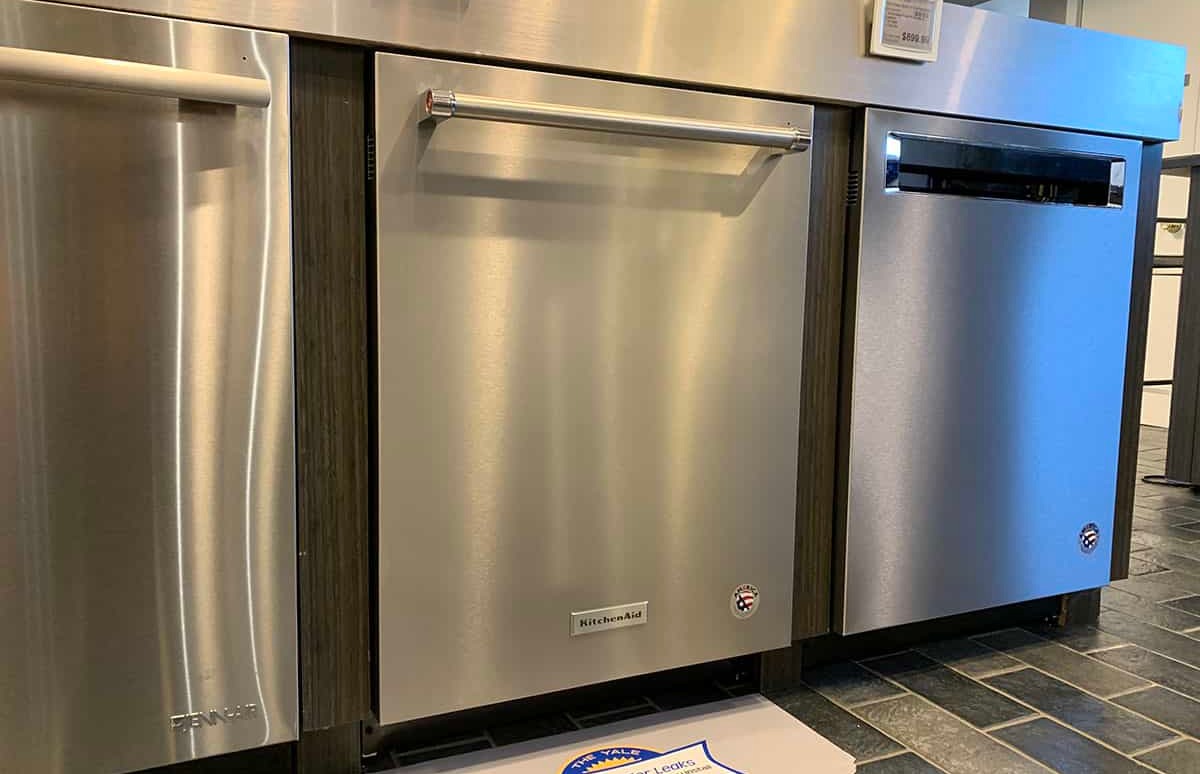 The KitchenAid KDTE334GPS is KitchenAid's most popular dishwasher with KitchenAid's best cycles.
It's in their middle of the line and, inexplicably, is not close to being their most expensive.
In this article, you will learn about its best features, reliability, and the best time to buy this dishwasher for considerably less, in fact over $400 less.
We will then briefly compare this KitchenAid against Miele and Bosch as well as explain why it's $600 less than KitchenAid's high-end and most expensive model.
The KitchenAid KDTE334GPS Dishwasher Review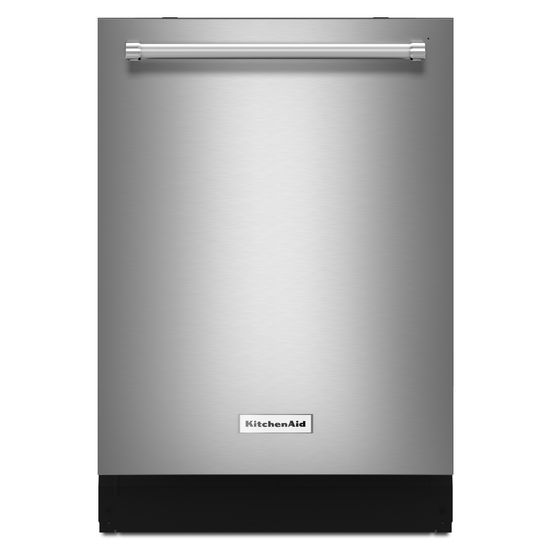 Features:
Fan-Enabled ProDry™ System
Third Level Rack
Bottle Wash Option
PrintShield™ Finish
ProWash™ Cycle
Extended ProDry™ Option
Durable Stainless Steel Interior
SatinGlide® Max Rails (Upper Rack)
2 Rows Fold-Down Tines in Upper Rack
Fold-Down Shelf with Stemware Holder
Express Wash
Utility Basket (Upper Rack)
Sani-Rinse Option
Concealed Controls
Premium Adjusters in Upper Rack
Filter-Based Wash System
Now, let's break down the features of this dishwasher.
KitchenAid KDTE334GPS Dishwasher's Top Features
Quietness
The number one most asked question when buying a dishwasher is, "How quiet is it?"
This KitchenAid is amongst the quietest you can buy at 39 decibels and the most silent at this price level by far.
Anything under 44 decibels is considered quiet, and this dishwasher is softer than that.
For reference, Miele has a 38 dBA dishwasher for about $2,000. Bosch will have its 800 series, 800 Plus, and Benchmarks in the $1,200-2,000 for comparable features.
This KitchenAid fluctuates between $619-$1,099. I will show you how to buy it cheaper later in the article.
This is what 44 versus 55 decibels sound in a dishwasher.
Dishwasher Sound Level Comparison [VIDEO]
Filter Vs. Grinder
I mentioned more historically quiet dishwashers like Bosch and Miele. KitchenAid changed their food grinder at the bottom of the dishwasher to be a removable filter like the other two.
Filters are better for quietness, but you do not remove food particles off your dishes.
Loading Capability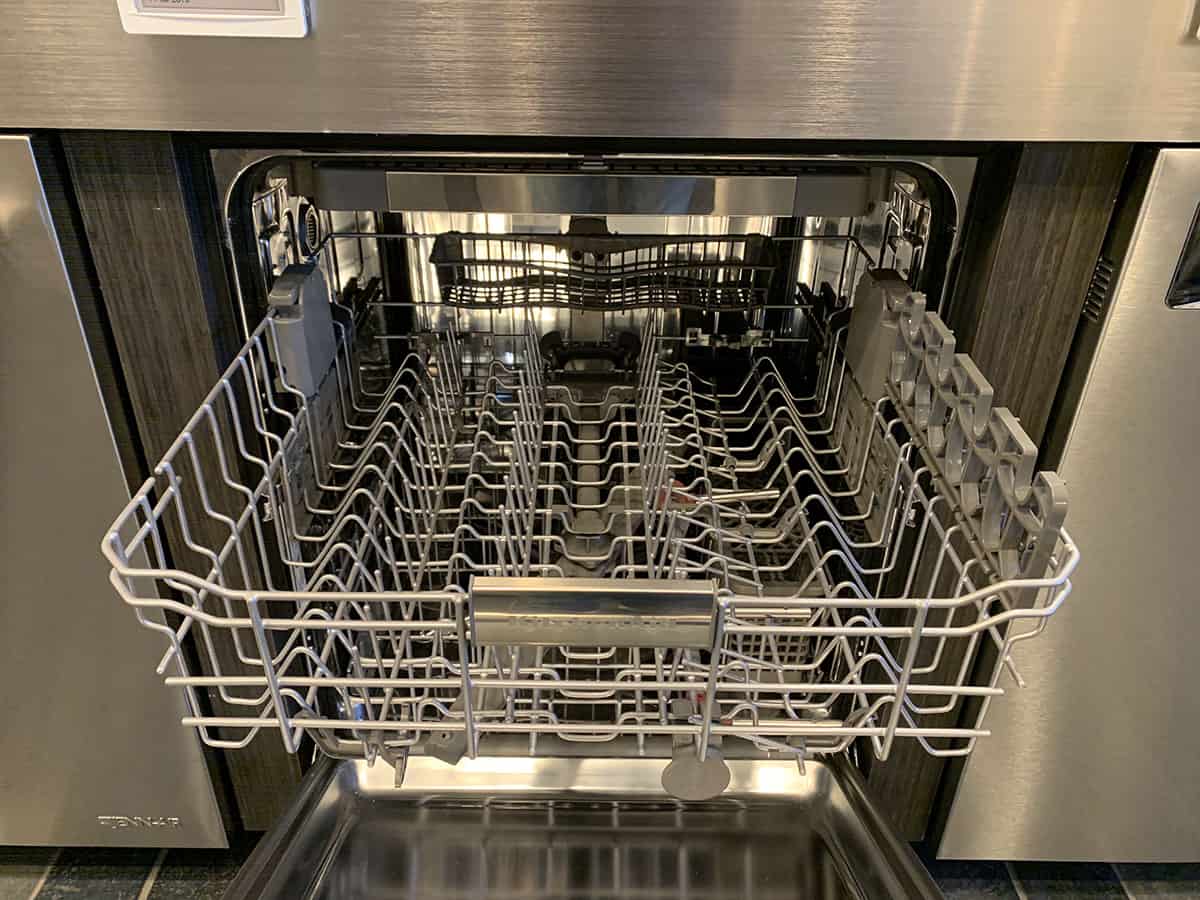 The KDTE334GPS loads well with an adjustable top rack and tons of places for silverware with a large silverware basket and a 3rd rack.
When the top rack is adjusted down, it's hard to accommodate a full-size dinner plate on the bottom rack.
Cycles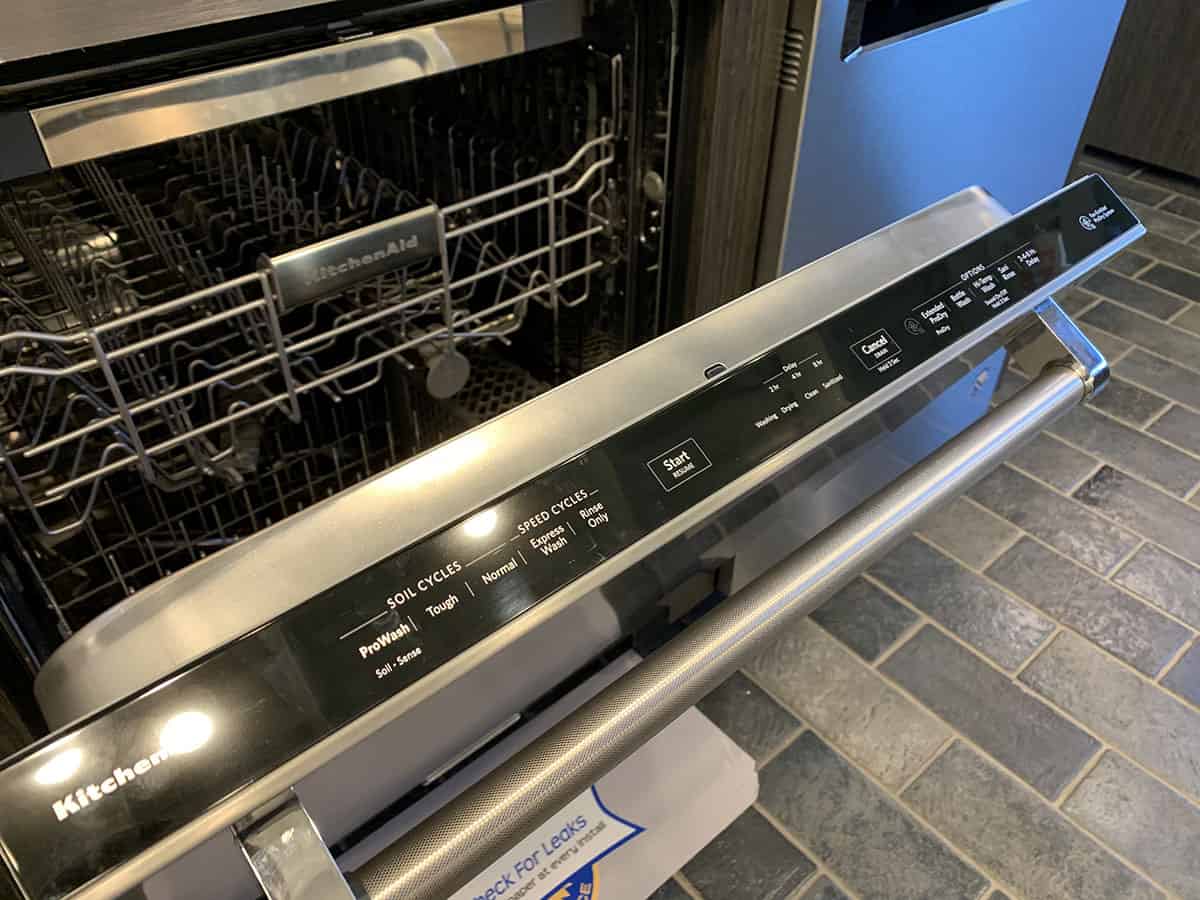 You have plenty of options and cycles with this dishwasher from extended and "tough" cycles to china/crystal.
You can also add heat for better washing and rinsing with sanitizing and high-temperature wash cycles.
KitchenAid Bottle Wash Cycle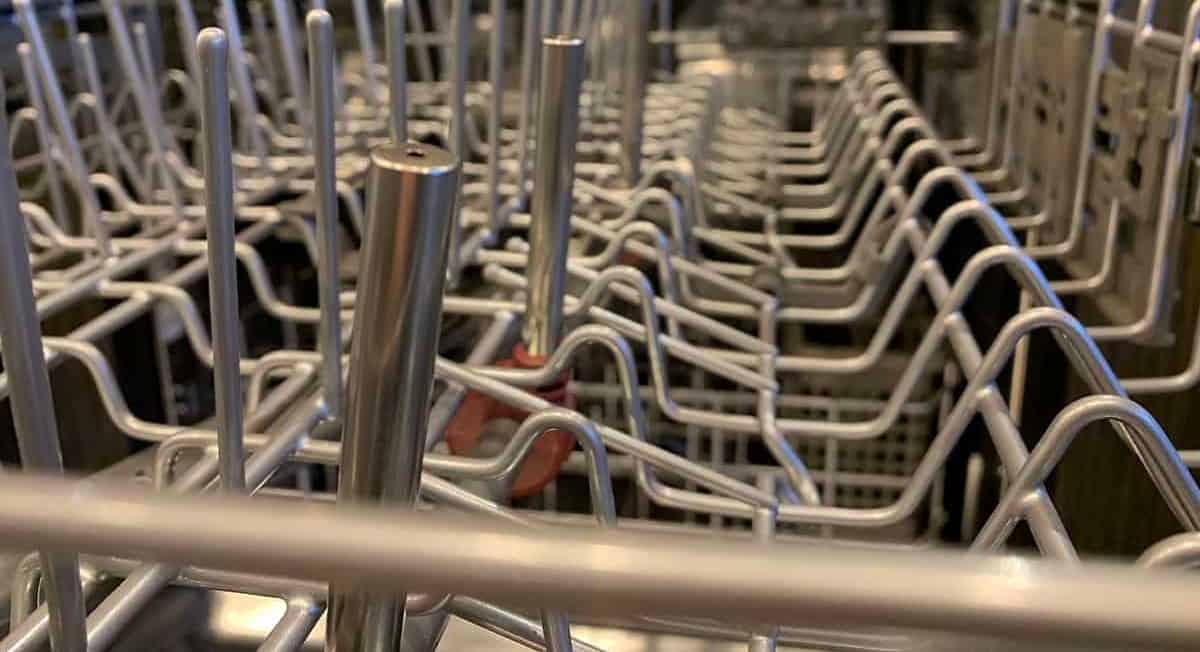 KitchenAid has two unique concentrated washing cycles in Bottle wash and ProScrub. Bottle Wash is specially designed to remove that residue from the bottom of your sports bottles.
I had a daughter recently. It would have been handy to dissolve the formula left in her baby bottle.
KitchenAid ProWash Cycle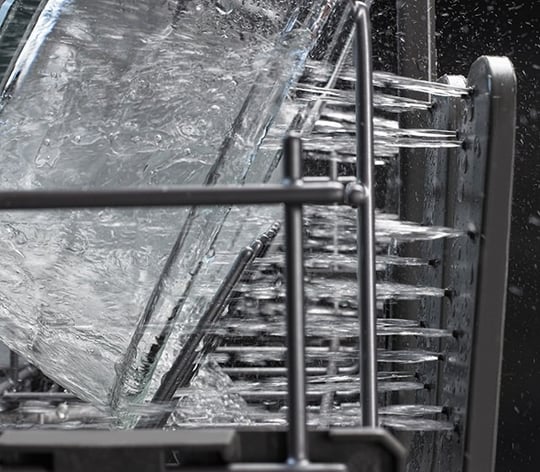 There is also the ProScrub at the bottom of the dishwasher to power wash those baked on dishes. The ProScrub has concentrated sprays.
Think of it as placing your thumb over your hose when washing your car. It's excellent for those lasagna pans with the hardened baked-on cheese.
KitchenAid Dishwasher Reliability
In terms of reliability based on 34,687 service calls logged last year, KitchenAid needs service 16.31% of the time within the first year, or slightly worse than the 13.09% average.
Most Reliable Dishwashers For 2019
| | | | |
| --- | --- | --- | --- |
| | Service Qty | Shipped Qty | Service Ratio |
| Signature Kitchen Suite | 0 | 17 | 0.00 % |
| Whirlpool | 44 | 1030 | 4.27 % |
| Gaggenau | 2 | 42 | 4.76 % |
| LG Electronics | 4 | 78 | 5.13 % |
| Samsung | 85 | 915 | 9.29 % |
| Maytag | 3 | 29 | 10.34 % |
| Bosch Appliances | 303 | 2735 | 11.08 % |
| Miele | 155 | 1078 | 14.38 % |
| KitchenAid | 115 | 705 | 16.31 % |
| Thermador | 123 | 711 | 17.30 % |
| Jenn-Air | 170 | 908 | 18.72 % |
| Blomberg | 6 | 28 | 21.43 % |
| Fisher & Paykel | 42 | 175 | 24.00 % |
| Bosch - Benchmark | 38 | 158 | 24.05 % |
| Asko | 47 | 195 | 24.10 % |
| Amana | 3 | 11 | 27.27 % |
| Frigidaire | 10 | 22 | 45.45 % |
| Frigidaire Gallery | 5 | 8 | 62.50 % |
| Electrolux | 2 | 2 | 100.00 % |
| Frigidaire Professional | 2 | 2 | 100.00 % |
| Grand Total | 1159 | 8852 | 13.09 % |
When Is The Best Time To Buy A KitchenAid Dishwasher?
Now that you've learned about KitchenAid's features and reliability, let's talk about when to buy it.
You always want to try to buy appliances around promotional holidays like Black Friday and Presidents' day because this dishwasher can be priced as low as $619 or as high as $1,099. So, try to time your purchase around a promotional holiday, if you can.
How Does KitchenAid Compare Against Miele and Bosch Dishwashers?
KitchenAid will be much quieter at 39 dBA vers 44 and 45 dBA for Bosch and Miele. It will also offer more cycles, including the bottle and pro scrub sprays.
Let's take a look:
KitchenAid Vs. Miele Dishwashers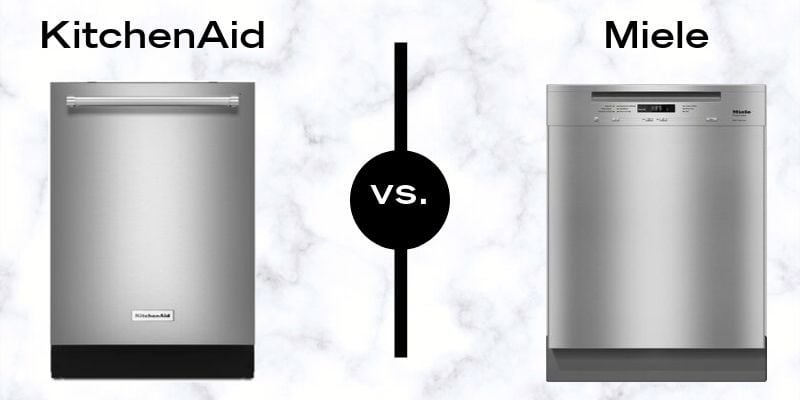 Miele is a bit more reliable but has a better wash system with a full wash arm up top. Miele has a better drying system.
It pulls air to the side of the dishwasher. The hot air inside is attracted to the cooler side and dissipated as water.
KitchenAid Vs. Bosch Dishwashers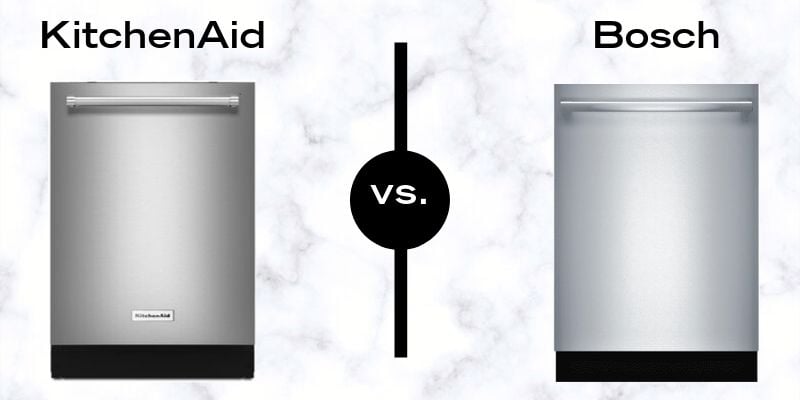 Bosch competes mainly on reliability at this price. It's 5% more reliable than KitchenAid.
Their better 500 series dishwasher has easier gliding ball bearing racks.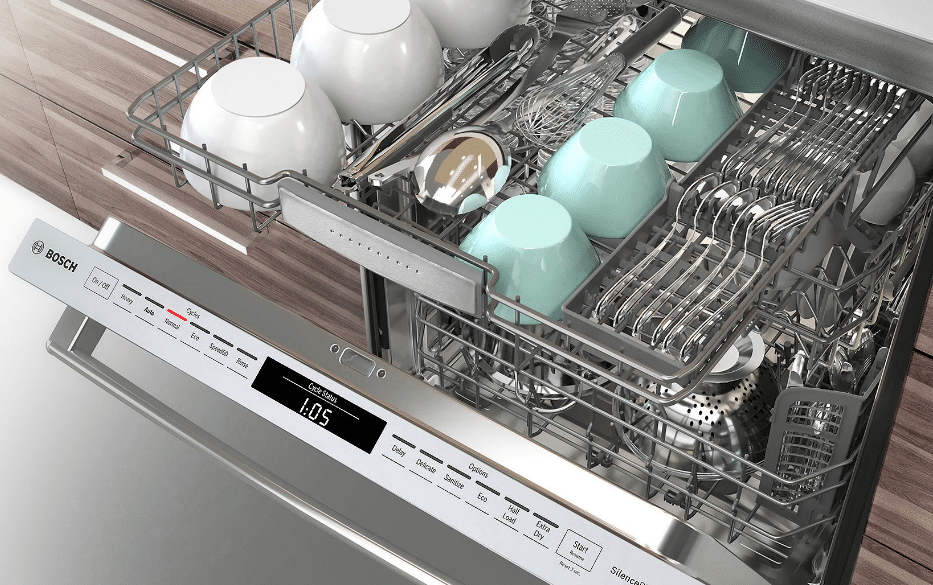 Bosch also has the best drying with Zeolite Crystal drying, but it's a few hundred dollars more.
Should You Buy The KitchenAid KDTE334GPS Dishwasher?
There is much to like about the KitchenAid KDTE334GPS dishwasher. You won't find a quieter, better-featured dishwasher for the price. Just try to buy it around a promotional holiday to save money.
So, Why Are Other KitchenAid Dishwashers More Expensive?
The KDTE334GPS is the quietest KitchenAid and has all the features, yet it is $600 cheaper than the top of the line.
I had to check this myself. There are three reasons.
1. KitchenAid's Other Dishwashers Have A Window View
First, there is the window so that you can see the dishwasher washing dishes.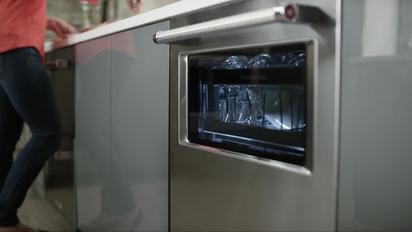 It is unique and perhaps a conversation piece, but should you pay $600 for it?
Probably not.
2. KitchenAid's Other Dishwashers Have Dynamic Wash Arms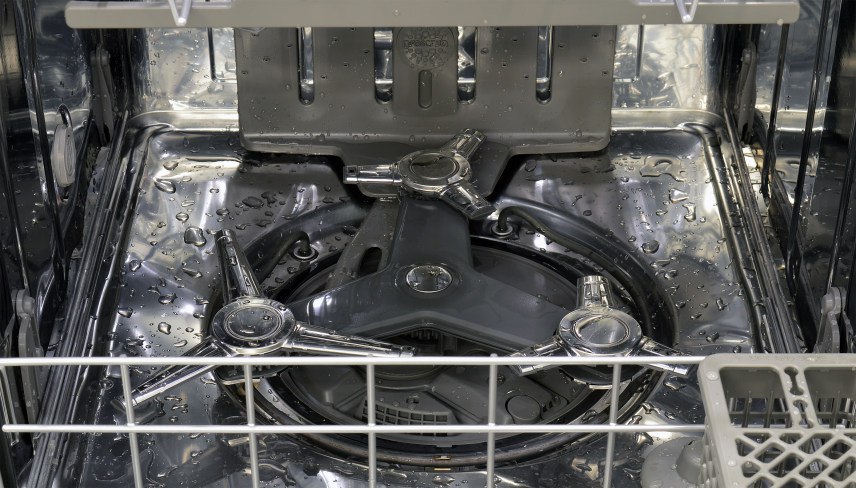 If you look at KitchenAid's best dishwashers, they have a different spray arm. They have three spray arms like the others, but each arm has additional rotating sprays.
In theory, it reaches more places than conventional spray arms. Once again, I don't see the cost justification for this feature.
3. KitchenAid's Other Dishwashers Have Ball Bearing Racks
Ball Bearings on racks allow the rack to slide out better even with tons of dishes and plates. They also should last longer.
It's a useful feature. Bosch charges $150 on their best selling five series dishwasher for these racks.
$600 is a bit much even when combined with a window and dynamic sprays.
The KDTE334GPS is still quieter and will be considerably less money.
Additional Resources
Get our free Dishwasher Buying Guide with tips, trends, and reviews of all the major brands. Over 600,000 people have already found answers in a Yale guide.
Related Articles:
Why Should You Trust Us?
It seems that every appliance review has nothing but glowing comments about almost every product, yet you read customer reviews and they are almost universally bad.
We are here to fill in the disconnect. We'll give you the best features, and the drawbacks as well, including reliability based on over 37,000 calls performed by our service team just last year. Our goal is to give you ALL the information so you know what's right for you.
Please consider subscribing or adding to the conversation in the comments below. We appreciate you stopping by.
A Note About Pricing
Pricing on this blog is for reference only and may include time sensitive rebates. We make every attempt to provide accurate pricing at time of publishing. Please call the stores for most accurate price.