GE Profile vs. KitchenAid Dishwashers (Reviews / Ratings / Prices)
For the last 30 years, if you were looking for an upscale dishwasher, you probably considered a KitchenAid, Bosch, or Miele.
Other brands have sporadic popularity, like Samsung with their Waterwall dishwasher or Beko with their AquaIntense wash system. The new Profile dishwashers may change with features not available in other dishwashers.
In this article, we will compare the Profile versus KitchenAid's best-selling M series dishwasher. We'll also look at each brand's reliability based on over 40,000 service calls.
In the end, you will be able to decide which dishwasher may be right for you and your family. In times of tight availability, you also want to have options.
Short on time? Get our free Dishwasher Buying Guide
GE Profile
GE Profile was always GE's better line of appliances or second to the Café line. Of course, their professional series, Monogram, is their best line.
Haier, a Chinese appliance-only manufacturer, is now the owner of GE. Unlike the old GE conglomerate, Profile is now in the hands of an appliance company rather than being a small department inside a large company.
Haier has spent a lot of time and money developing new products under the GE label. They first revamped their Café line and laundry.
Oddly enough, GE incorporated many innovations from laundry into their new Profile dishwasher. You would not think a clothes washer and dishwasher would have any features in common.
The 755 series is available with a pocket handle, the PDP755 or the T, the PDT755.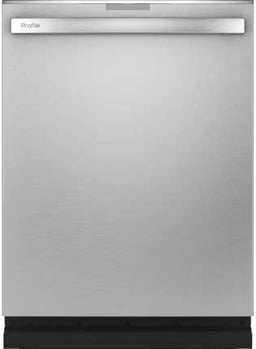 Features:
Microban™ Antimicrobial Technology
UltraFresh System
Steam + Sani
Dry Boost™ with Fan Assist
Built-In Wi-Fi Dishwasher
Deep Clean Silverware Jets
Built-In Third Rack
4 Bottle Wash Jets
Water Leak Sensor
Smooth-Glide Upper Rack
Hard Food Disposer
Lower Rack Fold-Down Tines
42 dB Dishwasher
KitchenAid
KitchenAid is a subsidiary of Whirlpool based in Benton Harbor, Michigan. After years of losing popularity to brands like Bosch and Miele, KitchenAid responded with their new M series with four wash levels and a new third rack.
This series has become widely popular due to its flexibility and features. Like Profile, the KitchenAid is available in pocket or towel bar handles.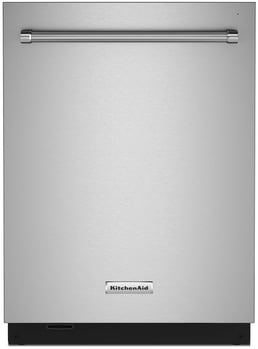 Features:
FreeFlex™ Third Rack
44 dBA
Advanced Clean Water Wash System
Fan-Enabled ProDry™ System
ProWash™ Cycle
Adjustable Middle Rack
Extended ProDry™ Option
Durable Stainless-Steel Interior
SatinGlide® Max Rails in Third and Middle Racks
Adjustable Rows in Middle and Lower Racks
Four Stemware Holders in Middle Rack
Express Wash Cycle
Sani-Rinse Option
Top Controls
GE Profile PDT755SYRFS vs. KitchenAid KDTM604KPS Dishwashers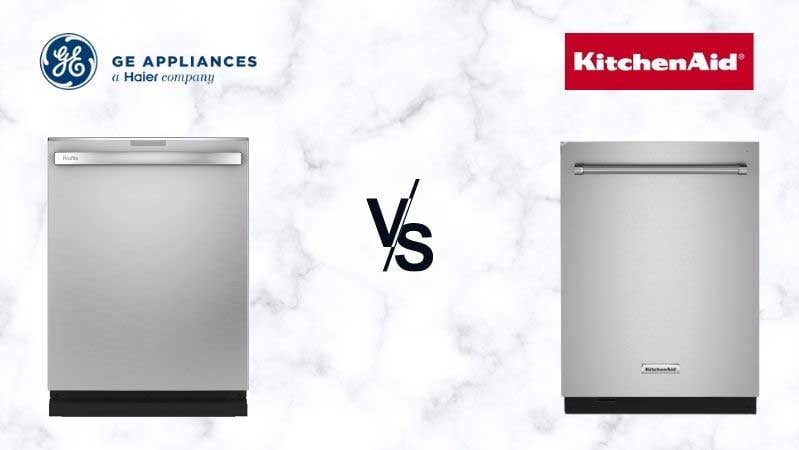 Both have good features in completely different ways. However, you should avoid either brand if you want to place a panel on either.
The dishwasher will protrude from the cabinet, so the kit looks like a dishwasher with a cabinet front stuck on the front. The European lines of Bosch, Miele, Beko, and Asko are all seamless and fit inside the cabinet.
In both lines, the features of the best and most expensive models are of limited value. KitchenAid adds a light and knife caddy, while the Profile has a different drying cycle.
Profile vs. KitchenAid: Quietness
KitchenAid meets the minimum standard for quietness at 44 decibels. The dishwasher is louder than their lesser 200 series at 39 decibels because they added another filter for cleaner water.
The Profile PDT755SYRFS is below the standard at 42 decibels for a technically quieter dishwasher. However, Profile still utilizes their "Piranha" disposer with impellers rotating at 3600 RPM to pulverize food.
The GE Profile is the only company to beat the quietness standard with a grinder. All other companies use a removable filter.
Profile vs. KitchenAid: How They Wash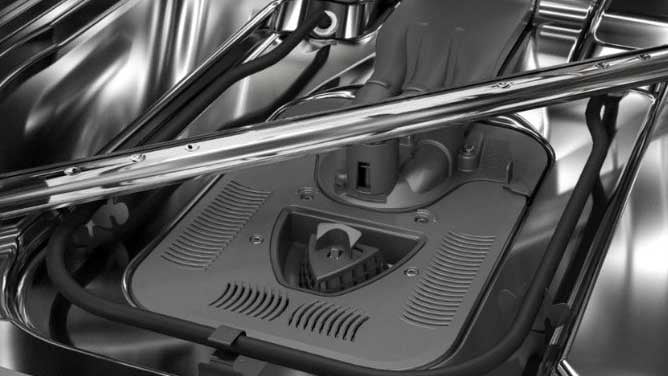 KitchenAid Dishwasher Wash Arm
KitchenAid has four levels of wash action. You have one under each rack, plus smaller holes from the top rack. Profile advertises three, but one is a smaller spray head on the top. So, you would think KitchenAid is better depending on what you wash.
Bottle Wash
You have four dedicated bottle washes in the Profile. These direct sprays can better wash the gunk out of the bottom of your sports or baby bottles. Bottle wash was a KitchenAid feature two series ago before it was discontinued.
Silverware Wash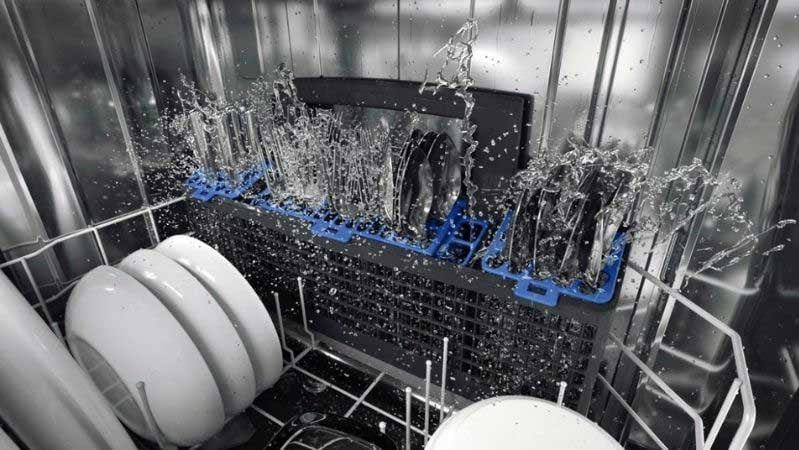 GE Profile Dishwasher Silverware Basket and Wash System
They both have third racks for silverware.
However, GE has a separate silverware basket with 40 sprays underneath, so it will be better to clean the caked food off your silverware.
Profile vs. KitchenAid: How They Dry
Both have improved their drying capabilities. KitchenAid has their ProDry system of a heating element plus the fan. Outside air from your kitchen is directed into the dishwasher. The cooler air is attracted to the steamier air and dissipated as water.
Profile uses the opposite approach with their Dry Boost system. The fan pulls the hot air out of the dishwasher to dry even plastics three times better. We will have to test the Profile.
KitchenAid should work because they copied Miele's CleanDry system (which does work).
Profile vs. KitchenAid: How They Rack
GE has decent racks. They resemble Bosch with a bottom rack, a deep adjustable top rack, and a third rack.
KitchenAid, however, is the best. These racks resemble something NASA would engineer with a deeper top and third rack so you can fit more. You also have the small rotating sprays mentioned in the wash series.
Profile vs. KitchenAid: Cycles and Options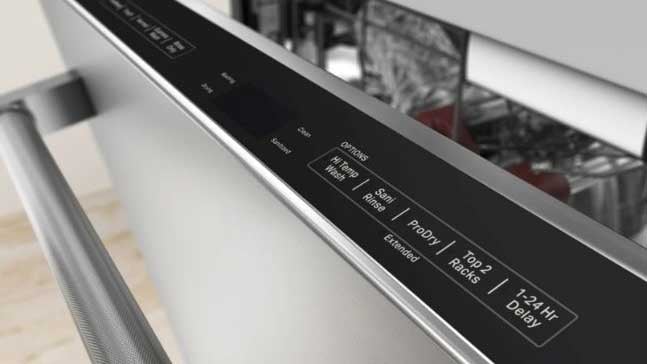 KitchenAid Dishwasher Control Panel
Both have plenty of cycles and options. GE adds a steam cycle to loosen tough caked food off your dishes. So, if you have a party and forget to place that lasagna pan in your sink, a steam cycle will help scour those last bits of noodles.
Profile vs. KitchenAid: Anti-Bacterial Protection
Before Covid, antimicrobial surfaces seemed like overkill. Now antimicrobial is smart. The Profile has Microban antimicrobial surfaces on their handles, the front of the racks, and the top of the disposer to kill 99% of germs.
UltraFresh System
UltraFresh is a fan circulating air in your dishwasher after the cycle is done to eliminate any residual moisture. Residual moisture can lead to mold or, more likely, mildew in a dishwasher.
Mildew is the odor you smell sometimes. Both Microban and UltaFresh are features of GE's highly successful laundry.
Profile vs. KitchenAid:
Smart Home Technology
Wi-Fi is not a huge feature for dishwashers. It does not have recipe tie-ins and added value like cooking.
GE has the best platform for Smart functionality called SmartHQ. Smart functionality will allow you to turn your dishwasher on or off in a dishwasher.
You can also see the time remaining in the cycle and receive a notification when it is complete. With the quietness of a 42-decibel dishwasher, you will never open a dishwasher while it's running (like I did last night).
In all their lines, GE is currently testing services throughout their platform. The product will send an alert with issues and diagnose the part to fix.
Self-diagnosis would save you a ton of time.
Profile vs. KitchenAid: Dishwasher Reliability
The following service rates are based on a minimum of 90 units sold and a total sample of over 8,000 pieces from December 2020 to October 2021.
| | |
| --- | --- |
| | Service Rates |
| LG | 1.7% |
| Thermador | 3.6% |
| Whirlpool | 4.1% |
| JennAir | 5.3% |
| KitchenAid | 5.5% |
| Miele | 8.9% |
| Fisher & Paykel | 9.9% |
| Bosch | 10.1% |
| Beko | 10.3% |
| Café Appliances | 10.7% |
| GE Profile | 12.2% |
| Asko | 12.5% |
| Samsung | 18.5% |
| Grand Total | 12.8% |
KitchenAid was incredibly reliable last year at just 5.5%. It was even better than Miele. Profile is new, so reliability has yet to be determined. Almost all their appliances have better than average reliability.
Both KitchenAid and GE have their own service departments and are the best after the sale.
Read More: Most Reliable Dishwasher Brands
Profile vs. KitchenAid: Availability
Both have been decent during the pandemic. Availability is a significant factor as Miele and Bosch have had supply chain issues. Estimated time of arrivals (ETAs) and promised delivery dates for nearly every brand are fluid which is a nice way of saying unreliable.
You always want to buy the available product between similar brands and features.
Key Takeaways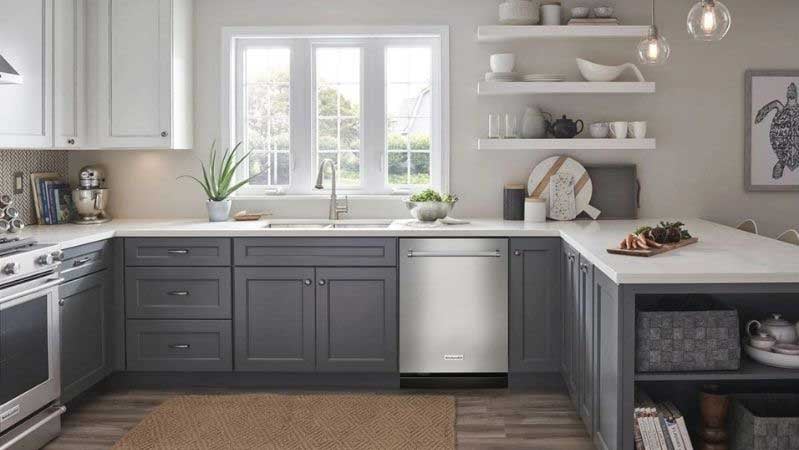 KitchenAid 600 Series Dishwasher
First, you should consider profile among the best dishwashers like KitchenAid, Bosch, and Miele. Between these two, it depends on what you value.
KitchenAid has better racks, four levels of washing systems, and is incredibly reliable. The Profile has better bottle and silverware wash systems and unique mold and mildew protection. They also have Wi-Fi and the only quiet dishwasher with a grinder.
Both are good choices. Look at service and availability in your area as key differentiators.
Additional Resources
Get our free Dishwasher Buying Guide with tips, trends, and reviews of all the major brands. Over 1 million people have already found answers in a Yale guide.
Related Articles:
Why Should You Trust Us?
It seems that every appliance review has nothing but glowing comments about almost every product, yet you read customer reviews and they are almost universally bad.
We are here to fill in the disconnect. We'll give you the best features, and the drawbacks as well, including reliability based on over 37,000 calls performed by our service team just last year. Our goal is to give you ALL the information so you know what's right for you.
Please consider subscribing or adding to the conversation in the comments below. We appreciate you stopping by.
A Note About Pricing
Pricing on this blog is for reference only and may include time sensitive rebates. We make every attempt to provide accurate pricing at time of publishing. Please call the stores for most accurate price.