KitchenAid vs. Electrolux Slide-In Induction Ranges (Reviews/Ratings/Prices)
After numerous delays in shipping, KitchenAid has finally started to market an induction slide-in range.
If you are comparing KitchenAid, Electrolux would be a prime competitor with its new twin convection range (along with Samsung, Frigidaire, Bosch, Bertazzoni, maybe GE and perhaps Miele, Dacor as well as the new Wolf).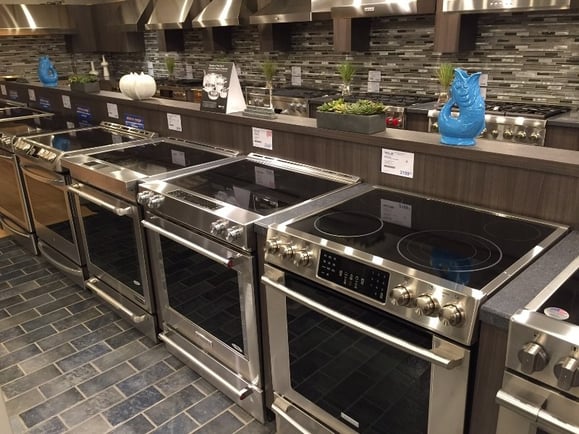 Both ranges have their strengths and weaknesses. We will look at both manufacturers and then compare both products. But first, an explanation of the new slide-in ranges are in order.
Slide-In Ranges
There are two types of slide-in ranges, traditional slide-in ranges and front control slide-in ranges.
The traditional slide-in from Electrolux fits over the counters eliminating the seam between the range and counter.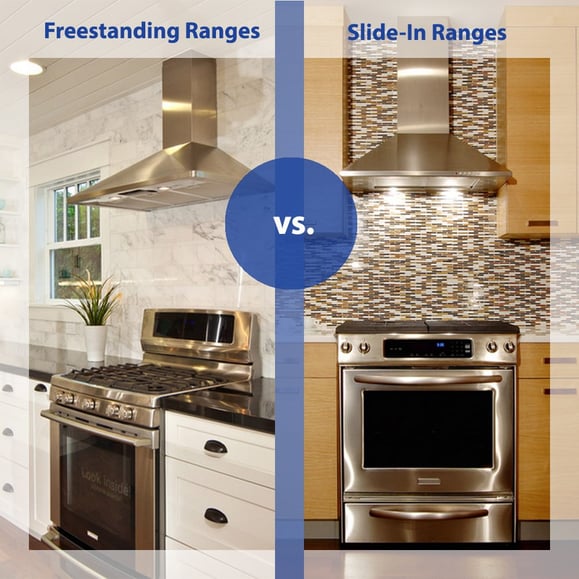 However, new front control ranges from manufacturers like KitchenAid, Samsung, Frigidaire and others do not fit over the counters, but are better for replacing a freestanding range.
Traditional slide-in ranges need some cabinet and counter work in order to replace a freestanding range. Front control ranges do not.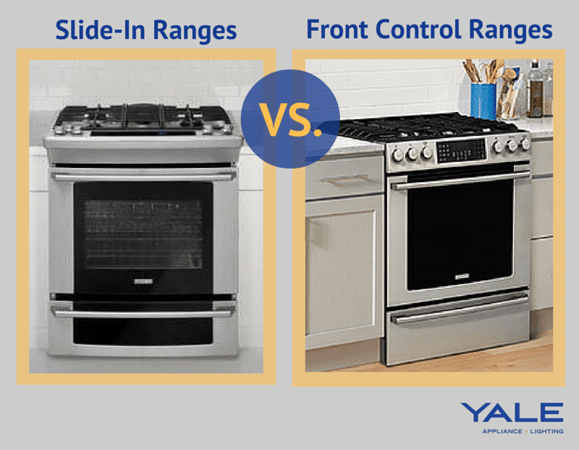 So, traditional slide-in ranges are better for cleanability and are better for new construction, but slide-in front control ranges are better choice for direct replacement.
(Read Slide-in Ranges vs. Front Control Ranges for more info).
That being said, let's look at Induction, and why it is the best type of cooking.
Induction Cooking
Induction has been around since the 1980's. It is magnetic cooking. In short, the magnets excite the molecules in your metal pan. The pan does the actual cooking. Induction is more child safe, requires less venting and is 30% more efficient than gas.
From a true cooking standpoint, induction is faster than even a professional gas rangetop with a far better simmer.
Now let's compare the two companies and products.
The Companies
First, Whirlpool and Electrolux are mirror images of each other and are number 1 and 2 in the appliance business in terms of sheer volume. Whirlpool is an American company with many foreign subsidiaries, whereas Electrolux is European with many large American subsidiaries.
Both companies are heavily invested in America, especially Whirlpool, but Electrolux has a huge American investment especially with their Frigidaire division.
KitchenAid is manufactured in America. This Electrolux range is also made in the US in their new Memphis plant.
KitchenAid vs. Electrolux Induction Slide-In Ranges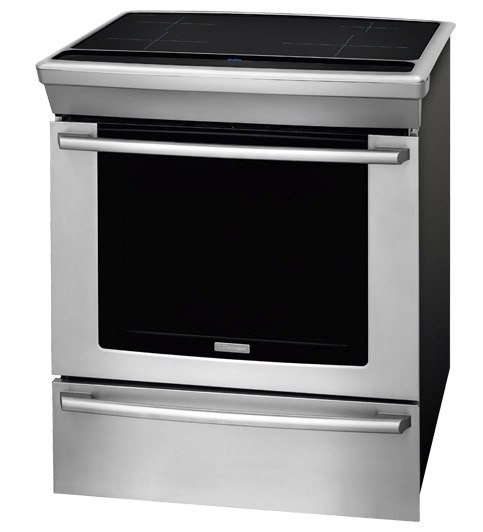 Features:
Perfect TasteTM Dual Convection
Professional Temperature Control
Perfect TasteTM Temp Probe
Multi-Stage Cooking
Perfect Turkey Button
What distinguishes Electrolux is their technology. You can automatically cook almost anything by hitting a button, including proofing bread, dehydrating fruit or cooking the perfect turkey with a perfect turkey button, no less.
Electrolux, like Wolf and Miele, has installed a new twin convection for even better heat distribution than a traditional single convection oven. The style is distinctively clean and modern.
Features:
Baking Drawer
Even-Heat™ True Convection
Wireless Probe
Steam Rack
7.1 Cu Ft. Total Capacity
4 Induction Elements with a Bridge Zone
EasyConvect™ Conversion
FIT Guarantee
Aqualift®
Glass Touch Controls
Side Trim Accessory Kit
The new KitchenAid is the largest at 7.1 cubic feet. Like the Electrolux, it has many automatic controls. The wireless probe is kind of cool. It allows you to monitor the food away from the kitchen.
Their Aqualift self-cleaning works at under 200 degrees and cleans in under an hour.
The style is more industrial like the professional ranges.
Which is Better?
It depends on what you want.
First they share many features. Both are convection ovens with lower baking ovens. The overall output of the cooktops is identical. However, KitchenAid has bridge elements joining the burners, so it would be better for odd shaped dishes.
The size of the KitchenAid oven is bigger by about 15-20% (Electrolux does not publish cubic footage). The self-cleaning works better, and the wireless probe is worthwhile.
Electrolux has better functionality if you use it. It has better controls and a technically better convection delivery system as well.
There is a $700 difference between the two, but prices and rebates change almost monthly.
Final Thoughts
I have not made a case for either yet. Other than to say, style and functionality versus size and price. That's not much, because the ranges are similar.
So let's look at reliability. According to our 20,000 service calls last year, Electrolux is the least reliable at over 30% repair in the first year.
That may seem bad, but they have the best support in the industry. Much of their service seems minor, but there is a disproportionate amount. Their new management is more committed to reliability, so this number should drop.
KitchenAid is new, but the shipping reliability, meaning your actual delivery of the range, will probably be later than expected. Hopefully, they too will be better in the future.
Additional Resources
Need more information about induction cooking and brands? Download the Yale Induction Cooking Buying Guide with features, wattages and detailed profiles of every brand. Well over 175,000 people have read a Yale Guide.
Related Articles
Steve Sheinkopf
My goal has always been simple: I want Yale to be the best retail experience anywhere. I have tried to create a compelling environment for customers and employees alike
A Note About Pricing
Pricing on this blog is for reference only and may include time sensitive rebates. We make every attempt to provide accurate pricing at time of publishing. Please call the stores for most accurate price.