KitchenAid 5-Door vs. Samsung French Door Refrigerator (Reviews/Ratings/Prices)
If you have not shopped for a refrigerator in the last 10 years, you will see an incredible amount of new features and brands.
Now, there are refrigerators with smart pads, Wi-Fi connectivity, Door-in-Door, and a variety of features. One of the most noteworthy, newer trends has been creating refrigeration with a variety of doors and compartments for holding food at different temperatures.
Samsung 4-Door vs. KitchenAid
5-Door French Door Refrigerators
In this article, you will learn about two of the most popular companies on the market and their two of their most compelling products - the Samsung 4-door refrigerator vs. the KitchenAid 5-door French door refrigerator.
KitchenAid
KitchenAid was established in 1919 and is one of the most well known appliance brands. They are part of the Whirlpool Corporation which includes Whirlpool, Maytag, Amana, and Jenn-Air.
As opposed to some other brands, KitchenAid only manufactures appliances designed to be used only in the kitchen.
KitchenAid is made in the U.S.
Features:
5-Door Configuration
Preserva® Food Care System
Herb Storage
2 Soft-Close Drawers
Professionally-Inspired Design
3-Tier Freezer Drawer with Storage Divider
LED Lighting
SatinGlide® Crispers
Adjustable Spill Resistant Shelves
Exterior Ice and Water Dispenser
Measured Water Fill
In-Door-Ice® System
Highlights
There are some other refrigerators on the market with the French door with an extra refrigerator drawer. This, however, is the first to split the extra refrigerator drawer into two separate compartments.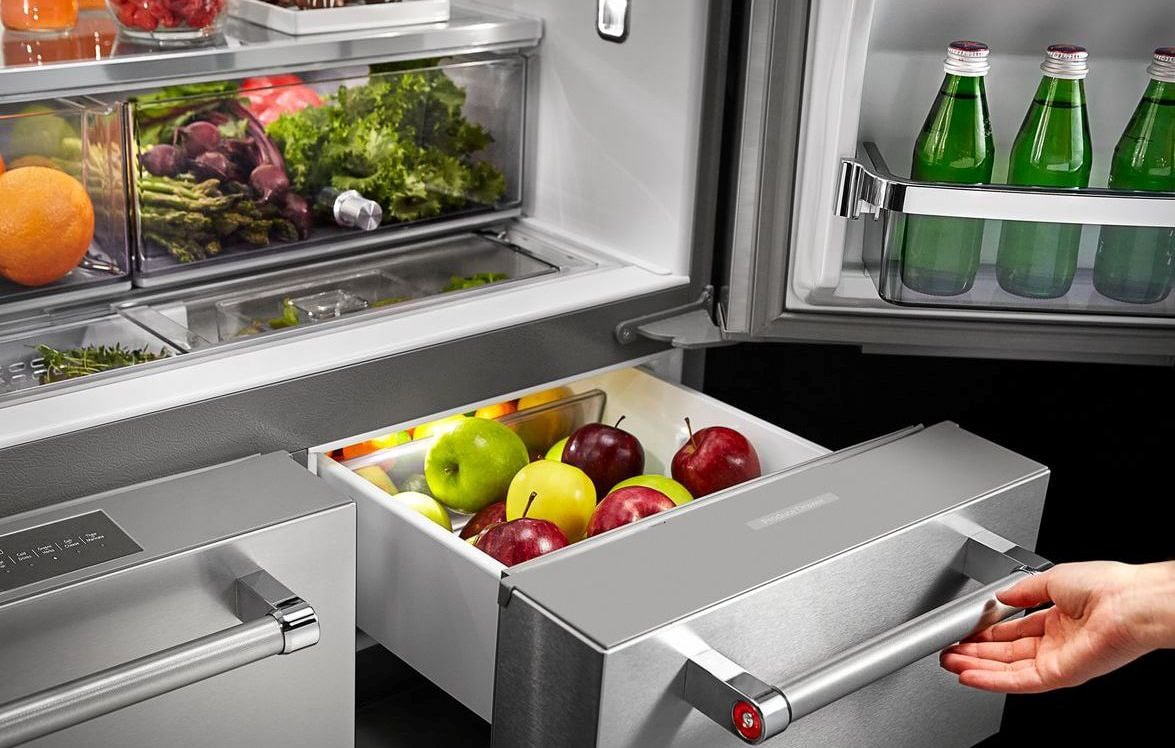 KitchenAid Produce Drawer
On a traditional temperature-controlled large drawer you have a big space to fit items such as produce, cheese, meat, and fish. While this can be very convenient, it is important to store items together that require a similar temperature.
For example, you wouldn't want to store raw fish and produce together in the drawer because raw fish requires a colder temperature to keep freshness than produce does.
The temperature in most drawers for fish would be kept at about 33 degrees, where most produce would freeze at this temperature.
Short on time? Get our free Refrigerator Buying Guide
The new KitchenAid model is different because instead of having one large single drawer for refrigeration, it splits it in half with two smaller ones.
The left side provides separate temperature control with presets for proteins, beverages, herbs, leafy vegetables, cheese, and for thawing or marinating. The right drawer is designed specifically for produce.
Another feature over most traditional freestanding refrigerators is the inclusion of the dual evaporator system. Because of this, there is no transfer of air between the refrigerator and freezer compartments for longer food preservation as well as no transfer of odors between foods.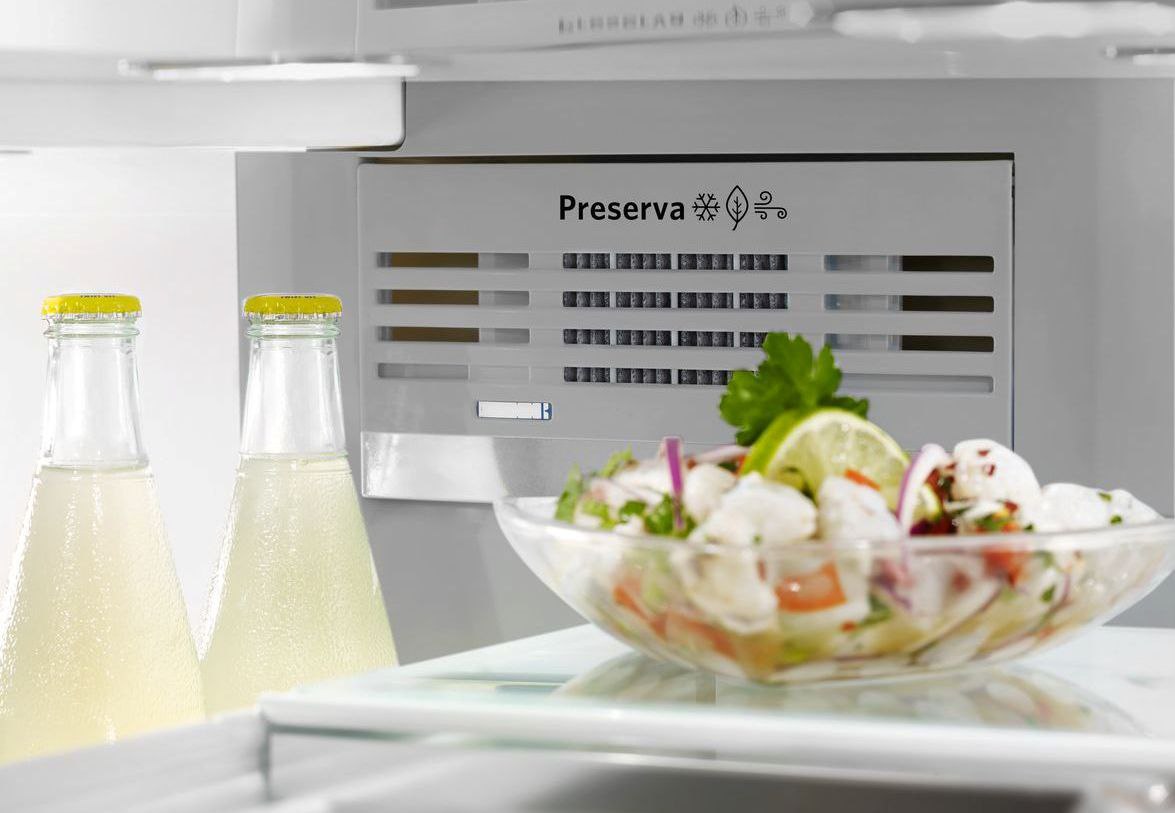 KitchenaAid Preserva
No more frost on your ice cream, no more frozen bits on your strawberries. You also do not transfer odors like fresh fish or cheeses from your refrigerator to your freezer.
The nanotechnology tipped shelves are designed to congeal rather than spread spills. We all know how hard to clean a massive spill in your refrigerator is.
Samsung
Samsung is a large Korean-based company whose biggest division is Samsung Electronics. They have always been known for innovation in those industries and now they have brought that innovation to the appliance industry.
Samsung is the number 1 selling brand in the U.S. Their appliances are made in Korea.
Features:
Ultra-High Capacity – 30 cu. ft.
Cool Select Plus
Triple Cooling System
Ice Master Ice Maker in the Refrigerator
ENERGY STAR®-Compliant
High-Efficiency LED Lighting
Fingerprint Resistant Coating
EZ Slide-Out Shelf in Refrigerator
Tempered Glass Spill-Proof Shelves
EZ Slide-Out Shelves in Freezer and Cool Select Plus Zone
Flip-Up Shelf
Highlights
A traditional bottom freezer refrigerator can be messy or difficult to find items. Samsung's door system is equipped with shelving and bins in the freezer compartments, allowing for a cleaner and more organized experience.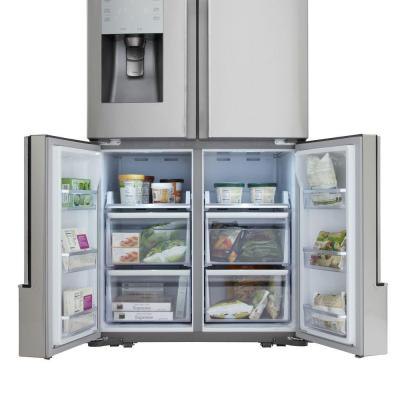 Samsung is one of the only brands to manufacturer a true 4-door refrigerator. They give you the flexibility to convert the bottom right door to either a refrigerator or freezer compartment.
It can take roughly a day for the temperature to go up or down to the right setting when converting, so it is important to plan accordingly.
I really like this feature because it allows you the capability to adjust the refrigerator to your needs. Maybe you're planning a trip to BJ's or Costco and know you will need extra freezer space. You just convert the bottom right to a refrigerator the day before for the added room.
We have also seen many families use the bottom right section as a separate refrigerator for their children and guests. No more teenagers rummaging through your well organized fridge for snacks.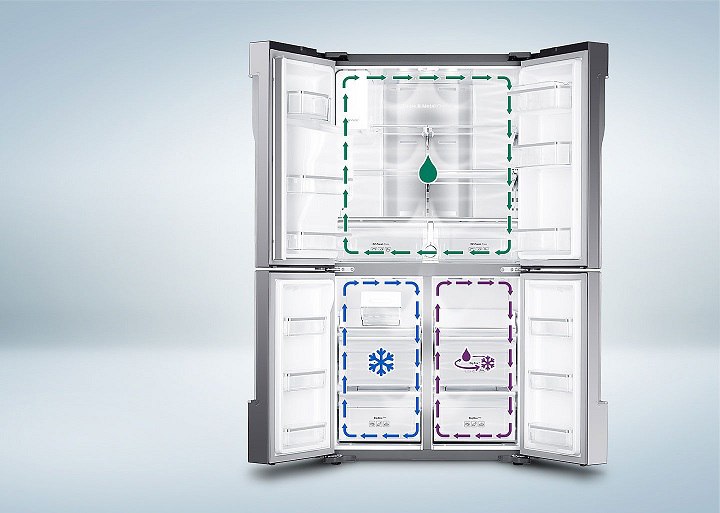 Samsung Triple Fresh Cooling
This model has taken the multi-cooling method to a new level by adding a third cooling system - the first of which in the industry - keeping your food fresher longer.
KitchenAid vs. Samsung Refrigerator Reliability
2017 Statistics:
| | | | |
| --- | --- | --- | --- |
| | Service Qty | Shipped Qty | Service Ratio |
| Electrolux | 18 | 4 | 450.00 % |
| True | 3 | 2 | 150.00 % |
| Dacor | 3 | 5 | 60.00 % |
| Bosch - Benchmark | 24 | 44 | 54.55 % |
| Jenn-Air | 324 | 737 | 43.96 % |
| Liebherr | 25 | 63 | 39.68 % |
| Frigidaire Gallery | 45 | 147 | 30.61 % |
| Frigidaire Professional | 41 | 135 | 30.37 % |
| Thermador | 131 | 490 | 26.73 % |
| Fisher & Paykel | 61 | 235 | 25.96 % |
| Kitchenaid | 97 | 375 | 25.87 % |
| Blomberg | 14 | 65 | 21.54 % |
| Bosch Appliances | 83 | 390 | 21.28 % |
| LG Electronics | 4 | 20 | 20.00 % |
| Maytag | 1 | 6 | 16.67 % |
| Samsung | 72 | 449 | 16.04 % |
| Amana | 2 | 19 | 10.53 % |
| Whirlpool | 2 | 23 | 8.70 % |
| Bertazzoni | 0 | 1 | 0.00 % |
| Frigidaire | 0 | 6 | 0.00 % |
| General Electric | 0 | 3 | 0.00 % |
| Signature Kitchen Suite | 0 | 1 | 0.00 % |
| BlueStar | 0 | 1 | 0.00 % |
| Electrolux Icon | 1 | 0 | |
| Grand Total | 1248 | 4313 | 28.94 % |
Our metric for reliability is service calls divided by sales for a year. Last year, we performed 31,761 service calls.
Both brands are at the top, but counter depth French Door refrigerators require tons of service in general.
The Evolution of the Bottom Freezer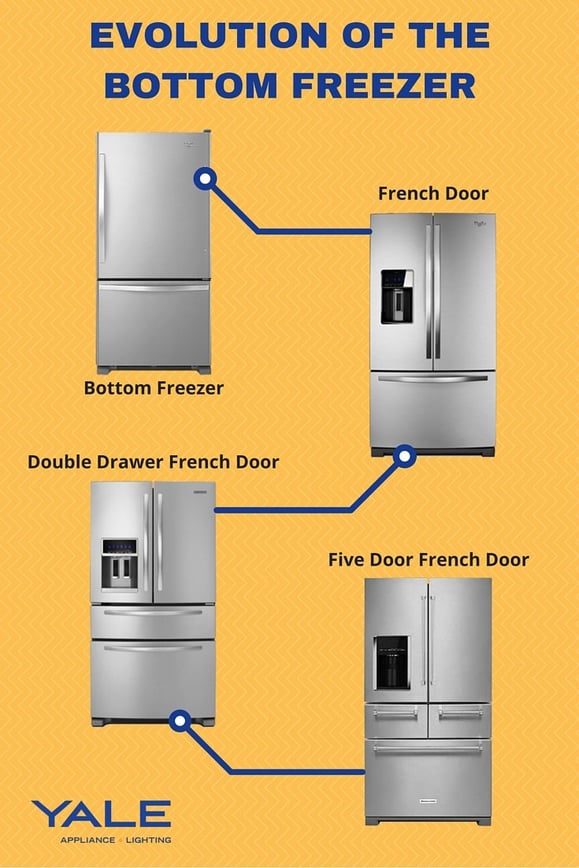 French door refrigerators replaced side-by-sides as the refrigerator of choice about 15 years ago. You have better lateral storage in a French door versus the narrower side-by-side.
Over the years, the French door has morphed into a few styles with separate doors and drawers. You now have a refrigerator tailored to how you store food.
Which is Better?
First Samsung does have the best line of French doors with the most options and configurations.
This is the first tie involving Samsung and any other refrigerator brand. Samsung is usually way ahead in terms of technology.
You will find the convertible refrigerator freezer convenient for added flexibility. The third cooling system is a first in the industry.
KitchenAid has 5 doors. I had two growing up. It will work with many different items and be totally organized as well as eliminate any vestige of taste crossover.
Having nanotechnology on your shelves is a big plus as well, but Samsung is way cheaper by almost $800.
Which is a better for you?
It all depends on how you store food. If you eat tons of fruit, KitchenAid has a better refrigerator design. The other side can store more of a variety.
You also do not need to stoop as well.
Samsung has that third compartment for the most flexibility from refrigerator to freezer, so it depends on what you value.
Additional Resources
Want to learn more about Refrigerators? Get the Yale Refrigerator Buying Guide with features, specs and detailed descriptions of every refrigerator available. Well over 355,000 people have read a Yale Guide.
Related Articles
Why Should You Trust Us?
It seems that every appliance review has nothing but glowing comments about almost every product, yet you read customer reviews and they are almost universally bad.
We are here to fill in the disconnect. We'll give you the best features, and the drawbacks as well, including reliability based on over 37,000 calls performed by our service team just last year. Our goal is to give you ALL the information so you know what's right for you.
Please consider subscribing or adding to the conversation in the comments below. We appreciate you stopping by.
A Note About Pricing
Pricing on this blog is for reference only and may include time sensitive rebates. We make every attempt to provide accurate pricing at time of publishing. Please call the stores for most accurate price.