KitchenAid vs. Thermador Dishwashers (Reviews / Ratings / Prices)
June 28th, 2019 | 5 min. read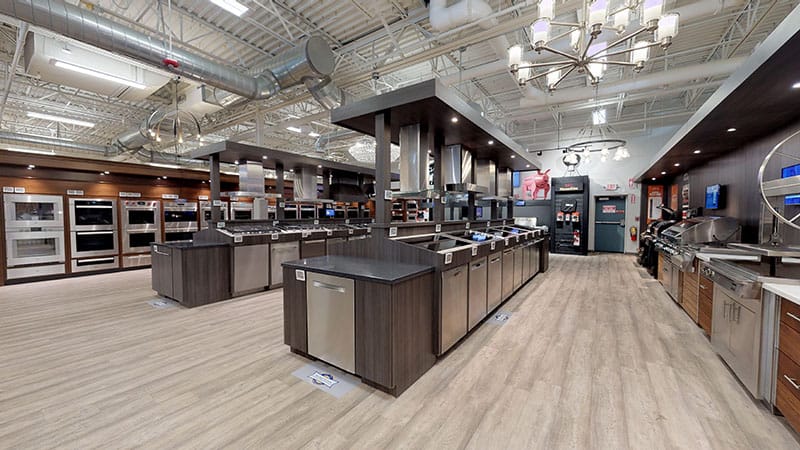 You are probably researching premium dishwashers, and KitchenAid vs. Thermador dishwashers is a worthwhile comparison on paper. Both are upscale brands.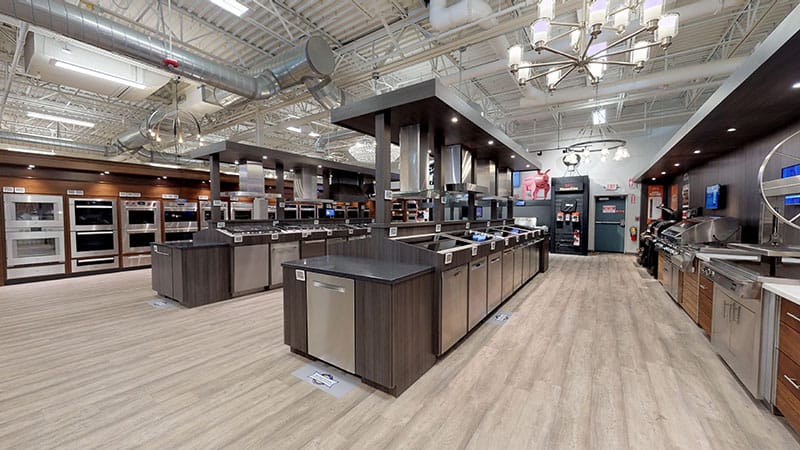 Dishwasher Display at Yale Appliance in Framingham
However, this comparison is not about a better dishwasher.
Your choice depends on two factors - when you are buying your dishwasher and what appliances you are buying with your dishwasher.
At the end of the article, you will know what brand to consider, when to buy it, and how to package your kitchen.
You will also learn about Thermador's new drying technology, and expected reliability of both dishwashers.
This comparison will be interesting.
Thermador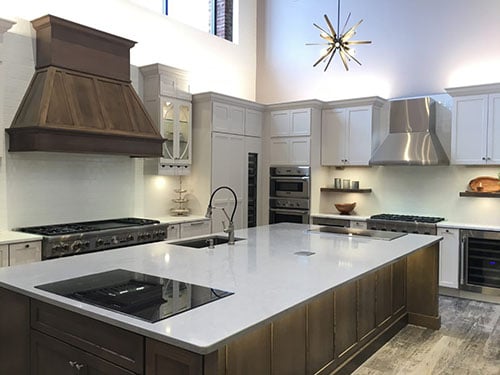 Thermador Kitchen at Yale Appliance in Boston
Thermador dishwashers are the same as Bosch. Bosch acquired them in the 1990s for their cooking products.
Most companies relabel after acquiring other companies because it's cheaper than building new products. Whirlpool relabeled Kitchen and Maytag products shortly after their acquisitions.
Their new high-end Thermador Sapphire $2,399 and Thermador Star Sapphire $2,799 are unique from Bosch (for now) because they employ zeolite in the drying cycle.
Zeolite is an element from volcanic ash and used in many different applications from supplements to nuclear power plant clean ups (seriously).
I initially searched zeolite months ago for another article, and its many uses are astounding.
In a dishwasher, zeolite increases heat and absorbs moisture. It allows Thermador to advertise a 20-minute wash and dry cycle. I will show a video of dishes washed and dried using zeolite.
Then again, you probably do not want to spend $2,399-$2,799 on a dishwasher. After reading this, you may spend way less.
KitchenAid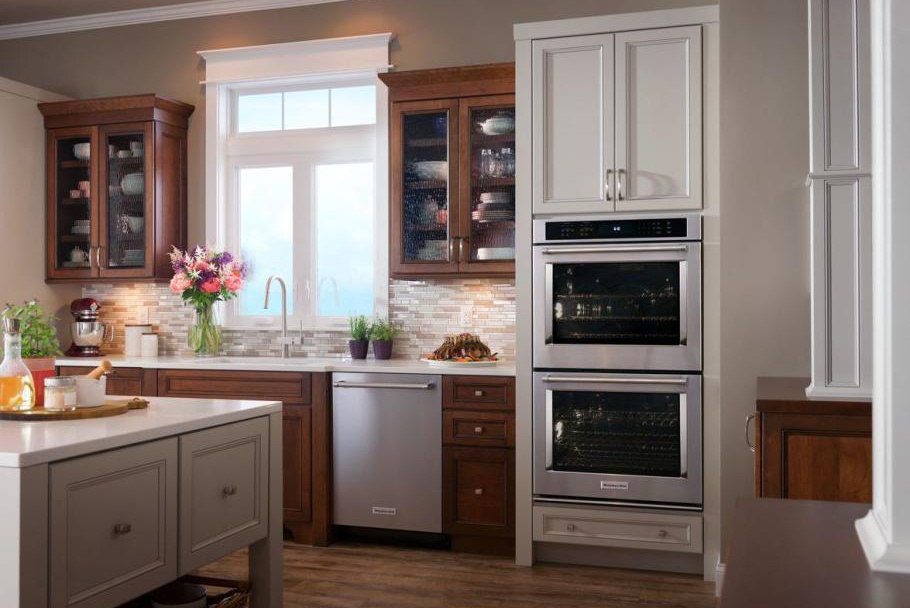 KitchenAid Full Kitchen Display
Back when I started full time at Yale in 1986, KitchenAid owned the premium dishwasher market. Back then it was manufactured by Hobart, a commercial dishwasher company.
Like many products built back then, it was a workhorse. You could expect 20 years out of your KitchenAid.
Whirlpool bought KitchenAid in the early 1990s. However, around the same time, Bosch entered the market with quieter dishwashers with stainless steel tubs.
Quiet became a new standard. The style of homes changed, with more open living spaces. Living rooms and kitchens merged, so you don't want to hear your dishwasher over your TV or music.
Let's take a look at a few Thermador and KitchenAid dishwashers to compare.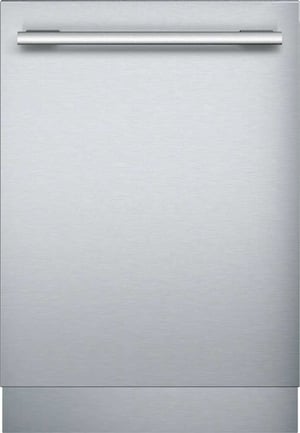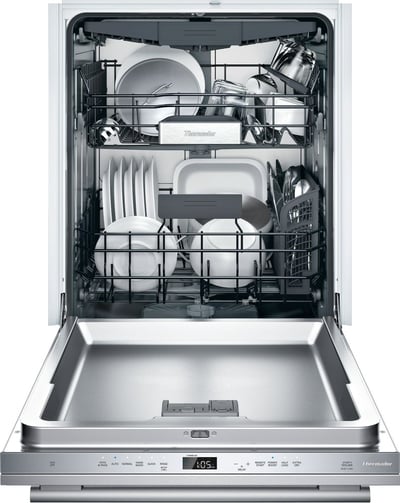 Features:
6 Wash cycles/4 Options - Sensor Touch Controls
48 dBa
Stainless Steel Tub
AquaStop Plus Leak Protection System
InfoLight – Tells you that the dishwasher is running
Top Rack for Cutlery
16 Place Setting
Adjustable Tines
Wi-Fi Connectivity
Double Dipped Tines
2-Year Warranty
(On Sale for $799 until July 7, 2019).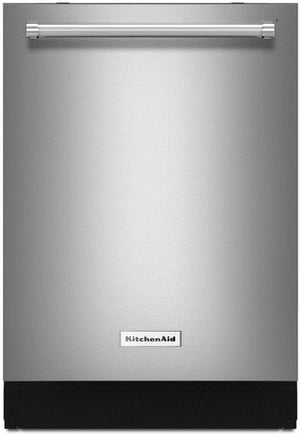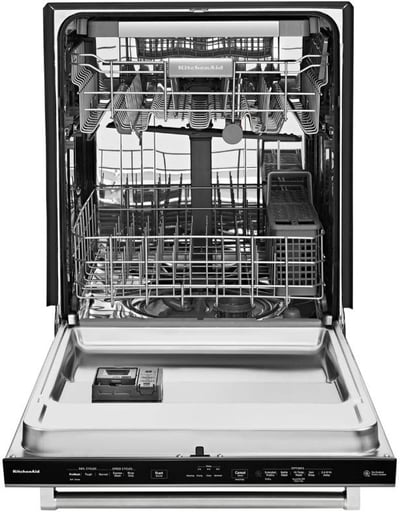 Features:
39 dBA
Fan-Enabled ProDry System
Third Level Rack
Bottle Wash Option
ProWash(TM) Cycle
Extended ProDry Option
SatinGlide Max Rails (Upper Rack)
2 Rows Fold-Down Tines in Upper Rack
Fold-Down Shelf with Stemware Holder
Express Wash
Utility Basket (Upper Rack)
Sani-Rinse Option
Premium Adjusters in Upper Rack
Stainless steel tub
KitchenAid KDTE334GPS Vs. Thermador DWHD650WFM
Most of my comparisons end with products have different strengths and drawbacks. Depending on how you use either, should be the basis of your choice.
Just not in this case.
KitchenAid is the better dishwasher. In fact, this model is KitchenAid's best model, yet not their most expensive.
Here is how they stack up.
Dishwasher Silence Rating
KitchenAid 39 DBs Vs. Bosch at 48 DBs. KitchenAid is silent and one of the quietest dishwashers, whereas, at 48 DBs, you will hear the Thermador.
Pro Tip: Any dishwasher 44 DB and under is considered quiet.
Dishwasher Cycles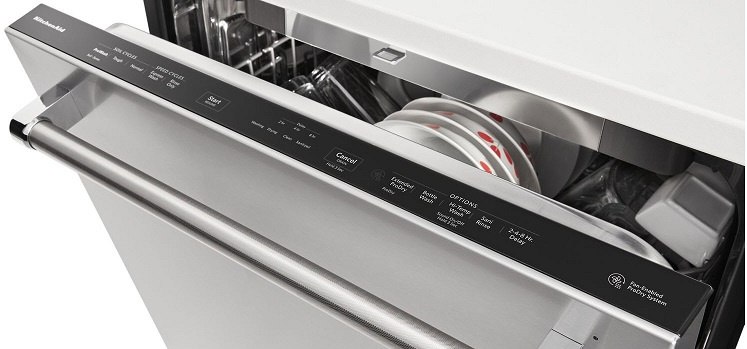 KitchenAid's Dishwasher Cycles
Bottle Wash - KitchenAid has separate sprayers on the top rack. It's excellent for sports bottles and baby bottles.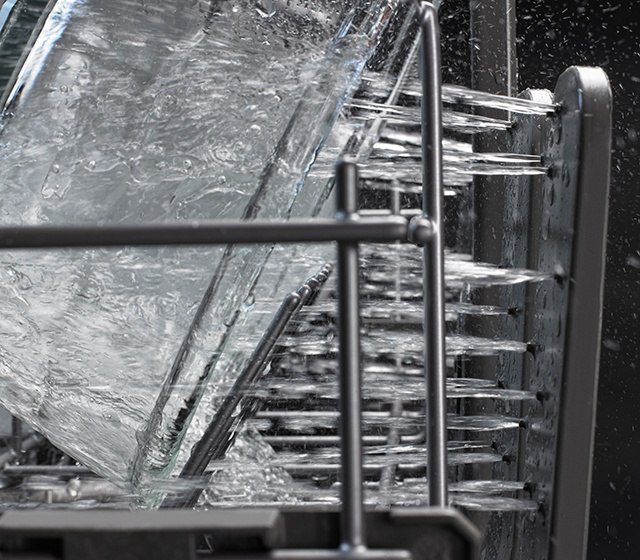 KitchenAid's ProScrub System
ProScrub - Have a cooked lasagna pan left overnight? KitchenAid has concentrated sprays for more cleaning power.
Dishwasher Wi-Fi Compatibility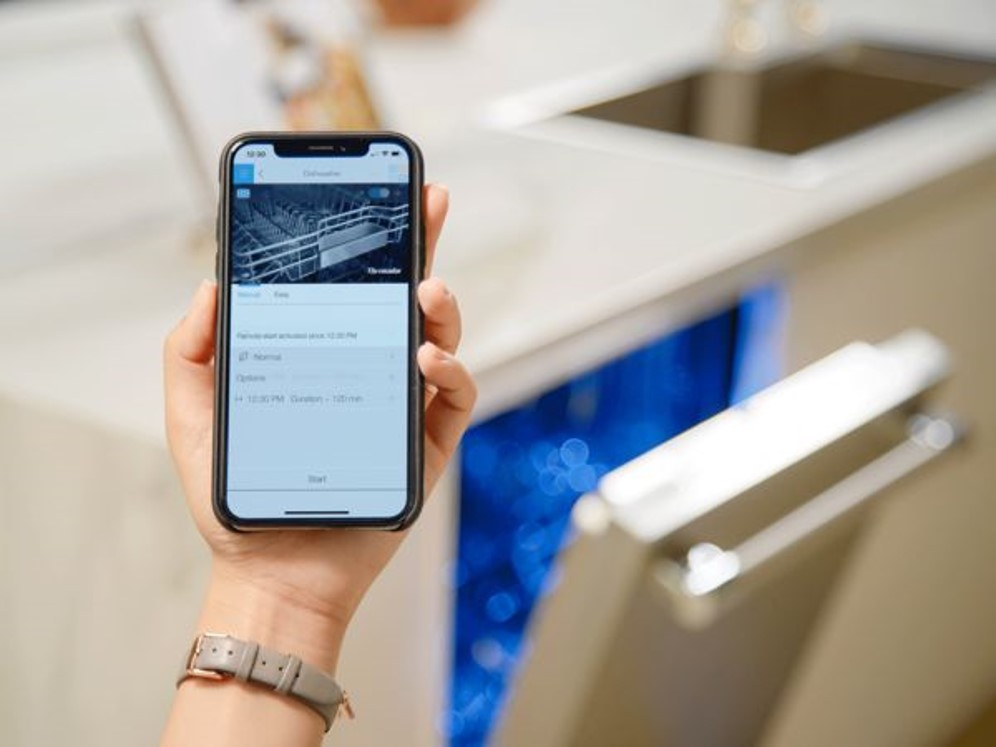 Thermador Wi-Fi Home Connect
Thermador does have Wi-Fi through Home Connect, so you can see the time remaining or turn on or off your dishwasher remotely.
Dishwasher Panels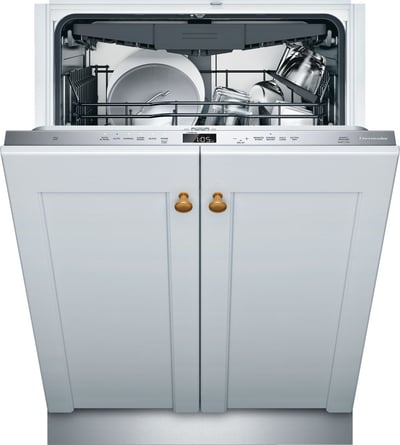 Thermador Custom Panel Dishwasher
The only other Thermador advantage is when you are placing cabinet fronts on your dishwasher.
Thermador and other European style dishwashers do not protrude from your cabinets for a much better look.
Dependability
KitchenAid's and Thermador's service rate within the first year looks almost identical.
Most Reliable Dishwashers 2019
| | | | |
| --- | --- | --- | --- |
| | Service Qty | Shipped Qty | Service Ratio |
| Signature Kitchen Suite | 0 | 17 | 0.00 % |
| Whirlpool | 44 | 1030 | 4.27 % |
| Gaggenau | 2 | 42 | 4.76 % |
| LG Electronics | 4 | 78 | 5.13 % |
| Samsung | 85 | 915 | 9.29 % |
| Maytag | 3 | 29 | 10.34 % |
| Bosch Appliances | 303 | 2735 | 11.08 % |
| Miele | 155 | 1078 | 14.38 % |
| Kitchenaid | 115 | 705 | 16.31 % |
| Thermador | 123 | 711 | 17.30 % |
| Jenn-Air | 170 | 908 | 18.72 % |
| Blomberg | 6 | 28 | 21.43 % |
| Fisher & Paykel | 42 | 175 | 24.00 % |
| Bosch - Benchmark | 38 | 158 | 24.05 % |
| Asko | 47 | 195 | 24.10 % |
| Amana | 3 | 11 | 27.27 % |
| Frigidaire | 10 | 22 | 45.45 % |
| Frigidaire Gallery | 5 | 8 | 62.50 % |
| Electrolux | 2 | 2 | 100.00 % |
| Frigidaire Professional | 2 | 2 | 100.00 % |
| Grand Total | 1159 | 8852 | 13.09 % |
You can read more about the Most Reliable Dishwashers by clicking here.
KitchenAid is a better dishwasher and is $200-780 cheaper depending on when you buy it.
Except if you are buying this: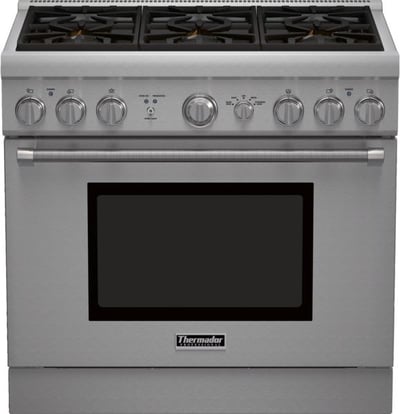 Thermador Professional Range
With the purchase of qualified Thermador cooking appliances, such as a cooktop and wall oven or a professional range, this dishwasher becomes free after a $1,399 rebate.
Now, what about Thermador's best Sapphire and Star Sapphire dishwashers?
KitchenAid Vs. Thermador Sapphire and Star Sapphire Dishwashers
Thermador Sapphire - $2,299

Thermador Star Sapphire - $2,799

39 dBA
Fan-Enabled ProDry System
Third Level Rack
Bottle Wash Option
ProWash(TM) Cycle
Extended ProDry Option
SatinGlide Max Rails (Upper Rack)
2 Rows Fold-Down Tines in Upper Rack
Fold-Down Shelf with Stemware Holder
Express Wash
Utility Basket (Upper Rack)
Sani-Rinse Option
Premium Adjusters in Upper Rack
Stainless steel tub

StarDry - The most exceptional drying power in the world. Introducing Thermador's Zeolite technology, reducing the need to towel dry items. No other dishwasher dries better.
Push to Open dishwasher opens with either a push or pull,
so loading is easier, even when your hands are full
Sapphire Glow internal light illuminates glassware
Adjustable Chef's Tool Drawer® delivers added loading

8 Wash cycles/7 Options
Stainless Sensor Touch Controls
Star Speed - Wash and Dry dishes in 20 minutes
Star Dry - Heated Zeolite Dry
44 dBa
Stainless Steel Tub
AquaStop Plus Leak Protection System
InfoLight Timer
Star Lighting
MyWay Rack
15 place setting
Adjustable Tines
Ball bearing glide racks
Double Dipped Tines
Water Softener
Both Thermador's dishwashers have the best drying methods using zeolite. The Thermador Star Sapphire has a 20-minute wash and dry cycle because it preheats the water an additional 20 minutes.
Moreover, it works well for light to medium soiled dishes (I was surprised). Here is our video test.
Thermador Star Sapphire Dishwasher Test [VIDEO]
KitchenAid is still quieter at 39 vs. 42 or 44 dBAs depending on the model and has the bottle wash and scrub features. Thermador has the best drying in the industry. It even dries plastics well.
The price once again depends on if you are buying Thermador cooking for the rebate. Then again, this comparison can rely on one other variable.
When Should You Buy Appliances?
I wrote this before July 4, 2019 so KitchenAid is now $799, its lowest price during the year. Off promotion, it can be as high as $1,199.
You should plan your appliance buying around significant holidays.
Because many of these holidays stretch on for weeks or even a month, don't worry.
Black Friday is the best, and it's unofficially Black All November to December 5.
July 4 is the last week of June to July 7. Presidents' Day in February is now Presidents' Three Weeks. Memorial Day and Columbus Day are the other two holidays.
Tax-Free Weekend in Massachusetts is now August 17 and 18th and will have Labor Day promotions.
Which Do You Buy - a KitchenAid or Thermador Dishwasher?
Well, it depends.
KitchenAid is better than the entry Thermador dishwasher unless you are buying a qualifying Thermador cooking appliance. Free is even better in this once lopsided comparison.
If you are placing cabinets on your dishwasher, buy the Thermador (or cheaper Bosch equivalent), because it looks much better.
On the better Thermador dishwashers, you do have the best drying available and the wash on the upgrade.
However, it depends when you buy the KitchenAid and if you are buying a qualifying Thermador cooking appliance.
At $799 during promotion, KitchenAid will be less expensive by $380 with better washing features versus the Thermador with much better drying features.
In the end, it has nothing to do with reliability but other factors like when you will buying the dishwasher, what else will you are buying with this dishwasher and will you be placing on a panel on this dishwasher.
Additional Resources
Want to learn more about Bosch, Miele, KitchenAid, and other dishwashers? Download the Yale Dishwasher Buying Guide with features, specs, and inside buying tips to all the major brands. Over 580,000 people have downloaded a Yale Guide.
Related Articles
Why Should You Trust Us?
It seems that every appliance review has nothing but glowing comments about almost every product, yet you read customer reviews and they are almost universally bad.
We are here to fill in the disconnect. We'll give you the best features, and the drawbacks as well, including reliability based on over 37,000 calls performed by our service team just last year. Our goal is to give you ALL the information so you know what's right for you.
Please consider subscribing or adding to the conversation in the comments below. We appreciate you stopping by.
Steve Sheinkopf is the third-generation CEO of Yale Appliance and a lifelong Bostonian. He has over 38 years of experience in the appliance industry, and he is a trusted source of information for consumers on how to buy and repair appliances.

Steve has also been featured in numerous publications, including the New York Times, Consumer Reports, The Boston Globe, Bloomberg Radio, the New York Post, The Wall Street Journal, and Entrepreneur, for his knowledge of how to buy appliances and appliance repair.

Steve is passionate about helping consumers find the best appliances for their needs, and he is always happy to answer questions and provide advice. He is a valuable resource for consumers who are looking for information on appliance buying, repair, and maintenance.

Despite being the worst goalie in history, Steve is a fan of the Bruins and college hockey, loves to read, and is a Peloton biker. The love of his life is his daughter, Sophie.
A Note About Pricing
Pricing on this blog is for reference only and may include time sensitive rebates. We make every attempt to provide accurate pricing at time of publishing. Please call the stores for most accurate price.