Signature Kitchen Suite (SKS) vs. JennAir Professional Ranges
June 2nd, 2022 | 6 min. read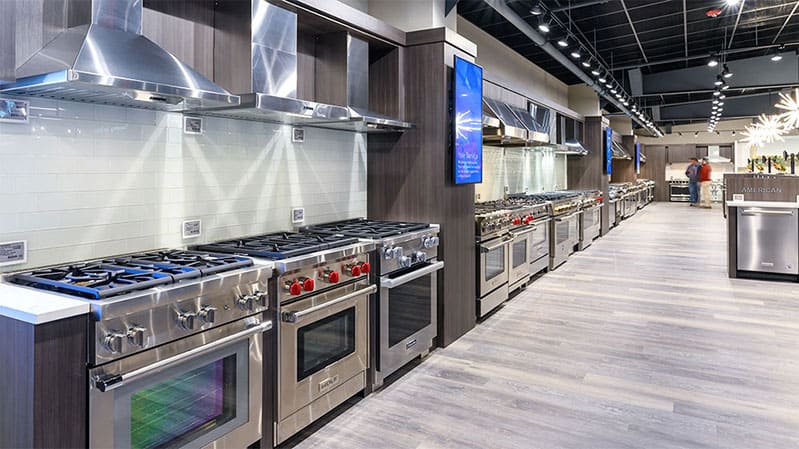 You will have a problem finding professional ranges these days.
Supply chain issues and overwhelming demand have caused problems for the most popular premium brands.
Many brands are now quoting eight to 15 months for a new pro range. Your choices are waiting or considering an alternate brand with more availability.
JennAir and SKS are two brands to consider with interesting features not available in other ranges. In this article, you will learn about their best features for the cooktop, oven, and controls. You will also learn about any issues they may have.
You will be able to determine whether JennAir or SKS might be right for you or whether you may be more comfortable waiting for another brand.
Let's look at both companies first.
SKS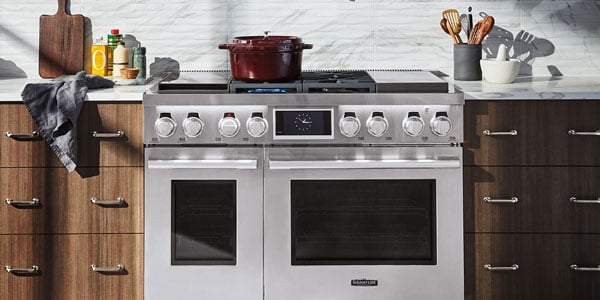 You may not know of SKS, but they are the premium division of LG, the giant Korean conglomerate.
LG has been the most available out of any major company during the pandemic and supply chain issues afterward.
LG manufactures more components than most other brands. They were less dependent on outside suppliers during the last few years.
SKS started from nothing for pro ranges and incorporated many of the best features from other brands like Miele, Thermador, and even JennAir.
They were named "Best of Show" at the 2019 Kitchen and Bath Industry Show hosted by the National Kitchen & Bath Association (NKBA). Then they also added a few unique features of their own. One is a gamble.
SKS Professional Range Models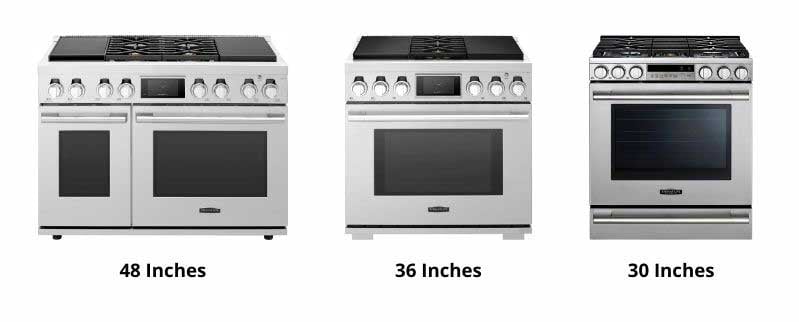 | | | | | | |
| --- | --- | --- | --- | --- | --- |
| | 48-Inch Dual Fuel Ranges | 48-Inch All Gas Range | 36-Inch Dual Fuel Ranges | 36Inch All Gas Range | 30-Inch All Gas Slide-In Range (Not Pro-Style) |
| Available Models | | | | | |
JennAir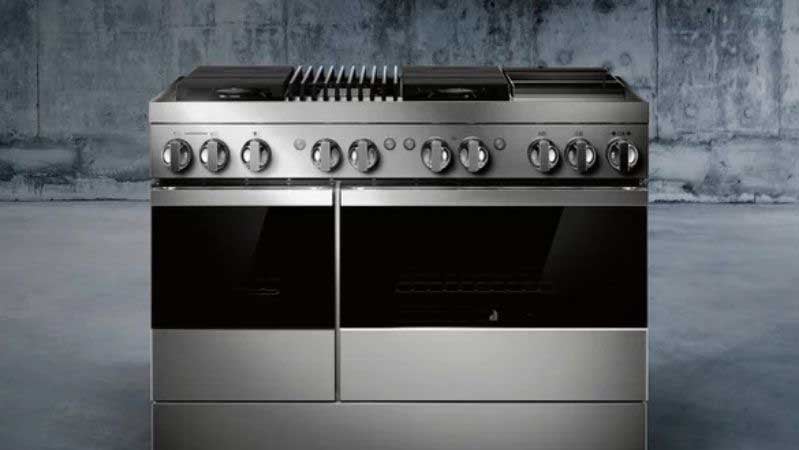 JennAir is the premium division of the Whirlpool company. Whirlpool invested in the brand after years of neglect under the Maytag Corporation.
In 2018, JennAir was named "Best of Show" at the Architectural Digest Design Show in New York with new pro ranges, new features, and a bold vision for smart appliances.
The bold vision didn't pan out, but the ranges are competitive and well-priced. They have two series, the Rise and Noir.
Let's see how the new SKS pro ranges fare against the newish JennAir pro ranges.
JennAir Professional Range Models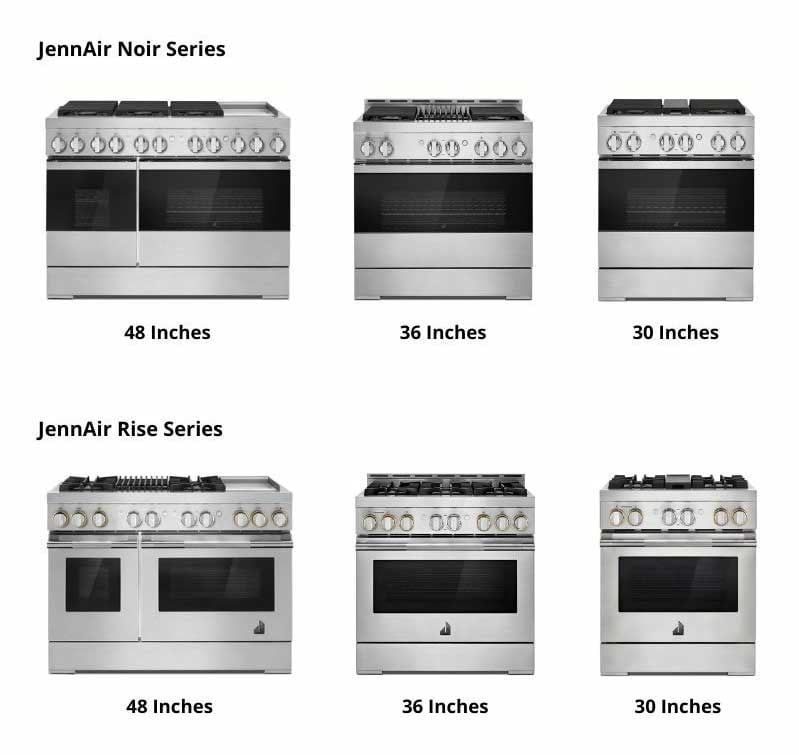 | | | | | | |
| --- | --- | --- | --- | --- | --- |
| | 48-Inch Dual Fuel Ranges | 48-Inch All Gas Ranges | 36-Inch Dual Fuel Ranges | 36-Inch All Gas Ranges | 30-Inch Ranges |
| Available Models | | | | | |
Signature Kitchen Suite (SKS) vs. JennAir Professional Ranges
Both companies manufacture ranges in the 36 and 48-inch sizes in dual fuel and all gas. Both manufacture 30-inch ranges as well.
However, JennAir has two professional ranges, while SKS only offers its high-end slide-in range. For the cooktop, both have sealed burners,
Let's look at the basic feature differences.
Stovetop Differences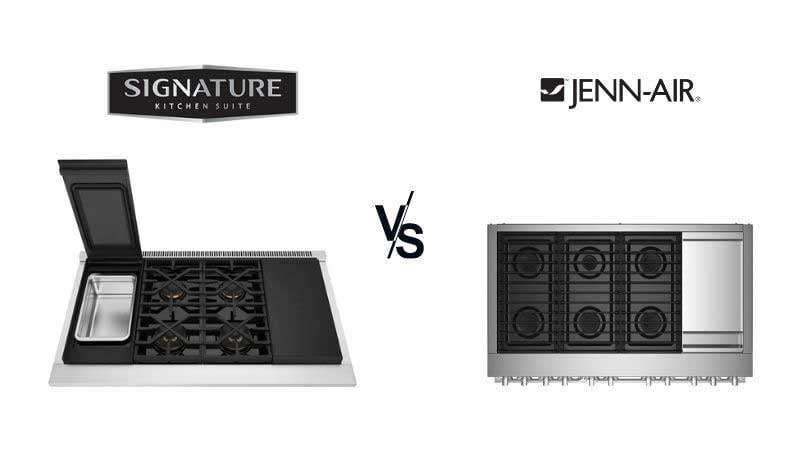 Both have a good output. SKS is outstanding with up to three 23,000 BTU sealed burners compared to three 20,000 BTU burners for JennAir.
SKS has the highest output for a sealed burner at 23,000 BTU. Hestan has one 30,000 BTU burner, but it's only one big burner. You lose the second burner in that range.
SKS's UltraLow simmer burner is lower at 100 BTU as well. If 100 BTU sounds familiar, it's the same as the Thermador's ExtraLow burner but has a constant flame compared to Thermador's intermittent flame.
Small note: You will find 100 BTU to be the lowest simmer output for professional gas ranges. Induction offers an infinite simmer. Lower simmer levels do not kill pathogens, so you don't want to cook exclusively with a simmer burner.
| | | |
| --- | --- | --- |
| | SKS Pro Range | JennAir Pro Range |
| Burner Output | 23,000 and 15,000 BTU (British Thermal Unit) burners exclusively | Three 20,000 BTU Burners, two 18,000 BTU Burners, and one 9,000 BTU Burner |
| Simmer Burner Output | 100 BTU with a constant flame | 160 BTU with a constant flame |
Griddle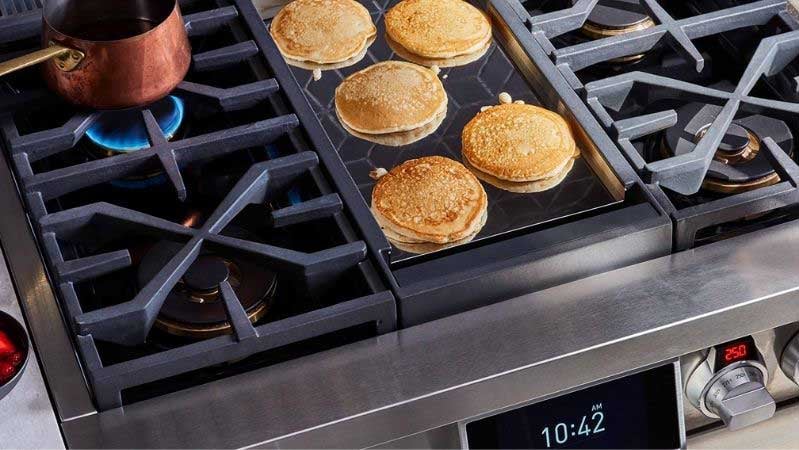 SKS Pro Range Griddle
Both are chromium infused, so food slides off, requiring far less cleaning. JennAir was the first with a chromium griddle. SKS replicated the feature in their pro ranges. You have a double griddle option in the JennAir compared to only six burners and a griddle in SKS.
How their griddles are powered differs greatly.
JennAir says they have the fastest preheat, but it's a 1320-watt electric element. Thermador also employs an electric griddle.
An 18,000 BTU gas element powers SKS and will be faster than JennAir, at least for its time to preheat.
Read More: Should You Buy a Griddle for Your Pro Range?
Grill
JennAir has the 16,000 BTU infrared grill on the top. The grill is excellent.
Lynx professional outdoor BBQ grills use infrared sear burners on their $10,000 grills at a higher 23,000 BTU but in a larger area. You have direct top-down heat with infrared, not diffused like a regular gas broiler.
So yes, you can grill in the winter on the JennAir inside your home (provided you vent well). The grill is available in 36 and 48-inch sizes. You can also buy the 48-inch grill and griddle.
SKS does not offer a grill as of this writing in any of their ranges.
Induction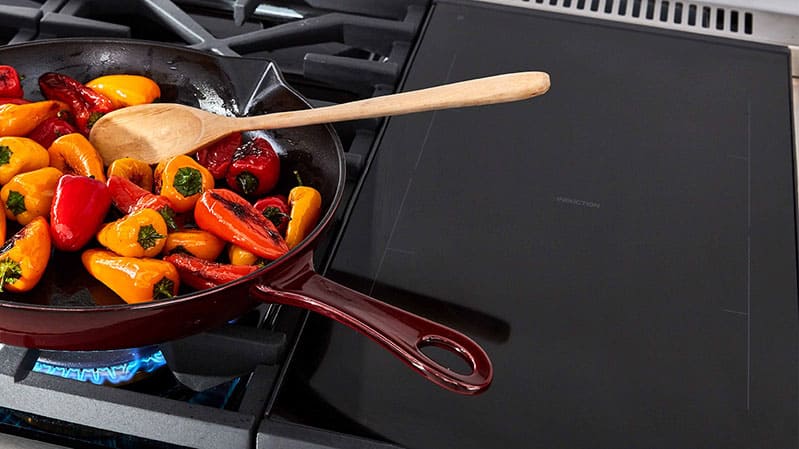 SKS 48-Inch Pro Range with Induction Burners
You are starting to see the induction option more on professional ranges. Thermador was first with an induction set. Fisher & Paykel has four induction burners and four gas burners in the 48-inch range. SKS offers a set of induction burners in their 36 and 48-inch sizes.
Why is induction becoming more popular?
Induction is faster than the 23,000 BTU burner with a better simmer. The glass doesn't heat, so cleaning is easier as well. Nonetheless, the real reason is venting. Induction is more efficient and doesn't require as much venting like a gas burner.
In theory, for all of you in Massachusetts dealing with Make-Up Air regulations, you can buy this range and still comply with a 400 CFM (Cubic Feet Per Minute) vent.
More ominously, the ban on gas ranges is growing in this country. Induction is a good hedge for the manufacturers in a gas ban. SKS offers induction in their 36 and 48-inch ranges. JennAir does not have the induction option.
Sous Vide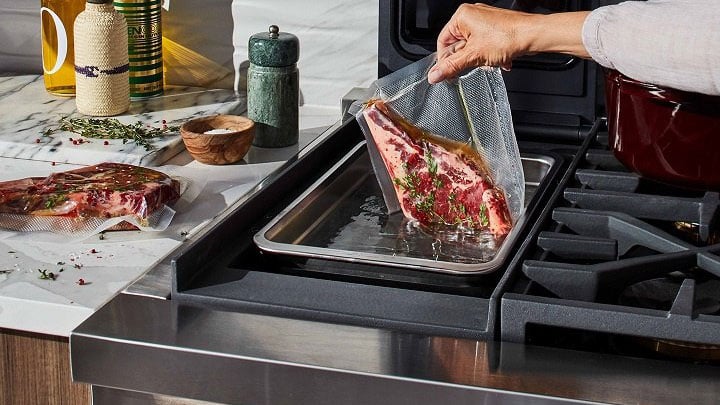 SKS 48-Inch Dual Fuel Pro Range with a Sous Vide Water Bath
Anyone who ever boiled a bag of Stouffers Mongolian Beef or Oriental Chicken in college must be smiling now. Sous vide is precision simmering in a vacuum-sealed bag instead of the guessing we did in college.
You add whatever spices and sauces you want and then simmer your food to an appropriate internal core temperature for the perfect dish.
SKS offers the Sous Vide option on their stovetop while JennAir does not. Sous vide is a gamble for SKS. I don't think people were demanding a sous vide option for professional ranges. Then again, the technique is growing in popularity.
Oven Differences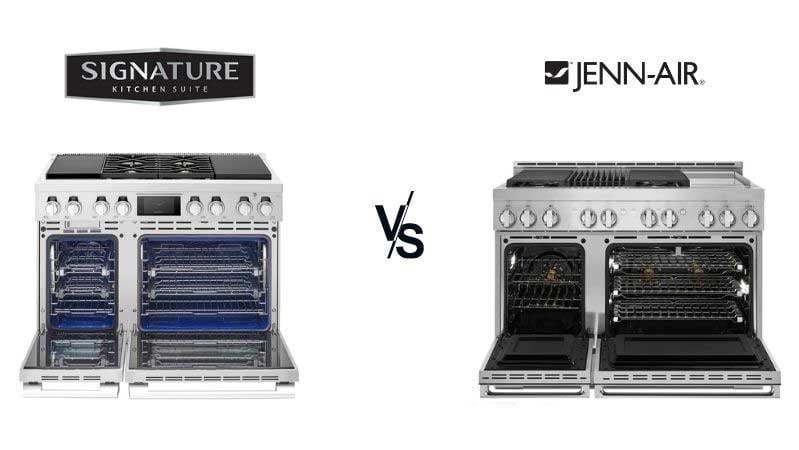 Both have self-cleaning even in all gas. Many of the best ranges like Wolf, Thermador Harmony, and BlueStar are not self-cleaning in all gas.
Oven Size
SKS is larger at 6.3 cu ft than 5.1 cu ft for the JennAir in the 36-inch range and the larger oven in the 48-inch range.
Convection
JennAir has twin convection in all their models, while SKS is single convection. However, SKS offers pure convection on all their models and are the only ones with BlueStar to do so in all gas.
Pure convection, also called True or European convection, is blown in from an element behind the fan. Regular convection is fan-blown air from the baking element below. Pure convection is technically better.
Convection Combi-Steam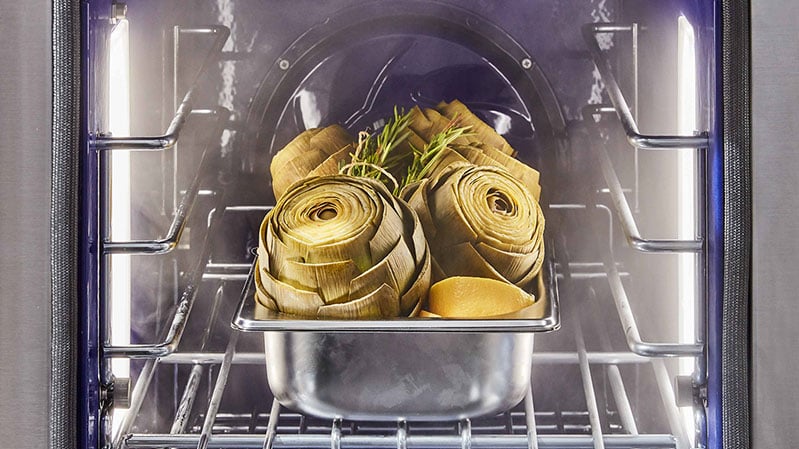 SKS Pro Range Steam Oven
SKS incorporated Thermador's best feature of adding steam in the smaller side ovens of their 48-inch ranges.
Steam is the healthiest way to cook, adding moisture instead of baking out nutrients like regular ovens. SKS has that option while JennAir does not.
Additionally, the SKS has a full-service 18" combi-steam oven in their 36-inch pro ranges, offering a comprehensive guided cooking system. This can be used in full steam mode, combi (convection and steam), or straight convection.
The water reservoir is placed inside the oven door and uses steam injection technology (which is more precise and controllable) versus the boilerplate technology in the Thermador.
Read More: Best 48-Inch Professional Ranges
Controls
Both have smart functionality. JennAir was the first with smart functionality in a professional stove, while LG, SKS's parent company, is the leader overall. Both have ties to gourmet apps like Innit, SideChef, and Tovala.
Smart Functionality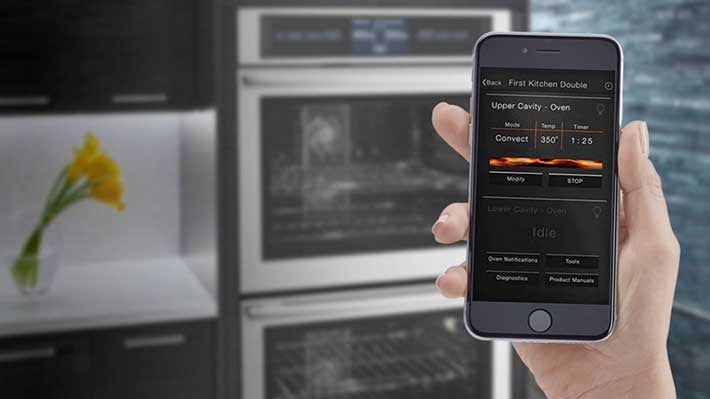 JennAir Smart App and Wi-Fi-Enabled Appliances
JennAir has the most elaborate interface with their Culinary Center. You pick the food, weight, and how you want it cooked. The range will calculate time and temperature and show you how it looked before it was cooked.
SKS is less elaborate, but SmartHQ is a higher-rated platform. LG is testing service diagnostics, so the range will self-diagnose itself, sending an alert to a service agent.
The service agent will be able to fix the range before issues arise. As a service agent for SKS in Boston, that would be huge. It will eliminate the guesswork in repairing appliances.
Learn More: Smart Appliance Buying Guide
Pro Range Reliability
Reliability is a huge consideration, even more than ever. The supply chain for parts is worse than for appliances, so you may be waiting months to fix your pro range from any brand. SKS is a big unknown, but its parent company, LG, is not.
The most reliable refrigerator, range, and dishwasher are all LG, according to our service team's over 40,000 service calls logged last year. The most reliable appliance sold at Yale is their dishwasher, with a first-year service rating of 1.7%. That's the lowest we have ever recorded for any appliance in our history.
With their philosophy of building more of the appliance internally than outsourcing, SKS should be reliable. They should hope so. The warranty is for three years with a 5-day service guarantee - pretty aggressive for a new product.
Read More: Most Reliable Professional Ranges
Key Takeaways
Both are good considerations, especially when you factor in availability. JennAir will have a 30-inch pro range and more styles and options, especially with a grill.
SKS is more powerful with a better simmer and a larger oven. Sous vide is an interesting feature, while induction is simply a better burner. Steam is a great option as you will cook better, but like the sous vide option, you must learn how to use it.
The better range depends on how you cook. You also want to buy the best-supported brand for delivery, service, and installation in your area.
After you buy the best features, shop for the best support.
Additional Resources
Looking for more information on pro ranges? Get the Yale Pro Cooking Buying Guide with features, specs, BTU Outputs, and detailed profiles of the major brands. Well over 1 million people have read a Yale Guide.
Related Articles:
Why Should You Trust Us?
It seems that every appliance review has nothing but glowing comments about almost every product, yet you read customer reviews and they are almost universally bad.
We are here to fill in the disconnect. We'll give you the best features, and the drawbacks as well, including reliability based on over 37,000 calls performed by our service team just last year. Our goal is to give you ALL the information so you know what's right for you.
Please consider subscribing or adding to the conversation in the comments below. We appreciate you stopping by.
Steve Sheinkopf is the third-generation CEO of Yale Appliance and a lifelong Bostonian. He has over 38 years of experience in the appliance industry, and he is a trusted source of information for consumers on how to buy and repair appliances.

Steve has also been featured in numerous publications, including the New York Times, Consumer Reports, The Boston Globe, Bloomberg Radio, the New York Post, The Wall Street Journal, and Entrepreneur, for his knowledge of how to buy appliances and appliance repair.

Steve is passionate about helping consumers find the best appliances for their needs, and he is always happy to answer questions and provide advice. He is a valuable resource for consumers who are looking for information on appliance buying, repair, and maintenance.

Despite being the worst goalie in history, Steve is a fan of the Bruins and college hockey, loves to read, and is a Peloton biker. The love of his life is his daughter, Sophie.
A Note About Pricing
Pricing on this blog is for reference only and may include time sensitive rebates. We make every attempt to provide accurate pricing at time of publishing. Please call the stores for most accurate price.