What is Sous Vide Cooking? [VIDEO]
You are starting to see more products with sous vide capabilities. Cooking shows have also been featuring more sous vide in their recipes.
Now Miele, Gaggenau, and SKS by LG have started incorporating sous vide functionality in their products. You will see more brands and products with sous vide in the near future.
In this article, you will learn what sous vide is, whether you should consider it, and how it works. In the end, you will know if sous vide cooking is right for you and your family.
What is Sous Vide?
Can You Sous Vide in a Steam Oven?
Sous vide is a controlled temperature cooking environment producing consistent results for a variety of different foods from meat and vegetables to eggs.
Your food will never overcook and will retain all its moisture. This is traditionally done with an immersion circulator (a device that maintains a stable and circulating heat), but in this case, we're using Gaggenau's Combi-Steam Oven. Miele has the same functionality in their steam oven as well.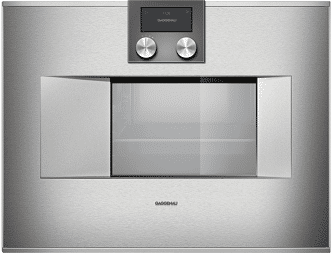 Benefits of Sous Vide Cooking
This method is particularly favorable if you cook in large batches or like to entertain. It's used in catering and restaurants for consistent results every single time.
Also, it's a time saver because after your food is brought up to temperature, you can add a depth of flavor by grilling or pan frying for a much shorter period of time.
How it Works
What you need is a vacuum sealer, some food-grade vacuum seal-able plastic bags, and your cooking ingredients.
Place your ingredients in their own vacuum-sealed bags. They'll all be cooking at different temperatures. Choose your seasonings and aromatics accordingly.
We paired the ribeye with thyme, rosemary, and butter. Hold off on the salt and pepper until you're ready to sear.
The carrots were prepared with salt, pepper, sugar, and butter and our potatoes were cooked with duck fat, salt, pepper, and herbs.
The steak was placed in the Gaggenau steam oven on the Sous Vide setting, set to 128 degrees exactly. The carrots and potatoes were cooked at 185 degrees.
All the ingredients cooked for at least one hour but could be held for much longer.
When we were ready to serve, the ingredients were removed from the oven and transferred to pans to finish off the cooking process.
The potatoes were browned, the carrots caramelized, and the steak was seared. All creating depth of flavor but not being overcooked. The results were consistent in temperature, texture, and flavor.
Who's it For
You will appreciate sous vide cooking if you like to plan out larger meals, maybe a tech enthusiast, or anyone who really enjoys the process of cooking.
Again, the ability to batch cook nearly perfect food is great for people who entertain a lot or are culinary professionals looking to elevate their business to the next level.
Several of the brands producing combination steam ovens are also offering built-in vacuum seal drawers. There is also a pro range by SKS with a built-in water bath and a temperature control setting for sous vide cooking next to the burners.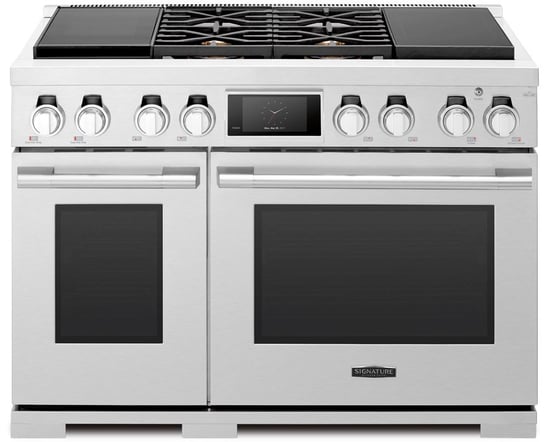 Signature Kitchen Suites SKSDR480SIS
Additional Resources
Want to learn more about the latest gas ranges and technology? Read the Yale Pro Cooking Buying Guide with features, specs and detailed profiles of every major brand. Well over 350,000 people have downloaded a Yale Guide.

Related Articles
Steve Sheinkopf
My goal has always been simple: I want Yale to be the best retail experience anywhere. I have tried to create a compelling environment for customers and employees alike.
A Note About Pricing
Pricing on this blog is for reference only and may include time sensitive rebates. We make every attempt to provide accurate pricing at time of publishing. Please call the stores for most accurate price.