The Best Smart Appliances from CES 2018 (Reviews/Ratings)
"Ok, Google," I said to my Android cell phone. "Preheat my oven to 325 degrees." I'm six minutes from home and about to leave the grocery store with tonight's dinner. With most of my appliances connected to my smartphone, life just got easier.
This year's Consumer Electronics Show (CES) featured the latest innovations in appliances including vacuums, ranges, washing machines, and refrigerators. For a few years now, brands, like LG, Samsung, Whirlpool, and GE, have focused on the "connected home," also known as smart appliances with home connectivity. This year at CES, manufacturers focused on machine-learning and customization of their products, appliances are more helpful than ever.
For instance, you could be working in your home office when you realized you didn't hit start on your washing machine. Instead of breaking your concentration, you can ask Amazon's Alexa to set your washing machine to your selected cycle, set the water temperature, and start it - all from your desk chair.
Let's take a look at some of these new connected home advances. This article is organized by brand, product category, and our key takeaways.
Best New Appliances from CES 2018
Samsung
Laundry
Samsung's compact laundry set is to return with the same vented model as before. Later this year, they're planning to have a heat pump model available making their first ventless dryer. A heat pump dryer uses a compressor instead of heating elements to dry your clothes while recycling the air through the machine. It's much more efficient than a vented dyer. Check out their prototype below.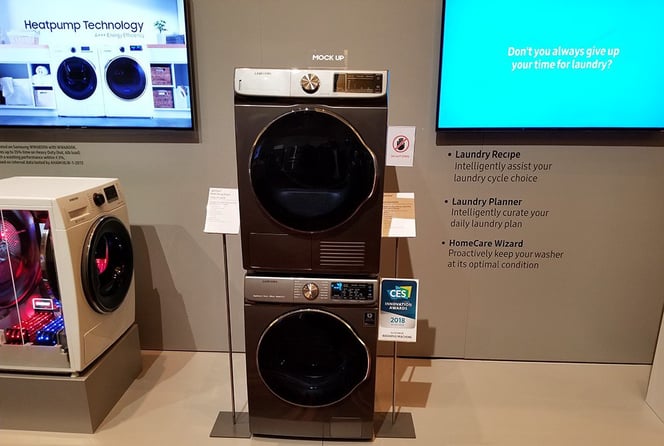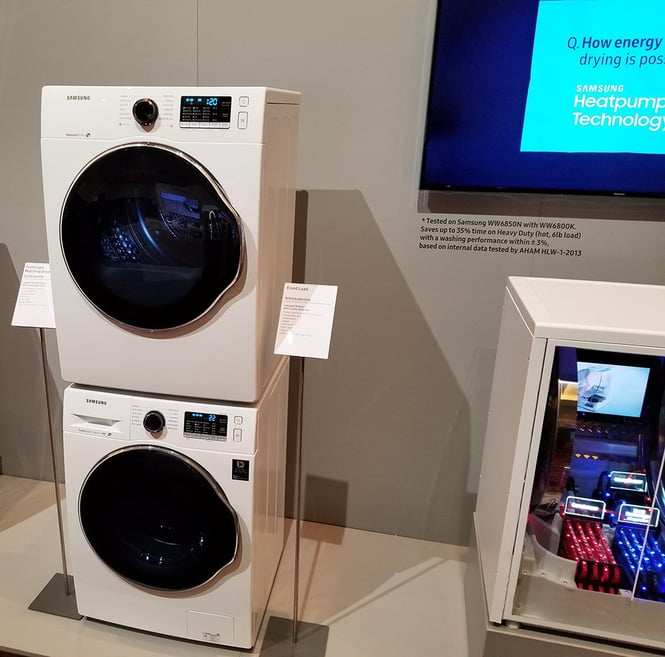 Vacuums
Samsung makes a very compelling vacuum, their stick vacuum (comparable to a Dyson) as well as a robotic vacuum the POWERbot. Robo vacuums are the fastest growing segment of vacuums at a 40% growth from last year. Also, Samsung offers Star Wars-themed robo vacuums so there's that....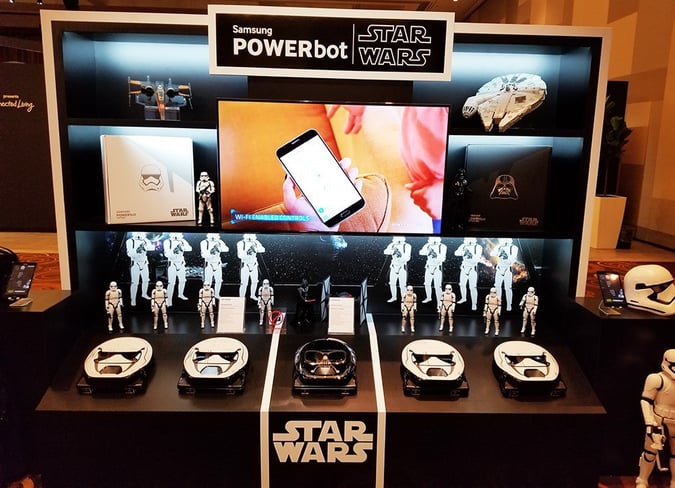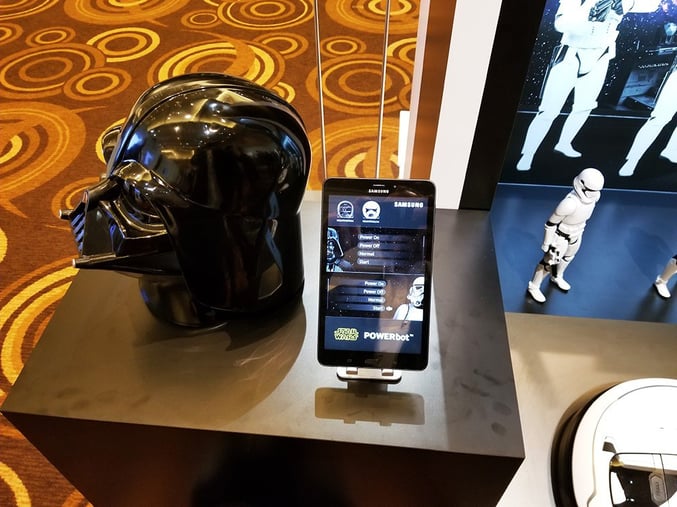 Star Wars Vacuum
Hoods
Samsung is coming out with an electronically adjustable hood for makeup air. It comes out of the box 300 CFM (cubic feet per minute) then can be adjusted up to 600 CFM.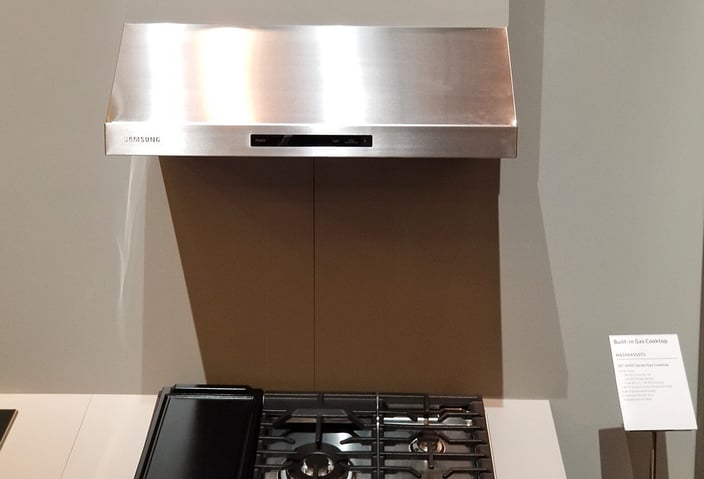 Family Hub Update
Samsung's main focus is on the connected home. This includes not only expanding the Family Hub line but also updating the software. The newest family hubs will include Samsung's Bixby voice assistant (think the Samsung's version of Amazon's Alexa) that will do things like add virtual expiration dates to everything on your grocery list, find the cheapest deals on your shopping list, and recommend recipes based on food that may be expiring soon.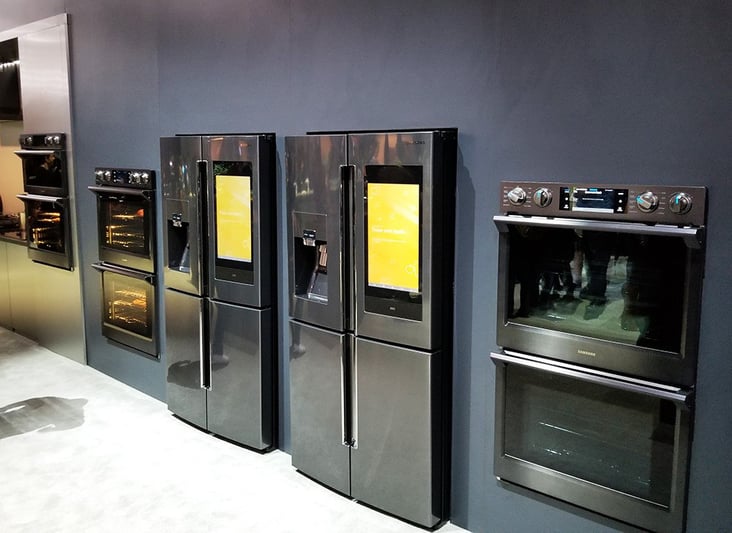 It will also integrate into various other connected products like a Ring's products featuring security videos in your floodlights and doorbell. If the occasion ever arose, you could answer your door through your refrigerator.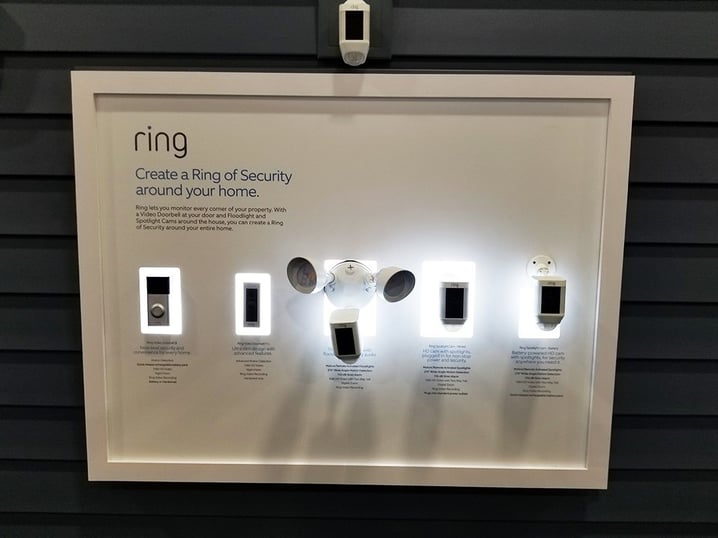 Whirlpool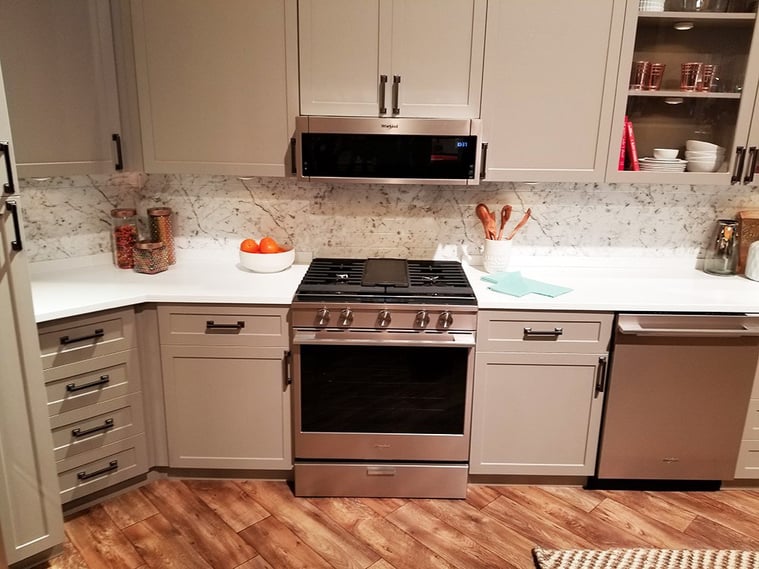 Microwaves
First of its kind 10-inch tall, over-the-range microwave. Whirlpool is the first to market with a solution-based product. The unit itself is touch to open and, according to Whirlpool, will be released as soon as this March.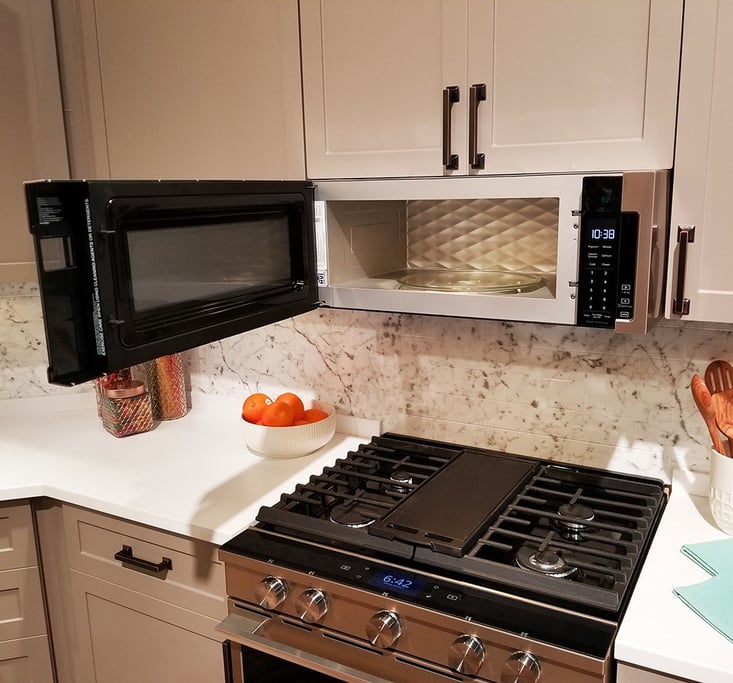 Ranges
New Whirlpool ranges that include guided cooking via a touchscreen on the control panels. Really just an advanced version of the current convection conversion feature on most ranges just a little more user-friendly.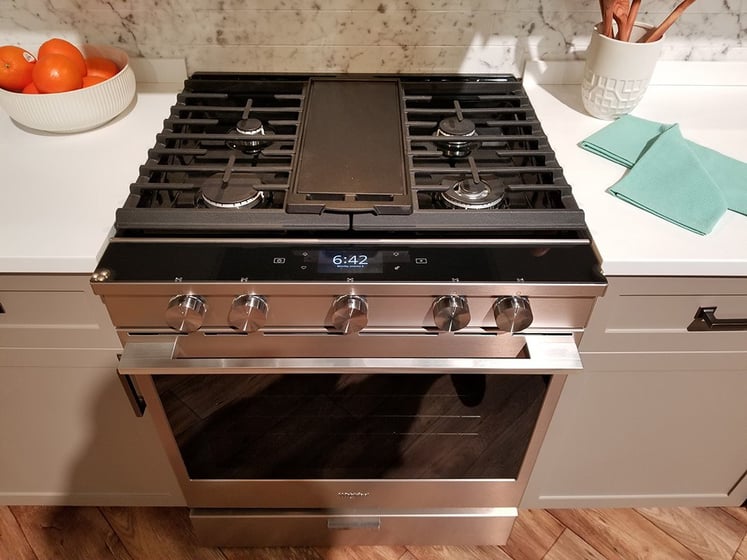 The last thing that's a little different is the food recycler. Basically, it's a freestanding garbage disposal that has a special additive to turn food scraps into fertilizer.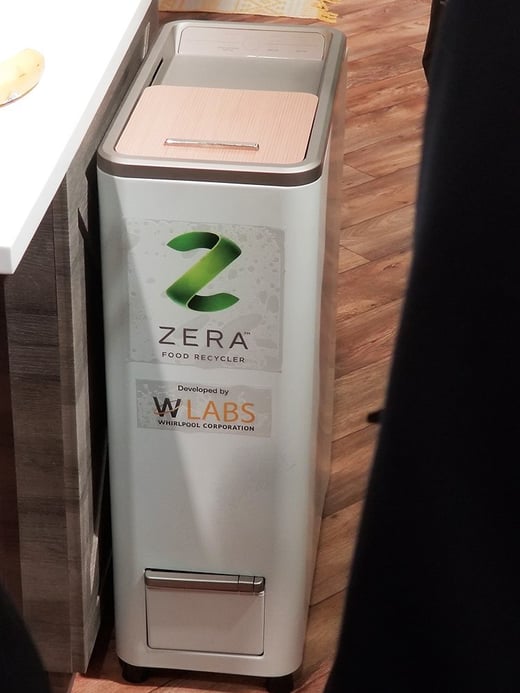 LG
Refrigerators
They have added a "Family Hub" style monitor to their InstaView refrigerator which is very cool looking, despite a high price ($7-8K for a freestanding fridge). In the spirit of connected appliances, when you select a recipe, it will preheat the oven, and preset the dishwasher to the proper settings depending on what you cooked.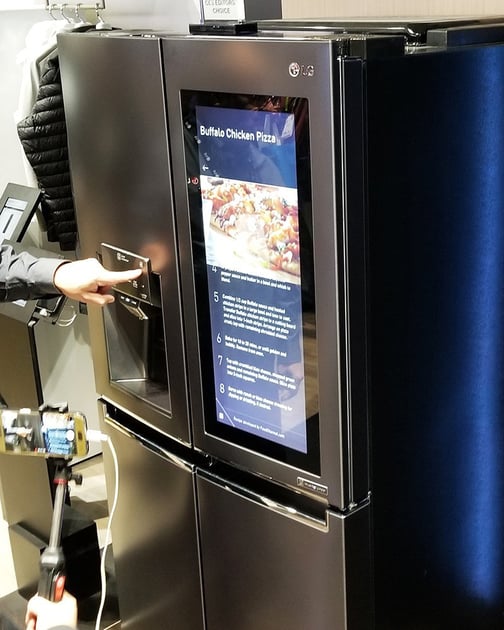 GE
GE is projecting their version of Family Hub for later this year by putting a screen on their hoods. It looks a lot like an over-the-range microwave, but it has no microwave functionality. It does have dual camera's that can not only video call, but also record your cooking. It might be your time to shine as an Instagram sensation with your own chef videos. They also have integrated Google Assistant (Ok Google) into their wall ovens.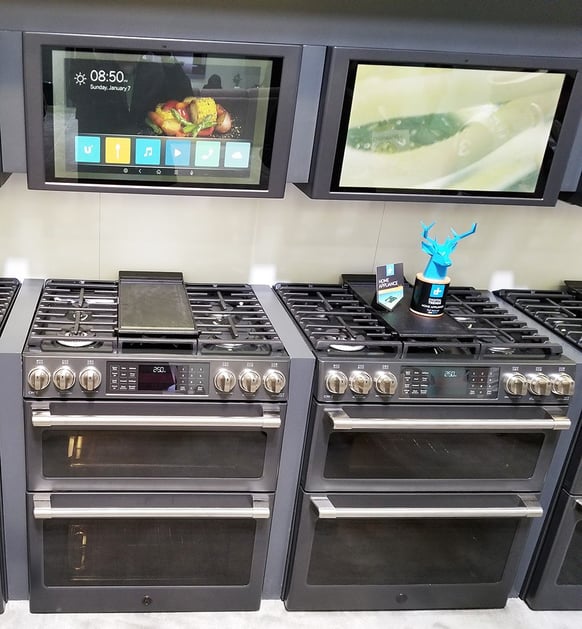 Haier
Haier is working on a smart washer with RFID sensors for identifying what clothes you put in. This is currently just a prototype, but ideally it will be able to detect the item's fabric and color alerting you if an item will bleed and discolor other laundry.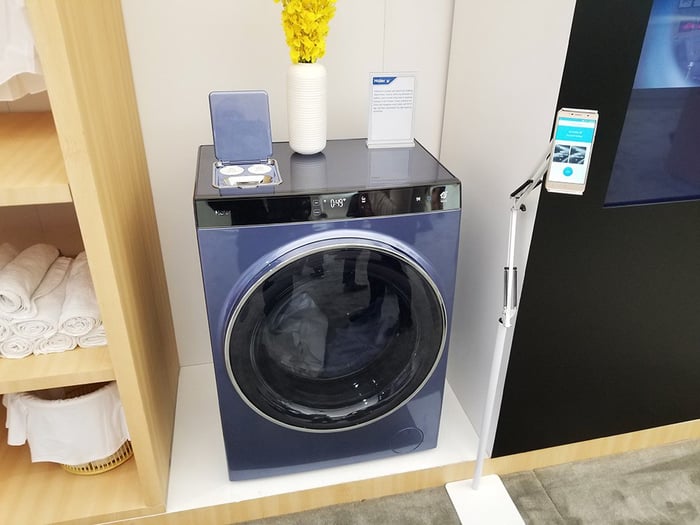 Final Thoughts
With all of this new technology on the rise, there are some issues to be aware of. Specifically, our biggest worry is the issue of security. You don't want to be hacked from your refrigerator. (How bizarre would that be?) CES revealed many products coming to the home that have home connectivity, Wi-Fi, and machine-learning capabilities. It's no wonder appliances have followed suit. The technology in appliances may not be there yet for a major breakthrough, but CES 2018 introduced some cool features and ideas for their smart appliances that will definitely pave the way for other appliance brands.
Addtional Resources
If you are looking for appliances, you may want to download our Appliance Buying Guide with detailed information about brands, the 5 best times to buy an appliance, and problems you should be aware of before you buy. Well over 280,000 people have downloaded a Yale Guide.

Related Articles:
Jonathan Upton
Jonathan Upton is the Sales Support Manager at Yale Appliance + Lighting. He has spent over a decade in customer support and sales and also been published in the Boston Globe and Daily Evening Item.

Read more about Jonathan here.
A Note About Pricing
Pricing on this blog is for reference only and may include time sensitive rebates. We make every attempt to provide accurate pricing at time of publishing. Please call the stores for most accurate price.