Professional vs. High-End Gas Slide-In Ranges (Reviews / Ratings / Prices)
So, you want to jump in and buy that professional range? You have been told it is way more powerful than a gas slide-in range. Or perhaps you are buying a slide-in range because you have been told pro ranges are way more expensive, lack the basic clock function, and are not self-cleaning.
Neither statement is necessarily true anymore.
Of course, you can buy some very expensive pro ranges especially from Miele, Wolf, and BlueStar but for the majority, slide-ins and pro ranges have become similar in many ways.
Before we look at products, we should define what a slide-in and pro range actually is. Let us start with slide-ins.
Short on time? Get our free Gas Cooking Buying Guide
Slide-In/Front Control Ranges
A slide-in range began years ago with 2 specific features; no back panel so all the controls are on the front, and the edges of the range overlap the counter top so no gaps are showing.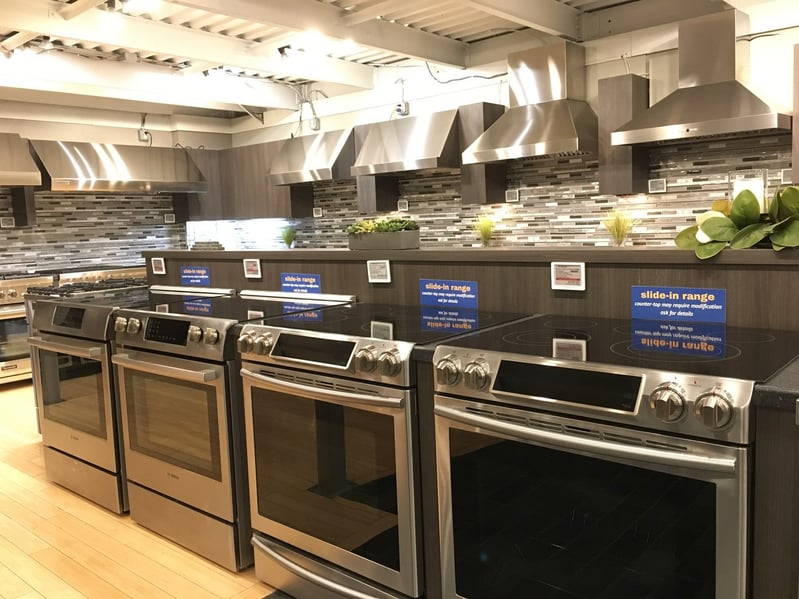 You will see in our showroom we have both "slide-ins" and "front control" ranges. The only difference is the front controlled ranges don't have an overlapping edge, which is good and bad.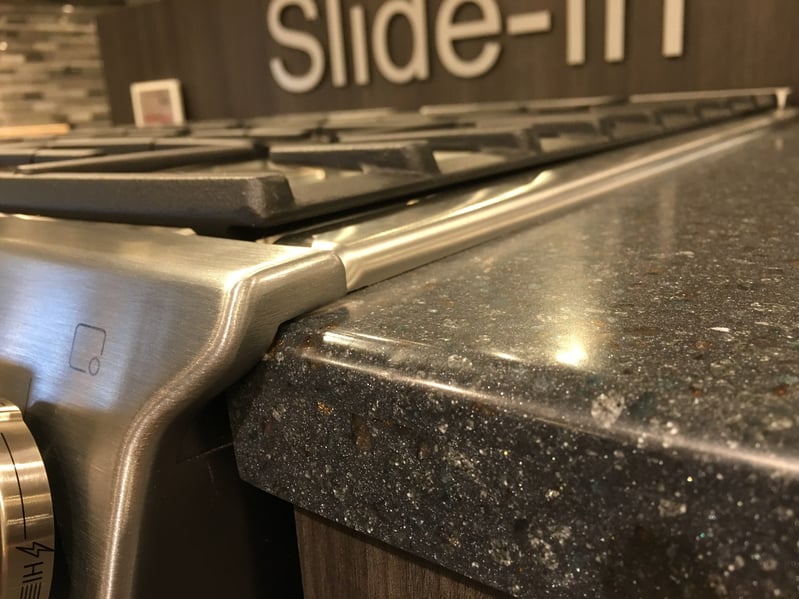 Front controls can fit in a 30-inch cutout, whereas slide-ins cannot without countertop fabrication. However, slide-ins are easier to clean because there is no gap between the cabinet and range for spills to drip.
You will see both ranges referred to as slide-ins, but it's important to understand the differences between the two.
Slide-ins have become more like pro ranges with high output burners and even 5 or 6 burners within a 30-inch profile.
Pro Ranges
Pro ranges are a relatively new product since 1990. They started as a commercial looking, powerful range for chefs and became popular from there.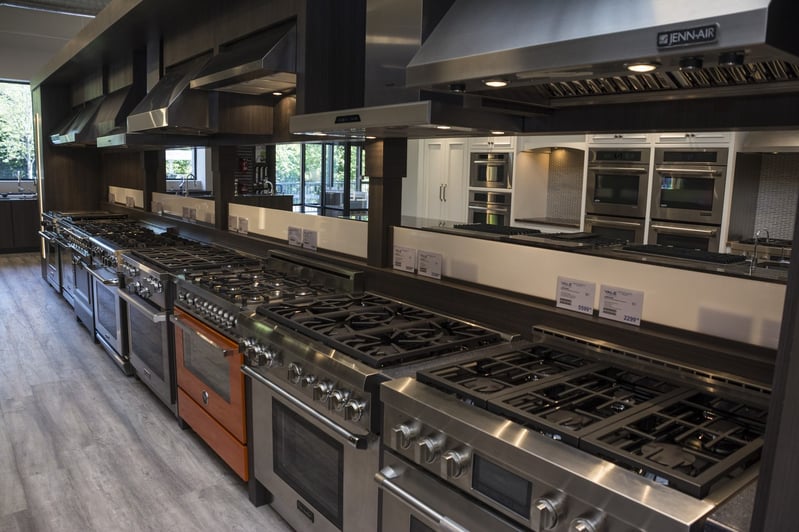 Like slide-ins, most pro ranges have changed. You still have the same basic, incredibly powerful ranges without controls similar to BlueStar and Capital.
However, most have been upgraded with residential range features. Companies like Wolf, Jenn-Air, GE Monogram, and especially Miele operate like regular high-end slide-ins. Miele may have better controls than any other range in the market for a pro range.
OK, now that we have an idea of what these ranges entail, let's take a look graphically at your decision of slide-in versus a pro range.
Professional Ranges:
Jenn-Air JGRP430WP - $3,399 (with a free Jenn-Air dishwasher)
Features:
Large 20,000 BTU stacked burner - Better to heat to a pan or pot by bringing the flame closer.
Also has two 15,000 BTU burners and a 5,000 BTU burner great for simmering.
Twin convection oven for more consistent heat
A 7-inch LED display in the front to easily navigate all the different oven options.
6 different cooking modes in the oven.
4.1 cubic foot oven.
Auto convection conversion so when you are cooking in convection modes you won't have to change any of your recipes.
The price is normally $3,999 with a $1,300 credit towards another Jenn-Air appliance. It is $3,399 with their dishwasher for a limited time. However, this range has the power you would expect at 55,000 total BTUs.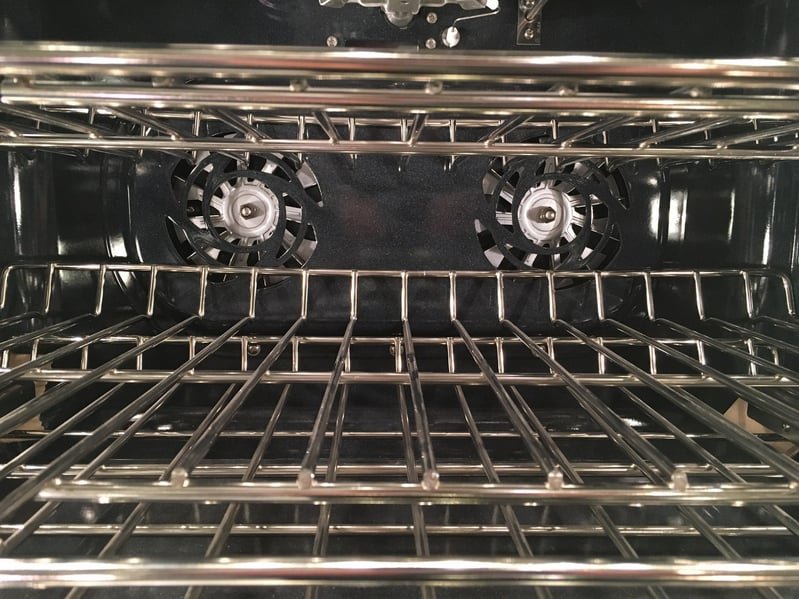 You also have twin convection for more even heat distribution than most of the single convection ovens found in most slide-in ranges.
The controls are better as well with a 7-inch LCD with convection conversion, so you can convert your regular recipes into convection with the touch of a button.
Slide-in Ranges:
Features:
Baking Drawer - Not just for keeping warm. You can cook in it.
Aqua-lift - The new self-cleaning too. No need to burn out the inside and is much safer for the range.
5 burners and a griddle
Convection oven - For more even cooking.
Dura Finish Coating – Located on the top panel to help prevent scratches and marks.
5.8 cubic foot oven - One of the biggest capacities in the industry.
19,000 BTU burner - Very powerful for larger pots.
The other burners are 15,000 9,200, and 5,000 BTUs. The griddle burner is 8,000 BTUs.
This is technically a more powerful range at 56,200 with the 5th griddle burner. In any slide-in/front control range, you will have at least 2 high output burners.
The oven is significantly larger as well. It also has a separate baking drawer below whereas the pro does not.
You have all the controls of the pro, just not displayed as prominently. You can also store recipes on the pro as well. If you are looking for a matching dishwasher, it is currently $500 more expensive than the pro.
So How Should You Buy?
So, slide-ins have become more powerful whereas pro ranges have become more user-friendly in most cases. Price can be higher for either depending on the features.
If you need power on three or more burners, then pro would be your best consideration. The slide-in typically will give you a more balanced range in terms of output and features like baking drawers.
I would forget the terms of pro, slide-in, and front control (unless you are replacing an old unit). Focus on what is important to you. Burners? Capacity? Even baking? Griddle burner? Then pick the most suitable range for you.
Additional Resources
Need some help on appliances? Download the Yale Appliance Buying Guide with features, detailed profiles of the major brands, and the answers to the top 10 appliance questions in a kitchen. Well over 220,000 people have read a Yale Guide.
Relted Articles
Alex Leifer
Alex Leifer is a Sales Consultant at Yale Appliance + Lighting. After graduating from Mass Bay he spent two years in sales with a roofing and solar company. He is an avid motor enthusiast, amateur photographer and movie aficionado.
A Note About Pricing
Pricing on this blog is for reference only and may include time sensitive rebates. We make every attempt to provide accurate pricing at time of publishing. Please call the stores for most accurate price.