Should You Buy the GE Front Load Laundry GFW650SSNWW? (2023 Review)
In 2019, GE introduced its new laundry set packed with unique features. Now nearly four three years later, should you still consider a GE washer against the newer LG, Samsung, and Whirlpool models?
In this article, you will learn all about the GE GFW650SSNWW front load washer, its five best features, and a few problems.
Then we will compare GE's front load washer to other manufacturers' newer machines.
Let's get started.
GE Front Load Laundry GFW650SSNWW (2023 Review)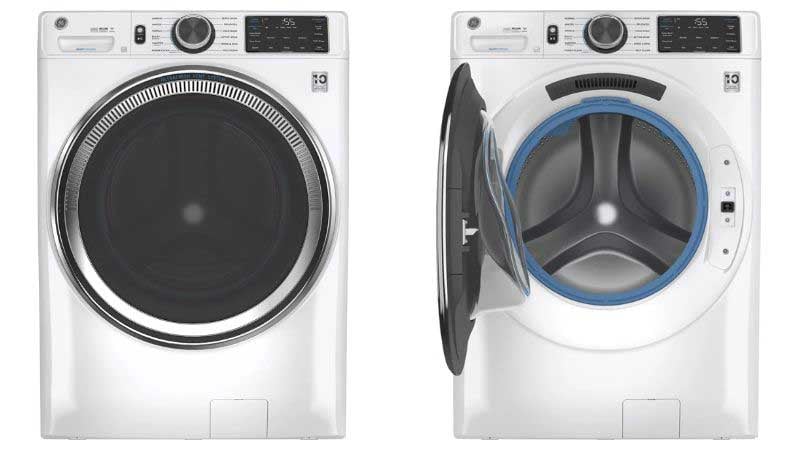 Dimensions: 28" W, 39.75" H, 32" D | Capacity: 4.8 Cubic Feet | Number of Cycles: 12 Cycles, 9 Options | Spin Speed: 1300 RPM | Reversible Door: Yes | Automatic Dispenser: Yes | Reliability: 8.0%
5 Feature Highlights and Advantages
Mold and Mildew Prevention
Mold and mildew have always been an issue in front-load washers. It results from standing water pooling in the machine's gasket and the bottom of the washer.
You can prevent mold by keeping the gasket dry, wiping down the dispenser, and keeping the door open after each cycle.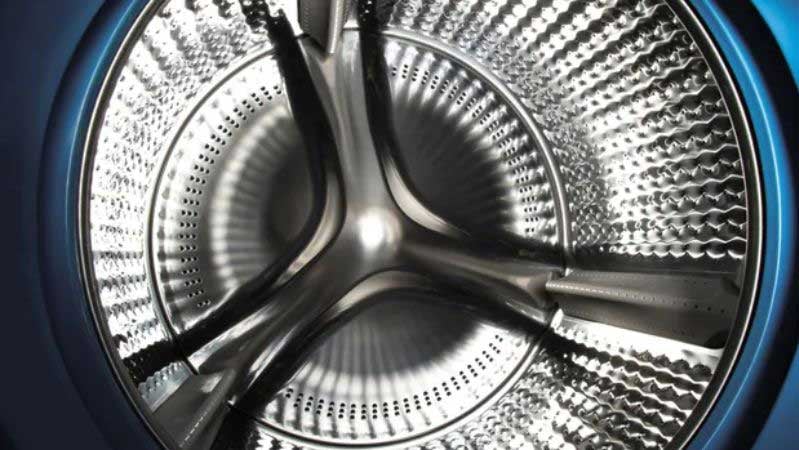 GE Front Load Washer Drum
We wrote a blog article on preventative maintenance for mold and mildew.
GE addresses the mold issue directly. They coated their gasket, hoses, and dispensers with the Microban antimicrobial technology.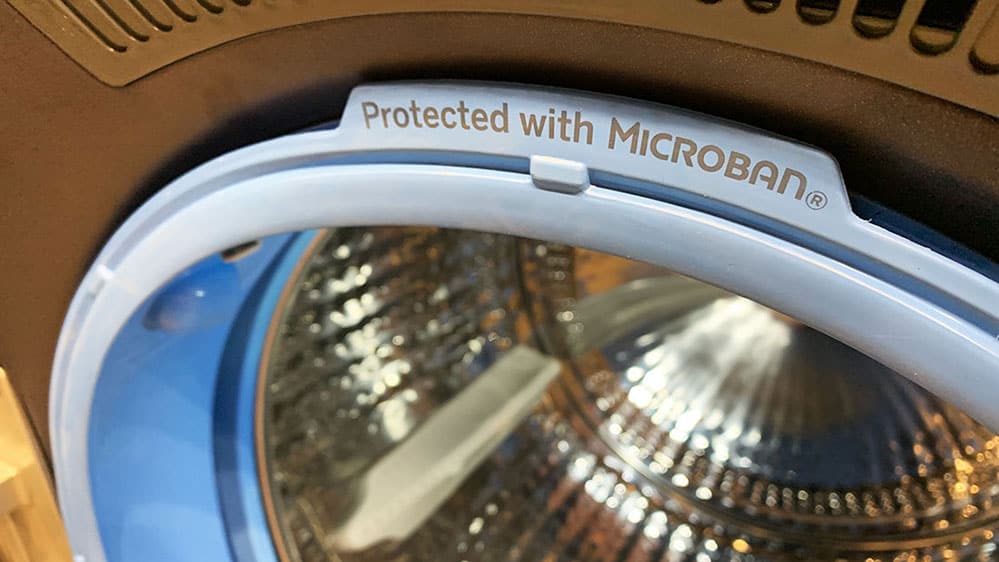 GE Front Load Washer with Microban Coating on Gasket
I remember changing my then-infant daughter at the Museum of Science in Boston, wondering how many other Dads had to do the same.
The changing table was coated with Microban. So is ours at Yale (I used to know all the changing tables in the Greater Boston area).
GE also employs a fan in the door to further dry any residual water in the gasket. They call this their UltraFresh Vent System with OdorBlock.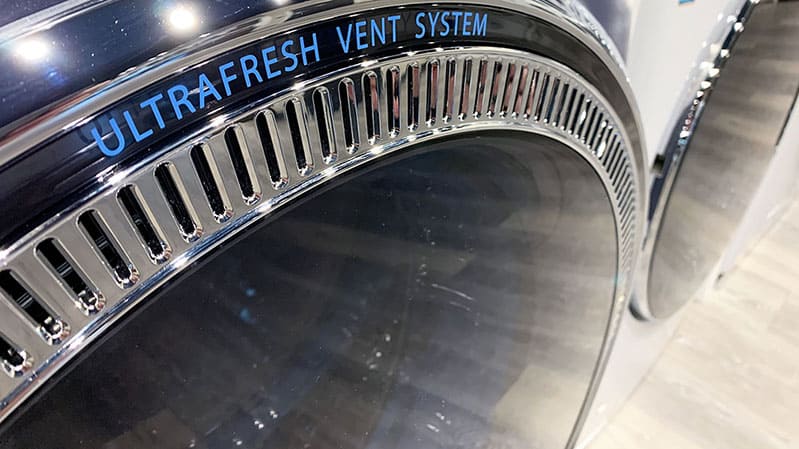 GE Front Load Washer with UltraFresh Vent System
GE is the best company for eliminating mold. This machine also has all the latest features with plenty of cycles and options.
GE Washer Cycles
There are 12 wash cycles with 10 options. It can wash almost any type of fabric.
For example, GE has an Allergen cycle (made popular by Whirlpool and LG) to eliminate over 99% of the bacteria on clothes.
You can buy additional cycles on other machines, as you will discover later.
50 oz Automatic Detergent Dispenser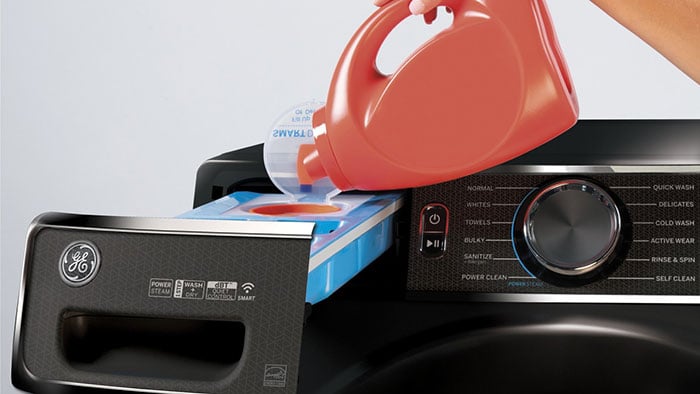 GE Front Load Washer Detergent Compartment
You can pour up to 50 ounces of detergent into the washer, which dispenses automatically. The machine calculates the exact amount needed at the right time.
Many features in appliances are trivial. An automatic dispenser is not. Many service issues in washers are due to the over-sudsing of the detergent.
Most people overfill the dispenser when you only need a capful. The excess suds leak into the machine, so an auto dispenser prevents that from happening.
At 50 oz., GE has one of the largest dispensers, and only Whirlpool has slightly more. The Maytag dispenser had issues with mold located in the dispenser.
GE's dispenser is located by the gasket at the bottom of the machine and is coated with Microban to prevent that issue.
Wi-Fi Connectivity
You can turn your washer on or off remotely and have the machine alert you when the cycle is complete through Google Assistant, Amazon's Alexa, or IFTTT.
I am not a Wi-Fi fan yet due to limited functionality. In laundry appliances, it has some validity, so you won't have to trudge to the basement before the cycle is up.
The washer will send you a notification when the cycle is done. The washer also sets the dryer cycle in the GE for convenience.
Of course, almost every company has Wi-Fi and smart functionality except for Electrolux. Whirlpool has Wi-Fi on their best washers.
GE, LG, and Samsung have Wi-Fi on all their washers except the most basic models.
Door Reversal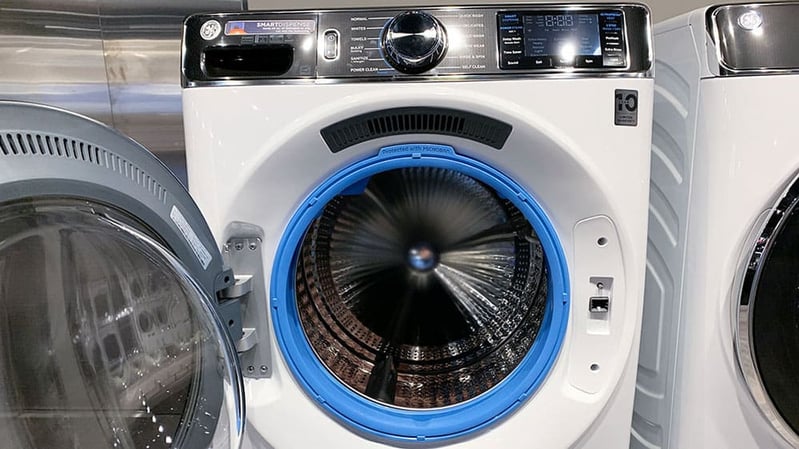 GE Front Load Washer
You can reverse the washer door to accommodate your dryer and washer setup.
It's easier to transfer clothes from your washer to your dryer. Only GE and Electrolux have this feature for full-size laundry.
As you can see, GE combined the best features of all the different manufacturers and added mold prevention at that time.
Now here are a few possible problems to be on the lookout for.
GE Washer Problems
Oddly enough, GE GFW650SSNWW has better capacity than most brands at 4.8 cubic feet, depending on the model, compared to the average front load of 4.3-4.5 cubic feet. However, the machine's overall width is 1 inch larger.
The depth can be 1-1.75 inches deeper than competitive brands like LG at 30.25 or Samsung at over 31 inches.
GE may be too large for many stacking and other tight installations, especially in closets.
Short on time? Get our free Washing Machine Buying Guide
GE & Their Competitors: LG, Samsung, Whirlpool, and Electrolux
GE was smart in their design of their front load washers. They looked at all the best washers and features of existing brands and incorporated them into this washer.
It has the speed cycles of all the brands and their Wi-Fi capability. It has a reversible door like Electrolux. GE also has a similar dispenser to the market leader Whirlpool.
Ultimately, this is a feature-loaded machine. However, their mold protection is unique with Microban surfaces and the UltraFresh Vent System with OdorBlock.
GE GFW650SSNWW vs. GFW850SSNWW Front Load Washers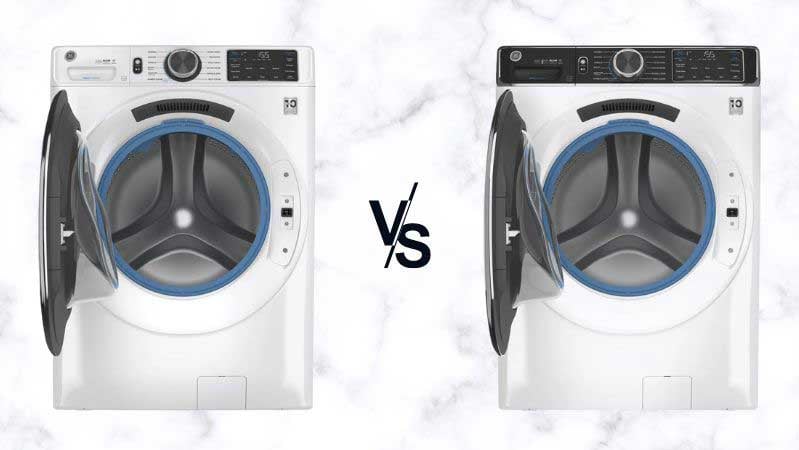 The GFW850SSNWW is GE's best washer. It has an overnight cycle where you can wash and dry an outfit overnight without transferring the clothes to a dryer.
The capacity is 0.2 larger, but it is deeper by 2 inches. Greater depth can be an issue in existing or stackable applications. In addition, the matching dryer is stainless compared to porcelain in the 600 series.
Lastly, the price difference is $100-$250, depending on the promotions.
GE GFW650SSNWW vs. LG WM4000HWA Front Load Washers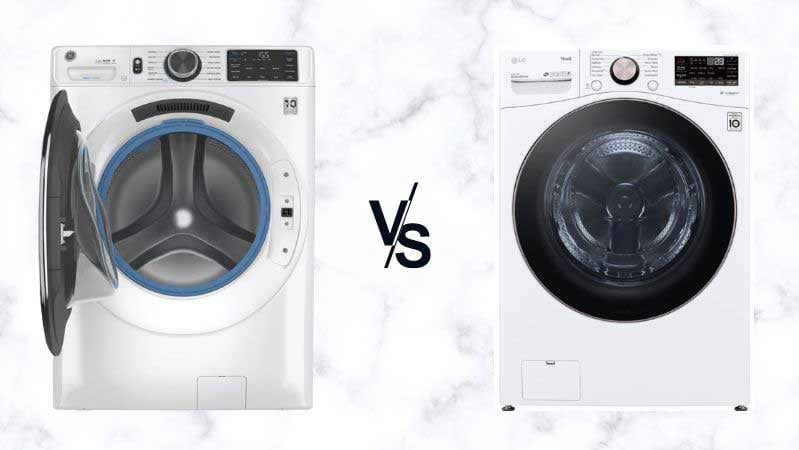 GE and LG are probably the two best brands for laundry in the industry. Both are reliable, but LG is the most reliable front load washer currently. After that, the washers trade off features.
LG has the TurboWash cycle employing five high-pressure wash jets to shorten any cycle to 30 minutes.
GE has the auto dispenser holding 50 ounces and eliminating the guesswork with how much detergent you should add.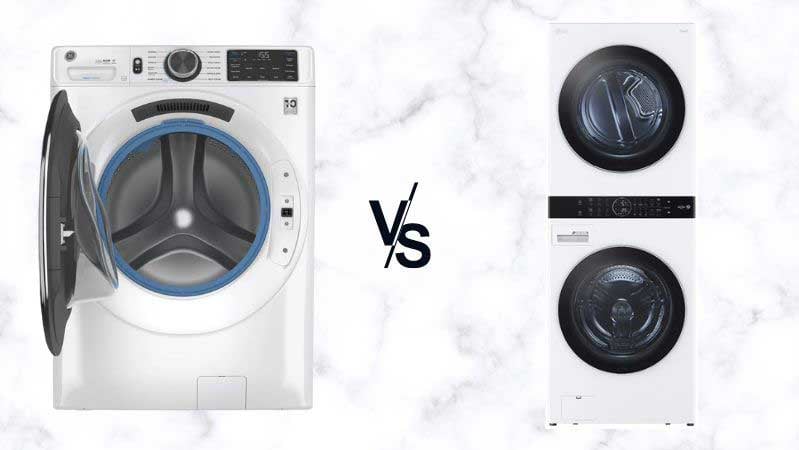 The LG WashTower WKEX200HWA has been the most popular washer-dryer introduced in the last 20 years.
First, the control panel is in the middle, so you don't have to reach for the dryer controls.
It is also sensor-driven, using built-in sensors with AI (Artificial Intelligence) to determine the wash motions based on the fabric and load size.
GE is competitive for laundry, but AI is a new feature not available in their machines.
GE GFW650SSNWW vs. Samsung WF53BB8700AV Front Load Washers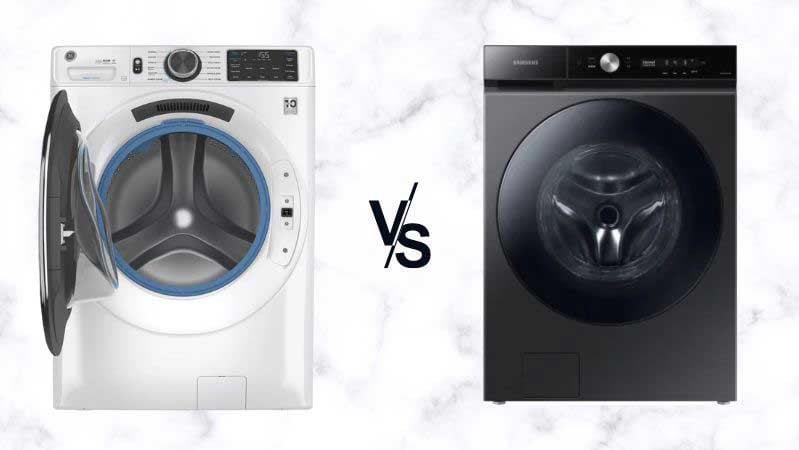 Samsung has its AI Smart Dial opening up a wide variety of cycles. Unlike LG, Samsung is not sensor-driven but uses predictive analytics. It learns and remembers your favorite cycles. Then makes recommendations.
Samsung is also larger than GE at 5.3 cubic feet. GE has an auto dispenser, Microban surfaces, and a reversible door.
GE GFW650SSNWW vs. Whirlpool WFW6605MC Front Load Washers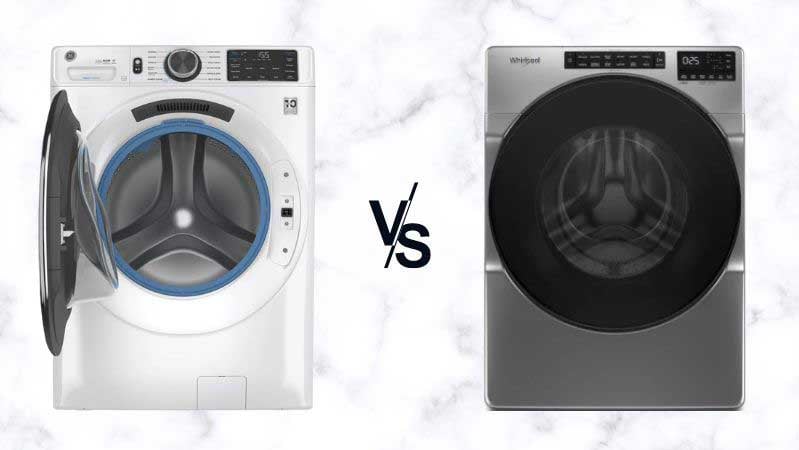 Whirlpool has focused on the larger, $1,200 front-load washers. This machine does not have a large automatic dispenser or even Wi-Fi.
However, it's simple to use with push-button controls. My parents have this washer and haven't called me for operating advice (unlike for their iPhone and iPad).
GE GFW650SSNWW vs. Electrolux ELFW7637AW Front Load Washers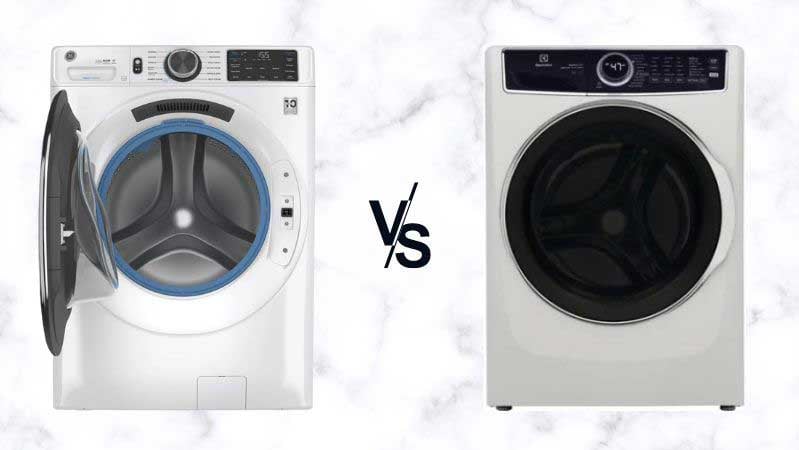 GE copied Electrolux innovations like a reversible door. However, Electrolux has its Smart Boost feature, premixing the detergent in a watery mix.
Then the watery mix is released for better washing. An auto dispenser does the same releasing the right amount of detergent at the right time in the wash.
You also don't have to refill the detergent after every wash.
GE Front Load Washer Repair and Service
One huge consideration to keep in mind for buying any appliance is kitchen appliance repair and service. GE has the best service department for appliances. Then again, the bar is not set that high.
LG is just starting in service, while Whirlpool's service network is often slandered. Having negative reviews is better than offering no service like Samsung and Electrolux.
When buying from a store without repair services, GE becomes your best choice.
Should You Buy the GE Front Load Laundry GFW650SSNWW?
Three years later, GE is the only company addressing mold with more than just a tub cleaning cycle. You have Microban surfaces and a fan to eliminate the problem before it starts.
That said, all the manufacturers produce good laundry. LG is probably the best with reliability and their new AI-powered WashTower. Yet a case can be made for Samsung, Whirlpool (ask my parents), and even Electrolux.
Unless you buy from a store offering service, GE becomes your best option.
You can live without AI. It's harder with a pile of unwashed clothes for months, waiting 4-8 weeks for a service call.
Post-Pandemic Buying Tip: You can wait for a sale on laundry. Manufacturers will start promoting sales during holidays like Black Friday, Presidents' Day, Memorial Day, and Labor Day. You can save up to 10-35% during one of these holidays.
Additional Resources
Download our Yale Laundry Buying Guides with all the features, terms, and brands of laundry. Over 1 million people have already found answers in a Yale guide.
Related Articles:
Why Should You Trust Us?
It seems that every appliance review has nothing but glowing comments about almost every product, yet you read customer reviews and they are almost universally bad.
We are here to fill in the disconnect. We'll give you the best features, and the drawbacks as well, including reliability based on over 37,000 calls performed by our service team just last year. Our goal is to give you ALL the information so you know what's right for you.
Please consider subscribing or adding to the conversation in the comments below. We appreciate you stopping by.
A Note About Pricing
Pricing on this blog is for reference only and may include time sensitive rebates. We make every attempt to provide accurate pricing at time of publishing. Please call the stores for most accurate price.