Should You Buy the GE Front Load Laundry GFW650SSNWW? (Reviews / Ratings / Prices)
About eight months ago, GE introduced a brand new series of washers. We evaluated the line based on features back in February on their best model, the GFW850SSNWW.
In this post, you will learn about their best selling model, the GFW650, its best features, and reliability based on 12 months of service data.
In the end, I will briefly compare the GFW650SSNWW against similar products from LG, Samsung, Electrolux, and Whirlpool, as well as the best model the GFW850SSNWW.
First, you will have to understand some fundamental problems affecting how you will buy any new appliance.
Short on time? Get our free Washing Machine Buying Guide
Product Availability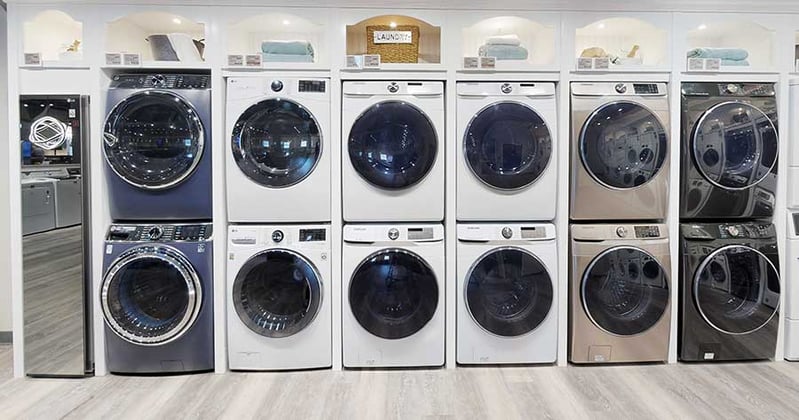 Front Load Washers & Dryers at Yale Appliance in Hanover
COVID-19 has struck the appliance supply chain hard. It started first in China, where many appliances, including the GE washer, are manufactured.
Even worse, many of the parts for all brands are built in China.
Then, the Northeast was hit where many of the warehouses are located.
At this writing, the South and West have been affected where many of the factories are located, including GE in Louisville.
Almost every factory has been affected and shut down. Upon reopening, they are less efficient because of new social distancing guidelines.
If you are the market for a washer, look at this next graph showing all the major brands' reliability.
Front Load Washer Reliability
Front Load Washer Reliability July 2019 to June 2020
| | | | |
| --- | --- | --- | --- |
| | Service Qty | Shipped Qty | Service Ratio |
| Maytag | 177 | 558 | 31.72% |
| LG Electronics | 164 | 1909 | 8.59% |
| Miele | 28 | 428 | 6.54% |
| Samsung | 37 | 658 | 5.62% |
| Whirlpool | 14 | 300 | 4.67% |
| GE Appliances | 19 | 424 | 4.48% |
| Grand Total | 448 | 4285 | 10.45% |
GE, Whirlpool, LG, and Samsung have excellent reliability. Miele is compact.
Although this post is about GE, pick your desired features, then choose three fitting your requirements.
Two will probably be out of stock, but at least you will have a new washer.
Now, let's look at the GE.
GE Smart Front Load Laundry Review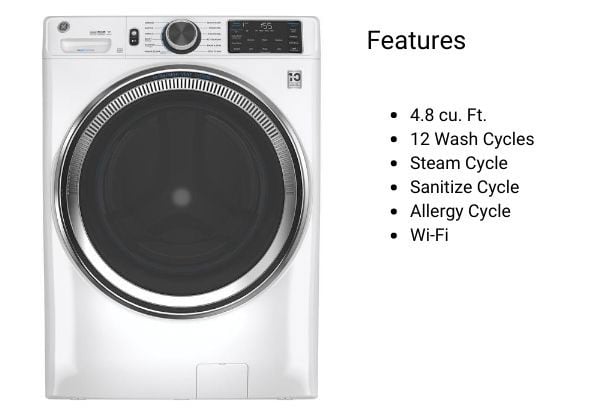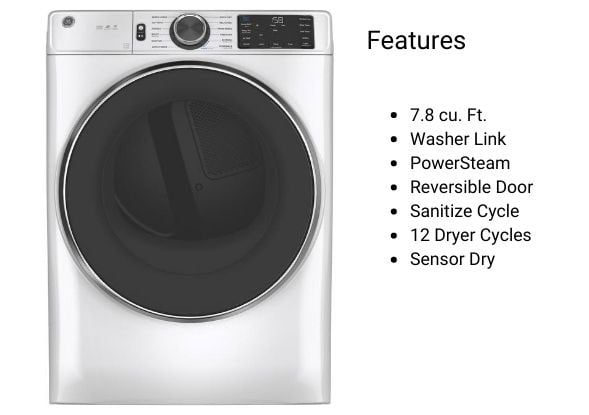 5 Feature Highlights And Advantages
1. Mold and Mildew Prevention
Mold and mildew have always been an issue in front load washers. It's a result of standing water pooling on the gasket and the back of the machine.
You can prevent mold by keeping the gasket dry, wiping down the dispenser, and keeping the door open after each cycle.
We wrote a blog article on preventative maintenance for mold and mildew.
GE is the only company to address this problem actively.
They coated their gasket, hoses, and dispensers with that same Microban technology.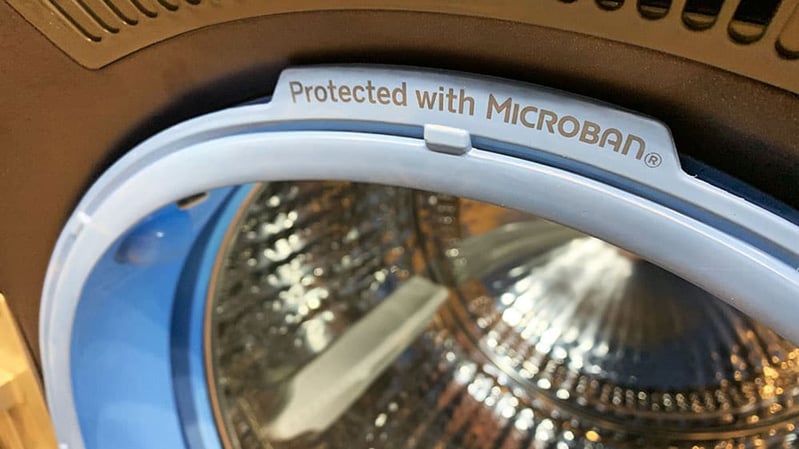 GE Front Load Washer Coated With Microban, An Antimicrobial Product
In the last article, I talked about changing my daughter at the Museum of Science. Their changing table was coated with Microban.
So is ours at Yale (I know all the changing tables in the Greater Boston area now).
GE also employs a fan in the door to further dry any residual water in the gasket. They call this their UltraFresh Vent & Odor Block system.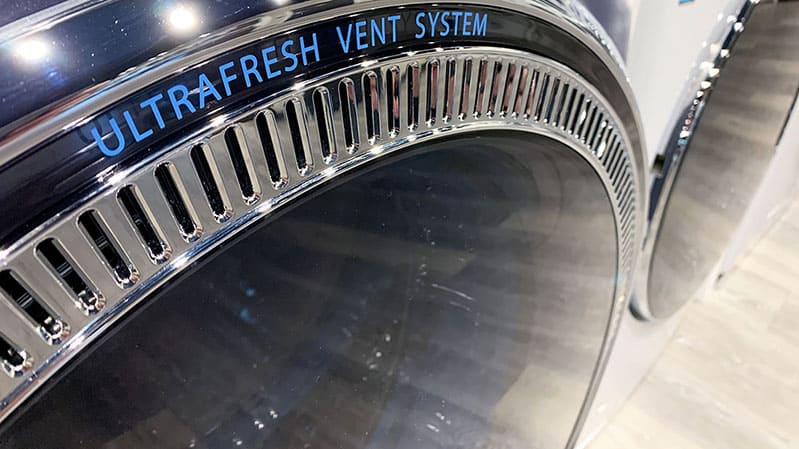 UltraFresh Vent System & Odor Block For Ge Front Load Washers at Yale Appliance in Hanover
GE is the best and only company for eliminating mold. This machine also has all the latest features with plenty of cycles and options.
2. GE Washer Cycles

There are 12 wash cycles with ten options. So it can wash almost any type of fabric.
For example, GE has the Allergen cycles made popular by Whirlpool and LG to eliminate over 99% of the bacteria on clothes.
3. 50 oz Detergent Dispenser
You can pour up to 50 ounces of detergent in the washer, and it dispenses automatically.
The machine calculates the right amount at the right time.
Many features in appliances are trivial. This dispenser is not.
Many service issues in washers are due to oversudsing of the detergent.
What happens is you (and me, not just you) fill up the dispenser when you only need a capful.
The excess suds leak into the machine, so an auto dispenser prevents that from happening
At 50 ozs, GE has one of the largest dispensers, and only Whirlpool has slightly more.
The Maytag dispenser had issues with mold last year.
GE's dispenser is located by the gasket at the bottom of the machine and is coated with Microban to prevent that issue.
4. Wi-Fi Connectivity
You can turn it on or off remotely and have the machine alert you when the cycle is complete through Google Assistant, Amazon's Alexa, or IFTTT.
I am not a Wi-Fi fan yet due to limited functionality.
In the laundry, it has some validity, so you won't have to trudge to the basement before it is up.
The washer will email/text you when it's done. The washer also sets the dryer cycle as well in the GE for convenience.
5. Door Reversal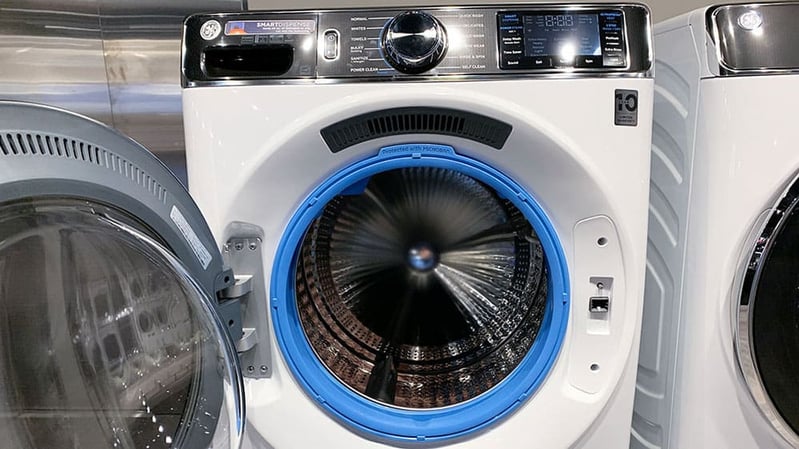 GE Front Load Washer With Reversible Door at Yale Appliance in Hanover
You can also reverse the washer door to accommodate your dryer and washer set up. It's easier to transfer clothes from your washer to your dryer.
Only GE and Electrolux have this feature for full-size laundry.
As you can see, GE has combined the best features of all the different manufacturers and added mold prevention.
Now here are a few possible problems to be on the lookout for.
GE Washer Problems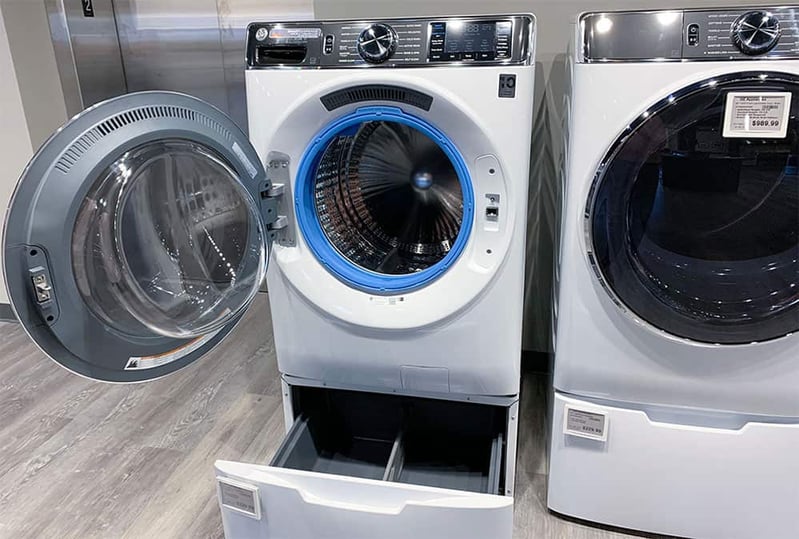 GE Smart Front Load Washer at Yale Appliance in Hanover
Oddly enough, GE GFW650SSNWW has better capacity than most brands at 4.8 cubic feet depending on the model versus the average front load at 4.3-4.5 cubic feet.
However, the machine's overall width is 1 inch larger, and the depth can be 1-1.75 inches deeper than competitive brands like LG at 30.25 or Samsung at just over 31 inches.
For many stacking and other tight installations, especially in closets, GE may be too large.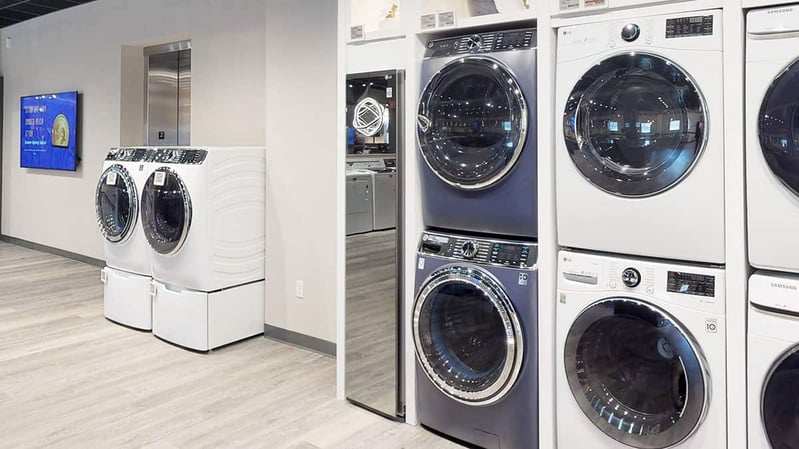 Stacked GE Front Load Laundry & Side-By-Side GE Laundry
GE & Their Competitors, Samsung, LG, Maytag, Electrolux, and Whirlpool
GE was smart. They looked at all the best washer features of the existing brands and incorporated them into this washer.
It has the speed cycles of all the brands as well as their Wi-Fi capability. It has a reversible door like Electrolux.
GE also has a similar dispenser to the market leader Whirlpool.
So this is a feature-loaded machine.
However, their mold protection is unique with Microban and Odorblock.
What The GFW650SSNWW Does Not Have
New washers, like Maytag, have a PowerWash cycle. The PowerWash cycle can wash whites and colors in the same load by starting in cold water and slowly warming.
It's the only cycle lacking in a GE washer.
GE GFW650SSNWW Vs. GE GFW850SSNWW Washers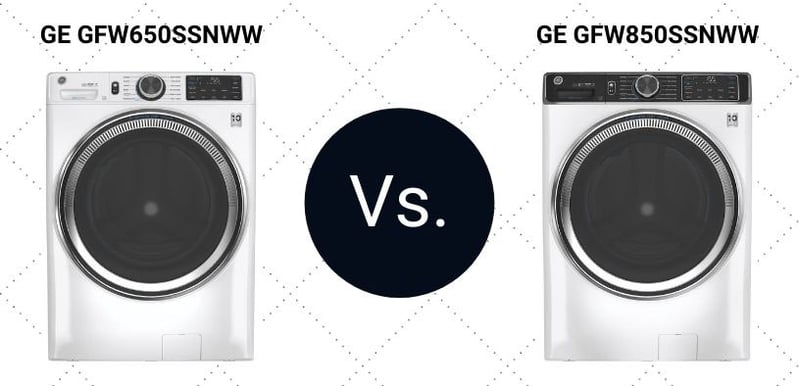 The GFW850SSNWW is GE's best washer. It has the overnight cycle where you can wash and dry an outfit overnight without transferring the clothes to a dryer.
The capacity is 0.2 larger, but it is deeper by 2 inches.
Greater depth can be an issue in existing or stackable applications.
Lastly, the dryer is stainless versus porcelain in the 600 series.
The price difference is $100-250 depending on promotions.
Should You Buy The GE Front Load Laundry GFW650SSNWW?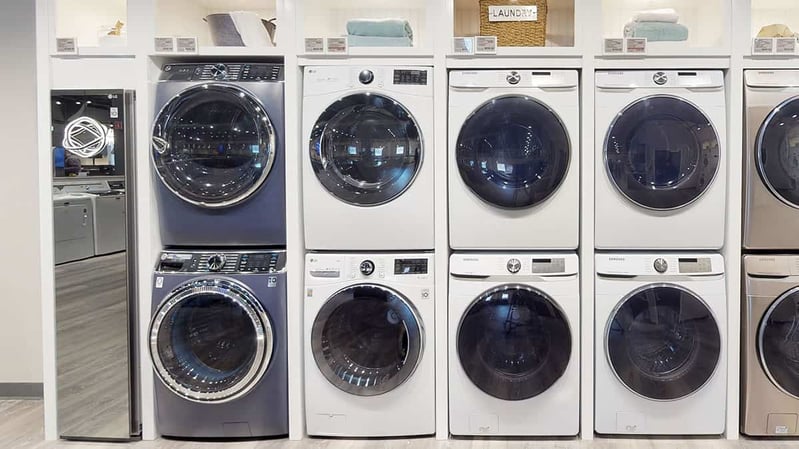 GE Front Load Laundry Sets (Left) at Yale Appliance in Hanover
Normally, I would, yes. The GE GFW650SSNWW is a great consideration with good cycles, features, and the best reliability this year.
They combined all the best cycles and added the anti-mold feature.
However, LG, Samsung, and Whirlpool should also be considered. They are all decent, reliable machines just lacking the anti-mold and dispenser capability.
Until availability is better, you have to be less brand loyal and just pick the features desirable to you regardless of brand.
Additional Resources
Download our Yale Laundry Buying Guides with all the features, terms, and brands of laundry. Over 820,000 people have already found answers in a Yale guide.
Related Articles:
Why Should You Trust Us?
It seems that every appliance review has nothing but glowing comments about almost every product, yet you read customer reviews and they are almost universally bad.
We are here to fill in the disconnect. We'll give you the best features, and the drawbacks as well, including reliability based on over 37,000 calls performed by our service team just last year. Our goal is to give you ALL the information so you know what's right for you.
Please consider subscribing or adding to the conversation in the comments below. We appreciate you stopping by.
A Note About Pricing
Pricing on this blog is for reference only and may include time sensitive rebates. We make every attempt to provide accurate pricing at time of publishing. Please call the stores for most accurate price.