Should You Buy That $299 Extended Warranty For Your Refrigerator? (Reviews)
If you read the comments on this blog and many other consumer sites, you've probably learned your new French door refrigerator will most likely leak within 5 years, especially if you have an ice maker.
It's not a system fail like a blown compressor, but it's a problem.
Now, you are hoping an extended warranty will help you when the statistically inevitable problem happens.
It's good thinking.
However, it may be just the opposite. After placing a call with your repair agency, you'll probably lose a significant amount of your time, be served a healthy dose of aggravation, and still have a leaking ice maker.
In this article, you'll learn about the reliability of French door refrigerators and why it makes sense to consider an extended warranty under the right circumstances.
We'll also cover where to buy an extended warranty. If you can't find these places in your area, you may be better off living with that leak.
Let's get started.
French Door Refrigerator Reliability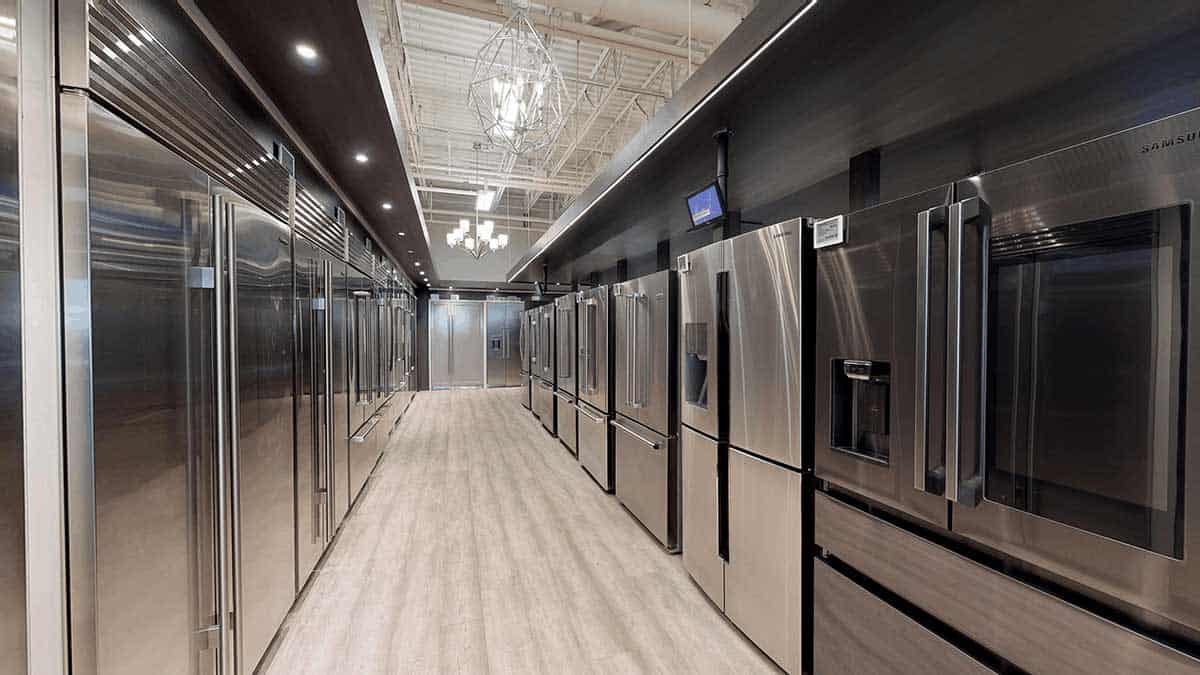 Refrigerators are the number one repair in the industry by a wide margin.
Reliability of French Door Refrigerators for 2020
| | | | |
| --- | --- | --- | --- |
| | Units Serviced | Units Sold | Service Ratio |
| GE | 6 | 87 | 6.90 % |
| GE Cafe | 6 | 67 | 8.96 % |
| Whirlpool | 23 | 225 | 10.22 % |
| GE Profile | 12 | 90 | 13.33 % |
| Frigidaire Gallery | 1 | 6 | 16.67 % |
| Fisher & Paykel | 35 | 199 | 17.59 % |
| LG Electronics | 14 | 78 | 17.95 % |
| Samsung | 431 | 2011 | 21.43 % |
| Bosch Appliances | 160 | 552 | 28.99 % |
| Liebherr | 3 | 10 | 30.00 % |
| KitchenAid | 167 | 434 | 38.48 % |
| Samsung Chef Collection | 2 | 4 | 50.00 % |
| Jenn-Air | 372 | 575 | 64.70 % |
| BlueStar | 22 | 34 | 64.71 % |
| Maytag | 5 | 7 | 71.43 % |
| Electrolux | 5 | 7 | 71.43 % |
| Grand Total | 1289 | 4410 | 29.23 % |
The average repair for an appliance is 13.08% whereas french door refrigerators are double at 29.23% in the first year.
Then again, refrigerators have changed the most of any appliances as well. Refrigerator energy standards are the most stringent, because they used the most energy. Now even a Sub-Zero will use less wattage than a 75 watt bulb.
Many people pine for the good ole days. However, that old refrigerator costs $400 to run annually. A new one costs $70-100.
The design of a premium refrigerator has also changed from side-by-side to French door, to four door, double drawer refrigerators, and door-in-door refrigerators.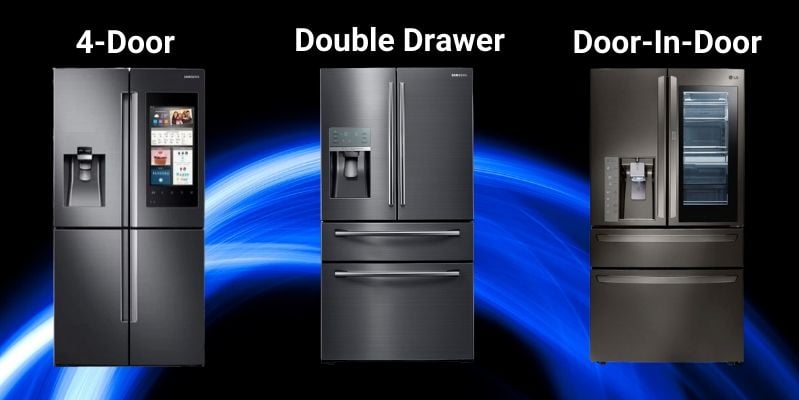 All these add up to issues. It's not compressor problems where your food will be ruined.
It's mostly due to problems with ice makers.
The math of refrigerators would indicate to buy an extended warranty at 29.23% in the first year.
But, you should run from 90% of extended warranty offers. Here's why.
The Truth About Warranty Companies
Most warranties are outsourced. Many of these warranty companies are located in Texas for whatever reason.
You can look them up on the Better Business Bureau, Yelp, and Google for reviews under various names.
If you are paying $299 for a 5-year warranty, they will sell it to the retailer for $130-150.
However, your store in Boston, Worcester and The Cape have no control of what happens next.
For them, the transaction is over. You will not be helped outside a few phone calls by them
You are now at the mercy of the warranty company miles away (unless you live in Texas).
What To Know About Appliance Service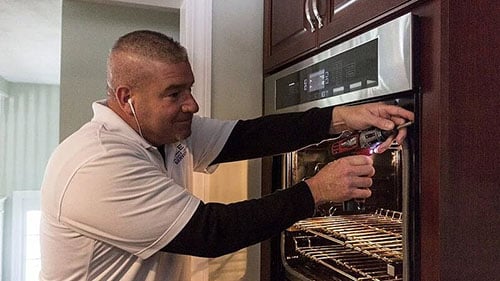 So your ice maker dispenser leaks in year three. You now call the store who will give you the 1-800 number to call in Texas.
From there, you will wait even if you have an urgent repair. Why? Because they contract a warranty company at low labor and parts reimbursement rates.
Let's assume this repair agency exists - a huge assumption due to the decline of techs nationally over the last 30 years.
Appliance service techs once numbered 180,000 plus at its peak. Today they number less than 30,000.
Most stores including chains, however, do not employ a single technician.
There is no profit in service (or everyone would have it). Branding is the only long term benefit. Buyers of premium appliances will always prefer to shop at stores with service.
Most manufacturers, on the other hand, emphasize top-line sales and maximizing their short term profits by offering no service and outsource.
Retailers do not want the liability as it costs about 1-1.25% of sales to run an effective service department including service techs, parts managers, regional managers, pre diagnosing specialists, customer service reps, and service managers.
Service is the largest single department at Yale employing now over 80 people.
Anyway, that same agency looks at your repair. If the repair is easy, they will fix and make some easy money. If not, they will not repair your 3-year-old refrigerator.
They are not required to fix it as you did not buy it from them. It is not their problem per se. So, you are stuck in this doom loop until they find someone else - I'm not exaggerating.
Look at the reviews of any major store or box store and read the repair, not the sales process. Pretty grim, isn't it?
Short on time? Get our free Appliance Buying Guide
How To Buy An Appliance Warranty
You need to buy a warranty from a store with real technical support. Never buy an extended warranty from any store that does not have support.
If they try to sell you an outsourced warranty, you would still have to go through the outsourced provider for that store to service your refrigerator.
For example, I used to buy warranties from Assurant 15 years ago. Now we self insure and can handle problems quickly without a "go ahead" from Assurant or anyone else.
Of course, we keep $4,000,000 on the books to cover 5 years of warranty coverage. Many smaller companies cannot afford to do this.
Some Appliances Retailers To Consider For Service
In Boston, you have plenty of good appliance retailers with good service companies. I should know - they are my closest competitors.
In Framingham, MA you have Belcher's Appliance Center. In Littleton, Ma you have Hunter Appliance. KAM Appliances has two locations in Hanover and Hyannis, MA. George Washington Toma TV & Appliance has locations in Weymouth and Brockton, MA.
Across the country, Agren is in Maine. Don's Appliances is a great company in Pennsylvania. Abt has a good reputation in Chicago.
So, Should You Buy An Extended Warranty For Your Refrigerator?
Yes, you should buy an extended warranty only from a company that can actually fix your appliance.
I rewrote this article from 2017 because there have been many stores out of business since then. More are slated to go bankrupt.
You have to be careful about who you trust with your money these days. Two years ago HHGregg, the country's fourth-biggest chain, went completely out of business.
Two weeks ago, a local store and once the second-largest appliance store when I started at Yale in 1986, unexpectedly closed their doors.
You have to have a second sense before doing business with anyone these days. Buying a warranty is tough because you will be handing your money to a company for 5 years, not just 1 transaction.
Look at reviews, even the bad ones to see the stores' responses.
Look at their stores. Are they clean? Is their staff well trained?
You may think I'm going overboard. However, if an owner is not engaged in their store, how will they perform in your home?
Additional Resources
Before you have an appliance delivery (read the reviews on those as well), you may want to arm yourself with this delivery checklist before you purchase.
You don't want your 600-pound refrigerator dropped on the sidewalk, right? Check this comparison list to ensure your appliances are delivered and installed in your home correctly.
Related Articles:
Why Should You Trust Us?
It seems that every appliance review has nothing but glowing comments about almost every product, yet you read customer reviews and they are almost universally bad.
We are here to fill in the disconnect. We'll give you the best features, and the drawbacks as well, including reliability based on over 37,000 calls performed by our service team just last year. Our goal is to give you ALL the information so you know what's right for you.
Please consider subscribing or adding to the conversation in the comments below. We appreciate you stopping by.
A Note About Pricing
Pricing on this blog is for reference only and may include time sensitive rebates. We make every attempt to provide accurate pricing at time of publishing. Please call the stores for most accurate price.