How to Maintain Your Refrigerator's Ice Maker
Small ice cubes? Soft ice cubes? Cloudy ice cubes? Chances are your ice maker just needs a little preventative maintenance.
Just about every appliance brand offers refrigerator models with a built-in ice maker. This feature is very popular due to its convenience and ease of use. Having fresh, clean ice on demand is now a staple of modern refrigeration.
However, these built-in ice makers are the number one serviced component of any appliance. That does not mean they are flawed or poor quality; the ice maker just requires some regular maintenance to ensure the longevity of optimal function.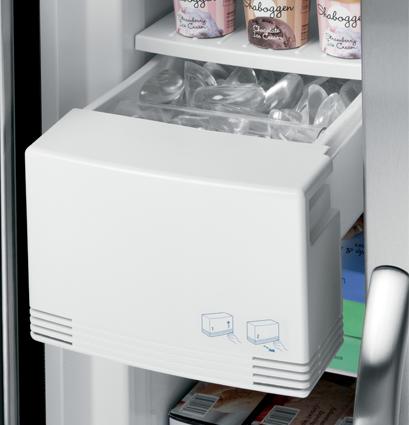 Keep in mind that the main function of a refrigerator is to keep your food and beverages cold; the ice maker is a secondary function. If your ice maker is having an issue, your refrigerator may still be working just fine.
It is not unusual to experience an issue with an ice maker within the first 5 years of purchasing a refrigerator.
Whether the ice maker and dispenser are built into the door of the refrigerator or are completely inside the unit, no refrigerator is immune to ice maker problems.
What Causes An Ice Maker Not To Work?
There are a variety of factors that can cause an issue with a built-in ice maker. Residential water often contains impurities that can build up over time in an ice maker, preventing full water flow and scaling up on integral components.
How to Maintain Your Refrigerator's Ice Maker
It is recommended to do regular maintenance on your ice maker at least once a year. Some indications that your ice maker needs attention include low production of ice, smaller than normal ice cubes, soft ice, cloudy ice, and ice with a bad taste or odor.
The ice maker and the water dispenser of a refrigerator are connected to a common water source and therefore both are affected by the water supply.
Changing the water filter once or twice a year, depending on how often the ice maker and water dispenser are used, is the first line of defense in protecting the unit. The filter will remove most of the impurities from the water, protecting both the appliance and you.
How Do I Change My Refrigerator's Water Filter?
Changing the water filter in your fridge is easy and can be done without calling for service since just about every brand on the market has made changing of the water filter user-friendly.
In general, the water filter can be changed by unscrewing or pulling out the old water filter, and screwing or pushing in the new one, it's that simple. The location of the water filter in the refrigerator differs between brands.
Most brands will have the water filter located either inside the refrigerator cabinet near the top or down below the cabinet, near the grille. You should turn off the water supply to the ice maker before removing the existing filter, although, not all models require doing so.
The full instructions for changing the water filter will be found in the use and care manual that comes with the appliance. Some refrigerators have an indicator that will alert you of when the filter needs changing.
These indicators may come up annually, as is the case for Thermador refrigerators, others may alert you to when the filter is getting dirty. After changing the water filter, it is recommended to discard the first few batches of ice and cups of water dispensed, to ensure there are no particulates.
Replacement water filters can be purchased through Yale Appliance and Lighting, or you can contact the manufacturer of your refrigerator for a replacement. We do not recommend purchasing after-market or non-brand-name filters.
It is best to use the filter specifically designed by the manufacturer to avoid any damage to the refrigerator to avoid leaks and other issues.
How Do I Clean My Refrigerator's Ice Maker?
So, you've made sure that your filter is changed when necessary; the next step in caring for your ice maker to keep it clean. A dirty ice maker is not going to work at its full potential. Any impurities, such as minerals that make it past the water filter, may build up on the ice maker parts.
These impurities can break down the coating of the ice molds, leading to ice production issues. Aside from potentially compromising the parts, a dirty ice maker will also produce dirty ice, and no one wants dirty ice in their cup.
1.) To clean the ice maker, you will first want to turn off the ice maker and shut off the water flow to it.
2.) Once the ice maker is off, remove the ice bin and melt or discard any remaining ice.
3.) Using a mixture of warm water and dish soap with a soft cloth or sponge, clean the inside of the ice bin.
4.) Once clean, you may choose to disinfect the ice bin with a solution of diluted bleach (2 teaspoons of bleach per 1 gallon of water), or another non-hazardous disinfectant.
5.) You will want to make sure the ice bin is completely dry before putting it back into the freezer to avoid any water freezing and cracking the bin.
6.) While the bin dries, you should wipe down the ice dispenser opening with the water and soap mixture.
7.) Once everything is cleaned and dried, you can place the ice bin back in the freezer and turn the ice maker and water flow back on. Keep in mind that it may take a while for the ice to be produced again, as the ice maker needs to get back down to operating temperature.
8.) Discard the first batch of ice made, as it may contain some residual cleaning solution. After that, your ice maker is all set.
Ice Maker Tips and Tricks
Keeping the rest of your freezer clean will also promote clear fresh-tasting ice. If you have something with a strong odor left in your freezer, the ice may absorb that odor-causing the ice to taste off.
Keep the ice maker clear of any food or drink that you load into the freezer. If the ice maker fill arm is obstructed, the ice maker may not make any ice, or it may continuously make ice, even when the bin is full.
Also, make sure while loading your freezer that you do not block the evaporator fan's airflow, or block the door from closing fully; doing so will cause the temperature within the freezer and refrigerator to rise, halting the production of ice.
Final Thoughts
If you follow these instructions and regularly perform preventative maintenance on your ice maker, you should have the convenience of clean ice on demand for years with your refrigerator.
If you are still experiencing an issue after changing the filter and cleaning the ice maker, you may need to have a trained technician take a look to determine what is causing the problem.
Additional Resources
Download the Yale Counter Depth Refrigerator Buying Guide with features, specs, and inside buying tips for regular, pro, and integrated counter depth refrigerators. Well over 355,000 people have read a Yale Guide.
Related Articles:
Why Should You Trust Us?
It seems that every appliance review has nothing but glowing comments about almost every product, yet you read customer reviews and they are almost universally bad.
We are here to fill in the disconnect. We'll give you the best features, and the drawbacks as well, including reliability based on over 37,000 calls performed by our service team just last year. Our goal is to give you ALL the information so you know what's right for you.
Please consider subscribing or adding to the conversation in the comments below. We appreciate you stopping by.
Steve Sheinkopf
My goal has always been simple: I want Yale to be the best retail experience anywhere. I have tried to create a compelling environment for customers and employees alike.
A Note About Pricing
Pricing on this blog is for reference only and may include time sensitive rebates. We make every attempt to provide accurate pricing at time of publishing. Please call the stores for most accurate price.