Should you Buy that $199 Extended Warranty for your Refrigerator? (Reviews)
About 10 years ago, I was out and about with our Director of Sales. We happened upon another appliance store, so we peeked in the windows after hours. There was a big sign saying "5-year warranty: $49 anywhere in the U.S." The Director asked, "How could you sell a warranty so cheap?"
I should have recorded the answer because I say it so often.
That appliance store cannot fix the unit. That $49 warranty becomes worthless. Now, if you are planning to invest in an $199 warranty for your refrigerator, you may want to do some research first, or it could be equally as worthless.
In this article, we will look at the warranty companies, the stores selling these $199 refrigerator warranties, and where you may want to consider buying one.
Short on time? Get our free Appliance Buying Guide
Warranty Companies
Let's say you are buying a new French door refrigerator with an extended 5-year warranty. You will shake your salesperson's hand and feel pretty great about buying one.
As a side note, 30% of French door refrigerators require repair services within the first year. Buying a warranty for a French door refrigerator is a smart purchase - if done right.
That $199 warranty costs your appliance store $99. Your money most likely will end up at a warranty company most likely in another state.
If you live in Massachusetts, your appliance store in Boston, Worcester, or the Cape have ZERO control of what happens next. For them, the transaction is over. You will not be helped outside a few phone calls by them.
You are now at the mercy of the warranty company thousands of miles away if your refrigerator needed service.
Definitely not an ideal situation.
Appliance Services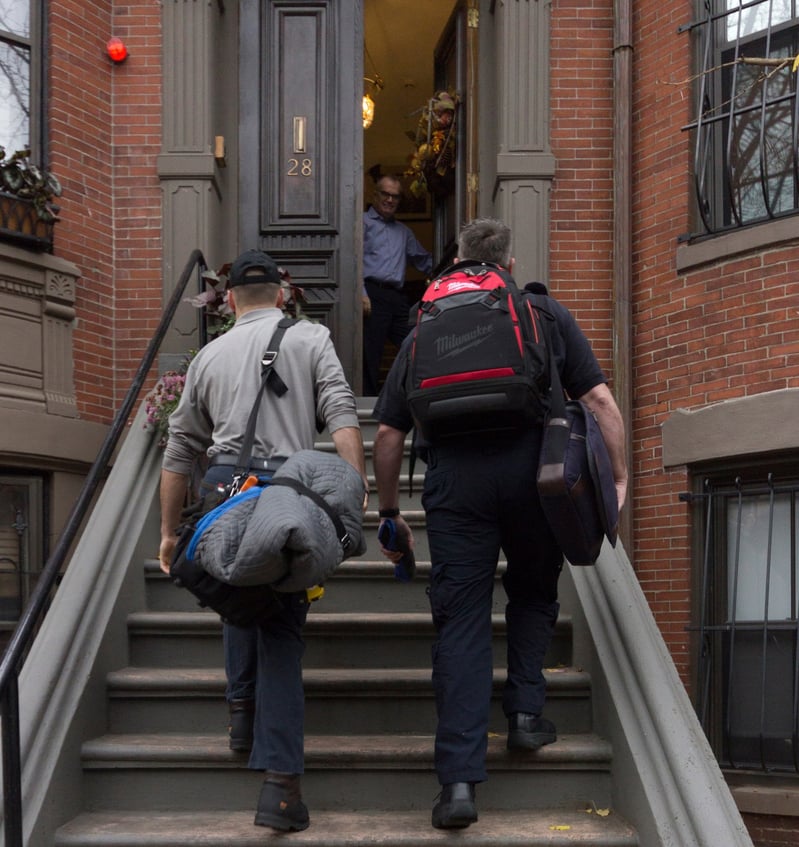 It's year three of having your spectacular French door refrigerator and your ice maker and dispenser are leaking. You now call the same appliance store you purchased from who will give you a 1-800 number to call.
From there, you are going to wait, even if you have an urgent repair. Why? Because the warranty company is contracted at low labor and part reimbursement rates and most likely don't have a repair agency.
Well, let's assume the repair agency exists. (A huge assumption). Appliance service technicians once numbered 180,000 and up at its peak. Today, the number is less than 30,000 because there is no money in service.
Most manufacturers emphasize top line sales and risk their company's future by offering no service or outsourcing. (Outsourcing is obtaining service or parts from an outside supplier). Retailers do not want the liability as it costs about 1-1.25% of sales. Most stores including chains do not employ a single technician.
Anyway, that same agency looks at your repair. If the repair is easy, they will fix and make some money. If not, they will not repair your 3-year-old refrigerator. They aren't required to as you did not buy it from them. So you are stuck in this doomsday loop until they find someone else.
Take a look at the reviews of any major store and read their repair reports - not the sales process. Pretty grim isn't it?
How to Buy a Warranty that's Worth It
If you read this blog, we always offer alternatives and different solutions to problems. In this case, our best advice is:
Buy an extended warranty only from a company who can actually fix your appliances.
You need to buy a warranty from a store with real technical support. Never buy one from a store that does not have repair services.
By the way, before you have an appliance delivery (read the reviews on those as well), you may want to arm yourself with this delivery checklist before you purchase.
You don't want your 600-pound refrigerator dropped on the sidewalk, right? Check this comparison list to ensure your appliances are delivered and installed in your home correctly.
Steve Sheinkopf
My goal has always been simple: I want Yale to be the best retail experience anywhere. I have tried to create a compelling environment for customers and employees alike.
A Note About Pricing
Pricing on this blog is for reference only and may include time sensitive rebates. We make every attempt to provide accurate pricing at time of publishing. Please call the stores for most accurate price.