Should You Buy Appliances Online Or In-Store? (Reviews / Ratings)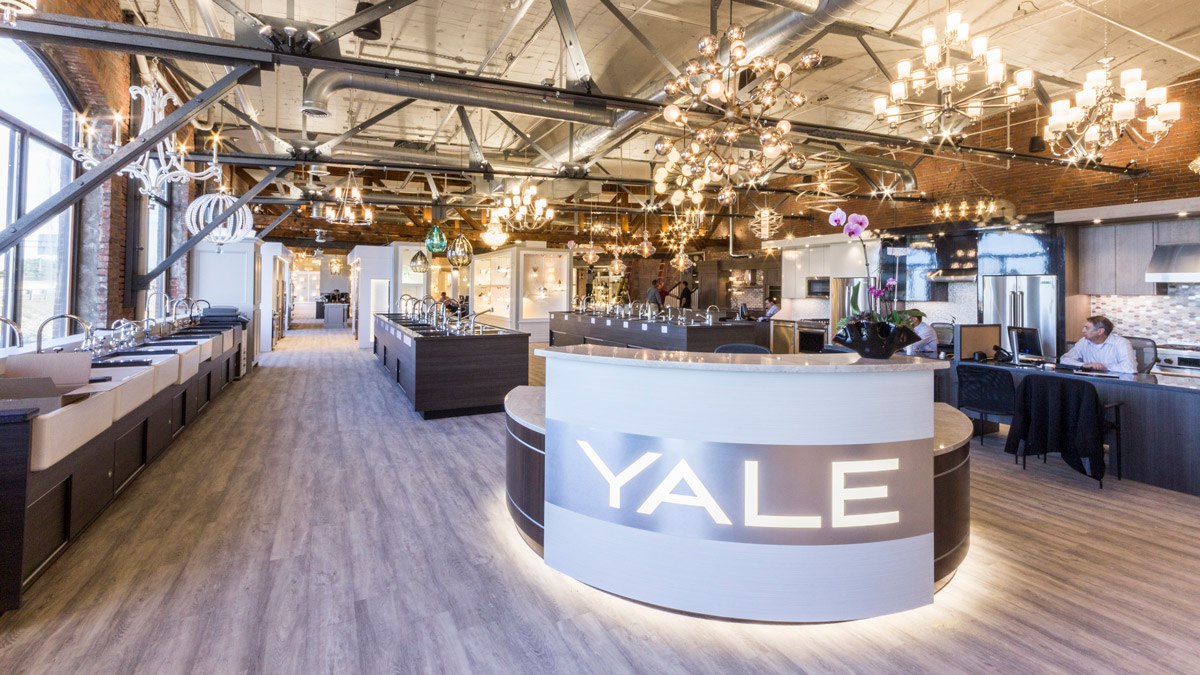 You have to buy appliances. Between work, life, and family, there isn't much free time to research thousands of options.
However, if you do it wrong, buyers' remorse is expensive. Unlike clothes or music, you cannot send back a 36-inch dual fuel range when it's sized to your cabinets and plumbed with gas and electric specially designed for that range.
I feel your pain. I renovated my apartment five years ago. Then I rebuilt a Brownstone when my daughter was born two years after.
I wish I did some factors of my renovation differently.
Hopefully, by reading about my many failures in our blog posts, you won't make the same remodeling mistakes.
In this article, you will learn how and when to shop online or in-store. You will save tons of time, a good amount of money, and still, buy what you really want.
In other words, this article will help you not base buying decisions on a pretty image online to have it look and perform differently in your home. You also won't spend unnecessary time in any stores either.
Buying Appliances In-Store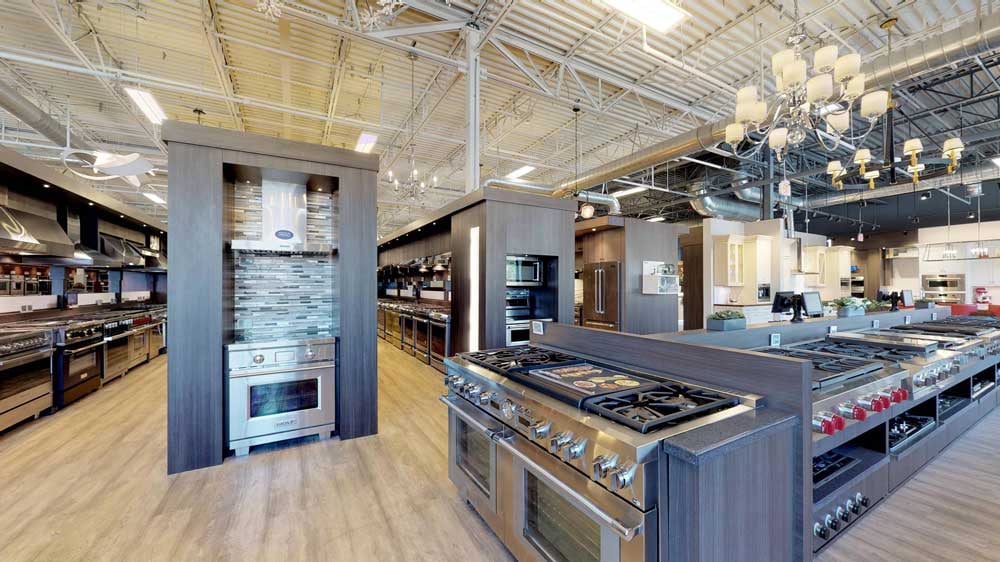 Brick and Mortar stores are dying, or so they say. It's true in some respects. However, the dying stores typically give you no reason to want to go.
Shopping at most stores is a complete waste of your time. I am saying that, and we run stores.
The main reason to go to the store is the experience.
Let me show you:
We have no reason to expect you to go to Yale unless you perceive there is something to see or learn that you can't otherwise online.
Short on time? Get our free Appliance Buying Guide
You should expect to see live products and be able to compare brands. For example, you should know if induction or convection is right for you by watching them work.
We started baking cookies 20 years ago so you would be able to see how even temperature produces an evenly baked cookie.
Other comparisons are more styled related.
You should see how counter depth, integrated, and professional refrigerators look before you buy it or spend unnecessary money to buy something you don't need. This is tough to do when looking online.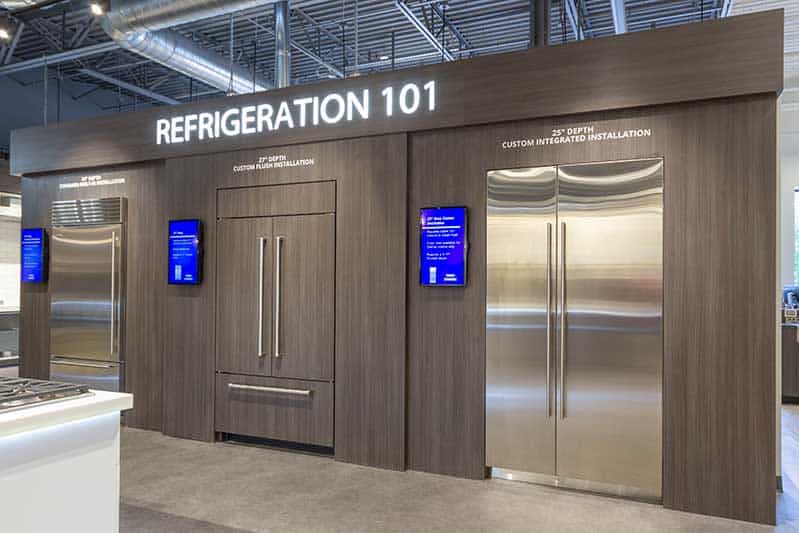 Styles of Refrigerators And Refrigeration 101 Learning At Yale Appliance In Framingham
You also want to see finishes and features. The new GE Café is a good example. Would you place it next to white cabinets? You can see it in the video, but you will know by seeing it in a store.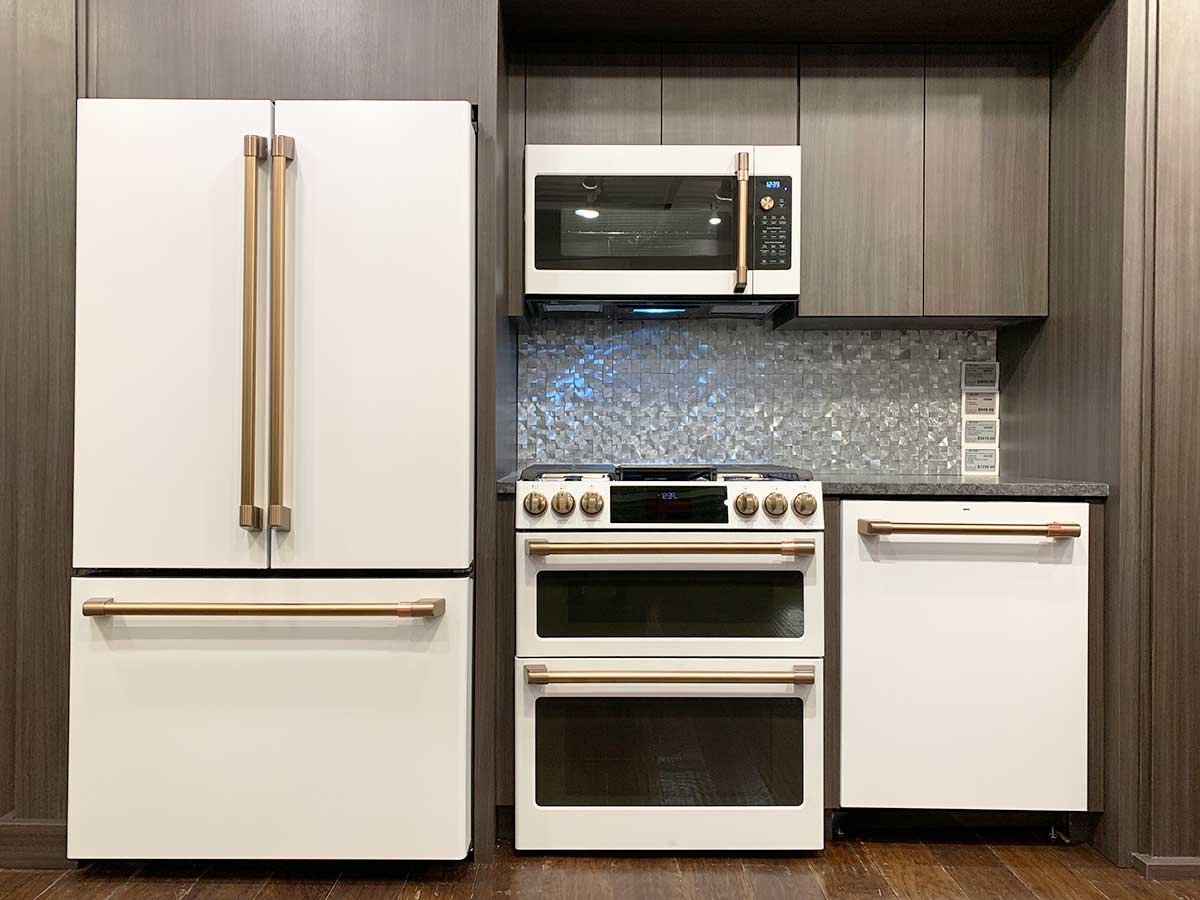 GE Café White Kitchen Appliance Package At Yale Appliance
Brick and Mortar is better than online shopping for comparing products, seeing how they truly operate, and how they will match the rest of your kitchen.
Stores will always be better if you are buying more than one appliance. It's also way better for comparing premium brands.
Most premium appliance brands are not sold online, but controls and performance vary widely.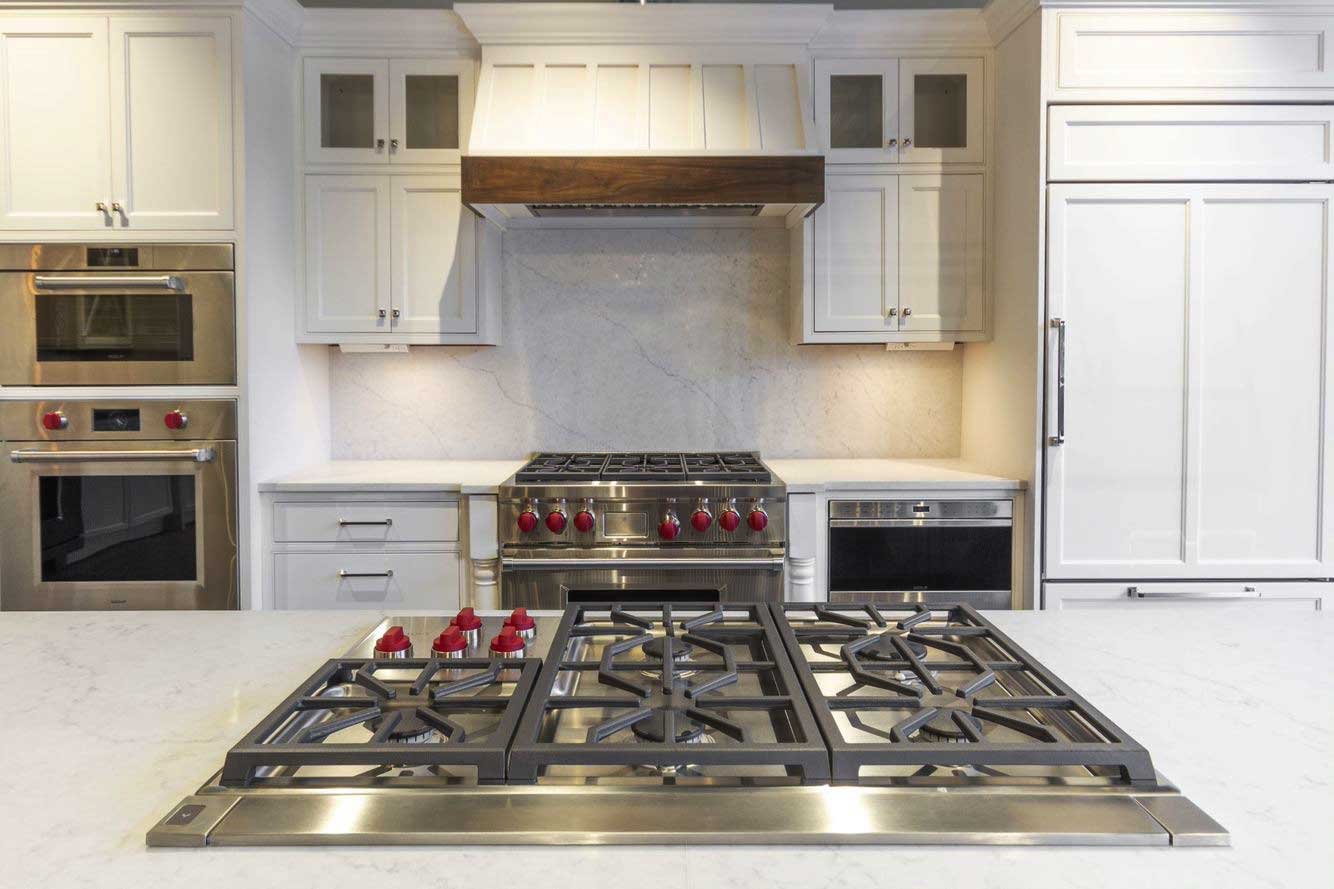 Yale Appliance Premium Brand Live Kitchens
It becomes important to understand how a Wolf, Jenn-Air, Miele, and Thermador wall oven, cooktop, or professional range operate before you buy it - not after it's delivered.
So, how do you choose a store to shop from? Who will provide you the best customer service?
How You Choose An Appliance Store
Many stores have a virtual tour. Google pays for most of it, so it's cheap for all the store owners reading this.
If not, then call email or go online to research the products on display.
Scheduling Appointments
We make appointments everywhere for the dentist, the doctor, and even for your car. You should do the same for an appliance store.
Most stores have it wrong.
You should not be waiting for us. We should be waiting for you.
After 94 years, we now have an appointment scheduler. Just click the location, the person, and the time. We wait for you.
If your local store doesn't have this software, call ahead instead of wasting your time.
Buying Appliances Online
Years ago, I would have said no to ever buying appliances online. Delivery is complicated, especially in Boston, with tight hallways and spaces. It can be a nightmare.
We sell online, so we can't be hypocritical. It's great for standard products like dishwashers, some laundry, and stoves.
However, it's difficult for refrigerators and packages because of sizing.
Live Chat
I love to use live chat messengers in my own life. You can't get anyone in most places on the phone these days, but live chat is quick.
You don't always have to talk to a salesperson either (though we recommend it for complicated purchases). This is good when you know what you want. Use an online messenger to secure details of your purchase, then buy online. It's smart and time-efficient.
When You Should Shop Online
Online shopping can be a great way to learn. Yale carries or has access to 50,000 products. There is no way to have a store that large.
An online store can have an infinite amount of products and frequently has 100 thousand or more in an average store.
Price Comparison
It's also the best place to compare the prices of all the stores in your area. In Boston, you can see the prices of Home Depot, Sears, Best Buy, Lowes, and Yale without making a ton of phone calls or traveling around.
Policy Comparison
You can also see and should see the different policies of these stores. For appliances, you want to look at the fine print, especially on the delivery and installation side.
For example, what does the removal of an existing appliance cost as well as basic and custom installation?
Is It Cheaper To Buy Appliances Online?
Tonight our digital price scraper, or digital searcher, will look at every competitor and adjust prices accordingly. My competitors will scrape mine and adjust theirs.
That said, we have our specials. They have theirs. You have to determine which is right for you.
We have our tent sales and one private, unadvertised sale. They have theirs.
Every store has the same promotional plan from the manufacturers. There are better times to buy an appliance, whether you are shopping online or in-store.
The prices are best around promotional holidays like Black Friday (now all of November), Labor Day, Tax-Free Weekend (Late August/early September) Presidents' Day, July 4th, and Memorial Day.
You can save 10-35% depending on the promotion, and that is online or in a store.
You could see savings of 65% advertised on some websites during these promotions. That's off a super inflated price nobody charges.
Should You Buy Appliances Online Or In-Store?
Typically, I would say online is better for simpler purchases. You can always use live chat for clarification during the checkout.
More complicated purchases with multiple pieces are better in a store environment. You can compare products side-by-side and have a better idea of how they work. I recommend narrowing down your options by research online first, then looking at them in store.
I said, typically, in the first sentence of this section.
Buying appliances is the easiest part of the process. Delivery, especially in Boston, and service are the toughest part. Anyone can sell you an appliance. However, not everyone can provide service.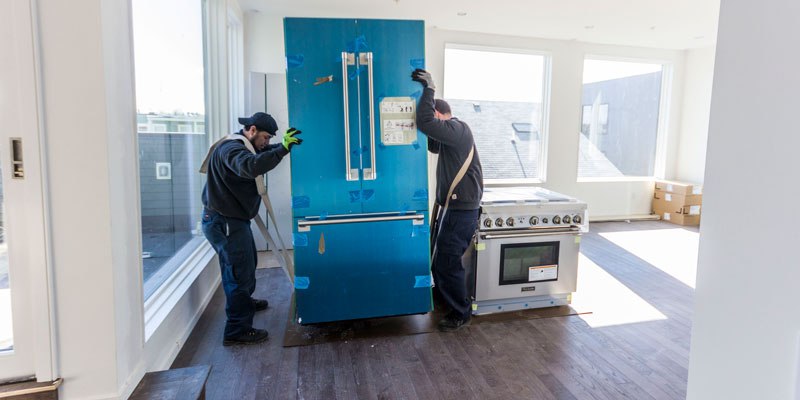 Yale Appliance Delivery
There are varying levels of execution after your purchase that should take place.
For this, I always recommend spending time reading reviews. Google and Yelp reviews provide the best insight into what others have experienced after their purchase.
Lastly, you should buy where you are comfortable. Being comfortable buying appliances requires due diligence. Do your research and problems are less likely to happen.
Additional Resources
Looking for more help on appliances? Get the free Yale Appliance Buying Guide with the 10 most frequently asked questions, their answers, features on the major brands, and lastly, advice for the best buying strategies. Well over 620,000 people have read a Yale Guide.
Related Articles
Why Should You Trust Us?
It seems that every appliance review has nothing but glowing comments about almost every product, yet you read customer reviews and they are almost universally bad.
We are here to fill in the disconnect. We'll give you the best features, and the drawbacks as well, including reliability based on over 37,000 calls performed by our service team just last year. Our goal is to give you ALL the information so you know what's right for you.
Please consider subscribing or adding to the conversation in the comments below. We appreciate you stopping by.
A Note About Pricing
Pricing on this blog is for reference only and may include time sensitive rebates. We make every attempt to provide accurate pricing at time of publishing. Please call the stores for most accurate price.