Samsung vs. LG Black Stainless Steel Kitchen Packages (Reviews / Ratings / Prices)
Black Stainless has been touted as the next great finish, possibly supplanting stainless for the most popular kitchen appliance finish.
You are right in considering this option.
LG and Samsung are the most popular with plenty of models, good reliability, and competitive pricing. You are, again, right for considering both brands.
They started the Black Stainless trend.
However, you should be aware of the possible problems with the black stainless steel finish before you buy any appliance or brand in this finish.
In this article, you will learn about Black stainless Steel first. Then we will compare both brands, products, and reliability based on 34,687 service calls logged last year.
In the end, you will know what brand to buy and whether you should even consider this finish.
Let's start there.
Black Stainless Steel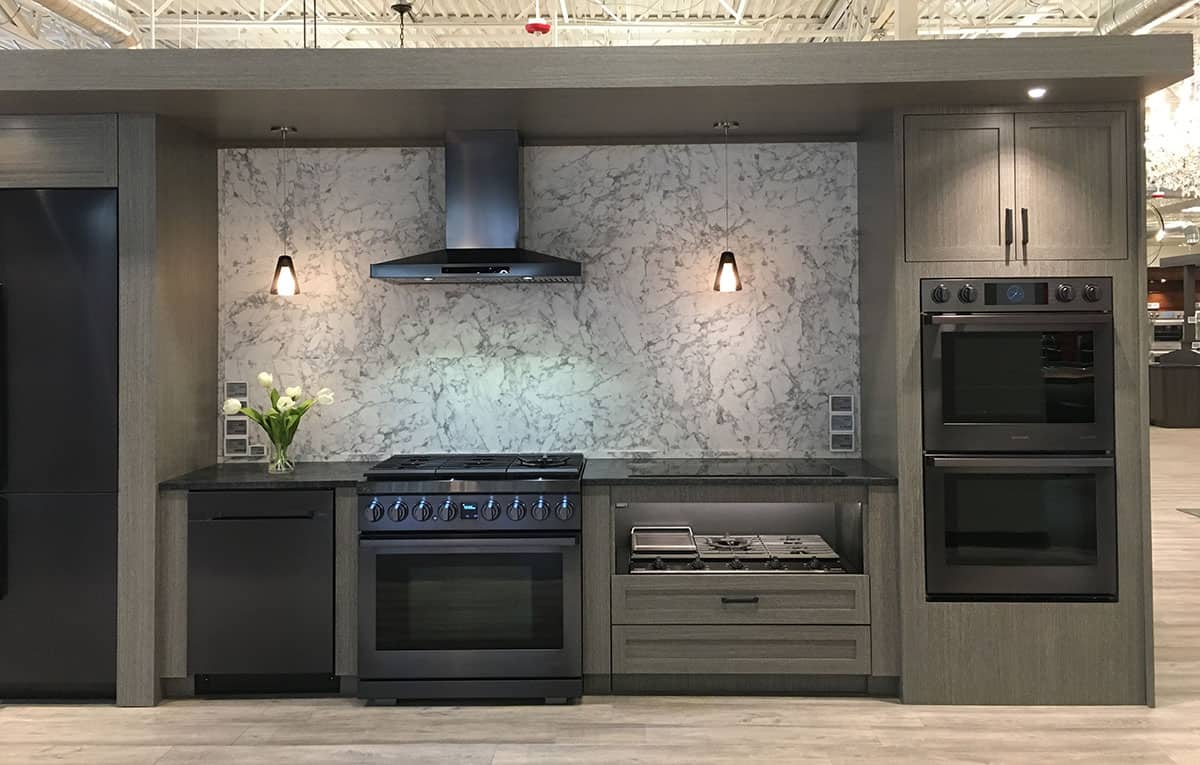 Black Steel is an oxidized coating over stainless steel. The coating is scratchable, revealing the shiny stainless steel beneath.
Unfortunately, there is no solution or easy fix once scratched.
How easy is it to scratch?
Have a look at our fork test below with every major manufacturer - yes, I scratched $14,000 worth of refrigerators with a fork.
Black Stainless Steel Scratch Test [Video]
Now, Should You Buy Appliances In Black Steel?
Yes, in certain circumstances only.
Large families with small children (my kid is a ninja with a fork and spoon) should probably opt for stainless versus Black Steel.
However, if you do not use your kitchen much or are especially careful, Black Steel is a good, stylish option.
Now, let's look at both companies when they promote their reliability, problems, and we'll compare their best packages.
LG Vs. Samsung Corporate
These companies are rivals, but they are almost interchangeable. Both companies sell TVs, phones, and appliances. They sell and promote in similar ways to the same customers.
Both are extremely innovative and emphasize design as well as function, which is the foundation of their popularity.
In appliances, they both started in the laundry, then French door refrigerators, and lastly, cooking and dishwashers.
Short on time? Get our free Appliance Buying Guide
Samsung Vs. LG Black Stainless Steel Kitchen Packages
For comparison, let's look at their similar products and prices.
Both packages include a counter depth refrigerator, a front control stove, dishwasher, and microwave.
Samsung Black Stainless Steel Kitchen Package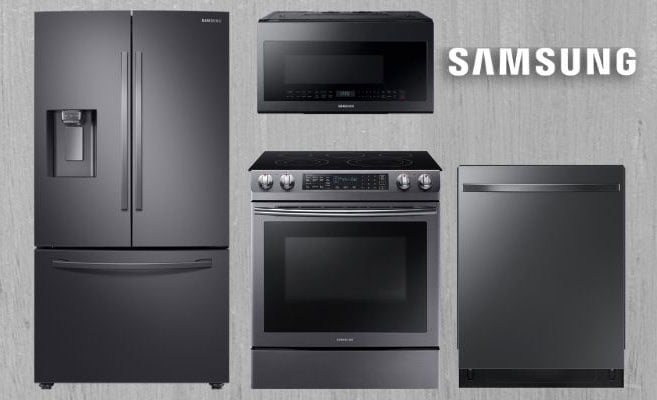 Samsung 4-Piece Kitchen Package Appliances:
Samsung Counter Depth Refrigerator RF23R6201SG - $1.999
Samsung Electric Slide-In Range NE58N9430SG - $1,199
Samsung Dishwasher with Storm Wash DW80R5061UG - $629
Samsung Over-the-Range Microwave ME21M706BAG - $399
LG Black Stainless Steel Kitchen Package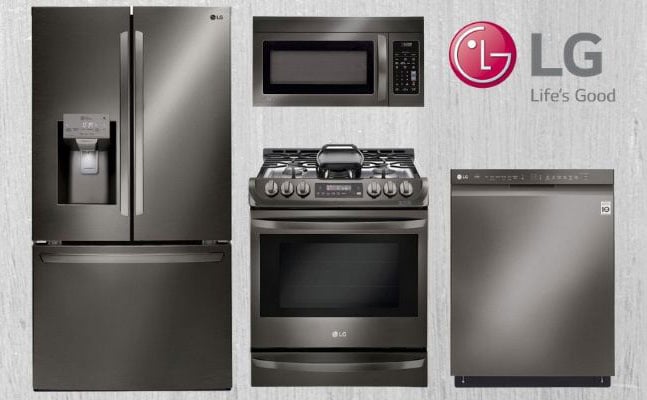 LG 4-Piece Kitchen Package Appliances:
LG Counter Depth Refrigerator LFXS28968D - $2,605
LG Slide-In Gas Range LSG4513BD - $2,399
LG Dishwasher LDF5545BD - $719
Refrigerators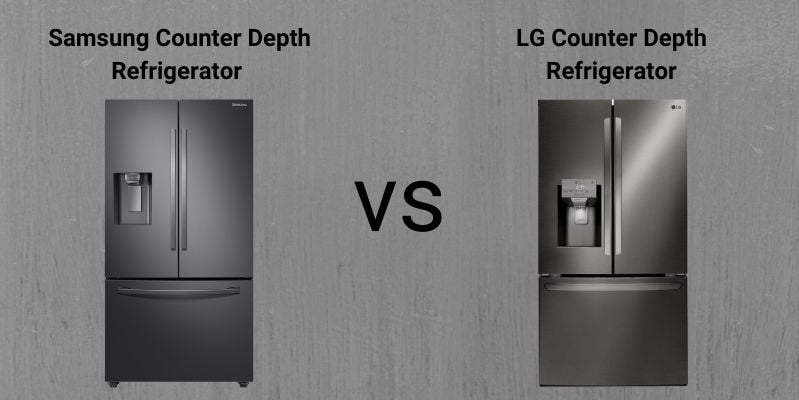 LG has the ice maker on the door rather than inside the refrigerator for a bit more space. Their ice dispenser is taller, so you can place a larger pitcher underneath.
Both refrigerators are 23 cu. ft.
Samsung has two evaporators to keep the cold, dry freezer air separate from the warmer, more humid refrigerator air. Your food, especially in the freezer, should taste better.
Refrigerator Options And Upgrades
Samsung has tons of options for refrigerators with the internet-ready Family Hubs, 4-door, and their door with drawer models.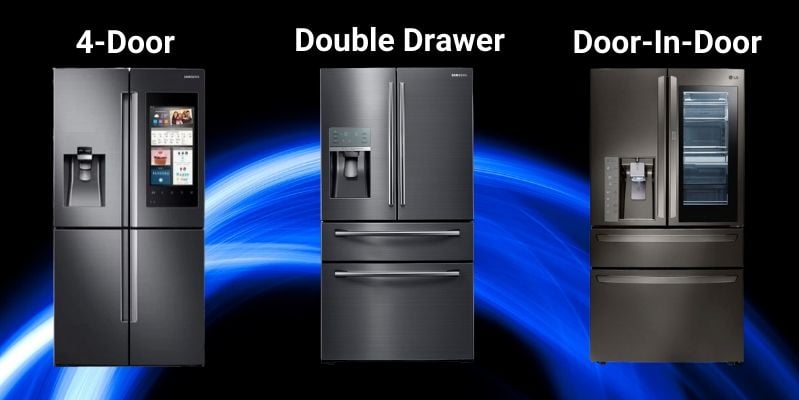 LG has the Instaview to see through the door when you tap it twice. They also have special refrigerators with special cocktail ice makers.
However, in this comparison, Samsung has better choices.
Ranges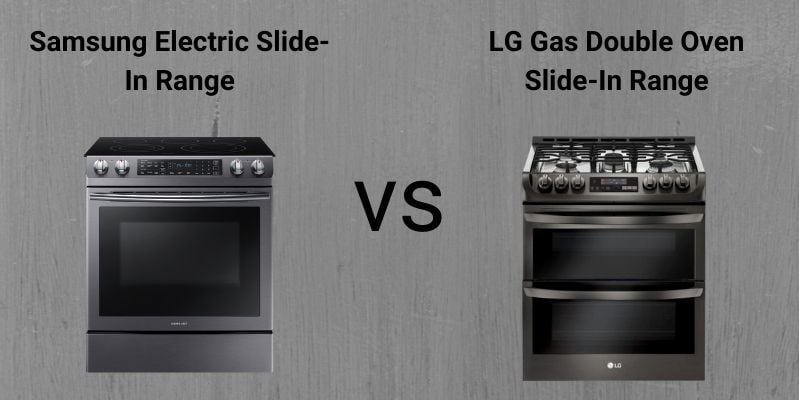 Both are five burners with convection ovens.
However, the heat is blown exclusively from the back of the LG for even heat. Technically, with this feature, LG should be the better option for baking.
Samsung, on the other hand, has a more powerful cooktop with 18,000 and 15,000 BTU burners versus just an 18,500 for the LG.
Samsung also adds a warming drawer below instead of storage, so you can keep food or plates warm for up to three hours.
Gas Cooking Options and Upgrades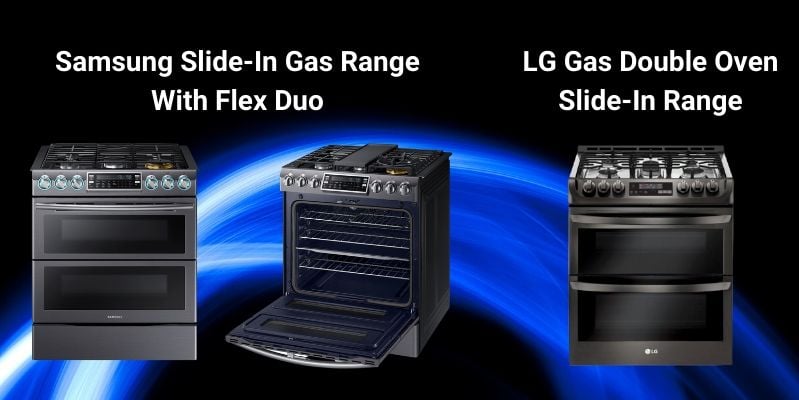 Samsung has two better options: The Flex Duo is a double oven range. You can also use it as a single oven by removing the divider in the middle.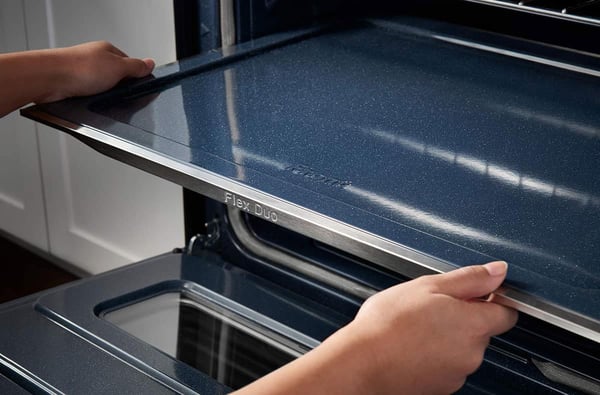 The Samsung Chef has a 22,000 and is a high output range at a less high price than a professional (pro) range.
LG has their version of a double oven in gas, electric, and their induction ranges as well.
Electric/Induction Cooking Options and Upgrades
Samsung offers the Flex-Duo in electric and induction types.
Additionally, Samsung's induction ranges have the blue LEDs around the burner, so you will know it's on.
Dishwashers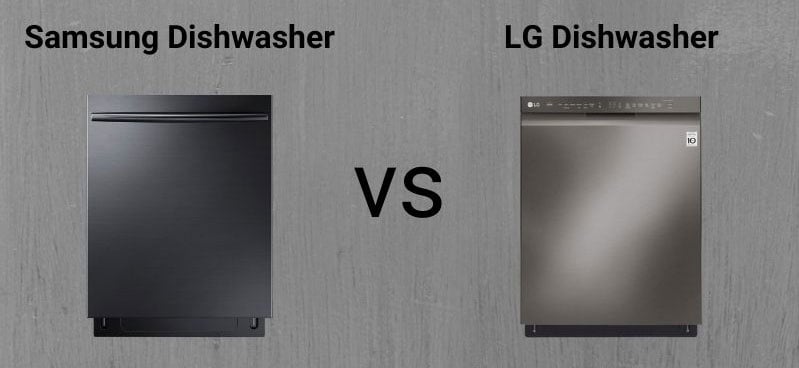 We do not sell many LG dishwashers and only the more basic to better Samsung dishwasher. They both have more expensive dishwashers with new technology.
Samsung has the WaterWall system, and LG has new steam-based dishwashers.
The basic Samsung dishwashers are very reliable at just under 5% service within the first year. You have more options at lower prices as well.
Over-the-Range Microwaves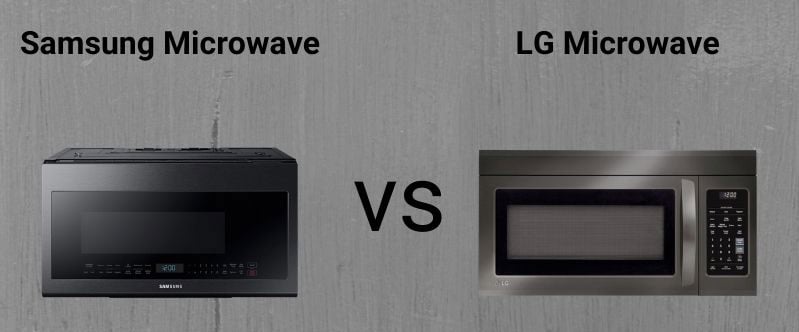 Over-the-range microwaves were once made in two places and labeled with different brands. These two looks similar, except Samsung, has greater CFMs at 400 vs. LG's 300 CFM.
When to Buy LG and Samsung
Their original strategy when selling TVs was to discount during the holidays heavily. Consumers in the US tend to plan their shopping around Black Friday and other promotional holidays like Labor Day, Memorial Day, and Presidents' Day.
These are still the best times to buy expensive merchandise like a TV.
You should try to purchase their appliances during the holidays. The savings could be as much as 35%.
However, you probably won't wait with a broken refrigerator.
Still, it's worth a consideration.
Click here for our best promotional holiday shopping tips.
Samsung and LG Reliability
Based on our 34,687 service calls in 2018, both LG and Samsung are statistically reliable overall. Samsung is number 3 at 8.952% service within the first year. LG is number 2 at 5.45%.
The Most Reliable Appliance Brands For 2019
Whirlpool 6940 Sold | 312 Serviced - 4.5%
LG 3,085 Sold | 168 Serviced - 5.45%
Samsung 6,352 Sold | 541 Serviced - 8.52%
Gaggenau 251 Sold| 27 Serviced - 10.76%
Bosch 6,751 Sold | 754 Serviced - 11.17%
Maytag 3,363 Sold | 407 Serviced - 12.10%
Miele 2,235 Sold | 298 Serviced - 13.33%
Wolf 2173 Sold | 399 Serviced - 18.36%
Fisher Paykel 568 Sold | 112 Serviced - 19.72%
It does not mean LG is more as reliable overall. We sell more Samsung in the kitchen, whereas LG is more the laundry brand of choice.
That said, laundry is more reliable as a category than refrigerators or stoves.
Take a look:
Front Load Washer Reliability
Samsung 178 Sold | 8 Serviced - 4.49%
LG 1246 Sold | 72 Serviced - 5.78%
Counter Depth Refrigerator Reliability
Samsung 915 Sold | 85 Serviced - 9.29%
LG 78 Sold | 4 Serviced - 5.13%
Dishwasher Reliability
Samsung 1051 Sold | 133 Serviced - 12.65%
LG 71 Sold | 6 Serviced - 8.45%
How We Calculate Appliance Reliability
One of the benefits of having a huge service department is data collection. We will be in approximately 130-150 homes today fixing appliances, with a good portion being less than a year old and under warranty.
In 2018, we had 34,687 completed service calls.
It's sales generated versus warranty service calls within 1 year.
To see reliability statistics for all brands, click here.
Samsung and LG Problems
You read about LG and Samsung problems all over the internet. The product is reliable and not any harder to fix than any other brand.
We service all brands and perform over 34,000 service calls. LG is a bit harder for parts, but otherwise, these brands are like the others.
The issue is in certain parts of the country; it is very hard to find a technician to fix the product.
So you want to know who can fix either brand before you buy LG or Samsung.
Should You Buy Samsung Or LG For Black Stainless Steel Kitchen Packages?
As I said in the beginning, both are very good brands.
First, you must determine whether Black Steel is worth the risk. The look is different and it will match all cabinet styles.
The downside is its wear. If it is scratched, you will be looking at that shiny scratch forever or until you replace it.
LG has a few appliances worth considering, but they are limited, especially in cooking and refrigeration, the two key components of a package.
Samsung has slightly better kitchen appliances with more selection, especially in the refrigerator and cooking categories.
For this particular comparison, if you truly like to bake, check out the LG. Samsung has a more powerful stove and a larger refrigerator.
For kitchen appliances, Samsung has the edge for design and choice. In our industry, it's Samsung in the kitchen with LG better for laundry.
What Are Other Choices For Black Stainless Steel Appliances?
Here are two choices you should consider:
If you're sticking with black stainless steel - Bosch is better in Black Steel because black is baked into the stainless process.
Click here for our video and blog scratch test for Bosch's black stainless steel appliances.
If you're looking for color without worrying about it scratching - You may also want to try colors. Be careful with color. You don't want an out of style mint julep kitchen in 10 years (would you believe Mint Julip is an actual color?).
Click here to learn how to apply color in your kitchen.
Additional Resources:
Download our Appliance Buying Guide with features, specs, and inside buying tips to every major brand. Well over 620,000 people have read a Yale Guide.
Related Articles:
Why Should You Trust Us?
It seems that every appliance review has nothing but glowing comments about almost every product, yet you read customer reviews and they are almost universally bad.
We are here to fill in the disconnect. We'll give you the best features, and the drawbacks as well, including reliability based on over 37,000 calls performed by our service team just last year. Our goal is to give you ALL the information so you know what's right for you.
Please consider subscribing or adding to the conversation in the comments below. We appreciate you stopping by.
A Note About Pricing
Pricing on this blog is for reference only and may include time sensitive rebates. We make every attempt to provide accurate pricing at time of publishing. Please call the stores for most accurate price.