Beko Vs. Samsung French Door Counter Depth Refrigerators (Reviews / Ratings / Prices)
Shopping for a new refrigerator will be much different today than even last year with more brands and styles than ever.
You have the new Bosch French doors, GE, GE Profile and Café Appliances, LG, Samsung, and Whirlpool brands Jenn-Air, KitchenAid, and Maytag.
You can also buy French door refrigerators in 3 doors, four doors, five doors, and door with drawer configurations.
Beko is a new brand with different features. It adds a freshness story not available in other brands. Yet they also deliberately omit other features like ice dispensers marketed by the others.
In this article, you will read more about this new brand and compare it with Samsung, the technology leader in refrigerators.
New Refrigerator Problems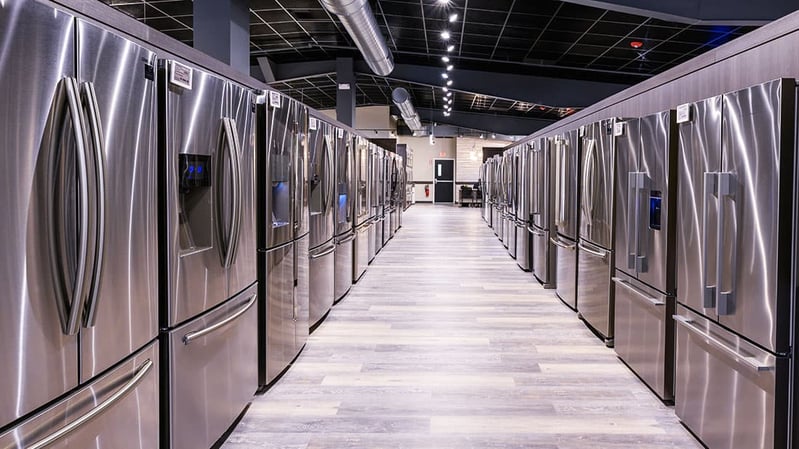 French Door Counter Depth Refrigerators at Yale Appliance in Hanover
Let's say you buy the latest and greatest refrigerator. It's delivered (hopefully efficiently and stress-free). Then, in the act of great faith, you go to your local supermarket and buy tons of food to fill it.
What If That New Refrigerator Doesn't Work?
It's a nightmare scenario (for appliances). Unlike any other appliance, you will lose $250 of food plus the inconvenience of service and replacement.
For those of you who remember GE in the 1980s, this can happen with appliances. GE installed a new yet faulty compressor in all their new larger refrigerators.
It cost them 1 billion dollars. Cost us time, delivery, free upgrades to customers, and reputation.
Now we have 35 appliance service technicians so that we will know problems sooner than the manufacturer, but I am always wary of new anything, but particularly refrigerators.
Beko
Beko is not new. They are popular in Europe and have manufactured under the Blomberg name in the U.S. for about ten years.
They have interesting refrigerators, stoves, and compact laundry. Their small refrigerators could be the best in the market.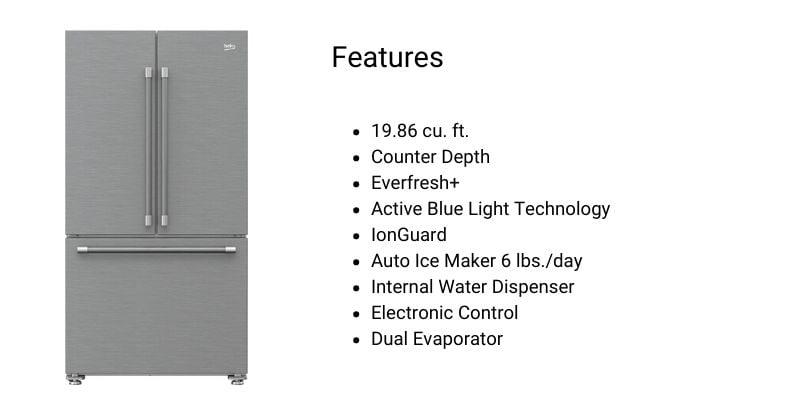 Samsung
Samsung has been making appliances since the late 1960s.
In a very short period, Samsung has become the number 1 selling line of appliances in the US. Amazingly, they surpassed Whirlpool in such a brief period. They design beautiful equipment and are technology forward.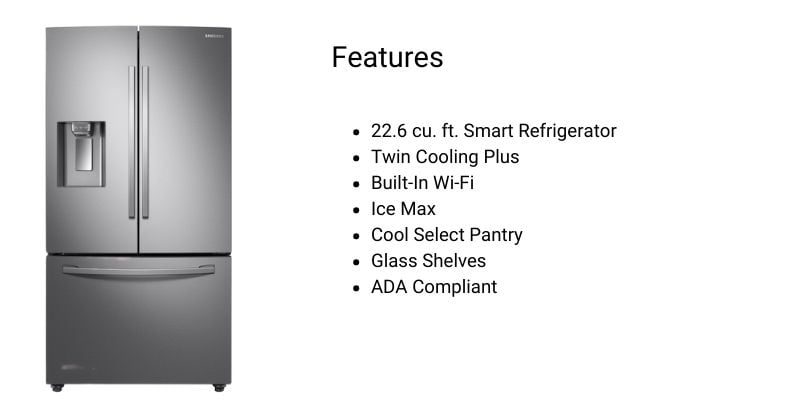 Let's see how Beko compares against Samsung in the most popular three-door French door counter depth size.
Beko Vs. Samsung French Door Counter Depth Refrigerators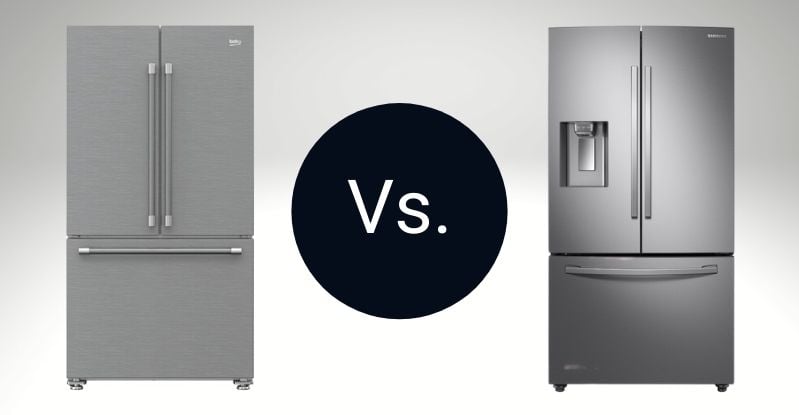 Similarities Between Beko And Samsung Refrigerators
1. Style
First, they are French door and counter depth, so they are similar styles.
2. Dual Evaporators
Both have separate evaporators for the refrigerator and freezer. Separate evaporators mean the warmer moister air of the refrigerator is not trapped in the colder drier freezer.
Along with the air are tastes and odors, so that fresh fish odor in your refrigerator won't be trapped in your ice cream in the freezer.
8 Important Differences Between Beko And Samsung Refrigerators
1. Ice Makers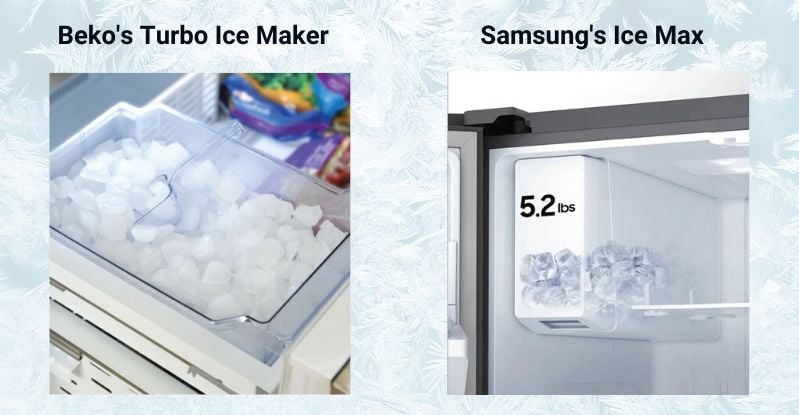 Samsung has an ice dispenser for crushed ice, water, and cubes. However, ice makers are the number 1 service calls according to our service statistics.
Somehow, forcing a frozen cube through a warmer refrigerator can cause leaks.
Beko does not offer an ice dispenser but has an internal water dispenser inside the refrigerator.
Beko also has the largest capacity for ice cubes producing 11 pounds of ice in 24 hours versus 6 for Samsung and most other brands.
2. Capacity
Samsung is 23 cubic feet, and Beko is 19.86 cubic feet. However, I saw a video of a Beko shelf being the same size as a GE 28 cubic foot refrigerator shelf.
In this crude, yet interesting experiment, the smaller Beko refrigerator shelf was larger than, the larger Samsung. In terms of usable capacity, they are probably even.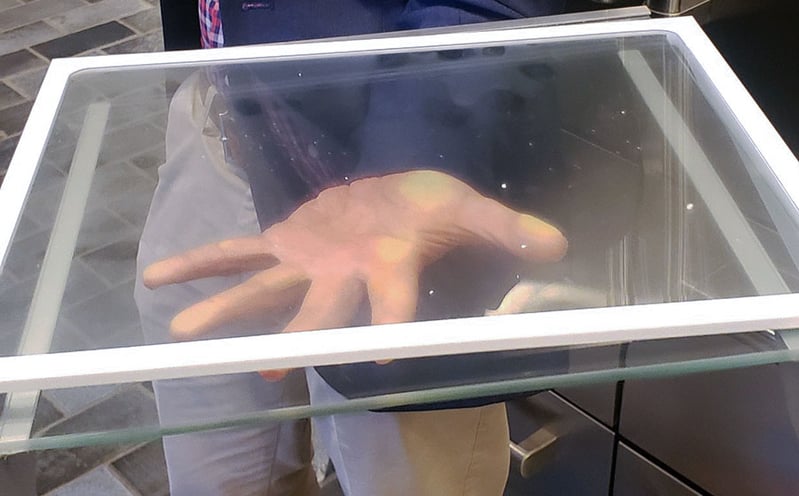 Samsung over a Beko Counter Depth Refrigerator Glass Shelf at Yale Appliance in Boston. The smaller Beko has more shelving space.
3. Crispers
Samsung has a "Cool Select Pantry." You can choose three temperatures to defrost or chill your food. The air is separate from the refrigerator compartment.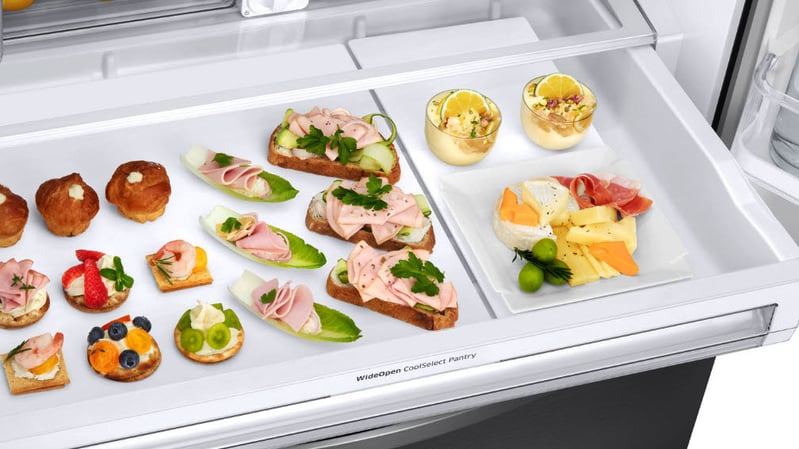 Samsung Cool Select Pantry drawer on a Samsung Counter Depth Refrigerator
Beko has what they call "Active Fresh Blue Light": It simulates photosynthesis extending the life of your fruit and vegetables.
EverFresh + is similar to Samsung's "Cool Select Pantry" with precise humidity control. They have sealed crispers with four direct access points for refrigerator air.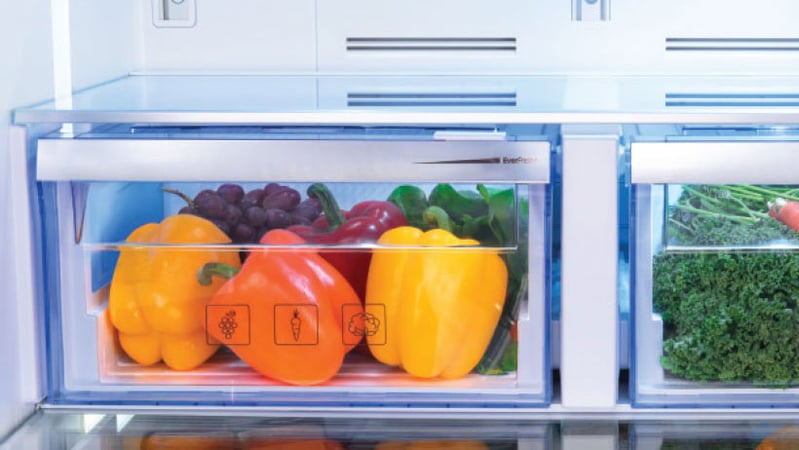 Beko EverFresh + Crisper Drawers
The drawer environment evaporates moisture and ethylene gasses from the other compartments.
4. Wi-Fi
You can control the temperature on your refrigerator and freezer from an app on your phone with Samsung. Beko does not have WIFI at this point in their refrigerator.
5. Odor Removal
Up until now, Sub-Zero had an air scrubber or some filtration in your refrigeration.
Odors carry positive Ions. Beko has IonGuard generating negative Ions to neutralize these smells and keep food fresher.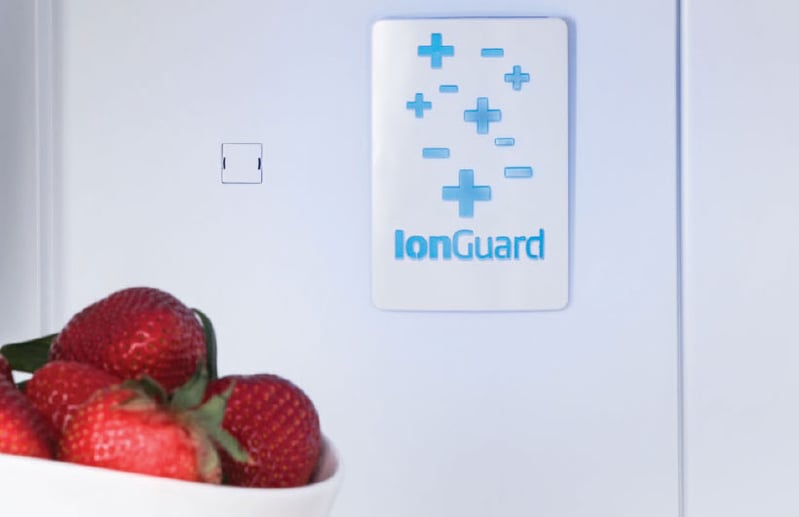 Beko Counter Depth Refrigerator IonGuard Technology
6. Quiet
Finally, a manufacturer publishes noise levels (DB) for an appliance other than a dishwasher. Beko has an extra quiet "Inverter" compressor. It's 44 DB.
Oddly enough, 44 is the minimum standard of quiet for a dishwasher. In a refrigerator, that is extremely quiet.
7. Price
There is a $400 difference. Both have packages rebates. However, the price fluctuates with Samsung, especially during promotions around major holidays.
You should be mindful of prices as it will be a $200-600 difference during the year.
8. Reliability
Most Reliable French Door Counter Depth Refrigerators for 2020
| | | | |
| --- | --- | --- | --- |
| | Service Qty | Shipped Qty | Service Ratio |
| BlueStar | 23 | 36 | 63.89% |
| Jenn-Air | 308 | 595 | 51.76% |
| KitchenAid | 103 | 239 | 43.10% |
| Whirlpool | 6 | 17 | 35.29% |
| Bosch Appliances | 135 | 422 | 31.99% |
| LG Electronics | 10 | 46 | 21.74% |
| Samsung | 248 | 1220 | 20.33% |
| Fisher & Paykel | 31 | 192 | 16.55% |
| GE Profile | 9 | 59 | 15.25% |
| GE Appliances | 5 | 35 | 14.29% |
| Café Appliances | 2 | 41 | 4.87% |
| Grand Total | 916 | 2932 | 31.24% |
French door refrigerators, in general, have one of the highest rates of repair.
It's not major system failures, but technical problems with the icemaker. Beko is missing in this comparison as we just started selling it four months ago.
It will be interesting to see if the lack of a dispenser greatly improves reliability.
Beko Vs. Samsung French Door Refrigerators: Key Takeaways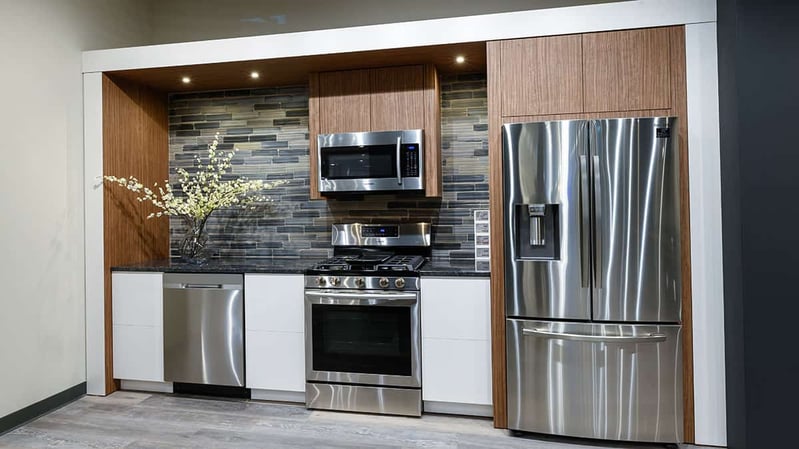 Samsung French Door Counter Depth Refrigerator at Yale Appliance in Hanover
This was more of a refrigerator technology tour than actual comparison. Both have different yet compelling features.
Samsung will be less expensive, and it will have a dispenser. You will love a dispenser but be prepared for the inevitable service call.
Beko has technology around keeping food fresh. With "Active Blue Light" and EverFresh+, they actively attempt to keep food fresher for a longer time.
What will be interesting is the reliability of Beko without the icemaker.
Both have their merits, depending on what you prefer.
Additional Resources
Want some more information about counter depth refrigerators? Get the Yale Appliance Counter Depth Buying Guide with features, specs, and detailed profiles of the major brands. Well over 630,000 people have read a Yale Guide.
Related Articles:
Why Should You Trust Us?
It seems that every appliance review has nothing but glowing comments about almost every product, yet you read customer reviews and they are almost universally bad.
We are here to fill in the disconnect. We'll give you the best features, and the drawbacks as well, including reliability based on over 37,000 calls performed by our service team just last year. Our goal is to give you ALL the information so you know what's right for you.
Please consider subscribing or adding to the conversation in the comments below. We appreciate you stopping by.
A Note About Pricing
Pricing on this blog is for reference only and may include time sensitive rebates. We make every attempt to provide accurate pricing at time of publishing. Please call the stores for most accurate price.