Samsung vs GE Profile Induction Slide-In Ranges (Reviews/Ratings/Prices)
For many years, you had to shop hard for an induction product. The choices were limited at best and expensive for even the simplest of ranges.
Now, almost all commodity brands offer induction, including Bosch, Blomberg, Electrolux, Fisher & Paykel, Frigidaire, GE, LG, and Samsung. Even Miele, Wolf, Viking, and Dacor have marketed an induction range.
Short on time? Get our free Induction Cooking Buying Guide
So now you have a considerable amount of choice, especially for slide-ins. In this article, you will learn the differences between Samsung and GE Profile as well as a comparison in the end
First, a short introduction on the benefits of induction.
Why induction?
Efficiency – Induction is the most efficient cooking application, with the least amount of wasted heat. It also requires the least amount of ventilation. Induction is also recognized to reach the quickest boil – Quicker than gas and electric.
Responsive – Much like gas, induction will quickly adjust/react to changes, from a high- heat to a low simmer, in a matter of seconds.
Safety – Induction is known to be the safest means of cooking. The unit will only turn on, once it recognizes cookware (with Ferrous Materials) that is compatible to work with induction. Unlike, its electric counterpart, induction will begin to quickly cool once the cookware is removed or the unit is turned off.
Cleaning – Within the cooking element, the heat is directly transferred to the cookware and the surrounding area doesn't get hot, it makes cleaning up very easy on the ceran glass cooking surface.
Cost - Aside from induction being more readily available in many more brands today, it has also become a much more affordable application.
Speed - Induction is faster than professional gas as well as having an instant simmer.
Samsung
Samsung is a consumer brand based out of South Korea. You may have one of their Android phones. After years of battling with Apple, Samsung has recently focused on the appliance business with cool innovations and designs.
You will find their range interesting.
GE Profile
GE is now a subsidiary of Haier, a huge Chinese manufacturer. The Profile is their upscale, commodity brand after Cafe and Monogram. You see more GE in large developments and apartment complexes. They have always been more of a "builder-driven" brand rather than a consumer-oriented.
Tip: GE has a liberal "Friends and Family" program. You can apply for bigger discounts directly with GE.
Note: We have not sold GE products since 2013.
Samsung vs. GE Profiles Induction Slide-In Ranges
For comparison purposes, the following overview will match up to Samsung's induction slide-in range, with the GE Profile induction slide-in range.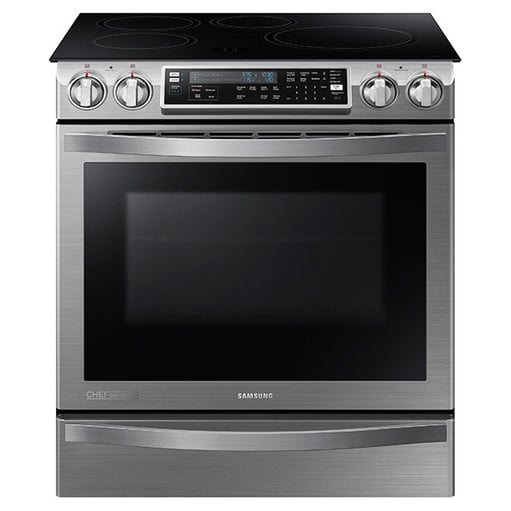 Features:
Full induction cooktop with Virtual Flame Technology - Offering the visual of gas cooking with the precision of induction

Wi-Fi Oven – Smartphone Connection - Remotely monitor your cooktop and control your oven with Wi-Fi capabilities

5.8 cu. ft. oven - Provides very large capacity

Warming Drawer
This is a great range. It's very stylish, with some unique features, like Wi-Fi connectivity, allowing for remote monitoring of the cooktop and the oven from a smartphone. Wi-Fi also provides the ability to turn on/off, preheat and adjust the temperature.
The virtual flame provides the illusion of gas cooking by projecting a blue virtual flame on the bottom of your cookware.
Not only does this look real, but it's a visual of a working range. You know the stove is on and much safer than every other induction
The convection system in this range provides not only one, but two convection fans for better / even convection cooking.
GE Profile PHS930SLSS - $2,399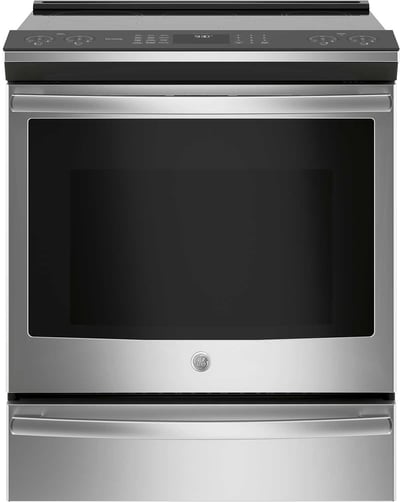 Features:
Wi-Fi Connectivity / Allows control of oven features with a smartphone

5.3 cu. ft. Oven Capacity

Glide Touch Controls / Control element temperatures precisely with the touch of a finger

Fast Preheat
Unlike the newer Samsung, the, GE oven is a bit dated looking but does offer modern features, like Wi-Fi. Control panel is nicely displayed along the top of the range making it very easy use.
Like the Samsung, this is a true slide-in, with a wider glass surface that will overlap onto the countertop sides to eliminate seams.
This range does offer a powerful induction surface offering up over 10,000 watts of cooking power.
Reliability
Samsung is very good with a repair rate of less than 6% in the first year. We have not sold GE in over 5 years, but they were about average in 2013.
Both have problems when there are service issues. You should inquire who will be fixing your new stove before you buy it.
Rebates
You should buy Samsung during a promotional period like Black Friday, Labor Day, Presidents Day and Memorial Day for savings up to 35%.
GE has "Friends and Family" (yes pretty much everyone in 2013 was one or the other) and discounts during the same promotional period.
Comparison
Both are good, so this comparison depends on how you cook and the style you prefer.
The Profile has hotter burners and tops out at 3,700 watts versus 2,300 in the Samsung. So, GE has the faster burners.
You have the blue flame visual, of the Samsung "Virtual Flame", a plus if you have small children.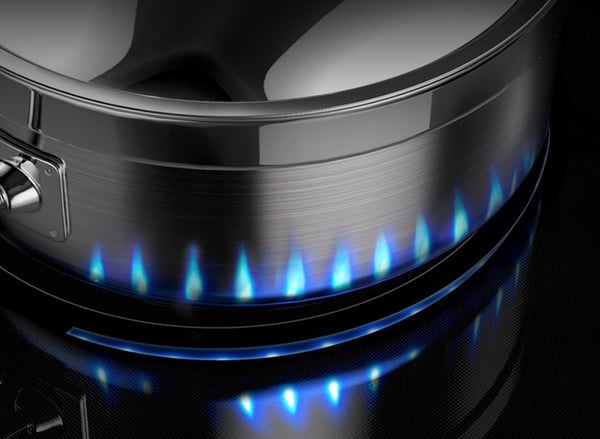 Samsung Virtual Flame
Samsung also has technically the best convection system with two fans versus one in the GE Profile.
Samsung is newer than the, 12+-year-old Profile, so the style is updated and cleaner looking.
It is the power of GE versus the style and oven of the Samsung...
What do you think?
Additional Resources
Read our Induction Cooking Buying Guide for features, buying tips and ratings of every available induction cooking product in the market. Well over 310,000 people have read a Yale Guide.

Related Articles
Eddie Jacob
Eddie Jacob has 15+ years of sales & consulting experience and is in the appliance sales department at Yale Appliance + Lighting. He takes pride in total customer satisfaction and enjoys coaching youth soccer.

Schedule a showroom visit with me
A Note About Pricing
Pricing on this blog is for reference only and may include time sensitive rebates. We make every attempt to provide accurate pricing at time of publishing. Please call the stores for most accurate price.