Samsung Vs. GE Profile Induction Slide-In Ranges (Reviews / Ratings / Prices)
GE Profile and Samsung are two companies you should consider for a new induction range.
From a feature standpoint, both GE and Samsung seem similar, but they are two completely different induction ranges.
In this article, you will also learn about the benefits of induction, a little about both companies, their products, and then a head to head comparison of their induction slide-ins.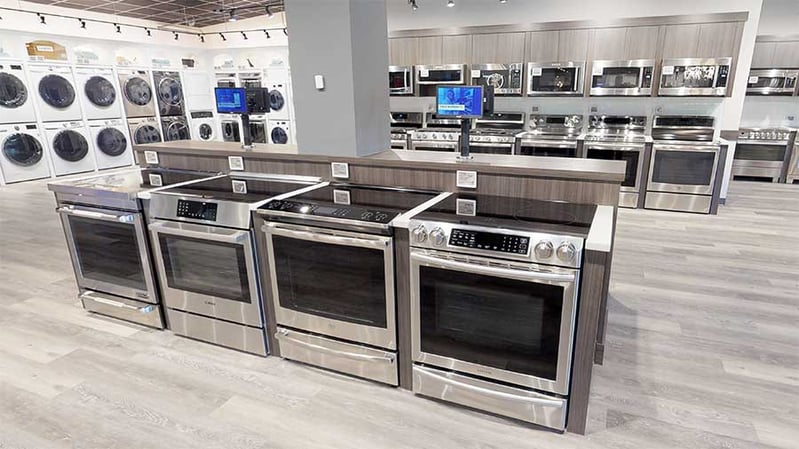 Slide-In Induction Ranges at Yale Appliance in Hanover
Included will be reliability based on real service calls. Our service team logged 35,256 service calls just last year.
This article will be interesting with some good and bad news. In the end, you will know which range to consider.
First, a short introduction to the benefits of induction.
Short on time? Get our free Induction Cooking Buying Guide
Why Induction?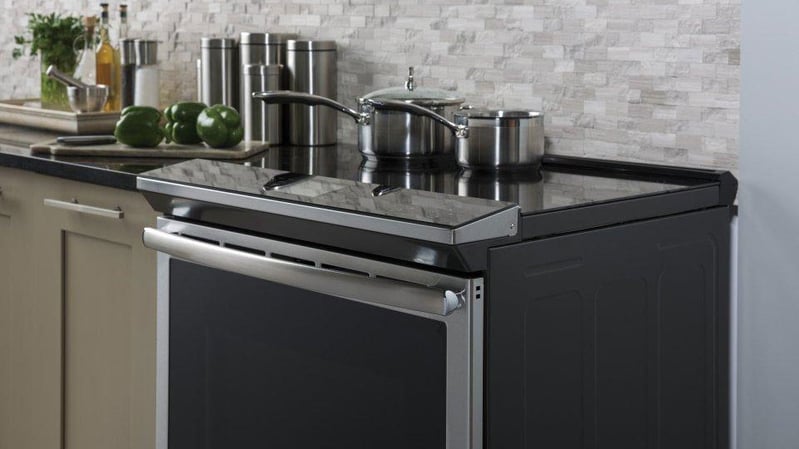 GE Profile Slide-In Induction Range Installed
I am a charter member of KEG. Short for California Electric Group. Misspellings aside, they are trying to convert people into buying induction over gas.
They cite environmental studies and how electric lines are more earthquake safe than gas lines.
We have written about the benefits of induction for over ten years. If you live in Mass, induction is also a way better option for venting.
Induction works by magnetic heat. The magnets excite the molecules in the pan, so the pan, not the glass, cooks the food.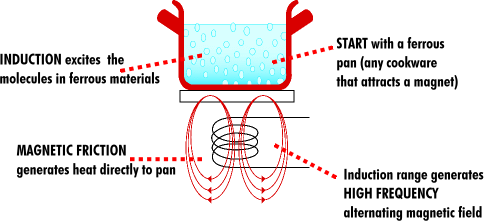 1. Speed
Induction is faster than any pro-gas burner, even a commercial wok.
2. Responsive/Simmer
Much like gas, induction will quickly adjust/react to changes, from a high- heat to a low simmer, in a matter of seconds.
Unlike gas, induction can reach super-low temperatures for simmering or melting chocolate.
3. Safety
Induction is the safest means of cooking. The unit will only turn on once it recognizes cookware (with Ferrous Materials) compatible to work with induction.
Children cannot turn induction on by accident.
Also, the top is less hot because the glass is only heated residually by the pan. The chances of burning yourself in induction are much less than a gas or electric cooktop.
4. Cleaning
Cleaning is much easier. The glass is much cooler, and food does not bake on an induction cooking surface like gas or electric.
5. Venting
Massachusetts Residents: Back in 2007, Make-up Air laws were passed, so every hood over 400 CFM needed an air return of the same amount.
You can vent an induction range at 400 CFM, unlike a high powered gas range at 600 CFM or greater.
Read More: Top 4 Induction Slide-In Ranges
Let's look at both companies, then their induction ranges. For comparison purposes, the following overview will match Samsung's induction slide-in range with a similar GE Profile induction.
Samsung
Samsung is a consumer brand based out of South Korea. You may have one of their Android phones.
Samsung has become the most popular appliance brand in the US through innovative products and a better-looking design.
Samsung is Korean. Some of their products are now made in the US.
Samsung 30-Inch Induction Range NE58K9560WS - $2,199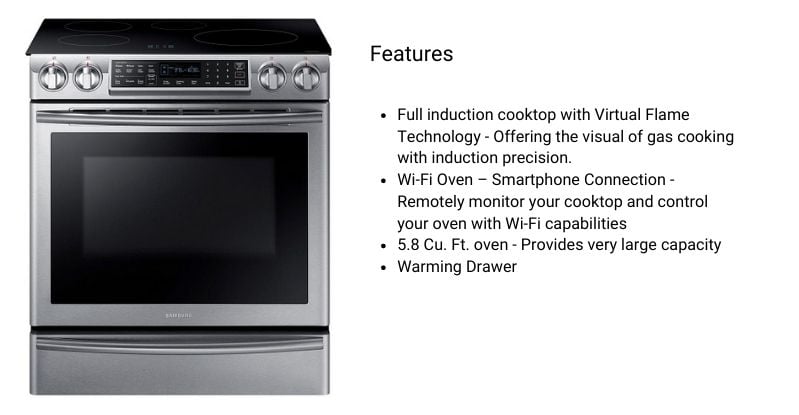 GE Profile
GE Profile is now a subsidiary of Haier, a huge Chinese manufacturer, after years of languishing as part of GE.
GE Profile is their mid to high-end line in their product portfolio. The built-in premium line is Monogram. Cafe Appliances is their freestanding luxury line and then Profile.
Haier is Chinese, as mentioned, but most of GE's appliances are still made in the US.

Samsung Vs. GE Profile Induction Slide-In Ranges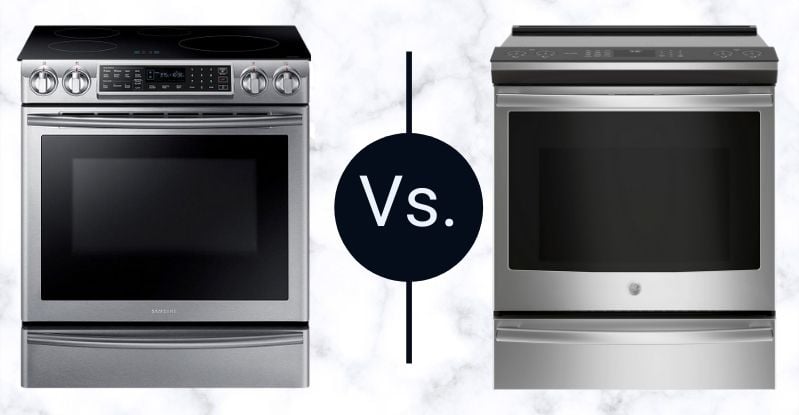 First, Samsung is a slide-in, while GE is a front control range. Most people refer to them as slide-ins, but there is a difference.
Front controls are made to fit existing ranges, whereas slide-ins overlap the counter and are more for new construction.
Read More: What's the Difference Between Freestanding and Slide-In Ranges?
Let's look at each aspect of these ranges.
Samsung Vs. GE Profile Induction Range Cooktops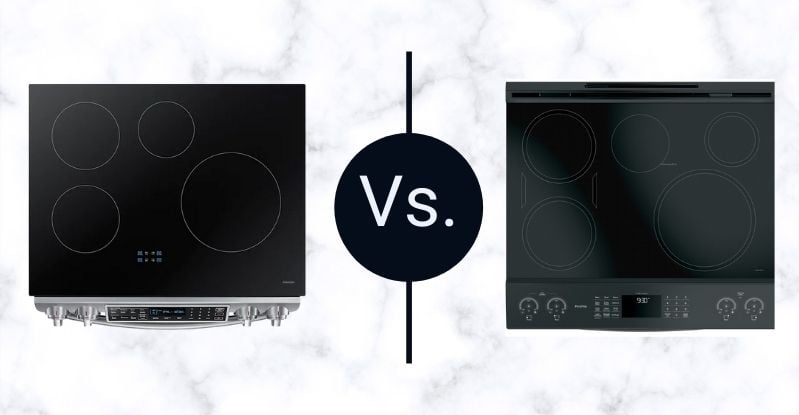 The induction will have more output than a gas or electric cooktop. However, GE has more power than the Samsung.
GE Profile Induction Range Burner Output
3700
2500*2
1800
100 Watt Warming zone
Samsung Induction Range Burner Output
3300
2300*2
2000
Virtual Flame: Samsung surrounds their burners with blue LED lights so you can see the cooktop working.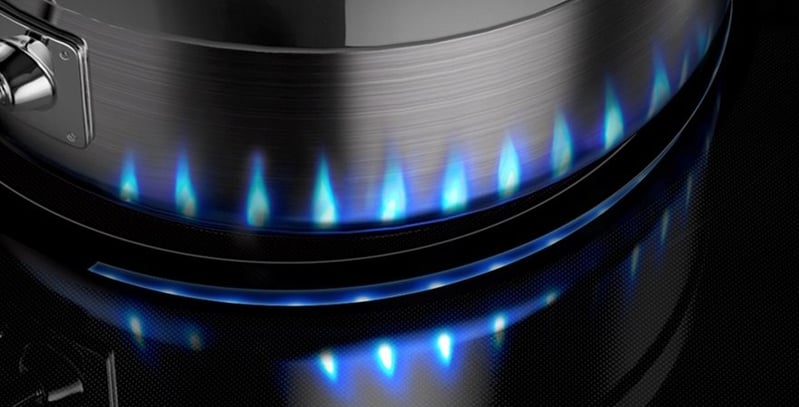 Samsung Induction Cooktop Virtual Flame
Both have hot surface indicators, but the Samsung is a bit more clever.
Wi-Fi Connectivity
Both have Wi-Fi. Cooking has real promise for Wi-Fi.
For all you Jetsons fans, there will be a time when you can tell your range what you want to eat, and the range does the rest.
We are not there yet. GE is a bfit closer than Samsung and can be connected to every type of voice attendant.
Samsung Vs. GE Profile Induction Range Ovens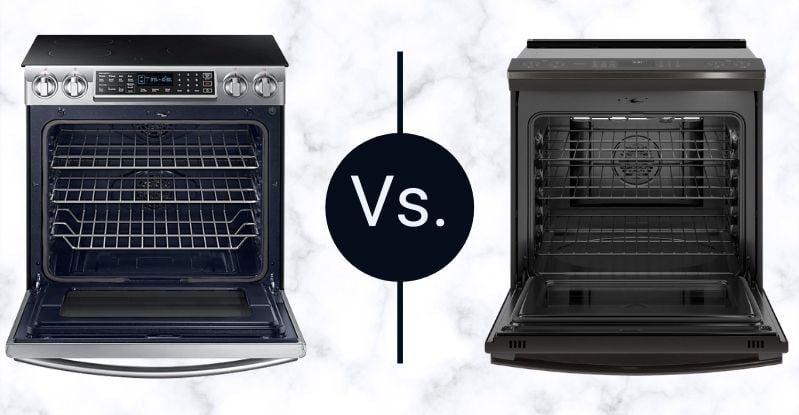 Samsung has twin convection. Their twin convection is a bit different, with fans being up and down versus side by side.
Twin fans should recirculate air better than the GE single fan. However, you would think air should flow better side by side.
Samsung uses the same oven for its "Flex Duo" or two oven range with two convection ovens.
Warming Drawers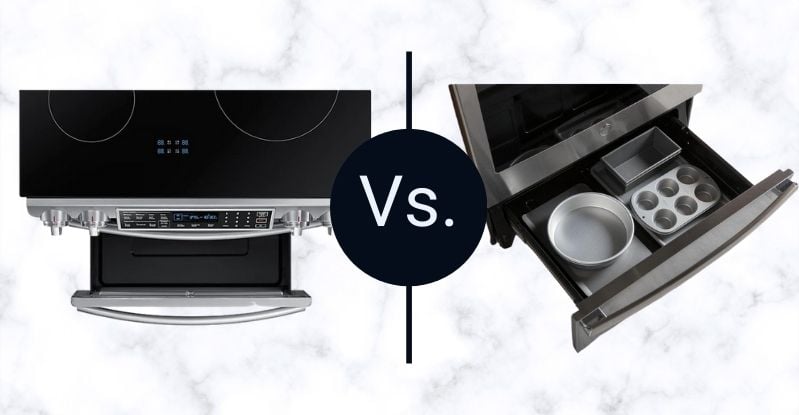 Samsung adds a warming drawer versus just storage for the Profile. Warming is a good option as you will have the ability to keep food warm for up to 3 hours.
Reliability
Induction Range Reliability for 2020
| | | | |
| --- | --- | --- | --- |
| | Service QTY | Shipped QTY | Service Ratio |
| Jenn-Air | 58 | 135 | 42.96% |
| KitchenAid | 5 | 14 | 35.71% |
| Fisher & Paykel | 4 | 12 | 33.33% |
| Café Appliances | 5 | 15 | 33.33% |
| Wolf | 16 | 71 | 22.54% |
| Bosch Benchmark | 4 | 23 | 17.39% |
| Miele | 3 | 18 | 16.67% |
| Bosch Appliances | 5 | 38 | 13.16% |
| GE Profile | 2 | 25 | 8.00% |
| Samsung | 2 | 67 | 7.46% |
| Grand Total | 108 | 417 | 25.90% |
Induction Cooktop Reliability for 2020
| | | | |
| --- | --- | --- | --- |
| | Service QTY | Shipped QTY | Service Ratio |
| Jenn-Air | 17 | 62 | 27.42% |
| Miele | 10 | 43 | 23.26% |
| Samsung | 1 | 9 | 11.11% |
| Bosch | 5 | 50 | 10.00% |
| Wolf | 15 | 167 | 8.98% |
| Bosch Benchmark | 3 | 38 | 7.89% |
| Gaggenau | 1 | 16 | 6.25% |
| Thermador | 2 | 77 | 2.60% |
| Fisher & Paykel | 0 | 5 | 0.00% |
| KitchenAid | 0 | 7 | 0.00% |
| GE Profile | 0 | 5 | 0.00% |
| Grand Total | 56 | 482 | 11.62% |
Induction has two different reliability stories.
Cooktops are more reliable than the average appliance.
Stoves are much worse.
The reason: Induction stoves require more amperage than even electric, so a voltage spike can easily cause a problem.
Reliability has another side. Although Samsung is generally one of the most reliable brands, its service has not kept up with its popularity.
Their after-sales experience can be poor or even non-existent in certain areas.
GE is one of the better manufacturers owning their service. Of course, that depends on the tech visiting your house.
Service should be a big part of your research because induction is not an easy fix.
Read More: Most Reliable Induction Ranges
Rebates
You should buy Samsung and Profile during a promotional period like Black Friday, Labor Day, Presidents' Day, and Memorial Day for savings from 10-35%.
As we write this in September 2020, COVID-19 has severely hampered both companies. Both companies even suspended new orders until the end of this month.
I have never seen a company suspend orders in 34 years at Yale.
Read More: How To Buy Appliances During A Supply Crisis
Which Induction Slide-In Range Should You Buy?
Both are good, so this comparison depends on how you cook and the style you prefer.
The GE Profile has a better cooking surface. However, Samsung has the Blue Flame along with a slightly better oven and a storage drawer.
Reliability is better with Samsung, but the service experience will be better with GE Profile.
So it's a toss-up when comparing individual features.
Samsung also has the best convection system technically with two fans versus one in the GE Profile.
It's the power of GE versus the style and oven of Samsung.
What do you think?
Additional Resources
Download the Yale Induction Cooking Buying Guide with features, buying tips, and ratings of every available induction cooking product in the market. Well over 800,000 people have read a Yale Guide.
Related Articles
Why Should You Trust Us?
It seems that every appliance review has nothing but glowing comments about almost every product, yet you read customer reviews and they are almost universally bad.
We are here to fill in the disconnect. We'll give you the best features, and the drawbacks as well, including reliability based on over 37,000 calls performed by our service team just last year. Our goal is to give you ALL the information so you know what's right for you.
Please consider subscribing or adding to the conversation in the comments below. We appreciate you stopping by.
A Note About Pricing
Pricing on this blog is for reference only and may include time sensitive rebates. We make every attempt to provide accurate pricing at time of publishing. Please call the stores for most accurate price.