Bosch Black Stainless Steel (Reviews / Ratings)
In this article, you will learn how Black Stainless is manufactured, why Bosch is different, and better.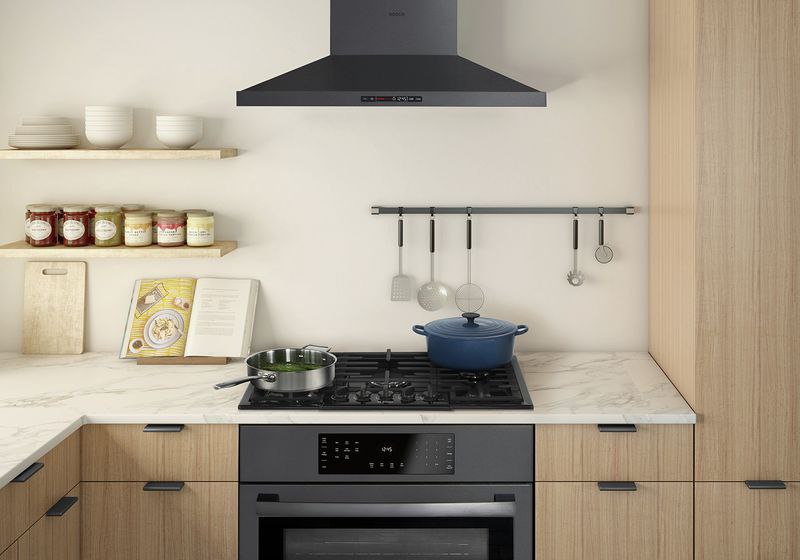 Bosch Black Stainless Steel
Then you will also understand why you probably still will not buy Bosch Black Stainless at least this year. Confusing, isn't it?
You will also see our Bosch Black Stainless Steel Scratch Test video where we tested their new black steel finish with a metal fork.
If you have a toddler, it could be a very applicable test.
What is Black Stainless Steel?
Black Stainless is a black oxide coating over stainless steel. It has a rich, dark hue and is fingerprint resistant, but the coating can be scratched off revealing the stainless undercoat.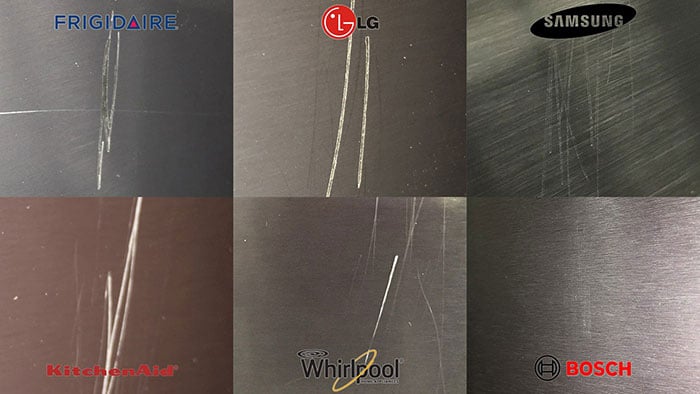 So it doesn't wear as well as regular stainless because you will see shinier metal under the black hue when it's scratched.
Short on time? Get our free Appliance Buying Guide
If you watched our original Black Stainless Steel Scratch Test video, you'll see they all scratch to varying degrees with Samsung being the most durable.
The Best Black Stainless Steel Brand for Scratching
Bosch is very different than the other manufacturers.
Their black finish is added to the stainless in the actual manufacturing process. It is not an overcoat but part of the metal itself.
In theory, it should wear better and be more scratch resistant.
Of course that is what the other brands said. So let's take a fork and scratch the Bosch like the others and see what happens.
Bosch Black Stainless Steel [VIDEO]
As you can see Bosch performed better than any other brand, because it truly is part of the steel rather than an overcoating.
If you have kids or are active in the kitchen, the finish of the Bosch will hold up better than the others.
Why you should not buy Bosch Black Stainless Steel
Without question, Bosch is the best Black Stainless Steel, but at this writing they do not manufacture a range in that finish.
You would have to buy a single wall oven and cooktop for the equivalent of a Black Stainless Steel range. You would have to change your electrical, cabinet, and countertop as well as add an addition $500-1500.
For new construction with wall oven and cooktop, then you may want to consider the Bosch, because you can plan accordingly. However, replacing existing freestanding appliances with a wall oven and cooktop is pretty costly and not worth the effort.
You also do not want to mix other brands because every companies Black Stainless color is different.
Final Thoughts
Well, Bosch is the best Black Stainless Steel finish along with Samsung, it is the only Black Stainless recommended by us.
Unfortunately, unless you are planning wall ovens in your kitchen, it is very tough to buy a suite of Bosch Black Stainless Steel.
Their range is due in 2019. Then Bosch would be the best consideration for this finish.
Additional Resoucres
Get the Yale Appliance Buyers Guide with features, specs, and inside tips to all the brands. Well over 350,000 people have read a Yale Guide.

Related Articles
Steve Sheinkopf
My goal has always been simple: I want Yale to be the best retail experience anywhere. I have tried to create a compelling environment for customers and employees alike.
A Note About Pricing
Pricing on this blog is for reference only and may include time sensitive rebates. We make every attempt to provide accurate pricing at time of publishing. Please call the stores for most accurate price.