Most Powerful 30-inch Professional Gas Ranges (Reviews / Ratings)
You are probably reading this post because you are a chef/cooking enthusiast or perhaps you have a large family. Either way, you have to prepare big meals for more than a few people.
However, you do not need to buy a professional range for high outputs anymore. Regular ranges have at least one high output burner and many times multiple burners. For example, this Frigidaire Professional range ($1,599) pictured below has a 18,000 BTU burner.
Frigidaire Professional 30'' Freestanding Gas Range - FPGF3077QF
You can buy a professional with all high output burners, but many ranges are available for far less money if you need just one or two burners.
We will look at professional ranges and then the individual products and manufacturers.
Professional Ranges
Professional style ranges have a commercial look with cooktop and oven controls on the front. Many professional ranges come with a wide array of burner configurations, griddles, grills, and accessories. The Professional range is UL approved and insulated to be placed next to cabinets.
Short on time? Get our free Pro Cooking Buying Guide
Best 30" Pro Ranges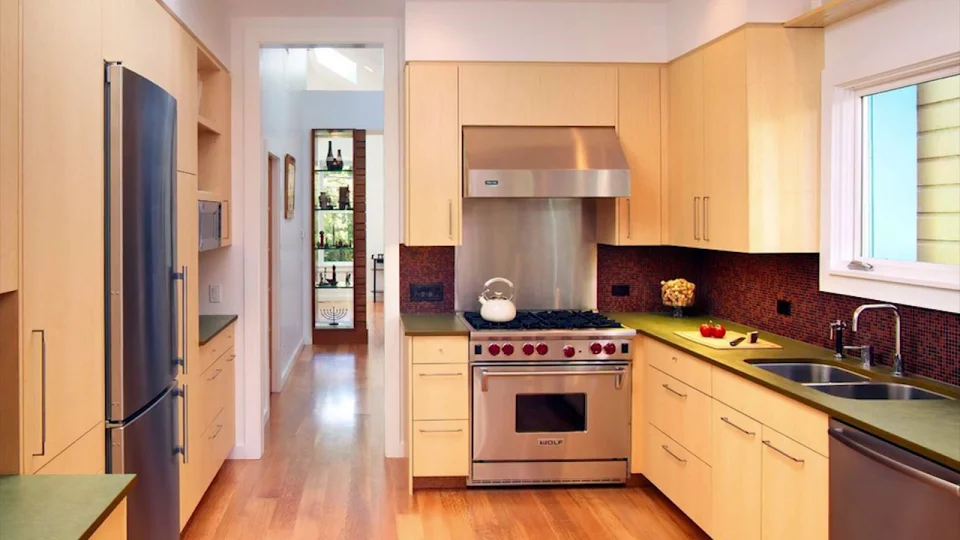 Open vs. Sealed Burners
Gas ranges can either have sealed burners or open burners on the cooktop surface.
The majority of professional ranges in the household appliance market have sealed burners meaning that the burner is sealed to the base of the cooktop for easy clean up.
Open burners are more common in commercial settings such as restaurant kitchens because air underneath the burner gives it a very hot flame.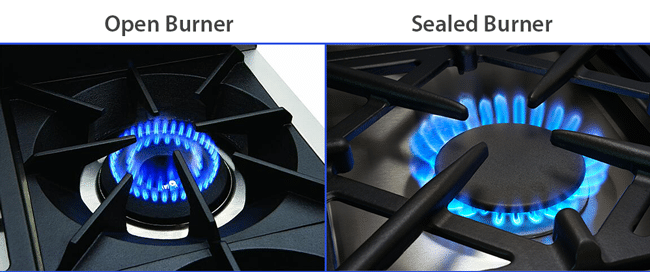 Although many people like the open burner construction for overall heat, you have to clean underneath for spills.
BTU's
The power of gas ranges is measured in British Thermal Units, more commonly referred to as BTU's. This unit measures the amount of heat for the surface burners.
If you are in the market shopping for a new gas range the burner power will be much more powerful than your current range. -
Tweet This
The Most Powerful 30" Professional Gas Ranges

Total Power: 54,200 BTU
Power Burner: 15,000 BTU
Features:
Dual stacked power burner is essentially two burners in one, bringing dish from a 15,000 BTU sear to a low simmer
Signature red control knobs with infinite control
4.4 cubic ft gas convection oven with three adjustable oven racks
Infrared broiler with ultra fast preheating
Wolf is the second largest family owned appliance company in the world. They are known for producing high quality professional cooking products and their signature feature is the red knobs you see in many high-end cooking designs.
Although Wolf has a fantastic simmer, their power burner only has a maximum of 15,000 BTUs.
6. Viking RVGR33015BSS - $4,619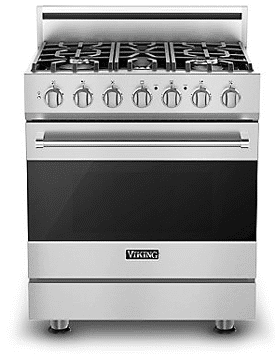 Total Power: 65,000 BTU
Power Burner: 18,000 BTU
Features:
Freestanding gas range with 5 sealed burners
4.0 cubic ft convection oven with self-cleaning
Telescopic full extension oven racks to easily move heavy dishes in and out of the oven
High performance cooking modes including broil, dehydrate, defrost
Three year manufacturer's warranty
Viking is an American manufacturer in Greenwood, Mississippi. They are best known for their cooking products. They are the self-proclaimed industry leaders introducing commercial–type appliances into the home. Their products make a statement and have a distinct professional appearance. Viking was recently acquired by Middleby of Ohio, a commercial cooking supplier.
Viking has reconfigured their maximum burners at 18,000. The new range also has a 12,000, 9,000 and 8,000 BTU burner.
As you read this, power is only one consideration to buying a range. Reliability is another, and Viking still has not recovered from their pre-Middleby issues. You should be careful before buying their products.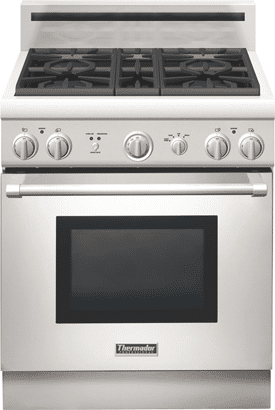 Total Power: 72,000 BTU
Power Burner: 18,000 BTU
Features:
Four sealed star burners that can all reach 18,000 BTU sear and reduce to a 375 BTU simmer
Star burner construction covers 40% more of your pans to heat your pans quickly and evenly
Range can be mounted counter depth in a standard 24'' cabinet
4.4 cubic ft oven with full access telescopic racks to easily move heavy dishes in and out of the oven
Convection baking offers precise multi-level baking results
Free dishwasher after purchase of Thermador pro range
Thermador is a brand owned by the BSH Corporation, one of the largest appliance manufacturers in Europe. BSH also owns the Bosch and Gaggenau appliance brands.
Thermador is a premium appliance brand with the easily recognized star shaped burner. Their star burner design places more even heat on the cookware.
Thermador periodically runs very good package promotions, so if you are looking for a new kitchen you may want to consider this brand. At time of writing, buy this range and a refrigerator and receive a free dishwasher as well as a hood.
If you are looking for power, then consider this range with all 18,000 BTU burners. Great simmer as well.
4. Miele HR1124 - $4,999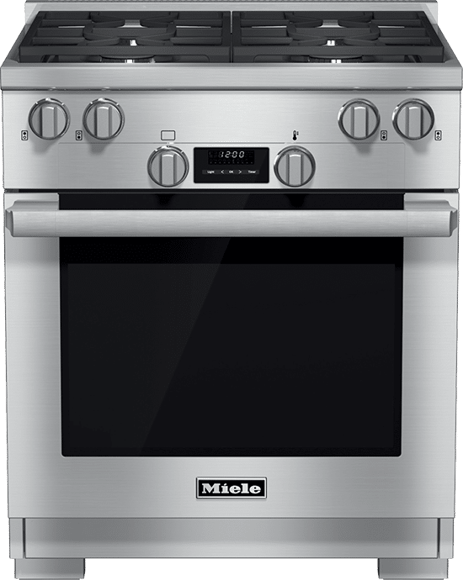 Total Output: 69,000
Power Burner: 19,000
Features:
DirectSelect controls
M Pro dual stacked burner system with True Simmer
ComfortClean dishwasher-safe grates
Twin Convection fans
Speed heat (powerful bake and broil element)
Miele is the largest family owned appliance manufacturer in the world. Pro ranges are new for Miele as they were introduced first in February 2015. They are known for their reliability and are considered the most dependable appliance in the world.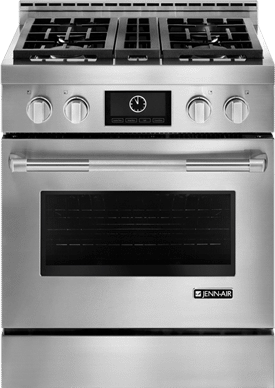 Total Power: 55,000 BTU
Power Burner: 20,000 BTU
Features:
Four sealed burners
(1) 20,000 stacked power burner great for wok cooking and flash frying
(2) 15,000 BTU burners so you can cook multiple dishes at maximum heat simultaneously
(1) 5,000 BTU simmer burner that can be reduced to as low as 500 BTUs
7-inch full color LCD display control panel with 6 convection cooking modes
MyCreations feature stores favorite recipes for later use
True convection system distributes heat evenly throughout the oven
Auto convection conversion automatically converts your recipes with conventional cook time and temperature to convection
Self-cleaning oven feature
4.1 CU. FT. oven capacity
Free dishwasher with purchase of Jenn-Air Pro range (JDB8200AWS)
Jenn-Air is part of the Whirlpool Corporation (along with KitchenAid, Maytag, Whirlpool and Amana). The range is affordable at $3,999 with a free dishwasher (like Thermador). It has a sophisticated clock and timer as well as twin convection for more even cooking.
I like the Jenn-Air with a powerful 20,000 BTU output and two 15,000. It drops to a 5,000 after that.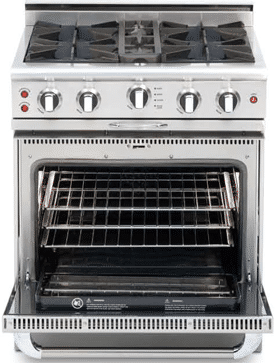 Total Power: 92,000 BTU
Power Burner: 23,000 BTU
Features:
Powerful open top burners at 23,000 BTU for all burners
All burners capable of simmering at 145 degrees F
4.1 cubic ft self-cleaning oven
Motorized rotisserie system
Large infrared broiler
Full extension removable drip trays mounted on ball bearing racks to catch cooking surface spills
Three oven racks with five possible rack positions
This would be number 1 with 4 volcano like 23,000 BTU burners. Output is the highlight of this range. It is an open burner with no clock or controls.
1. BlueStar Platinum PrimaNova™ BSP304B - $5,876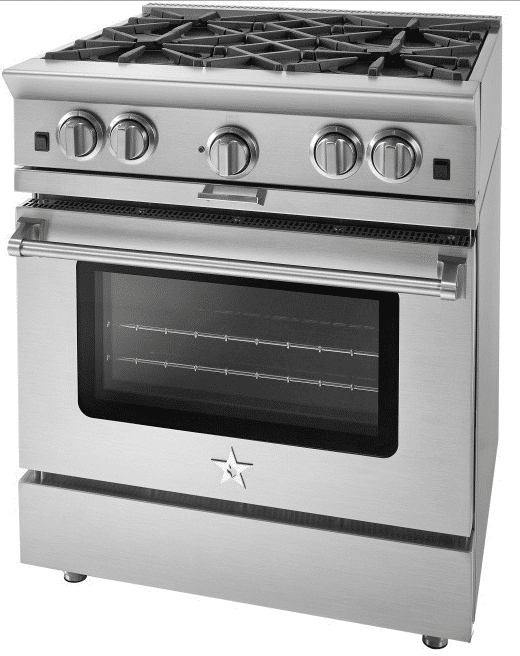 Total Power: 68,000 BTU
Power Burner: 25,000 BTU
Features:
PowR Convection Oven
Open Burner System
Infrared Boiler
Interchangeable Griddle Charbroiler
Custom Colors
BlueStar is a bit of an unknown in the industry. Originally, it was the residential Garland range, but faded and are only sold by a few dealers.
Which Would I Buy?
All seven of these ranges will be a BTU upgrade to your current range...and then some. However, there are many other reasons to buy a range like simmer and evenness of cooking.
In terms of reliability, Thermador, Miele and Wolf will be your best bet. Jenn-Air is your best value with the free dishwasher with BlueStar being the most powerful.
One last thought: Powerful ranges now abound in the industry. You do not have to spend $5,000 for a high output range.
Additional Resources
Want to learn more about Pro Ranges? Download the Yale Professional Range Buying Guide with BTU ratings on every range, features and detailed profiles of every brand. Well over 125,000 people have read a Yale Guide.
Related Articles
Why Should You Trust Us?
It seems that every appliance review has nothing but glowing comments about almost every product, yet you read customer reviews and they are almost universally bad.
We are here to fill in the disconnect. We'll give you the best features, and the drawbacks as well, including reliability based on over 37,000 calls performed by our service team just last year. Our goal is to give you ALL the information so you know what's right for you.
Please consider subscribing or adding to the conversation in the comments below. We appreciate you stopping by.
A Note About Pricing
Pricing on this blog is for reference only and may include time sensitive rebates. We make every attempt to provide accurate pricing at time of publishing. Please call the stores for most accurate price.