Maytag Vs. Speed Queen Stackable Front Load Laundry (Reviews / Ratings / Prices)
July 22nd, 2020 | 6 min. read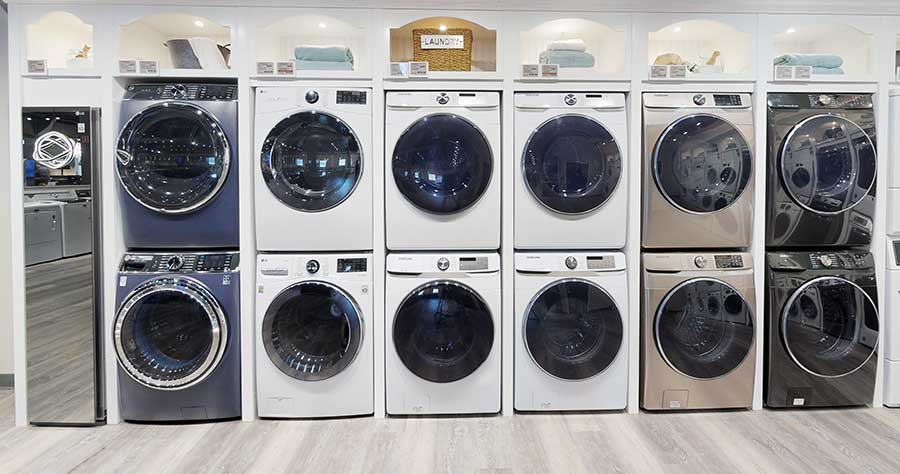 If you owned or were buying a laundromat, Speed Queen and Maytag are the two best names. Given the beating these machines take on a semi-regular basis, you would expect both to be solid and reliable.
And you would be right for your laundromat.
However, that thinking does not always translate into the stackable laundry you are buying for your home. Many times, the opposite is true.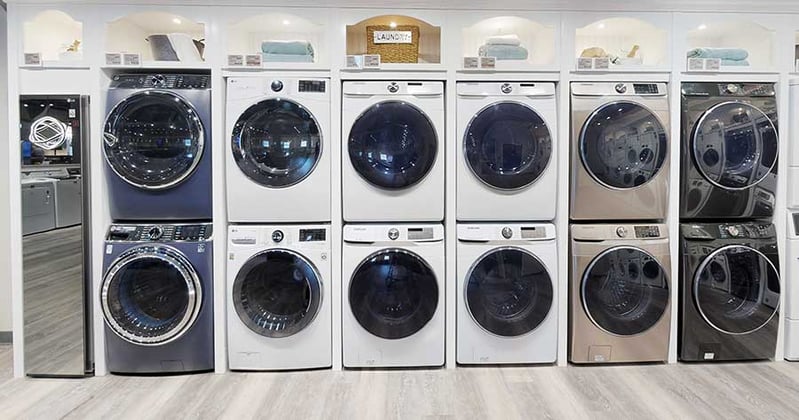 Front Load Laundry at Yale Appliance in Hanover
In this article, you will learn about both companies, their products, features, and then see a comparison of both including their reliability.
Speed Queen is Consumer Reports' number 1 most reliable brand. I like Speed Queen and respect the company, but currently, that's not quite true either.
So you will read a bit about that as well.
Speed Queen
Speed Queen is built-in Ripon, Wisconsin. One glance on the website, and you would think Paul Bunyan builds the units.
"Stronger parts make for stronger units," or so their saying goes and designed for 25 years of home use.
Fade to black here….I was a service manager at Yale for one incredibly miserable year of my life.
In my experience, It isn't always poorly manufactured parts causing issues.
Anyway, this machine is built well and backed with a 5-year warranty, the best in the industry.
They have a commercial story, warranty, Paul Bunyan, and better parts.
But the best part of this machine has zero to do with any of that, as you will see.
Speed Queen Stackable Front Load Unitized Unit SF7003WG
Gas - $3,159

Maytag
Maytag was the best appliance company a generation ago. It was known for its reliability as tagged by Ol' Lonely, the repairman who couldn't find work repairing Maytag washers.
Maytag never made any claims but would typically last 18-20 years with fewer than two service calls.
It was a simple yet solid machine, probably the most reliable single product I have ever sold in 34 years.
Then they built their first front load washer with a design flaw promoting mold within the machine.
All of a sudden, Ol Lonely wasn't so Lonely.
Maytag was bailed out by Whirlpool in 2006 after a torrent of bad press and customer complaints..
Now, Maytag is the premium laundry division of Whirlpool or to be more accurate a Whirlpool...with better parts and a slightly better warranty.
Sound familiar?
Maytag Stackable Front Load Laundry Pair MHW8630HC Washer & MGD8630HC Gas Dryer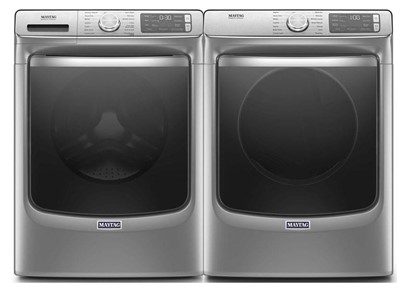 Here is a recent video on Maytag's new washer.
New Maytag Front Load Washer MHW8630HC With Power Boost [VIDEO]

Maytag Vs. Speed Queen Stackable Front Load Laundry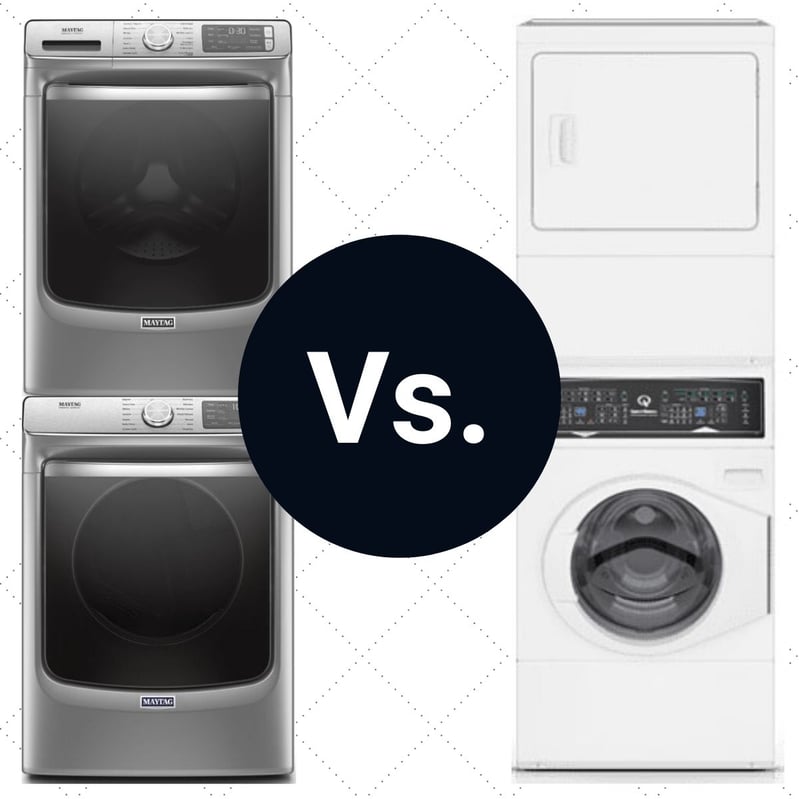 Both have plenty of cycles. Maytag has more. I will highlight the few important differences below.
Will Your Stackable Laundry Fit Your Space?
Speed Queen's best attribute and nowhere on the website as an advantage is its depth. At 31.18 inches deep, it is one of the shallower brands on the market.
It is over 2 inches shallower than the Maytag. That is highly significant for stackable laundry in tighter spaces.
If you live in a brownstone in Boston or replace a top load or old stackable in Needham (where I grew up), it probably will only fit a Speed Queen, LG (shallowest full size), or a smaller compact set.
Capacity
Of course, the flip side to added depth is capacity. Maytag is appreciably larger at 5.0 versus 3.5 cubic feet for the Speed Queen.
Speed Queen is the smallest front-load laundry machine on the market. Samsung, LG, Electrolux average about 4.5 cubic feet. GE and Maytag are the largest at five cubic feet.
Both Samsung and LG offer larger models to 5.8 cubic feet. Then again, they aren't popular because of the depth of the unit.
Three and a half cubic feet is still ok. The average top-load has about 2.3 cubic feet without the agitator.
Location Of Controls

Speed Queen SF7003 Laundry Controls
Speed Queen is designed as a one piece stack. You can't buy it any other way. Maytag is a two-piece, so it may be harder to operate the dryer controls on the top.
Warranty
Speed Queen is five years full. Maytag is one year with 2-10 on their tub and parts of their motor.
After years of competing with aggressive companies like LG and Samsung, Maytag has developed a decent feature set.
Speed Queen competes on quality and warranty with fewer features.
Extra Power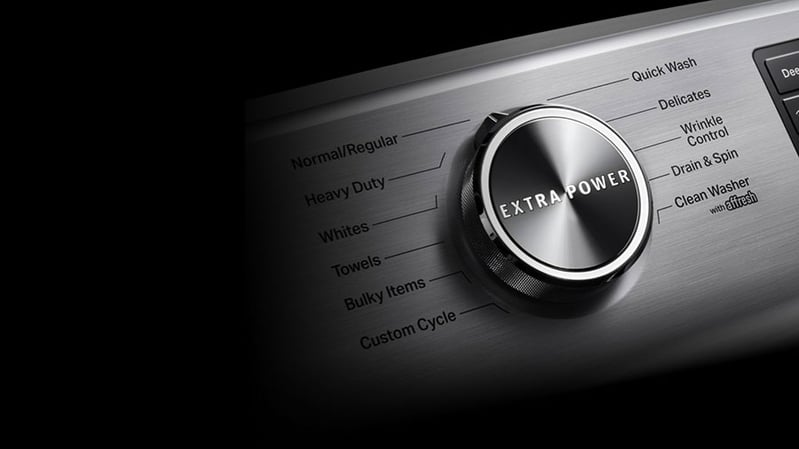 Maytag Extra Power Button On A Front Load Washer
Maytag offers Extra Power, a button allowing you to wash colors and whites in the same load. It starts in the cold and gradually warms the wash. So you have cleaning power and no pink socks (unless the socks started as pink).
Fresh Hold
Maytag will continue to air dry for up to 24 hours, so you don't have to retrieve your clothes immediately.
Clothes won't be wrinkled, damp or moldy.
Overnight Wash and Dry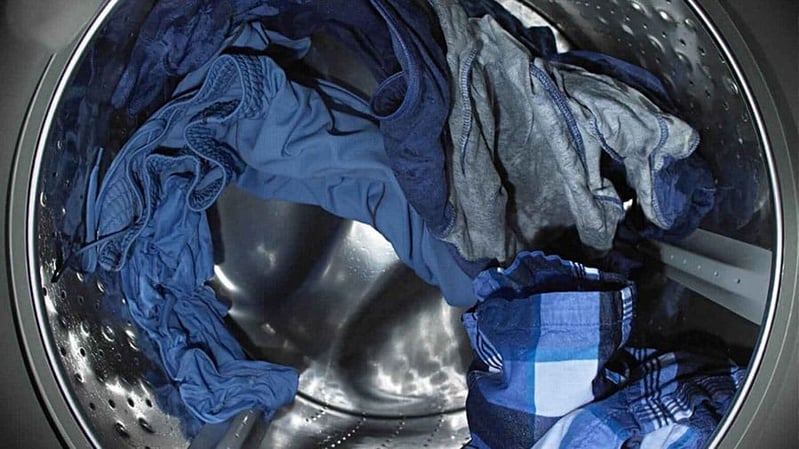 Maytag Overnight Wash & Dry In A Front Load Washer

You can wash and dry the clothes without transferring the wash to the dryer in the middle of the night. It's for small loads and perfect for an outfit you want to wear in the morning.
Steam
Steam loosens dirt in the washer. It refreshes clothes in the dryer. Maytag has steam in both the washer and dryer.
Wi-Fi
You may like Wi-Fi for laundry. Instead of trudging down to your basement prematurely, you can see the time remaining on an app through your phone. You can also stop or start your washer and/or dryer remotely.
Dispenser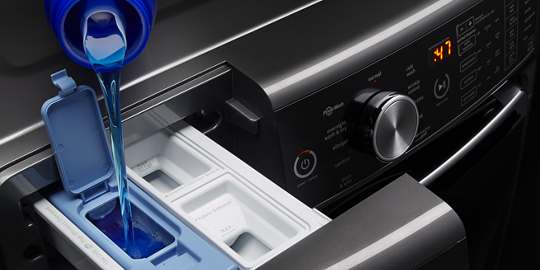 Maytag Front Load Washer Dispenser
Maytag allows you to hold 14.3 ounces of detergent, so you do not have to refill every wash. Auto dispensers will dispense at the right time with the right amount of detergent.
People tend to load too much detergent on their own. This creates too many suds and eventually will affect the washer's internals, causing serious damage and a hefty service bill.
Seriously, it's not always about the defective parts.
Maytag's dispenser, however, has issues, as you will see in the next graphs.
Which Front Load Laundry Brand Is More Reliable - Maytag Or Speed Queen?
Front Load Washer Reliability July 2019 to June 2020
| | | | |
| --- | --- | --- | --- |
| | Service Qty | Shipped Qty | Service Ratio |
| Maytag | 177 | 558 | 31.72% |
| LG Electronics | 164 | 1909 | 8.59% |
| Miele | 28 | 428 | 6.54% |
| Samsung | 37 | 658 | 5.62% |
| Whirlpool | 14 | 300 | 4.67% |
| GE Appliances | 19 | 424 | 4.48% |
| Grand Total | 448 | 4285 | 10.45% |
Front Load Reliability 2019
| | | | |
| --- | --- | --- | --- |
| | Service Qty | Shipped Qty | Service Ratio |
| Whirlpool | 20 | 350 | 5.71% |
| GE Appliances | 1 | 15 | 6.67% |
| LG Electronics | 161 | 2270 | 7.09% |
| Samsung | 27 | 349 | 7.74% |
| Maytag | 251 | 659 | 38.09% |
| Electrolux | 13 | 13 | 100.00% |
| Grand Total | 473 | 3656 | 12.94% |
Front Load Reliability for 2018
| | | | |
| --- | --- | --- | --- |
| | Service Qty | Shipped Qty | Service Ratio |
| Samsung | 8 | 178 | 4.49 % |
| LG Electronics | 72 | 1246 | 5.78 % |
| Whirlpool | 30 | 293 | 10.24 % |
| Maytag | 204 | 1470 | 13.88 % |
| Electrolux | 112 | 281 | 39.86 % |
| Frigidaire | 4 | 9 | 44.44 % |
| Speed Queen | 19 | 14 | 135.71 % |
| Grand Total | 455 | 3494 | 13.02 % |
Front Load Reliability for 2017
| | | | |
| --- | --- | --- | --- |
| | Units Sold | Units Serviced | Service Rate |
| Whirlpool | 524 | 20 | 3.82% |
| LG Electronics | 320 | 17 | 5.31% |
| Maytag | 1,124 | 74 | 6.58% |
| Samsung | 154 | 12 | 7.79% |
| Electrolux | 1,549 | 295 | 19.04% |
| Speed Queen Commercial | 13 | 3 | 23.08% |
| Frigidaire | 86 | 21 | 24.42% |
| Speed Queen | 44 | 16 | 36.36% |
Maytags reliability was excellent.
Their poor performance is due to mold accumulating in their dispenser. It has to be cleaned after every wash.
We own the previous series, the MHW8200; the dispenser resides in the pedestal drawer.
Parent company Whirlpool and GE have larger dispensers located below the gasket near the door without mold issues.
With Speed Queen, their front-loads were removed from the market due to mechanical issues.
This batch is new. It should work better. They are a laundry company, after all.
Consumer Reports Reliability
After the reliability graph is published invariably, I will be barraged by Speed Queen loyalists with comments like this one.
Yes, this is an actual comment.
"Yea sorry. I simply do not believe you on this. Speed Queen is the only washer dryer I could find without a mother board. That in itself makes this the best you can buy in terms of life and reliability. I'm sure they have had some issues with some models(you mention a front-load model), but to not acknowledge Speed Queen and their lack of a motherboard as a MAJOR factor in reliability and overall life is suspect best. The best way to build trust is to be truthful. Just sayin'"
By the way, this unit has a "motherboard." Anyway, motherboards don't usually fail.
Before you call me a liar, let me ask you a question: Has your microwave ever failed? That's a turntable and one big motherboard. The same goes for ranges, laundry, machines and most appliances.
Many people have also cited a recent Consumer Reports study. Speed Queen was Consumer Reports' number 1 most reliable brand.
That's number 1 over every brand and product. Of course, laundry tends to be reliable, so that's not shocking.
However, Speed Queen has had recent problems.
How Could Consumer Reports Be Wrong?
I am not bashing Consumer Reports, at least they try. They are good at pointing out consistently reliable brands as well as calling out consistently unreliable brands.
However, you have to understand their methodology.
Consumer Reports work on surveys from its members over ten years. A lot can happen in 10 years.
Bad products ten years ago showing improvement can suffer from reviews nine years ago.
In this case, great products can benefit even if they have more recent issues.
That's a problem because you are buying this now, not nine years ago.
Recent history for Speed Queen is not good, but their 10-year record is excellent.
Maytag Vs. Speed Queen: Key Takeaways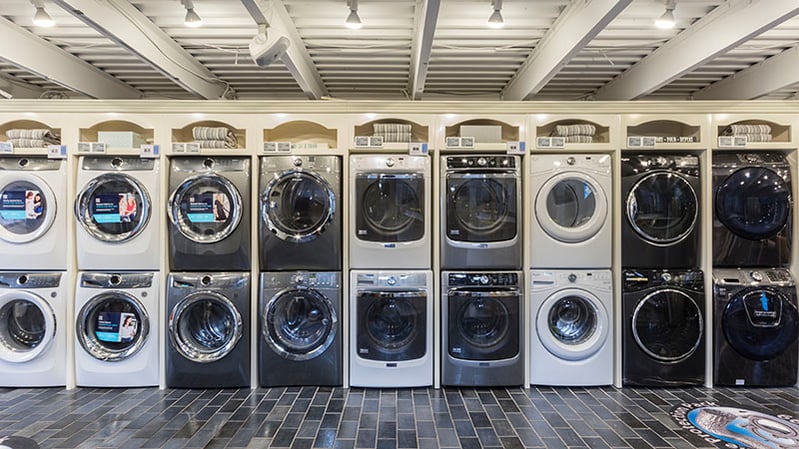 Front Load Washers at Yale Appliance in Boston
There is no question Maytag is the more updated machine with better cycles. It's also $700 cheaper.
Speed Queen is the wild card. It is solidly built and better in certain shallower installations.
But which Speed Queen will you be buying? The quality of the machines built 5-10 years ago or the more recent problematic laundry.
The industry needs a solid, reliable product built in the US. As a store trying to support American brands like Sub-Zero, Whirlpool, and Speed Queen, we are truly hoping for the former.
As a person about to pay $3,000, make sure of it. Buy it from someone who will warranty and back any problems.
Additional Resources
Download our Yale Washer Buying Guide with all the features, terms, and brands of laundry. Over 820,000 people have already found answers in a Yale guide.
Related Articles:
Why Should You Trust Us?
It seems that every appliance review has nothing but glowing comments about almost every product, yet you read customer reviews and they are almost universally bad.
We are here to fill in the disconnect. We'll give you the best features, and the drawbacks as well, including reliability based on over 37,000 calls performed by our service team just last year. Our goal is to give you ALL the information so you know what's right for you.
Please consider subscribing or adding to the conversation in the comments below. We appreciate you stopping by.
Steve Sheinkopf is the third-generation CEO of Yale Appliance and a lifelong Bostonian. He has over 38 years of experience in the appliance industry, and he is a trusted source of information for consumers on how to buy and repair appliances.

Steve has also been featured in numerous publications, including the New York Times, Consumer Reports, The Boston Globe, Bloomberg Radio, the New York Post, The Wall Street Journal, and Entrepreneur, for his knowledge of how to buy appliances and appliance repair.

Steve is passionate about helping consumers find the best appliances for their needs, and he is always happy to answer questions and provide advice. He is a valuable resource for consumers who are looking for information on appliance buying, repair, and maintenance.

Despite being the worst goalie in history, Steve is a fan of the Bruins and college hockey, loves to read, and is a Peloton biker. The love of his life is his daughter, Sophie.
A Note About Pricing
Pricing on this blog is for reference only and may include time sensitive rebates. We make every attempt to provide accurate pricing at time of publishing. Please call the stores for most accurate price.