Quietest Dishwashers By Decibel Rating For 2020 (Ratings / Reviews / Prices)
You're watching the game on the TV, and Cam Newton, football quarterback for the New England Patriots, is stopped on 1-yard line.
Only you don't know because your dishwasher is running in the background.
Quietness is the number one factor when choosing a dishwasher.
In this article, you'll learn about the quietest dishwashers from every brand and their decibel ratings.
The top 5 quietest dishwashers for 2020 are:
Best Super Premium Dishwasher: Miele G7966SCVI at 38 dB
Best Affordable Luxury Dishwasher: KitchenAid Dishwasher KDTE204KPS at 39 dB
Best Affordable Luxury Dishwasher Runner-Up: Beko Dishwasher DDT39432XIH at 39 dB
Best Quiet Economy Dishwasher: Beko DUT25401X at 48 dB
Best Luxury Quiet Dishwasher: Bosch SHXM88Z75N at 40 dB
You'll also learn how to buy a quiet dishwasher without spending a fortune.
You can "overbuy" and spend more money than you need to for a quiet dishwasher.
Miele, KitchenAid, and Beko all introduced new quiet 39 dB models.
But quiet has some hidden issues in certain brands like much longer cycle times. You will also learn about the problems as well.
First, you should know what "quiet" sounds like.
Let's get started.
Short on time? Get our free Dishwasher Buying Guide
What Does A Quiet Dishwasher Sound Like?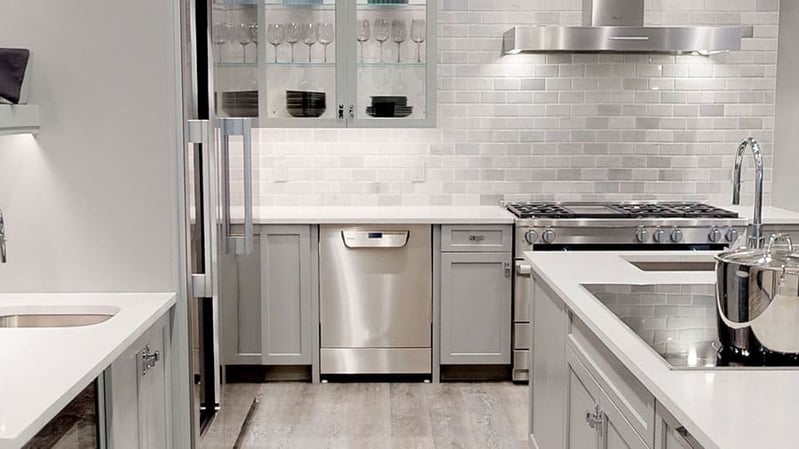 Miele Stainless Steel Dishwasher at Yale Appliance in Hanover
A decibel rating of 60 will make it hard to have a conversation in the kitchen. Models rated from 38 to 44 decibels will be quiet.
For a better perspective here are decibel ratings of some familiar sounds:
A whisper - 15 decibels
A typical conversation - 60 decibels
A lawnmower - 90 decibels
A car horn - 110 decibels
A firecracker - 140 decibels
Better yet, here is what 39, 44, and 55 decibels sound like in an actual kitchen.
Dishwasher Sound Level Comparison [VIDEO]
Dishwasher Quietness Disclaimer
It's important to note that there is no industry standard for measuring dB.
One brand may measure their dB rating during a standard wash cycle, where another brand could be measuring it during their china/crystal cycle.
Decibel Levels: What To Know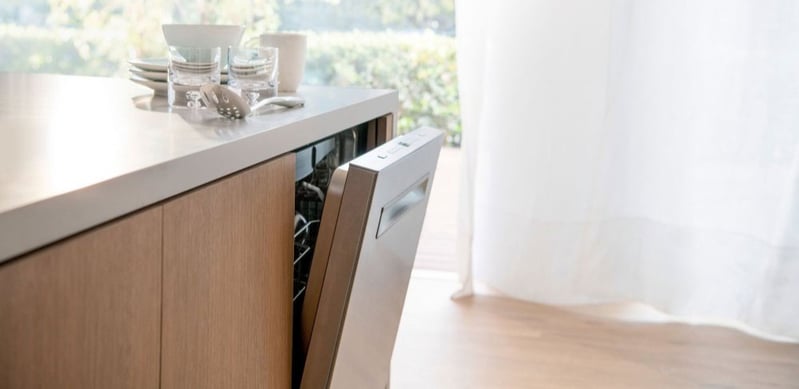 Bosch Dishwasher With AutoAir Drying
Dishwasher noise levels are rated in decibels - the lower the decibel number, the quieter the dishwasher.
A difference of just a few decibels may not seem to be much, but a dishwasher that is only one decibel more is 30 percent louder.
A dishwasher that is four decibels is twice as loud. However, buying a dishwasher at 44 dBs is quiet enough.
You do not want to pay for just quietness under 44 dB (I will say this a few more times in this article).
Quietness Factors
Quality of insulation
A dishwasher with a disposal is louder.
Sound dampening material on the exterior of the tub.
Stainless steel tubs tend to be quieter than plastic tubs because it dampens sound.
KitchenAid, for example, became a quieter dishwasher by removing their disposer and adding a filter.
All the quiet dishwashers are filtered. It can be argued the disposer is better, so there is a trade-off in benefit.
Now, let's look at the quietest dishwashers.
Learn More: Dishwasher Buying Guide
Quietest Dishwashers By Decibel Rating For 2020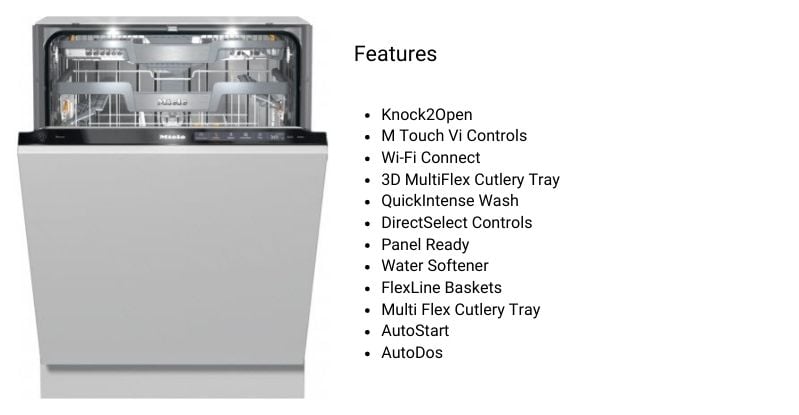 Miele has brand new dishwashers at a low dB of 38. However, the cycle times are much longer up to 4 hours
Still, they are different with some interesting features. Here is a video if you want to learn more.
New Miele G 7000 Series Dishwashers Review
Additional Quiet Miele Dishwashers To Consider: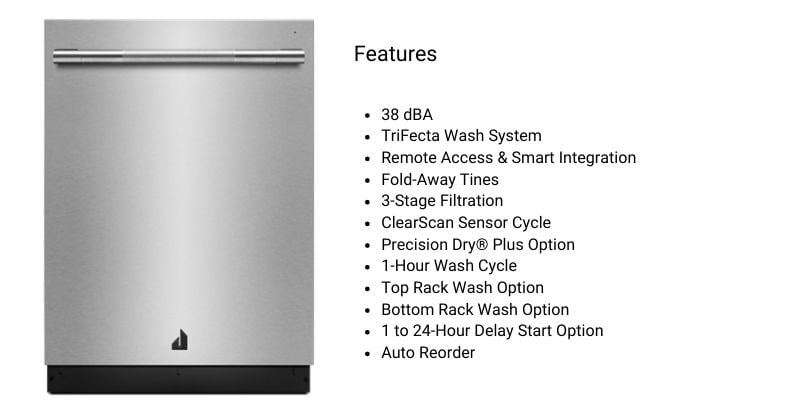 Additional Quiet JennAir Dishwashers To Consider: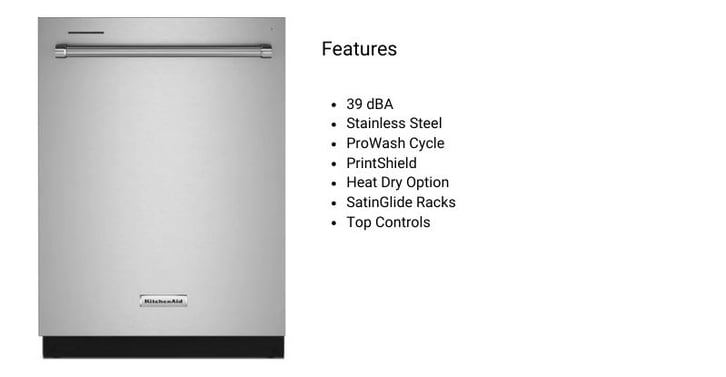 KitchenAid is hard to understand as a brand. Their quietest dishwasher is one of their least featured.
There are multiple models in the KitchenAid lineup with dB ratings between 39 and 44.
Their better models have added filtration increasing the dBs to a still quiet 44 dB.
KitchenAid Dishwasher KDTE204KPS Review
Additional Quiet KitchenAid Dishwashers To Consider: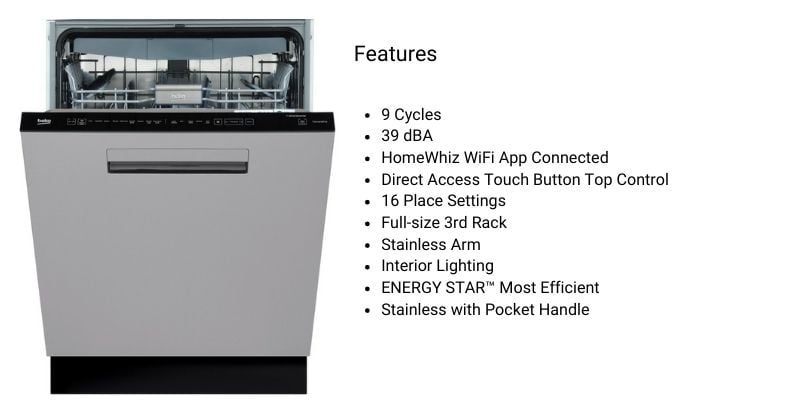 Beko is a new brand. However, they are the owners of the Blomberg brand and manufacture dishwashers for Viking as well.
They have an interesting 39 dB dishwasher with intense zones for scouring plates as well as a flex to deliver more pressurized water.
The dishwasher prices between $850-1000.
Beko Dishwasher DDT39432XIH Review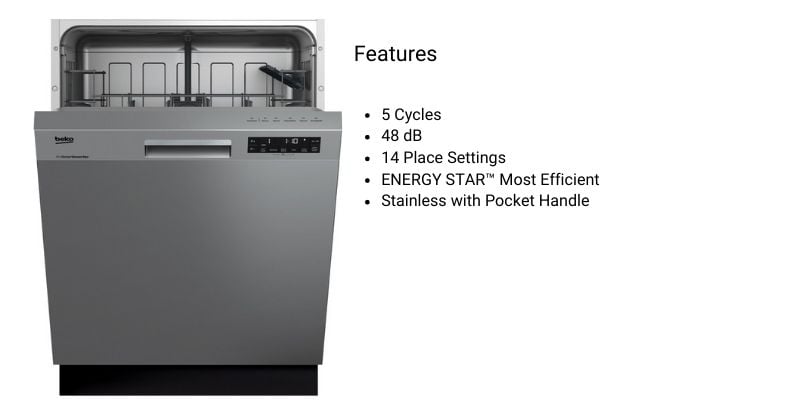 Beko Dishwasher DUT25401X Review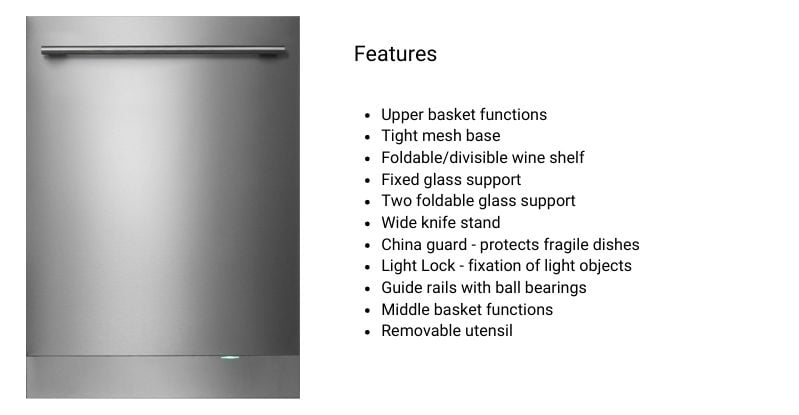 Additional Quiet Asko Dishwashers To Consider: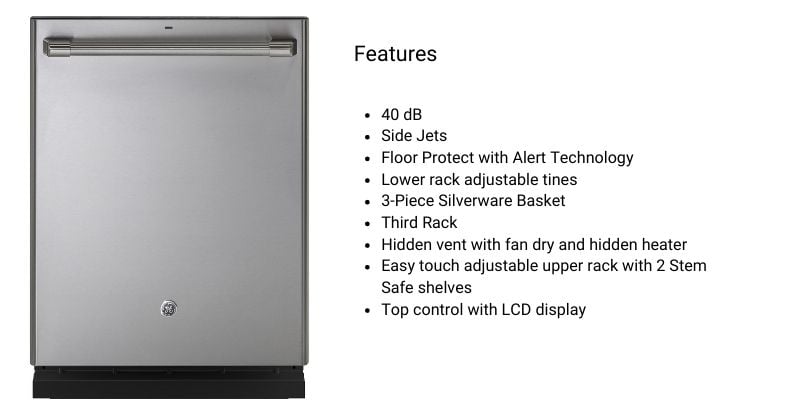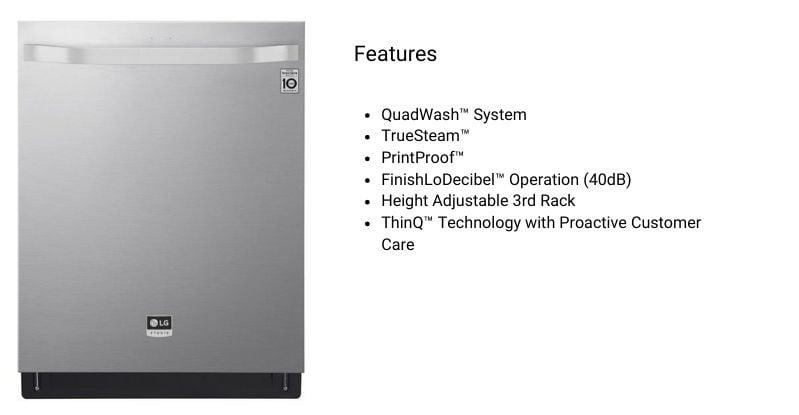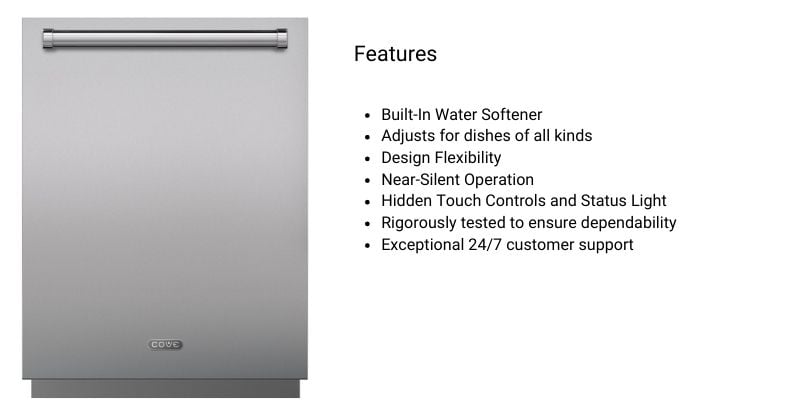 Only two options are currently available, with or without a water softener.
Additional Quiet Cove Dishwasher To Consider: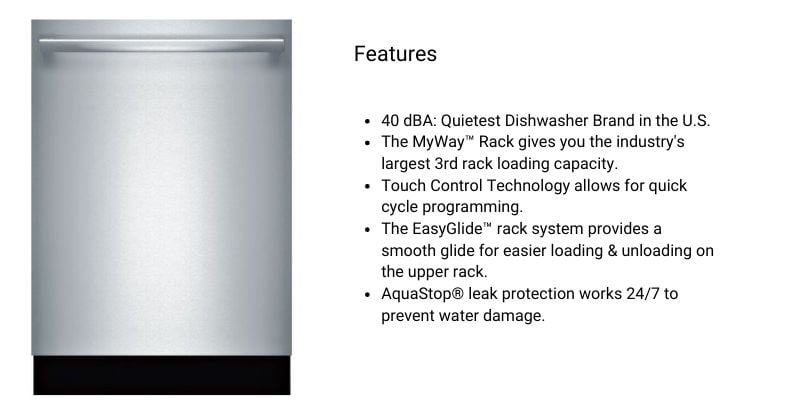 Buying a Bosch for the absolute quietest dishwasher will cost you way too much money for the added features. Stick with the 800 or 800+ series for quiet dishwashers at a lower price.
Bosch 800 Series Dishwasher Review
Additional Quiet Bosch Dishwashers To Consider: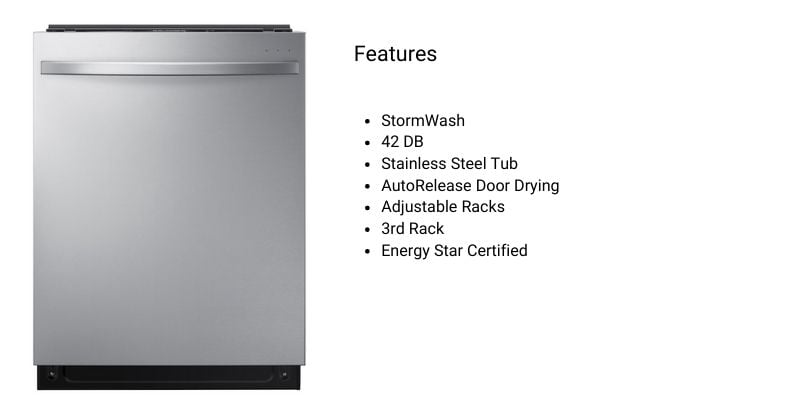 Samsung at this current time has an availability issue on many of their models
Electrolux Dishwasher EDSH4944AS at 45 dB - $1,499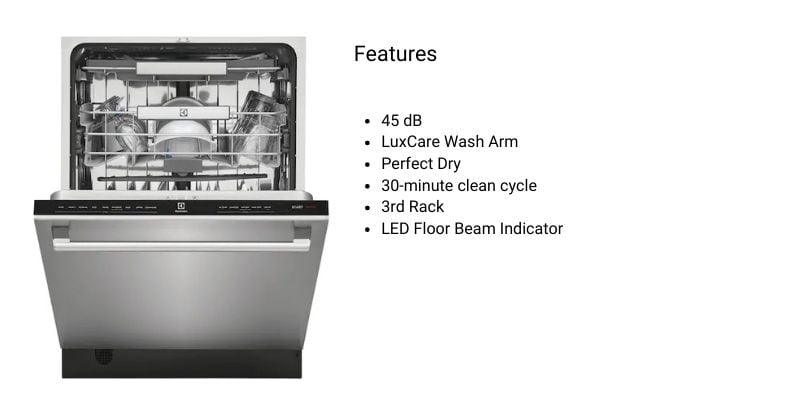 Additional Quiet Electrolux Dishwasher To Consider:
Electrolux E24ID75SPS - 45 dB
Maytag Dishwasher MDB8959SKB at 47 dB - $729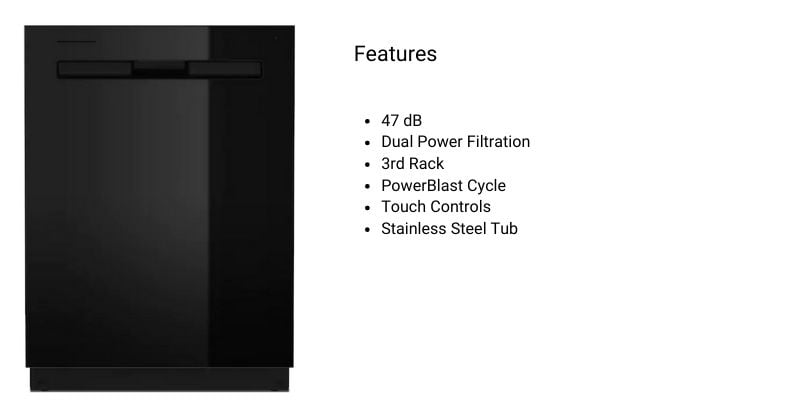 Additional Quiet Maytag Dishwasher To Consider:
Maytag MDB7959SKZ - 50 dB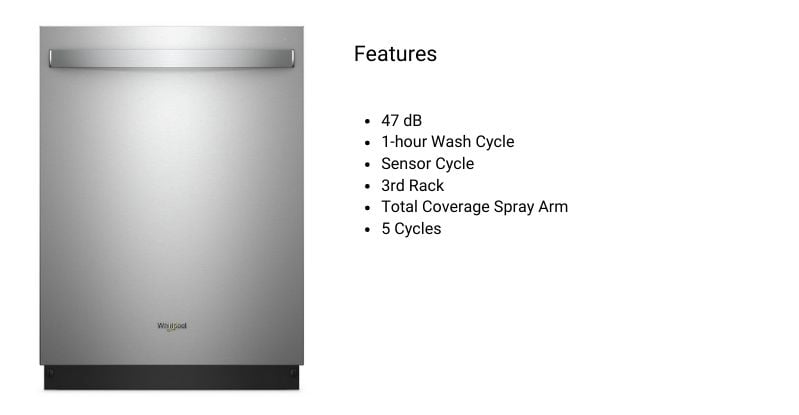 Additional Quiet Whirlpool Dishwashers To Consider:
Frigidaire Dishwasher FPID2498SF at 47 dB – $893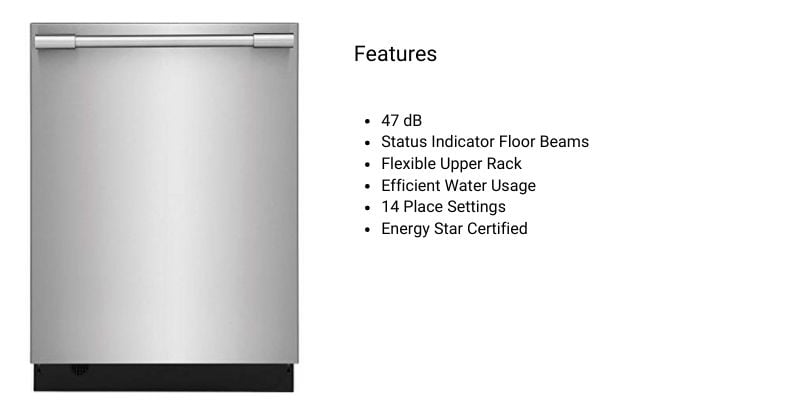 Additional Quiet Frigidaire Dishwasher To Consider:
Frigidaire FGID2479SF – 49 dB
How To Buy A Quiet Dishwasher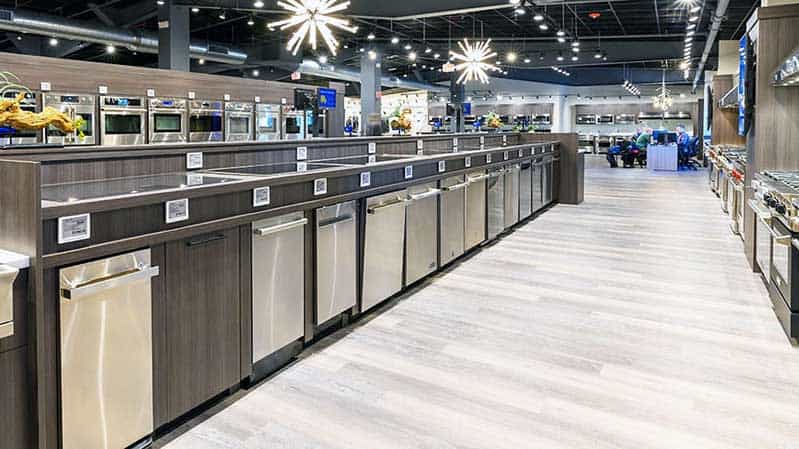 Best-Selling Dishwashers at Yale Appliance in Hanover
This article should read two ways. First, you should now know what is quiet. If you're opening the living room to your kitchen, you'll most likely be satisfied at 44 dBs.
However, you will not be able to hear the difference between a 38-42 dB dishwasher, so why pay extra just for that in the more premium brands?
Find your perfect dishwasher with our free dishwasher assistant.
In other words, you should not spend $1,979 for that top of the line Bosch just for quietness when the $1,300 is more than sufficient at 42 dBs.
Generally, you should expect to pay a hefty price for a premium "extra" quiet dishwasher - with 2 exceptions.
KitchenAid and Beko are both 39 dB and are both worth considering for features alone. The quietness is a plus.
There are plenty of quiet dishwashers in every brand. You no longer have to spend a ton of money for a quiet dishwasher.
Read More: How To Buy A Dishwasher
Frequently Asked Questions:
1. What are the best dishwashers for 2020?
Bosch, KitchenAid, and Beko all should be considered the best for different reasons.
We will continue to see dishwasher prices go down with better features. Such as Crystal dry - which uses natural materials causing water to evaporator into heat. Thus removing moisture to dry everything, including plastic.
KitchenAid and Beko may have the best overall dishwasher value with 39 dB quietness at $799-949.
Samsung has good dishwashers under $700.
Miele has some solidly built dishwashers as well.
2. What are the most reliable dishwashers for 2020?
Samsung, Bosch, and LG are the most reliable dishwasher brands for 2020.
3. Is 55 dB loud for a dishwasher?
Yes, 55 dB is rather noisy. Imagine what a hair dryer sounds like. That would be the equivalent sound at 55 dB.
A full running refrigerator would be in the range of 52-55 dB rating. It could easily disturb comfort living sound.
4. What's the average decibel rating for dishwashers?
The average decibel rating for dishwashers ranges between 45 and 50 dB.
5. What brand has the quietest dishwashers?
Bosch, KitchenAid, and Miele have the overall most silent dishwashers.
Additional Resources
Get our free Dishwasher Buying Guide with tips, trends, and reviews of all the major brands. Over 800,000 people have already found answers in a Yale guide.
Related Articles:
Why Should You Trust Us?
It seems that every appliance review has nothing but glowing comments about almost every product, yet you read customer reviews and they are almost universally bad.
We are here to fill in the disconnect. We'll give you the best features, and the drawbacks as well, including reliability based on over 37,000 calls performed by our service team just last year. Our goal is to give you ALL the information so you know what's right for you.
Please consider subscribing or adding to the conversation in the comments below. We appreciate you stopping by.
Steve Sheinkopf
My goal has always been simple: I want Yale to be the best retail experience anywhere. I have tried to create a compelling environment for customers and employees alike.
A Note About Pricing
Pricing on this blog is for reference only and may include time sensitive rebates. We make every attempt to provide accurate pricing at time of publishing. Please call the stores for most accurate price.